VIE's Highlights of 2018 – Part One
---
August 1, 2018
What a Year (So Far)!
It's hard to believe it's been over a year since VIE magazine became a monthly national publication. Last year, we embarked on a tour of cities around the US including Birmingham, Alabama; New Orleans; Charleston, South Carolina; Nashville; and Boston. That tour continued in 2018 starting with our hometown Meet & Greet songwriter showcase event, and the VIE team has been busy creating magazines and hosting events since January! We have been so proud to continue sharing Stories with Heart & Soul and supporting our community for the past ten years.
Take a look at some of our highlights from the first half of 2018—with much more to come!
The Destination Travel Issue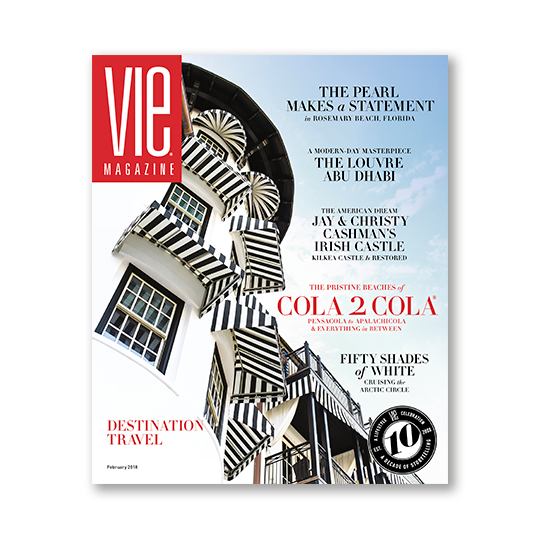 We started off our year with a beautiful travel issue featuring this stunning shot of The Pearl hotel in Rosemary Beach, Florida, taken by Brenna Kneiss. The issue included our "COLA 2 COLA" travel guide, which covered restaurants, beaches, hotels, and much more from Pensacola to Apalachicola, Florida. Other incredible places to visit included an Irish castle, cruising around Greenland, food tours of Paris and Parma, and much more. Check out the full issue here.
BG x Ashley Longshore Pop-Up Gallery Opening + Cover Shoot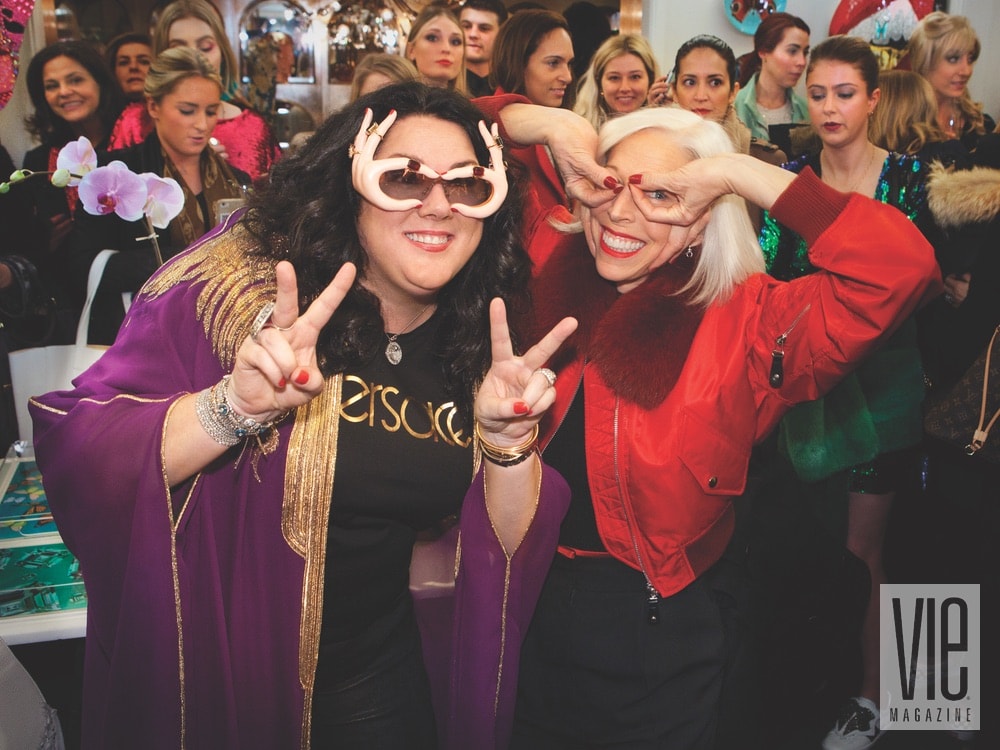 The VIE team was honored to attend and cover the grand opening of New Orleans pop artist Ashley Longshore's monthlong pop-up gallery at the one and only Bergdorf Goodman department store in New York City. The fun-filled opening on January 11 was a night for the books. Fans packed the hallways of Bergdorf's home department, where Longshore's artwork lined the walls, along with displays of her sculptures, furniture, and her book, You Don't Look Fat, You Look Crazy: The Art of Being Ambitchous. Celebrity guests included Blake Lively,
Photographer Carlo Pieroni and creative stylist Carol Wilson joined the VIE crew once again for the evening, followed by a morning photo shoot at Bergdorf's featuring Longshore and her work. She even posed in the Fifth Avenue window displays—attracting a small crowd on the street on a very chilly winter morning. The shoot and story on Longshore's collaboration with Bergdorf's were featured on the cover and in our May 2018 Couture Issue. See the full story and more photos here.
The Entertainers Issue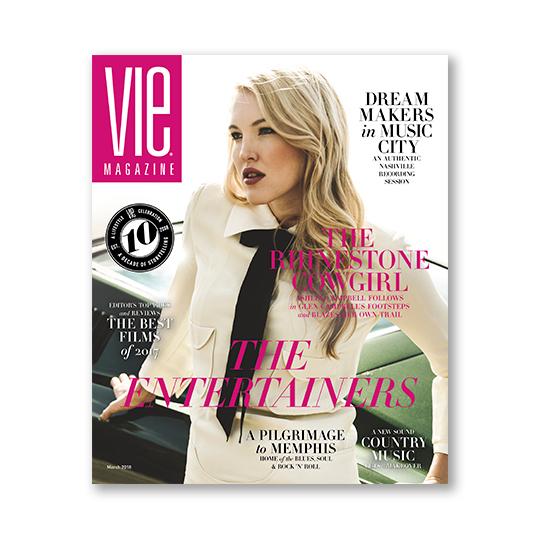 Our March 2018 Issue was all about entertainment! Cover girl Ashley Campbell—this incredibly talented musician is the daughter of legendary country musician Glen Campbell—channeled Hollywood Glam in this cover shot by Sean M. Flynn, the son of actress Jane Seymour. Read about Ashley Campbell here, and don't forget to check out the full Entertainers Issue for stories on the best cities for live music, travel guides on Memphis, Tennessee, and Florence, Alabama, the best movies of 2017, the rising political influence of late-night comedy TV, and much more.
COLA 2 COLA Meet & Greet feat. Ashley Campbell, Ken Johnson, and Andi Zack-Johnson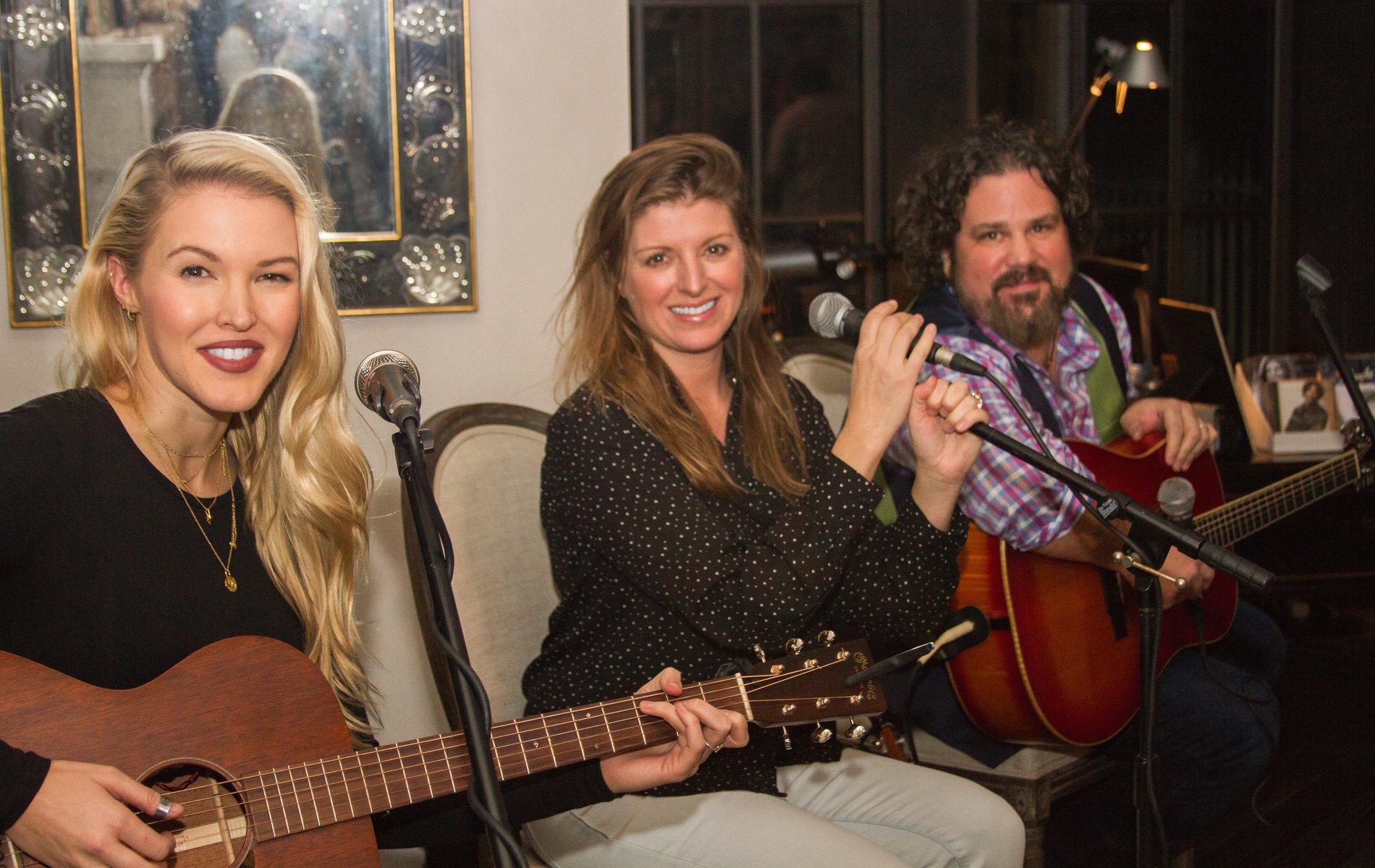 The Stories with Heart & Soul Tour, which VIE began in 2017, continued as we celebrated the COLA 2 COLA Travel Guide and the Entertainers Issue with a special meet and greet event at the home of Melanie Cissone in our hometown of Santa Rosa Beach, Florida. March 2018 cover girl Ashley Campbell performed in the round with Andi Zack-Johnson and Ken Johnson, and the evening was amazing! (Ashley also played at our 2017 Nashville Meet and Greet with her brother Shannon, and it was a joy to see her again.) Guests enjoyed light bites and drinks from Roux 30a during this intimate evening of music and camaraderie. Read all about it and see more photos here.
The Culinary Issue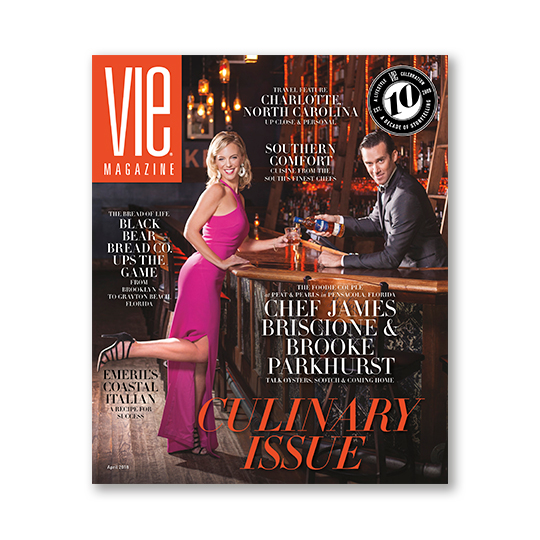 The April 2018 issue celebrated one of our favorite things—food! From recipes to restaurants and chefs galore, this issue is sure to make your mouth water. We had a blast teaming up with photographer Steven Gray on this cover shoot featuring chefs James Briscione and Brooke Parkhurst, who headlined Peat & Pearls 2017 in Pensacola, Florida. This celebrating of oysters and Scotch was the first annual event, and VIE is proud to be a sponsor again for this year's celebration from October 4–7. Other highlights in this issue included: a travel guide to Charlotte, North Carolina; Emeril's Coastal Italian restaurant in Miramar Beach, Florida; the making of FIG restaurant in Charleston; a trip down the Kentucky Bourbon Trail; Southern Comfort recipes; wine regions around the globe; and much more.
The Couture Issue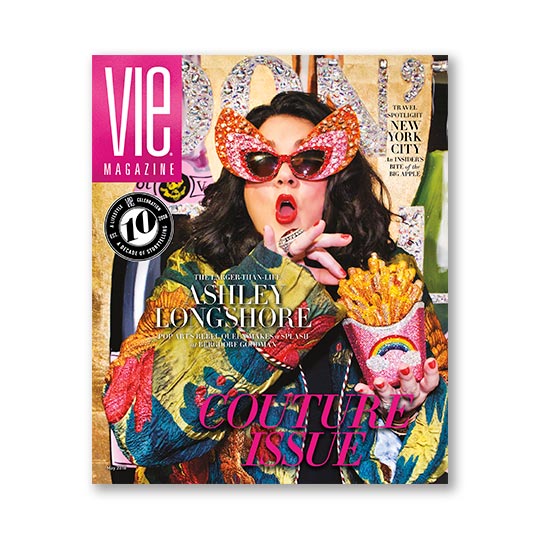 In addition to the incredibly fun cover story on artist Ashley Longshore, which we mentioned above, the 2018 Couture Issue was a riot of color, fashion, art, and beauty. A travel guide to New York City rounded out stories on designers from New York Fashion Week, Emma Willis, Jessica Ogden, and the House of Worth. Bright jewels for spring made a colorful spread, while the performers of the 30A Songwriters Festival and the cast of The Marvelous Mrs. Maisel also showed off looks to inspire. Read the full issue online here.
The Curated NYC Grand Opening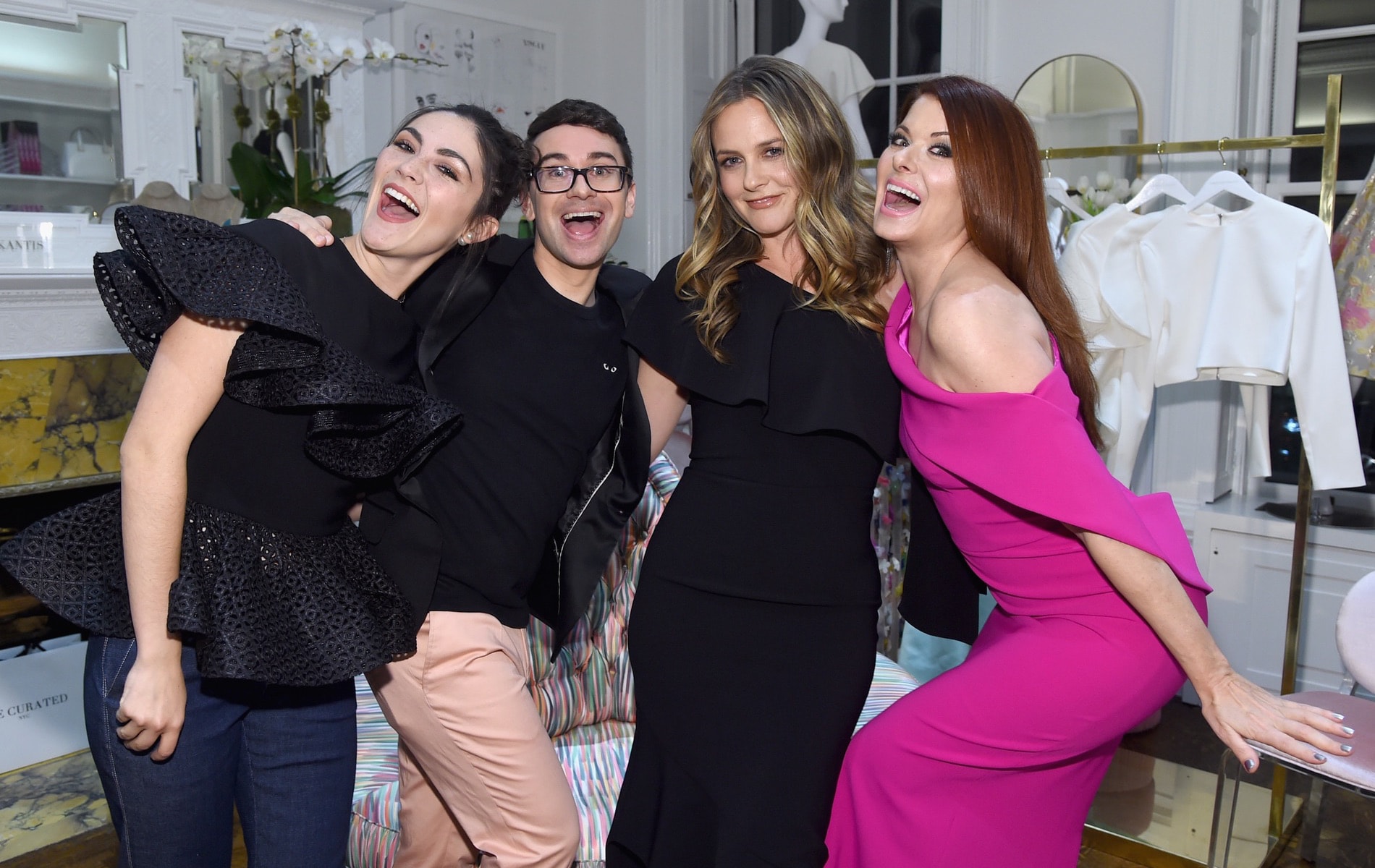 We hopped a flight back to the Big Apple for the grand opening of fashion designer and former VIE cover guy Christian Siriano's lifestyle atelier, The Curated NYC, on April 17. As the presenting host of the evening, VIE was recognized as guests mingled throughout the store, with celebrity sightings including Debra Messing, Isabelle Fuhrman, and the evening's co-host, Alicia Silverstone. We would once again like to congratulate Siriano on this new endeavor! Read the full story and see beautiful photos of The Curated in our 2018 Architecture & Design Issue here.
The Travel & Tech Issue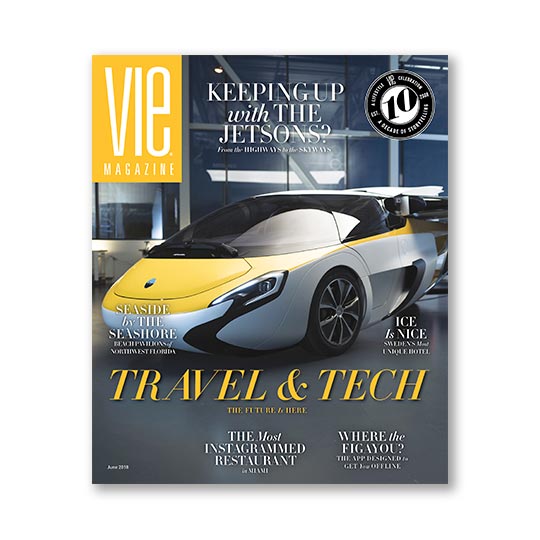 The future is now! At least, it is on the cover of our first-ever Travel & Tech Issue. The feature story, written by VIE publisher Gerald Burwell, details the exciting developments in technology that have made The Jetsons seem less like science fiction and more like something in the near future as manufacturers around the world are creating flying cars. Read the story here. Other articles include travel features on Jerusalem, IceHotel Sweden, Northwest Florida's natural springs, India, Québec City, and more. Find the full issue here.
Spring Shopping Soirée at J.McLaughlin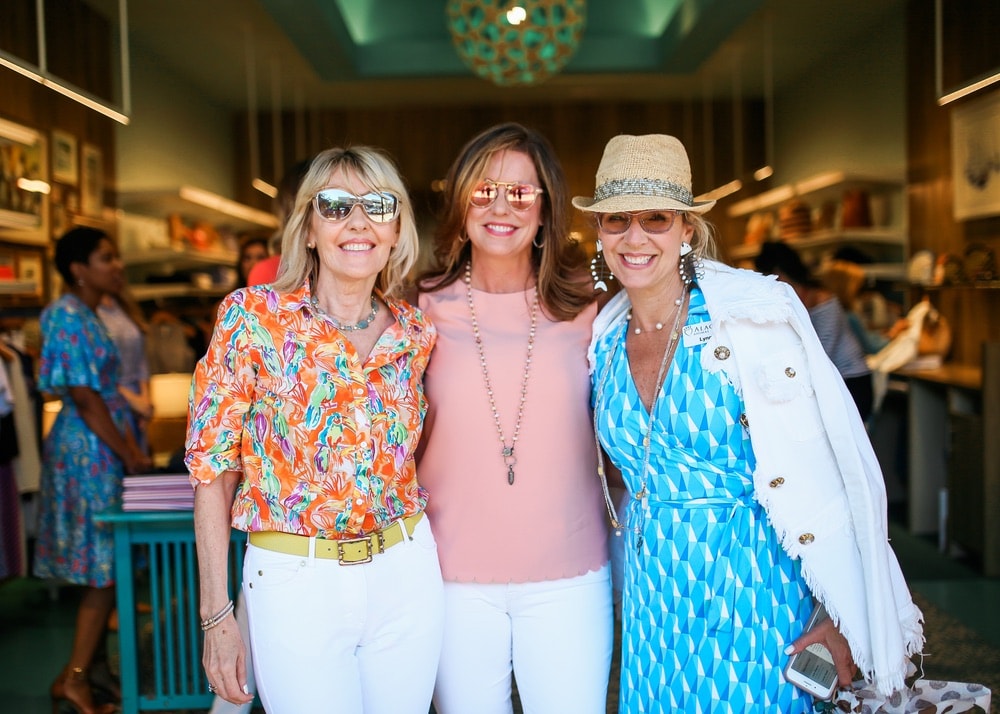 We teamed up with VIE brand alliance member J.McLaughlin for a spring style showcase, wine and light bites from Roux 30a, and a lot of fun on May 10. In honor of our upcoming Animal Issue, 15 percent of all proceeds from sales made at J.McLaughlin's store in Grand Boulevard Town Center, Miramar Beach, Florida, was donated to Alaqua Animal Refuge from the evening. We'd like to thank everyone who came out to join us and look forward to showcasing J.McLaughlin's Fall 2018 collection in our upcoming Art & Culture Issue. Read more about the VIE x J.McLaughlin Spring Style Soirée here on La Muse.
Architecture & Design Issue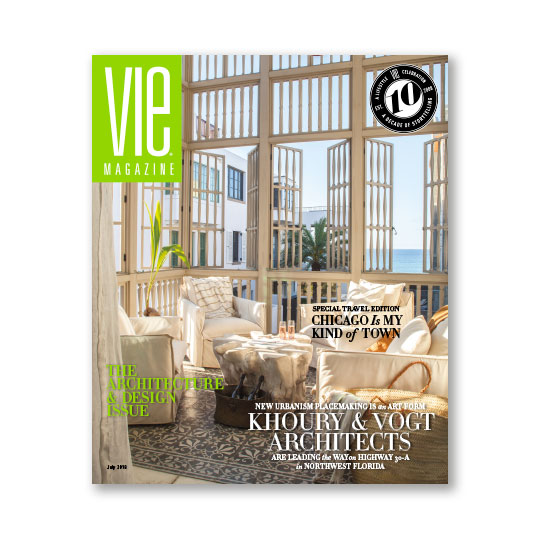 We love incredible architecture and home designs! Our 2018 Architecture & Design Issue was a stunner, featuring the indoor-outdoor lounge in Alys Beach, Florida, on the cover. Khoury & Vogt Architects designed the home with custom millwork on the windows by E.F. San Juan. Read all about Khoury & Vogt's work in Northwest Florida and beyond in the feature story here. Other stories included a travel guide of Chicago and some of its best restaurants and places to stay, a unique blue rooftop home in the Netherlands, the beautiful photography of Brooke Holm, and much more. Find all article in this issue here.
DG + VIE: The Age of Aquarius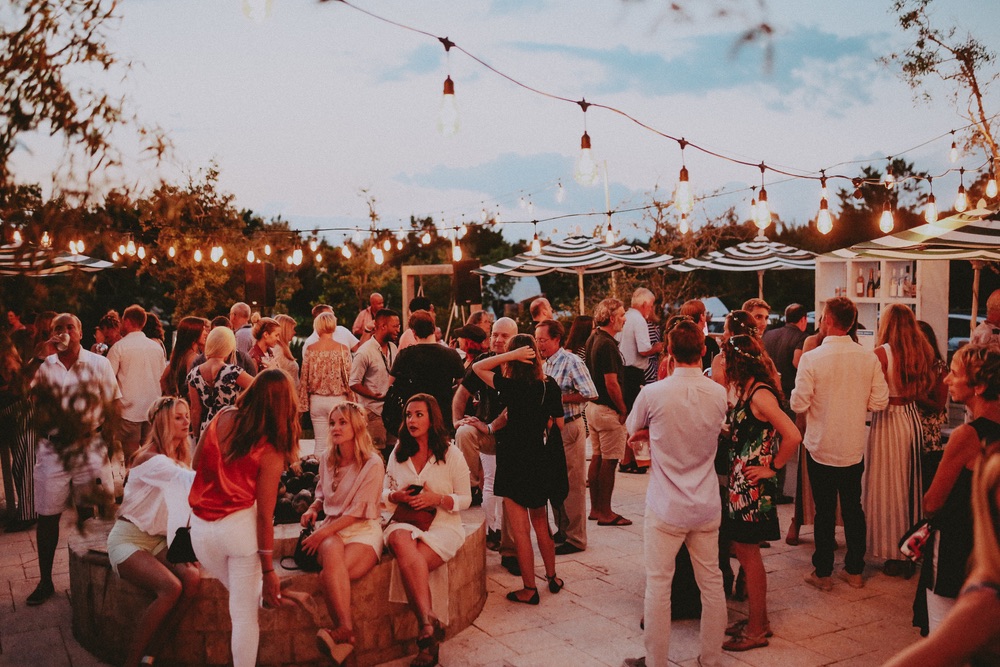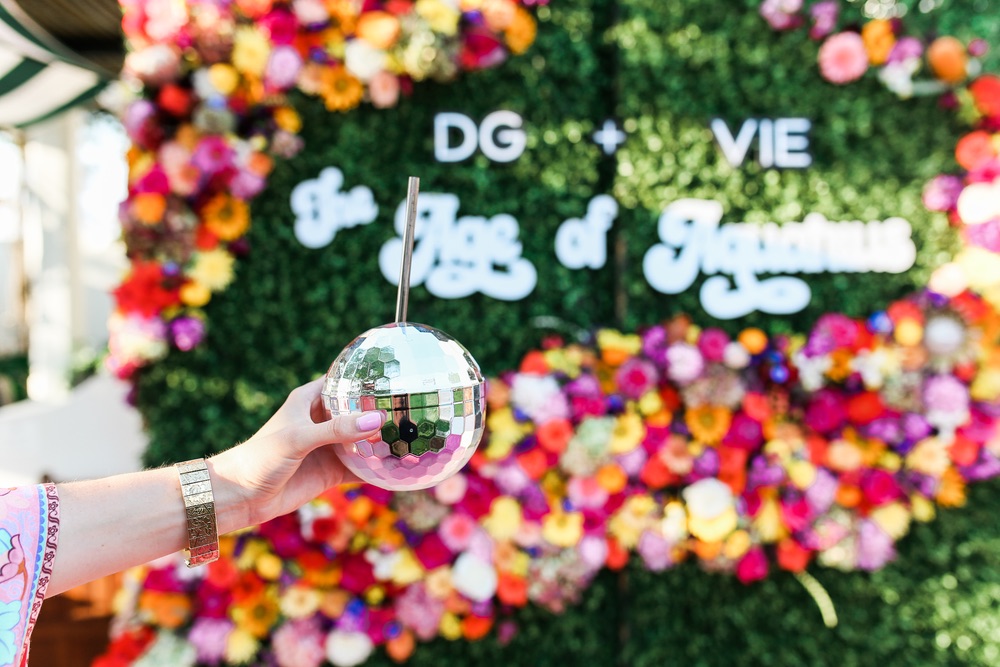 As the Eleventh Annual Digital Graffiti Art Festival was underway in Alys Beach, Florida, VIE and all of our friends got our groove on at the DG + VIE Saturday night Pre-Party. The theme this year was The Age of Aquarius, and VIE brought the magic and music of the 1960s and 70s as we celebrated the union of art and architecture that Digital Graffiti brings each year. Highlights included a gorgeous floral backdrop from Flowers by Milk & Honey and Eloquent Signs, a pink carpet to welcome guests, prosecco served in disco ball cups, yard games such as Cosmic Cornhole and Black Hole Mini Golf, music from Jamm Entertainment, "Rad Libs" fill-in-the-blank table games, and the announcements of the 2018 Digital Graffiti art installation winners. See more photos from The Age of Aquarius here.
The Animal Issue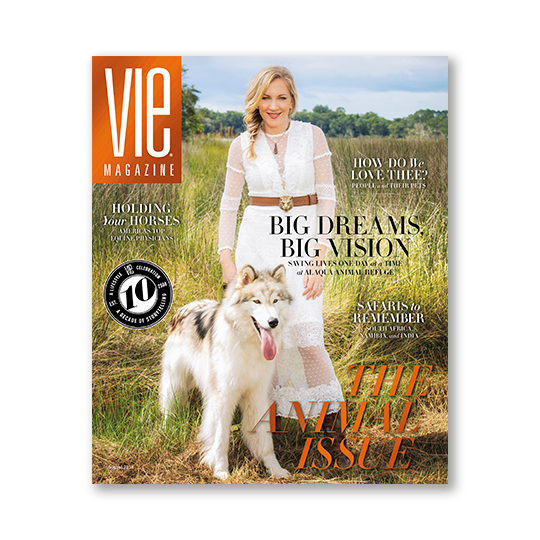 The beautiful Laurie Hood, founder of Alaqua Animal Refuge in Freeport, Florida, has been an animal advocate since she was a girl. She was the inspiration behind our first Animal Issue in 2014 and it was only fitting to once again feature her as cover girl and update our readers on the story of Alaqua, which is now raising capital to expand into a new enormous estate and include state-of-the-art animal care facilities, education initiatives, equine and canine therapy programs, and much more. Read more in the feature article by former Humane Society president Wayne Pacelle here. If you love animals, be sure to check out the full issue here for furry and feathered friends. Take safaris to India, South Africa, and Namibia, try out some Goat Yoga, get your travel guide to Mobile, Alabama, check out some excellent artists who give back to the environment, and much more!
The Home & Garden Issue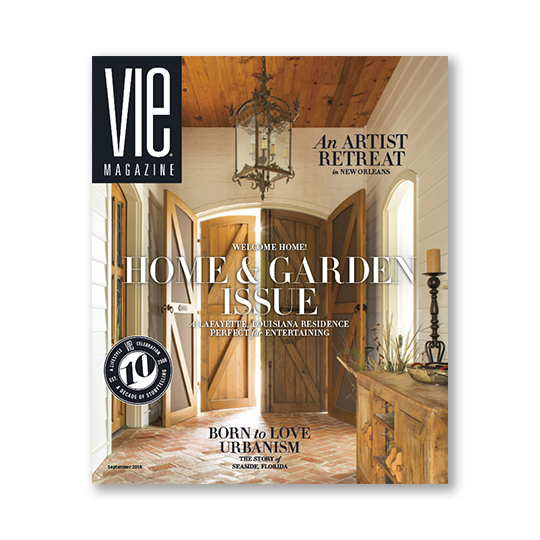 Fresh off the press is the 2018 Home & Garden Issue, coming soon to newsstands and online at VIEmagazine.com! The cover features a beautiful modern mansion in Lafayette, Louisiana, with interior design and decor by Karen Waterfield of Sugar Beach Interiors and photos shot by Jack Gardner. Check out our homepage for the story. And there are many beautiful homes and spaces just waiting to be discovered inside this issue of VIE, from an artistic cottage and Airstream in New Orleans to some beautiful private villas in Italy. Be sure to check out all of our amazing advertisers and brand alliance partners who are doing good in the community, like Chris Burch of Grand Bay Construction and his work with World Changers to repair homes for those in need.
WHAT'S COMING UP
Our year is only half over, and the VIE team has much more in the works! Keep an eye out for these things and more through our website and social media channels.
The Art & Culture Issue
We'll be celebrating all things artistic and creative in our upcoming October Art & Culture Issue, due out in the first week of September. Stay tuned for stories on fashion, drawing and painting, photography, travel, and more!
The Goodness Issue
In keeping with our tagline, Stories with Heart & Soul, we are planning VIE's first-ever Goodness Issue for November! It will be released in the first week of October and include heartwarming stories on philanthropic endeavors led by amazing people and organizations. We love seeing people make the world a better place.
Peat & Pearls 2018 – Pensacola, Florida
Last year's Peat & Pearls celebration of Scotch and oysters was a rousing success, as mentioned in our 2018 Culinary Issue above. VIE is proud to be a sponsor of this event once again, taking place October 4–7 in Pensacola. We are also excited to be hosting a VIE Speaks: Women & Whiskey roundtable discussion with some powerhouse women in the Scotch and oyster industries on October 6. Get more info and get your tickets for the weekend at PeatandPearls.com.
The Sophisticate Issue
Our third Sophisticate Issue is poised to release in the first week of November, with stories about luxury travel, fashion, philanthropy, history, and all the things that make life a little more sophisticated. Don't miss it!
Charleston 2 Charleston Literary Festival
Welcome to the Charleston to Charleston Literary Festival, a partnership between the Charleston Library Society in historic Charleston, South Carolina, and the celebrated Charleston Farmhouse in Sussex, England. These two organizations, both legendary in their support of all things literary, scholarly, and creative, offer a stimulating weekend series of programs with authors and thinkers from around the world in Charleston, South Carolina. This year's festival will take place from November 8–11, and VIE is excited and proud to be a sponsor! More information to come soon. Find tickets and more at CharlestontoCharleston.com.
The Ultimate Travel Issue
VIE's January 2019 issue will release first of December, and it's guaranteed to wake up your wanderlust! Get ready to plan all the trips you want to take in 2019 with the help of this extensive travel issue.
Subscribe to VIE magazine or VIEmail to keep up with the latest news!
---