By Darrell Russell, AIA, ASID |
Photography courtesy of A Boheme Design
Many of our clients these days indicate that outdoor living is as important to them as indoor space. This importance brings with it detailed exterior functionality and design requirements, careful integration of architecture with landscape design, and a hefty price tag. Although many of the residential building lots in our geographic area of the Northwest Florida coast are small, outdoor living has evolved as an expansion of the indoor living space. Many homeowners desire exterior entertainment spaces such as beautiful sitting rooms, outdoor bars and dining rooms, elaborate kitchens, fire pits, pools, and grottoes.
In order to understand how clients plan to use these outdoor spaces, we find ourselves asking many of the same questions we ask in discussing the interiors of each house.
How do you envision using the outdoor space of your house? It may be an extension of the home that connects by a doorway to one or more rooms, or a backyard oasis designed for peace and quiet. Or maybe you want the ultimate party pool, big enough for all your friends, the children, and other guests to romp and play in. Deciding how your outdoor room or space will connect to your home and what its function will be is step number one to making it perfect.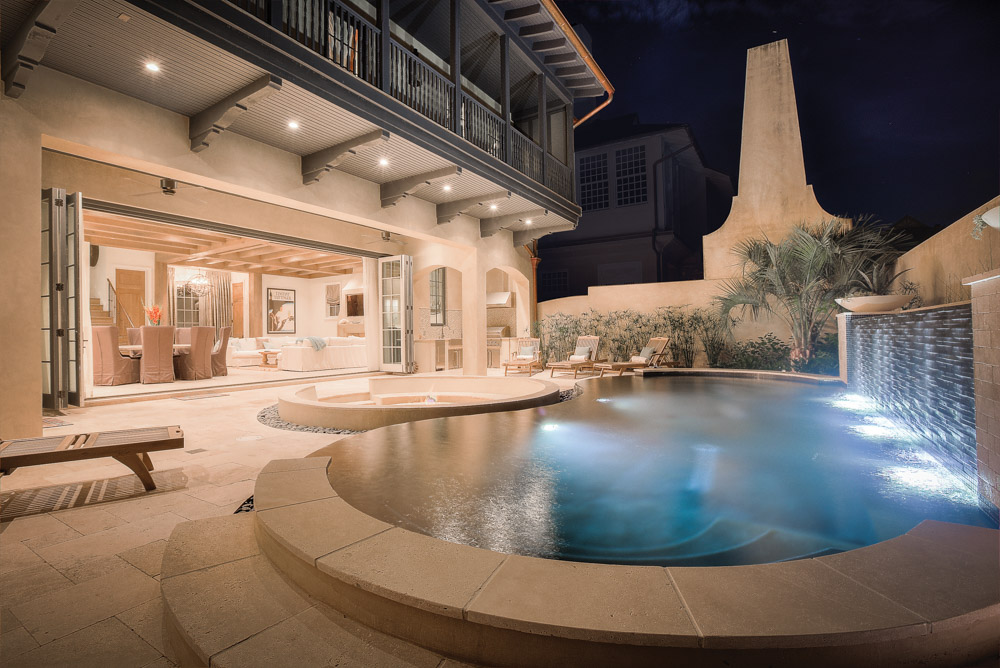 Building a pool area comes with its own set of things to consider. Your pool may be for entertaining, pool volleyball games, and kids' parties. For avid swimmers, maybe a lap pool is a better choice. Some homes just need a small pool area—perhaps with a unique fountain or other water feature—to liven up the space even if it won't be used very often. Adding a sizable sun deck is great if you love to soak up the rays and relax in the warm months. Make sure the deck is big enough for the number of chairs you and your guests will need. You might even decide on an in-pool sun deck, or tanning shelf, for easy cooling off!
Other water-related features in your outdoor living area could include a hot tub or spa, a fountain, or an outdoor shower or bath. Landscape features, such as a garden, a lawn for children and pets, a fishpond, or maybe an exercise or meditation area will need to be planned in advance of building your home to ensure the right materials are available and that the space can accommodate your needs.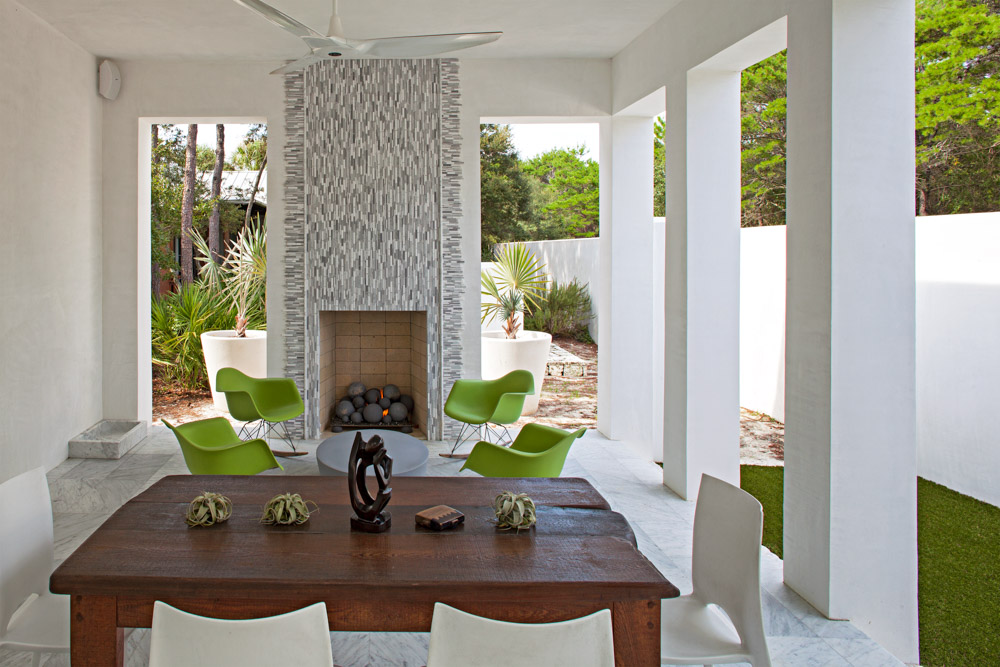 An important thing to remember is that your space should feel comfortable to you and your guests. If you throw large dinner parties often, opt for a spacious patio or deck area that allows for plenty of seating and space to entertain. No one wants to feel cramped or crowded when they're trying to have a nice barbecue. Maybe you want to include dining tables, chairs, or a living room–style seating area for eating outside or playing games. Talk to your designer about how much seating you think you'll need and the best way to incorporate it into your space.
An important thing to remember is that your space should feel comfortable to you and your guests.
Entertainment areas such as outdoor kitchens, fire pits, and television areas are great ways to bring everyone together. If you will be cooking or serving outside, you might want built-in grills with countertops and storage. A designer can help determine what type of outdoor kitchen will best suit your lifestyle and then include features such as fryers, woks, refrigeration, wine storage, ice makers, sinks, herb gardens, utensil and dish storage, wood-burning pizza ovens, serving buffets, and fireplaces with Italian grills into the design.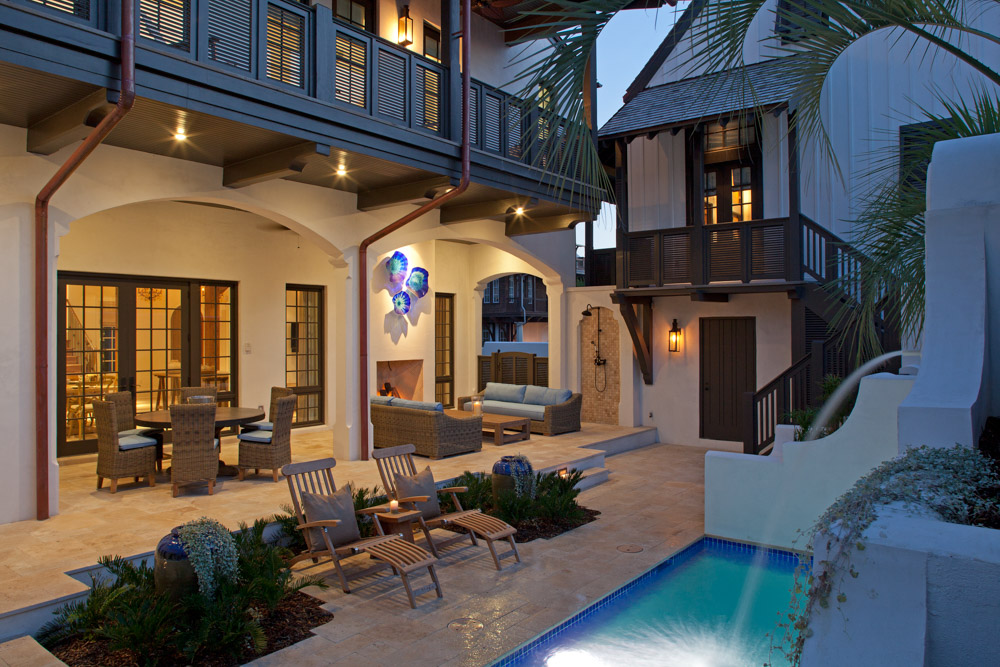 It is important to consider your desired outdoor furniture layout and any landscape requirements when designing a home. As real estate in our area is very valuable, our clients often want to maximize their building footprints. This can lead to irregularly shaped (and sometimes small) outdoor spaces. Careful planning from the beginning can help ensure that these spaces reach their full potential by creating an outdoor living area that is an extension of the home, rather than an afterthought.
Once the function of the outdoor space has been defined, we must delve into the details of the design, the feeling that the clients want to evoke, and any desired materials or decorative elements they want. The selection of finish materials (floors, walls, countertops, backsplashes, ceilings for covered areas, and cabinetry) is affected by intended use, routine maintenance, durability, desired aesthetic, and price. Much like with the interior of a house, the selected materials should complement each other so the exterior spaces flow.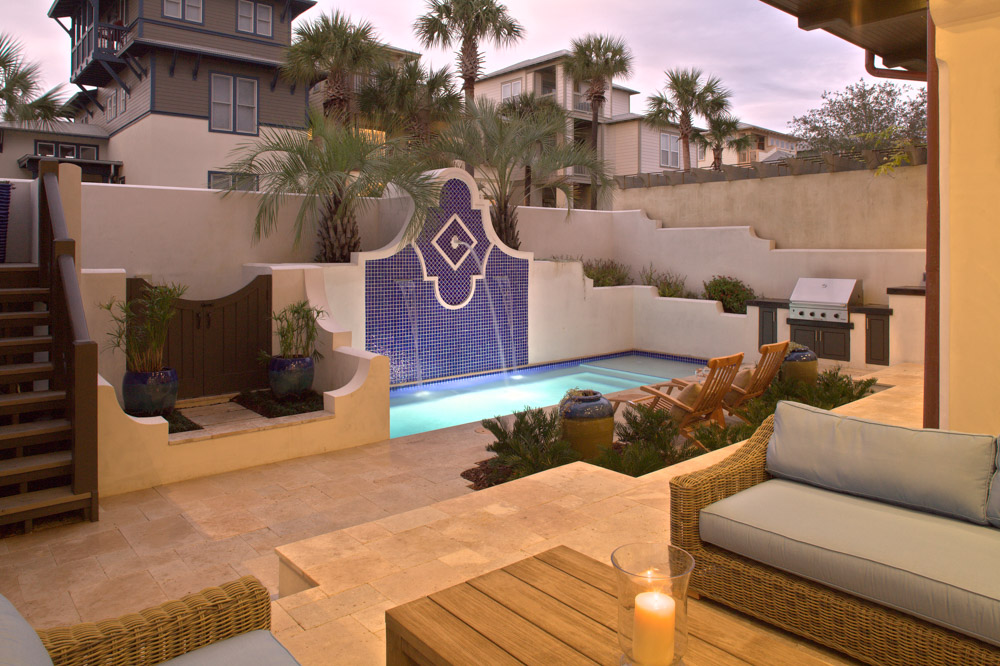 Finally, care should be given to the selection of furniture, fabrics, pots, and accessories; these will add the finishing touches to the space. The options for durable outdoor furniture and fabrics are ever expanding, and new products are constantly being introduced.
When determining a budget, clients typically assume that the exterior spaces will be significantly less expensive than the interior spaces. They are accustomed to referencing real estate values and construction costs in dollars per heated and cooled square foot. Porches, outdoor rooms, terraces, pools, garages (often air-conditioned), cabanas, kitchens, and bars have significant associated costs, and the cost per square foot can easily be as much as or more than interior construction on the same project. Therefore, when budgeting construction costs for a new home here at the beach, it is critical to include all desired gross square footage.
In my opinion, there is little difference in the quality of a house's interiors and a high-quality exterior room. Clearly defining the function and desired style for your outdoor spaces—as well as providing an adequate budget for the integration of architecture, design, hardscape, and landscape planting—will positively kick-start your project.
— V —
---
ARTICLE CATEGORIES