By Amanda Crowley
When I began learning German (entschuldigen, Deutsch) a year and a half ago, Berlin Fashion Week was merely a dream. But as my language studies progressed, I became more interested in the history, people, and culture of Germany. I decided to use my winter break this year to enroll in an intensive language and culture course at the historic Humboldt Universität zu Berlin. As an intern at VIE in 2011, I was taught to keep my eyes and ears open for opportunities to find engaging stories and bring them to the forefront. What started as a passion for language turned into an opportunity to attend Mercedes-Benz Fashion Week in Berlin and an immersion into the über-hip culture there.
"Always Restless" (
Immer ruhelos
)
The theme for Mercedes-Benz Fashion Week Berlin's fall/winter 2014 collections, "Always Restless," highlighted creativity. Born of the combination of the restless world of fashion, always striving for new styles, and the progressive automotive design Mercedes-Benz is known for, the slogan perfectly captured the spirit both in the tents and on the streets of Berlin. While Berlin has a rich and long history, the city's current culture is relatively new. After the fall of the Berlin Wall in 1989, two cultures were once again united. Now, Berlin and the rest of Germany have developed one of the strongest economies in the European Union, and the city is emerging as a world leader in innovative technological production. A mixture of new and old, hip and classic, natural and technological inspired the fall/winter 2014 collections, which were presented January 14–17 by more than fifty designers at the event. Everywhere I went, this juxtaposition was felt in the most unique ways.
As an American in Germany, I couldn't help but feel privileged to be standing on the ancient streets seeing fresh, smart fashion everywhere I turned. The unexplainable excitement of seeing look after look come down the runway was heightened by walking back to the main lobby after each show to hear everyone's thoughts; press from all over the world and all over Germany were sharing their passion for fashion. Touring the city and discussing fashion with these bloggers and style enthusiasts made my desire to master the language even stronger.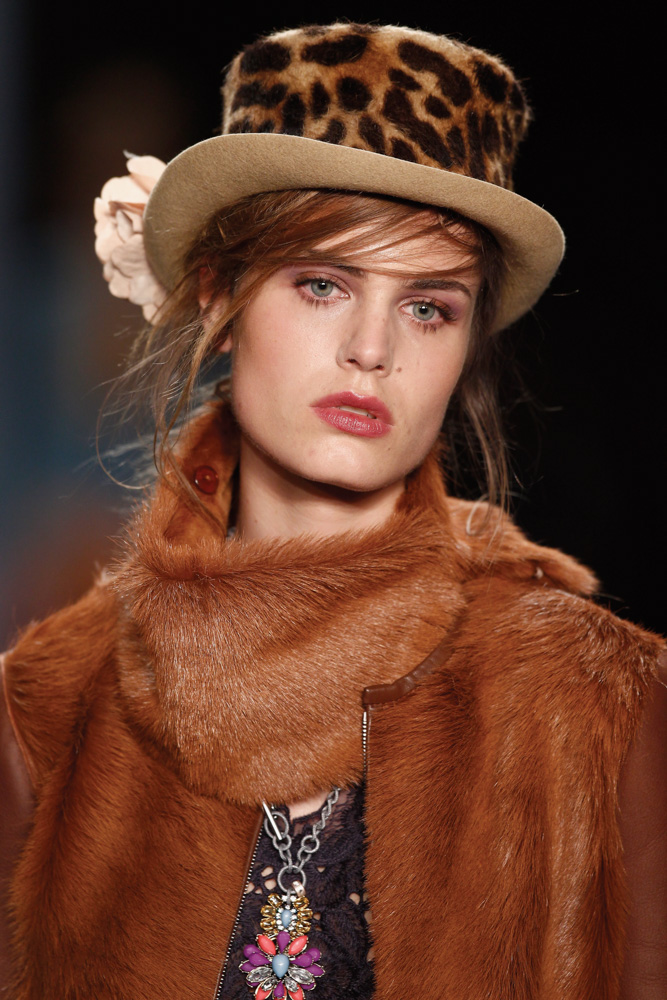 Herzlich Willkommen zur Berliner Fashion Week
On Fashion Week Eve, my German class went on a field trip to the Reichstag (the German Parliament), which is located around the corner from Fashion Week's home. As we stepped off the U-Bahn, Berlin's metro system, we could see the purple and white Fashion Week tents framed by the gigantic pillars of the Brandenburger Tor (Brandenburg Gate). The former city gate marked my entrance into the style city of Berlin Fashion Week, and I couldn't help but feel a sense that both cultures were crashing and mixing into one eccentric blend. The image of the tents—a fashion metropolis illuminated by the gate and Berlin nightlife—kept me awake with anticipation all night.
Although Berlin Fashion Week is much younger than its renowned sibling in New York, the fourteenth season proved that Berliners know fashion and are here to stay. I could hardly contain my elation walking in between sleek black Mercedes-Benzes and up to the tents on Tuesday morning, photographers furiously clicking away at the street fashion, and onlookers hoping to catch a glimpse of the world to which I was lucky to gain access. My VIE press pass stood out against the fur vest I had chosen for day one, and I stepped confidently through the doors for the first show of the week.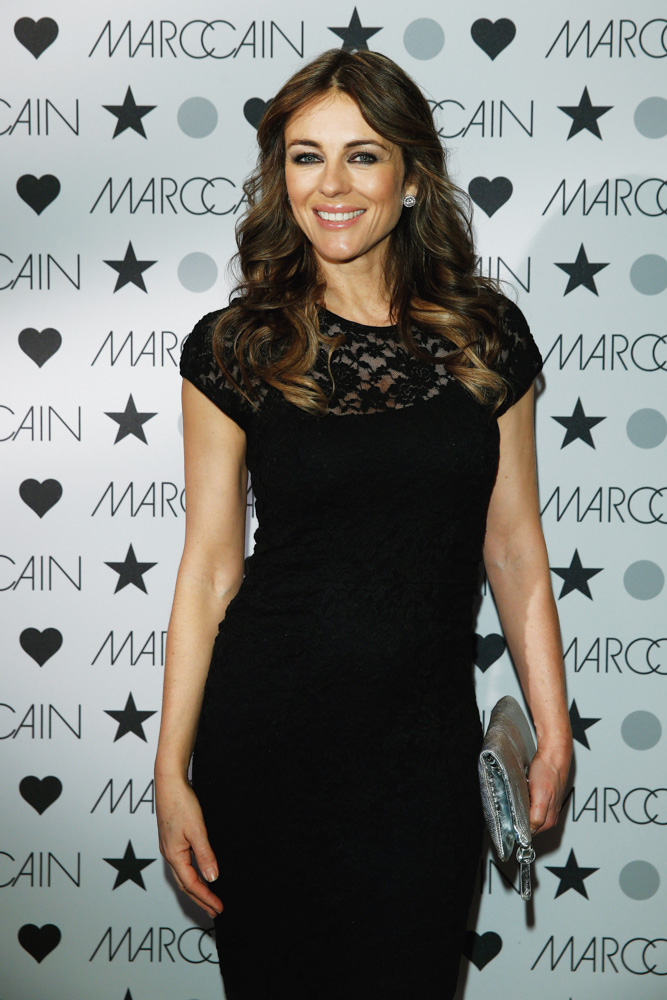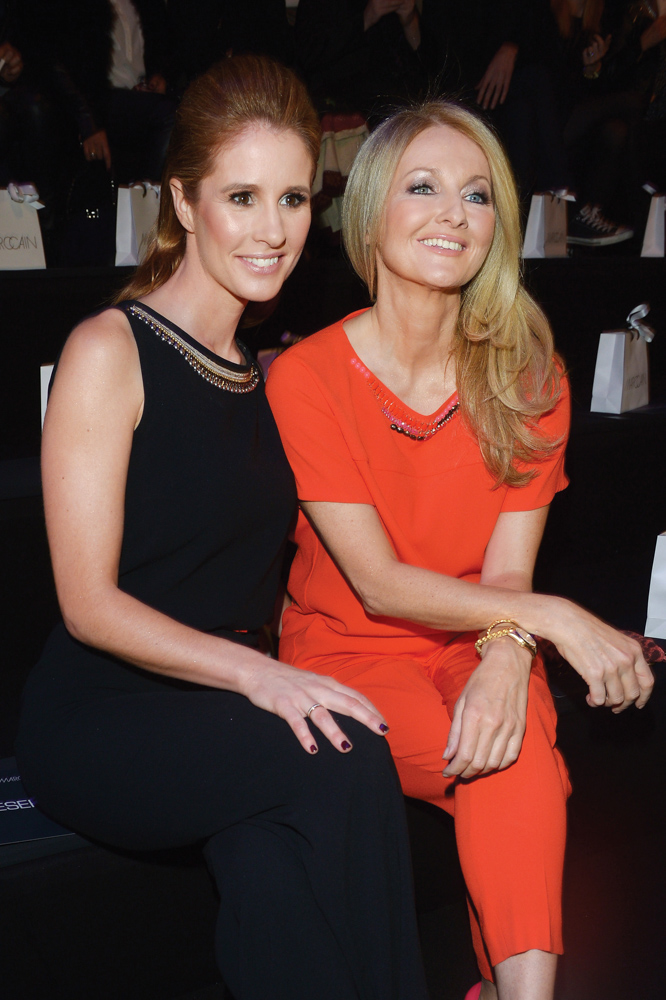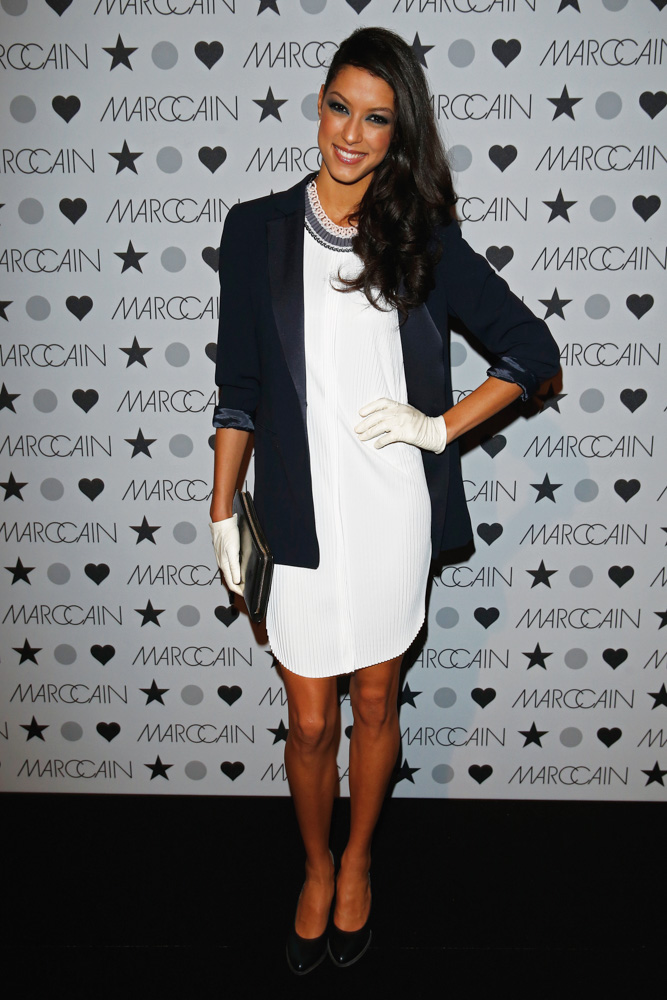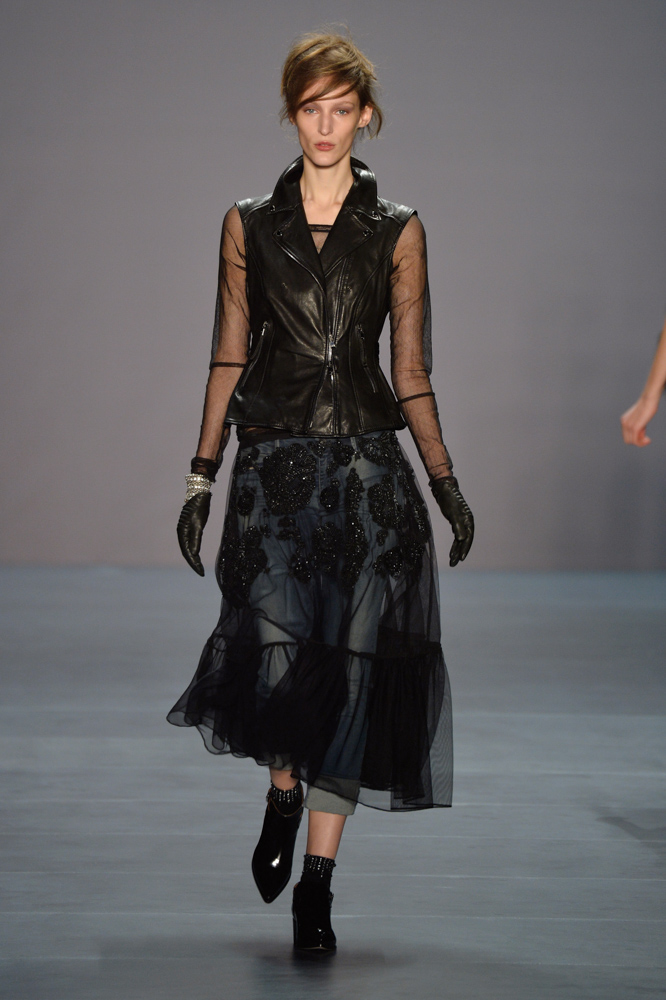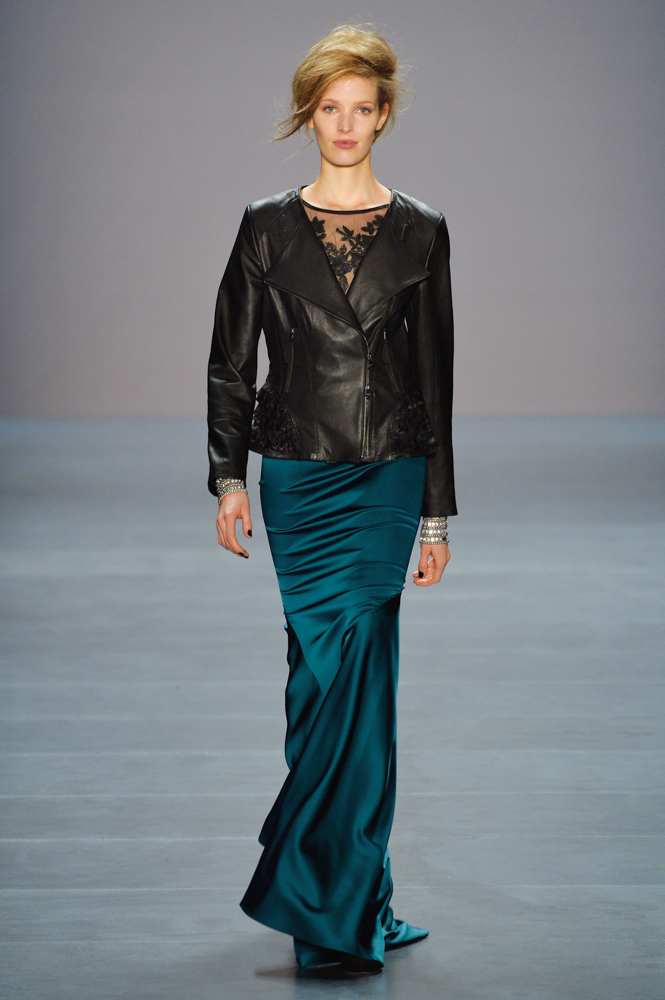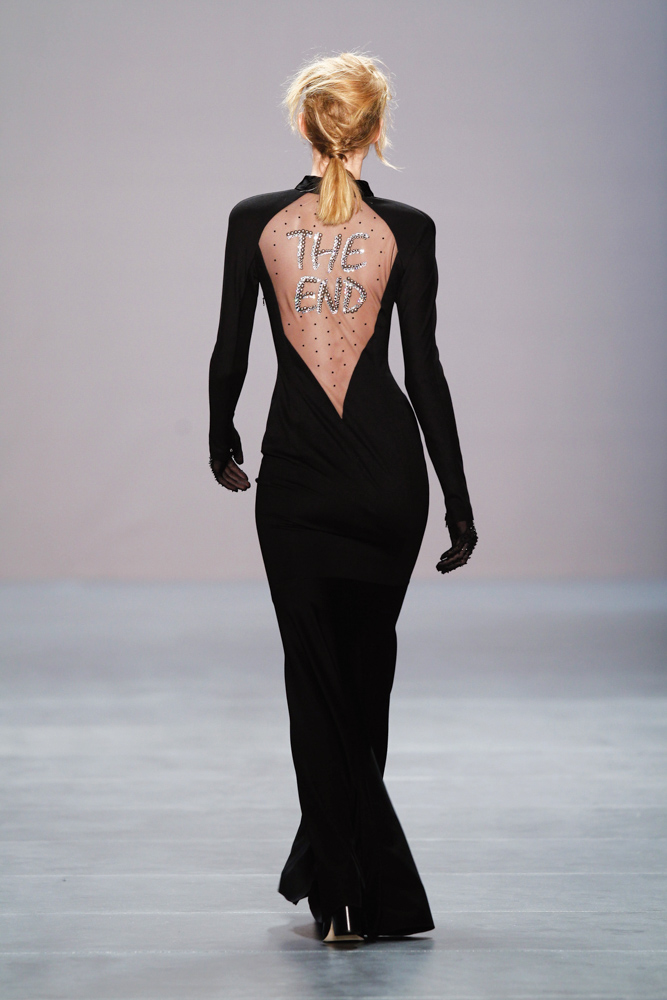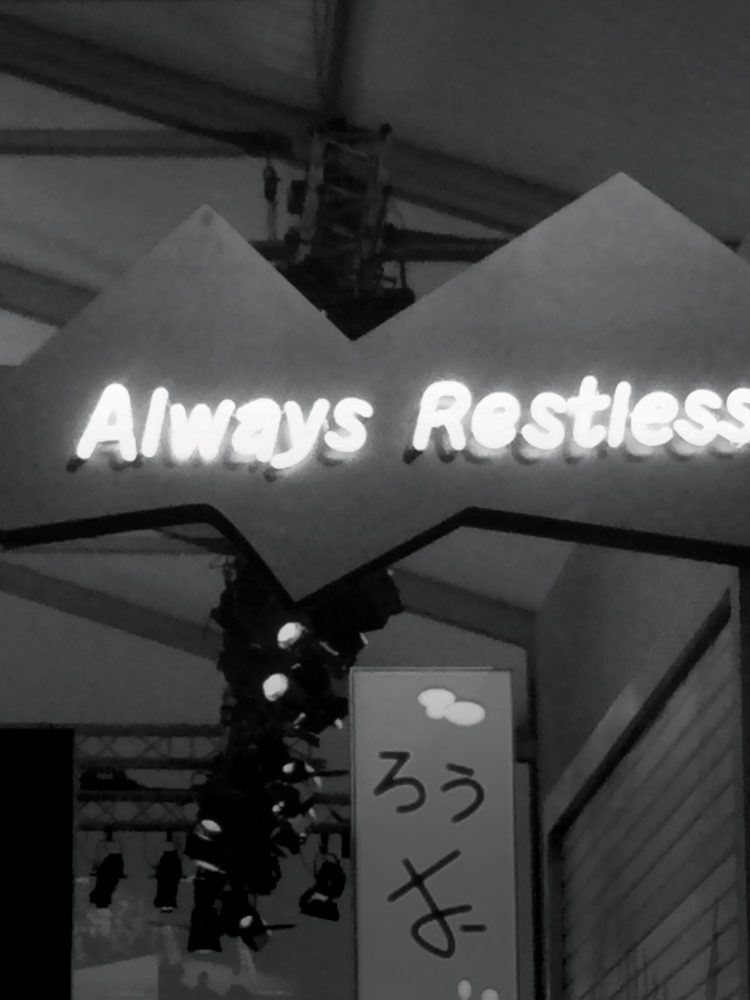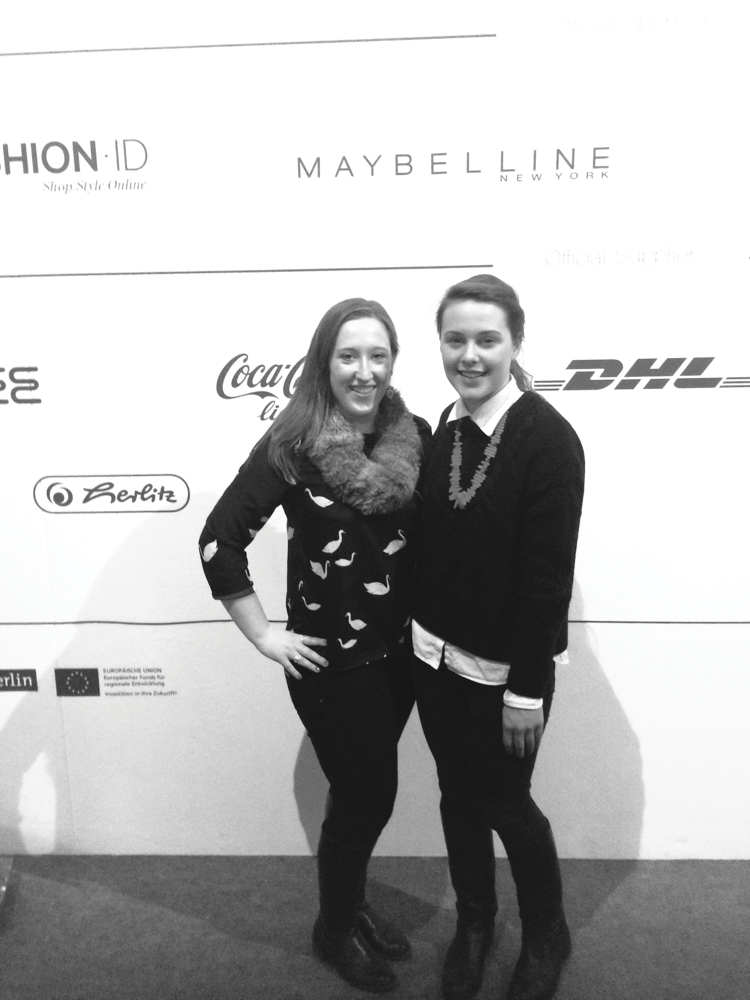 I decided to explore the numerous sponsor booths located in the main lobby. Maybelline, the official makeup of Mercedes-Benz Fashion Weeks around the globe, was giving makeovers—so naturally I was curious to see the looks, colors, and products being showcased this season. A friend once gave me great advice about learning a language: "Speak about things you are interested in and learn that vocabulary. Once you can express your passions, the rest will come easily." Those words resonated with me as I engaged the Maybelline representative in conversation. We talked eye shadow (der Lidschatten), eyeliner (der Lidstrich), and mascara (die Wimperntusche). Noel, my Maybelline makeup artist, shared her insight on how makeup complements fashion. Speaking Deutsch with my new friend granted me membership to what felt like a private club. During the runway shows, I was also able to practice my German with fellow attendees. I could discuss the looks coming down the runway and ask what boutique a blogger's shirt was from. Ich war eine Berlinerin Fashionista (I was a Berlin Fashionista)!
Einen Döner, bitte!
Walking out of the tents for a lunch break, I decided it was time to try the popular Berlin Döner kebab. The Döner, heavily influenced by the Turkish culture in Berlin, is a must-have. German-style Döners are seasoned meat processed into a large cylindrical loaf, roasted on a vertical spit, then thinly sliced with a long knife and wrapped in flat bread with vegetables and sometimes a spicy sauce. Much like New York pizza, Döner kebabs can be found in shops on nearly every street and are a beloved favorite. When paired with a glass of Glühwein (mulled German wine), the three-euro Döner warmed and fueled me for an afternoon of runway shows—and kept my wallet full for a night spent shopping for the new trends!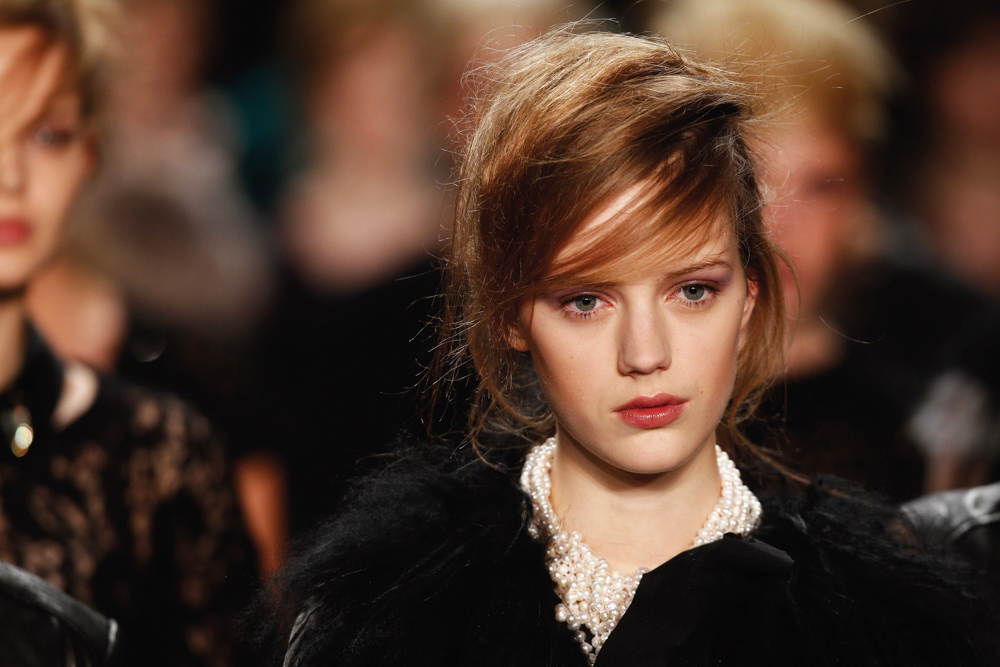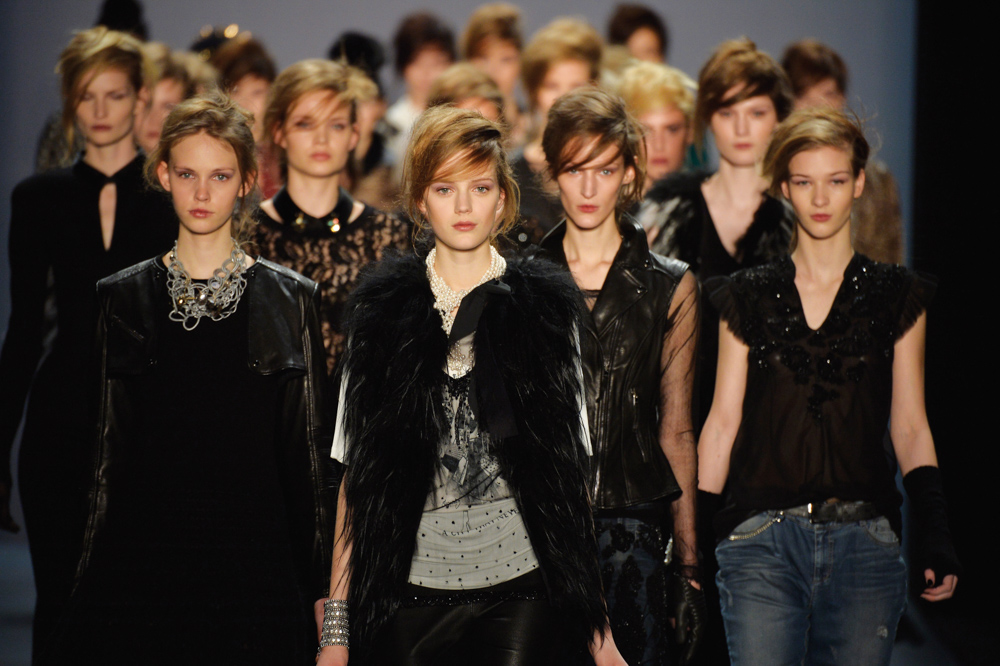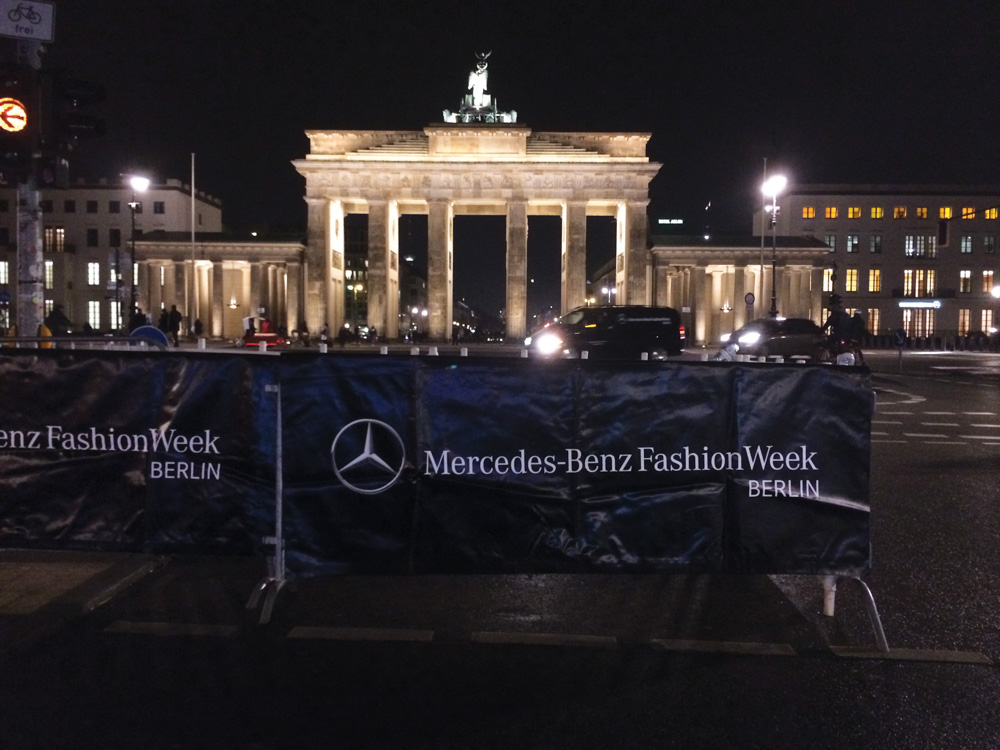 Meine Lieblingslooks für den Winter
(My favorite looks for winter)
Marc Stone's fall 2014 menswear collection drew inspiration from nature and technology, creating an interesting interaction between the two. The color scheme is "simple and clear"—deep raven blacks and frost grays illuminated by electrifying blues. Stone combined classical and functional elements of practicality, individuality, and style for the tailored line of slacks, sweaters, and pullovers.
Rebekka Ruétz's line, "Black Diamonds," showcased idiosyncratic and extravagant tailored pieces in a variety of materials. Silhouettes of key menswear items in wool overcoats with fine cotton pleated pants captivated the audience. High-quality silk evening and long cocktail dresses in blacks, reds, and blues were accented with leather, faux fur, and white crystals. Models also sported wavy 1930s-style hair that would make any Downton Abbey fan swoon!
Berlin designer Timm Süssbrich combined casualness and elegance for Barre Noire's fall/winter collection, "One Night in Sacramento." The reserved looks of wool coats, tapered pants, and sweaters paired with booties were featured in the trending natural tones of maroons, grays, and blacks with hints of pastel blues. Barre Noire gave a nod to Berlin's quickly growing technology industry by bringing the latest in video cameras to the runway; while showcasing a beautiful knit maroon-and-grey sweater, one model carried a GoPro camera—a simple, fun gesture that embodied Berlin's youthful spirit with a model's-eye view of the runway.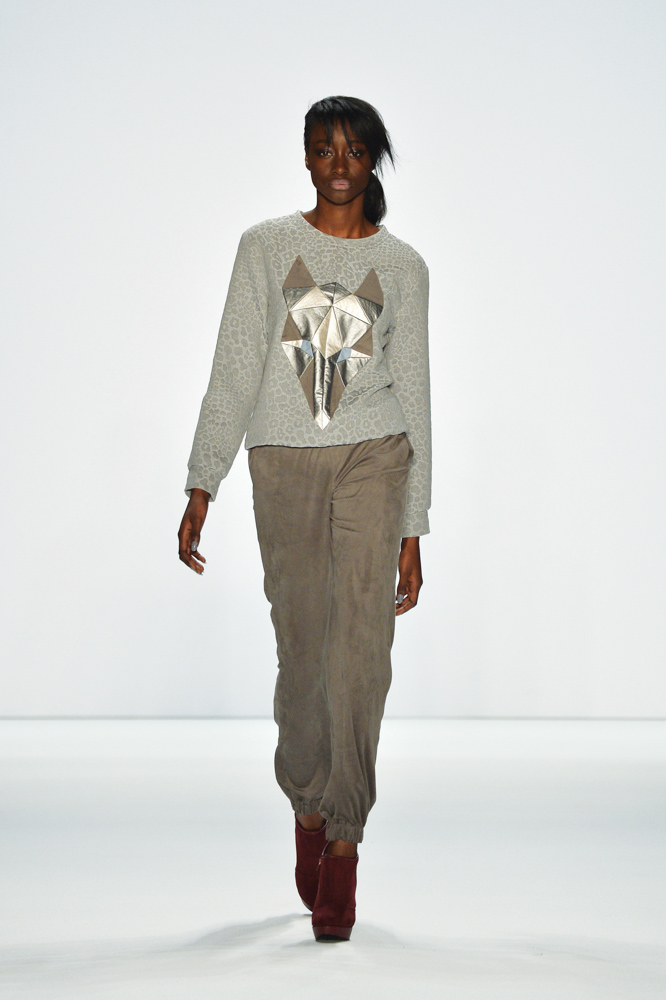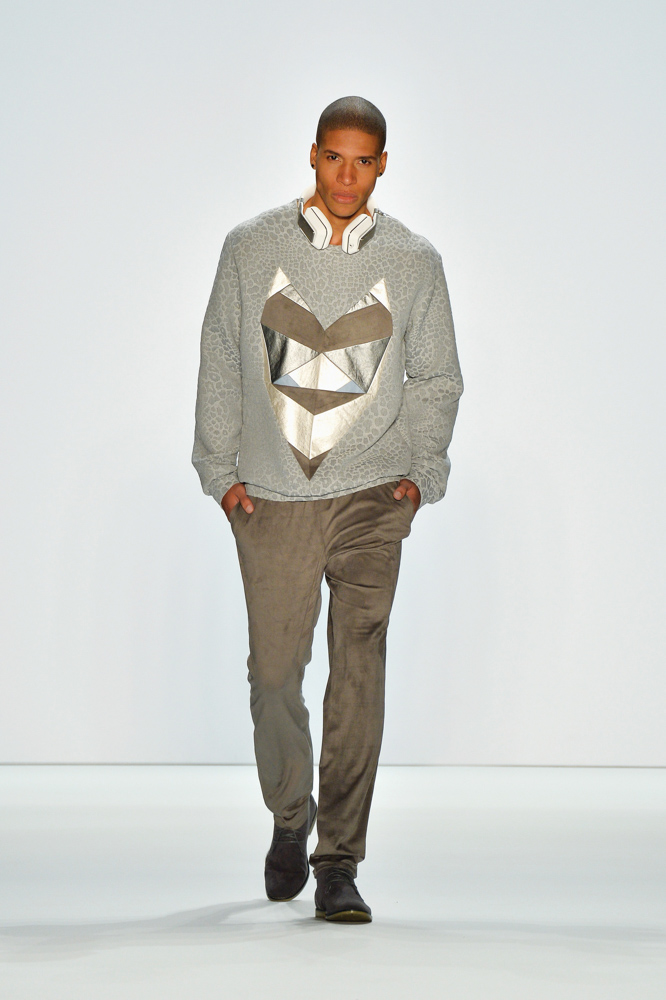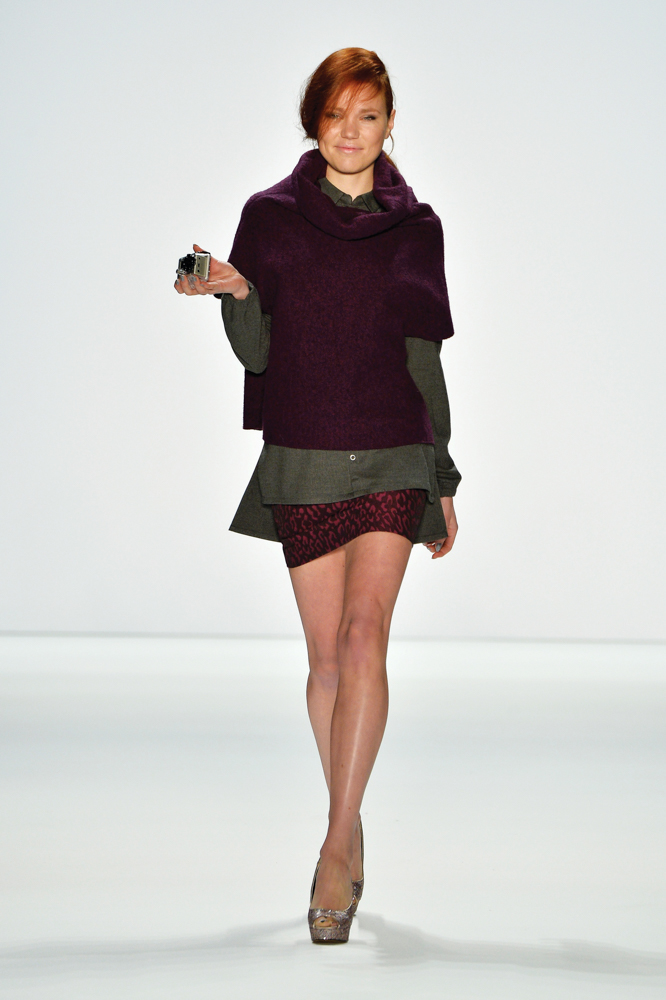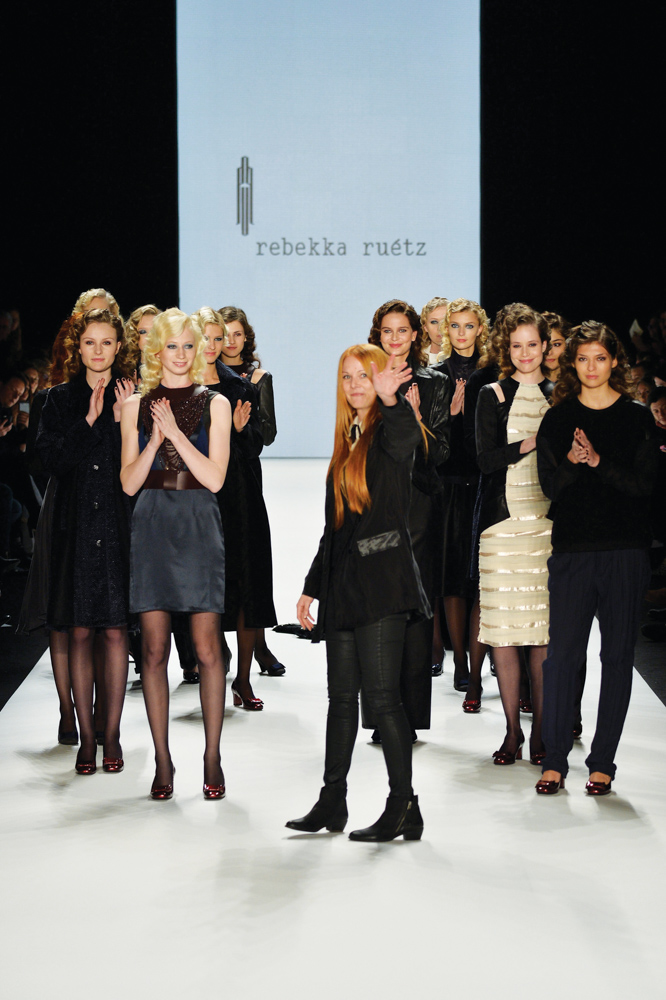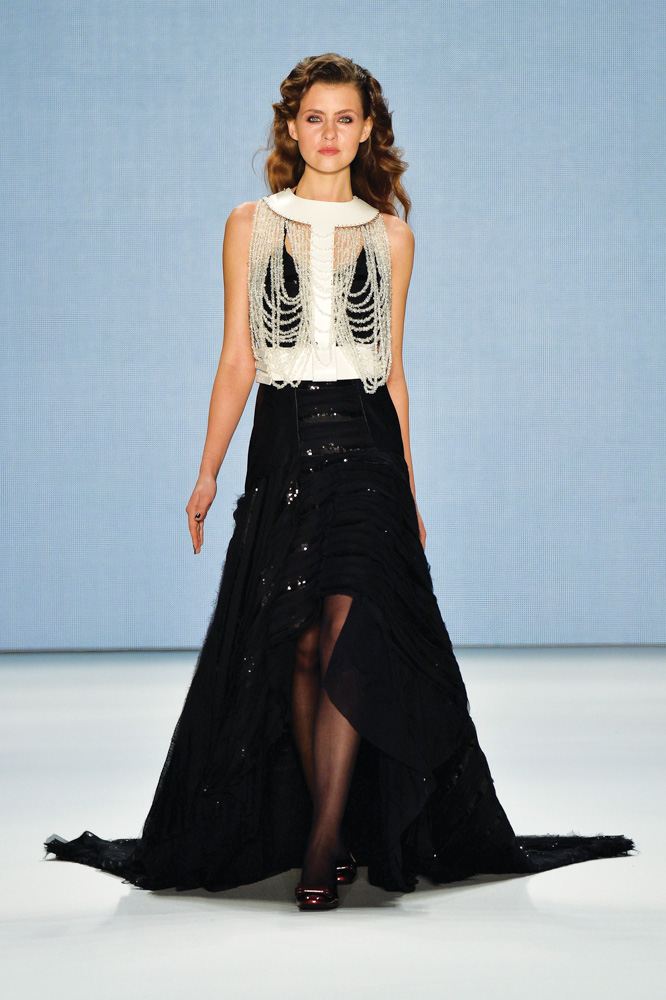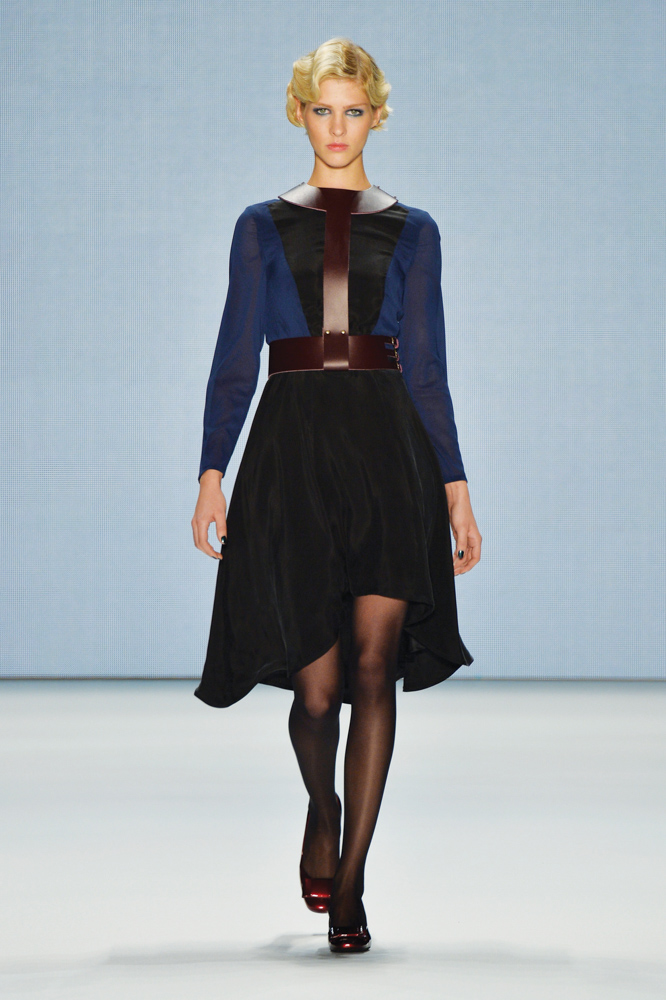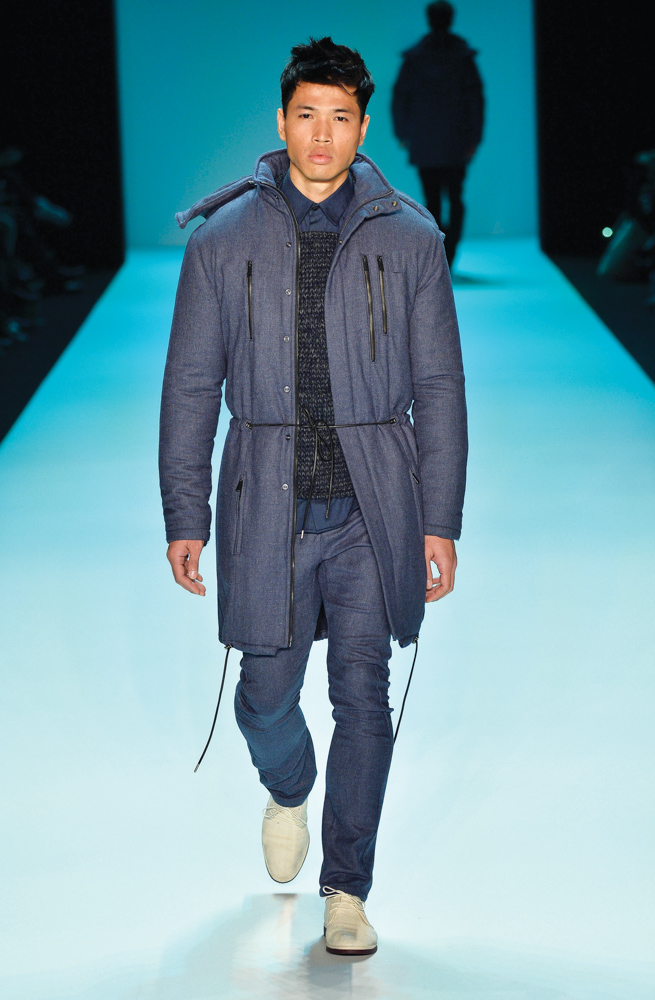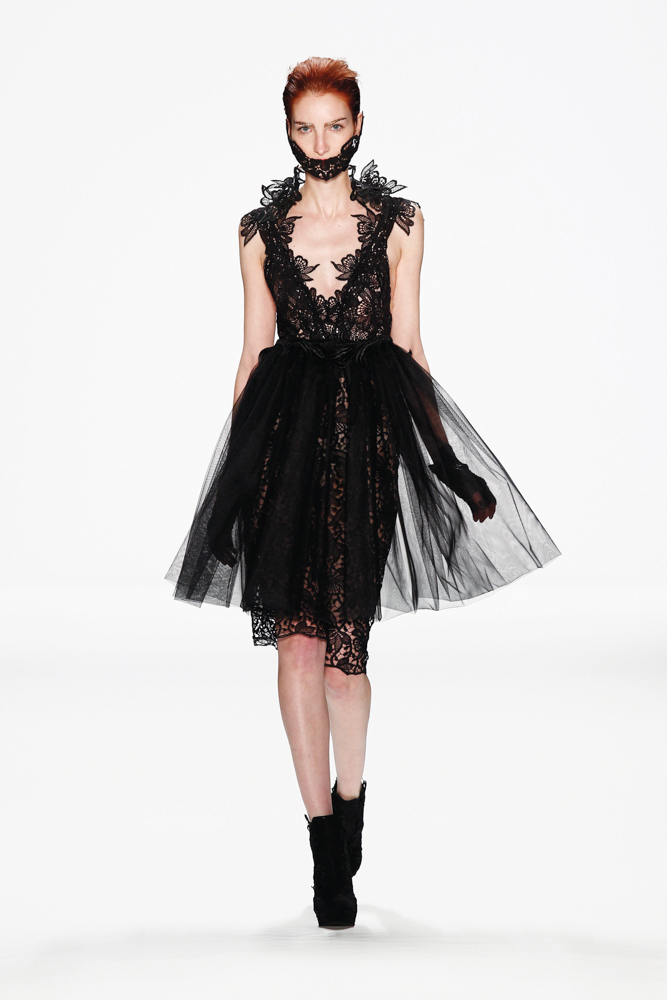 Irene Luft's new collection revived black Plauener lace and embroidery to create elegant handmade couture dresses. Luft's attention to detail could also be seen in her strong yet feminine prêt-à-porter designs of fit-and-flare dresses. She closed the show with a floor-length sheer black dress featuring an intricate Plauener lace back, which had Instagram and Twitter abuzz with adoration!
Prost! Der Mode gehört die Zukunft!
(Cheers! The future belongs to fashion!)
Berlin is quickly emerging as one of the world's powerhouse cities. The hipster culture of fitted jeans, slouchy beanies, long sweaters, and vintage boots meshes perfectly with the edgy culture of fur-lined leather jackets, black pants, and boots with metallic accents. Fashion Week was comparable to the host city, featuring looks with a very modern and chic take on classical pieces. Much like the city, historic monuments and rich culture balance the youthful, vibrant energy present in the populace. On the last day of Fashion Week, when leaving the tents, I once again saw the neon "Always Restless" sign and made a promise to Berlin and myself—to always stay restless for the next adventure, the next idea, and, of course, the next style. Ich liebe dich, Berlin. Danke für eine wunderbare Woche! (I love you, Berlin. Thanks for a wonderful week!)
— V —
ARTICLE CATEGORIES