A Health and Wellness Agenda
By Janet Thomas
Folks would be quick to agree that Charleston, South Carolina, is sophisticated, vibrant, and one of the world's most romantic cities, but healthy? That also would be a resounding yes! Just because it's Southern and we like to envision its famous Low-Country shrimp and grits, fried delicacies, and soulful comfort food, that doesn't mean a visit to Charleston can't encompass so much more than that.
I recently took an energetic Southeast road trip from Saint Augustine and Amelia Island, Florida, through Savannah, Georgia, and on to Charleston. I was on a mission—a healthy one—to explore enticing spas, hotels, restaurants, and activities that give participants a mental and physical boost. During my journey to a Yoga Warriors certification workshop in the city, my goal was to trade gluttony for good habits and excess for exercise. Thank you, Charleston, for making it a breeze.
Traveling with a health and wellness agenda is no longer just a trend—it's a lifestyle. A booming sector of the travel market blends fitness and fun and has quickly become the rule rather than an exception. Here is a veritable how-to guide for putting together an epic escape to charming Charleston.
First, pick a primo hotel, like the Restoration. This place is the epitome of "old-school cool," with original exposed-brick walls dating to the 1800s and an ideal location on King Street.
First, pick a primo hotel, like the Restoration. This place is the epitome of "old-school cool," with original exposed-brick walls dating to the 1800s and an ideal location on King Street. Five buildings house fifty-four inviting suites, ranging from one to three bedrooms. The apartment-style one-bedroom suite is a spacious 750 square feet with a full-size fridge and kitchenette—hello, healthy snacks!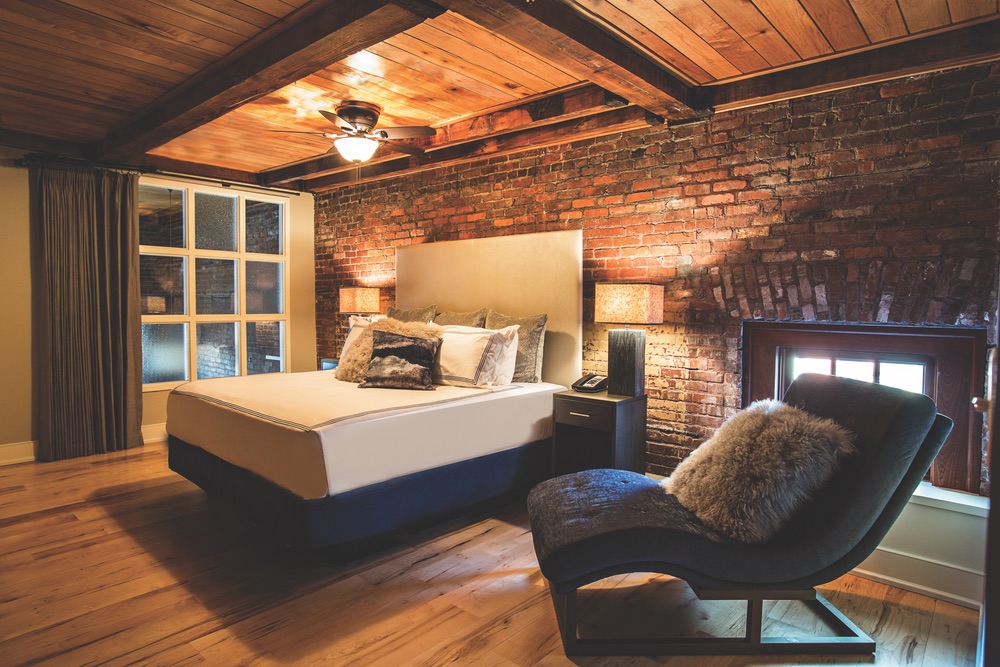 Welcome to the new South, indeed. The Culture Library at the Restoration, brimming with arty Assouline coffee-table books, is a great place for a digital detox (imagine, the sublime thought of sitting quietly, unplugged). Meanwhile, the hotel's Honor Bar offers a curated selection of liquors that guests mix and match themselves and pay for through the honor system by jotting everything down in the bar's daily logbook. The Port Mercantile is the property's shopping destination, boasting more than a hundred vendors from across the globe and often featuring specialty pop-up shops. Cool Americana art by renowned local photographer Ben Gately Williams graces the guest rooms and public spaces, and all but the enormous, breathtaking horse image in the lobby were taken in and around Charleston.
Complimentary breakfast baskets are delivered to your pad each morning at the Restoration; they're stocked with fresh fruit, yogurt, homemade granola, and organic coffee from the Rise Coffee Bar. The hotel has brilliantly teamed up with several lifestyle partners, like Beekman 1802 with its dreamy goat-milk soaps and lotions straight from the farm. Proof that this home base takes its hip-but-healthy mind-set seriously: Lululemon Athletica is another community favorite, and the Restoration hosts yoga classes that locals and visitors adore (with an instructor who's also a nutritionist). Free fitness passes, the Indigo rooftop pool, and the Amethyst Spa with its signature Meridian Massage will pamper and please the most discerning guests.
For Charleston's highest rooftop bar and restaurant, look no further than the Watch at the Restoration, which offers sweeping views of the city along with handcrafted cocktails, the freshest seafood, and delicious farm-to-fork cuisine.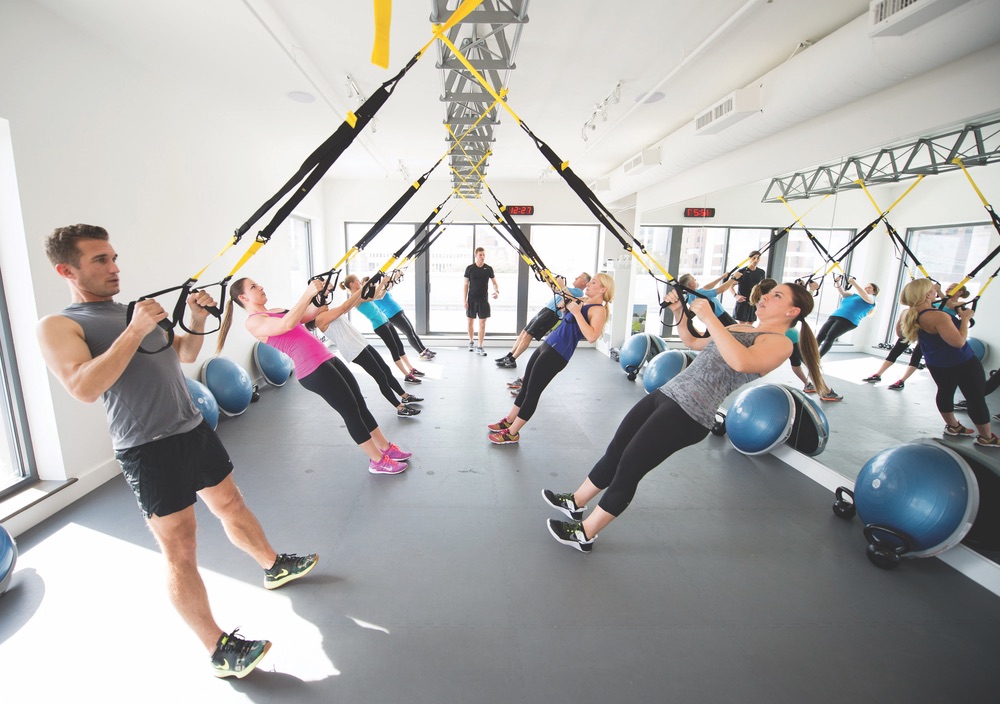 Hop on one of the hotel's complimentary bikes for an energetic pedal around the French Quarter area or along the Battery and scenic waterfront. Care for a bike of another kind? Open Road Project is at your service, where guests can work with a local craftsman to dream up and design a fully customized motorcycle.
If four wheels are more your speed, rent an iconic classic car through the Restoration's partner, Dream Classic Rentals. What a way to tour Charleston in style! Choose from a baby blue 1966 Ford Mustang convertible, a 1968 Chevy Camaro, or a rare 1970 Mercedes 280SL. Head out on the open road to Shem Creek, stopping at Water's Edge for a lunch of oysters, fresh seafood, and a cold beer or a glass of fine wine. Other compelling stops include Folly Beach, Sullivan's Island, Isle of Palms, or Johns Island, where one can witness the jaw-dropping Angel Oak, a four-hundred-year-old behemoth beauty nearly sixty-five feet tall and with an enormous canopy.
Now lace up those tennis shoes because a walking tour makes for a must-do excursion on your health and fitness agenda. Bulldog Tours' two-hour Charleston Strolls Walk with History gives a great overview of the city, passing by Rainbow Row's pastel houses, horse-drawn carriages, and stunning historic architecture. Stop to witness local Gullah women weaving and marketing intricate traditional sweetgrass baskets.
Other fun and fit jaunts include kayaking, paddleboarding, or fishing with Charleston Outdoor Adventures. For a more laid-back activity, choose Charleston Harbor Tours and cruise by interesting points like Fort Sumter, often with multiple dolphin sightings.
Charleston is a dream destination for foodies craving healthy, fresh, locally sourced sustenance.
Charleston is a dream destination for foodies craving healthy, fresh, locally sourced sustenance. Start your morning at Whisk Coffee and Juice Bar, then grab an Instagram-worthy salad or wrap for lunch at Verde or a casual bistro bite at Bull Street Gourmet and Market. Mellow Mushroom boasts unique pizzas, calzones, and burgers with vegan, vegetarian, and gluten-free options.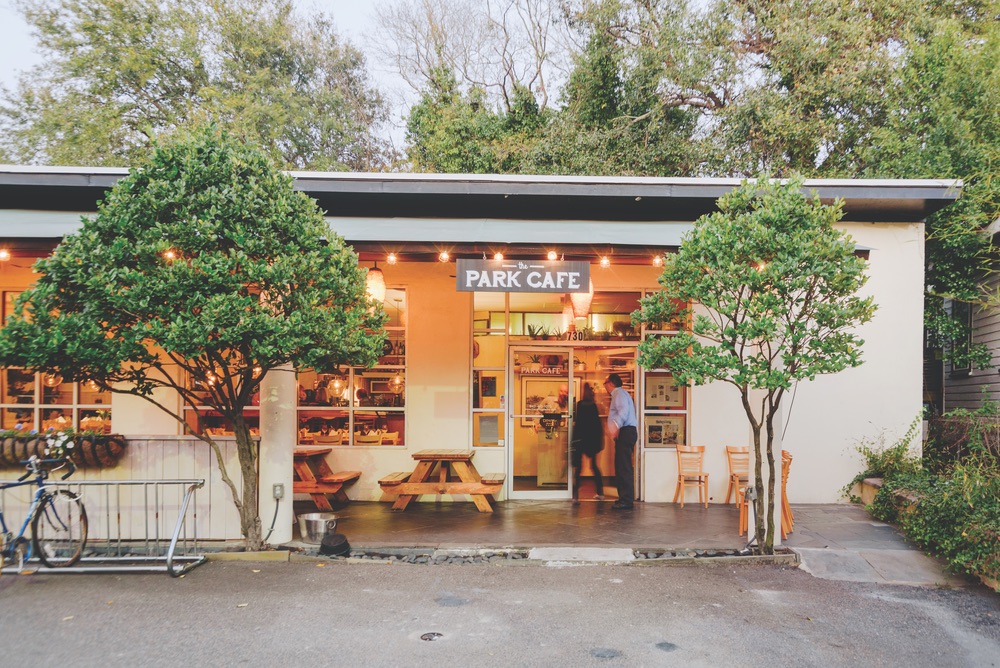 Upscale specialty cuisine prevails at Caviar & Bananas and the Park Cafe, while Butcher & Bee is an epicurean experience with some of the freshest small plates in the city. Don't miss their version of hummus and made-in-house pita, and top it off with the best pistachio croissant this writer has ever tasted. Owner Michael Shemtov also recently launched the Workshop, a hip and forward-thinking food court on upper King Street.
For dinner, enjoy more incredibly fresh seafood at 167 Raw on East Bay Street or head to Cannon Green, a light and airy restaurant with seasonal dinner specialties and a popular Sunday brunch. (It's also a major go-to private event venue, perfect since Charleston is one of the top wedding destinations in the world.) Another night, sample Cru Café's refined comfort food, set in an intimate eighteenth-century house with indoor and outdoor seating.
FIG is a haven for people who simply love food. An acronym for "Food Is Good," FIG is a neighborhood bistro with a major foodie following. Menus change nightly based on local offerings (think scallops crudo, tartare of snapper and olive, entrées like black bass or suckling pig, and Carolina Gold rice). The ambience is warm and inviting, and the staff is impressively educated on all aspects of food and beverage.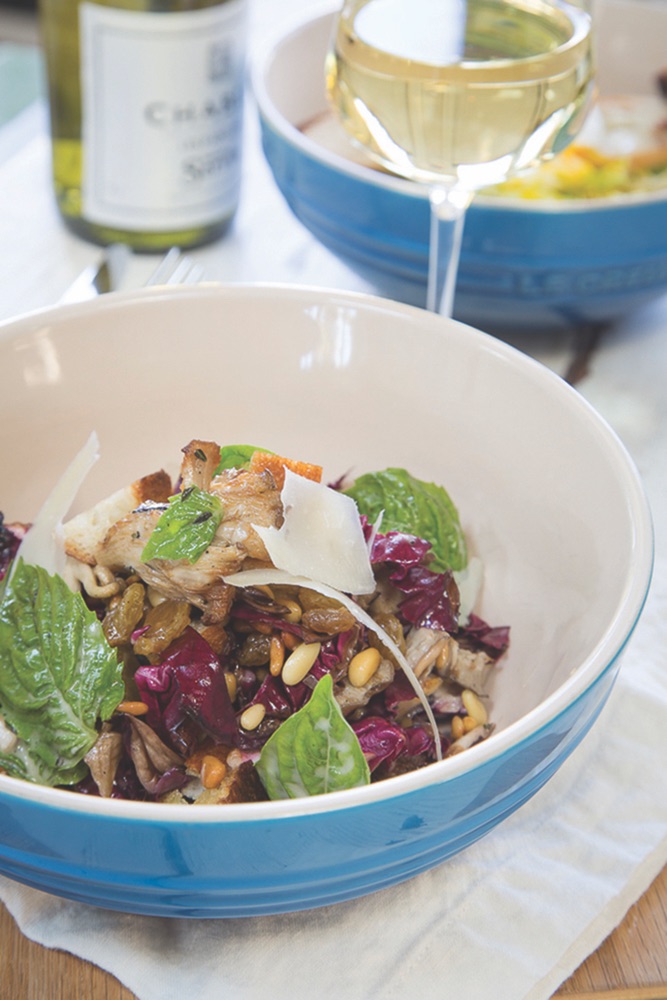 For a lively after-dinner stop, Prohibition brings the swing to upper King Street, with live jazz and swing music in a sexy, dimly lit setting. (Yes, dancing counts as aerobics!) Organic liquors are offered along with killer charcuterie and cheese plates.
There's no better way to practice wellness than pampering yourself at a spa, and Earthling Day Spa is happy to oblige with body treatments like the Organic Purifying Detox and specialty massages (neuromuscular or Thai are two favorites). Owner Aby Cass also offers Pilates classes and unique retail in this spacious location.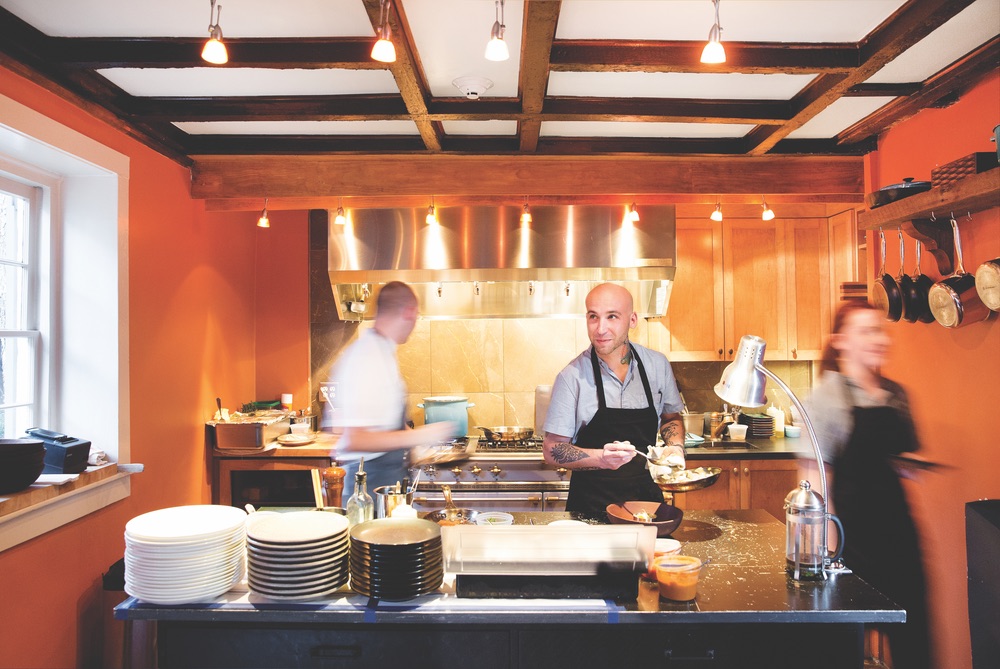 For an exciting change of scenery, I highly recommend dividing a visit to Charleston between a couple of hotels. Zero George Street is a sophisticated yet casually elegant collection of historic homes surrounding an idyllic courtyard. Guests enjoy complimentary amenities including a European breakfast, a wine and cheese hour, a Miele coffee and espresso bar, luxe Malin + Goetz bath products, bicycles, and gym access.
The biggest draw of Zero George, however, is its high-end culinary reputation. Chef Vinson Petrillo, of Food Network's Chopped and Chopped Champions fame, works his magic in an intimate professional display kitchen in Zero George's original carriage house, built in 1804, where he skillfully prepares dinner for Zero Restaurant + Bar groupies. On Mondays and Saturdays, fortunate students can even learn from Chef Petrillo at the cooking school of their dreams. The demonstration-style classes include three courses paired with wines.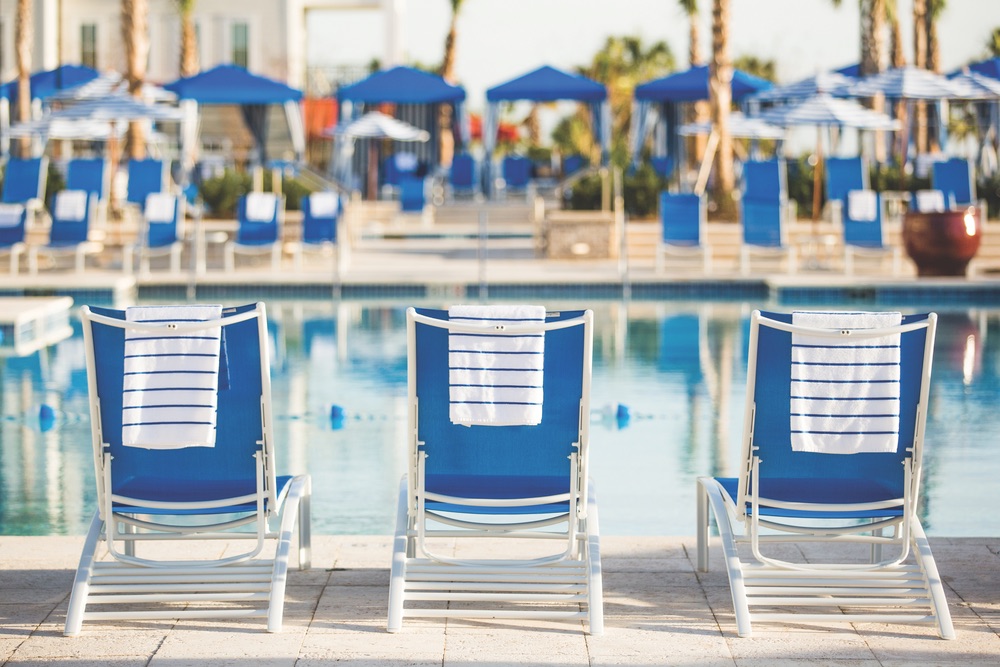 A new kid on the block—or rather on the harbor—the Beach Club at Charleston Harbor Resort and Marina is a sprawling retreat with luxurious guest rooms and expansive balconies overlooking the water. With easy access to the historic district via water taxi or resort trolley, the Beach Club offers golf, yachting, fishing, bike trails, and beach games. Two heated pools, a Jacuzzi, private cabanas, three on-site dining options, a spa, and a movie theater ensure you will never be inactive—unless you just want to be. After all, relaxation is the key to a sound mind!
So you see, Charleston depicts healthy Southern hospitality at its finest. If you've never been, what are you waiting for? Even a seasoned visitor will find something fresh, new, active, and on trend every time.
— V —
---
Learn more or plan your trip at CharlestonCVB.com.
Janet Thomas is a longtime writer, editor, photographer, and yogi. She's a former editor-in-chief of American Airlines' luxury magazine, Celebrated Living, and is now joyfully beach-based along Scenic Highway 30-A in South Walton, Florida—when she's not traveling the world for a good story.
ARTICLE CATEGORIES