Celebrating the Cars of 30A
Interview by Jordan Staggs | Photography courtesy of Cars of 30A
"Cars are a major part of my life and have been since I was a kid," says Davis Brackett, founder of the Cars of 30A community, who recently released a luxury coffee-table book by the same name. The glossy photography book showcases many of the luxury and unique vehicles that can be seen cruising the Scenic Highway 30-A corridor along the beaches of Northwest Florida.
Brackett lives just north of Atlanta with his wife, Callie, and their two children. Having vacationed in the 30-A area since he was young, he says it's been a joy to bring his children, Willow and Woods, to the white-sand beaches and Gulf of Mexico he enjoyed while growing up. "It's truly our happy place and where so many of our greatest memories are made," he shares. "The cars are part of the style and overall vibe of 30-A. Whether you are looking for classic beach trucks, vintage sports cars, or exotic supercars, 30-A has them all. Driving along the coastal highway with the wind in your face, alone or with family and friends, is something you never forget."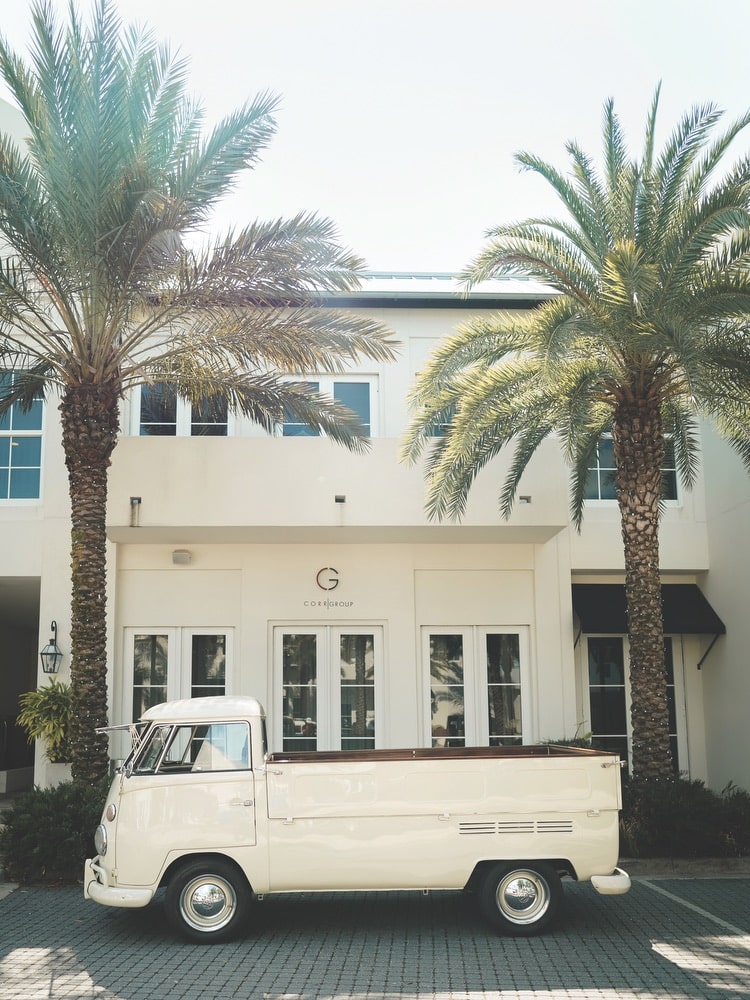 The Cars of 30A book was a natural progression of Brackett's career in marketing and advertising for the automotive industry. The project is a labor of love that has melded his talents with his affinity for beautiful vehicles. He shares his inspiration and drive (pun intended) behind the book's creation with us here, along with plans for the future of the Cars of 30A community.
VIE: How did the Cars of 30A book project get started?
My wife and I were enjoying brunch at Crackings in Grayton Beach one morning with our best friends, and I pointed out that I had tried to find a book showcasing the amazing cars along 30-A, and no such book existed. I remember telling everyone at our table, "I will create a book called Cars of 30A, and it will feature local enthusiasts and influential business owners along the Emerald Coast."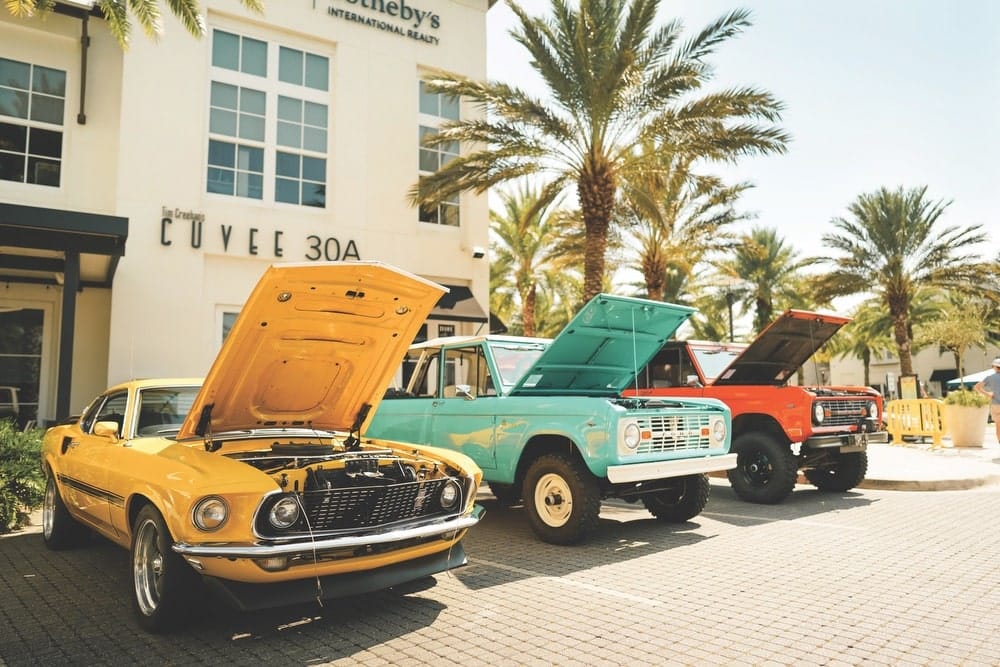 I began cold calling and emailing people to tell them about this project and that I would love to feature them and their cars in the book, and those I contacted said yes! I knew at that point that I had to follow through. I created a vision, and others wanted to see it, too. The level of excitement that began to buzz around it motivated me and fueled the project.
VIE: What do you love most about beautiful vehicles?
I love everything about cars. To pick just one attribute is tough. I think the shape and way they look in their environment is what attracts me most. When I see a car, I look at the entire picture, with the landscape around it, and everything just freezes for a moment. I love seeing a luxury car or exotic sports car driving along 30-A just as much as I love seeing a beach truck or SUV out on Grayton Beach.
Many of these cars have character and patina, and the owners have stories about where their cars have taken them. Those types of stories fascinate me. Cars are an extension and outward expression of ourselves and provide a sense of style.
VIE: What was the reception from the community to the Cars of 30A concept when you started it?
The response from the community has been great from the beginning. The area is filled with so many wonderful cars, and people enjoy talking about them and meeting up with other like-minded automotive enthusiasts. I truly believe that people were waiting for someone to build some sort of car club here, and I just happened to run with the idea in my head. Cultivating the community for beach-loving car enthusiasts along 30-A is a passion of mine, something I take great pride in. Those who love the beach and love cars now have the Cars of 30A group to connect and engage with.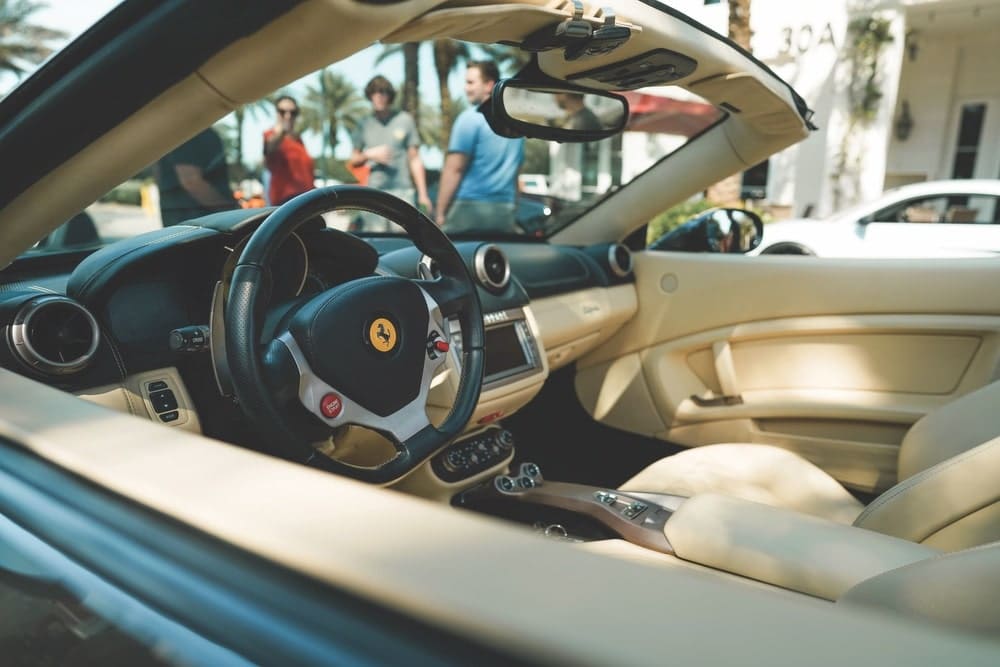 VIE: Did you always plan to make a coffee-table book?
I have always enjoyed automotive print and photography. I have many contacts in the automotive world that have inspired me through their photography, magazines, or books they have created over the years. I knew if I didn't create this book, someone would eventually. I took a chance and gave it everything. I wanted to build a community on something that could last forever, something that could be flipped through and talked about in homes across the country. I believe the Cars of 30A coffee-table book is that foundation. It's memorable, unique, and something you can look through while enjoying coffee or cocktails or just hanging out with other beach-loving car enthusiasts.
VIE: Did you create the Cars of 30A book by yourself?
My best friend, Ashley Loyd, lives in Dune Allen Beach and is part of Cars of 30A. Ashley is responsible for graphic design. It has been so awesome to work together to create something this memorable. We talked almost daily for nearly a year, from ideation to launching the book at the first-ever Cars of 30A car show at 30Avenue in September.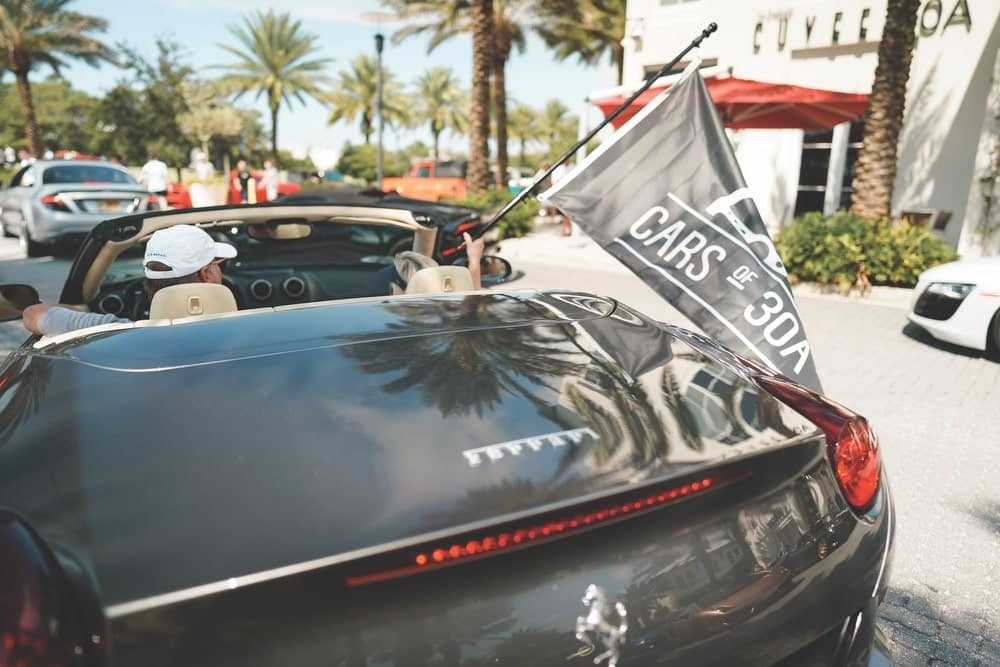 VIE: Which Car of 30A is your favorite from the book?
This is a hard question, and not exactly fair—haha! What makes it challenging to choose is that I have a favorite car and also a favorite story. My favorite car in the book is a 1976 Porsche 911S. It's an air-cooled 911 Outlaw and is perfect. The shape is classic, the flat-six engine sings, the exhaust note is perfectly tuned, it requires the use of your left foot to shift gears, and it provides a race car-like driving experience that you will never forget. I will own an air-cooled Porsche one day; I can only hope it's as nice as Rory's.
VIE: Which one is your personal vehicle?
The Black 1999 Mercedes-Benz C43 AMG is my personal car. I have always loved the W202 C43 AMG. It's a total blast to drive; the V8 engine is so smooth and pulls effortlessly.
VIE: How was the inaugural Cars of 30A car show and book launch event?
The inaugural Cars of 30A car show was amazing. The number of people who attended, participated in the show, and talked about it for weeks proves the impact it made. Car enthusiasts are loyal people. I kept telling myself, Build it right, and people will come. We had a beautiful location, wonderful vendors, and remarkable cars for people to photograph and talk about. I am asked daily when the next show will be. Stay tuned! We are building things out and getting ready for the next one.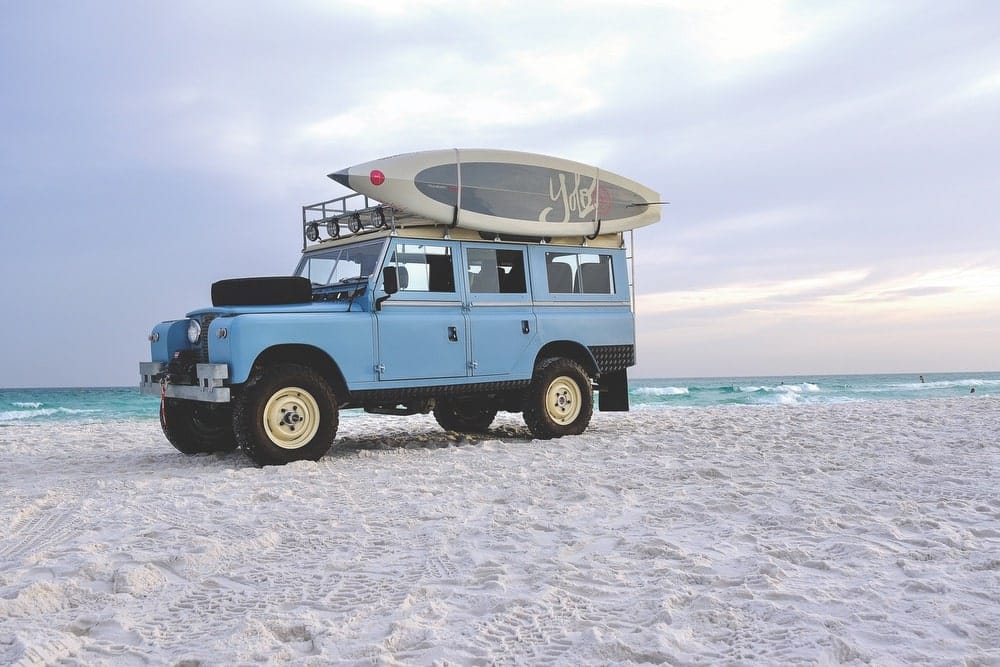 VIE: How do you hope to grow the brand? Will there be a second book?
If you notice on the spine of the book, there is a gearshift with the number one. That number one—first gear—represents this book. As we launch subsequent books, we will fill in the other numbers. As long as people enjoy the book and the content, I am more than happy to produce more in the future. I wanted to create the coffee-table book first to build a solid foundation, something that will last forever. From additional books to car shows and more, I plan to continue providing the Cars of 30A community with enjoyable and unique car content. The unique 30-A tie allows people to get lost in their car obsession as much as their daydreaming of the beach. There is so much content to create and share with people through books and other platforms. I am working on some exciting opportunities and look forward to sharing details with everyone soon.
VIE: Thank you, Davis!
— V —
---
Visit Carsof30A.com to learn more or order your book, and follow the community on Instagram @carsof30a to see more incredible vehicles along Scenic Highway 30-A.
ARTICLE CATEGORIES