Good Food and Familia
Photography by Oddur Thorisson
"Ever since I was a little girl, I have been deeply passionate about food," says French author, chef, blogger, and lifestyle expert Mimi Thorisson on her website. "My childhood was largely spent scurrying between the restaurants of Hong Kong, where I grew up, and the bistros of Paris and the south of France where we spent our holidays at my French grandmother's. Food was constantly on my mind; I'm the girl who was always happiest at the table."
Now splitting her time between Médoc, France, and Turin, Italy, with her husband, Oddur, Mimi has amassed a hefty following on social media and just released her third cookbook, Old World Italian: Recipes and Secrets from Our Travels in Italy. A beautiful representation of the family-focused, slow-food lifestyle found in Italy's rural regions, the cookbook includes classic Italian recipes for everything from predinner cocktails to the sweetest desserts.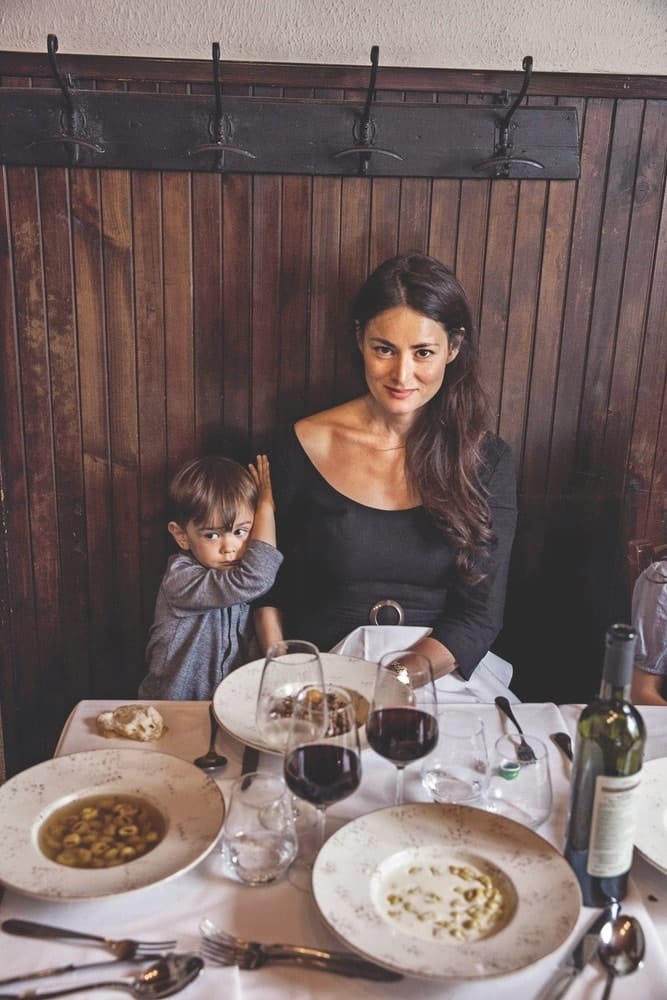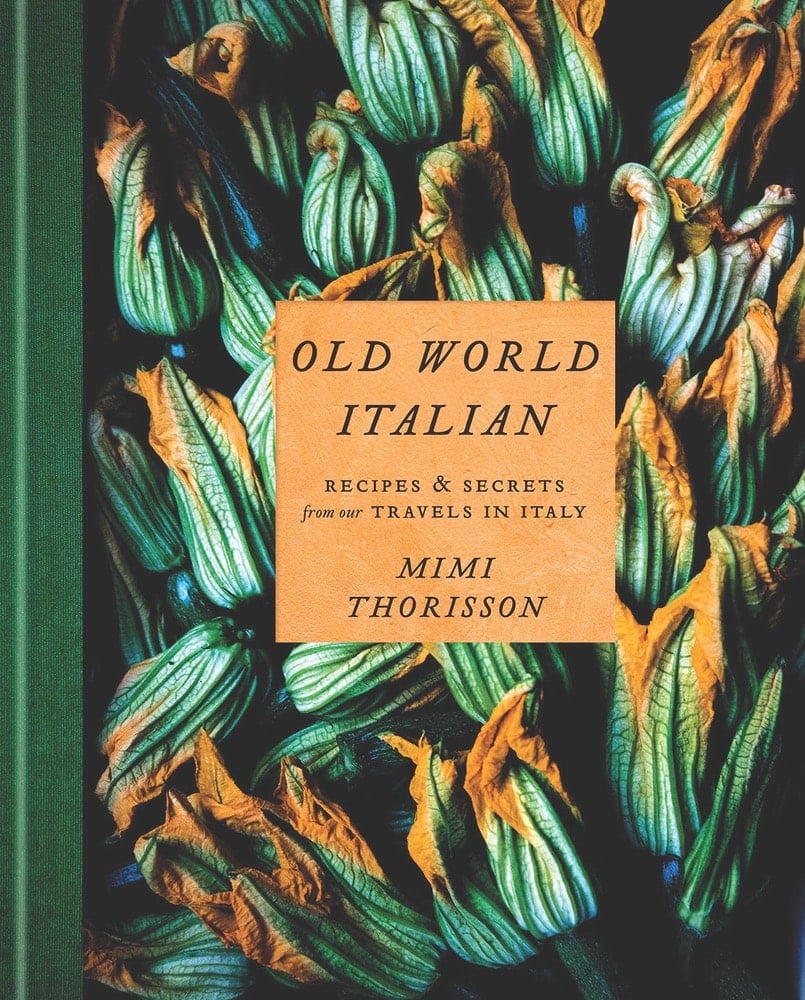 Mimi was kind enough to share a couple of those recipes with us, including a perfect-for-fall pumpkin ravioli and a sweetly satisfying ricotta cassatelle. If you try these dishes at home, be sure to share a photo and tag @mimithor and @viemagazine so we can have a virtual seat at your table! Buon appetito!
---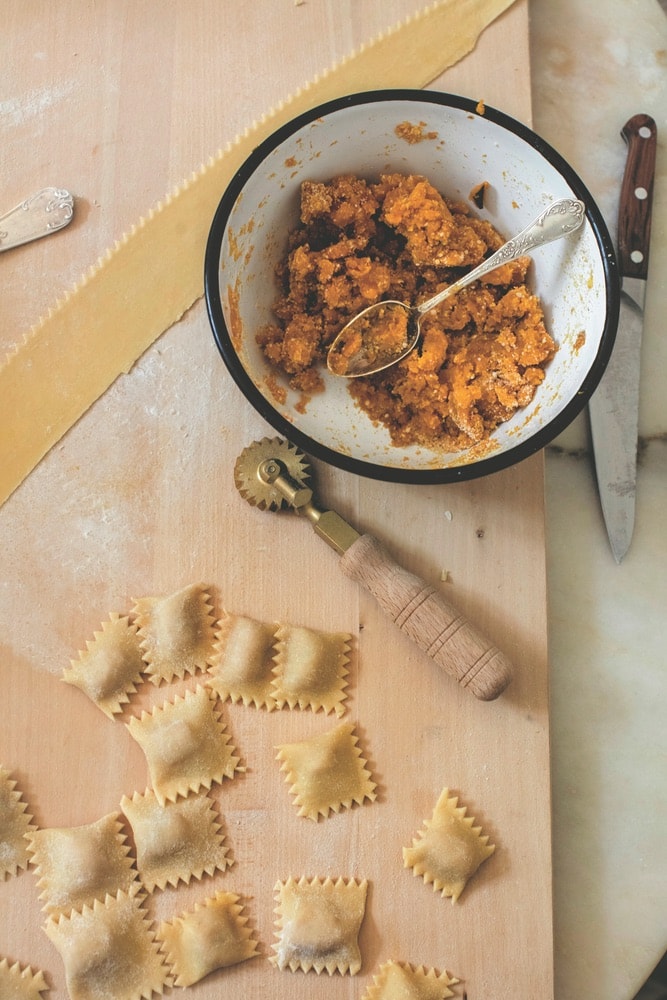 Pumpkin Ravioli with Brown Butter, Chestnut, and Sage
Serves 6
Ingredients
For the filling:
1 small pumpkin (1 pound)
Extra-virgin olive oil
Fine sea salt
Few sprigs of fresh rosemary
2/3 cup grated Parmesan cheese, plus more for serving
1/2 teaspoon grated nutmeg
1/2 cup plain dried bread crumbs
Freshly ground black pepper
For the pasta:
1 1/2 recipes basic egg pasta (recipe follows)
Rice flour, for dusting
For the sauce:
10 tablespoons salted butter, cut into cubes
15 fresh sage leaves
15 chestnuts, cooked, peeled, and coarsely chopped
Directions
1. Preheat the oven to 400°F.
2. With a sharp chef's knife, cut the pumpkin into vertical slices 1 inch thick. Using a large metal spoon, scoop out the seeds and insides of the pumpkin and discard.
3. Arrange the pumpkin slices on a baking sheet. Drizzle with olive oil and rub on both sides of the pumpkin. Season all over with salt, toss with rosemary sprigs, and drizzle with more olive oil. Roast until fork tender, about 20 minutes. When cool enough to handle, scoop the flesh of the pumpkin into a large bowl (discard the skins and rosemary sprigs).
4. Add the Parmesan, nutmeg, bread crumbs, and salt and pepper to taste. Stir well to combine. Set the filling aside.
5. Make the pasta. Prepare as directed in the following recipe, then divide into two pieces and roll into two long sheets. Scatter rice flour over a work surface. Place the pasta sheets on the surface. On one sheet, carefully scoop 1 teaspoon filling every 3 to 4 inches. Drape the second sheet of pasta over the first one, gently pushing around each filling mound with your fingers to seal and remove any air bubbles. Trim each ravioli parcel with a sharp knife or a pasta stamp of your choice to form a neat shape, whether square, oval, or round.
6. Line a baking sheet with wax paper and scatter a good amount of rice flour on top. Transfer the ravioli to the baking sheet. Cover loosely with a kitchen towel and set aside in a cool place until ready to cook.
7. Bring a large pot of salted water to a boil over medium-high heat. Drop the ravioli into the boiling water and stir gently. Cook until they float to the surface, 1 to 2 minutes.
8. Meanwhile, make the sauce: In a 12- to 14-inch sauté pan, melt the butter over medium heat until it foams. Add the sage leaves and cook until crispy, about 1 minute. Add the chopped chestnuts and toss in the pan so they get coated with the butter. Add 2 tablespoons of the pasta water and shake the pan vigorously to thicken the sauce.
9. Scoop out the ravioli with a slotted spoon and transfer to the butter and sage. Toss gently over medium heat to coat the pasta with the sauce. Transfer to plates and grate Parmesan on top before serving.
---
Basic Egg Pasta
Serves 4
Ingredients
3 1/3 cups tipo "00" flour
4 large eggs, at room temperature
Rice flour (see note), for dusting
Directions
1. Mound the "00" flour on a work surface. Make a well in the center of the flour and add the eggs. Using a fork, beat the eggs gently together. Slowly incorporate the flour, starting with the inner sides of the well.
2. When the dough begins to come together, start kneading using just the palms of your hands with a back and forth motion (the joke is that you should always be able to answer the phone while making pasta!). Use a dough scraper to scrape away any stray bits around the pasta dough, as dried-out dough will interfere with your pasta making. The dough is ready when it is elastic and the surface gently "comes back to you" when pressed, 15 to 30 minutes.
3. Place the dough in a large bowl and cover with a lid, a cotton cloth, or a plate. Set aside in the coolest part of your kitchen for 1 hour. (You can also prepare the dough the day before, wrap it in plastic wrap, and refrigerate. Before rolling, bring it back to room temperature.)
4. When ready to roll out the dough, dust a work surface and rolling pin lightly with rice flour. Cut off a piece of dough (the equivalent of a handful), press with the palm of your hand onto the work surface, and roll out with the rolling pin to about 1/2 inch thick. Set a pasta machine to its thickest setting and roll the pasta dough through it. Switch the pasta machine to the next thinnest setting and roll the pasta dough through again. Continue switching the settings lower and lower until you get a thin and perfectly smooth sheet of pasta. Repeat with the remaining dough.
5. Place the pasta sheet on the floured work surface. Cut and/or stuff the pasta according to your liking (see above recipe for pumpkin ravioli). The pasta will be fine at room temperature for up to 30 minutes, but if you're cooking later, cover the pasta with plastic wrap and refrigerate for up to 24 hours. You can also freeze individual portions for up to 3 months, making sure they are well wrapped.
Note: Why rice flour? It's a light, gluten-free flour that's silky smooth; it won't thicken the water when you cook the pasta and will prevent sticking.
---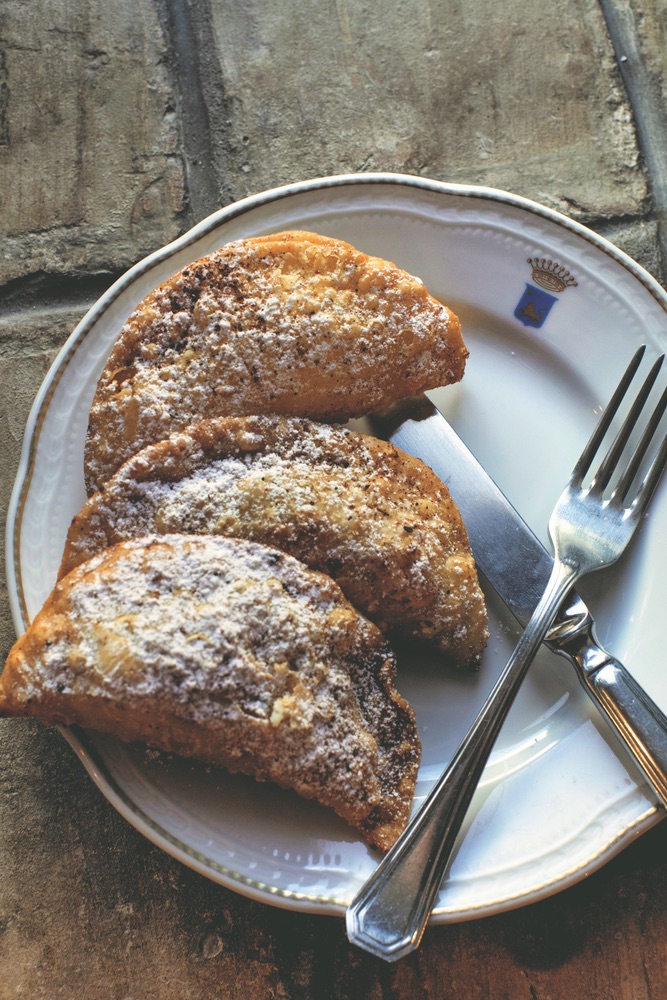 Cassatelle
Ricotta Cream Fritters
Makes 18 fritters
Ingredients
7 tablespoons white wine
3 tablespoons extra-virgin olive oil
2 cups semolina flour
Pinch of fine sea salt
1 cup whole-milk ricotta cheese (preferably sheep's milk)
3 tablespoons granulated sugar
1/2 teaspoon ground cinnamon, plus more for dusting
All-purpose flour, for dusting
Extra-virgin olive or vegetable oil, for deep-frying
Powdered sugar, for dusting
Directions
1. In a small saucepan, heat the wine and olive oil together until warm (not hot) over medium-low heat.
2. On a work surface, pile up the semolina flour and make a well in the center. Add the warm wine/oil mixture and the salt, then carefully work it in and knead together until a dough forms.
3. In a medium bowl, stir together the ricotta, granulated sugar, and cinnamon and set the filling aside.
4. Divide the dough into four portions. Working with one portion at a time, flatten with a rolling pin. Set a pasta machine to its thickest setting. Roll the dough through the machine about five times at this setting, folding the dough in half before rerolling it. When it is very even, switch the pasta machine to the next thinnest setting and roll it through two or three times more, folding it before rerolling. Move the dial to the next setting and roll it through two or three more times, repeating the process until you get to the thinnest setting possible.
5. On a floured work surface, lay out the sheet of dough and cut out rounds with a 4-inch cookie cutter. On each round of dough, place a spoonful of ricotta filling just off center. Moisten the edges of the dough, fold over, and pinch to seal. Repeat with the remaining dough and filling.
6. Pour 1 1/4 inches oil into a large, high-sided pan. Heat the oil over medium-high heat. To test if the oil is ready, drop a 1-inch square of bread into the oil. If it takes 60 seconds to brown, then the oil is ready. Working in batches, deep-fry the half-moons, flipping occasionally, until deeply golden, about 3 minutes. Drain on paper towels, then dust with powdered sugar and cinnamon. Serve warm.
— V —
---
Photography and recipes reprinted from Old World Italian. Copyright © 2020 by Marie-France Thorisson. Photographs copyright © 2020 by Oddur Thorisson. Published by Clarkson Potter, an imprint of Random House. Now available online and at booksellers.
ARTICLE CATEGORIES