Sweden's Most Unique Hotel
By Sallie W. Boyles  |  Photography courtesy of ICEHOTEL
After landing at Kiruna Airport in Swedish Lapland, an hour-and-a-half flight from Stockholm, many travelers complete the last leg of their journey by dogsled. Along the way, a sign informs "The Road Stops Here." The surrounding woods affirm that the little village of Jukkasjärvi—"Jukkas" to the nine hundred or so permanent residents—is off the beaten path. The sheer beauty and serenity render an idyllic retreat from the everyday life's hustle and bustle, yet ICEHOTEL is what draws tens of thousands to this remote piece of the Arctic every year.
On the sixty-eighth parallel north, about fifteen hundred miles from the North Pole, Jukkas braces for winter temperatures that dip to minus twenty degrees Fahrenheit. For six weeks, the sun never rises above the horizon. Day after day, blue-grey hues enshroud the frozen land and sky. At night, however, from September to March, the heavens display the aurora borealis. Also, as if to make up for lost time, the midnight sun shines in summer.
Spring skiing first enticed ICEHOTEL founder Yngve Bergqvist to visit Jukkas in the mid-1970s; he never wanted to leave. Fortunately, the mining company in Kiruna hired him for his engineering (environment and sustainability) expertise. Assigned to restore an eighteenth-century settlement on the Torne River, Bergqvist recognized the value of promoting the destination to outdoor-loving tourists. Subsequently, he and his colleagues built a rental center providing canoes, rafts, river tours, and the like. Soon, thousands were flocking to Jukkas each summer.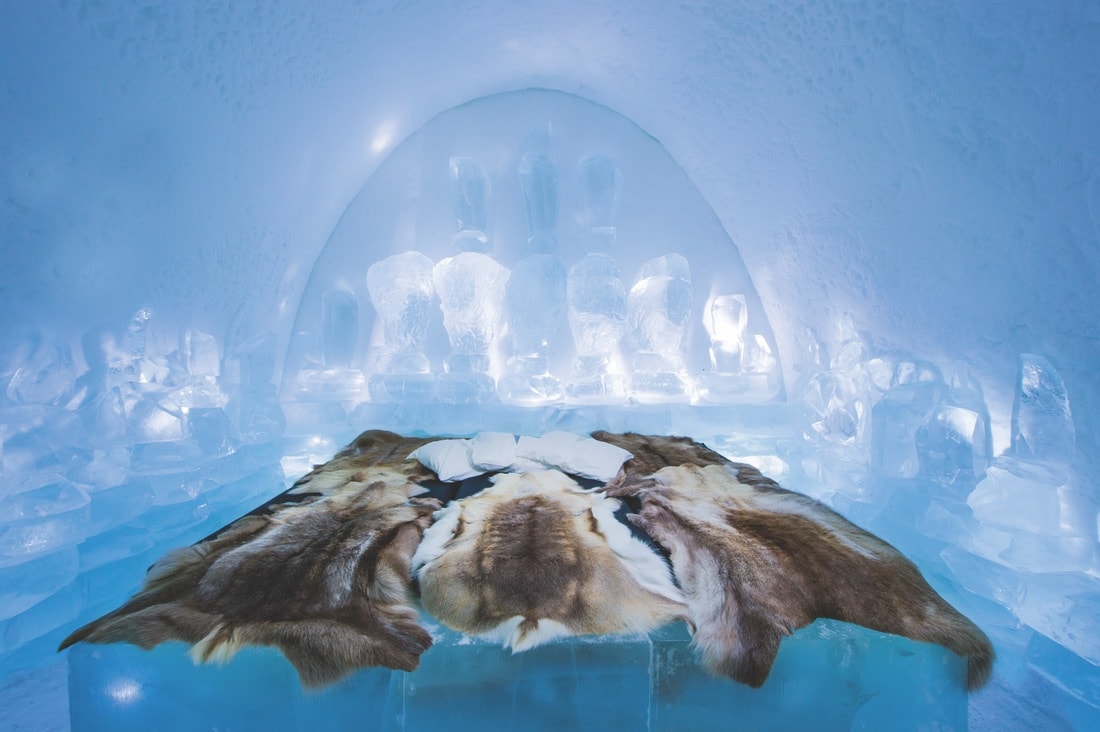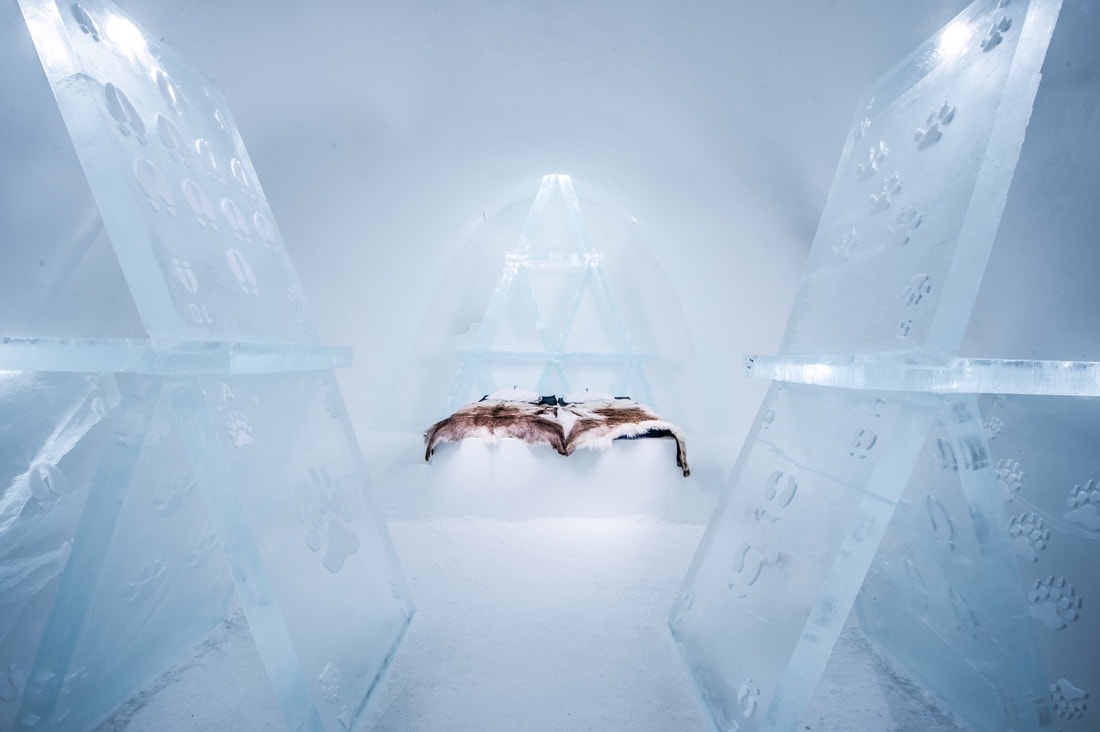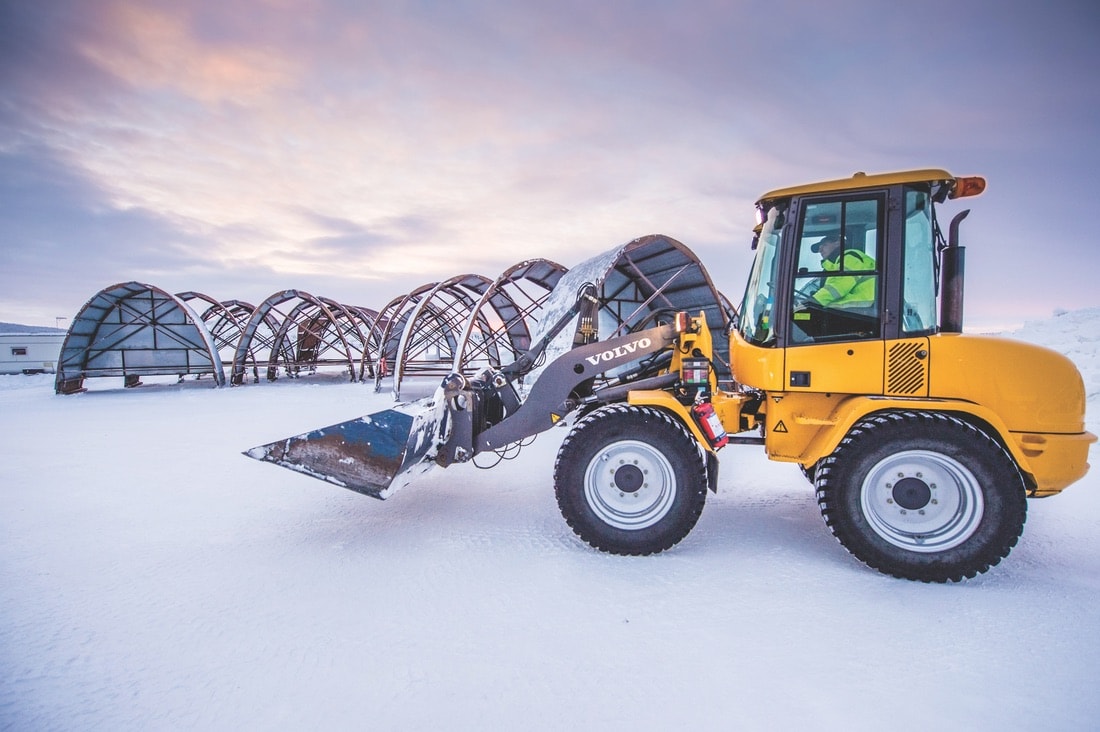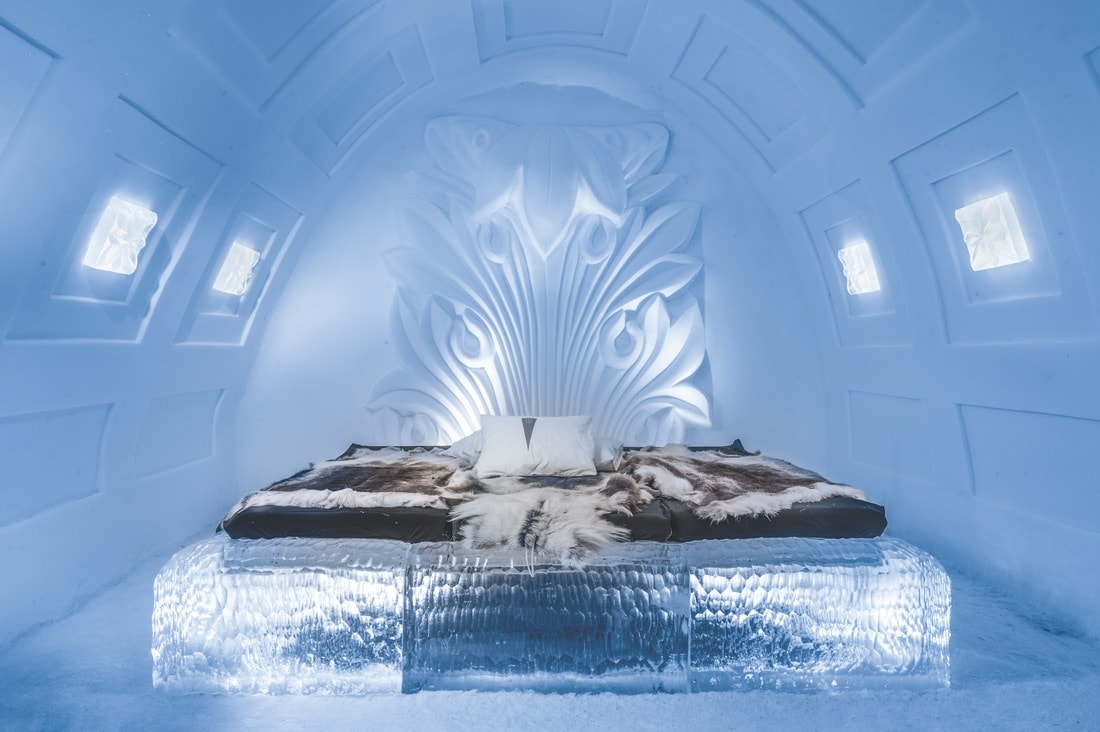 Meanwhile, few believed that any adventure involving the northern lights and pristine snow was compelling enough to prevent Jukkas from shutting down in winter. Considering how to sweeten the offering, Bergqvist attended the Sapporo Snow Festival in Japan, known for spectacular ice sculptures. Inspired, he engaged the help of professionals from Japan to host his village's first ice-sculpting workshop in 1989.
When artists returned the next winter, they erected an igloo of well over six hundred square feet. Christened ARTic Hall, the structure served as an art gallery but also accommodated church services and film showings. Over the next few years, Bergqvist and his partners expanded the igloo to nearly twenty-five hundred square feet, refined and patented the design, and added a bar inside.
While capping off one celebratory evening, a visiting group asked to spend the night in ARTic Hall. They received permission, along with reindeer skins, sleeping bags, and instructions for keeping warm. The next morning, assessing their exuberance, Bergqvist knew he had to build a bigger igloo!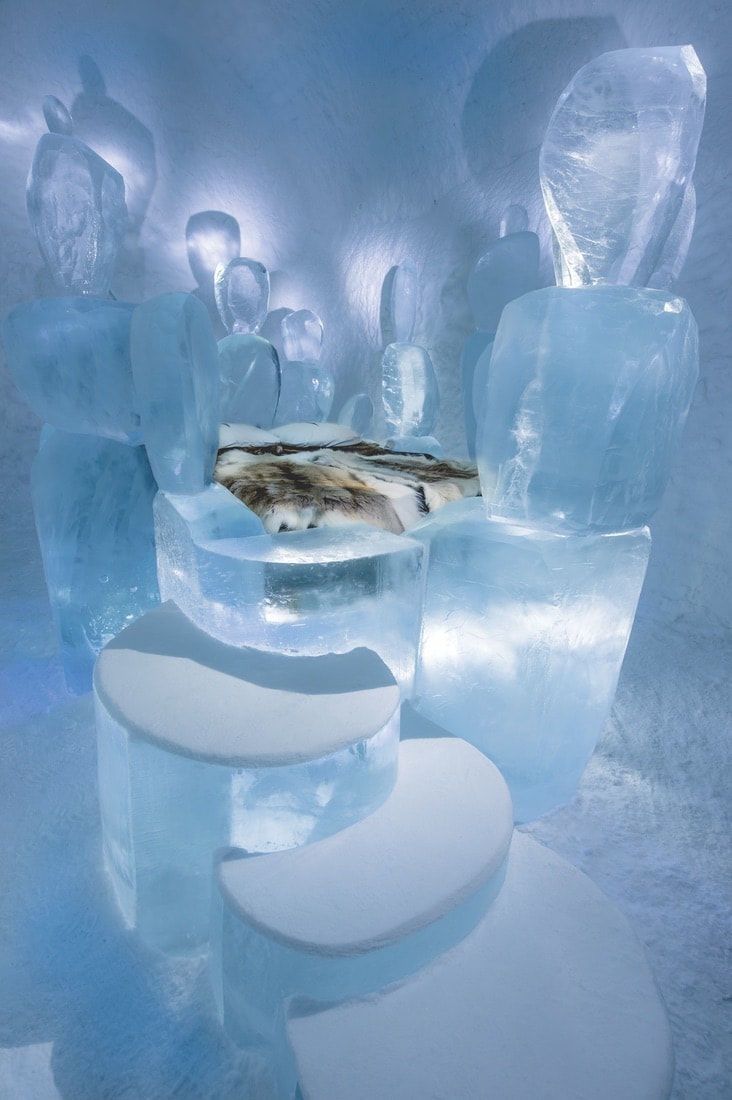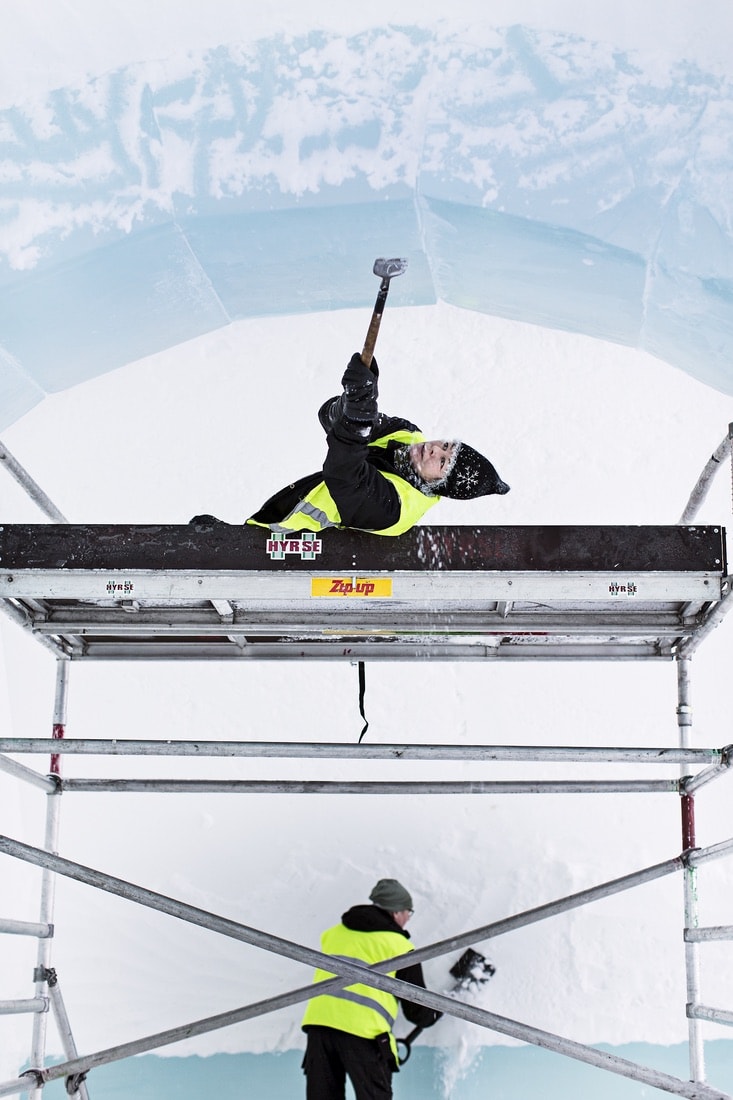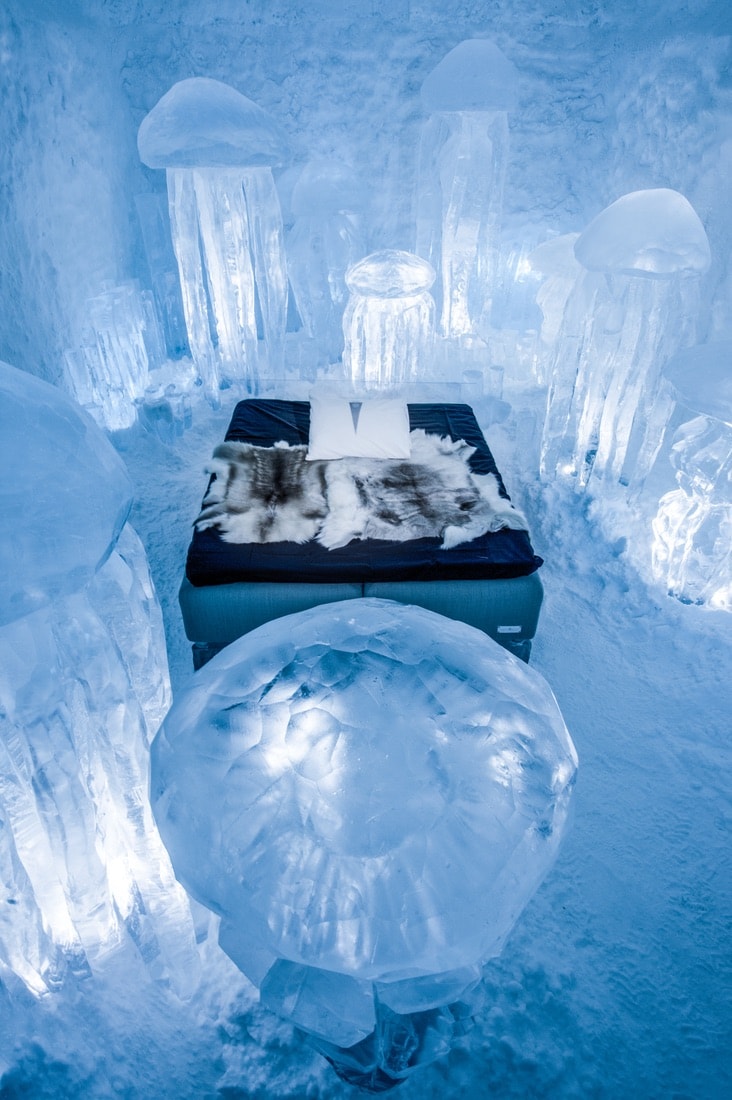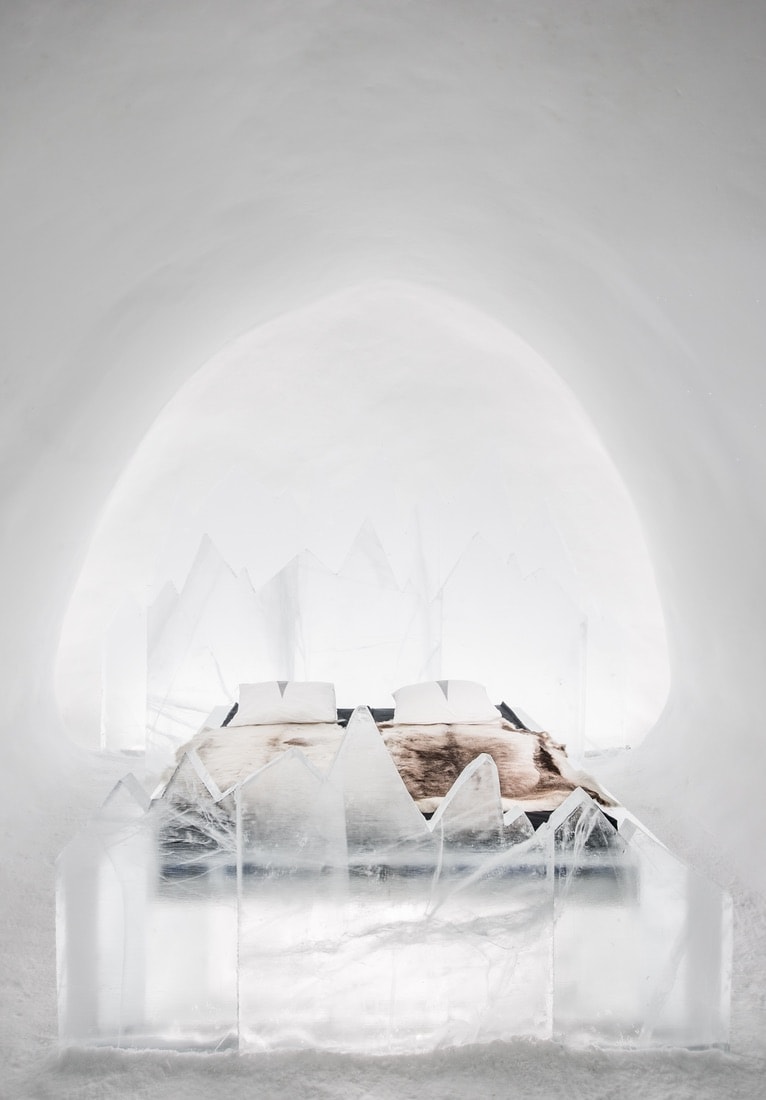 Today, the world's original and largest hotel made of ice and snow, ICEHOTEL, is an architectural marvel. Besides twenty "standard" ice rooms, the hotel offers fifteen uniquely themed art suites that are individually designed and hand-finished by select artists from all over the world. Other parts of the hotel include the ICEBAR, the figurative hot spot for adult beverages; an exhibition hall of ice sculptures; and an ice ceremony hall, where many couples wed. Amazingly, like Frosty the Snowman, the entire complex arrives with each year's freeze and departs with the thaw.
The labor begins in February or March of the prior year when about four thousand tons of one-meter-thick, crack-free ice is harvested from the Torne River. (All winter, workers maintain a snow-free field on the river to foster a deep, solid freeze.) A house-sized freezer stores the large blocks. Usually, they're transported to the job site by late October.
Besides twenty "standard" ice rooms, the hotel offers fifteen uniquely themed art suites that are individually designed and hand-finished by select artists from all over the world.
As the cold sets in, construction workers gather from around the world to execute the ideas of chief architect Arne Bergh and his team, who are free to reimagine the exquisite details of each ICEHOTEL reincarnation. Aspects of the plan, including certain signature features, however, need not be reinvented. A set of metal casting forms are reused each year to make the grand hallway's vaulted ceiling. For the most part, though, custom-cut blocks and bricks of ice and wooden arches are fashioned on-site to support the hotel's many contours.
To pack the floors as well as smooth and soften walls and furnishings, architects prefer a snow-and-ice blend called snice. Machine-made from Torne River water, snice beats natural snow, which falls in unpredictable quantities and consistencies. Also, snice freezes to a rock-hard solid, adding stability, even requiring a chainsaw to cut openings for doors and windows. Ice blocks, not glass, insulate windows and let the sunshine in, although the warmth is relative. When fully occupied, ICEHOTEL's interior stabilizes at twenty-three degrees Fahrenheit, which is why the ICEBAR serves drinks in glasses made of ice!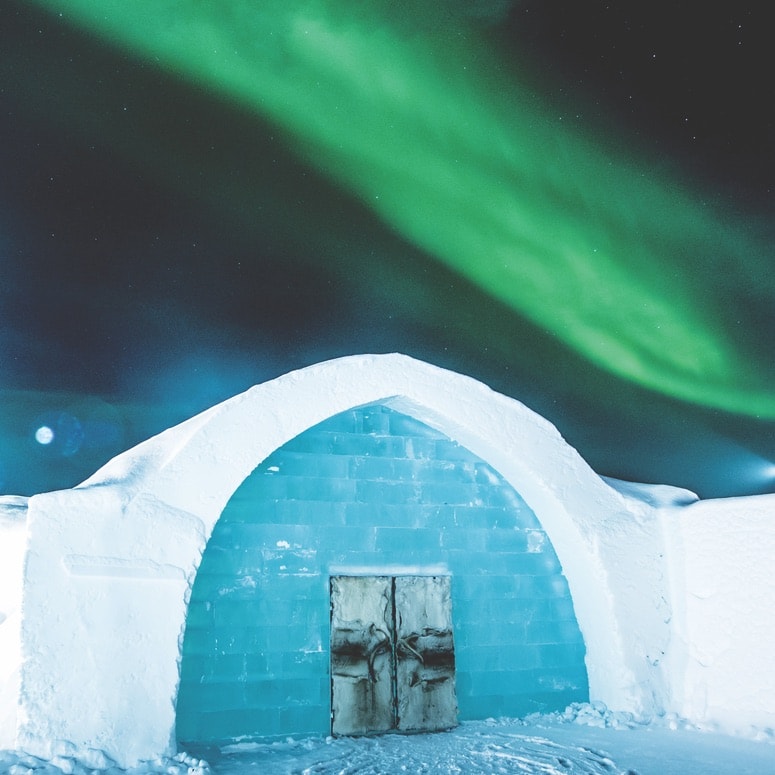 After about six weeks, toward the end of November, the building is ready for the artists to add their one-of-a-kind sculptures and finishes.
Accustomed to other media such as wood and stone, some artists have never sculpted ice. Many from warm climates have never touched snow. The ICEHOTEL artists are chosen annually by a jury more interested in solid credentials, exceptional creativity, and real commitment. Ice experts offer tips and tools, and electricians install wiring to achieve the desired lighting; but the artists personally complete all the handiwork, even down to the chiseling of distinctive ice lampshades! It's a nonstop labor of love. Artists have about two weeks to finish their designs before the hotel's official opening on December 13, Saint Lucia's Day.
Meant to be seen, ICEHOTEL hosts daily tours throughout the season. Thus, rooms are continuously spruced up by adding clean snow and polishing any smudged ice using a plastic bag filled with hot water. For many reasons, hanging out in one's room all day isn't practical; instead, overnight guests gain access to their cold accommodations after 6:00 p.m. They change in the hotel's heated building and store personal items in lockers before entering their chambers.
Each ice-block bed is topped with a wooden frame plus a soft mattress and fur. Individuals also receive a thermal sleeping bag, which gets quite warm. Some insiders recommend sleeping nude with clothing tucked inside by the feet. Others suggest wearing a single layer of clothing, warm socks, and a hat or a top with a hood. After taking care of practical matters, people find that the ethereal, silent surroundings and fresh air induce a tremendous sense of peace. Nurturing of mind, body, and spirit continues the next morning with a warm sauna, a shower, and a hot breakfast.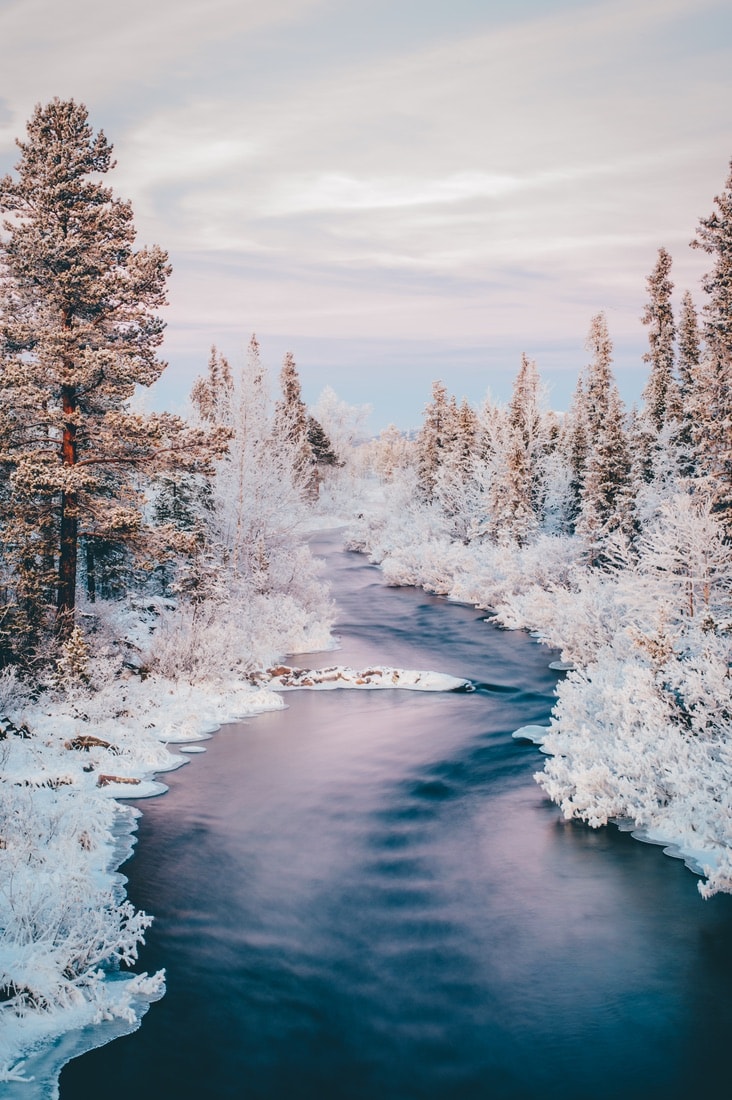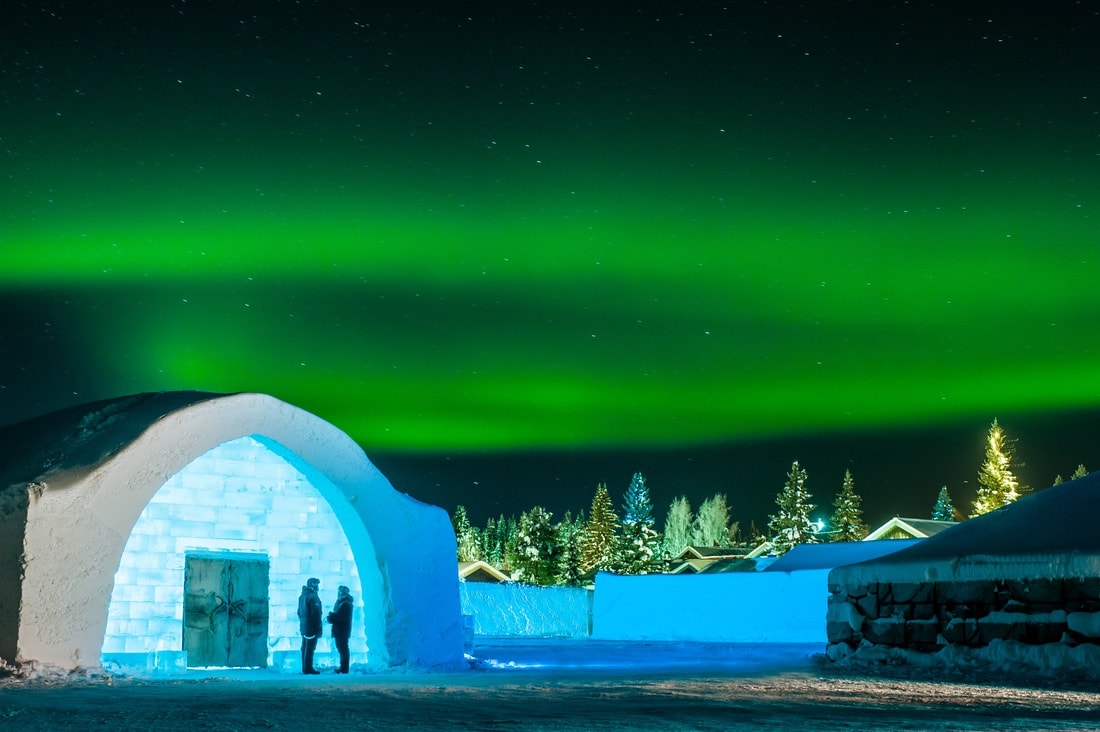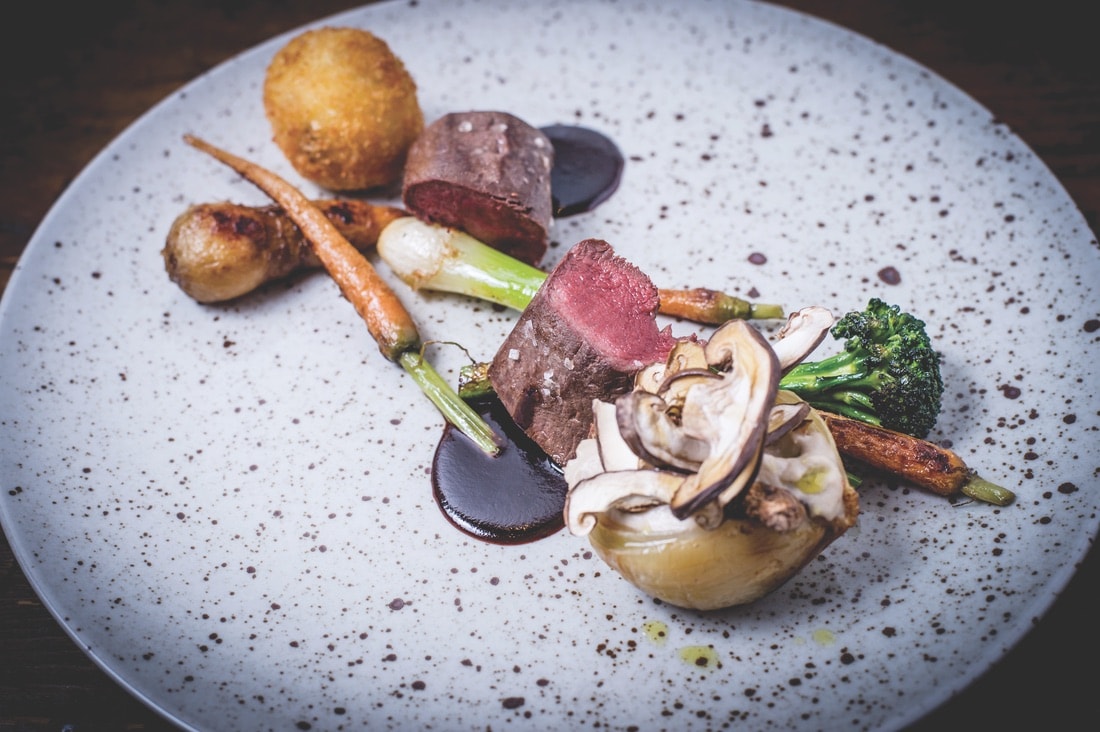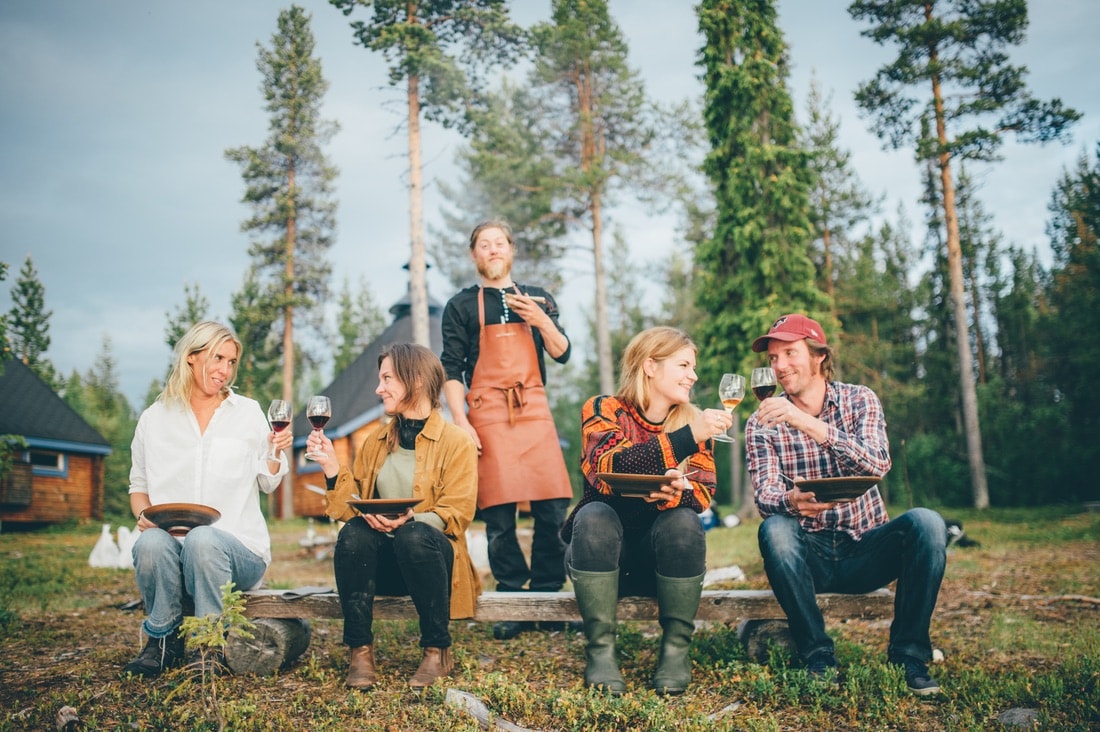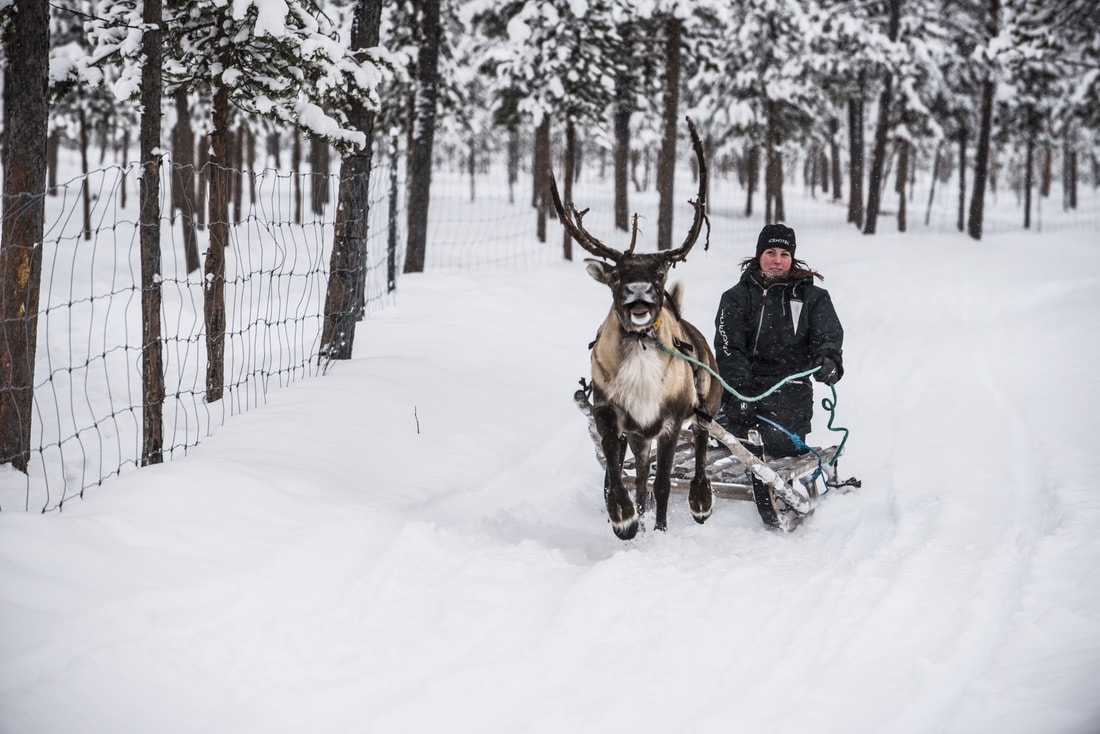 ICEHOTEL's award-winning cuisine delights foodies, especially those seeking fresh, locally procured ingredients such as Arctic chard, reindeer, and cloudberries. Accordingly, the international kitchen's innovative preparations generate a high demand for the restaurant's fixed-seating dinners. From December to April, reservations should be made at least three weeks in advance.
By mid-April, Mother Nature makes the ICEHOTEL uninhabitable. In a model recycling project, all ice returns to the Torne.
In the past, many visiting Jukkas between seasons were disappointed. Where was ICEHOTEL? In response, ICEHOTEL 365 opened in 2016.
Solar powered, the energy-efficient engineering masterpiece allows guests to spend any night of the year in one of twenty art suites. Even in winter, some visitors—especially honeymooning couples—prefer ICEHOTEL 365 over the seasonal ICEHOTEL because nine of the suites have a warm, private bath attached. The setting also accentuates the building's innovative architecture. The grand hallway's arched roof, for example, reveals the midnight sun and northern lights. Moreover, since ICEHOTEL 365 doesn't shut down, visitors may take part in a guided changing-of-art tour to witness the fascinating process of an artist at work on a suite.
Such experiences are hard to describe and filled with pleasant surprises. Some lucky tourists, for instance, will land Bergqvist as their rafting guide. "Just before last summer," he says, "I renewed my license so that I could personally guide our visitors along the beautiful Torne River. I'm probably Sweden's oldest rafting guide and still find it fascinating to show our guests this incredible nature experience. And to think it's the same water that created the conditions for the whole business with ICEHOTEL that invites to an unforgettable rafting tour, on its own terms. That," he concludes, "is powerful."
For either ICEHOTEL option, staff members say that guests should plan to sleep cold on their first or last night and spend remaining nights in the hotel's warm accommodations. Now that Jukkas is a "hot" destination year-round, tourists may want to enlist an affiliated travel agency's help in coordinating flights and rooms.
— V —
---
For information or to book your stay, visit IceHotel.com.
Sallie W. Boyles works as a freelance journalist, ghostwriter, copywriter, and editor through Write Lady Inc., her Atlanta-based company. With an MBA in marketing, she marvels at the power of words, particularly in business and politics, but loves nothing more than relaying extraordinary personal stories that are believable only because they are true.
ARTICLE CATEGORIES