Mr. and Mrs. Betts
Photography by Jenna Kaye Forbes
Star-crossed lovers always seem to find one another, even if it takes longer than expected. Hannah Oden and Peyton Betts grew up in the same county, only about thirty miles apart, but they didn't meet until their senior year of high school when they attended the same church. That clandestine meeting led to budding romance, and on April 10, 2021, Hannah and Peyton were wed at the beautiful Point Washington Preserve in South Walton, Florida. Hannah recounts the details of the big day for us here.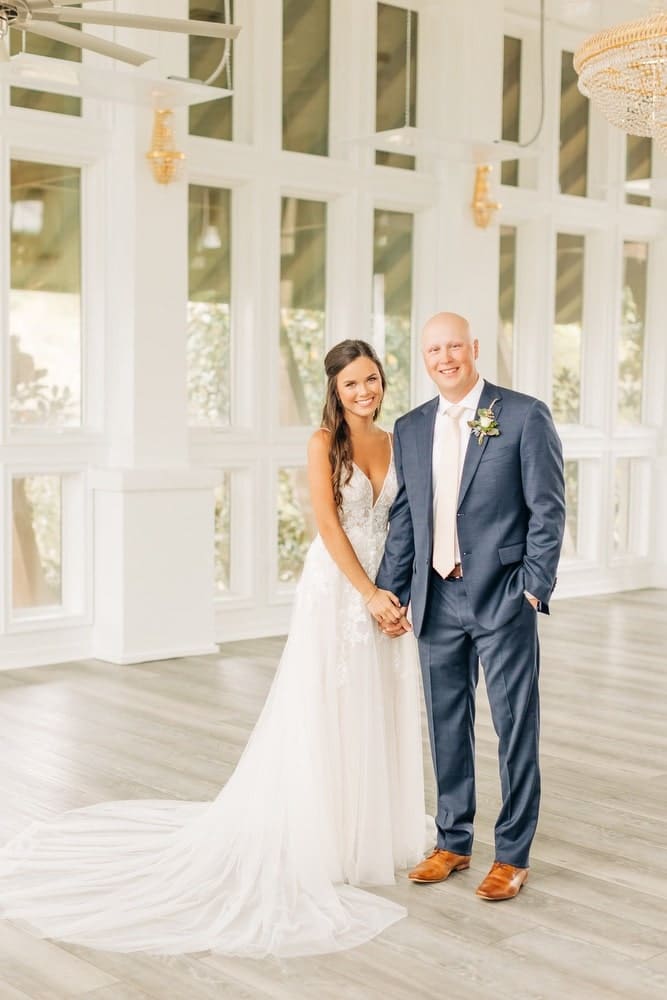 Our Love Story and the Proposal
Peyton is from DeFuniak Springs, Florida, and I am from Santa Rosa Beach, but we never crossed paths until meeting at church during our senior year of high school. We dated throughout college and got engaged on June 20, 2020, about seven months after graduating. Our proposal was nothing short of perfect. My birthday is June 25, so Peyton told me we were going out for an early birthday dinner. We often watch the sunset on date nights, so I thought nothing of it when Peyton took me down to Seagrove Beach before going to "dinner." He proposed to me on the beach and secretly had our dear friend, Jenna Kaye Forbes, photograph the whole thing! I was so surprised. Afterward, Peyton took me back to my parents' house, where both of our families were waiting for us to celebrate. We spent time with them for a while before heading out to Havana Beach Bar & Grill at The Pearl Hotel in Rosemary Beach for dinner, just the two of us. It was the sweetest night, and I truly had never been happier—until our wedding day.
Our Wedding Plans
I loved wedding planning! There were stressful moments, but overall, I enjoyed it and had so much fun. We could not have done it without our incredible planner, Amanda Bierbaum of Soirée, who not only planned the rehearsal dinner and the wedding for us but also did all of our florals! She made the whole process a breeze.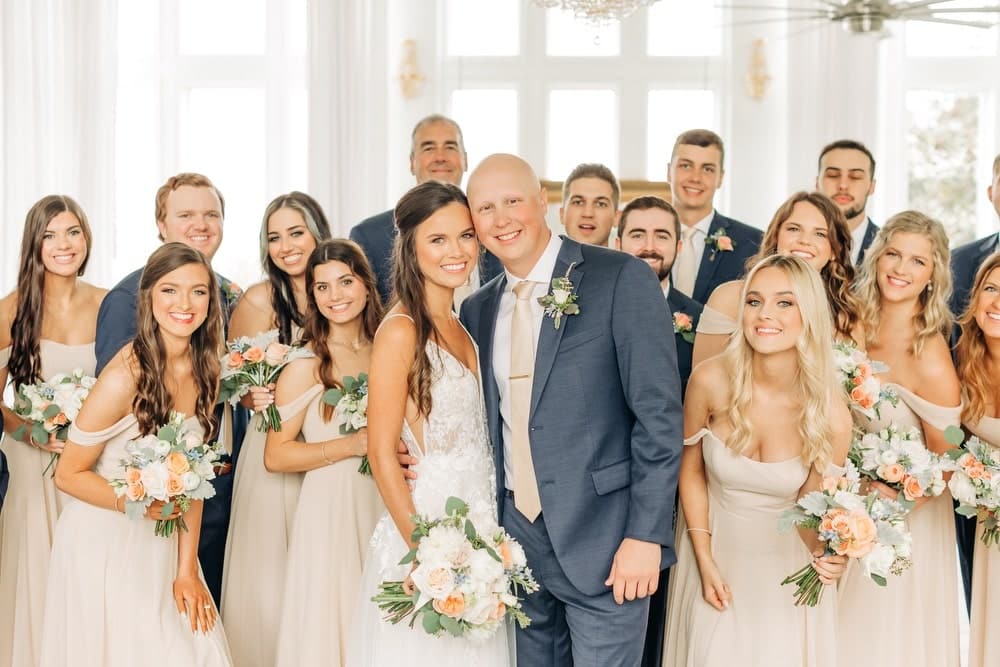 We explored a few options before deciding on our venue, but it didn't take long to commit to Point Washington Preserve. I knew I wanted to get married locally and loved the idea of an outdoor wedding. We knew early on that we would have an extensive guest list, so I wanted a place that could accommodate the number we expected, around 350. The beauty of the surrounding state forest at PWP speaks for itself. I loved that the pavilion, which we originally planned to use only for the reception, was a built-in plan B for the ceremony in case of severe weather—we ended up using it! We also had around seventy-five young kids at our wedding, and I knew the Preserve would be a great venue with plenty of space for them to run wild and have fun.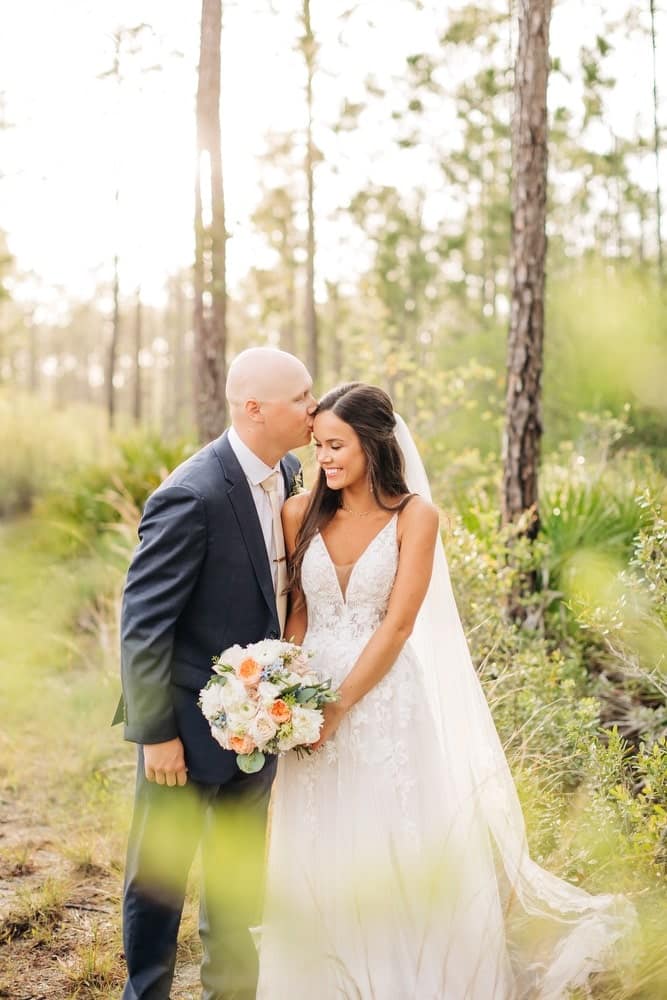 Our Big Day
Our wedding day was absolutely magical. Almost every single plan was changed the week of the ceremony due to severe thunderstorms and tornadoes. Still, it all came together beautifully, thanks to my mother, Erin Oden, and our wedding planner. Peyton and I both genuinely believe every change happened for a reason and that it turned out exactly how it was meant to be.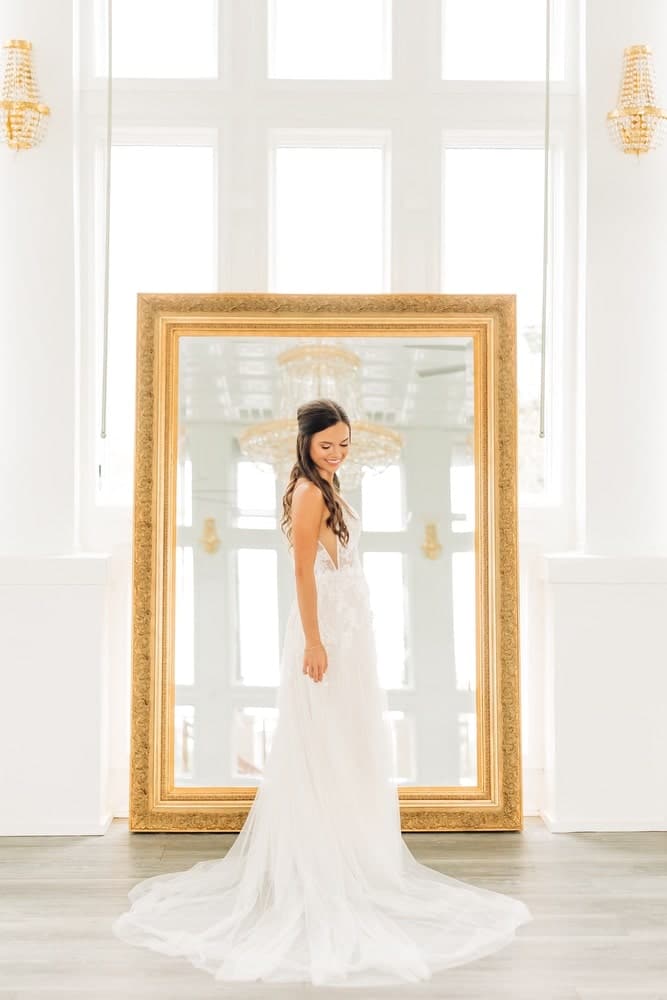 There wasn't necessarily a theme to our decor, but I would say my vision for the wedding was inspired by an English garden—very classic with beautiful flowers and greenery.
We had so many moments throughout the day that made it special. Because we did a first look, Peyton and I had already seen each other before we got to the venue. So, just before the ceremony started, we took a moment, just the two of us, to say our personal vows to each other and pray together. It was so sweet to take that time together to step away and take a breath before walking down the aisle. Another favorite moment for me was my father-daughter dance, which my dad and I had choreographed and learned throughout the two weeks before the wedding. It was special and really fun to spend time together amid the pre-wedding chaos leading up to the big day!
Another special shout-out goes to artist Ruth Oneya, who did a live painting of the ceremony. I cannot thank her enough for making the drive from Birmingham to paint our wedding—she is so, so talented.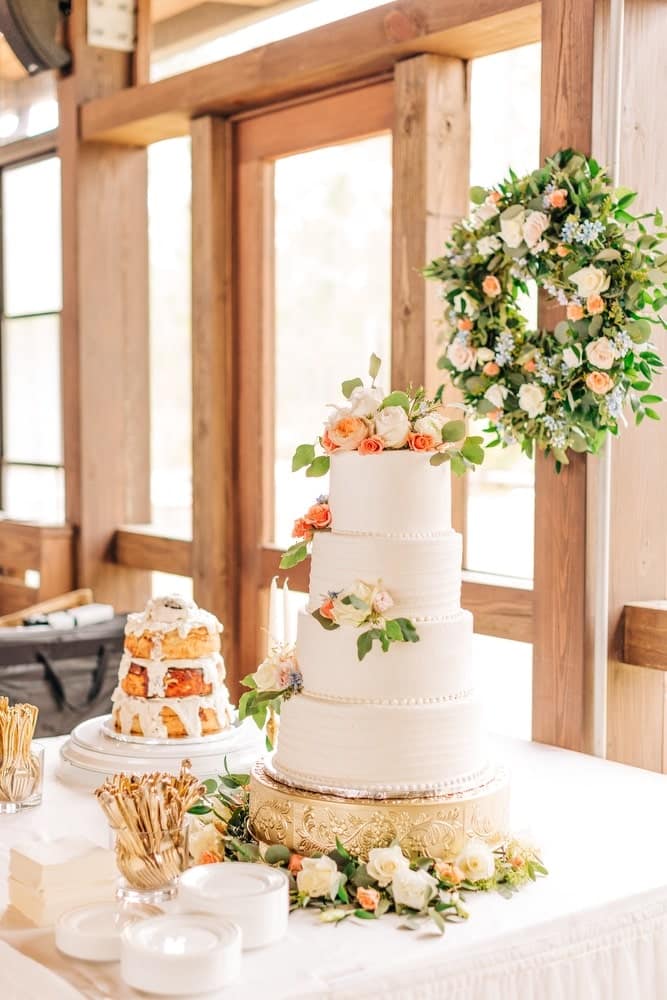 Our Honeymoon
We honeymooned in Mexico at Excellence Playa Mujeres resort. I did the majority of the wedding planning solo, so I told Peyton the honeymoon was all his to plan! I was really impressed with the location he chose and everything he lined up for us. We both wanted a tropical, all-inclusive vacation where we could take the week to decompress, relax, and just be together enjoying our first days as newlyweds. We were beyond happy with our stay, and we highly recommend the resort to anyone looking for a luxurious escape.
Congratulations, Hannah and Peyton!
— V —
---
Special Thanks
Photography: Jenna Kaye Photography Videography: Cameron Zane Weddings Florals and Event Planning: Amanda Bierbaum, Soirée Defuniak Springs Venue: Point Washington Preserve Rentals: Showtime Events Catering: Ketchem's Restaurant, Catering & Venue Cakes: Donna Hicks, Frosted Acres BakeryFrosted Acres Bakery ("She made my groom's cake dream come to life with a fabulous and delicious three-tiered cinnamon roll cake!") Bridal gown and veil: Margaret Ellen Bridal  Hair and makeup: Jessica Gallant and Stacie Edgar, Gallant Glam Band: Southern City Lights Live artist: Ruth Oneya Illustrations
ARTICLE CATEGORIES