The Art of Hospitality
By Kelsey Ogletree | 
Photography by Brett Bulthuis
When you first meet Matthew Kellen—a tall, broad-shouldered guy who looks perfectly comfortable clad in boots, jeans, a navy-checked flannel shirt, and a beanie—you might not guess he has a degree in painting and a master's in ceramics. Though he defies the artist stereotype, step into one of his homes and you'll see he's a master of his craft.
Kellen is the owner of Open House Contemporary, a collection of three loft-style luxury condos he rents through Airbnb in Chicago's River West neighborhood. The area is popular with young professionals, close to public transportation, and within walking distance of Chicago's major attractions.
Once you're here, you may never want to leave. Open House Contemporary, or OHC, has become an attraction in itself. Each unit features three bedrooms, but more than a place to sleep, each one doubles as an art gallery. Kellen's vision is to bring together a diverse collection of contemporary artworks in a residential setting so that art is front and center in the lives of his guests.
"I found there was a lot of interest from artists either to have people live with their work or to show work in a residential space," says Kellen. "A lot of artists have taken this concept and said, 'I can play with that,' and even made space-specific works for us."
In 2011, Kellen bought his first condo in the building at 740 North Ogden Avenue as a place to live. Born and raised in the Chicago suburb of Arlington Heights, he moved to the city after college with his painting degree ("a disaster in terms of getting a real job," he says), taking random jobs at bars and touring with bands. Eventually, he got a great job with a large-scale printing lab, where he worked until the Great Recession hit. From there, he fell into general contracting with a design bent when friends of friends needed help redoing their home. That business, known as Matthew Kellen Creative, became a career that proved lucrative, albeit risky, and fun for him.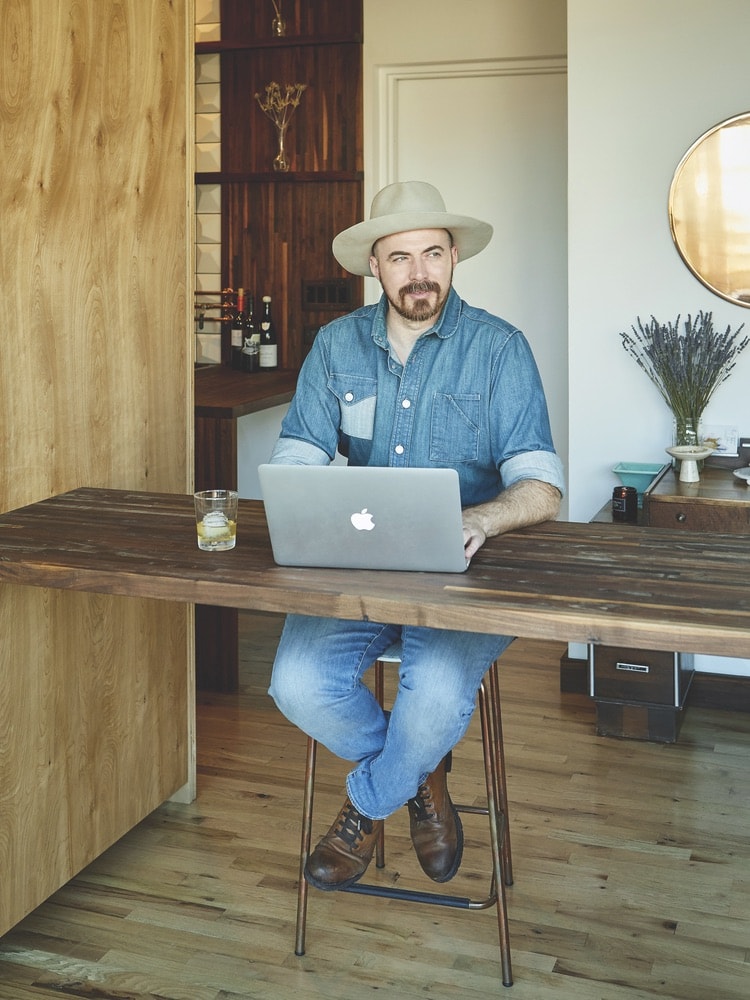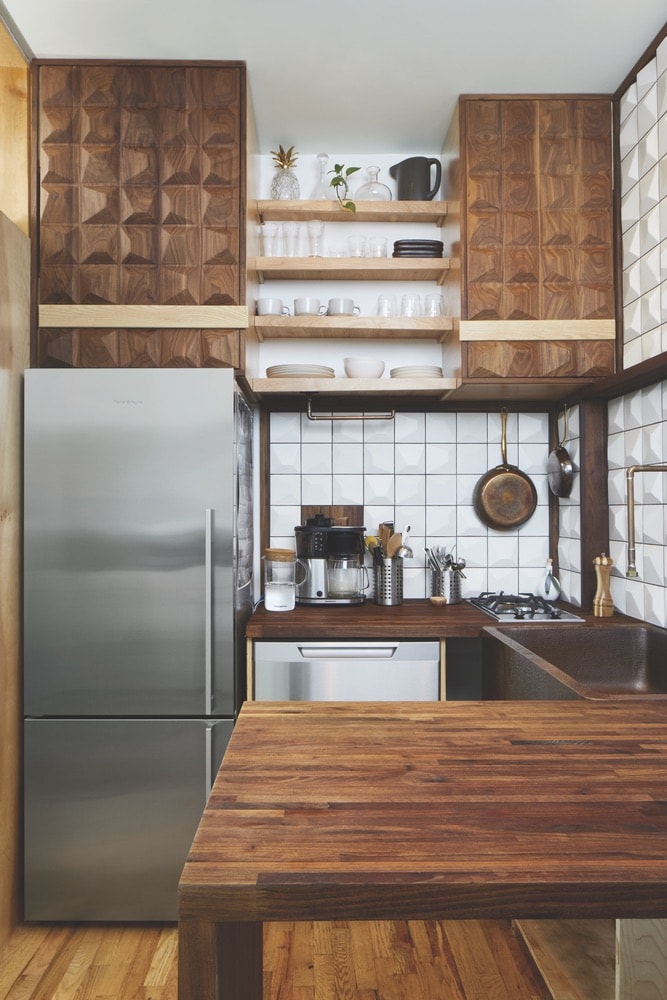 When a friend introduced Kellen to Airbnb around 2013, he decided to give it a shot. He took some photos of his condo and put it up as a listing, and within twenty-four hours, he had his first booking—within a week, he had many more. He'd leave town or stay at a hotel during the nights it was rented and still turn a profit.
"It was nuts," he says. "I kept raising the price. But I thought, I can't just never have a place to live."
When the woman who lived below him put her condo up for sale, he purchased it and started renting two places, shuffling between them when he had guests. A year later, another neighbor sold his home to Kellen on a ten-minute conversation and a handshake.
About that time, Kellen had begun thinking about opening an art gallery. Realizing it was a tough business to survive in, he contemplated how he could make it work without it being a drain on his resources.
"I have these beautiful apartments; why don't I do this here?" Kellen recalls thinking.
Soon after, Kellen was drawing on his contacts with the Museum of Contemporary Art Chicago (where he'd worked for a bit) and talking to his artist network, and OHC began to form. While he wasn't the first person to come up with the concept of a residential art gallery, Kellen is a relative pioneer of doing it at this level and scale. OHC has been fully operational as a home rental and art gallery for four years now.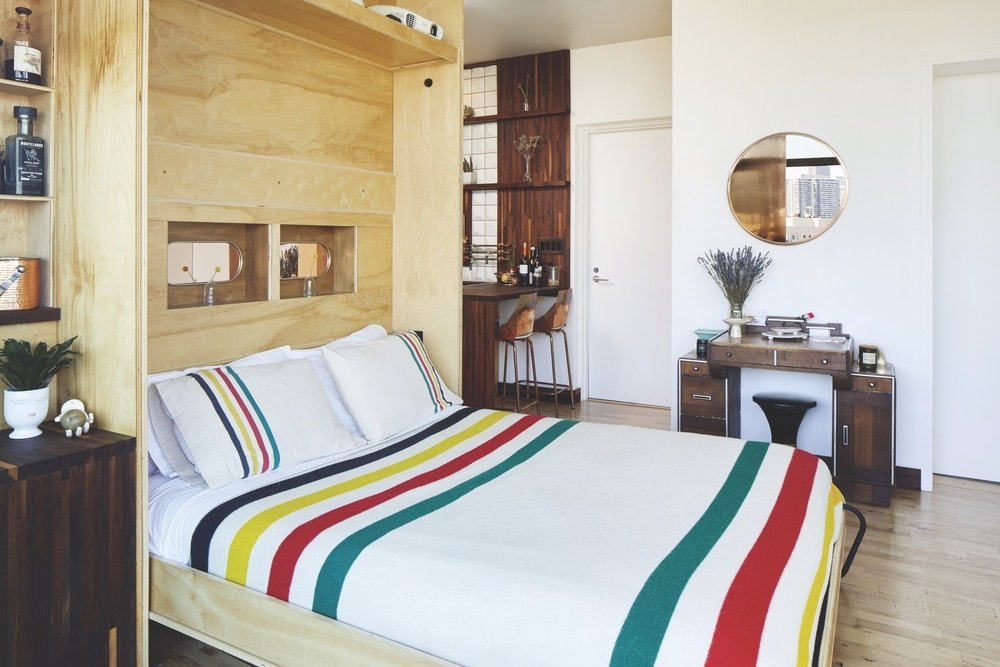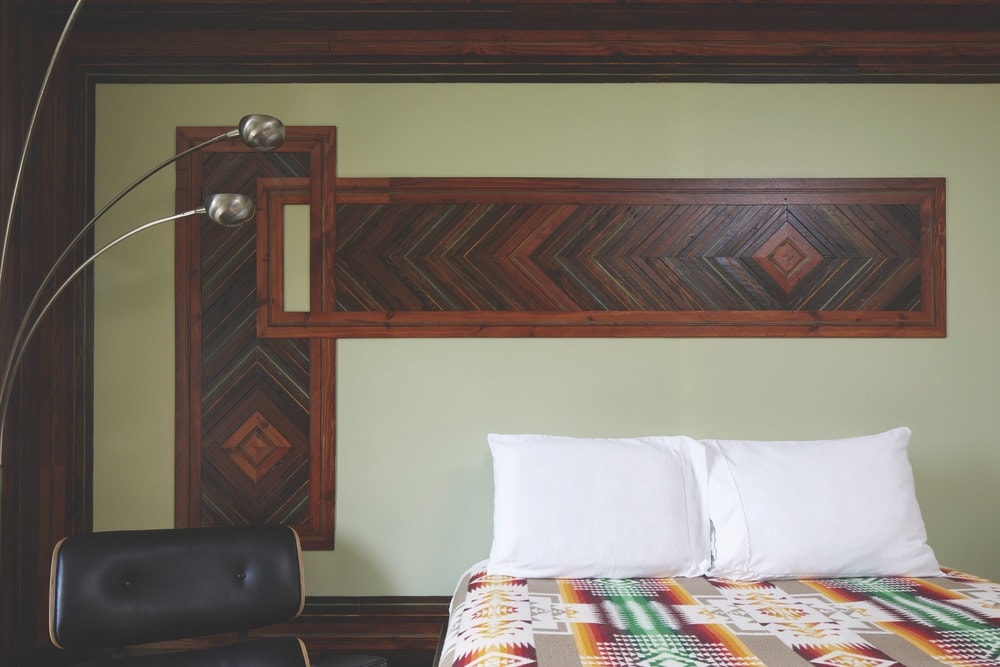 The gallery changes every six to twelve months. On display at OHC through September is Infinite Games 50/50, a thought-provoking collection with political undertones. The backstory: In 2013, the city of Chicago closed fifty public schools, many in low-income neighborhoods, citing decreased enrollment and budget concerns. Local artist John Preus gained access to six semi truckloads of materials—desks, tables, chairs, bookshelves—discarded from the schools and invited fifty artists, designers, and architects to create pieces of art from the materials. Their resulting creations are wide ranging in method and content, yet all are poignant.
Taking in an exhibition like Infinite Games 50/50 in a residential setting is vastly different from seeing it in a gallery—and that's precisely the point of OHC.
"If you have a piece in a traditional gallery and somebody spends five minutes in front of it, that's an incredibly long time," says Kellen. "If you're sitting here talking to your friend and a piece is just in the background the whole time, it starts to come into your brain more."
Not all OHC exhibitions are controversial. Kellen aims to make OHC a place where all the things he loves—travel, food, music, and art—can intersect. The next exhibition will be a partnership with Joan of Arc, a local Indie rock band that's been around since 1995. Band members will create work for the show, and Kellen will incorporate musical elements into OHC's yearly schedule, including regular concert series.
Kellen aims to make OHC a place where all the things he loves—travel, food, music, and art—can intersect.
Kellen doesn't like to put his own art on display, but his handiwork as a carpenter can be seen in details throughout each condo. For example, in the penthouse unit, a kitchen island made from reclaimed wood is lit from within, creating a magical vibe at night when light shines through the natural imperfections of the wood. Each condo also has a steam shower and, in lieu of a living room TV, a record player. Kellen likes to ask guests about their favorite albums before they arrive and adds them to the collection in their unit.
Because of the somewhat delicate nature of some of the art pieces, Kellen takes care to communicate to guests exactly what they're getting into, and he asks the same from them—wild bachelorette parties, for example, might do well to find a different host. Over the years, though, he's found that going the extra mile to make guests feel welcome goes a long way.
"If you develop a rapport, people are more likely to respect the space," he says.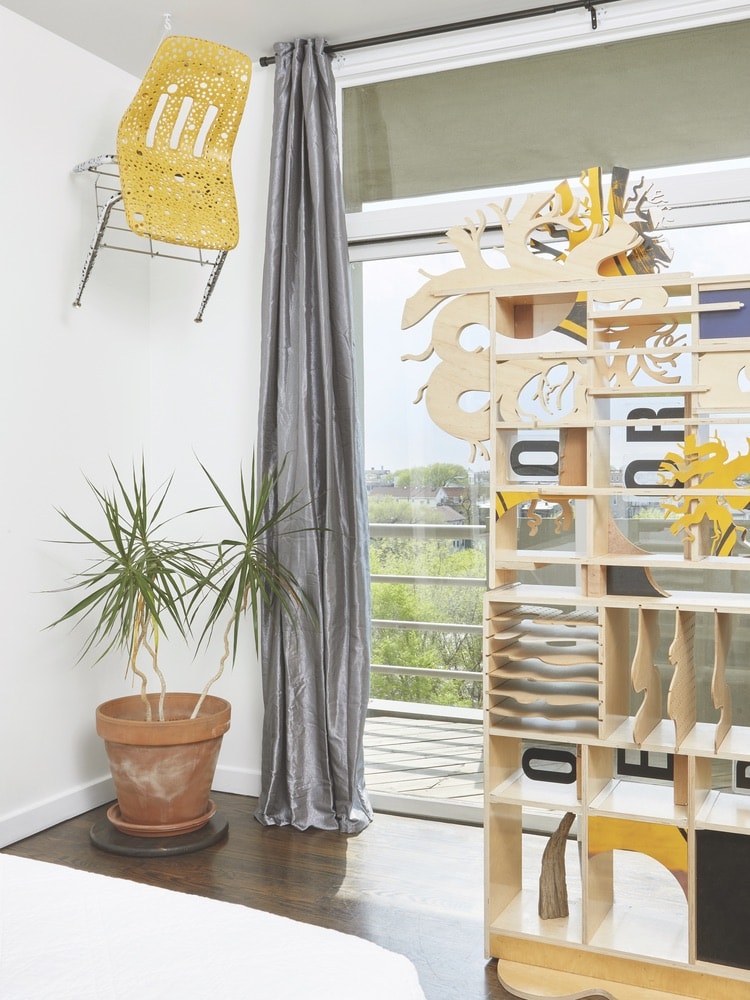 And if anything ever does go wrong, Kellen is not more than an elevator ride away. He and his girlfriend, Ingrid, now reside on the rooftop of the building in their own 220-square-foot "tiny house"—a former gym that Kellen converted into a living space. It's home to a tiny kitchenette, a surprisingly spacious bathroom, a Murphy bed in the living room, and, of course, a record player—wired with speakers on the outdoor portion of the rooftop, perfect for hosting parties.
Living in a tiny house atop a building he rents by the day or the week isn't necessarily what Kellen thought he might be doing a decade ago. But after experiencing the space and witnessing his enthusiasm for OHC, it seems like he's right where he belongs.
"I'm creating this giant, five-thousand-square-foot installation comprising three floors in collaboration with fifty artists, and I get to show it to thirty people a week—and they get a really intimate experience of living with it," says Kellen. "In a lot of ways, I feel like this totally makes sense."
— V —
---
For more information on Open House Contemporary or to book a stay, visit OHC-BnB.com.
ARTICLE CATEGORIES