The King and Prince Beach and Golf Resort Celebrates Seven Decades with a Renewed Royal Elegance
By Susan Benton
About eighty miles north of Jacksonville and eighty-five miles south of Savannah lies St. Simons Island, where the ebb and flow of the Atlantic tides dictate the pace of life. With its pristine coastline, sprawling oaks, and numerous golf courses and local attractions, St. Simons is the perfect place to relax and enjoy a heaping helping of Southern hospitality.
The King and Prince Beach and Golf Resort is a captivating reflection of days gone by. A stunning castle nestled by the seashore, this historic luxury boutique hotel has recently undergone an $8 million renovation. The resort, a perfect getaway for couples, foodies, and families, offers modern luxury, sweeping vistas, and the finest amenities.
The King and Prince also offers a wonderful choice of gracious guest accommodations in many distinctive settings, including oceanfront and resort-view guest rooms, seaside cabanas, luxurious two- and three-bedroom beach villas, and guesthouses of various sizes. One can relax by the spectacular new pool area, designed with all ages in mind, or delight in a leisurely stroll with a stop at the resort's famous swings overlooking the water.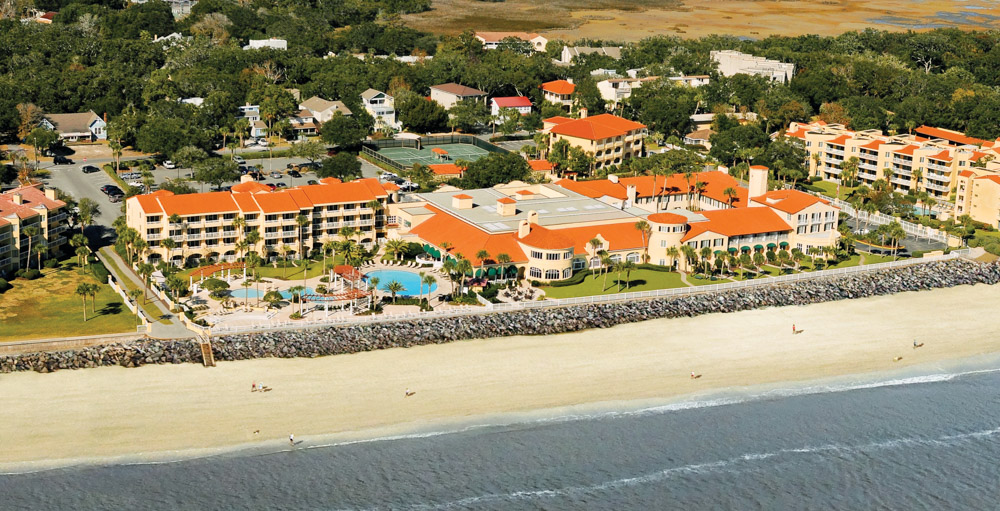 The crowning glory of the renovation, Echo Restaurant and Bar, is St. Simons Island's only oceanfront restaurant. While the views of the Atlantic are both unparalleled and breathtaking, dining at Echo delivers the real wow factor. Executive Chef Jason Brumfiel prides himself on using fresh, locally grown products from Georgia purveyors, and he does not have to search far to find the best seafood to highlight on his menu.
With the resort celebrating more than seven decades of culinary excellence, Brumfiel has taken the lead in featuring artisanal cheeses, olive oil, regional honey, chocolates, peaches, wines, and spirits—all from Georgia—on his menu. His cooking style leans toward modern Low Country and my taste buds were pleased to find the locally netted sweet Georgia white shrimp and a flavor-packed tasso sauce topping off the presentation of shrimp and grits.
Working off a decadent meal is easy at the on-site exercise facility, the tennis courts, or the King and Prince's award-winning golf course. Challenged by salt marsh island holes, players ranging from beginners to the most avid can't help but enjoy the beautiful scenery and stunning natural landscape.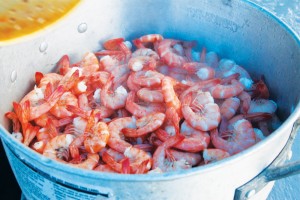 For those looking for an off-site adventure, a trip to the Golden Isles would not be complete without an educational boat ride aboard the Lady Jane, a former U.S. Coast Guard certified passenger steel shrimping vessel that gathers information for the Department of Natural Resources. Marine biologist Phil Flournoy shares his knowledge of the Georgia marshes, ocean ecosystems, native fish species, and other sea creatures with each haul of the boat's shrimp nets, ensuring safety and encouraging guests to inspect the sea life before they are returned to the water. Phil says, "The spartina sugarcane grasses in the marshes and estuaries all around St. Simons Island are what give the Georgia wild shrimp their sweet taste," and guests delight in devouring the freshly cooked shrimp delicacy prepared right on the boat while returning to shore.
Visiting the area's local treasures was on the agenda when I hopped the Lighthouse Trolley owned and operated by Cap Fendig, whose family arrived to St. Simons in the 1800s. Fendig shared his firsthand stories and the island history on a tour that passed by the elementary school that both he and his grandfather attended and where his granddaughter is now a student. Fendig, though a talented trolley tour guide, is a sea captain by trade (U.S. Coast Guard) and offers additional tours of the coastal waters surrounding St. Simons. The island trolley tour included a stop at St. Simons Island Pier, where I met locals casting lines and nets in hopes of reeling in dinner, and then I walked through Neptune Park to St. Simons Island Lighthouse, originally constructed in 1810 and rebuilt in 1872. The lighthouse continues to guide ships and is one of only three working lighthouses on the Georgia coast.
With fifteen thousand permanent residents on St. Simons, good eating establishments are in abundance. A special place to start the morning off right is the Sandcastle Café. In business for more than twenty-five years, the café is owned and operated by Tim and Melissa Wellford, a husband-and-wife team. The eatery is known for its wildly popular made-from-scratch breakfast buffet, which includes everything from casseroles, waffles, and French toast to bacon and cheese grits. Another St. Simons hot spot (as seen on the Food Network) is Southern Soul Barbeque. I made it easy on myself and ordered the Southern Soul Sampler, which arrived with brisket, chicken, Brunswick stew, and a side order of hoppin' John (black-eyed peas and rice). Visit their Facebook page for drool-worthy photos, and you will be booking a trip before you can lick your lips.
The King and Prince, originally built as a dance club in 1935, has been a crown jewel on the National Register of Historic Places since 2005 and remains one of the country's great seaside resorts. For a trip back in time to a place where luxury and gracious service have not been forgotten, you will want to experience the King and Prince.
The King and Prince Beach & Golf Resort www.kingandprince.com 1-800-342-0212
The King and Prince Golf Course: Home of the Hampton Club www.hamptonclub.com 912-634-0255
Lady Jane Shrimpin' Excursions www.shrimpcruise.com 912-265-5711
Lighthouse Trolleys www.lighthousetrolleys.com 912-638-3333
Southern Soul Barbeque www.southernsoulbbq.com 912-638-7685
Sandcastle Café www.sandcastleatthepier.com 912-638-8883
— V —
---
Susan Benton is the owner of 30AEATS.com and a partner in GulfCoastRestaurants.com, where she shares her passion for food and travel and her commitment to promoting local farmers, fishermen, chefs, artisans, and the best restaurants along the Gulf Coast.
Shrimp and Grits with Tasso Cream Sauce

Ingredients 1 cup heavy cream 3 tablespoons Georgia Olive Farms olive oil 1/3 cup tasso ham 1/4 cup white kernel corn 1/4 cup diced tomatoes 2 tablespoons chopped green onion 1 cup wild Georgia shrimp 1 tablespoon Cajun seasoning 1/4 cup Asiago cheese 2 cups Gayla's Grits, cooked Salt and pepper to taste
Preparation: In a sauté pan, sauté the shrimp in olive oil with Cajun seasoning for about 3–4 minutes or until pink. In a second pan, sauté the tasso ham, corn, tomatoes, and green onions. Add heavy cream and Asiago cheese; let simmer for two minutes. Add shrimp and serve over stone-ground grits.
Makes 2 servings.
ARTICLE CATEGORIES