5 Meal Prep Tips That Will Change Your Whole Week
---
November 5, 2020
By Samantha Accola
With an eagerness to save time, money, and energy and to eat healthier, many people have embraced meal prepping as an idealized approach to home cooking. While it seems the basic concept has been around since the days of leftovers, planning your meals ahead of your busy schedule is a sustainable practice that reaps what is sown. Many know this solution only through the lens of Instagram's highlight reel and are intimidated by the posts from aesthetic foodies. In reality, meal prepping has a simple approach if you are open to learning the basic responsibilities. Whether you are just dipping your spoon into this epicurean journey or have been on the meal prep train for years, we are here to offer some user-friendly meal prep tips that could change your life!
5 Meal Prep Tips That Work for Everyone
---
Start Simple
As with all new beginnings, start small. Forming a meal planning habit is no different than making any other positive change in your life. During the weekend (or whenever you have a day off), keep a paper and pen close at hand and start imagining your ideal menu for a few meals or snacks you hope to create for the week ahead.
To get organized, many meal specialists recommend writing out a weekly food schedule so that grocery shopping, pantry checking, and collecting all the essential utensils can make the actual meal prepping a breeze! There are many strategies, so it may take some trial and error to find what works best for you.

Plan to invest in quality storage containers. This is a critical part of the process to consider if your meals need a specific kind of vessel for microwaving, freezing, or placing in the dishwasher. Glass takeaway bowls and trays with lids are a great choice as they are eco-friendly and safe to use in microwaves.
---
Pantry Staples
Shop your pantry first! Take mental notes as you look through your refrigerator, freezer, and pantry for the items you already have to ensure you're not over-buying. Having a balanced diet and food group variety is an important part of prepping for your culinary preferences. The healthiest meal plan emphasizes whole foods, such as fruits, vegetables, legumes, whole grains, high-quality protein, and healthy fats, while limiting sources of refined grains, added sugars, and excess salt.
To ease you into the meal-planning transition and simplify your menu, here are a few examples of some versatile, healthy options to have on hand:
Whole grains: brown rice, quinoa, oats, bulgur, whole-wheat pasta, polenta
Legumes: canned or dried black beans, garbanzo beans, pinto beans, lentils
Canned goods: low-sodium broth, tomatoes, tomato sauce, artichokes, olives, corn, fruit (no added sugar), tuna, salmon, chicken
Oils: olive, avocado, coconut
Baking essentials: baking powder, baking, flour, cornstarch
Herbs & Spices: garlic, rosemary, basil… If you are just beginning, pick two or three of your favorite flavor-enhancers each time you go to the grocery store and slowly build a collection.
Other: Almond butter, peanut butter, potatoes, mixed nuts, dried fruit
By storing these basic essentials, you only need to focus on picking up fresh ingredients in your weekly grocery haul. This inventory check helps build efficiency, ease stress, reduce waste, and prevent the buying of products you already have. To save money, take advantage of shopping the bulk section for products that have a longer shelf-life.
---
Set A Time!
Consistency is key. The easiest way to integrate meal prep into your routine is to fit it into your lifestyle. Find out what day and time each week works best, then continue to prioritize and develop this methodized skill.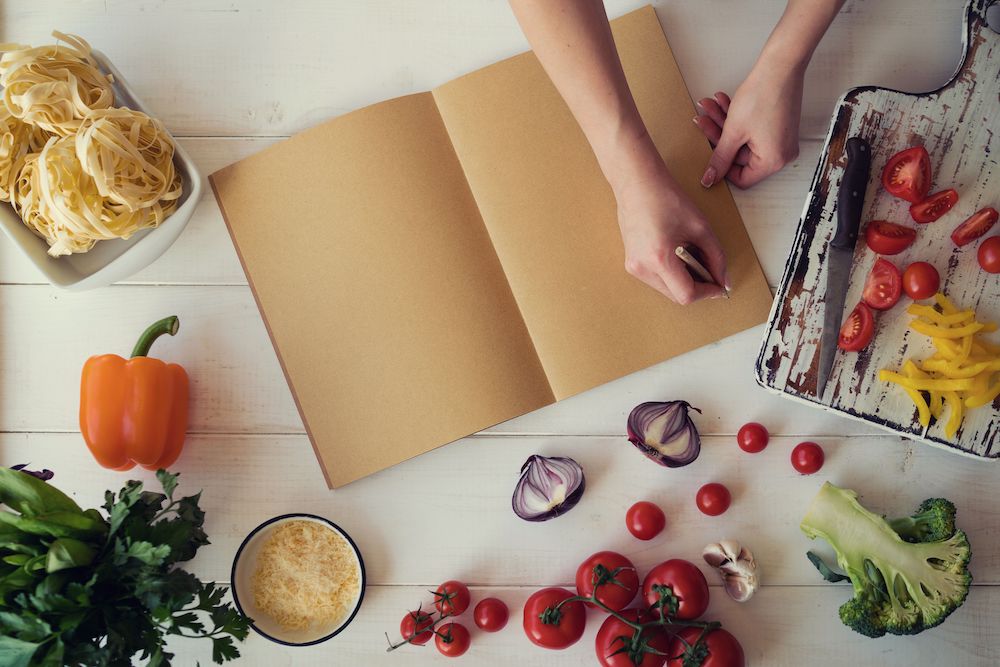 Prep work can take anywhere from as little as 10 to 15 minutes for planning to a few hours, depending on how many meals or snacks you may be creating in one sitting and for how many people you're feeding. Batch cooking is a helpful preparatory tool in preparing large quantities of food during meal prep, such as grains or a tray of roasted vegetables. To eliminate cooking every day, you can spice up your leftovers and repurpose them for another creative meal.
Whether in a notebook or digital format, keep a safe space for the useful meal prep tips and successful recipes you wish to utilize for future reference. For some added entertainment, queue your favorite playlist, audiobook, or podcast to enjoy during your new cooking venture!
---
Pre-portioned Meals
Pre-portioning your meals into individual containers is a valuable meal prep strategy, especially if you have a specific amount of food you plan to consume. Many fitness enthusiasts and health bloggers use this method to track their intake of calories and nutrients.

To take full advantage of pre-portioning, expert meal-planners suggest preparing a large meal containing 4 to 6 servings so that when separated into independent containers and stored in the refrigerator or freezer, one can simply reheat and eat!
---
Prep Smarter, Not Harder
Grocery stores have many pre-prepared options these days, so if you are low on time or don't enjoy certain culinary responsibilities, there is usually an easier (sometimes slightly more expensive) alternative!
For more hands-off cooking, use a slow or pressure cooker to eliminate any excessive kitchen duties.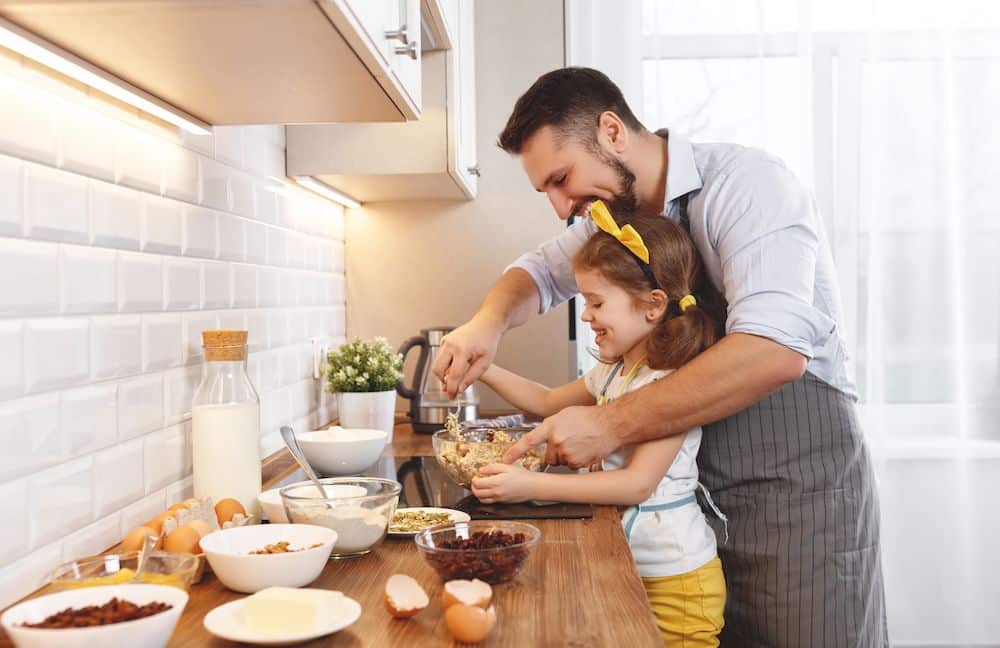 If you have roommates with similar appetizing endeavors or a family willing to help out, make it a party! From chopping vegetables to grilling the meat, there is a range of kitchen tasks for any hungry volunteer's skill set!
---
Meal planning and preparation may seem overwhelming at first, but developing a sustainable schedule and strategy that works with your preferred lifestyle will make it even more attainable. Let the creative juices flow as this helpful cooking approach gives you endless edible options and lightens your daily load!
---
Food Bloggers to follow for Inspiration:
---
Half Baked Harvest


Cooking specialist and well-known blogger Tieghan Gerard created the creative and straightforward culinary brand Half Baked Harvest. With over 2.1 million Instagram followers, her blog is sure to creatively inspire, support, and encourage your cooking abilities. Click here to view a recent blog we wrote about Half Baked Harvest, including some fall recipes!
@halfbakedharvest | halfbakedharvest.com
---
HealthNut Nutrition

View this post on Instagram


Follow Nikole from HealthNut Nutrition for weekly meal prep and healthy eating motivation! Her fun lifestyle blog is easy to listen to and makes it even easier to find helpful tips and tricks! Click here for a favorite Youtube video.
@healthnutnutrition | healthnutnutrition.ca
---
The Domestic Geek

View this post on Instagram


With over 1.88 million Youtube subscribers, Sara Lynn Cauchon's light-hearted videos are filled with plenty of delicious meal recipes and diet-conscious concoctions. What makes her channel special is her collection of  "Healthy Meal Prep Menus." With recipes ranging from gluten-free salmon cakes to vegan tofu scrambles, Cauchon's got you covered for easy no-stress breakfasts, lunches, and dinners.
---
Downshiftology

View this post on Instagram


Southern California native Lisa Bryan embraces a minimalistic approach to life and food. Downshiftology is her online presence where you'll find wholesome recipes, healthy travel tips, kitchen advice, and cooking tutorials. Get back to the basics and learn from the friendliest!
@downshiftology | downshiftology.com
---
Online delivery meal services
---
If you want to take a week off from meal prepping or switch to a custom delivery plan with fresh options, online delivery services are a convenient resource. Most responsibly sourced meals take under 30 minutes to prepare and come with pre-measured ingredients to cut down on food waste. With lots of personal accommodations, customers can choose meals based on their dietary preferences, including vegetarian, gluten-free, keto, low-carb, paleo, and dairy-free eating patterns.
Though they may be less affordable than a standard home cooking experience, meal subscriptions are worth a try, especially after a long week!
Daily Harvest

View this post on Instagram


For one-stop prep, Daily Harvest is a meal delivery subscription company that offers healthy smoothies, snacks, and meal options. Customers create personalized "boxes" and can choose a weekly or monthly delivery.
---
Factor

View this post on Instagram


No cooking is required, and the fully prepared meals can be enjoyed on the go. With new menus offered every week, Factor offers chef-created, dietitian-approved, fully prepared meals that can be heated and enjoyed within minutes.
---
Sun Basket

View this post on Instagram


A popular healthy meal kit delivery service that offers breakfast, lunch, and dinner options prepared with whole, nutrient-dense All recipes are approved by an in-house dietitian.
---
Green Chef

View this post on Instagram


Certified as an organic meal kit subscription service, Green Chef provides healthy ingredients and step-by-step instructions for creating nourishing meals. Customers can choose from weekly, biweekly, or monthly delivery services.
---