Best Summer Cookout Recipes to Try this Season
---
June 27, 2017
Serve up your summer with big flavors
Two favorite summer accessories that usually make the season a favorite are: 1) The beach, and 2) Summer cookouts. Though these two things are in no particular order, food would probably top ours or any other list. Summer is the season that doesn't need a holiday to throw a BBQ or host a big potluck every weekend. Why? Probably because it's the prime season for fresh produce, providing your dishes with the richest and freshest flavors. Take advantage and take a bite out of summer with these ten of these summer-inspired recipes from some of the best food bloggers out there.
COCKTAILS: Cool off with the refreshing taste of summer's favorite fruits. Just add some liquor. In this case, it's rosé or rum!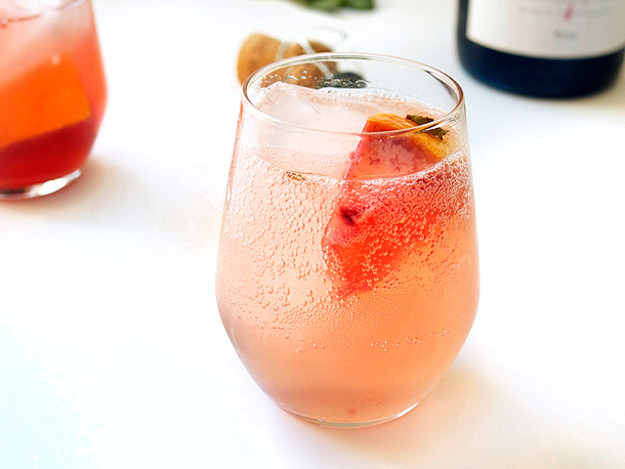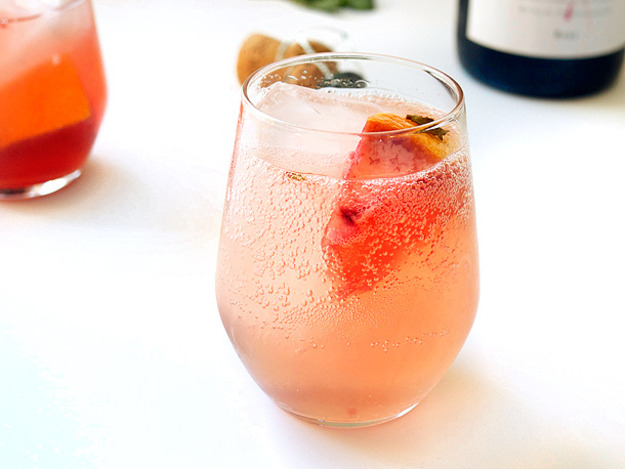 Sparkling Grapefruit Sangria with Lillet Rose Recipe Courtesy of Serious Eats
Note: To make simple syrup, combine 1cup water with 1 cup sugar in small saucepan and heat over medium heat, stirring constantly, until sugar is dissolved. Cool before using. Simple syrup will keep in a sealed container in the refrigerator for up to 5 days.
15 Fresh mint leaves
¼ Cup simple syrup
1 Cup fresh grapefruit juice, from about 2 Ruby Red grapefruits, plus ½ of one grapefruit, peel intact, cut into rough chunks
1 Cup Lillet Rosé
1 bottle Cava, chilled
In bottom of a pitcher, gently muddle together the mint leaves and simple syrup. Add grapefruit chunks, grapefruit juice, and Lillet Rosé. Refrigerate for at least 4 hours or up to overnight.
When ready to serve, add Cava to the pitcher and stir gently. Serve over ice.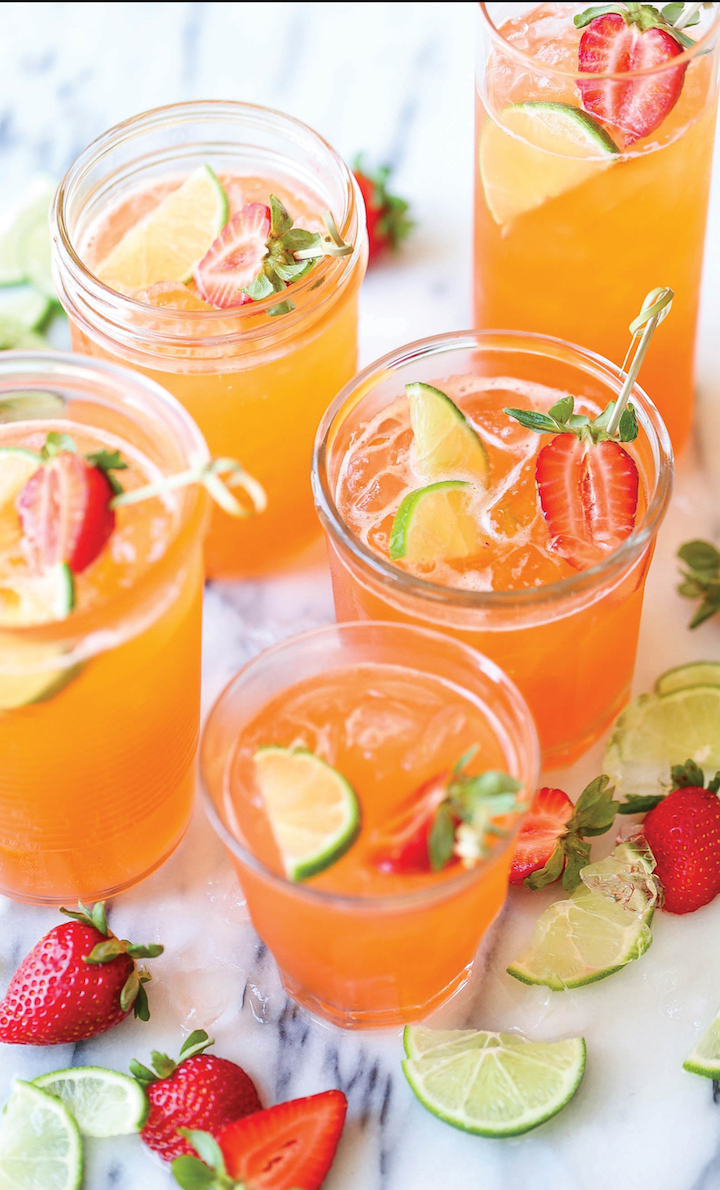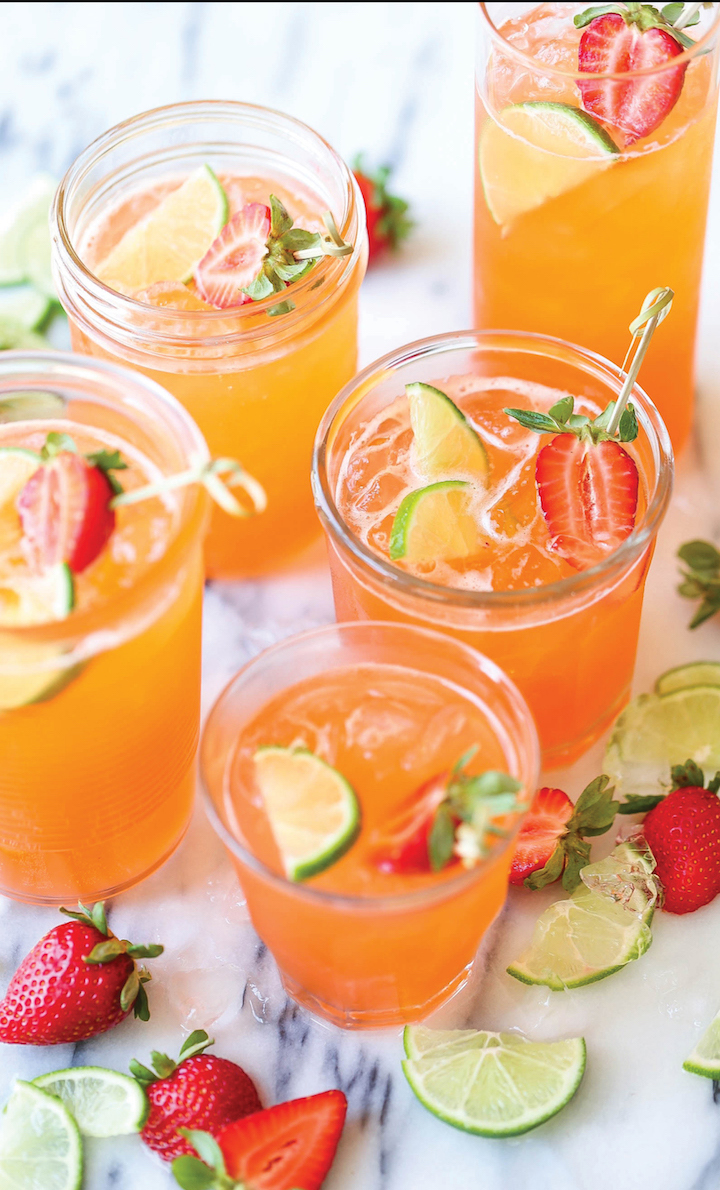 Strawberry Pineapple Mojito Courtesy of Damn Delicious
4 Limes, cut into wedges
8 Strawberries
1 Bunch mint, tough stems removed
4 Tablespoons sugar
6 Ounces pineapple juice
6 Ounces light rum
2 Cups club soda
For each cocktail, muddle 3 lime wedges, 2 strawberries, 1 tablespoon mint leaves and 1 tablespoon sugar in a cocktail shaker until lightly crushed.
Stir in pineapple juice, rum and club soda.
Serve over ice, garnished with remaining lime wedges, if desired.
SALADS: The essence of summer! Vegetables seem to be more delectable this time of year, and with these recipes, even carnivores will be craving them!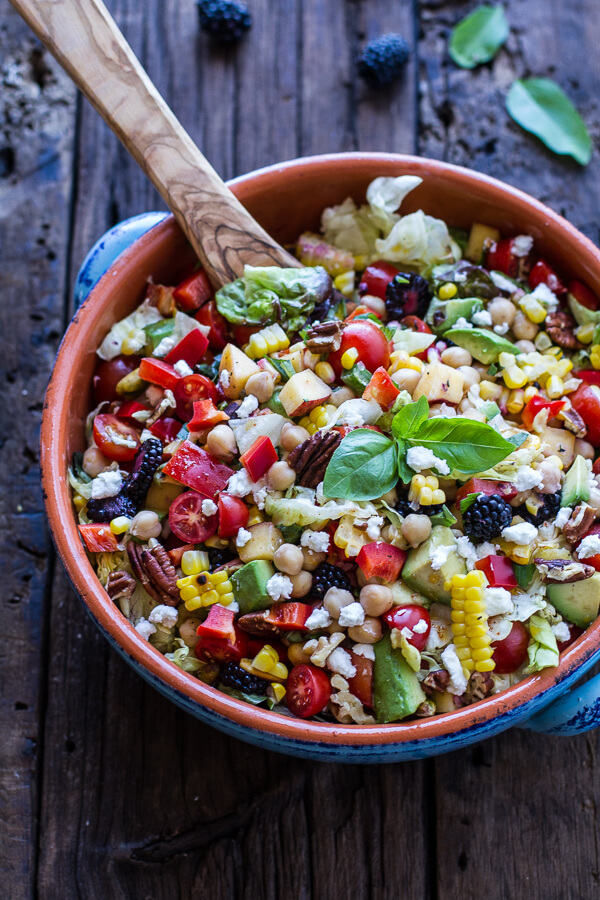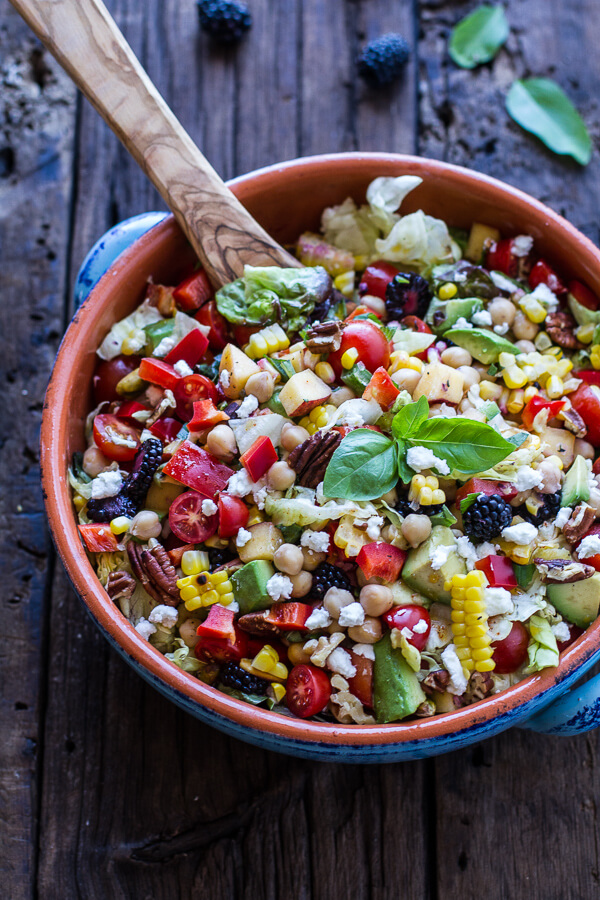 Easy Summer Herb & Chickpea Chopped Salad with Goat Cheese Courtesy of Half Baked Harvest
4-8 Cup butter lettuce chopped
½ Cup fresh basil + parsley, chopped
2 Tablespoons fresh thyme, chopped
2 Ears grilled corn, kernels removed from the cob
1 ½ Cups tom-tom tomatoes, halved
¾ Cup fresh blackberries or blueberries
1 Peach, finely chopped
1 Jalapeno, seeded and chopped
1 ½ Cups cooked chickpeas
½ Cup mixed tosted pumpkin seeds, peans, walnuts, pistachios, pepitas
¼ Cup olive oil
1 Tablespoon apple cider vinegar
2 Teaspoons honey
½-1 Teaspoon chipotle chili powder
1-2 cloves garlic, minced or grated
1 lemon, juiced
salt and pepper to taste
1 avocado, pitted and chopped
4-6 ounces goat cheese crumbled
In a large bowl combine the butter lettuce, basil, parsley, thyme, grilled corn, tom-tom tomates, red pepper, blackberries or blueberries, peach, jalapeño and chickpeas.
In another small bowl or glass jar combine the olive oil, apple cider vinegar, honey, chipotle chili powder, garlic, lemon juice, salt and pepper. Whisk until combined.
Once ready to serve, pour the dressing over the salad and toss well. Add the avocado and goat cheese and gently toss once more. Serve.
*One thing I like to do is toss everything but the lettuce together (dressing included) and store in the fridge for a couple of hours to let the flavors mend together. Then just before eating, add the lettuce. *Recipe can easily be doubled and tripled.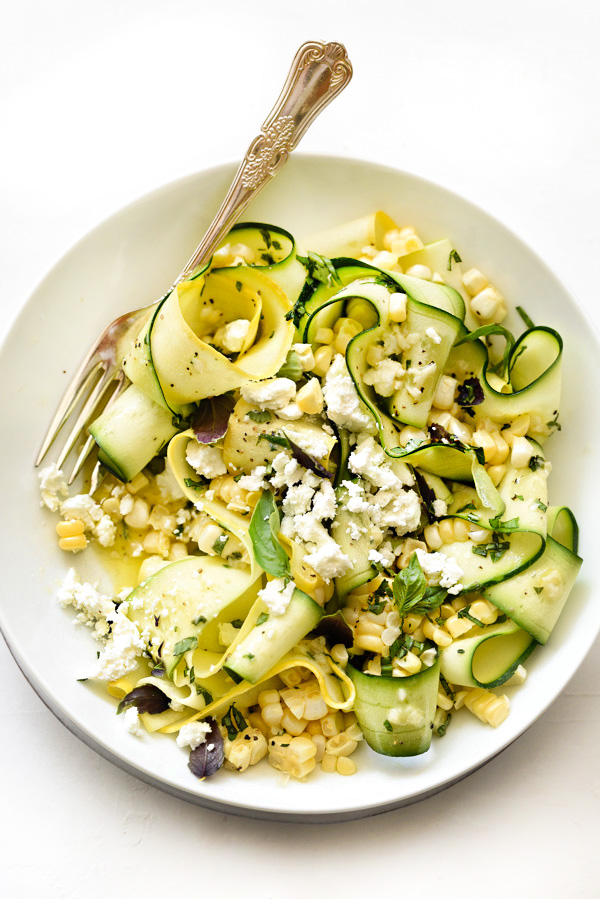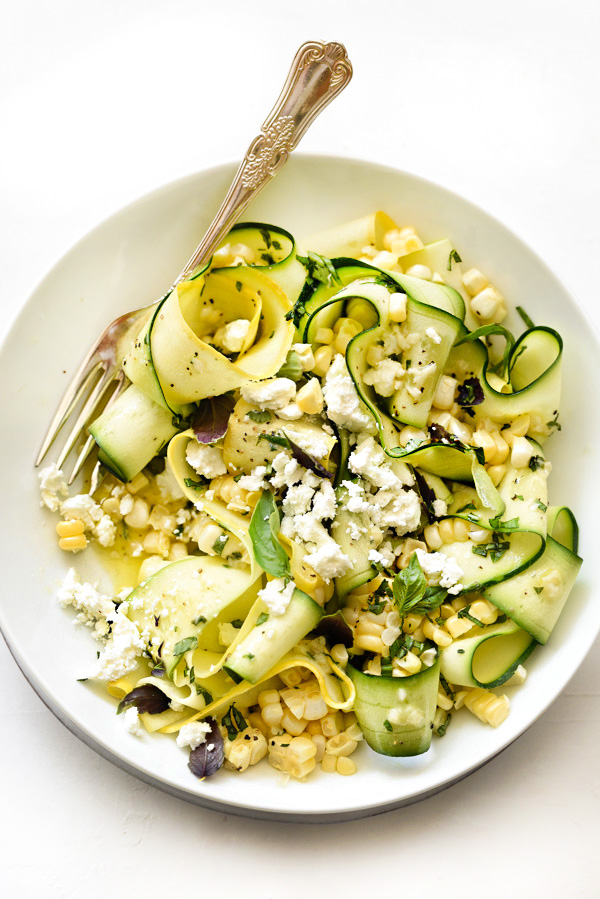 Zucchini and Fresh Corn Farmers' Market Salad with Lemon-Basil Vinaigrette Courtesy of Foodie Crush
1 Small or medium zucchini
1 Small or medium yellow squash
1 Ear of corn, shucked and cleaned, with the kernels cut off the cob
1 Ounce goat cheese
Lemon-basel vinaigrette (recipe below)
Red pepper flakes
Kosher salt and freshly ground black pepper
A few leaves of fresh torn basil
*Optional: A few tablespoons of toasted pine nuts
Lemon-Basil Vinaigrette
½ Cup olive oil
3 Tablespoons fresh lemon juice
1 Tablespoon fresh basil, chopped
1 Teaspoon Dijon mustard
1 Clove minced fresh garlic
Kosher salt and freshly ground black pepper to taste
For the Salad: With a wide vegetable peeler, peel the zucchini and squash lengthwise into long ribbons (discarding the middle — you'll know when you get to it, because the squash will get too thin and watery.) Place the ribbons in a good sized bowl or plate, alternating so you can see equal amounts of green and yellow. Add the corn kernels and about 2 tablespoons of vinaigrette. Toss. Add salt, freshly ground pepper and chili flakes to taste. Add the goat cheese and garnish with fresh torn basil.
For the Lemon-Basil Vinaigrette: Add all of the ingredients to a small jar with a lid and shake well. Season with more salt and pepper to taste.
*Note: You'll have vinaigrette left over to use on other salads, or make this one again!
FoodieCrush.com
FINGER FOODS: One thing we love about a summertime cookout is that it's meant to be a laid-back affair. Rather than fanciful winter dinner parties that are meant for gathering around the table, summer gatherings encourage you to fill a plate and then go socialize!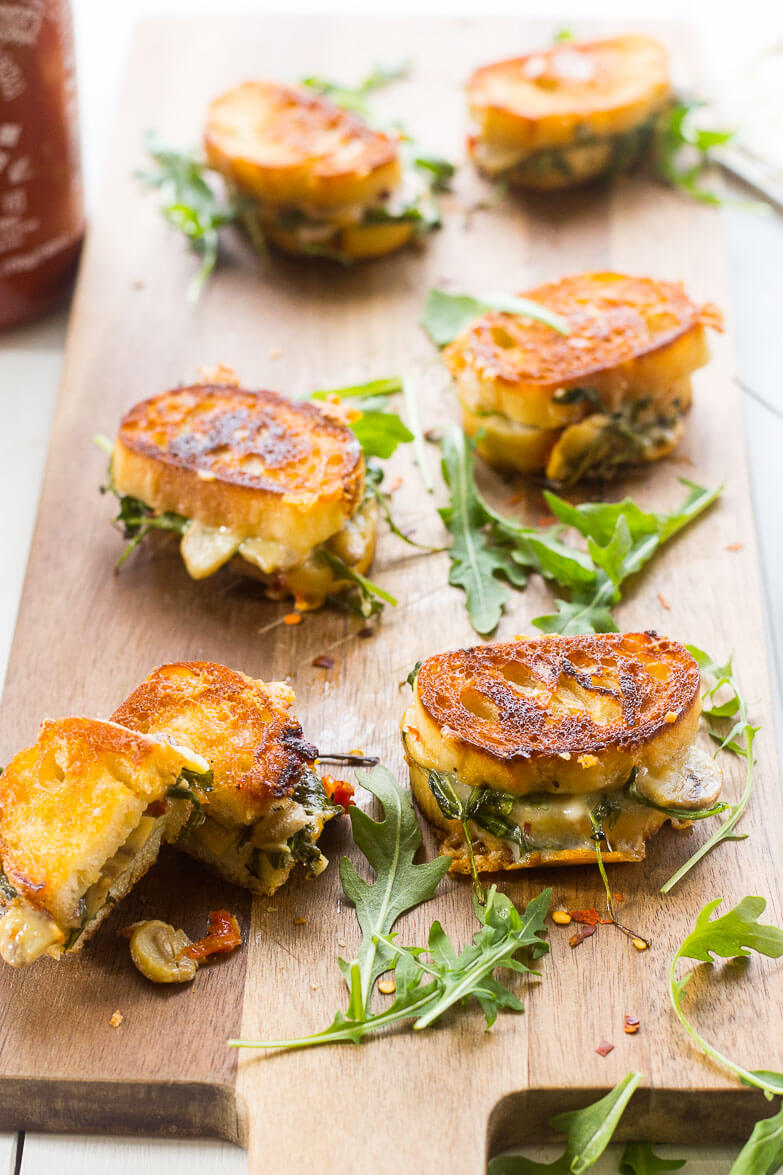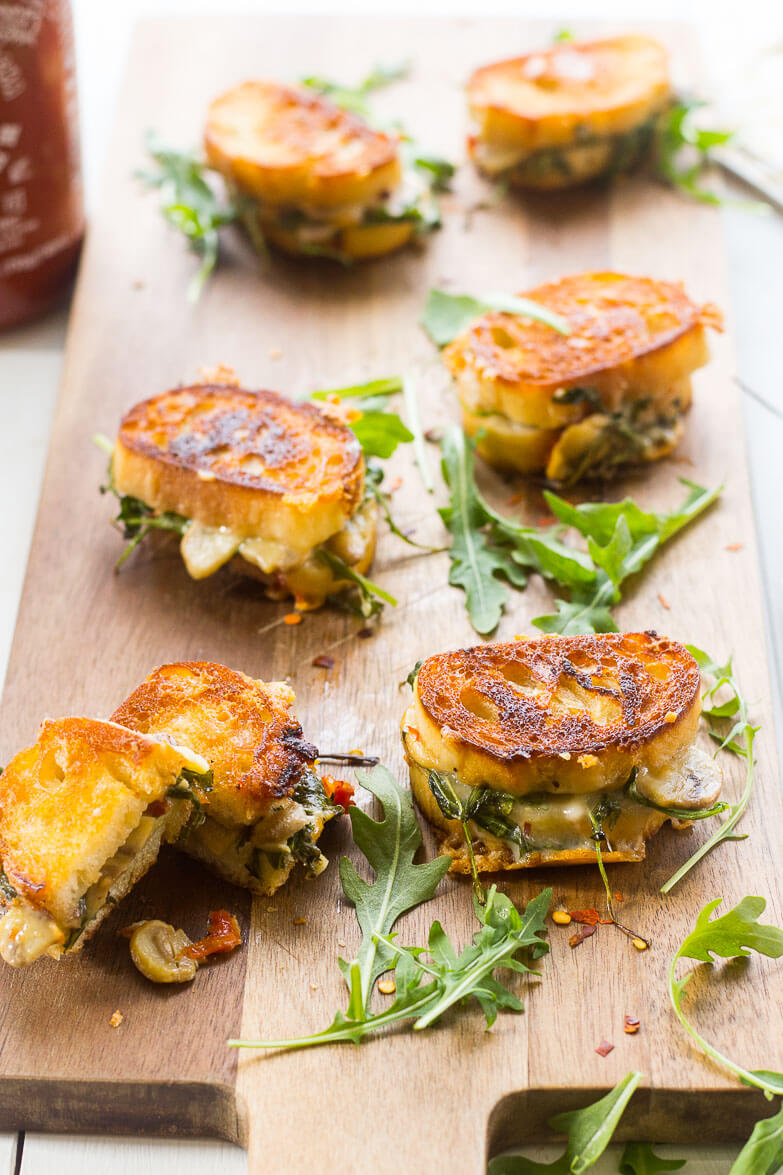 Mini Grilled Cheese Sandwich Appetizers Courtesy of The Girl on Bloor
1 Long French baguette, thinly sliced
1 cup grated aged cheddar cheese
3-4 Tablespoons butter
Toppings:
Sliced sautéed mushrooms
Arugula
Leaves fresh basil, optional
Red chili flakes
Cracked black pepper and sea salt
Sauce mushrooms in a frying pan over med-high heat. Slice sundried tomatoes and prepare other toppings in the meantime.
Slice baguette relatively thinly, then top with cheese, mushrooms, sundried tomatoes, arugula and fresh basil. Sprinkle with a pinch of red chili flakes, some black pepper and sea salt.
Cook sandwiches in batches of 5 or 6 in a large frying pan on med-low heat, melting 1-2 tbsp of butter at a time.
Cook for about 3-4 minutes each side until cheese starts to melt and the outside of the sandwiches gets crispy.
Serve immediately with ketchup and sriracha – enjoy!
FOR THE GRILL: Just as Superman wouldn't be Superman without his superhuman strength, summer wouldn't be summer without a grill. Here's a twist on two familiar summer comfort foods you need to try.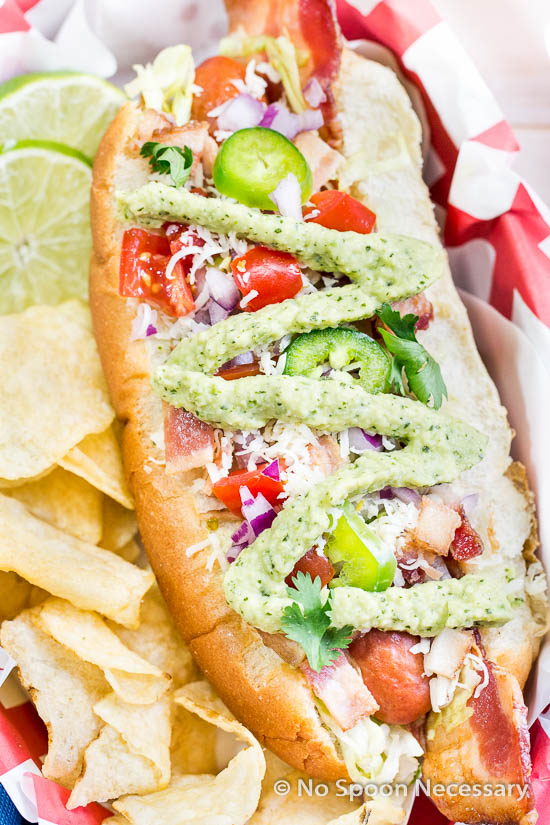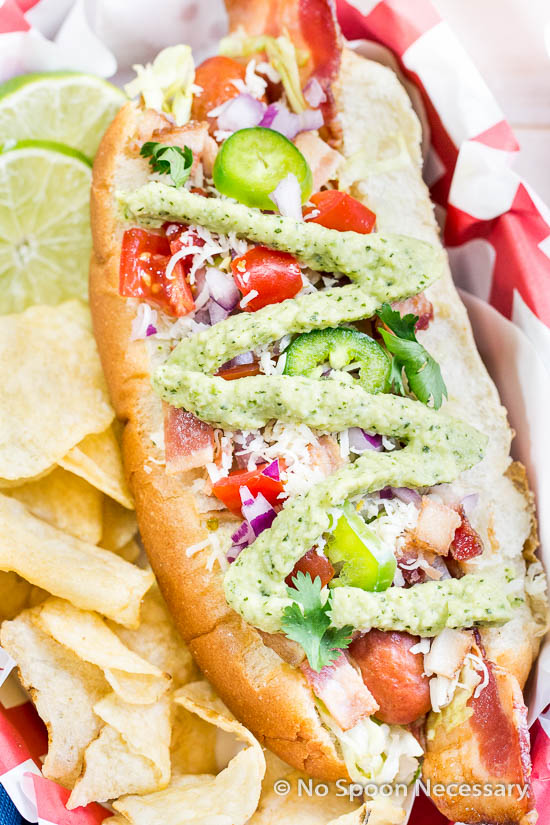 Fully Loaded Tex-Mex BLT Dogs Courtesy of No Spoon Necessary
Hot Dogs:
6 Cased all beef dogs
6 Hot dog buns
1 (16 Oz.) Jar hotdog onions in Sauce
1 (12 Oz.) Bottle light or lager beer
9 slices thick cut bacon
5 Ounces cherry tomatoes, quartered or diced
Iceberg lettuce, shredded to taste
Fully loaded additions:
4 Ounces Monterey Jack, shredded
½ Red onion, diced
¼ Cup cilantro leaves, packed & heaping, roughly chopped
1 Jalapeño, cut into rings
Salsa, to taste
Avocado Cream Sauce:
2 Hass Avocados, seeded and roughly chopped
2 Tablespoons sour cream
2 Limes, juiced
3 Cloves garlic, peeled and smashed
1 Jalapeno, ribs and seeds removed
2 Tablespoon cilantro leaves
¾ Cumin
¼ Heaping teaspoon sea salt
For the Avocado Cream Sauce: In the bowl of a food processor, add all ingredients. Process until desired smooth consistency. Taste and adjust for seasoning. Cover and refrigerate until ready to use.
For the Bacon: Prepare a large, rimmed baking sheet with aluminum foil for easy clean up. Insert a wire rack on top of aluminum foil. Place strips of bacon, evenly spaced and not overlapping, on a wire rack. Place bacon into oven and set oven to 400 degrees. Cook bacon for 18-25 minutes, or until bacon is cooked through and to desired crispness. Remove from oven and use tongs to transfer bacon to a paper towel lined plate or work surface to drain. Crumble 3 slices of the bacon and leave remaining 6 whole. Set aside.
Grill the Hotdogs:
For Charcoal Grill: Light a chimney full of charcoal. Once lit, pour out and arrange coals on one side of grate. Add cooking grate, cover grill and allow to preheat for 5-10 minutes.
For Gas Grill: Turn one half of the grill burners to the highest setting, cover and allow to preheat for 10-15 minutes. Oil the grates before continuing.
In a small disposable aluminum pan, large enough to fit the hot dogs, add the onions in sauce, and beer. Stir to combine. Add the hot dogs to the pan, nestling them into the mixture. Place the hot dog pan on the hot side of the grill and bring to a simmer. Once simmering, move hot dog pan to the cooler side of the grill. Tent pan lightly with aluminum foil and use a knife to slash vents in foil to allow steam to escape. Close grill and cook for 10 minutes, turning hot dogs over half way through cooking.
Remove aluminum foil and discard. Transfer hot dogs from pan to grill grates, over hot side of grill. Cook, turning hot dogs occasionally, until browned and to desired crispness, about 3-4 minutes total. Once fully cooked, transfer hot dogs back to pan of sauerkraut. Remove pan from grill and set aside.
Add buns to hot side of grill and toast until desired color. Remove and set aside.
Top the Hotdogs:
For California BLT Dog: Place one hot dog inside a bun. Slide one piece of bacon between dog and bun. Top with tomatoes, lettuce and bacon pieces. Drizzle with avocado cream.
For Fully Loaded BLT Dog: Place one hot dog inside a bun. Slide one piece of bacon between dog and bun. Top with shredded cheese, tomatoes, lettuce, bacon pieces, jalapeno, and red onion. Dollop with salsa and drizzle with avocado cream. Sprinkle on cilantro to finish.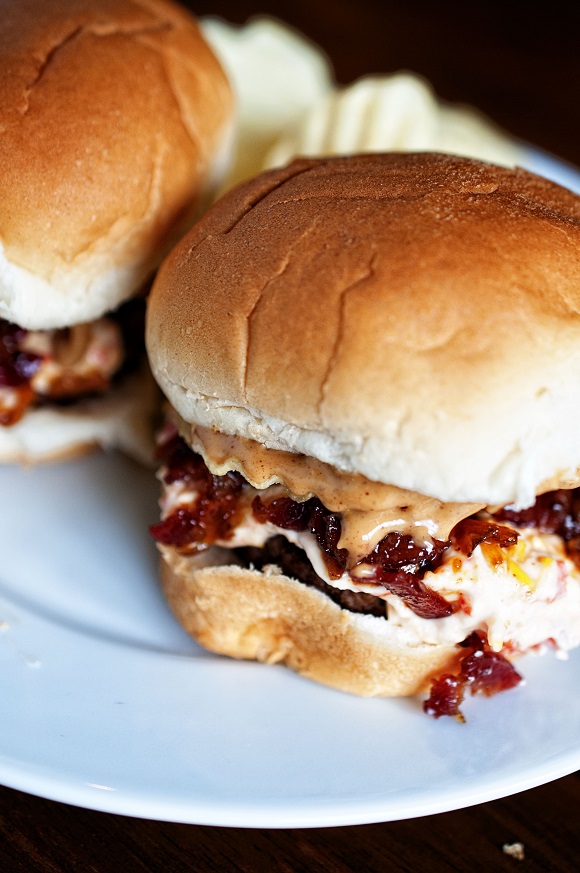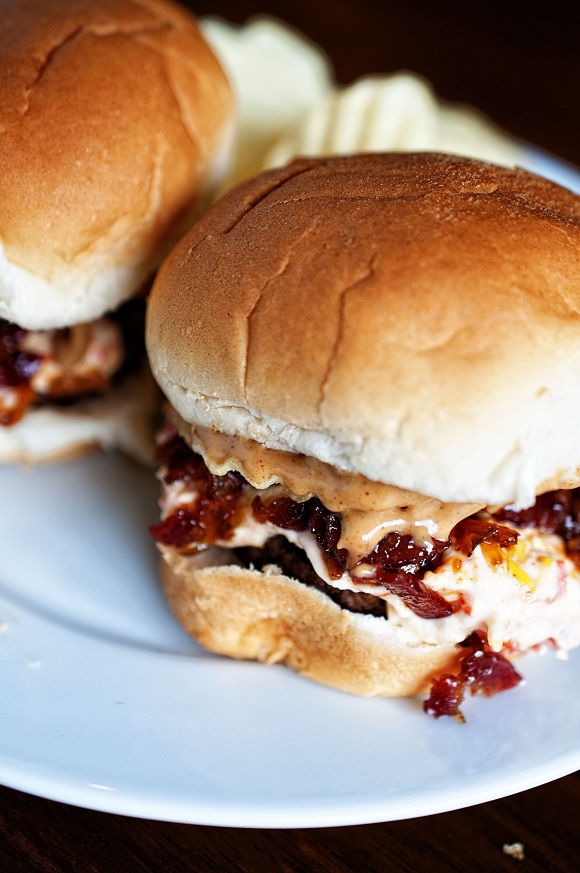 Jam On It Sliders Courtesy of Sweet Recipeas
For the sliders:
1 pound ground beef
Salt and pepper to taste
8 mini slider buns
1 cup Crunchy natural peanut butter
8 large potato chips
For the Pimento Cheese:
8 ounces cream cheese, at room temperature
½ cup mayonnaise
2 cups sharp cheddar cheese
¼ tsp. garlic powder
¼ tsp. onion powder
1 (4 oz.) jar pimentos, drained
Salt and pepper to taste
For the Bourbon Bacon Jam:
1 pound smoked bacon
1 large sweet onion (such as Walla Walla or Maui)
2 TBSP minced garlic
¼ cup apple cider vinegar
½ cup brown sugar
¼ cup bourbon
Salt and pepper to taste
For the burgers:  Form your slider patties so that they are thin, no more than 1/4-inch thick. Lightly season them with salt and pepper.
Place a large frying pan over medium-high heat. Sprinkle the pan with salt as it heats. Add the sliders to the pan quickly once it is very hot, but not smoking. Depending on their size, you can fit about three or four sliders in the pan at once. Be careful not to overcrowd the pan.
Brown the meat for about 20 to 30 seconds.
Flip the sliders and cook for one to two minutes more, depending on your desired level of cook.
Remove the cooked slider patties from the pan and transfer them to buns. Pour off any excess fat from the pan, then repeat steps three through five with the remaining patties.
For the Pimento Cheese: Place the Cheddar cheese, cream cheese, mayonnaise, garlic powder, onion powder, and pimento into the large bowl of a stand mixer. Using paddle attachment beat the mixture on medium speed until thoroughly combined. Season to taste with salt and black pepper.
For the Bourbon Bacon Jam: Cut bacon into 1 inch pieces. Cook the bacon in a large saucepan (I used my Le Creuset) and cook down until the bacon is crisp and fat is rendered. Remove bacon and set aside on a paper towel to remove some of the oil.
Discard all but 1 TBSP bacon fat (and by discard I mean add to your bacon fat jar that hopefully you keep to cook with). Add the onions and cook until tender and become translucent in color.
Add the bacon back along with the remaining ingredients and reduce to a low simmer. Let the ingredients cook down until they for a syrup or jam like consistency, this will take about an hour or so.
To assemble the sliders: Place a burger on the bottom portion of the bun. While warm, add about 2 TBSP of Pimento cheese to the hot burger so that it will melt a little. Spread peanut butter on the top bun. Add bacon jam to the top of the Pimento cheese. Top with a large potato chip. Put the peanut butter slathered bun on top of the chip and smoosh down a little to get it to all come together.
Eat and enjoy.
DESSERTS: Everyone knows you can't have a party without dessert. Just as appetizers are the opening to a meal, desserts act as the perfect finale. Keep life sweet with these summer-inspired recipes.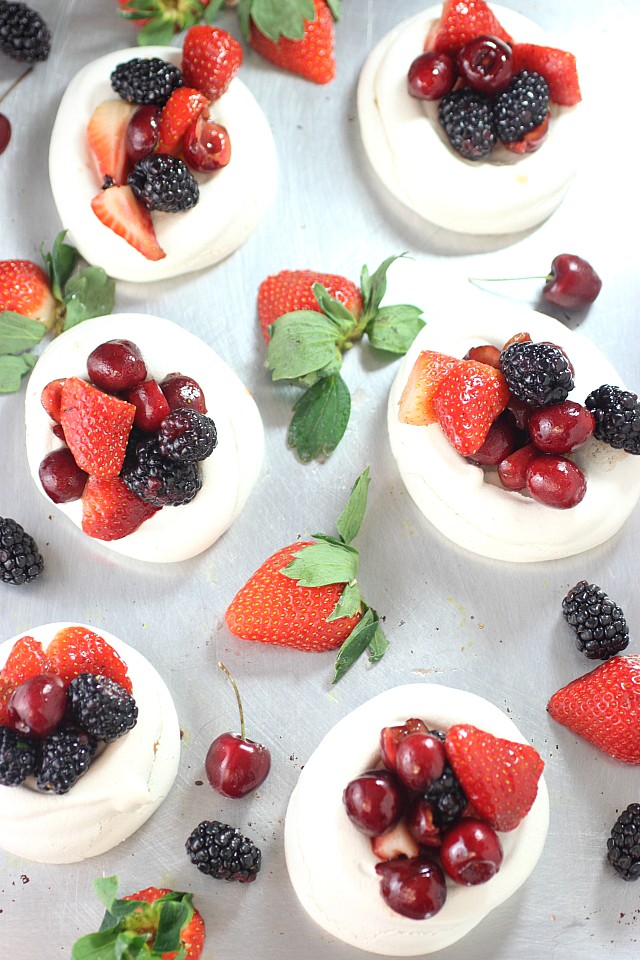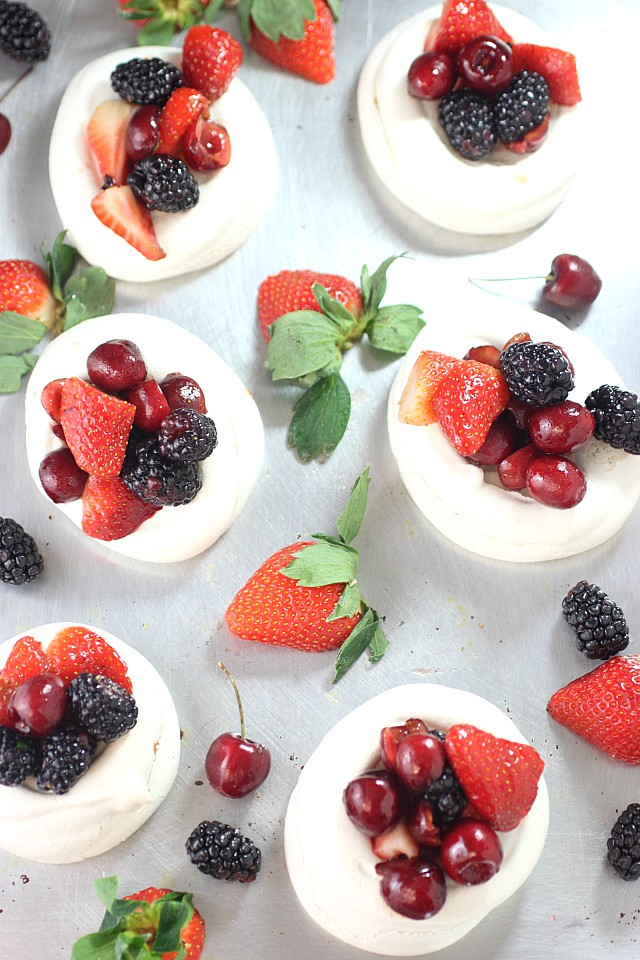 Mixed Berry Mini Palovas Courtesy of Mind Over Batter
For the Macerated Berries:
1 Cup sliced cherries
1 Cup sliced strawberries
1 Cup whole blackberries
2 ½ Tablespoons vanilla bean paste
For the Meringues:
3 Ounces egg whites (about 3 large eggs), room temperature
¼ Teaspoon salt
¼ Teaspoon cream of tartar
1 Scant cup granulated sugar
2 Teaspoons vanilla bean paste
Macerate the berries: Add the the berries, sugar, and vanilla bean paste to a large bowl. Mix to combine. Cover and set aside in room temperature for 30-45 minutes, allowing the fruit to soften slightly and release their juices. Place in the refrigerator until ready to use.
For the meringue cookies: Preheat oven to 250°Fahrenheit and line 2 large cookie sheets with parchment paper. Set aside.
In a stand mixer fitted with a whisk attachment, whip the egg whites on medium/high speed until foamy. Add the cream of tartar and salt, and in a steam add the granulated sugar. Increase the speed to high and continue to whip until glossy and medium peaks form, about 2-3 minutes. Add in the vanilla bean paste and whip over high speed until the mixture forms stiff peaks, another 1 1/2 – 2 minutes.
Fit a piping bag with a round or decorative star tip. Place the piping bag inside a deep measuring cup and scoop meringue inside the piping bag. Give it a turn or two to seal shut.
Begin by piping a large dot in the center of your meringue nest. Squeeze the piping bag and in one continuous motion make a tight, but larger circle around the dot twice. Lift the piping bag and then go around once more right above the piped circle. Alternatively, if you don't own a piping bag, spoon mounds of meringue on the baking sheet and make an indentation in the center with a large spoon. Repeat.
Place cookie sheets in the oven and bake for 20-25 minutes. When done, cookies should be dry to the touch and when lifted should remove easily from the parchment. My suggestion is to check at the 20 minute mark. If cookies do not remove from the parchment easily, leave for an extra five minutes. After 25 minutes, turn off the oven and allow the oven to come to room temperature with meringues inside.
Remove meringues from the cookie sheet and place in a wire rack to cool completely. Remove macerated fruit from the fridge. Divide macerated fruit and syrup amongst each meringue nest. Serve immediately.
Luckily, summer has just begun, which means you still have the whole season to make, share, and enjoy these delicious recipes. With the Fourth of July coming up, why not start there? Enjoy, and let us know what you think!
---