Sneak Peek: "The Unmarried Couple"
---
April 29, 2015
Photos by Rinn Garlanger
April 28, members of the VIE magazine team made the short trek to the magical East of Eden Retreat and Spa in Santa Rosa Beach, Florida, for our latest photo shoot. Allyson Justice Longshore of StyleStudio flew in from the Big Apple with her top picks of incredibly gorgeous designer clothes and accessories for this styled shoot we are calling "The Unmarried Couple."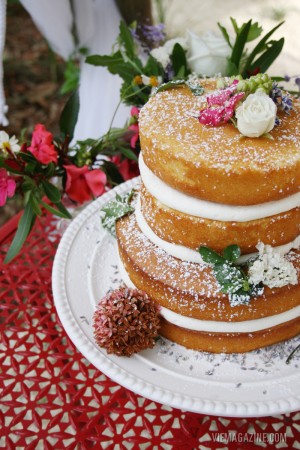 The concept was born from a joke between the owners of East of Eden, Eve Emelianova and Eric Scheufler, who have been a couple for three years. The pair have both been married before, and Eve claimed "We always said if we ever got married again, it would be to each other—but we are never getting married." While the jury is still out on whether that is true, the joking concept for our fake wedding, honeymoon, and "unmarried housewife" took hold.
VIE publisher Lisa Burwell envisioned the idea for the shoot after hearing their stories and enlisted the help of Allyson, photographer Romona Robbins, caterer Roux 30a, and writer Anne Hunter, and the shoot came together in just a matter of weeks. The nervous excitement took hold of the team as everyone gathered Tuesday morning bright and early to begin hair and makeup with stylist Lisa Robinson.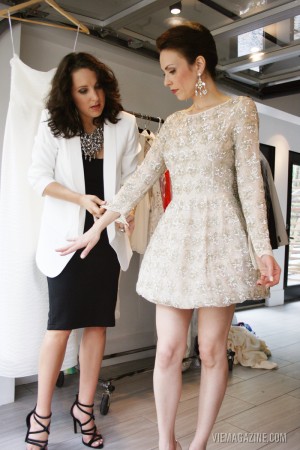 East of Eden's ethereal beauty was captured in the overcast skies with the sun occasionally peeking through the trees and dappling the grounds with patches of light. A vintage Airstream trailer—available to rent as a guest room at the retreat—made the perfect backdrop for the couple's faux nuptials, along with the property's beautiful pool area and Eric's collection of vintage cars, including the 1968 Lehman Pearson Lincoln Continental Limousine (Allyson's new dream car, she says).
Outfits included pieces from Oscar de la Renta, Alaïa, Roland Mouret, Chloé, and Norma Kamali swimwear, along with local designer accessories such as Wendy Mignot pearls and Haute Hats by French–Ecuadorian designer Gaëlle LeGoff, bringing the city and the beach together in a style recently dubbed "The New Urban" in our 2015 Food and Fashion issue.
As the day progressed, Eve's spunky energy in front of the camera, the stylists' superb skills making her look like the vision she is, and Romona's excitement from capturing shot after magical shot only heightened. By sunset the crew was happily exhausted and confident the piece is going to be a fun, not to mention stunning, addition to the upcoming Wedding Issue. Keep an eye out!
Read more about East of Eden Retreat and Spa in the 2015 Food and Fashion Issue.
---