This Little Goat, by Chef Stephanie Izard, Launches New Product: Everything Crunch!
---
April 15, 2021
Textural Flavors Inspired By The Cuisines Of Mexico, Japan, Thailand, and New York City  Will Join Izard's Collection Of Sauces And Spices
Photos by Anthony Tahlier
Chef Stephanie Izard is excited for Everything Crunch to join the sauces and spices in her globally inspired retail food line, This Little Goat. These crunchy toppings consist of foods that pack a bite, like toasted nuts and seeds, as well as puffed wild rice and crispy quinoa, in a variety of bold flavors. Textural components have always played an important role in the dishes at each of Izard's restaurants (Girl & the Goat, Duck Duck Goat, Little Goat, Cabra, Sugargoat) and some of the This Little Goat toppings and flavor combinations have been served on dishes at Girl & the Goat for years. With Everything Crunch toppings, Izard aims to help home cooks spice up meals in a quick and easy way.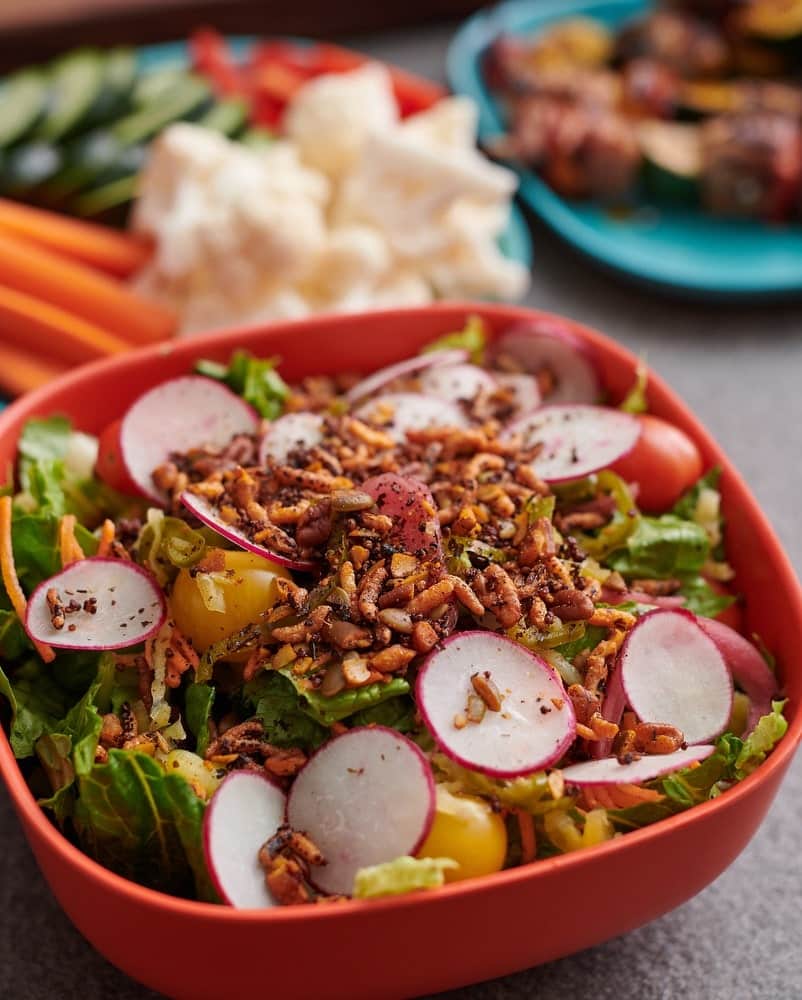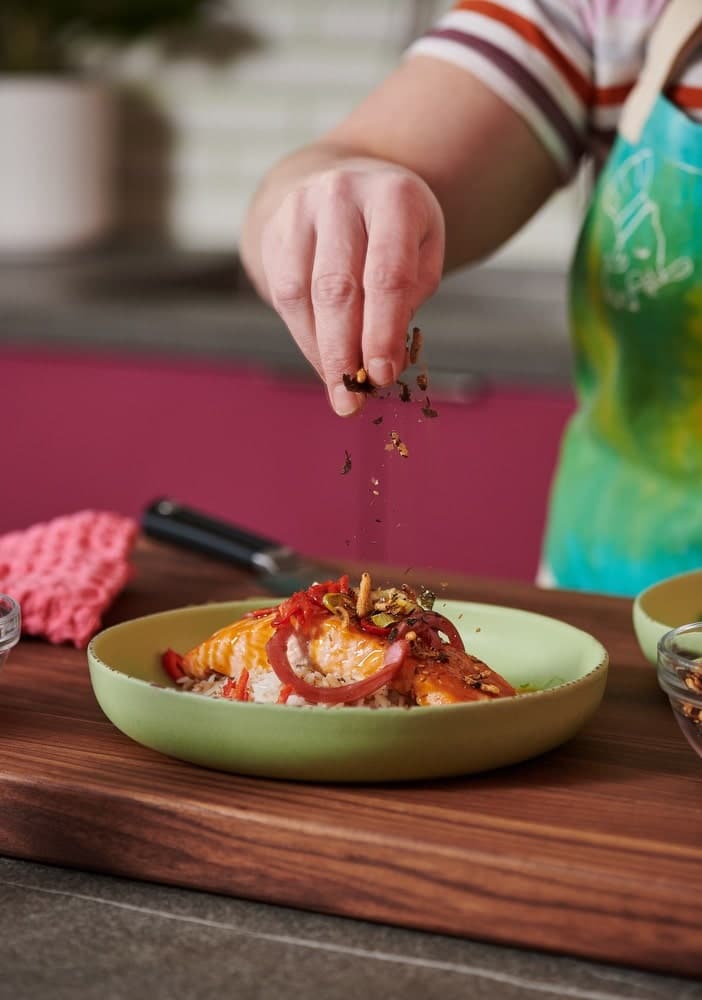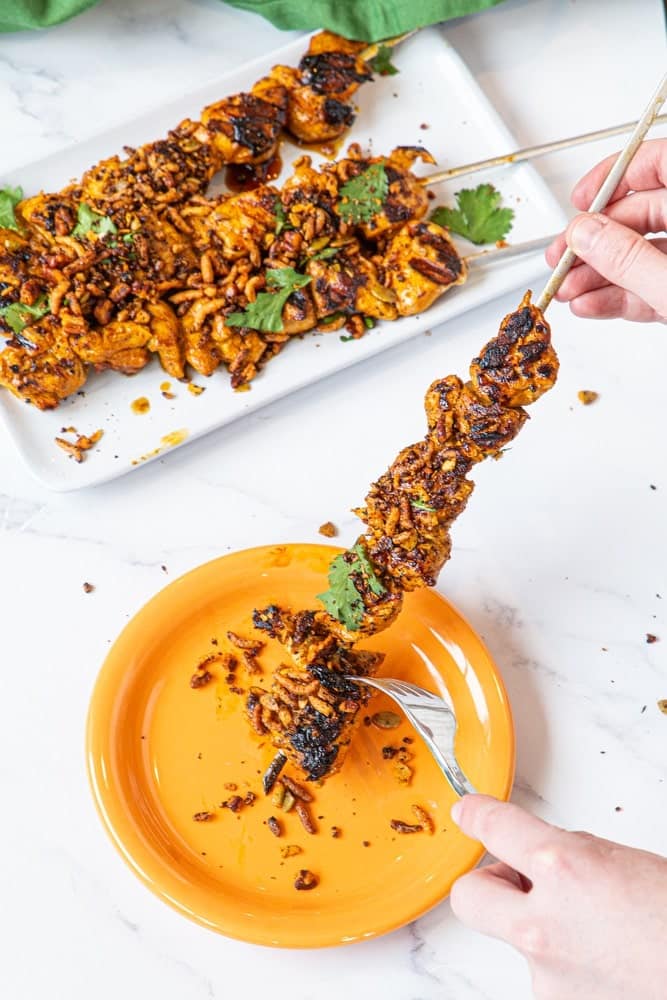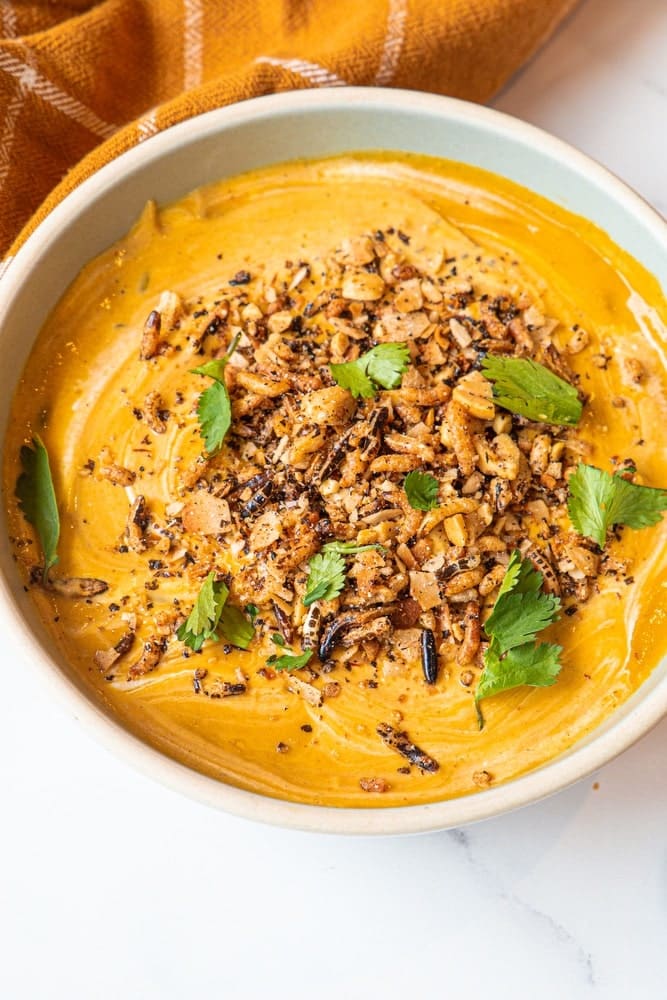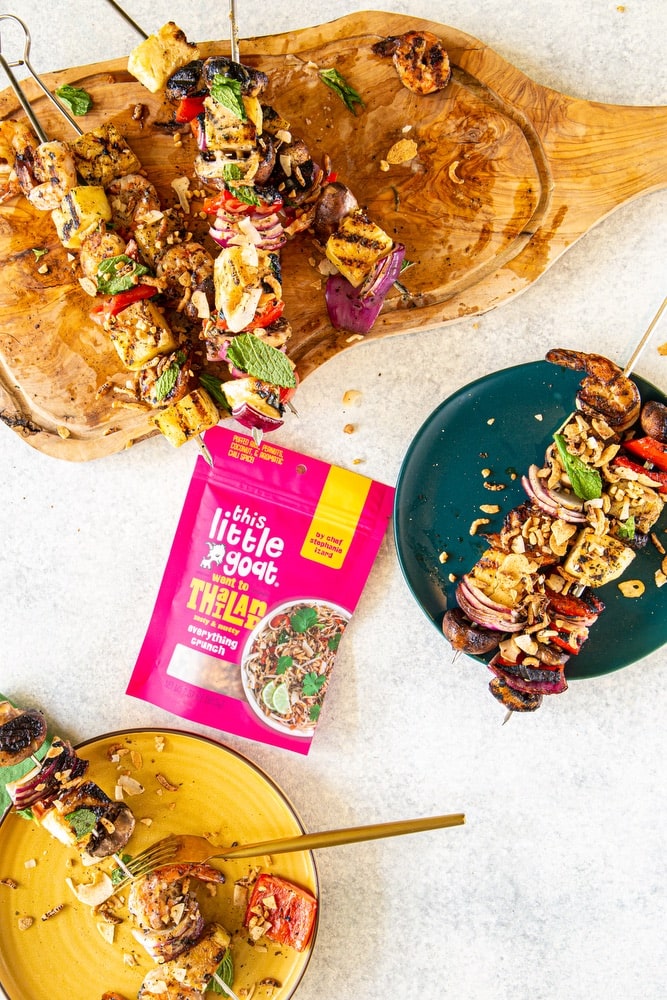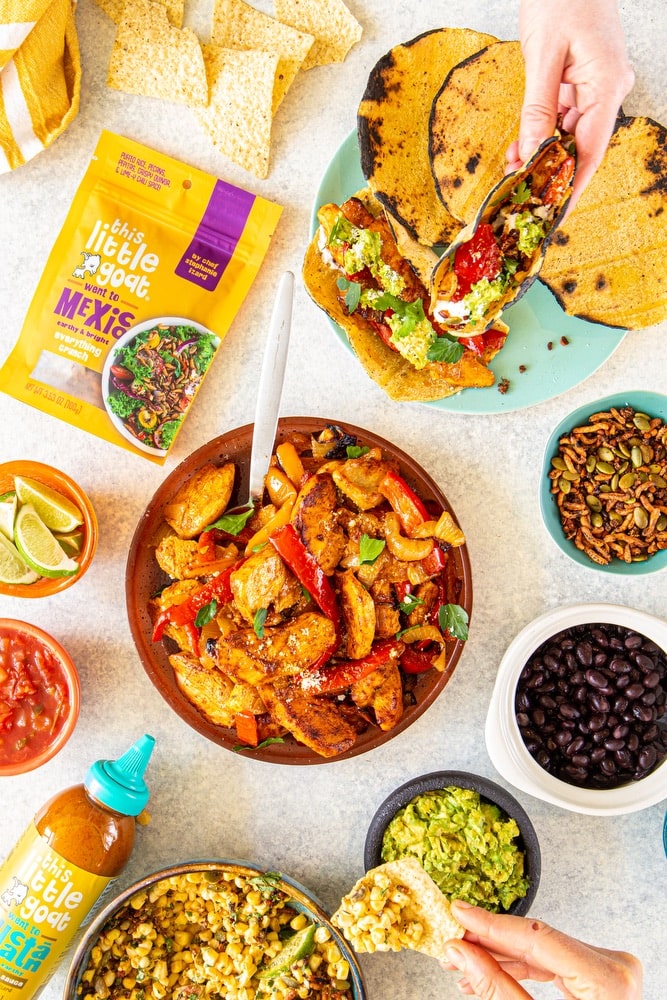 "My approach to cooking has always been to make your whole mouth happy – and a big part of that is texture," says This Little Goat owner, Chef Stephanie Izard. "Everything Crunch combines bold flavor and texture to create the perfect finishing touch for salads, rice bowls, toasts, tacos – and so much more. A little bit of crunch can go a long way in composing a well-balanced dish."
Like the This Little Goat sauces and spices, Everything Crunch toppings are each inspired by the cuisine of a global region:
This Little Goat went to Japan: Rich and umami forward, with notes of smoked bonito, nori, and garlic on puffed wild rice, this bold topping provides a pop of savory taste and layered texture. It's great on fish, salads, vegetables, and rice.
This Little Goat went to Mexico: Earthy and bright, this topping combines notes of lime, chilis, cocoa, cinnamon and pecans – a nutty crunch with toasted pepitas, toasted pecans, puffed quinoa and puffed wild rice, with a flavor nod from mole. It is great on fish tacos, shrimp salad, sweet potatoes, and ceviche.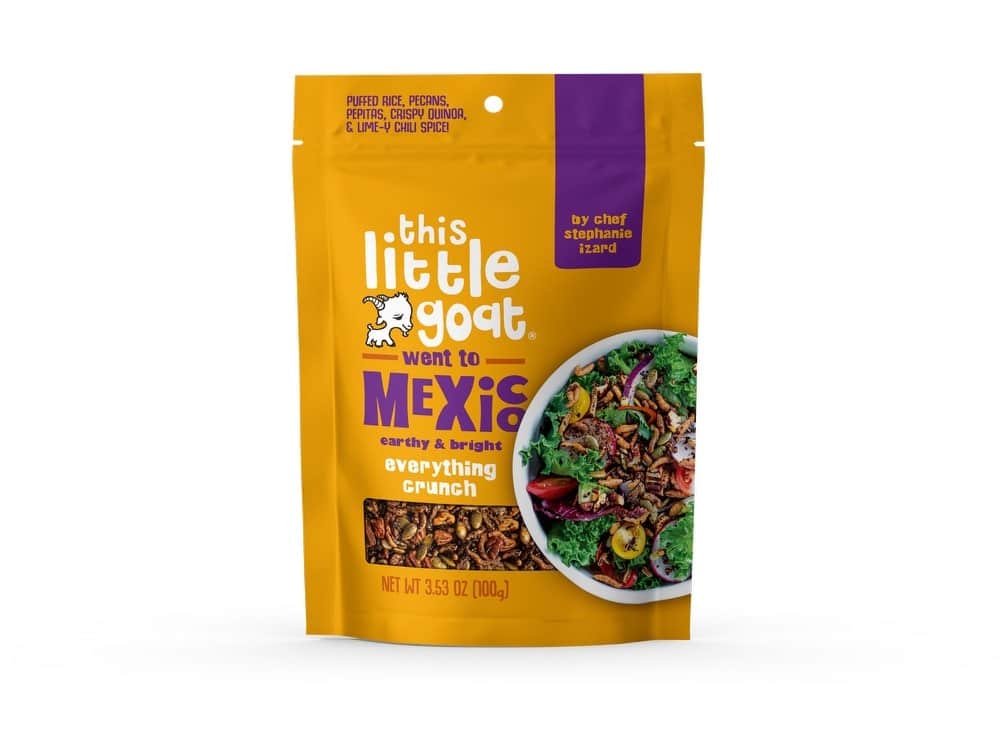 This Little Goat went to New York: Savory and garlicky, with notes of shallots, chives, garlic and sesame, this puffed wild rice topping is simple, yet packed with a flavorful everything spice crunch. It's great on avocado toast, vegetables, eggs, steaks, and, of course, anything with cream cheese!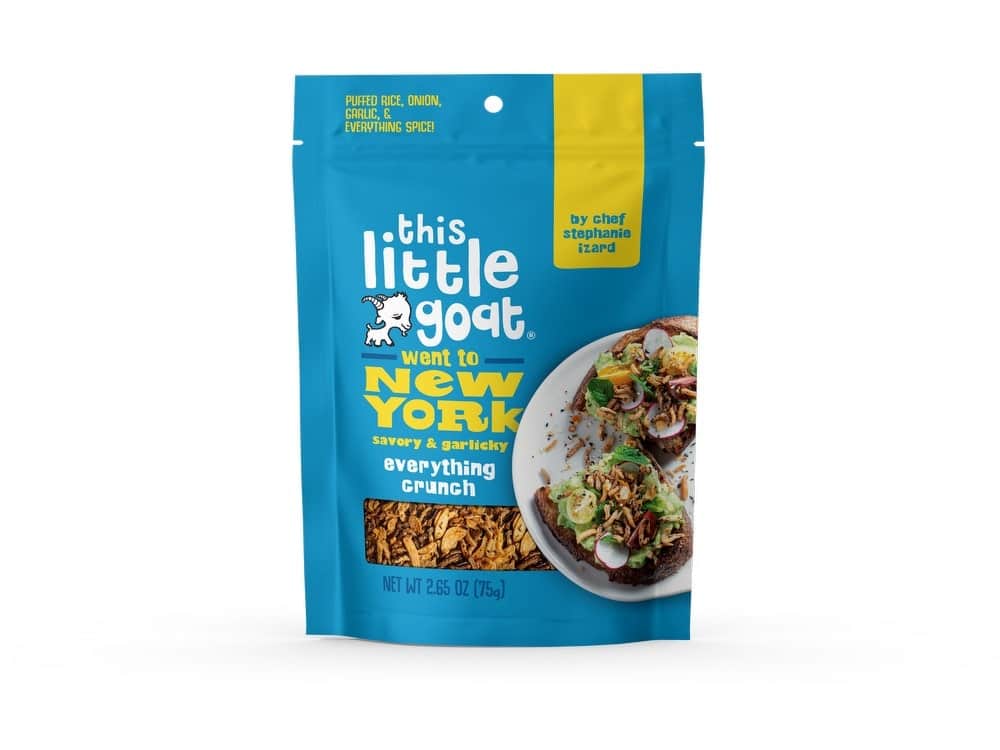 This Little Goat went to Thailand: Zesty and peanutty, with notes of tomato, lime, peppercorn and star anise, this topping creates a naturally sweet coconut crunch. It is great on noodles, vegetables, proteins, and dessert – even ice cream!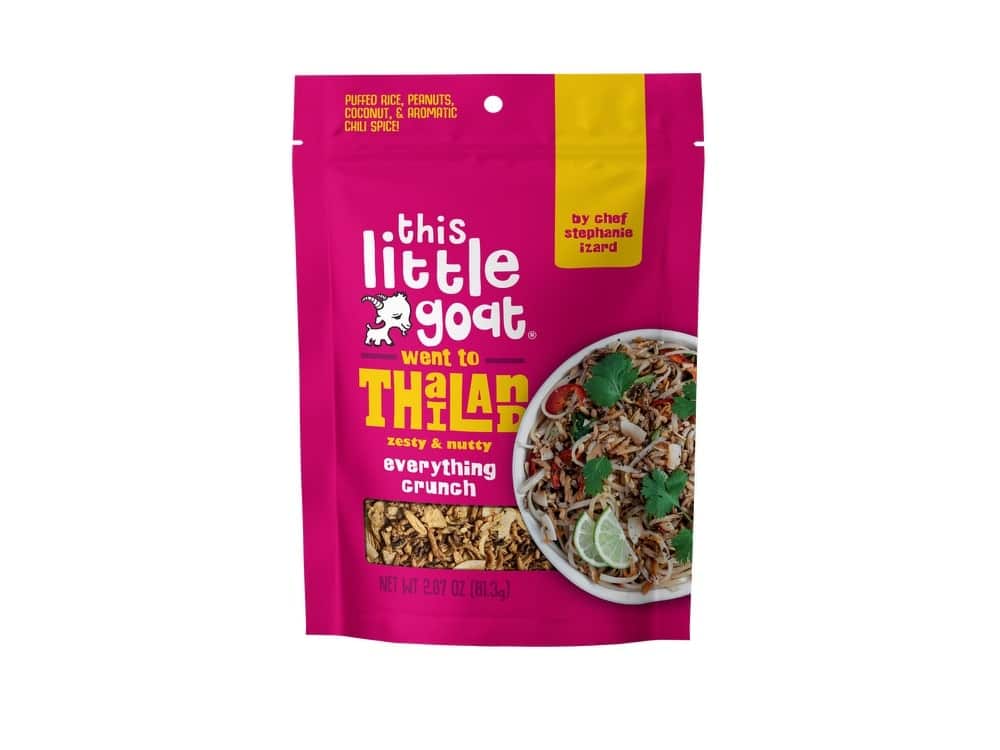 Everything Crunch toppings are $6.99 each and are available online at www.thislittlegoat.com, as well as an expanding line of retailers. Each product is gluten-free, uses no artificial preservatives, and, with the exception of This Little Goat Went to Japan, are vegan. Every Monday, This Little Goat donates 50% of their net website sales to a monthly rotating charity that supports the regions and cultures that the products are inspired by. For the month of April, This Little Goat will be donating to the Chicago arm of Asian Americans Advancing Justice.
This Little Goat will also have a new place to call home! On April 13, Stephanie Izard and her team will open This Little Kitchen, at 939 West Randolph Street in the West Loop. The space will have several uses, including:
Private Event Rentals: The 800 square foot space can seat up to 12 people (or 20 people for a reception-style event) and follows all Covid-19 health and safety measures. It's the perfect destination for small showers, dinners, and parties. All catering within the space will be handled by Goat Group Catering.
Test Kitchen/Photo & Video Studio: Stephanie and her team will use the new space for all of her filming needs, whether it be for recipe Zooming, Instagram Lives, or broadcast opportunities. The space is also available to rent for those who may need a kitchen for filming purposes or testing of their own.
This Little Goat Kitchen was designed by Alice Benjamin Interiors, who worked closely with Izard to design a space that was intimate, playful, and inviting. The bold colors from This Little Goat's products are integrated throughout the space and juxtaposed against rich walnut custom cabinetry.  All tables and dining areas are multifunctional and meant to be mobile, so that seating can be as widely spaced or close together as guests prefer. This Little Goat Kitchen is also proud to house a Pluie changing table in the restroom – the first self-sanitizing baby changing table in existence, which was brought to life by a Chicago, woman-owned business.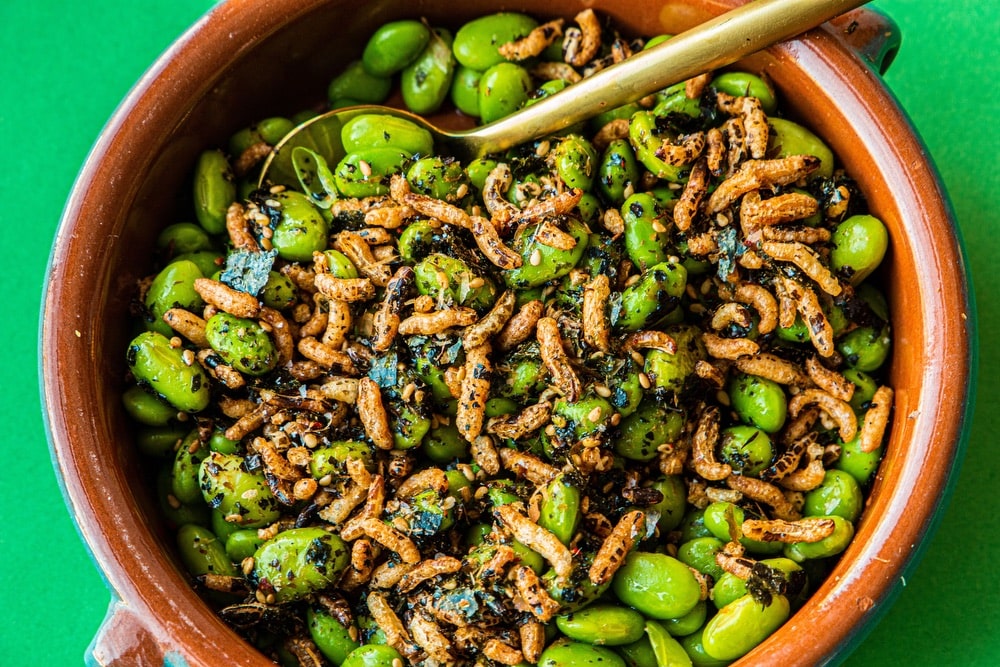 For more information, please visit www.thislittlegoatkitchen.com, and to inquire about This Little Goat Kitchen bookings, please reach out to hello@thislittlegoatkitchen.com.
---