Soirée on the Bay to Celebrate Wine, Food & Music to Benefit CVHN
---
January 6, 2022
By kelly curry
Please join us on Friday, March 18, and Saturday, March 19 for the first-ever Soirée on the Bay! The event is presented by and hosted at the stunning Dugas Estate in a lavish gathering of fine wine, food, and spirits. The beneficiary of the event is Children's Volunteer Health Network (CVHN). CVHN eliminates barriers to accessible and affordable healthcare for children in need through mobile solutions and community partnerships. The nonprofit services Walton and Okaloosa counties in Florida and, as of December 2021, has provided $121,454 in free services, performed 2,541 patient visits, and helped 370 kids. 
The Premier VIP Soirée Experience will include tickets to both days, and this will be an event not to miss! On Friday, March 18 from 6:00 to 9:30 p.m., the weekend will kick off with the Porc Et Vin exclusive event featuring wine vintners, spirits, fine cuisine, and live music.
As a Media Partner and sponsor of the event, VIE magazine will also celebrate its 100th Issue at Soirée on the Bay! The February 2022 issue marks this milestone, and we hope to see many of our friends, family, partners, and contributors join for the exclusive celebration. Please contact us to learn more, or get your tickets to Soirée on the Bay now!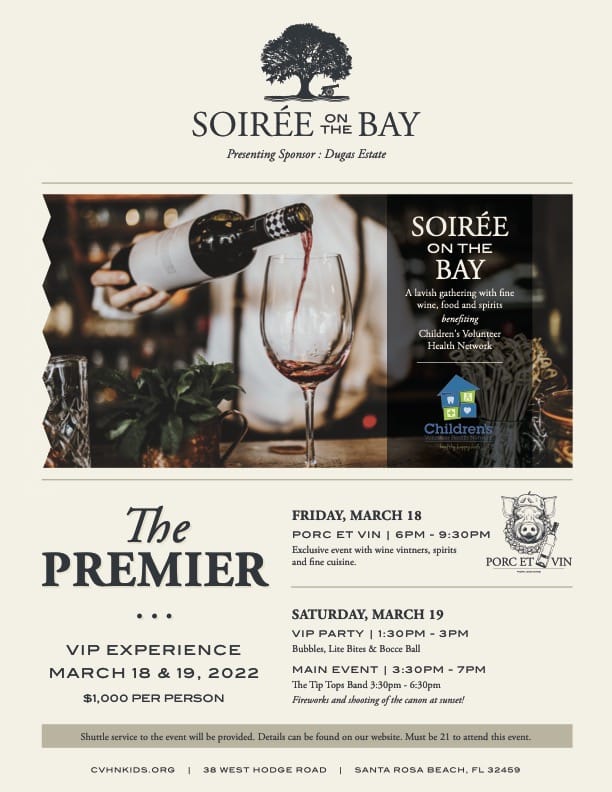 Saturday will consist of a Bubbles, Bites, and Bocce VIP Party for VIP ticket holders from 1:30 to 3:00 p.m. To follow will be the Main Event from 3:30 to 7:00 p.m. The Main Event will include live music by The Tip Tops Band and will be followed by the shooting of the cannon and fireworks at sunset!
VIP and Saturday-only tickets are now available. Please visit Eventbrite | Soirée on the Bay to purchase tickets. Shuttle service to the event will be provided.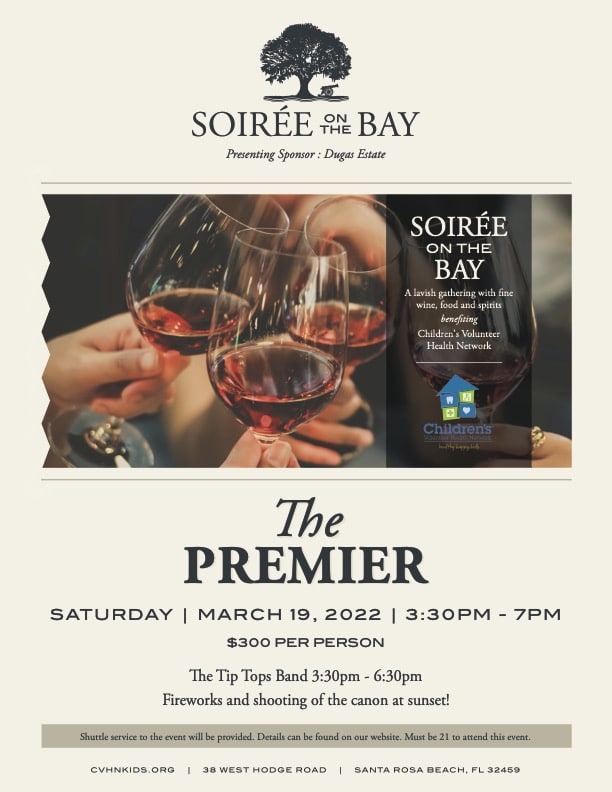 Special thanks to the Dugas Family Foundation, Café Thirty-A, VIE Magazine, The Jewel, Balcones Distilling, Emerald Coast Wine & Spirits, Hancock Whitney, McNeese Title, Pish Posh Patchouli's, SetCo, A Boheme Design, Merril, and Shumaker Advisors for sponsoring and making this event possible!
---