Running Along Seaside
---
March 12, 2017
After The Race
Each year, Seaside, Florida, hosts a 3-day half marathon and 5K event that starts with Emeril Lagasse's Taste of the Race, continues with a grand running expo at the Seaside Lyceum, and ends with the Half Marathon and 5K presented by Vera Bradley races starting and finishing by Seaside's iconic post office. With its fifteenth consecutive year running (literally), this race has become a staple fund-raising event for the Seaside Neighborhood School. VIE was proud to be a sponsor and participate in the event, running along Seaside—and we're just as happy to give you a look into this year's festivities.
Though the event may sound intimidating from just cherry picking the words "half marathon" and "5K," you don't have to be a runner to fully enjoy the Friday night fund-raising event, The Taste of the Race, presented by Food Network star and philanthropist Chef Emeril Lagasse. Not only did guests of the dinner celebration get to enjoy the delicious fare from Emeril and other Gulf Coast chefs, they also got to wine and dine with them. Fine wine from Chan's Wine World, craft spirits from Buffalo Trace, and beer from Grayton Beer Company rounded out the evening. There wasn't a dry taste bud or dull time there.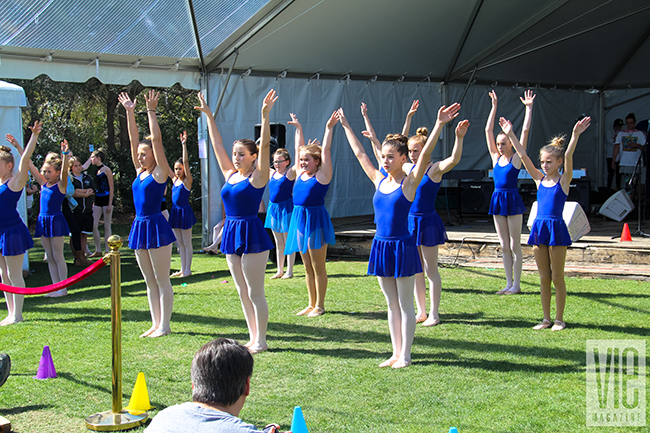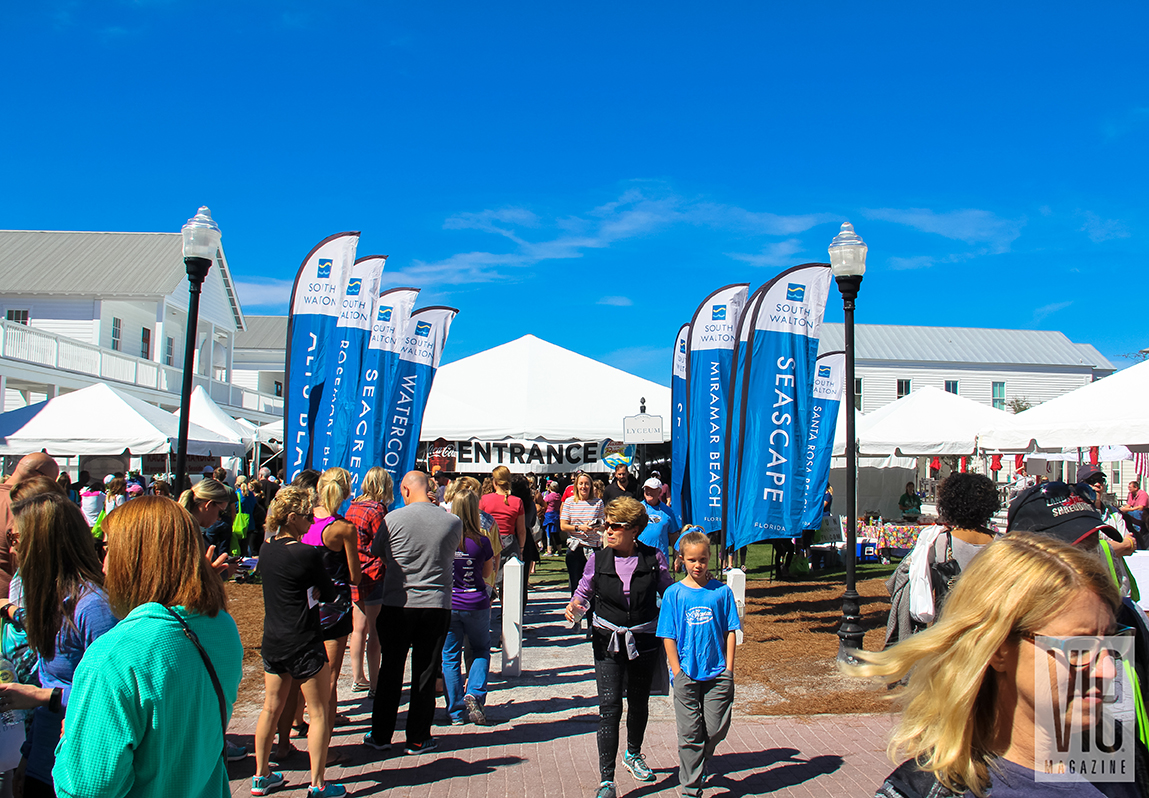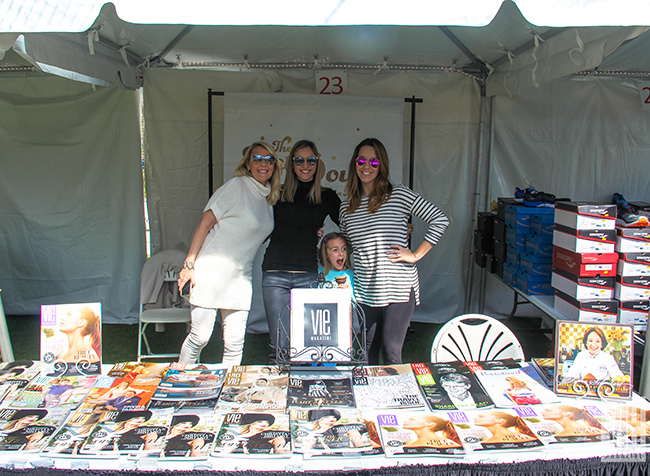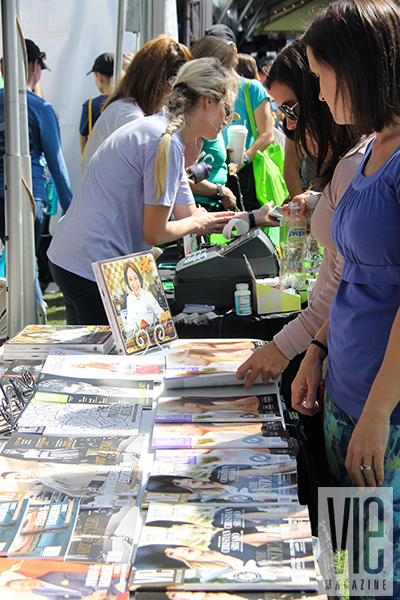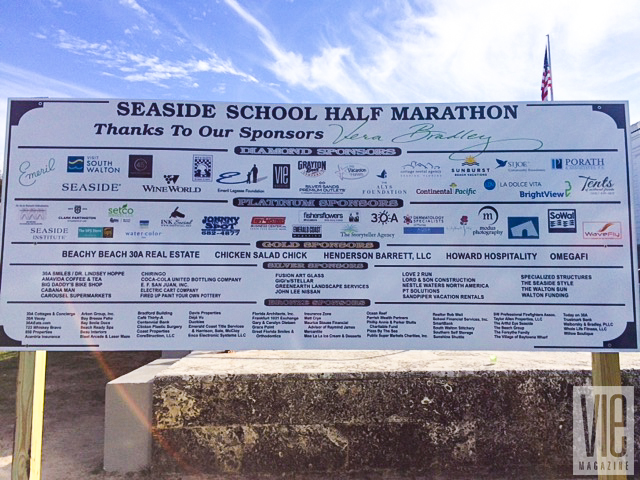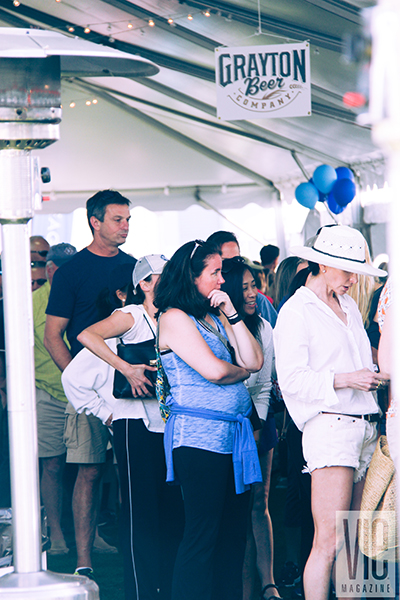 The momentum continued to build the following day at the Expo at the Lyceum in Seaside from 11:00 AM to 6:00 PM. If there were ever a room or an outdoor space bursting with energy, this was it. For those who were running the race, it was packet and number pickup day, and for those who weren't, it was another gorgeous day in Seaside. Either way, it was a great time to socialize and get acquainted with the beautiful neighborhood of Seaside. Open to the public, the Expo invited everyone to the community to learn more about the Seaside School Half Marathon & 5K and its participating sponsors and vendors. The VIE team was delighted to welcome, meet, and greet everyone at the Expo, runner or not. Did you make it by to say hello? We hope to see you next year!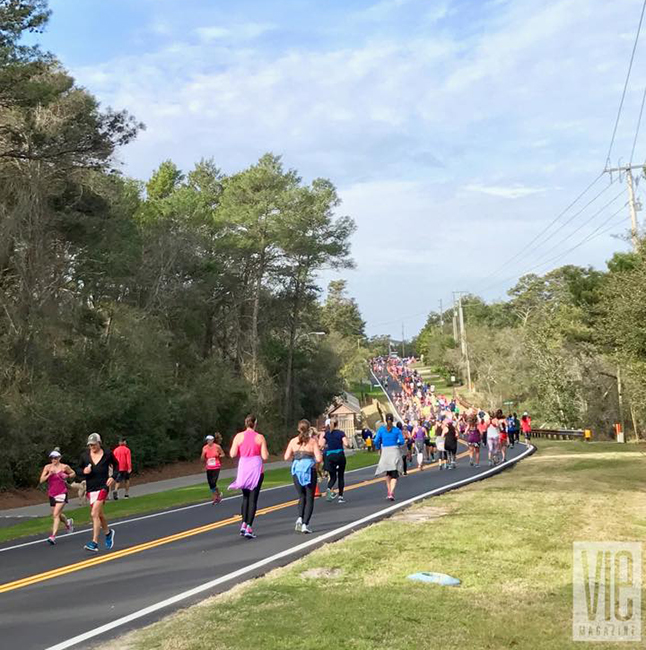 Sunday March 3, 6:30 AM came quickly after. Bright and early, with just a half an hour before the race, the crowd of runners and their friends and family gathered around the starting line at the iconic Seaside Post Office. Along with the beautiful view of Scenic Highway 30-A, the day offered incredible running weather with soft winds to keep from getting overheated (though they were a bit strong going over Eastern Lake, as runners will attest!) and sunshine to keep warm.
Runners got to enjoy the view of the charming town of Seaside is filled with visionary gems, from the New Urban architecture to its unique shops and beautiful beaches as they ran the nearly. There seriously isn't a better place to run.
The race welcomed runners of all ages, young and old, ladies and gentlemen, and even T-Rexes! Though we all appreciated the creativity and humor behind the dinosaur duo, we'd also like to highlight the winners of the Half Marathon and 5K. Sending the biggest shout-out and warmest congratulations to first male and female half-marathon finishers, Avery Ainsworth from Montgomery, Alabama, and Lori Williamson from Birmingham, Alabama. Avery crossed the finish line just a hair after one hour and fourteen minutes, while Lori wasn't far behind at one hour and twenty-four minutes.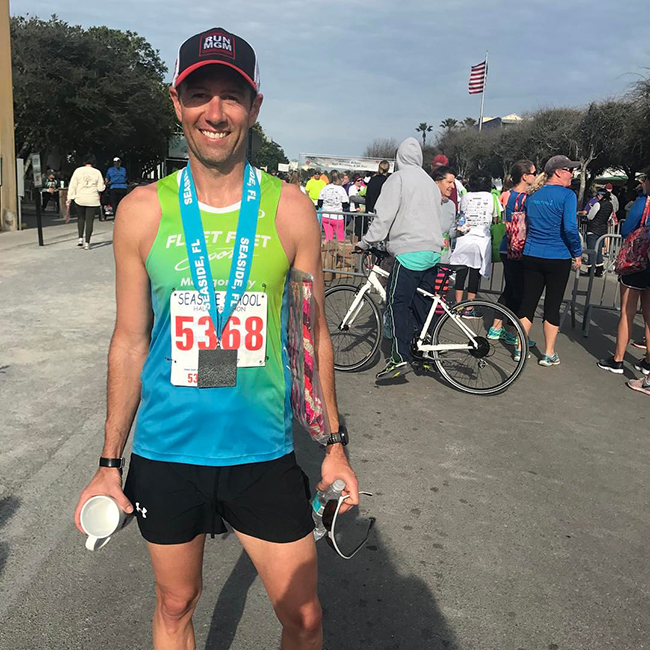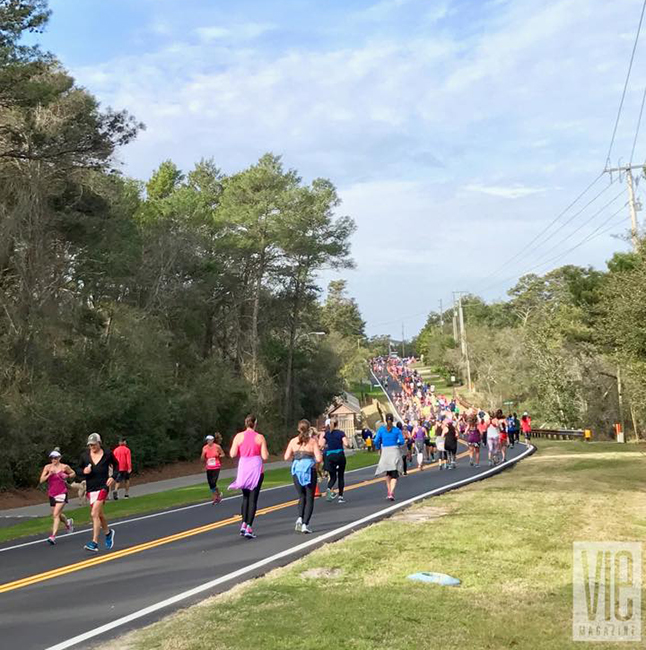 Final times for the first finishers for the 5K were equally as impressive. The first female to cross the finish line for that race was Abby Rogers from Dothan, Alabama, at 21:15.81. The first male 5K finisher goes to Logan Brooks at 17:23:91. That's an average of about 5.6 minutes per mile! Whew!
Though a race's purpose is to offer some friendly competition, rank is all for fun and games. Everyone who ran, ran and walked, or walked the race should be proud of themselves for going the distance and making it to the finish line. It was a beautiful day for an amazing race for a great cause, and the fact that people all over the southern region came together to support one another and benefit Seaside Neighborhood School.
If you ran or know someone who ran the race and are curious about checking out the results, visit RunSeasideFL.com. All the winners (six categories from each race) are listed as well. Again, congratulations to the winners and runners of both races.
All proceeds benefited the Seaside Neighborhood School. VIE thanks all racers and fellow sponsors for their contributions to our home community. Hope to see you here next year!
---