Perrier-Jouët and the Color-Changing Flower
---
February 12, 2016
Dream in color with fleurs des reves
The London Edition hotel is in full bloom with its new pop-up shop, taking a traditional, ordinary gift and making it extraordinary. Regular blooms just won't do this year! The London Edition will feature the world's first color-changing flower created by Bompas & Parr for Perrier-Jouët Fleurs des Rêves, just in time for Valentine's Day.
Located in the basement of the London Edition, the pop-up shop is set in a dreamy and romantic atmosphere of pinkish violet hues, welcoming visitors to partake by creating their very own flower in a theatrical workshop.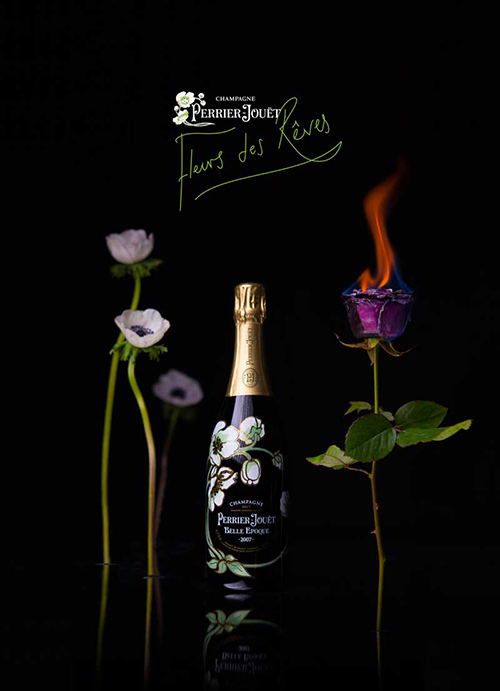 This one-of-a-kind experience will be nothing short of grand, as participants will indulge in Perrier-Jouët champagne as they create their own color-changing Fleurs des Rêves (dream flowers) in two different ways. The first is by painting the flowers with thermochromatic (temperature sensitive) ink that activates at 27 degrees Celsius (around 80 degrees Fahrenheit)—around the average body temperature. So with the touch of a finger, the deep purplish-black color will morph to a rich red.
Participants will experience some theatrics during the second color-changing flower method—painting the bloom with a coat of black thermochromatic ink, adding a spritz of a liquid crystal elixir, and then setting it aflame! This method will cause the blossom to reveal its original pigment.
Inspired by the fin-de-siècle (end of the century) French Decadence artistic and literary movement of the late nineteenth-century, the flowers are designed to capture the sensual experiences had while creating them, enriching the traditional Valentine's Day gift with dreamlike features.
---