Outstanding in the Field Brings Farm-to-Table Grand Event to Kaiya Beach Resort!
---
January 23, 2019
The world's first pop-up restaurant – in a farm field
Photography by Steven Gray
A traveling celebration of people and place and the origins of good food, Outstanding in the Field is the pioneer of table-to-farm dinners set between the earth and sky in the places where the food on the plate was grown and harvested.
Founded in 1999 by artist and chef Jim Denevan, Outstanding in the Field was intended as a radical intervention to stale dining conventions. Rather than source ingredients and bring them to the restaurant, Jim's vision was to create a restaurant at the source, where guests would enjoy a communal meal and the farmer's story would be told and celebrated. A single long table set in an extraordinary site, existing in that place for just that day, in grateful appreciation.
Inspired by that original idea, the Outstanding in the Field culinary caravan has visited all 50 states in the U.S. and 15 countries around the globe, and has hosted more than 1,000 events since that first dinner in its home town of Santa Cruz, California. Hundreds of the world's most honored chefs have performed in OITF's field kitchen.
From a handful of events in its first few years, Outstanding in the Field today stages 100+ multi-course feasts every year from coast to coast across North America and around the world, partnering with top regional chefs at each stop. The Outstanding in the Field #TabletoFarm tour season runs May through November, with a smaller Winter Tour in January/February to warm-weather spots like Florida, Hawaii, and Mexico.
Along the way, OITF sets its long table at vegetable farms and abalone farms; urban gardens and big-sky ranches; in date gardens and olive groves; on docks and seashores on both sides of the continent.
"Our mission is to get folks out to the places where the food comes from and honor the people whose good work brings nourishment to the table," says chef/artist Jim Denevan. "Our roving restaurant without walls may be located wherever good food comes from. There are no boundaries."
Guests at an Outstanding feast may find themselves sitting next to the farmer who grew the greens, the fisherman who reeled in the fresh catch or the cheesemaker who separated curds from whey. Fellow diners at the long table may have traveled from across town or across the country. Many loyal "fieldheads" follow OITF as it travels, using an Outstanding event as the centerpiece for a visit to a place they've never been before or to experience a favorite spot from a fresh perspective.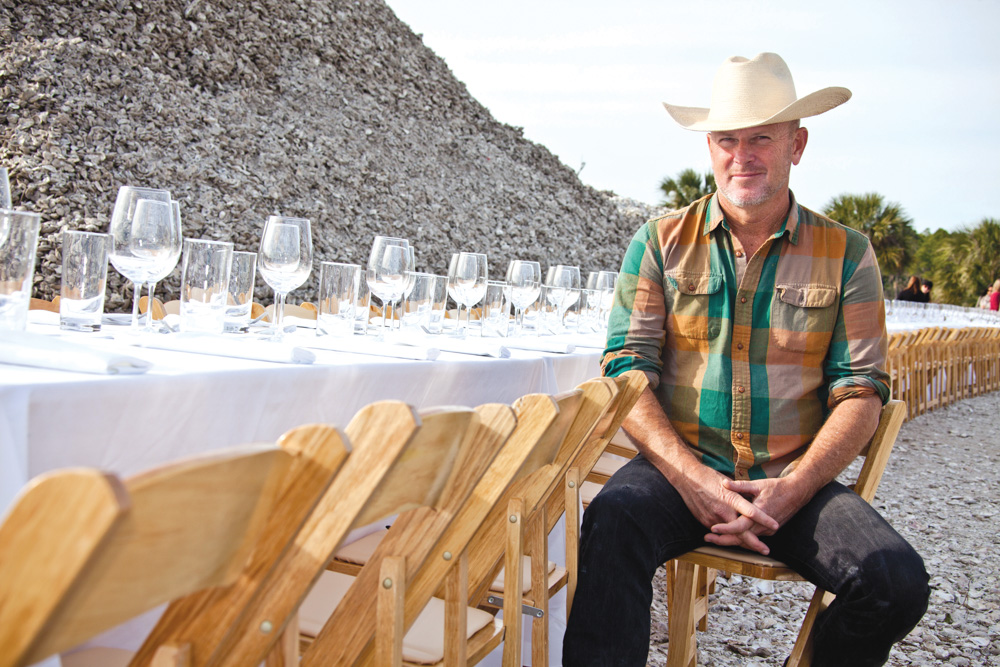 The Artist
Jim Denevan also is an internationally renowned land artist who creates large-scale drawings on sand, ice, and earth. Like the OITF table that exists for the duration of each singular meal, Jim's drawings take from days to weeks to conceive, yet exist for only a few hours before being swept away by wind, water, and weather. He has done pieces around the world – on beaches in California, Vancouver and Miami; desert lakebeds in Australia and Nevada, and on the frozen ice of Siberia's Lake Baikal. Jim's work has been exhibited at the New York MoMA, Parrish Art Museum, Yerba Buena Center for the Arts, and the Peabody Essex Museum. See his work at www.jimdenevan.com
Join Us!
Where: Kaiya Beach Resort, Highway 30A, Florida
When: Wednesday, February 6 @ 1 pm
Price: $235
Guest Chef: Phil McDonald, Black Bear Bread Co., Grayton Beach, Florida
Host Fisherman: Captain Mike Eller, Lady Em, Destin, Florida
Highway 30A winds through a particularly charming stretch of Florida's Panhandle, with white sand beaches edging the Emerald Coast and meandering waterways and pine forests stretching north to Alabama. Outstanding in the Field will set its long table along the Gulf with Kaiya, a coastal community located between Alys Beach and Rosemary Beach. Chef Phil McDonald will head south down the coast a stretch from his Grayton Beach cafe to cook a dinner that celebrates the bountiful seafood of the area.
This event is a benefit for those affected by Hurricane Michael.
Click here to purchase your tickets today!
Read more about Outstanding in the Field in VIE's 2015 story "Pearls before Wine" here.
---