Feed Your Literary Soul at Oscar Wilde NYC
---
October 1, 2021
"Be yourself; everyone else is already taken."
The famous quote from Oscar Wilde's The Importance of Being Earnest seems to perfectly encapsulate the spirit of this New York City cocktail bar and restaurant. It's fitting that its proprietors named their Victorian-themed hot spot after the Dublin-born author and playwright who entertained nineteenth-century society with his witty and irreverent works. Oscar Wilde NYC opened in Manhattan at 45 West 27th Street in 2017, instigating much fanfare and intrigue as locals, tourists, and literature fans alike ogled its over-the-top interiors and 118-and-a-half-foot marble bar (the longest continuous bar in the city).
Frank McCole and Tommy Burke, who also created Lillie's Victorian Establishment, hail from Ireland and wanted to bring a piece of it over to New York. (No, really—several elements of Oscar Wilde's and Lillie's interiors came from Gosford Castle in County Armagh and Hope Castle in Castleblayney.)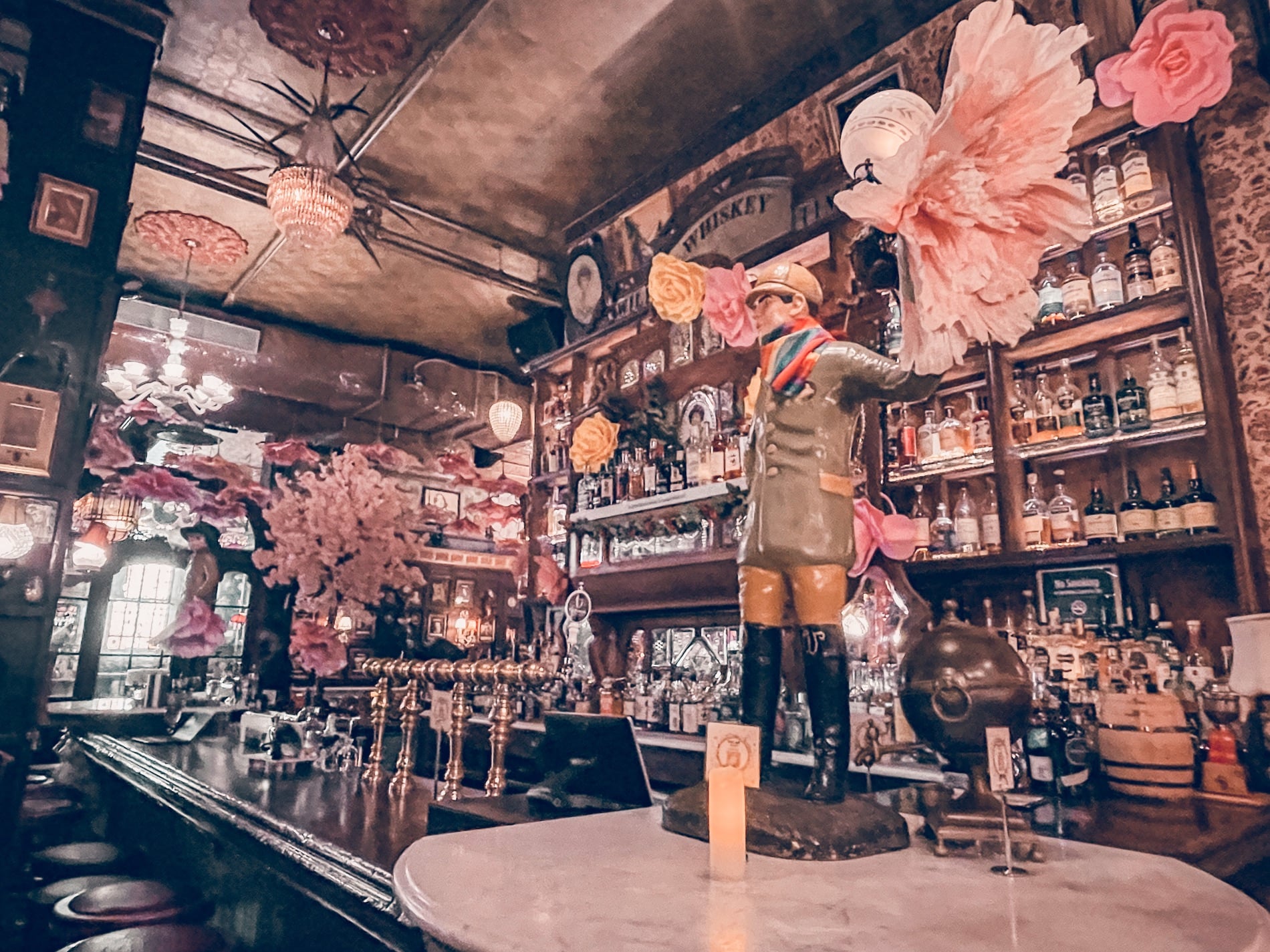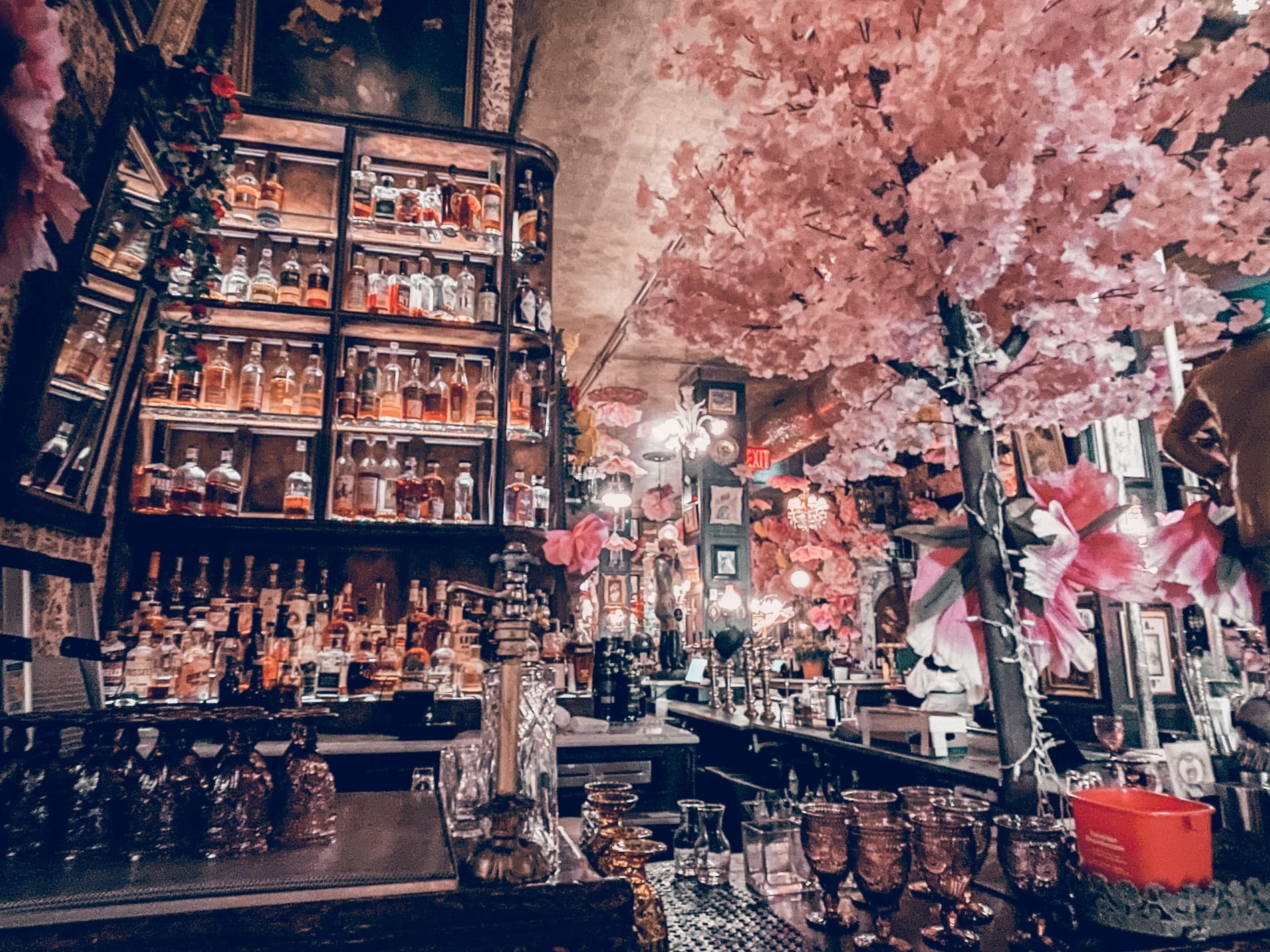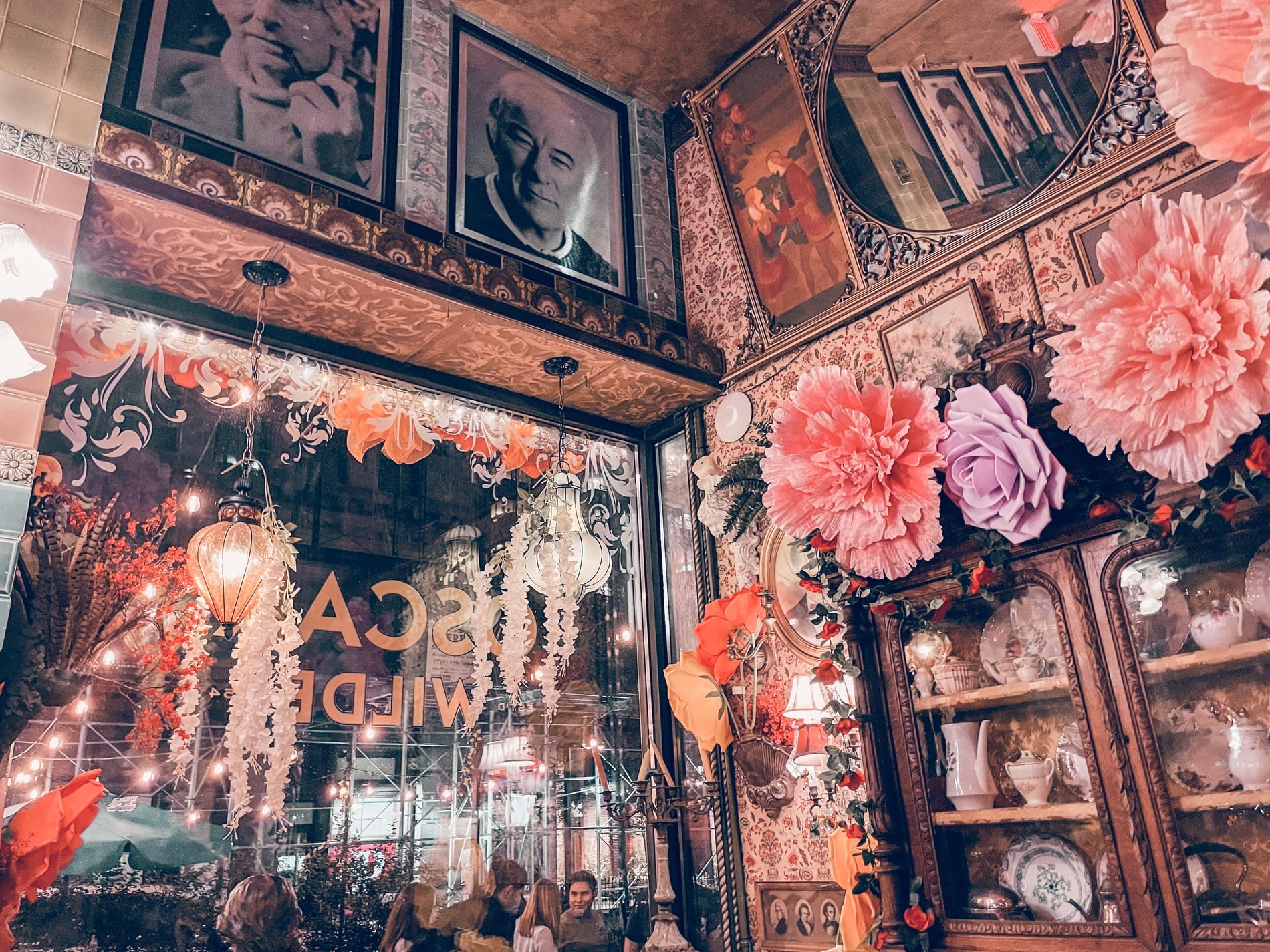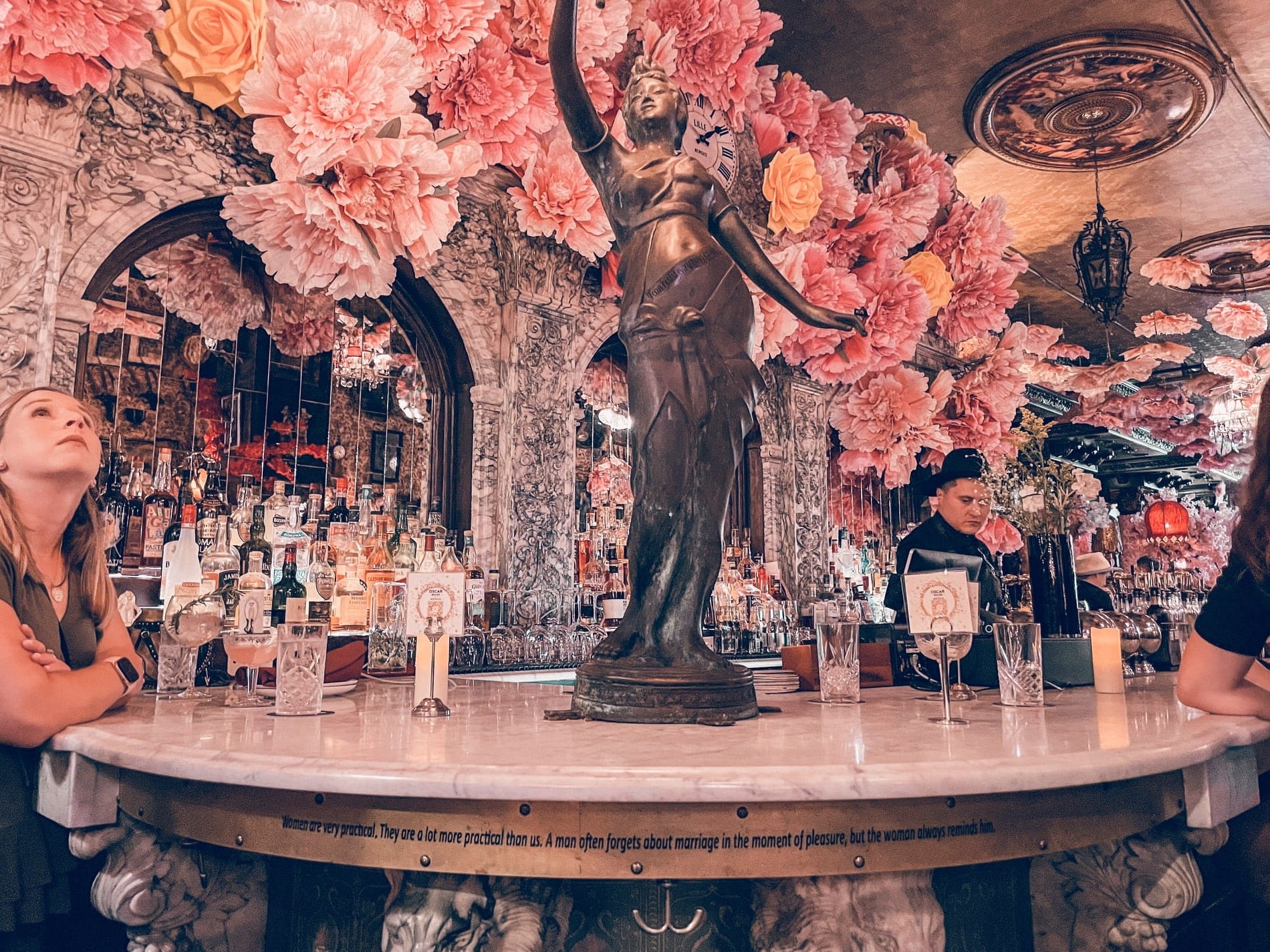 In its four-year tenure, Oscar Wilde has become known as a unique destination for all sorts of diners, from those seeking creative and beautiful cocktails to those angling for an elegant dinner in an eclectic atmosphere. Fans of Wilde himself also make a point to visit, of course, posing with the life-size statues of the writer and signing his guest book with quotes and anecdotes from their favorite works. The bar welcomes everyone and has made a name for itself as a place to celebrate the LGBTQ+ community, as intended by McCole and Burke when they opened it.
"What initially motivated us to pay homage to Wilde was that he was longtime friends with Lillie Langtry," Burke explained to the Irish Times when the bar opened. He and McCole, big fans of Wilde's work, were also "very proud when Ireland became the first nation in the world to legalize same-sex marriages." They want to "attract local New Yorkers, tourists, the theater and Broadway community, Wilde fans, and others to celebrate Oscar Wilde's legacy and become an inclusive destination for all."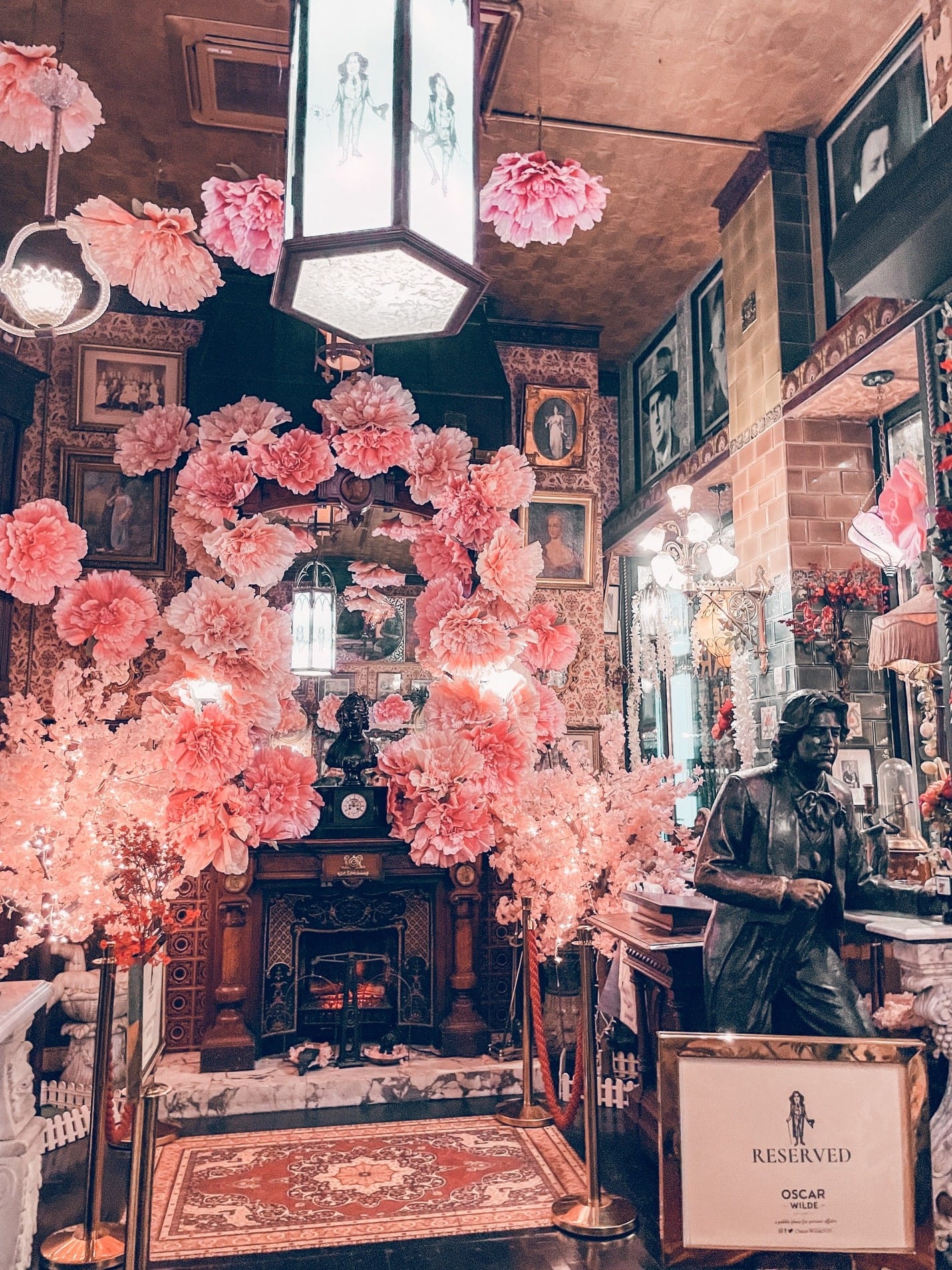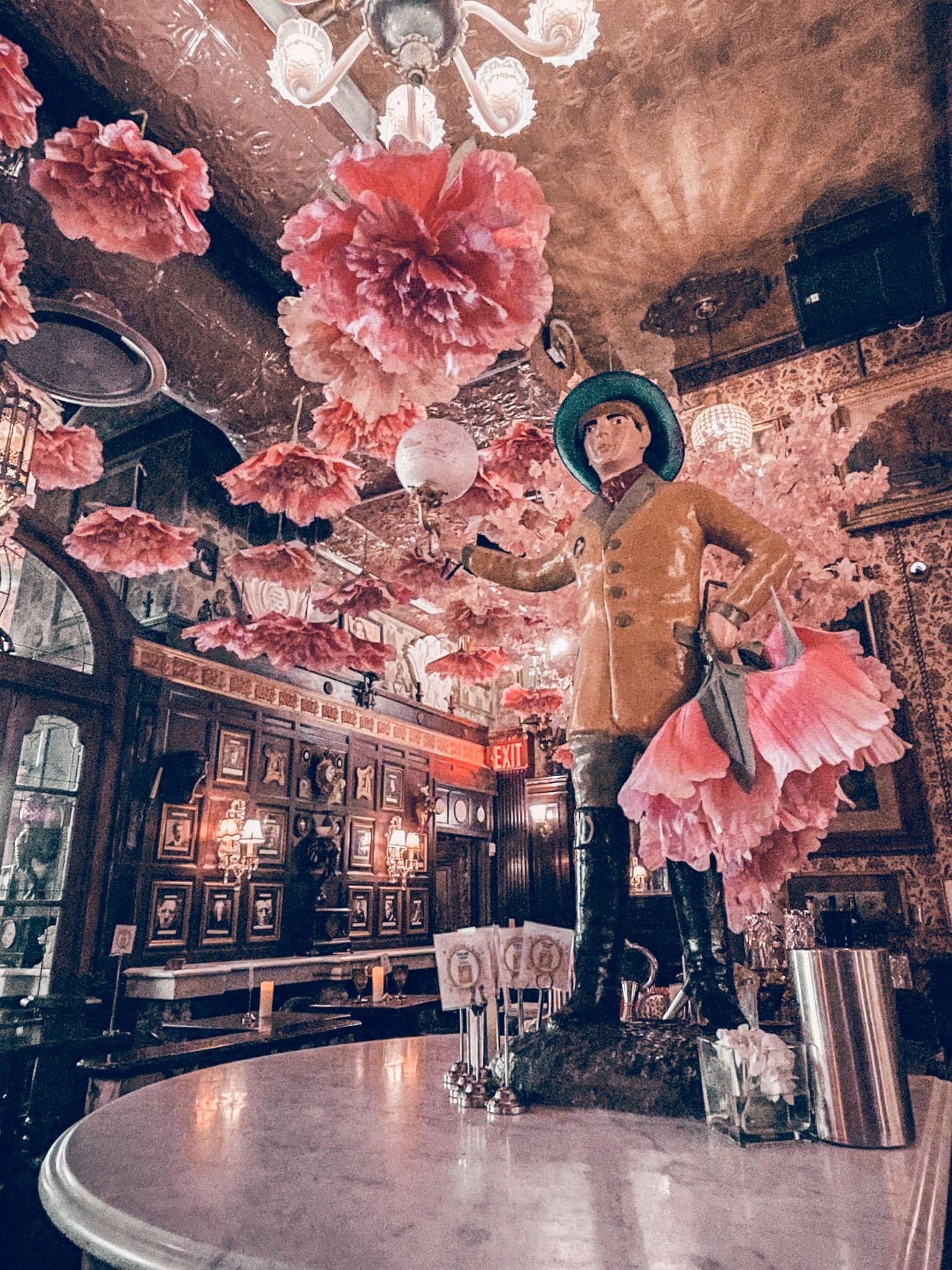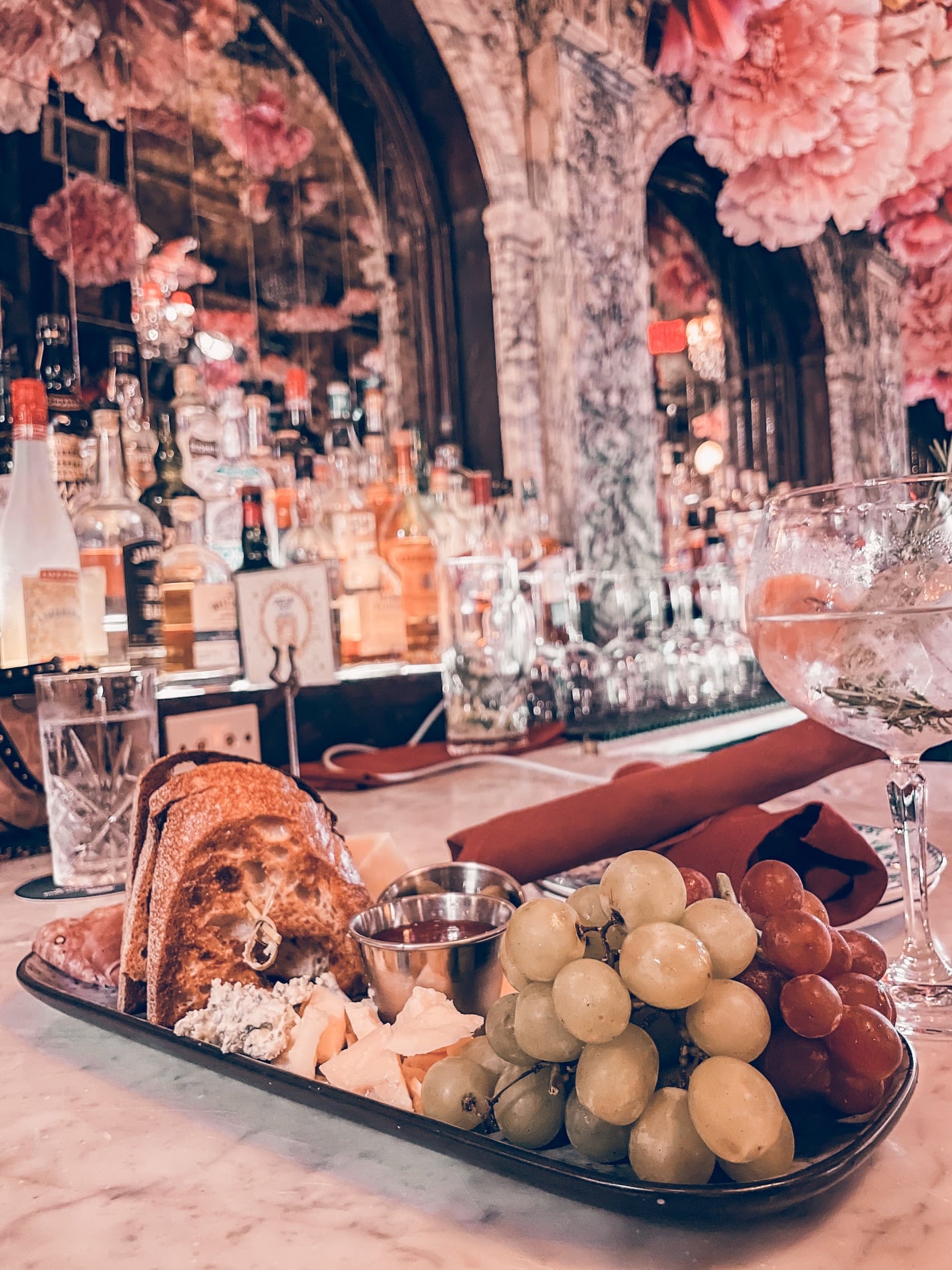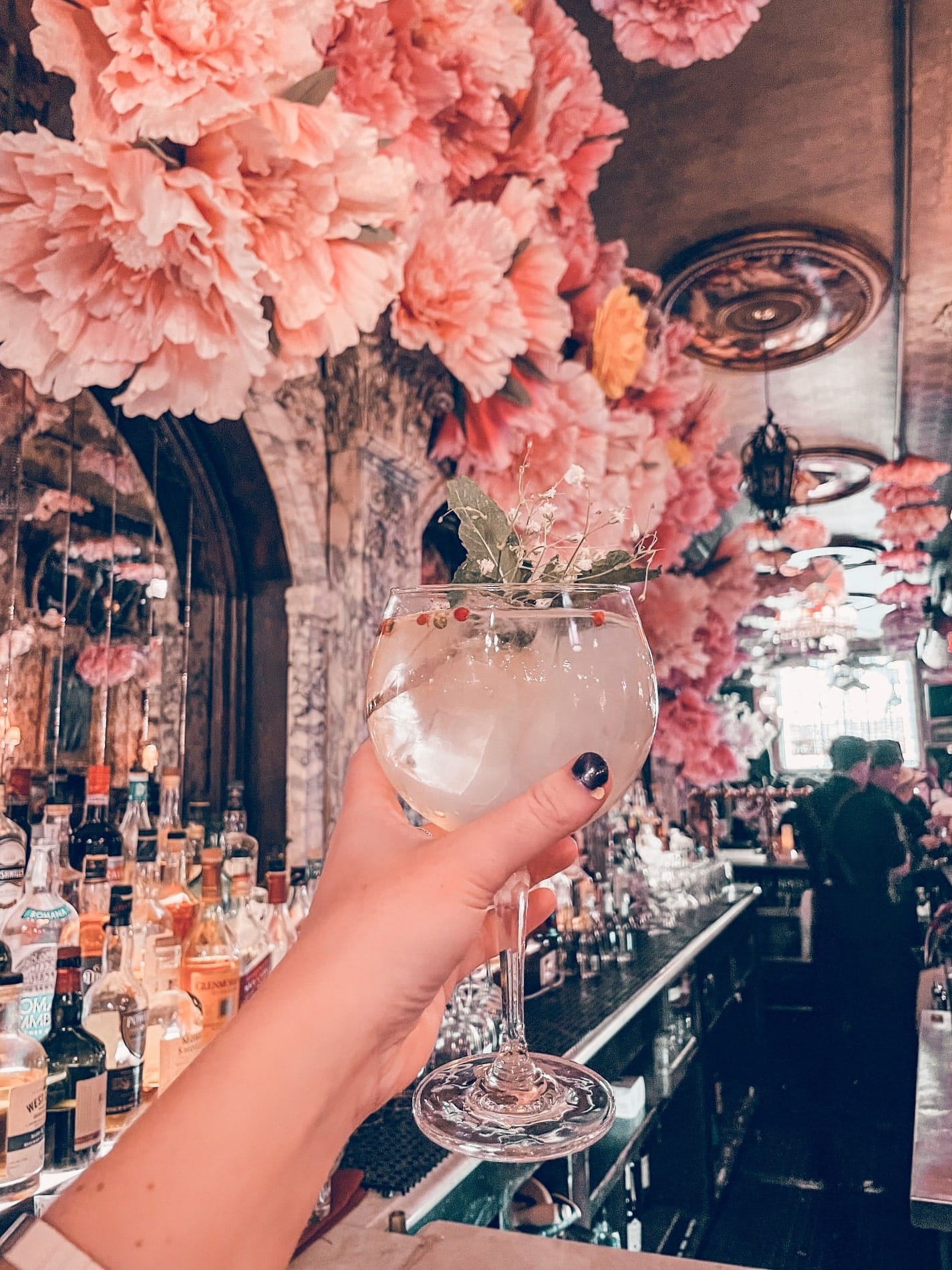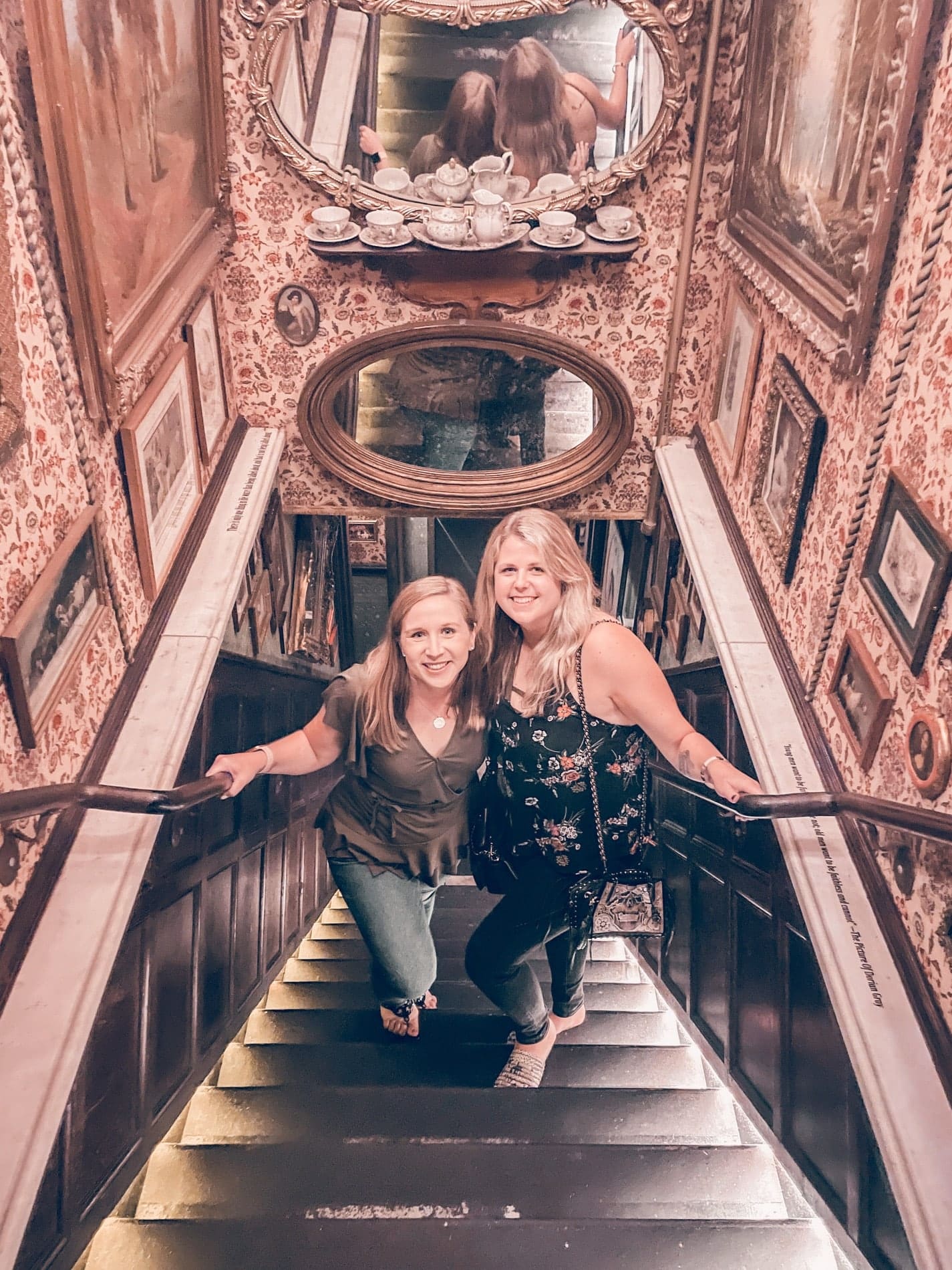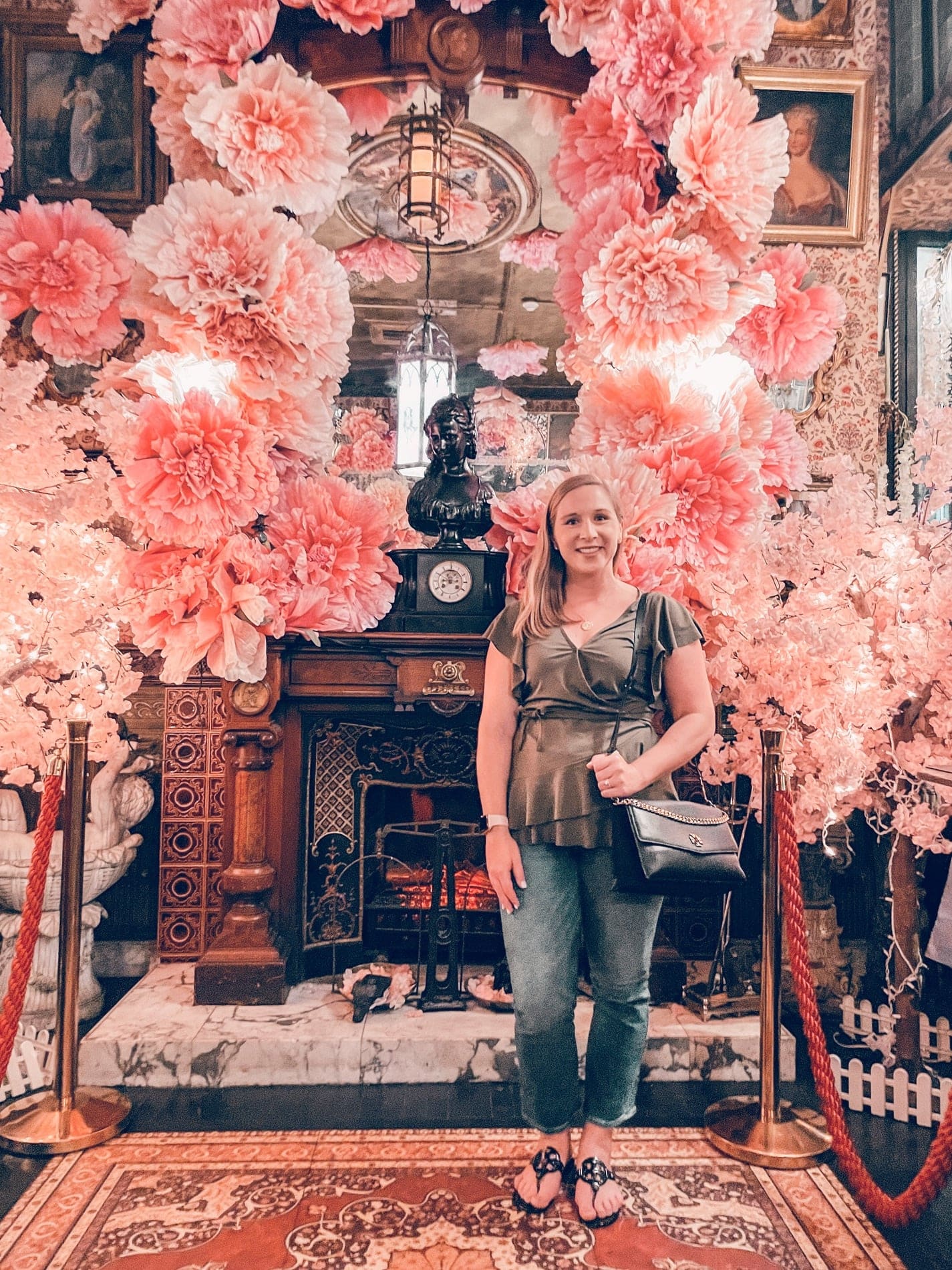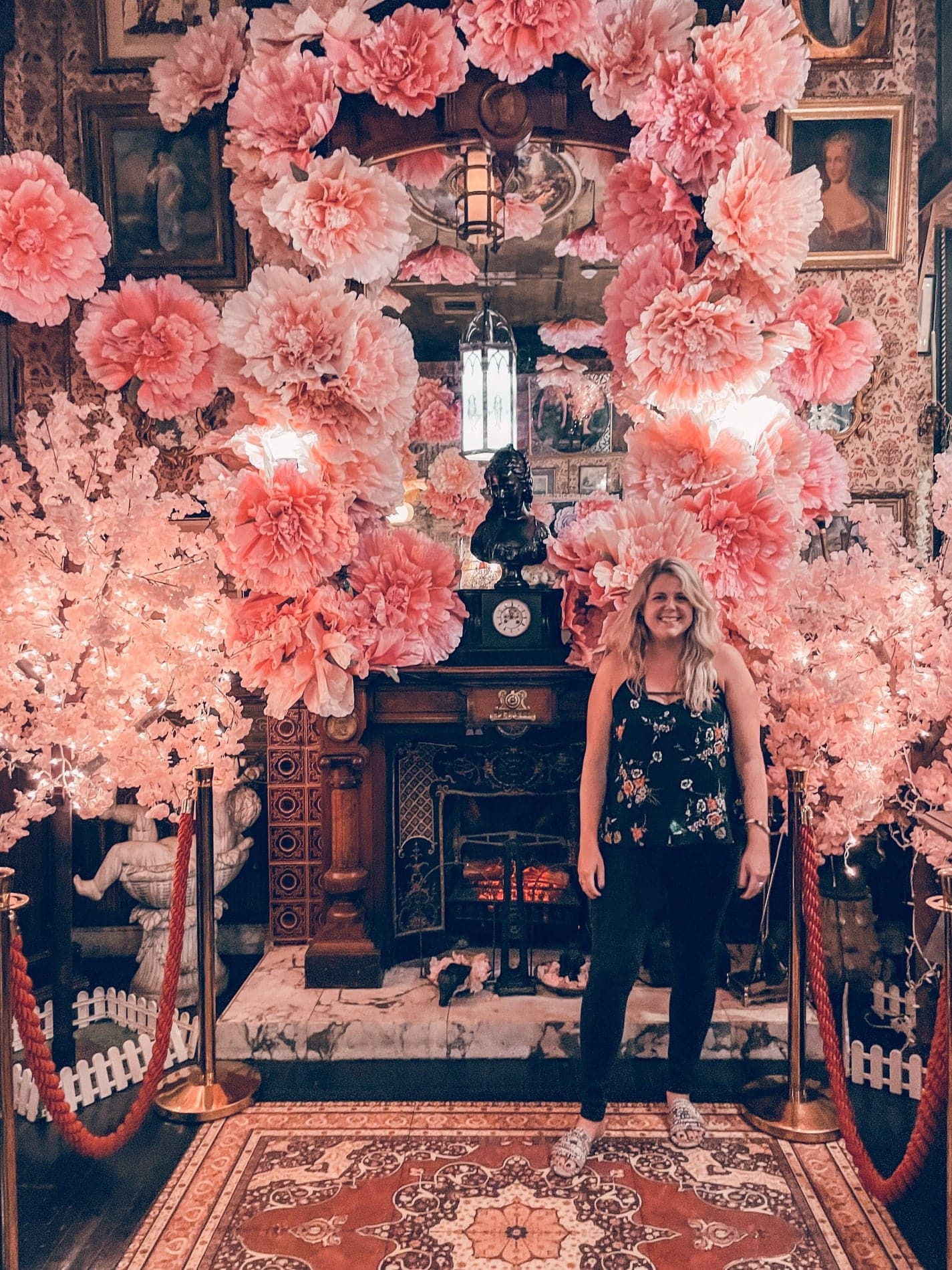 "Moderation is a fatal thing; nothing succeeds like excess."
It seems the creators of Oscar Wilde NYC also kept this mantra in mind when outfitting the space, which presides within a 1909 building designed by Henry T. J. Fuehrman that was home to the Prohibition Enforcement Headquarters for years after the Volstead Act banned alcohol in 1919. No doubt Wilde would appreciate the irony. Upon entry, one feels they have been transported straight into the Victorian Era thanks to countless details, including: porcelain tile-inlaid original floors, imported wood paneling from the aforementioned castles, an 1819 player piano that comprises the back of the whiskey bar, a Parisian china cabinet, all-bronze table bases, Milanese stained glass, Argentine dining-room doors from the World War II era, a wall of portraits honoring Irish writers, two incredible fireplaces, quotes from the author printed everywhere you look, and a collection of twenty-six antique clocks, all set to 1:50, the time of Wilde's death.
Oscar Wilde NYC reopened in March 2021 after being closed nearly a year due to COVID-19. Both OW and Lillie's Victorian Establishment celebrated the new season of life with installations of huge synthetic pink blossoms scattered throughout the interiors. They hang on nearly every wall and dangle from the ceiling—a move we believe the historical master of aesthetics would very much enjoy. In addition, a rainbow collage of flowers was splashed across the facade in June to celebrate Pride Month, and it seems the homage has become so beloved that it's sticking around a while longer, so be sure to stop by for your Instagram's sake!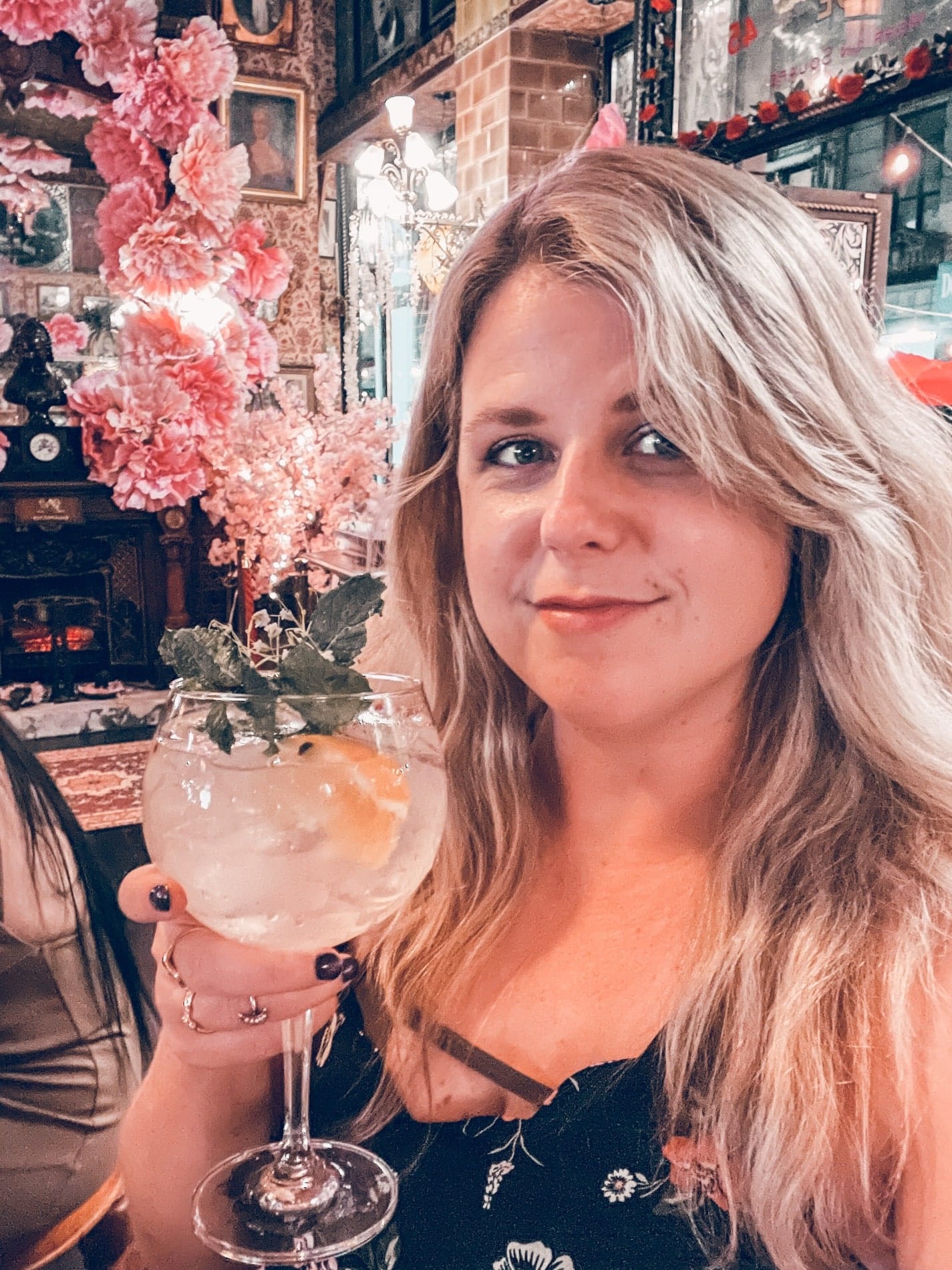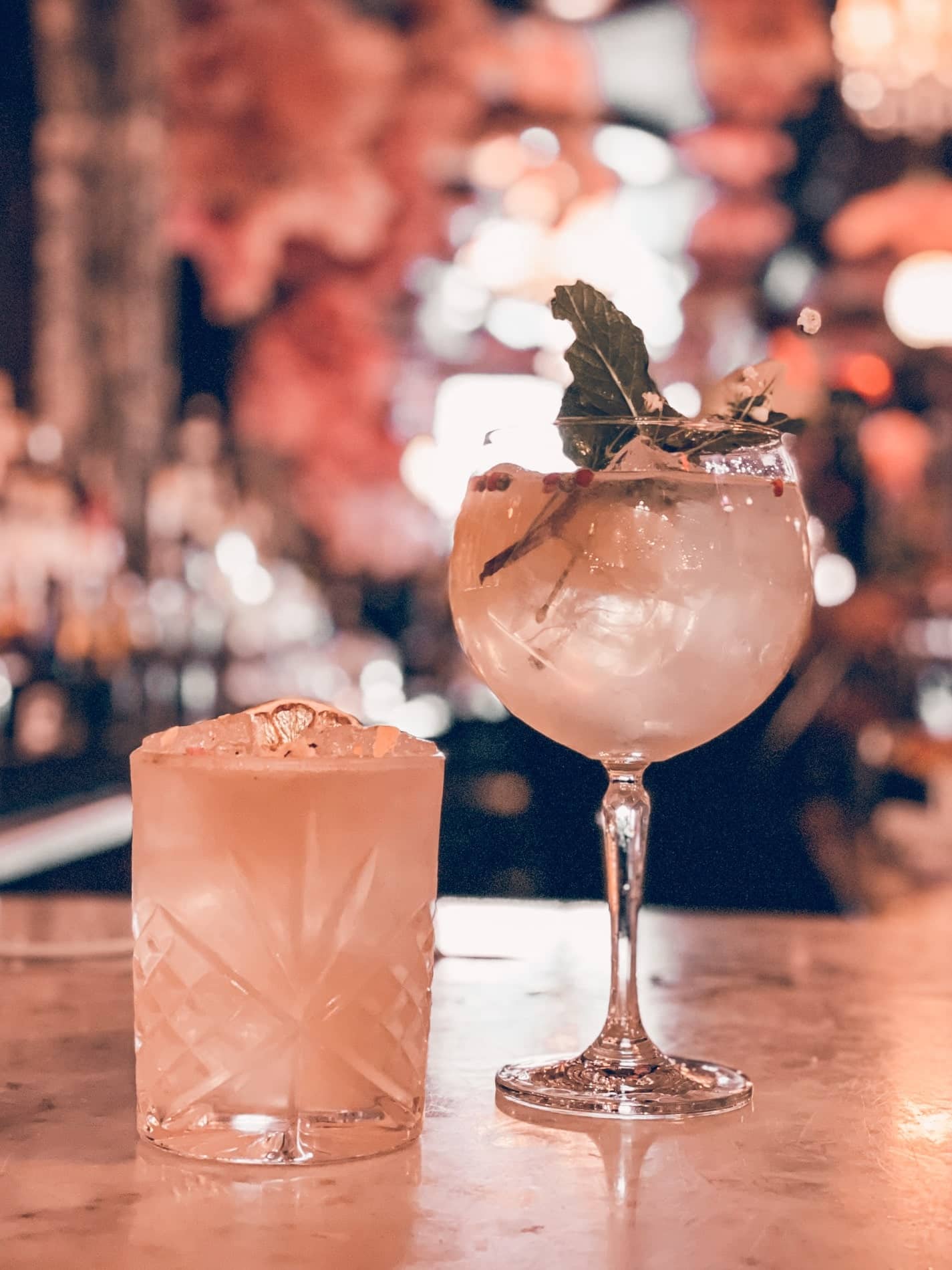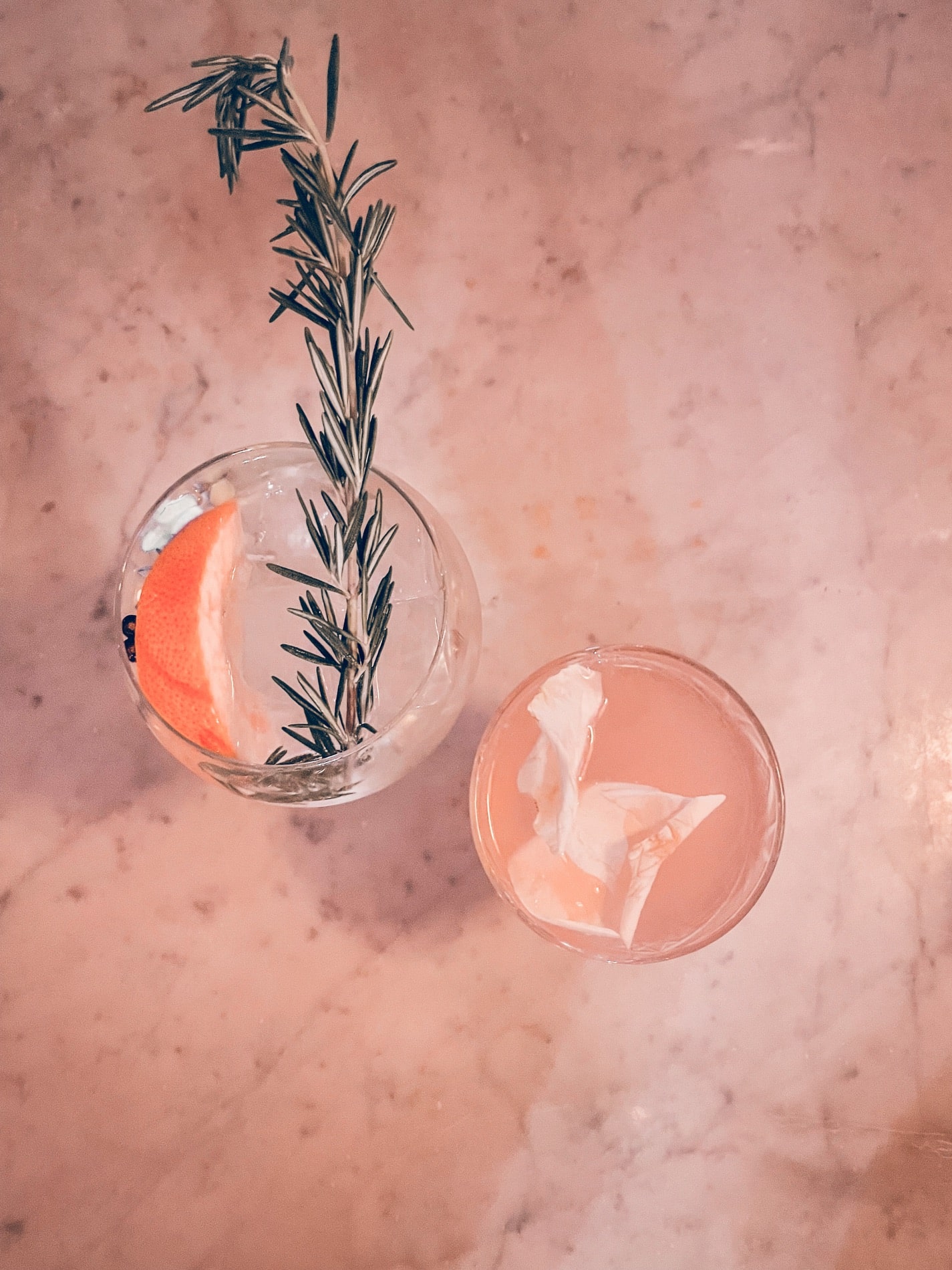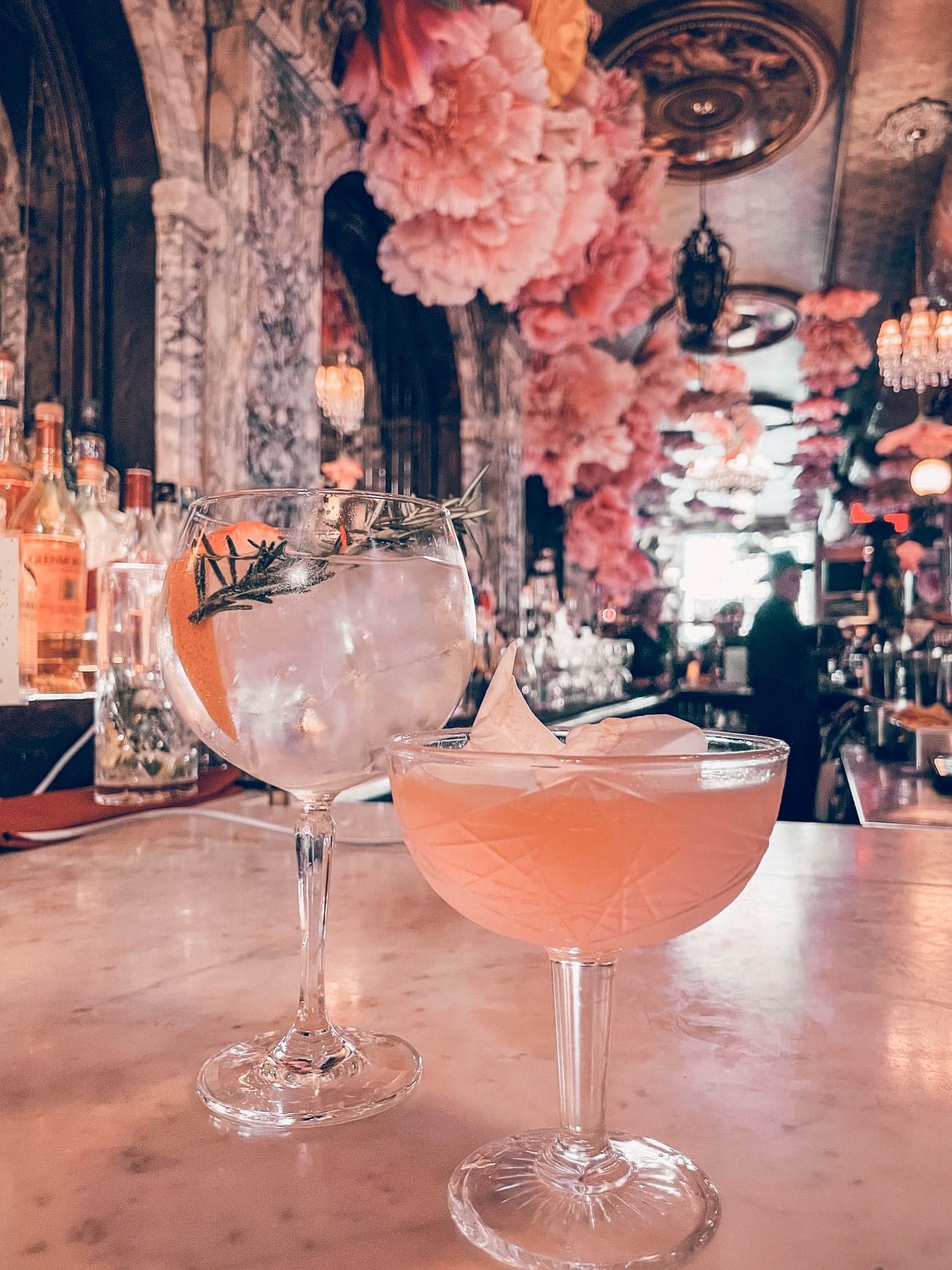 "There can be nothing more frequent than an occasional drink."
Don't miss out on the specialty cocktail—all in beautiful glassware and decorated to the nines with garnishes, of course. A running list of "Iconic Gin and Tonics" will make any evening refreshing, with names inspired by musical artists of Irish descent, from the Beatles to U2, Oasis, The Smiths, and Enya. Craft beers, wine, and whiskey round out the offerings. Brunch is served on weekends, while dinner and late-night menus are served daily.
"Oscar Wilde turns the Victorian era on its head—without relinquishing any of its glamour," says the establishment's website. "Just like Wilde himself, we believe life should be lived to its fullest, with a touch of sophisticated debauchery. Why miss out on the fun? We encourage living it to the fullest with Wilde abandon."

Oscar Wilde NYC, "A Public Place for Private Affairs," is open weekdays at 4:00 p.m. and on weekends at 11:30 a.m. Visit
OscarWildeNYC.com
or follow them on Instagram
@oscarwildenyc
to learn more.
---