Opportunity Place to Host Fundraising Event
---
November 16, 2023
opportunity place celebrates 15 years
Opportunity Place, Inc. (OPI) is celebrating 15 years in service with a Harlem Nights Casino signature event on Saturday, November 18 at The Island Resort on Okaloosa Island.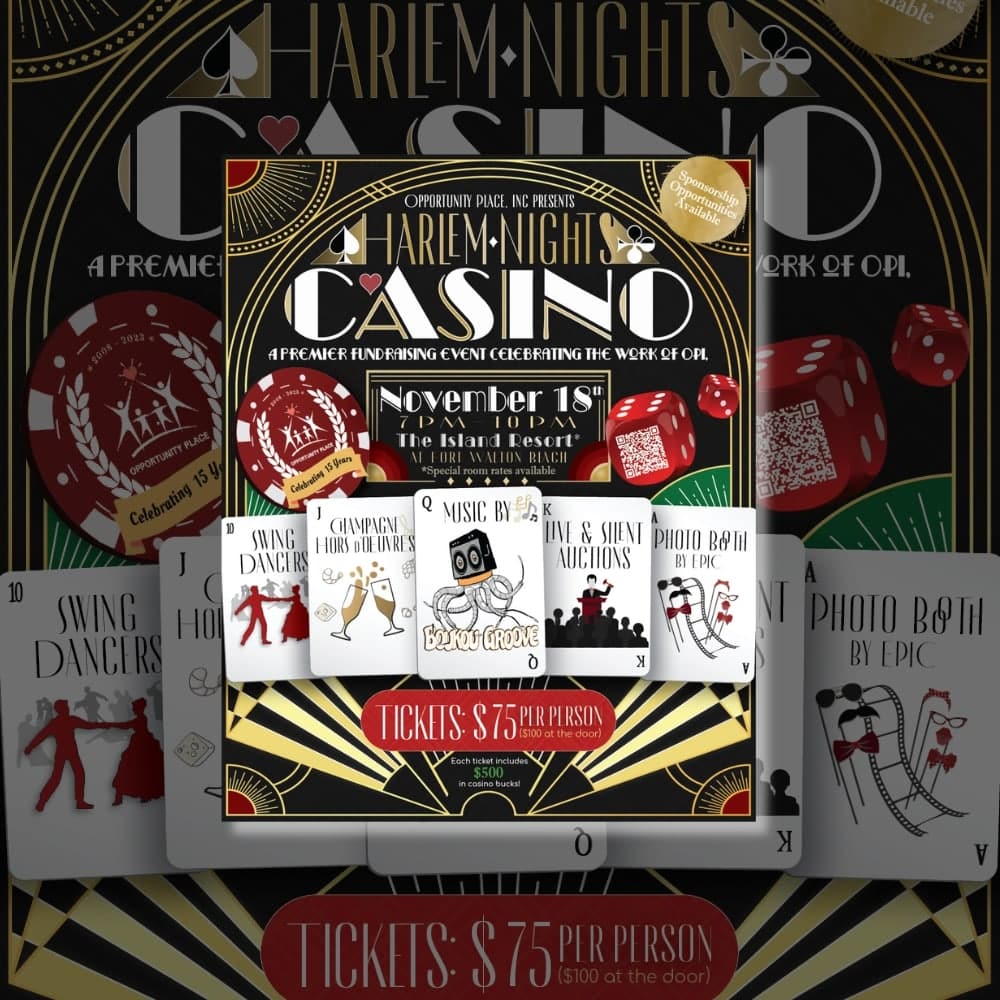 OPI invites the community to celebrate the past 15 years of providing shelter to women, children and families in Okaloosa and Walton Counties, while also raising money to continue efforts and help others forge their way to a better life. The evening will feature a room filled with blackjack tables, roulette wheels, craps tables, and much more for guests to try their luck. There will also be a second room featuring live music by Boukou Groove, swing dancing, a champagne toast, heavy hors d'oeuvres, and an Epic Photo Co. photobooth. There will be a variety of live and silent auction items, donated by local businesses, for guests to bid on throughout the evening.
These past 15 years are a testament to the transformative power of compassion and community," said Fiona Devenney, executive director of OPI. "At the heart of Opportunity Place, each year represents countless stories of resilience, strength, and lives touched by the promise of hope."
OPI was originally founded in 2008 as a shelter for families and single women under the umbrella organization Okaloosa/Walton Homeless Continuum of Care/Opportunity Inc. In 2015, after adopting an additional charter, the organization was divided based upon responsibilities thus officially establishing Opportunity Place, Inc. Since their inception, the mission to help families and single women, who are experiencing homelessness, become self-sufficient, has remained the same.
"Together, we've built more than a temporary shelter and we've created a haven for humanity for over 4,000 clients," Devenney said. "As we reflect on this journey, we see not only the bricks and mortar but the indomitable spirit of those we've served and the unwavering dedication of every donor, volunteer, and staff member. Here's to 15 years of "Opening Doors and Making a Difference", and to the countless lives we will continue to impact in the years to come."
All proceeds raised from the event will go directly back to OPI and their efforts to provide basic needs, housing assistance, and supplies to the women, children, and families they serve. Tickets are on sale for $75 per person and include access to the event plus $500 in gambling chips. Visit opifwb.org/fundraising to purchase.
The Island Resort is also offering attendees an exclusive rate to stay after the event. Please call (800) 874-8962 and mention the Casino Night to book a room.
OPI would like to thank the local businesses who are sponsoring the anniversary event including Eglin Federal Credit Union; First Nation Group; Fleet, Smith & Freeman, Attorneys and Counselors at Law; The Island Resort; Linn's Prestige Kitchens and Baths; MPPH – A Force for Good; and SAMM Electric.
Additional sponsorship opportunities are available, please email

 

fiona@opifwb.org

to learn more.
---