Music Festival Fashion Trends of 2017
---
April 11, 2017
The Harmony between Music and Fashion
With Coachella just days away (three days to be exact, but who's counting?), and a string of other top music festivals following closely behind it, it's safe to say festival season has begun. Aside from the awesome performances from some of our favorite artists, we all know that music festival fashion is another excuse to go. If there's one event that brings music and fashion together, it's trendy music festivals like Coachella, Lollapalooza, the Governors Ball, and Bonnaroo in the US, and Glastonbury, Isle of Wight, and many more around the world.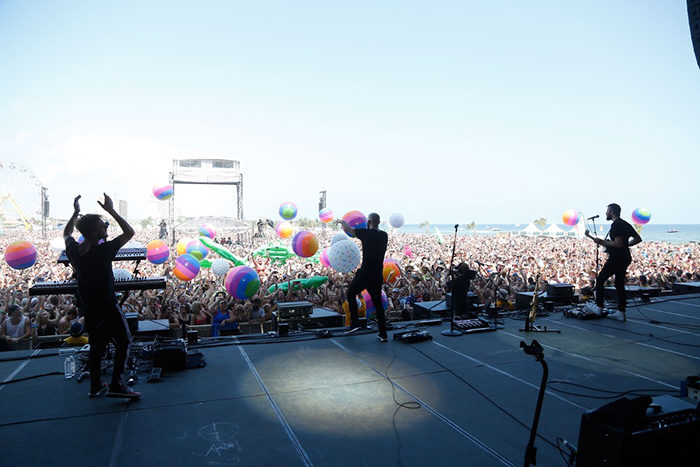 This season, skip cliché and predictable looks of flower crowns and glitter and up your street-style game! Here are ten of VIE's favorite music festival fashion trends to try this year.
Holographic
If you're a makeup addict, you've probably already have gotten your hands on a few of these products and have done a few test applications. If you haven't heard of this fun trend, head to Sephora.com now. It's been their top "trend alert" for a couple of weeks. Our picks for some of the best holographic makeup would be Kat Von D's Alchemist Holographic palette, Laura Mercier Lightstruck Prismatic Glow, Anastasia Beverly Hills Nicole Guerriero Glow Kit, and Milk Makeup Holographic Stick, because these products can easily be built up to rock-star status, while still working as a subtle highlight for a little everyday glam.
Tat Your Hair!
In our best Miranda Priestly voice, to this section we say, "Flower headbands during a music festival? Groundbreaking." She was facetious when she uttered her phrase about enamel floral bracelets for spring, and we're singing the same tune about flower crowns.
Time to try something different, and get tatted up! We're talking about temporary hair tattoos. They're just as eye-catching as the flower crown and just as easy to put on. The same way you would normally apply them on skin, metallic tattoos can be applied onto your hair. We just recommend you use hairspray to hold it in place.
Layer Up
Taylr Anne can do no wrong when it comes to festival style. Correction: Taylr Anne can do no wrong, period. She's a great fashion influencer to look up to for inspiration on layering pieces together. Dress over t-shirt, elevated dress over shorts, elongated vest over blouse … Taylr teaches us how to play with dimension and length for a hip and trendy music festival fashion overhaul.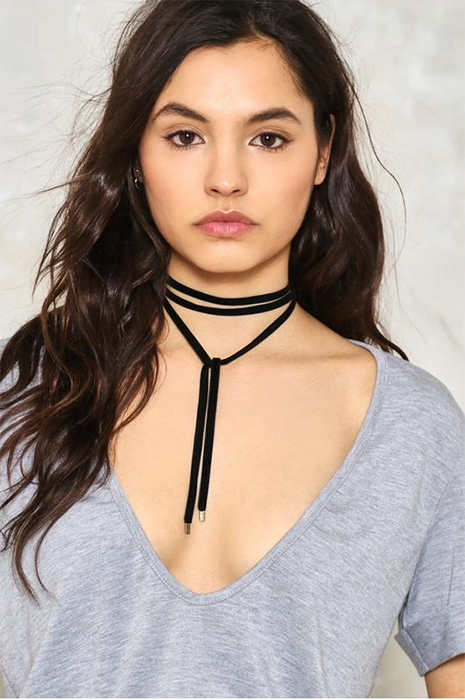 Jewel of the Festival
Who knew chokers would have the longevity to become a 2017 fashion trend rather than a fad? Looks like chokers layered with necklaces are going to be making a big appearance during music festivals as brands such as H&M, Nasty Gal, and BaubleBar are pushing them in their Coachella style lookbooks this season.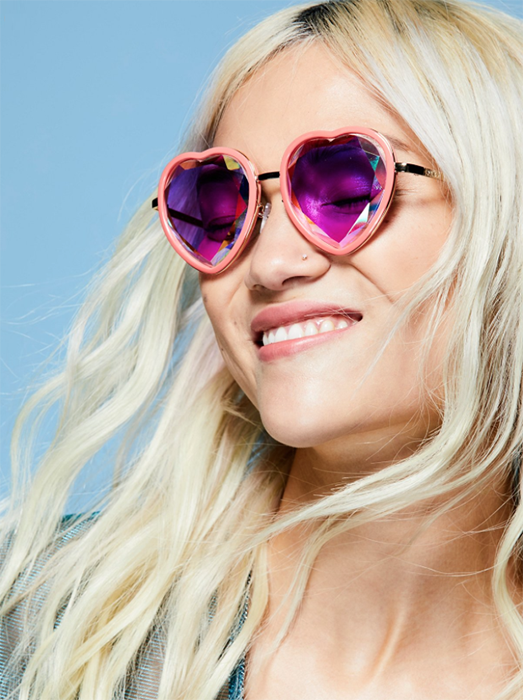 Statement Glasses
Since most festivals are outdoors, it's important to protect your eyes—but in the most fashionable way, of course! Drop your everyday Ray-bans for some fun and quirky styles. This isn't a drive to the mall or walk around the park; this is music festival season, AKA the perfect special occasion to go all out. Where else could you pull off prismatic sunglasses? Make a statement!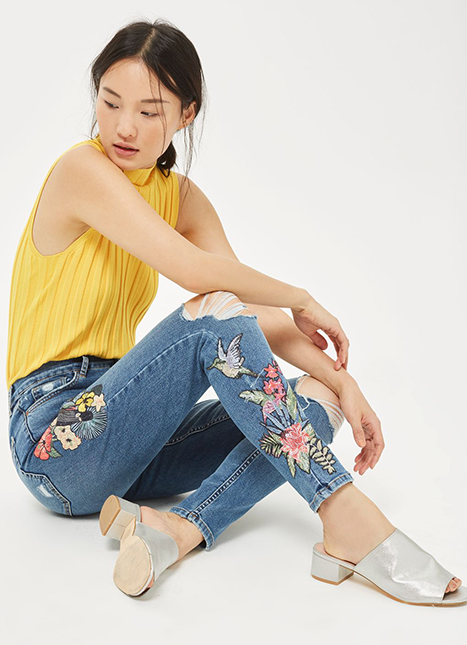 Stitch Fix
Think hippie-dippie style, but more luxe and get into the free-wheelin' spirit with embroidered clothes. This music festival fashion trend includes embroidered denim, embroidered bodysuits, embroidered bags, embroidered anything! Zara, H&M, Nordstrom, and Topshop—all of our favorite fast-fashion brands have a plethora of this classic trend for men and women.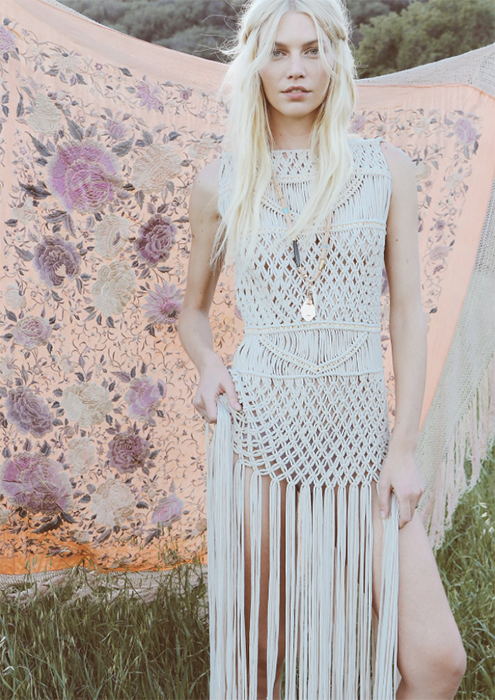 Macramé
It looks great on shoes, handbags, accessories, and clothes. Similar to the aesthetic feeling embroidery gives us, macramé is a fun reminder that summertime is coming, and summertime is pretty much the equivalent of fun! Seriously, though, how fun and perfect is this Free People macramé Labyrinth Dress?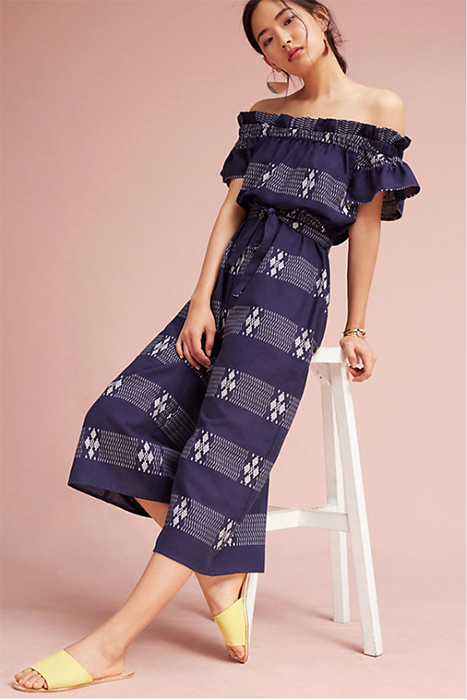 Patterns and Prints
From floral to tribal, you really can't go wrong with prints for festival style. Unleash your fun-loving, free-spirited inner self by incorporating colorful patterns in the mix. Remember, multi-colored prints can be classy yet fun with the right hue. We're totally feeling this Petite Aziza Off-The-Shoulder Jumpsuit from Anthropologie.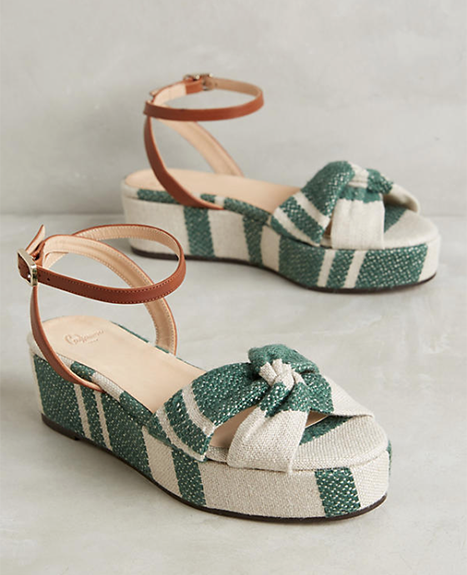 Just Breathe
You're not in an air-conditioned superdome that offers some sort of seating in case your feet get tired. Dress for the occasion—that includes footwear. You're going to be outside, chances are in the heat, jamming to your favorite musicians. This is no time for your highest Louboutins. Opt for breathable sandals and, if you absolutely need a heel, go for a wedge to provide maximum comfort.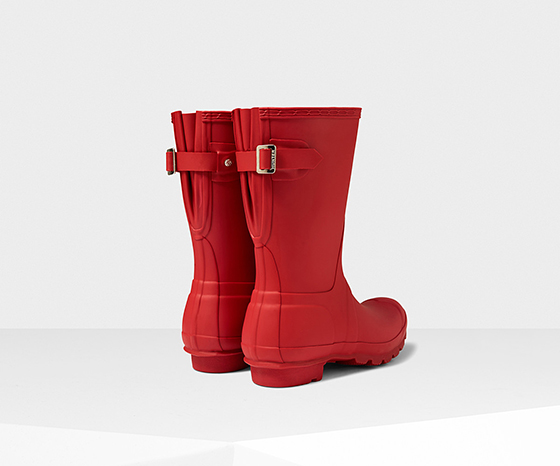 Rain Check
Just like you can never be too prepared for a job interview, you can never be too prepared for a music festival. The thing with outdoor events is that no matter how fun they can be, weather is still beyond human control. We urge you to bring a second option for clothing and maybe your favorite Hunter boots in case it rains.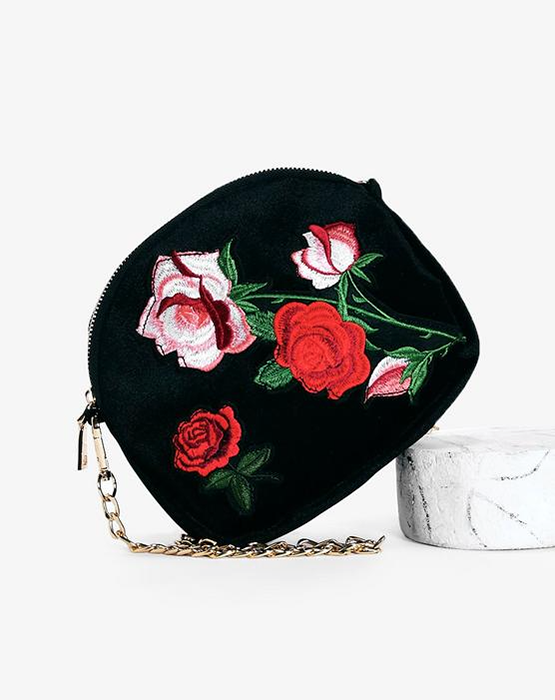 It's in the Bag
You're going to be outside and probably looking to rock out. Your everyday satchel isn't going to come in handy for the festival. At minimum, the only things you'll need are cash, an ID and your lipstick to touch up. Consider a small, festive crossover bag. It's light and easy to carry, so you'll never have to wonder where you can put your bag down, and perfect for minimal use.
Do you have any music festival fashion ideas of your own you can't wait to show off for festival season? Share them with us! We're always looking forward to new trends and styles.
---