Mountainfilm Fest is On!
---
October 19, 2020
By Samantha Accola
In honor of its twentieth anniversary, this year's Mountainfilm on Tour at WaterColor® will relocate to the Watersound Origins community for a drive-in viewing on November 6 at 6:30 p.m. Mountainfilm is a documentary film festival that showcases nonfiction stories about environmental, cultural, climbing, political, and social justice issues that matter.
View this post on Instagram
Typically, the Mountainfilm Fest tours across diverse parts of the country, from Anchorage, Alaska, to Ojai, California, to Charleston, South Carolina, and ends with a finale in Telluride, Colorado, at the program's headquarters. Due to the current socially distanced era, the 2020 tour offers some great alternatives to keep this autumn tradition alive for fans and new viewers alike!
For this year's films, Mountainfilm awarded a total of $30,000 to fourteen projects that embody the festival's mission to inspire audiences to create a better world and showcase diverse perspectives on life matters. "I'm so impressed by the slate of films that are being supported through the Commitment Grant," says festival director Suzan Beraza. "It's a testament to the tenacity of these filmmakers who are working through such strange times to tell stories that inspire, uplift, and search for truth." This year's twentieth-anniversary lineup mixes adrenaline-fueled adventure films with stunning and world-changing documentaries.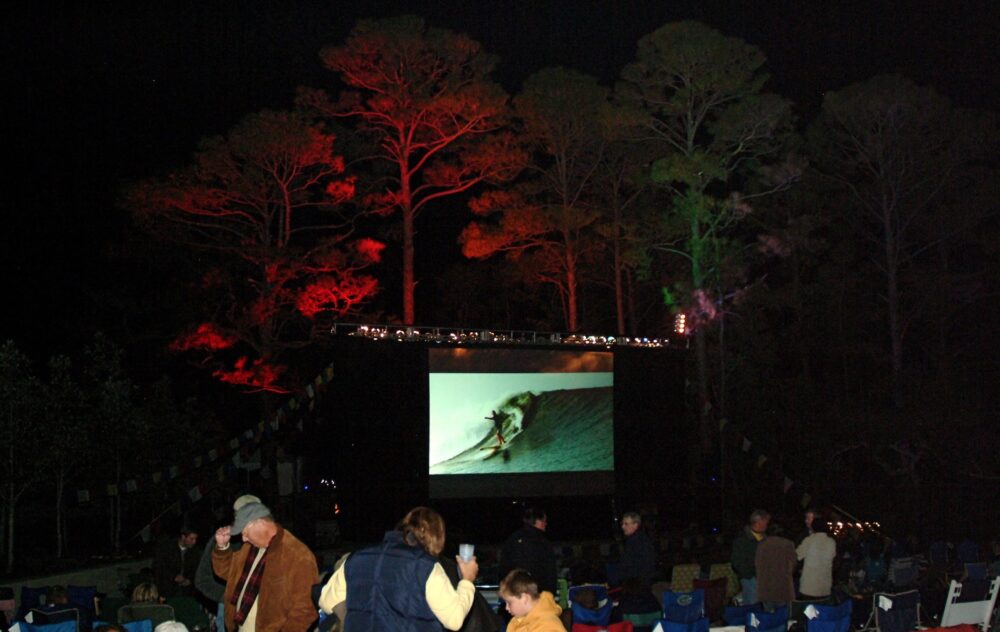 DRIVE-IN
Though we will undoubtedly miss the long entry line of people and festive scenery at WaterColor's Marina Park Amphitheater, a drive-in will help to ease any social nerves. While the coronavirus still impacts the country, Mountainfilm continues to bring people together for this extraordinary festival safely! All guests will remain in their parked cars, from which they'll have access to audio via their car radio for the duration of the 2.5-hour program on Friday, November 6, beginning at 6:30 p.m. There will be no food or drinks on-site to purchase, so we recommend packing some popcorn and your favorite beverages for a night of celebration and outdoor entertainment.
Tickets for the Drive-In Viewing are $30/car and are now on sale. Please visit mountainfilmfl.com for additional information.
Official event sponsors include WaterColor Inn & Resort, Watersound Origins, Visit South Walton, WaterColor® Store, RUN/SUP, Old Florida Outfitters, 30A.com, and SoWal.com.
VIRTUAL PROGRAM
For those who desire to watch the Mountainfilm Fest from a more intimate setting, a virtual program will also be available online on November 6–7, thanks to the festival's complimentary Virtual Program. Grab your closest friends and perhaps an old-timey projector (your usual streaming devices will also work), and host a watching party in the comfort of your home!
View this post on Instagram
Complimentary tickets to watch this year's Mountainfilm on Tour Virtual Program are now available and must be reserved by no later than midnight on November 5. Ticketholders will receive a designated Eventgroove link with which to access the program and will have a flexible 48-hour watch window. The virtual program, accessible via Eventgroove, will open at 9 a.m. ET on Friday, November 6, and will close at 9 a.m. ET on Sunday, November 8.
Mountainfilm MERCH
Limited-edition 2020 Mountainfilm on Tour at WaterColor® shirts are available for purchase online. A limited quantity will also be available at the WaterColor® Store, located in the WaterColor® Town Center. These tees are a cozy addition to any film experience and a fun way for your family to celebrate this special event!
View this post on Instagram
To learn more about the festival visit, mountainfilm.org.
---