Mother's Day Recipe Guide
---
May 13, 2017
Celebrate mom with delicious treats!
Mothers. They are strong, courageous, nurturing, encouraging, and a million other wonderful words—too many to list. They are there to cheer us on, and while we don't usually admit it, we'll always want and need our moms around. They've taught us most of the things we know, and if your mom loves to cook, you probably have many memories of her classic meals that could easily be considered your favorites. This time, it's time to turn the tables and cook her a heartfelt Mother's Day meal.
Treat your mom/stepmother/mother figure the old-fashioned traditional way—to some of our favorite delicious recipes from VIE over the years. Nothing says love like putting time and effort into creating something wonderful. So tell your mom to kick back, relax, go out for that spa treatment she's been meaning to go to, and you'll take care of the rest! All she needs to bring with her is an empty stomach, ready to dine!
Coctail Hour:
(If there's anything mothers have taught us, it's to always start off with offering your guests a refreshment.)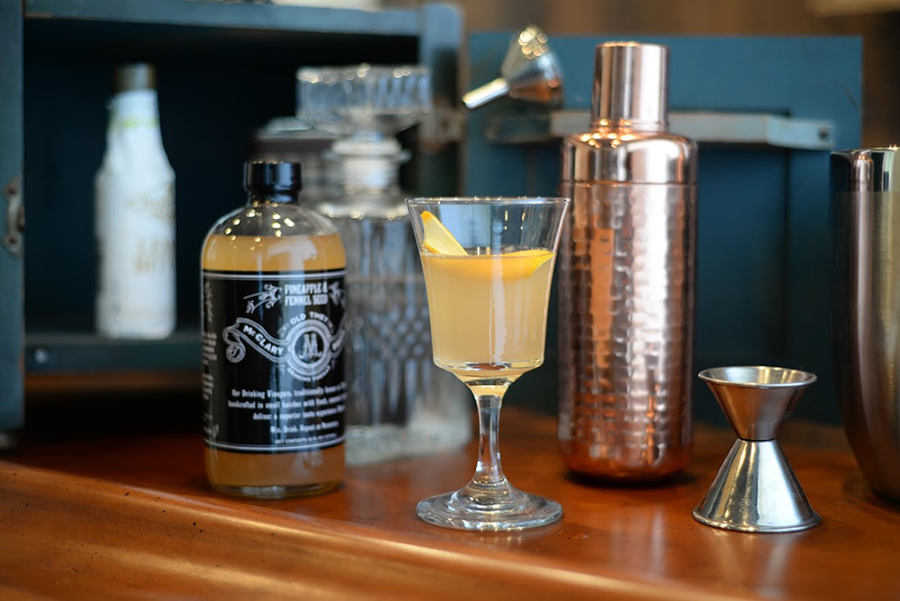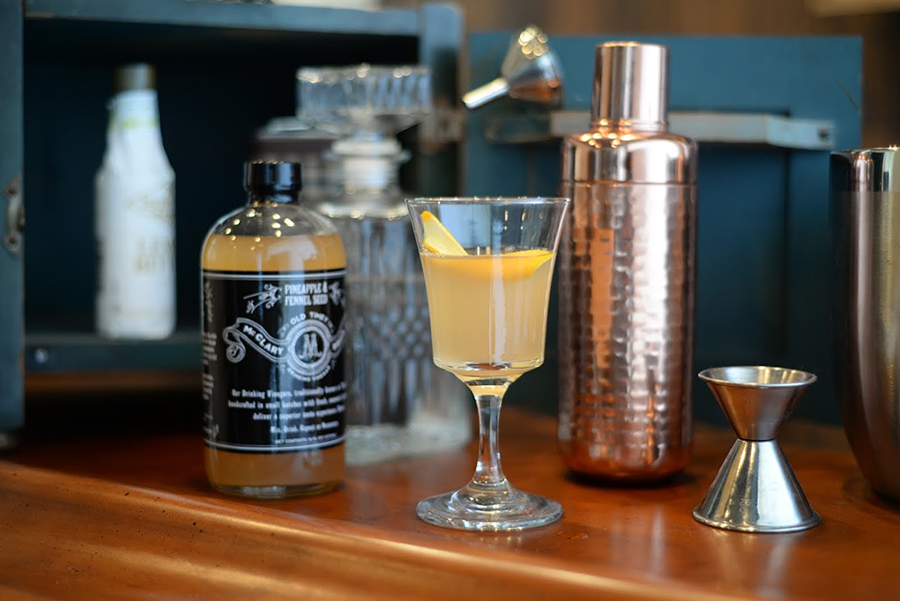 The Fennel Fox Courtesy of McClary Bros.
12 pieces of boneless quail* breast, skin off (*Duck breast can be substituted.)
1 red jalapeño, cut into 12 julienne strips
3 scallion whites, cut into quarters
Mix well and enjoy!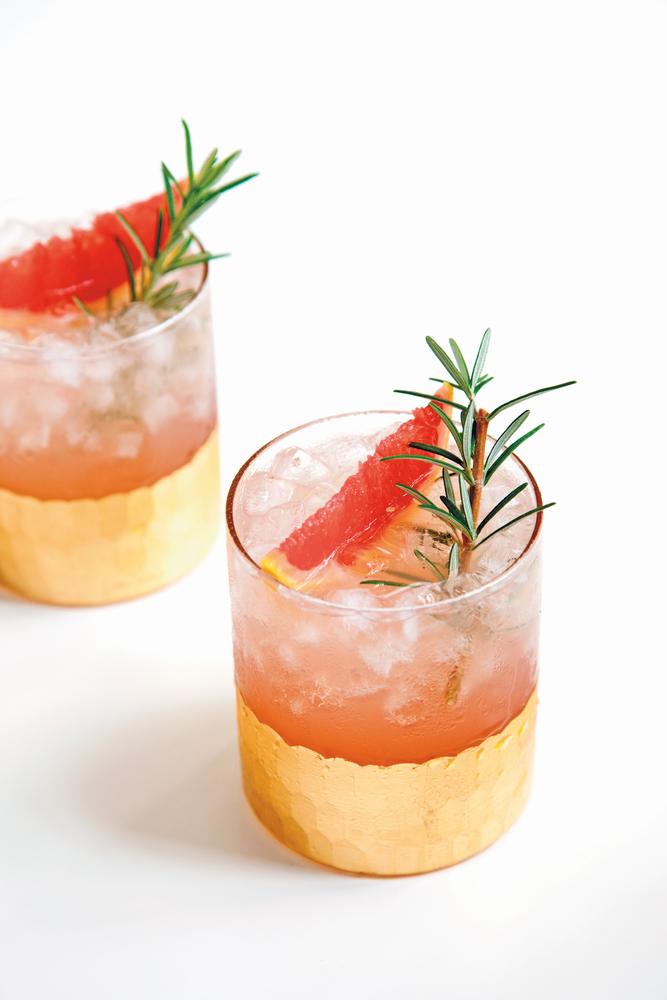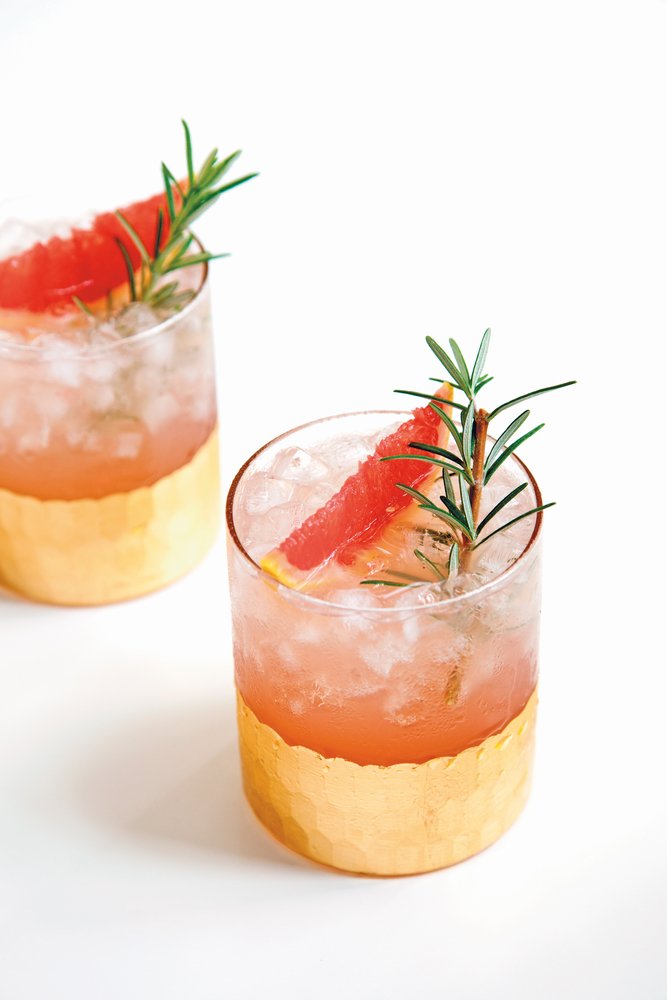 Grapefruit Rosemary Cocktail by Sparkling Ice
Ingredients
1 ounce vodka
1/2 ounce elderflower liqueur
2 ounces grapefruit juice
1/2 ounce ginger syrup (recipe below)
Sparkling Ice Essence of Water
Rosemary sprig, for garnish

Coarse sea salt or kosher saltGrapefruit slice, for garnish
Preparation
Fill cocktail shaker with ice. Combine vodka, elderflower liqueur, grapefruit juice, and ginger syrup; shake until cold. Strain into an ice-filled tumbler or highball glass and float with Sparkling Ice Essence of Water. Garnish with a rosemary sprig and grapefruit slice, and serve. Enjoy!
Hors D'oeuvres to Savor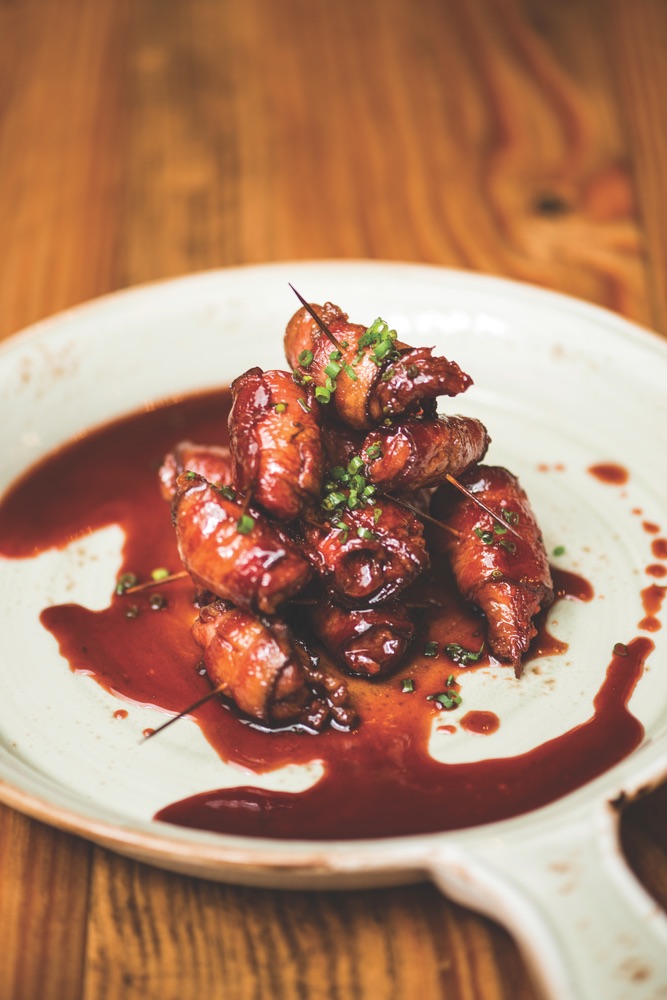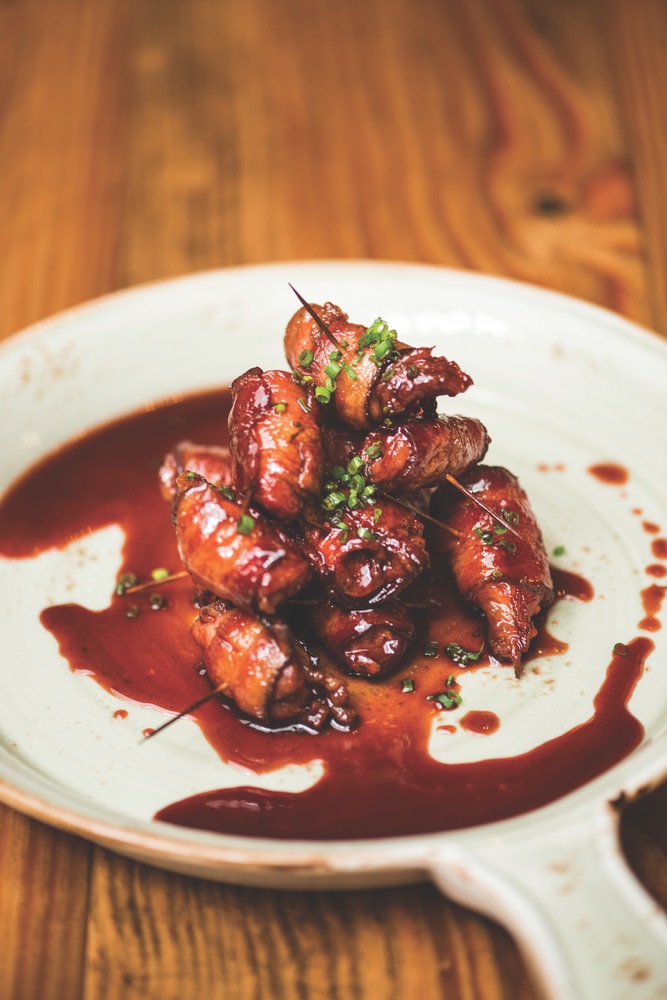 Quail Bites with Cheerwine Glaze
Ingredients
12 pieces of boneless quail* breast, skin off (*Duck breast can be substituted.)
1 red jalapeño, cut into 12 julienne strips
3 scallion whites, cut into quarters
1 small package of cream cheese, cut into 12 sticks
6 slices of thinly sliced bacon, cut in half
12 toothpicks
Glaze:
2 cans (24 ounces) Cheerwine
2 tablespoons Worcestershire sauce
1 teaspoon fresh ginger, minced
1/2 teaspoon fresh garlic, minced
3 ounces unsalted butter, cubed
A few turns of black pepper
Preparation
For the glaze, open the two cans of Cheerwine and place the contents into a heavy-bottomed stainless steel or nonreactive pot. Add the garlic, ginger, and Worcestershire sauce. Cook on medium heat and reduce until about one cup remains. Remove from the heat, cool slightly, and then whisk in the cubed butter. Finish with a little black pepper. Reserve until quail is cooked.
Using a small knife, make a cut into each piece of quail that's deep enough to stuff with the jalapeno, scallion, and cream cheese. Stuff and then wrap the quail bites with bacon, and then hold each together with a toothpick. The quail can be either deep-fried at 350 degrees for about three minutes or baked in the oven at 425 degrees for about five minutes. Toss the cooked quail with the glaze, and enjoy.
Sides: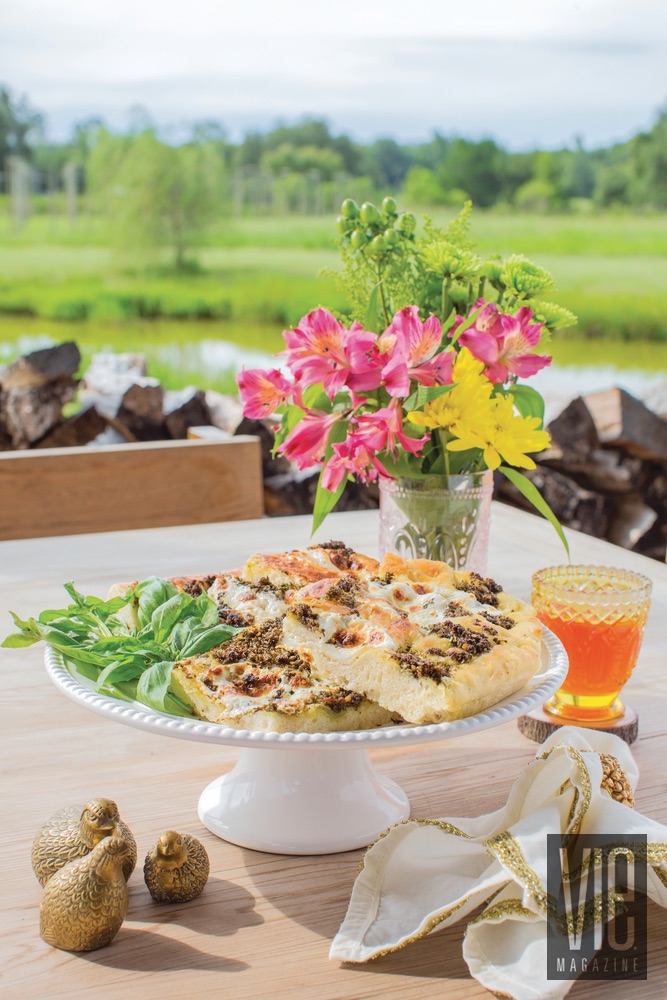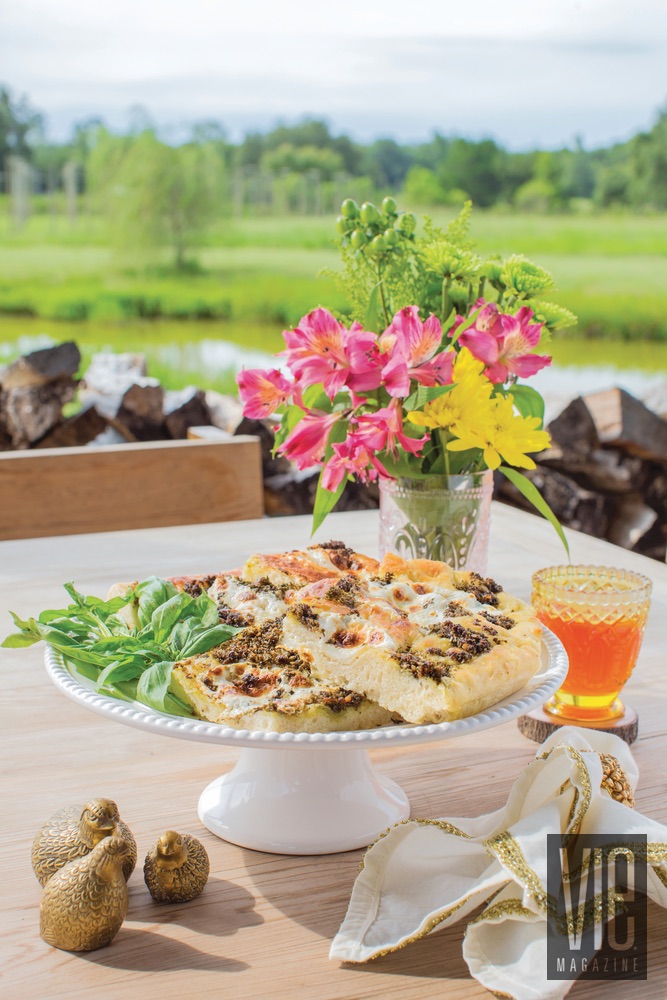 Pesto and Pecan Focaccia by Colleen Sachs
Ingredients:
1 recipe dough (recipe below)
1/4 cup pesto (recipe below)
Olive oil
Coarse sea salt or kosher salt
8 ounces fresh mozzarella cheese
Lightly oil a jelly roll pan, two nine-inch cake pans, or two ten-inch cast iron skillets. Stretch the dough into the pan, allowing it to rest for a couple of minutes between stretchings, until it reaches the edges of the pan. Loosely cover it with a towel and let it rise in a draft-free place until it doubles in volume (about 30 minutes).
Once it has risen, press your fingers into the stretched dough, forming little impressions all over the top. Spread a very thin layer of olive oil over the dough. Season with salt and pepper.
Drain the mozzarella and tear it into pieces. Scatter it over the dough in the pan. Then, add the pesto over the mozzarella.
Bake at 350 degrees until it is golden brown and cooked through (about 25 minutes). Cut into squares and serve warm or at room temperature. This focaccia pairs perfectly with homemade pasta, but is easy to enjoy as a snack or meal on its own!
Dough Ingredients:
1 package active dry yeast
1/2 cup water at room temperature
A pinch of sugar
3/4 cup milk
2 tablespoons olive oil, plus additional oil for oiling the bowl
3 cups bread flour or unbleached all-purpose flour
1 1/2 teaspoons salt
Dissolve the yeast in the water. Add a pinch of sugar and let the yeast proof for five minutes to make sure it is creating bubbles. Add the milk and olive oil to the mixture.
Place the flour and salt in a food processor fitted with a steel blade. Cover the processor and start it. Gradually pour the liquid mixture into the spinning processor. Continue to process until a soft ball of dough forms on the blade. You may need to scrape the sides a time or two. Rest the dough for five minutes.
Turn the dough out onto a lightly floured surface and knead it for two minutes. Place the dough in a large bowl generously oiled with olive oil. Cover the bowl with plastic wrap and place it in a draft-free location to rise until it has doubled in size (45 minutes to an hour). Punch the dough down and proceed with focaccia preparation, or cover and refrigerate it, or freeze it if you plan to use it later. Bring it to room temperature before using it.
For the pesto:
2 cups basil leaves
1/2 cup good quality olive oil
1/3 cups pecans, toasted and cooled to room temperature
2 cloves garlic, chopped

6 Medjool dates, chopped
8 ounces goat cheese, softened
1/2 cup shelled unsalted pistachios, toasted and roughly chopped
1 tablespoon fresh lemon juice
2 teaspoons lemon zest
1 tablespoon finely chopped fresh mint
Freshly ground black pepper
Preheat a grill to medium. Working in batches, lightly mist both sides of zucchini slices with cooking spray and grill for about 3 minutes per side, until softened and lightly charred. Remove and let cool. In a medium bowl, stir together dates, goat cheese, pistachios, lemon juice, zest, and mint. Season to taste with pepper. Place one slice of zucchini on a clean work surface. Spread l teaspoon of the goat cheese mixture onto zucchini and then roll up securely. Transfer to a serving platter, standing up or seam side down (it will stay closed on its own, but a toothpick helps with serving.) Repeat with remaining zucchini and goat cheese mixture. Serve chilled or at room temperature. Do not chill for more than a couple of hours, as the roll-ups will become mushy.
Farmer's note: On occasion, I have unrolled leftover roll-ups and baked them—makes for a delicious summertime meal or side!
Main Course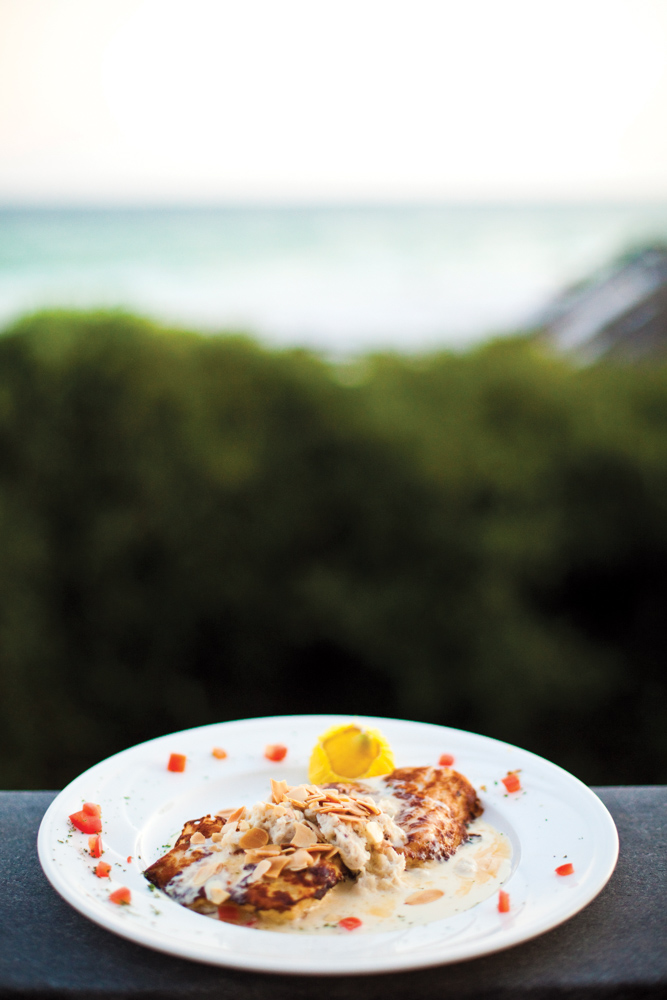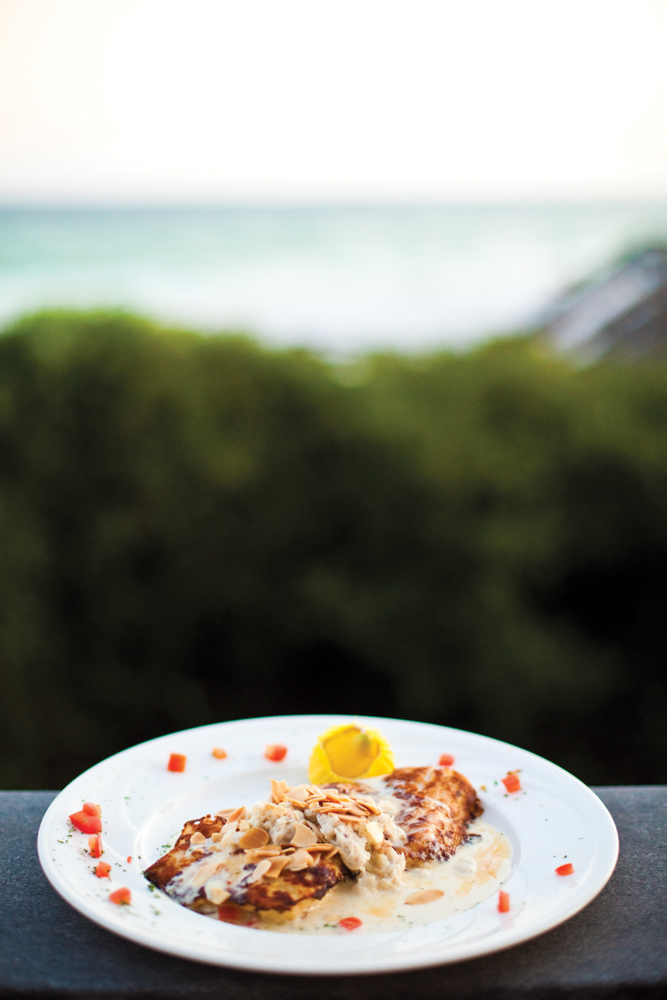 Grouper Elizabeth with Beurre Blanc Cream Sauce by Elephant Walk at Sandestin
Ingredients:
Grouper
2 pounds grouper fillets
1 ounce sliced almonds, roasted
1 ounce jumbo lump crab meat
Seasoned flour:
1 cup all-purpose flour
1 teaspoon ranch dressing (dry seasoning mix)
1 teaspoon white pepper
1 teaspoon fresh ground black pepper
Batter:
3 eggs, beaten
1 cup heavy whipping cream
Beurre blanc:
1 tablespoon chopped shallots
1 tablespoon chopped garlic
1/2 cup dry white wine
1/2 cup lemon juice
1/2 cup heavy whipping cream
2 sticks of cold butter
1 teaspoon white pepper
1 teaspoon kosher salt
Preparation:
Grouper:
Begin by cutting the grouper fillets into four equal portions. Combine seasoned flour ingredients and put on a plate. Whisk together beaten eggs and heavy cream in a shallow bowl. Place the fillets into the seasoned flour mixture, being sure to coat the fish generously on all sides. Shake excess flour away and place fish into the egg batter, coating thoroughly. In a hot frying pan, sauté fillets on both sides until golden brown.
Beurre blanc:
In a small pan, add shallots, garlic, lemon juice, and white wine. Place on medium to high heat and reduce by half. Add heavy cream and continue to reduce by half. Turn stove down to medium heat and slowly whisk in butter until emulsified. Add salt and pepper to taste.
To complete, divide beurre blanc evenly among grouper fillets, heat the jumbo lump crab meat thoroughly and use to top the grouper. Garnish with roasted almonds and enjoy!
elephantwalkatsandestin.com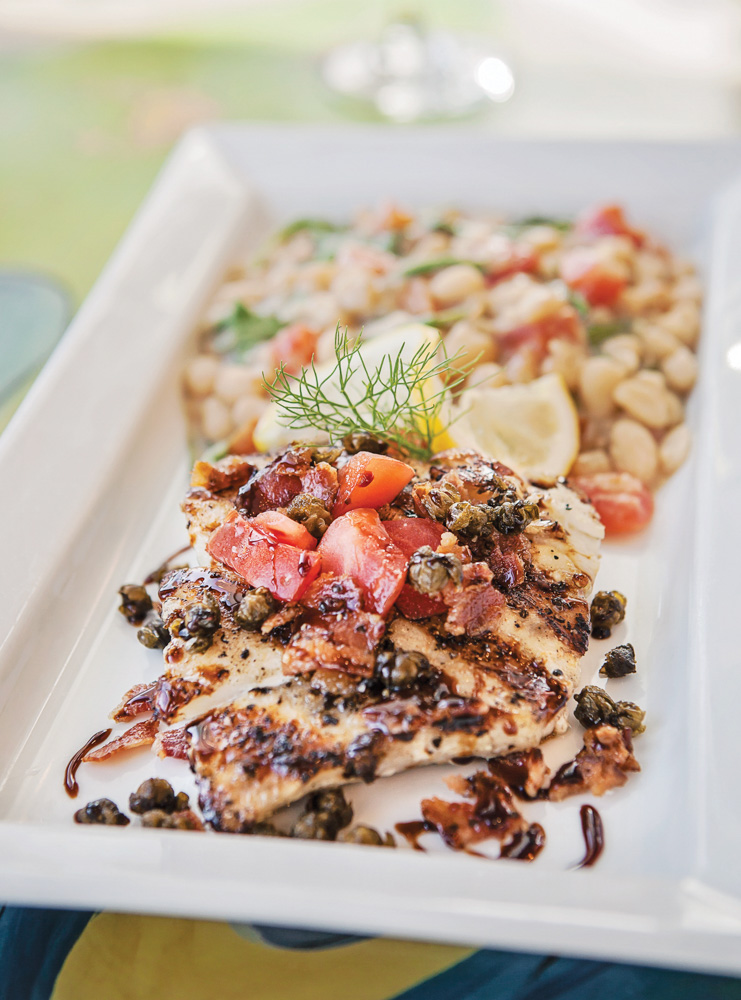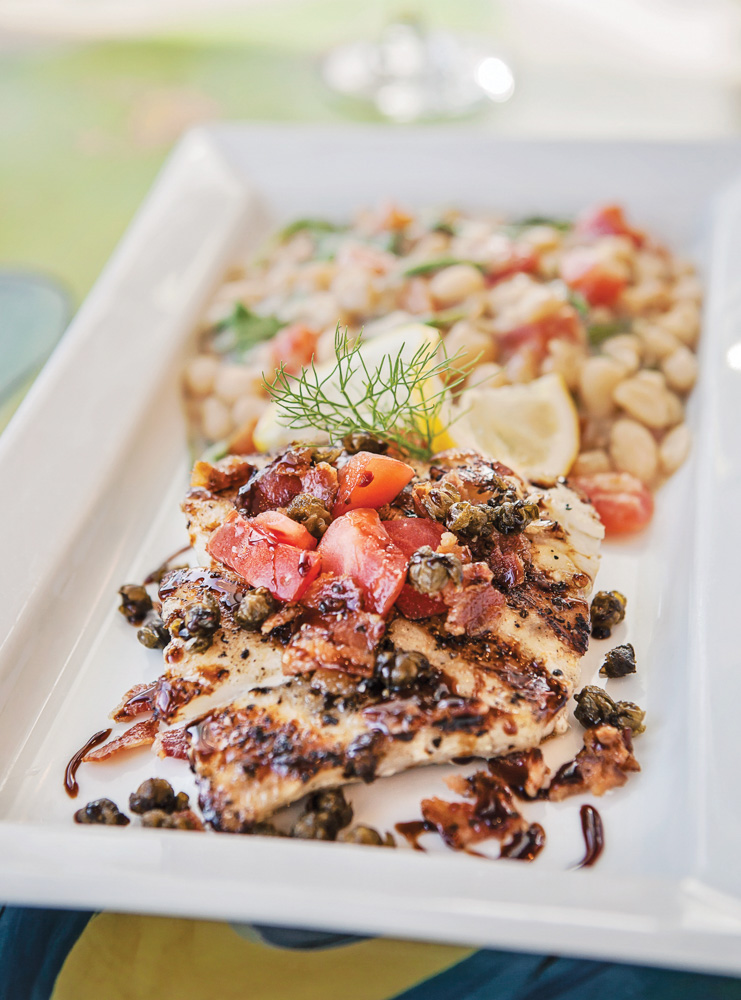 Stewed White Beans with Arugula and Tomatoes by 723 Whiskey Bravo
Ingredients:
3 pounds dried white beans
1/2 pound applewood-smoked bacon
1 small yellow onion, diced
1/4 cup high-quality chicken base
8 cups water
1 tablespoon salt
2 tablespoons black pepper
1 cup diced tomato
2 cups fresh arugula
Preparation:
Take bacon and slice into 1/4-inch strips. Add bacon to a large stockpot and cook until it is brown and starting to get crispy. Add the onion and stir, making sure to scrape the brown bits from the bottom of the pot. Cook onions with bacon for 5 minutes or until onions are soft. Add beans, chicken base, water, and seasonings. Bring to a boil, then lower heat to medium low and simmer. Stir frequently and check for water; if the beans start looking dry, add a little more water. When beans no longer float (after about an hour), keep a watchful eye on them for another 25–30 minutes. At this time, check beans to see if they are soft. When beans are done and you're ready to serve, stir in tomatoes and arugula. Continue cooking for just a few minutes longer until arugula is wilted and tomatoes are heated through. Serve with your favorite piece of fresh grilled fish.
Dessert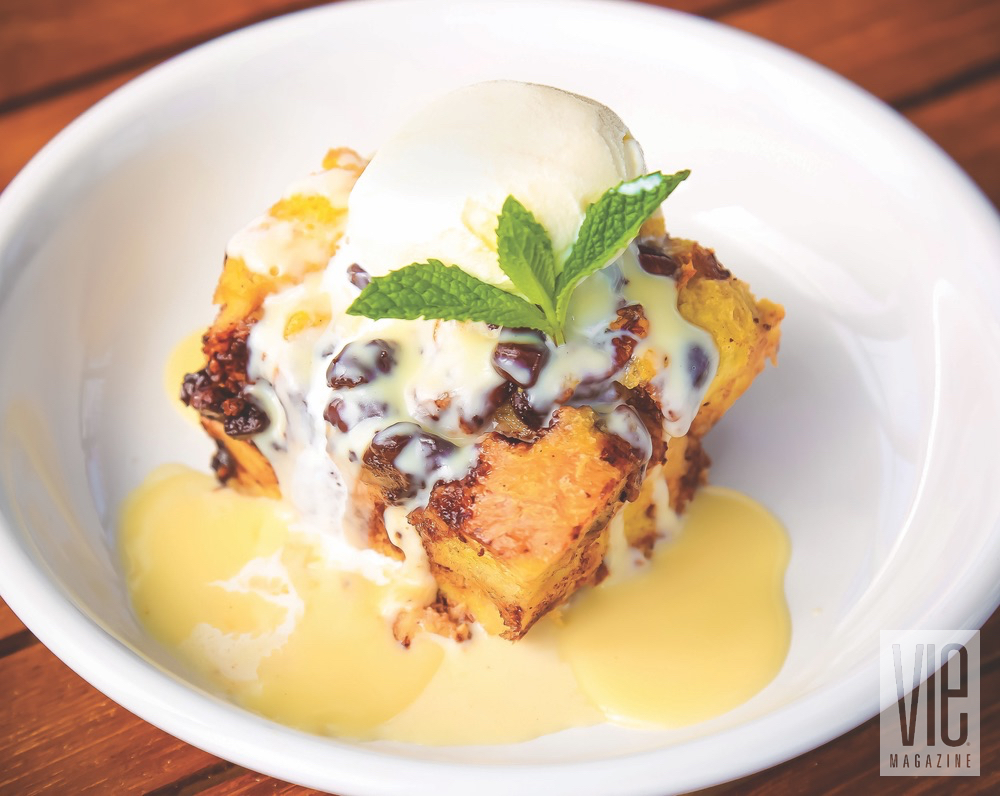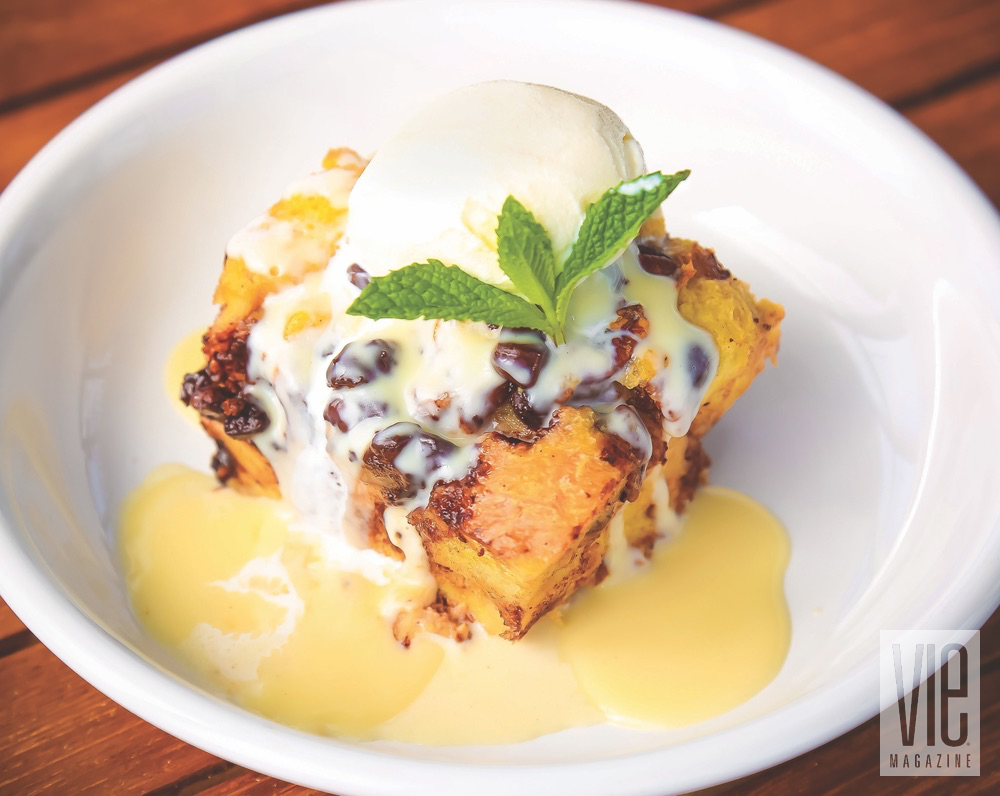 Dark Chocolate Bread Pudding with Whiskey Sauce by Bud & Alley's Waterfront Restaurant
Recipe courtesy of Chef Dave Bishop
Ingredients
24 ounces cubed challah bread (or French baguette)
5 whole eggs
3 cups half-and-half or whole milk
1 cup chopped pecans
2 cups dark chocolate chips
4 ounces unsalted butter
1 cup granulated sugar
1 teaspoon vanilla extract
1 teaspoon ground cinnamon
Pinch of salt
Whiskey Sauce:
2 cups heavy cream
1/4 cup unsalted butter
1/2 cup sugar
1 teaspoon vanilla extract
1/4 cup whiskey
2 tablespoons cornstarch
Pinch of salt
Preheat oven to 325 degrees. Grease a 12″ x 10″ x 2″ metal pan and set aside. In a large bowl, combine bread, pecans, and three-quarters of the chocolate chips. Meanwhile, in a small saucepan, melt butter. Remove from heat, and add half-and-half, sugar, vanilla, cinnamon, and pinch of salt. Crack eggs in another bowl and whisk together. Add eggs to cream mixture, and then pour over cubed bread. Gently mix together and let sit for fifteen minutes to let bread absorb cream. Pour mixture into greased pan and top with the rest of the chocolate chips. Bake on center rack in oven for forty-five minutes or until knife inserted in the middle comes out clean.
For the sauce, combine cream, butter, sugar, salt, and vanilla in a small saucepan and bring to a simmer over medium heat. Combine half the whiskey with cornstarch and mix thoroughly. Add to cream mixture, stirring constantly until cream thickens. Remove from heat and add remaining whiskey.
Bread pudding can be served hot or cold or at room temperature. Refrigerate any leftovers.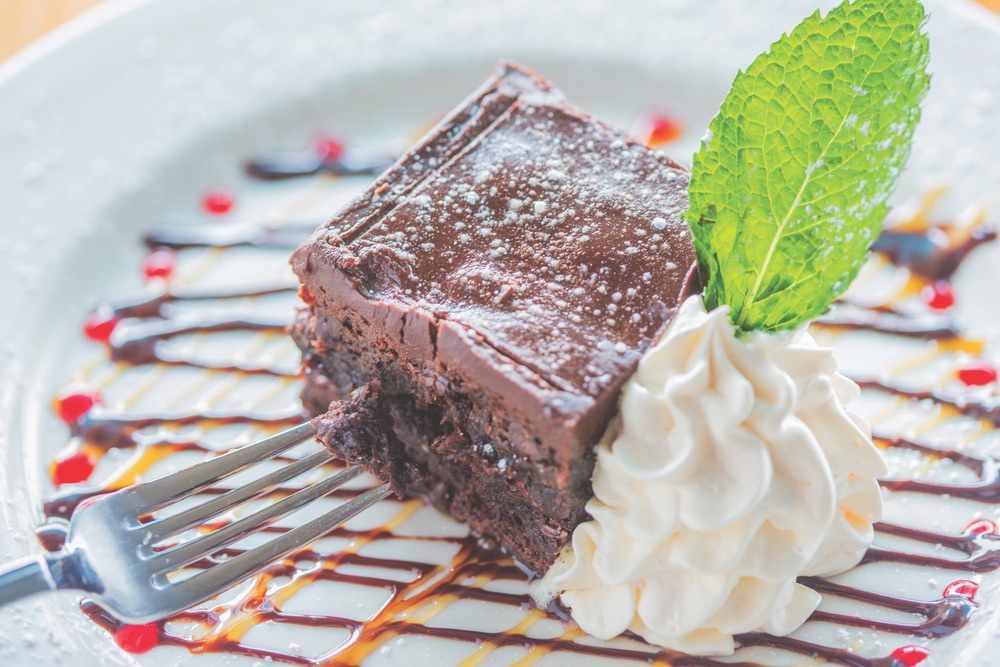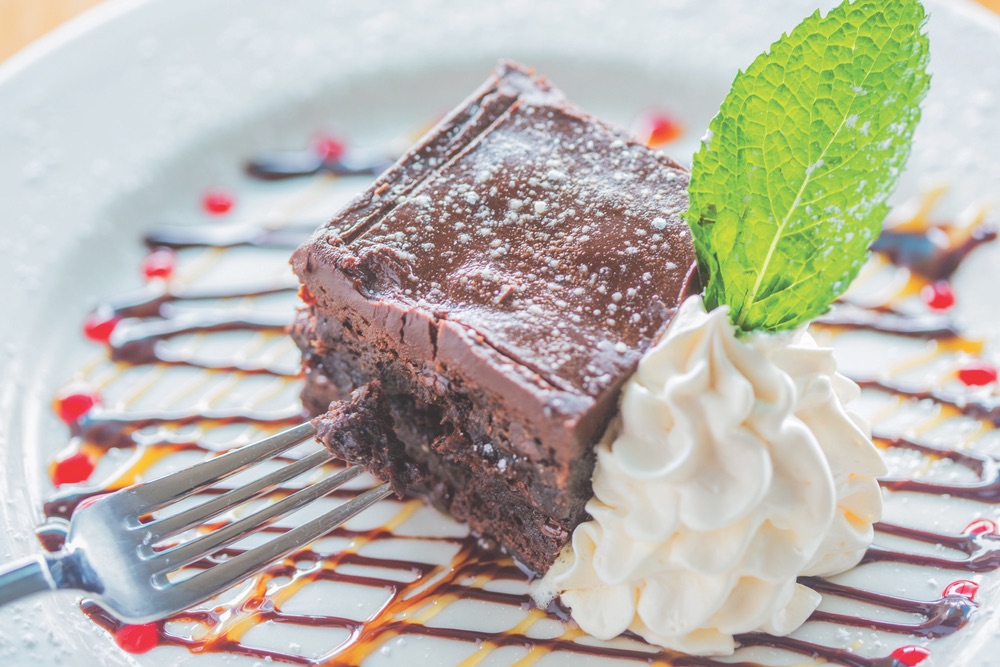 Chocolate Ganache Sauce by Old Florida Fish House
Ingredients
5 cups chocolate chips
1/2 pound butter
1 can (14-ounce) sweetened condensed milk
Melt chocolate chips and butter on low heat until smooth. Stir in the sweetened condensed milk. Top your favorite dessert with the ganache for an extra-rich experience. Garnish with fresh fruit and powdered sugar. Luscious!
The final step to creating these delicious dishes is to sit down and enjoy them with your mother!
On that note, VIE would like to wish all the wonderful, strong, intelligent, brave, and beautiful mothers out there a very happy Mother's Day. Thank you for all of your love and support. Cheers!
---