Minimalist Dream – A Sneak Peek and Guide
---
February 24, 2016
Welcome to the modern age
This year, we're all about the modern age, especially since VIE is sponsoring the Modern Minimalist show home in just a few months. You might have read about Mike and Angela Ragsdale rebuilding their home in your current Voyager issue. We caught up with Mike and Angela, and one of their interior designers, Cassidy Lyons Pickens, to see how things were moving along and for a little sneak peek!
LET THERE BE LIGHT!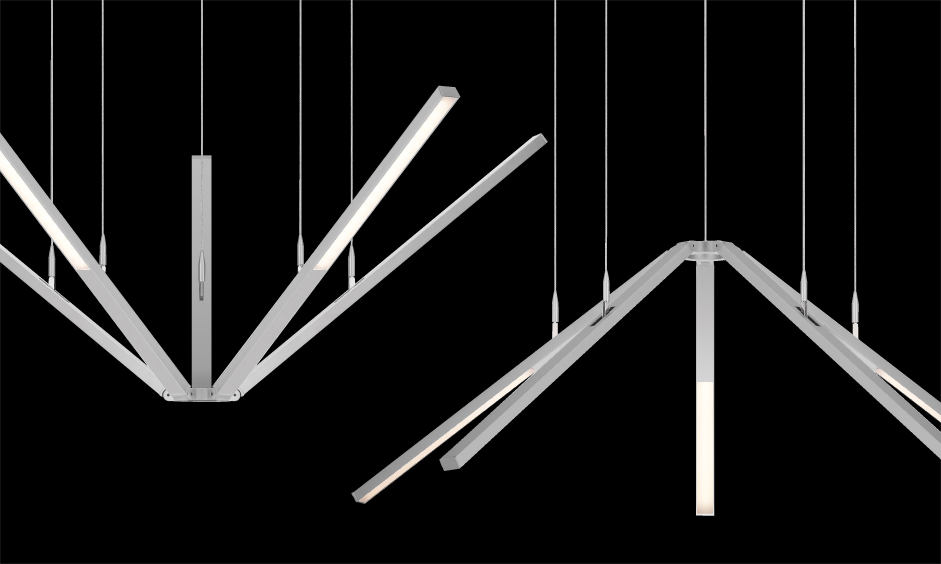 Before we had our Q&A with Cassidy, we were able to get an exclusive look at this amazing light fixture that will be hung above the living area with Katie Murray Sanborn from Beautiful Lights in Destin, Florida. Here's what she had to say:
"I met with Cassidy Pickens, the interior designer for the new residence, here at Beautiful Lights to discuss, select, and finalize lighting selections that would be cohesive with the architecture and design presentation Cassidy had worked up. She presented all her ideas to me, and we selected most all lighting items that met the owners criteria and ours.
"The living area is a large room that is shared, or blends into the kitchen and dining areas. The Ragsdales were not in love with the idea of a ceiling fan for this area. So, because the area is very minimalistic with clean lines, Cassidy and I discussed a chandelier type we thought would complement that space. Because the scale of the chandelier is as important as the actual look of it, I suggested we find chandelier that was low profile and has a wide diameter to fill and balance the space with the adjoining areas of the room. When we saw the Starflex Chandelier, we knew it would work. It fortunately met our criteria, having the appropriate scale and the perfect silver finish with LED lighting, and it is minimalistic and modern, like an interesting contemporary work of art. The many styles and spaces of each project lend themselves to a fun hunt for the perfect chandelier!"
ALL THE LITTLE DETAILS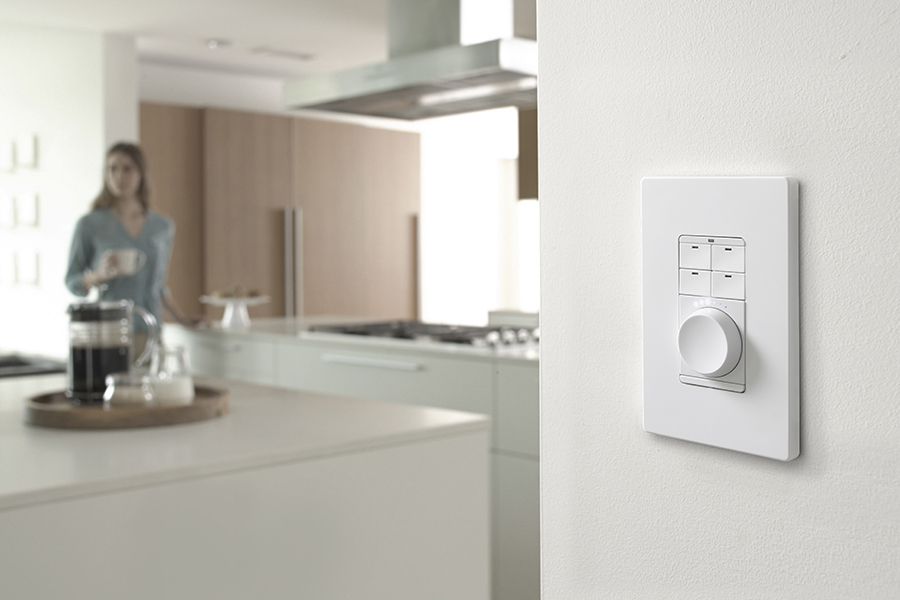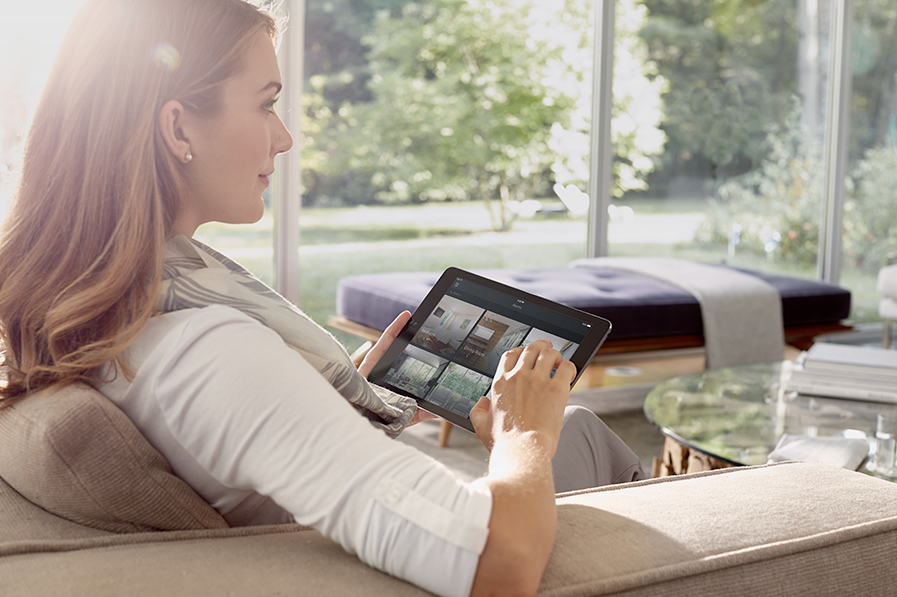 We also had a chance to get the scoop on more home features that will be placed in the Ragsdales' new home. Chris St. John from Audio Video Excellence lets us in on the design behind the Modern Minimalist home's audio/video settings, lighting, and security system:
"Working together with the Ragsdales on their Modern Minimalist home, AVX incorporated many home features into an all-in-one Smart Home. By incorporating their audio/video settings, lighting, and security into a Savant System, we are allowing them to create experiences that reflect their personalities, preferences, and pace of life. They really wanted to keep their living space to just that, a living space. By housing all of their entertainment equipment in a central location and removing unnecessary light switches and replacing them with a single keypad, the owners are given the ability to use their space in a more efficient manner.
"As we all know, going green is a movement that we all need to get behind, and by using Lutron for the lighting and climate, we are able to do just that by saving both energy and money. Lutron offers dimmers, occupancy/vacancy sensors, light control systems, and shading solutions to reduce lighting energy use, optimize system performance, and enhance the visual environment. From lighting and climate to entertainment and security, the Ragsdales will be able to personalize their home and control it all with a touch from the Savant app on their smartphones or tablets."
THE MIND BEHIND THE MINIMALIST DESIGN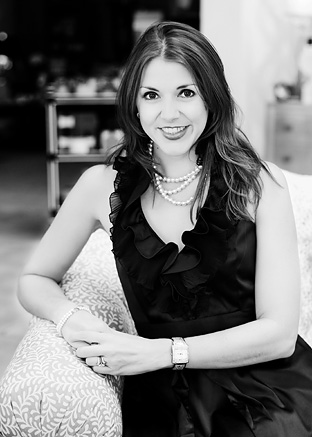 Join us for an exclusive Q&A with designer, Cassidy Lyons Pickens of Lovelace Interiors!
VIE: When did you know you wanted to become an interior designer, and what inspired you?
Cassidy: I have ALWAYS, as long as I can remember, had a passion for art, color, and an attraction to beautiful spaces. In grade school, I would constantly rearrange my bedroom, paint my furniture to keep it updated, and thoroughly enjoyed getting new accessories to place on my dresser. Fortunately I was able to find a way to remain actively engaged in something that I truly love as an adult. I cannot believe I have been with Lovelace going on sixteen years now!
VIE: What should one consider when they're planning to remodel their home, or give their home a fresh new update?
Cassidy: One very important aspect to consider is overall budget for the project. It helps greatly to have a number in mind before the planning process begins. If the remodel is extensive, definitely consider moving out of the home temporarily.
VIE: The minimalist trend seems to be picking up fast. It's a very classic trend, but most people think black, white, and metallic when they hear about it. What are your favorite color combos for a minimalist design?
Cassidy: I love minimalist spaces; there is an instant inner feeling of peace when you step into spaces that have less. Less really is more. It must be an amazing feeling when everything in your home serves a purpose and is functional. It truly is a way of life! My favorite color combos for minimalist designs are light walls and dark contrasting floors with lots of color in art.
Of course, every design job is different and tailored to each client's lifestyle. I love pulling a few natural elements in with counter surface material and accenting with unique tile. It's always nice to add layers with finishes, whether it's wood or metal, like using an upholstered edgy chair with a chrome base, or a very unusual accent table that makes you think, "Wow, where did they find that piece?"
VIE: As an interior designer, what is the key to successfully ensuring the client's happiness with the design direction you're going with. What questions should a good interior designer ask to understand his/her clients?
Cassidy: The first questions I like to ask are do you have children? Pets? Is this a secondary home? Is it a rental property? Do you prefer fabric or leather? Are you open to wall treatments? What is your favorite color?
Those are just a few. It's important to get to know your clients needs in order to create a space that is custom to each family or individual. A picture is truly worth a thousand words! I always ask my friends and clients to send me pictures of spaces that make them feel good or if any element in the picture speaks to them; it's a great starting point to guide me in the right direction. I don't always receive concept images from clients. In that case, I ask even more questions. I've found most clients are honest with me at presentation time, and I encourage client involvement because at the end of the day, they will be living in the space and it is very important to me that they are happy with the overall outcome.
VIE: When you're working with a client, what are some elements you have them consider for keeping it a classic home?
Cassidy: The first word that comes to mind when I think about classic is "timeless." I feel it is safer and more important to stay away from trends when deciding on the bones of the house or condo. For example, I would say hardwood floors are a great timeless choice, as well as nice neutral paint colors for the walls. I always stress to clients the importance of keeping at least one bath tub for resell. If possible, large walk-in showers with clear glass are fantastic. It really is in the details, and I could go on for days about this subject.
VIE: What would you recommend to someone who is looking for the right designer to work with, and what are some of the red flags?
Cassidy: If you are in need of design help, I would highly suggest you find someone with whom you can speak freely and feel a sense of comfort—a person you feel will hear your honest opinion and give their honest professional advice. This means finding a compatible designer who listens to your needs and still gives their best recommendations. Communication is key, especially on larger projects, which may take months to complete. You should definitely strive for the right fit when it comes to personalities. Knowledge and experience are both, of course, very important as well. It is always a good idea to ask to view other work from the designer. I always try to keep pictures on my phone as an easy go-to, just in case. As far as red flags, I would say trust your intuitive feelings; good vibes for me are usually a sure sign of a good working relationship to come.
Excited to join in on the year of the minimalist for a crisp, sleek, clutter-free lifestyle? This simplified look is clearly anything but boring. White, black, and metallics with an injection of random pops of color in simple geometric shapes and clean lines—all of these elements blended together make for a bold, but classically chic look. Follow our C'est La VIE: Minimalist Dream guide and discover how this high-polished and sleek inspired look really proves the "less is more" theory.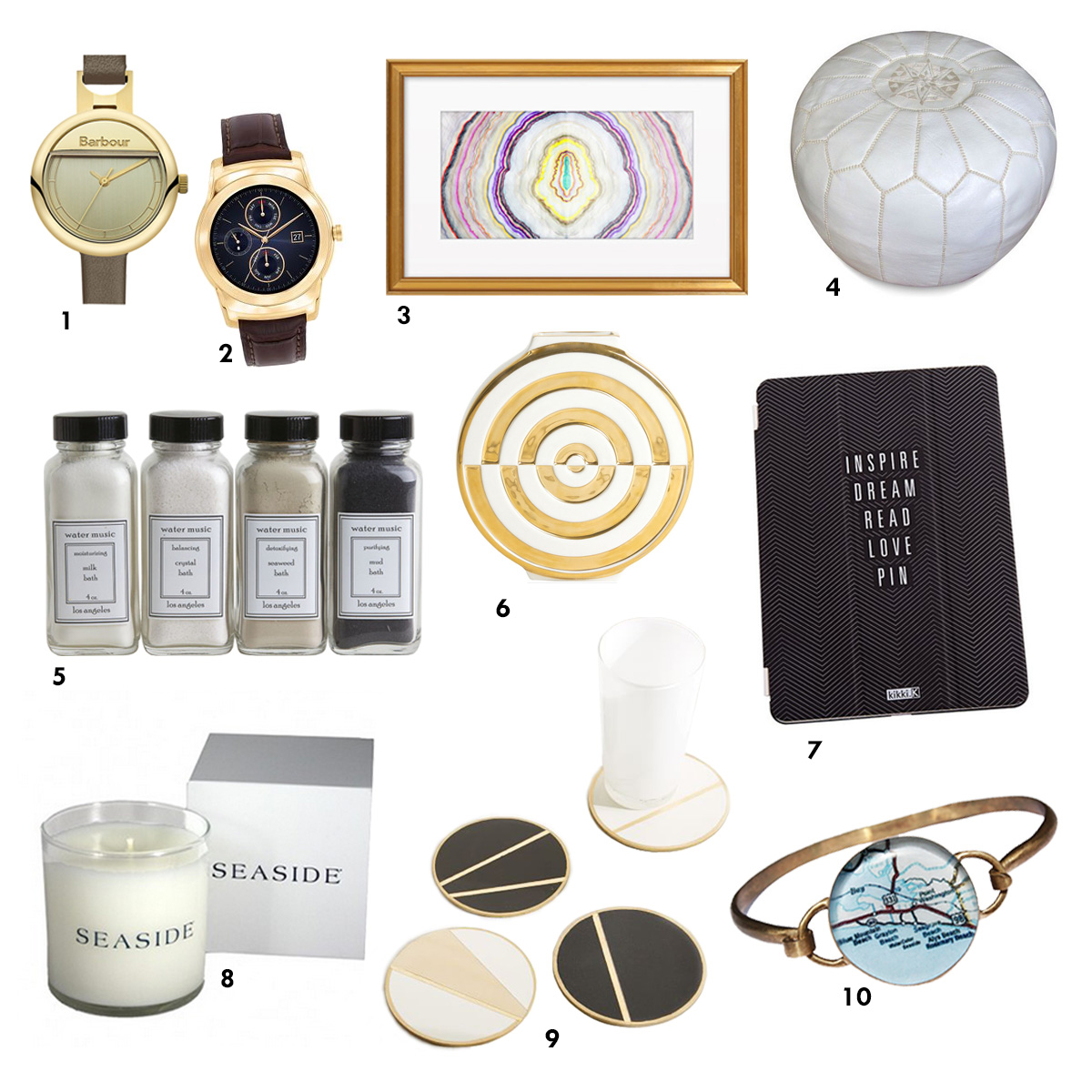 1. Babour Heritage Watch: Nordstrom, $280;  2. LG Watch Urban Luxe: Reeds Jewelers, $1,195;  3. Rainbow Agate Framed Giclee Print: Joss & Main, $100;  4. Kenza Moroccan Pouf: Lulu & Georgia™, $250;  5. Water Music Bath Soaks: The Art of Simple, $28.00  6. Futura Bullseye Vase: Jonathan Adler, $150;  7. iPad Air Smart Case: kikki.K, $30  8. Seaside Candle: The Seaside Style®, $36;  9. The Vintage Vogue Linea Coasters: West Elm, $25  10. 30A Map Bronze Hook Bracelet: Patchouli's, $118
The simplicity and clutter-free look that signifies a clean slate is one of the many reasons why we love minimalism. Add a breath of freshness in your life and incorporate it in your style with one of our featured C'est La VIE: Minimalist Dream Guide items, and find out why we love it!
---