Grayton Beer Company Concert to Benefit Victims of Hurricane Michael
---
November 5, 2018
$1 for every six-pack sold donated to Volunteer Florida
Grayton Beer Company, the South Walton Florida, craft brewery, announced the launch of its Rebound American Lager in cans to benefit those affected by Hurricane Michael, the catastrophic storm that made landfall on the Florida Panhandle on October 10, 2018. For every six-pack sold, $1 will be donated to Volunteer Florida. Money raised will go directly to their Florida Disaster Fund, set up to aid affected communities in their disaster recovery efforts.
Additionally, Grayton Beer Company will host a Fundraising Concert with Panama City native, Will Thompson, on Friday, November 9, 2018, from 6:00 p.m. to 9:00 p.m. The concert is free to attend and kid-friendly. During the concert, attendees will have the opportunity to purchase six-packs of the Rebound American Lager, along with Rebound American Lager merchandise.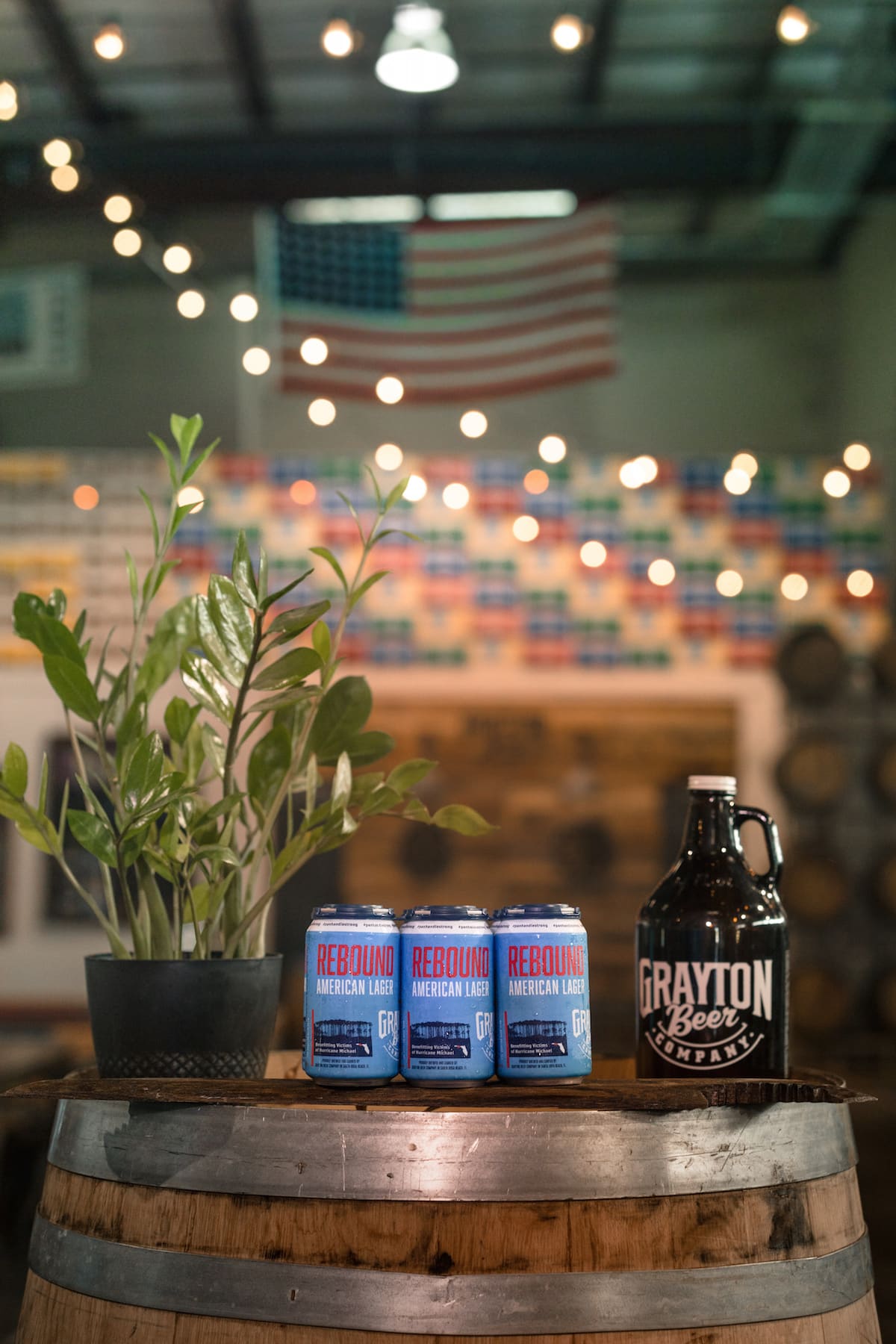 The Rebound American Lager and the upcoming fundraising concert are examples of ways that Grayton Beer Company is supporting its friends and neighbors to the east. The production brewery opened its facility after the storm to serve as a regional staging and distribution point for donations. Team Members at the brewery continue to receive and coordinate deliveries of items to communities in need, as well as volunteer countless hours in the relief effort.
"It will take years to rebuild some semblance of normalcy in the areas that were hit hardest by Hurricane Michael," said Jamey Price, Founder/President of Grayton Beer Company. We are committed to doing our part to help and were fortunate to have a beer that was ready for packaging and a team that could pivot to a new label in less than one week. A specials thanks goes out to Cooper Container Company, LTI Packaging, and Craft Brew Crew for making this project happen as fast as possible."
In the coming weeks, the Rebound American Lager will be available for purchase at retailers throughout Grayton Beer's six-state footprint including the Florida Panhandle, Alabama, Mississippi, Louisiana, Georgia and Tennessee.
 ABOUT GRAYTON BEER COMPANY
Founded in 2011 in Santa Rosa Beach, Grayton Beer Company is a family owned brewery with an emphasis on sourcing the finest ingredients and crafting beers of character for a Gulf Coast state of mind. Grayton Beer Company brews a number of year-round styles, limited releases and barrel aged beers in their 30,000-square foot state-of-the-art facility. In addition to availability in Northwest Florida, consumers can find their beers throughout Alabama, Georgia, Louisiana, Mississippi and Tennessee. Reflective of their community-driven mindset, Grayton Beer Company invites guests to its Taproom which is both pet and child friendly. Additionally, consumers are invited to enjoy the new Grayton Beer Brewpub, located in Grayton Beach, Florida. Open seven days a week for lunch and dinner, the brewpub offers a varied food menu with an emphasis on locally sourced, fresh ingredients as well as beers from the 7-barrel small batch system. For hours and more information, please visit www.graytonbeer.com or call (850) 231-4786.
Read more about Grayton Beer Company from VIE's May/June 2012 Issue here.
---