C'est La VIE – Holiday Gift Guide 2016
---
November 15, 2016
The gifts of the season!
It's that time of the year again! Well, almost. With Thanksgiving just around the corner, the "season of giving" will be here in no time! We know how difficult it is to balance your work life with home life, especially with added deadlines to wrap up for the holidays. The last thing you need is making the mistake of last-minute gift shopping, risking the chance of seeing or hearing the dreaded three words "Not in stock."
The holidays should be fun, memorable and filled with joy—which is why we wanted to alleviate the stress of the holidays by searching for that perfect gift for your special someone, so you can enjoy your time with loved ones and friends. Whether you're looking for a present for your husband, wife, or best friend, there's something for everyone.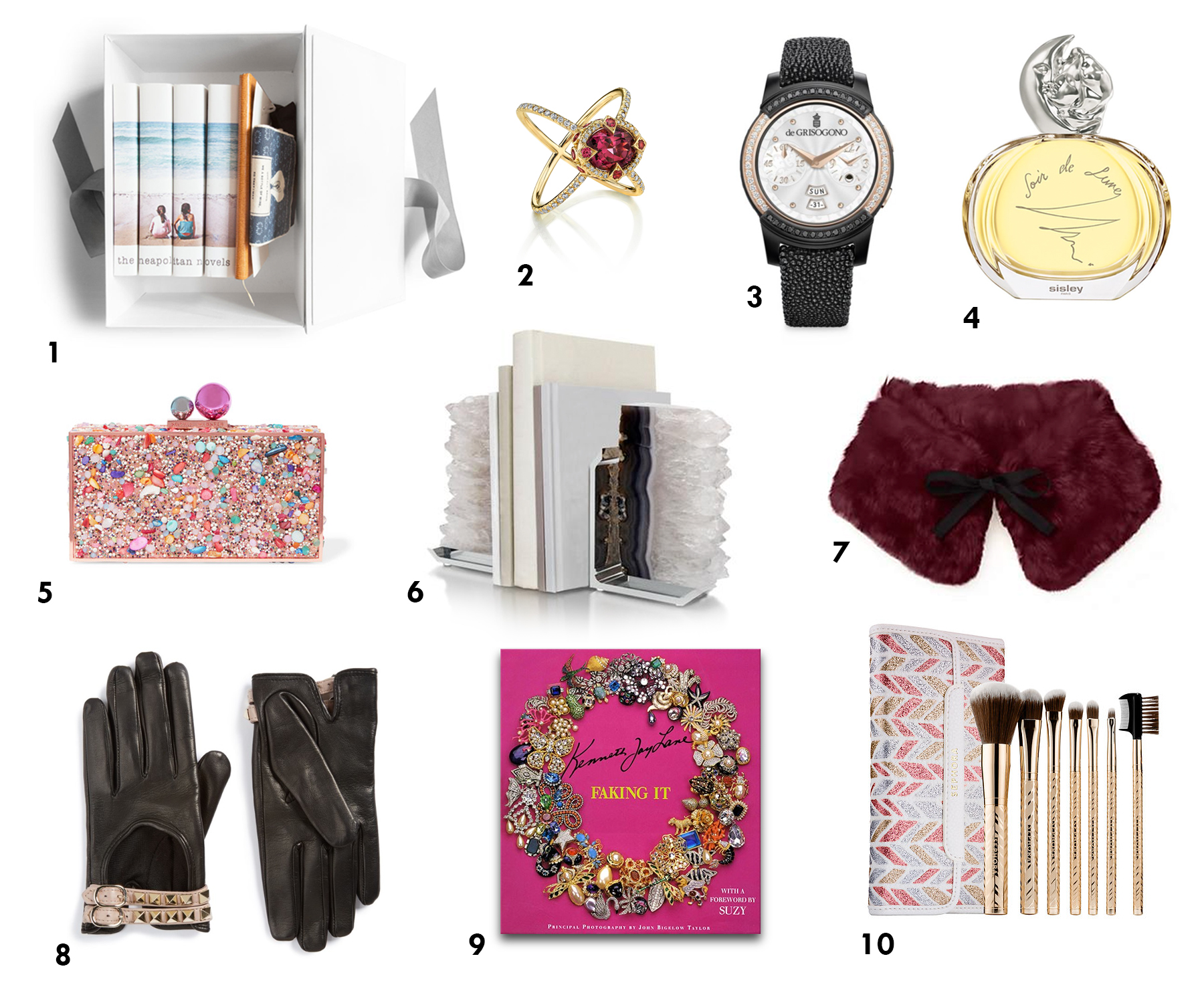 What Women Want:
1. Juniper Books for Quarterlane, $125: Quarterlane 2. Erica Courtney "Saturn Tourmaline Ring: McCaskill & Company 3. Samsung for de Grisogono Diamond, 18K Rose Gold, and Stingray Strap Smartwatch, $14,700: Saks Fifth Avenue   4. Sisley Paris 'Soir de Lune' Eau de Parfum, $135–278: Nordstrom   5. Sophia Webster Clara Crystal Embellished Metal Clutch, $495: Sophia Webster   6. Anna New York Rablabs FIM Bookends, $310: Anna New York   7. Kate Spade Faux Mink Tie Collar, $78: Kate Spade   8. Valentino Rockstud Leather Driving Gloves, $252: Nordstrom   9. "Faking It" The Book, $75: Kenneth Jay Lane   10. Sephora Collection Sparkle & Shine Antibacterial Brush Set, $62: Sephora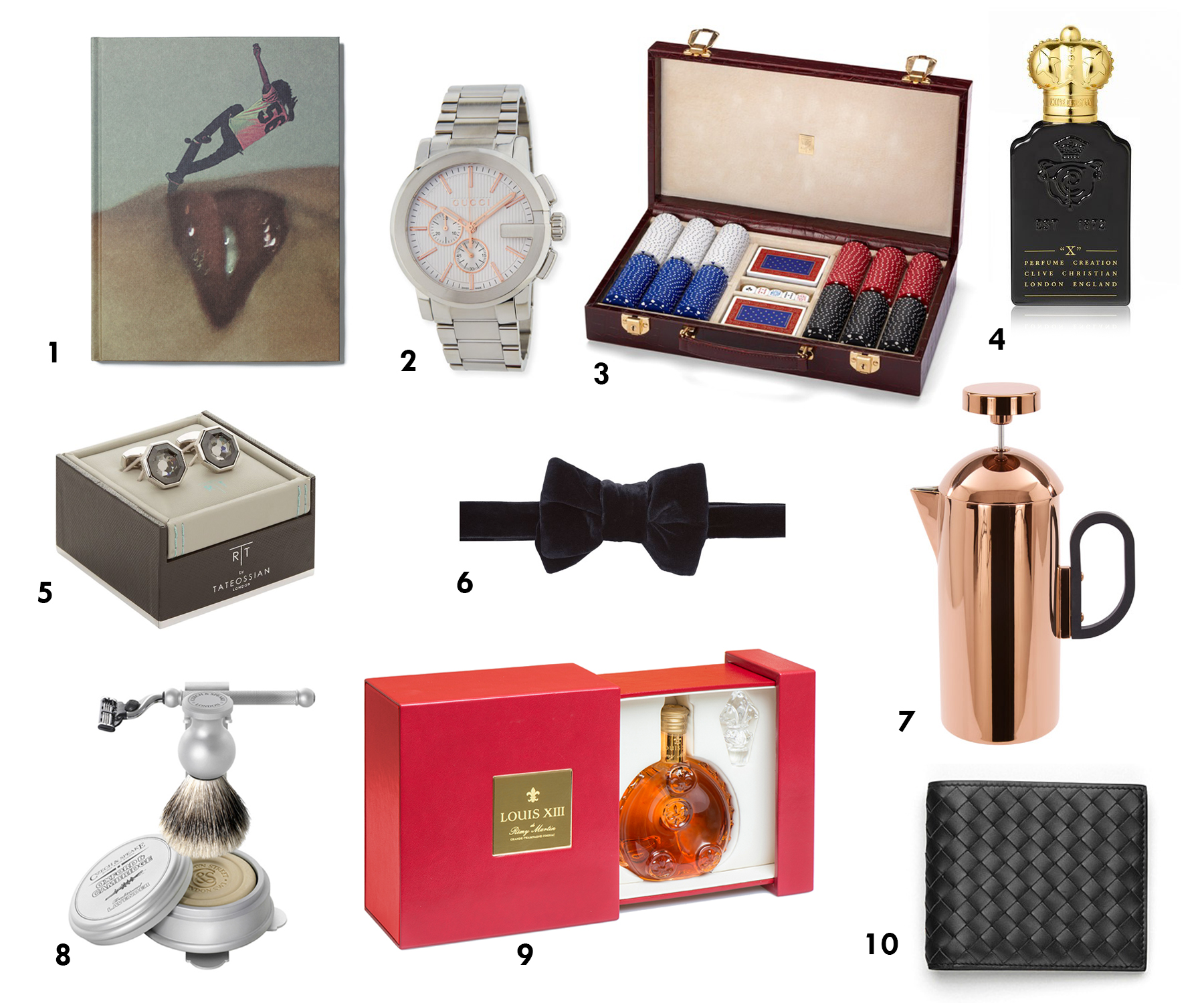 Gentleman Prefer:
1. David Sims for Supreme Photography Book, $60: Supreme New York 2. Gucci G-Chrono XL Watch, $1,820: Neiman Marcus 3. Aspinal of London Poker Set, $1,220: Aspinal of London   4. Clive Christian X Perfume Spray for Men, $220: Neiman Marcus   5. Tateossian Swarovski Elements Web Cufflinks, $180: Harrods   6. Tom Ford Velvet Bow Tie, $200: Harrods   7. Tom Dixon Brew Cafetiere French Press, $210: Tom Dixon   8. Oxford and Cambridge Shaving Set and Stand in Silver, $299: Czech & Speake London   9. Louis XIII Miniature Opened Coffret, Louis XIII   10. Bottega Veneta Wallet in New Light Grey Intrecciato VN, $460: Bottega Veneta
We hope this helps take some stress off your plate, gives you some inspiration, and has you saying, "'Tis the season!" (After Thanksgiving, of course.)
Cheers!
---