Brands Going Above and Beyond to Help During the Coronavirus Pandemic
---
April 4, 2020
There's no denying that the landscape of our entire world has changed rapidly in the past few months. The fast-spreading new coronavirus pandemic has spared none, with confirmed cases now over one million worldwide and counting. People have been ordered to stay home except for essential outings. Those who can are working from home, while millions of others are jobless. The US government released the biggest stimulus package in history to aid citizens and businesses in need. But in the midst of hardship, there is also hope. It's in times of crisis that humans can rise to their best by helping others. We wanted to spread some good news about brands going above and beyond to help during the coronavirus pandemic.
There are thousands of businesses that have stepped up to the plate to do their part for their neighbors, customers, and people as a whole during this time. Here is just a sampling of those who are making a difference and bringing hope to the world:
The Communicators
AT&T, Charter, CenturyLink, Comcast, T-Mobile, Verizon, Sprint, and Cox have promised not to overcharge, charge late fees, or terminate service during the coronavirus pandemic, in an attempt to help customers and keep people connected during this global health crisis.
Bill & Melinda Gates Foundation
The Bill & Melinda Gates Foundation has teamed up with Wellcome and Mastercard on a $125 million funding campaign for research and development of treatment for the new coronavirus. The project is called the COVID-19 Therapeutics Accelerator, and it has already seen significant progress since its announcement just a few weeks ago. According to the foundation's blog, The Optimist, "The best way to prevent an infectious disease is with a vaccine. And in 2017, the Coalition for Epidemic Preparedness Innovations (CEPI) was created with nearly $650 million from Germany, Japan, Norway, Wellcome, and our foundation. Since then, others have come on board, including the UK, Canada, Ethiopia, Australia, Belgium, and the European Commission, to dramatically reduce the time it takes to develop vaccines for emerging epidemics, and ensure they are accessible, available, and affordable. The speed with which companies have begun working on a vaccine for COVID-19 is a result, in part, of CEPI." Learn more about COVID-19 Therapeutics Accelerator here.
Amazon Care
Last year, tech and retail giant Amazon rolled out Amazon Care, a new app-based healthcare system for its employees, designed to diagnose and prescribe treatment to them over the internet. Now, Amazon Care has teamed up with the Bill & Melinda Gates Foundation on SCAN, the Seattle Coronavirus Assessment Network, and is working to deliver COVID-19 test kits to potential carriers of the virus and to deliver the kits for analysis. The findings will greatly aid the foundation's COVID-19 Therapeutics Accelerator efforts.
Apple
By March 13, Apple had already committed $15 million, plus matching its employees donations two-to-one to aid in local, national, and global relief programs for COVID-19. It has also been expediting mobile app approvals for trusted providers' apps that are designed to aid and provide information on the virus. This includes Apple's own COVID-19 Screening Tool developed in conjunction with the CDC, The White House, and FEMA. The app allows users to understand what they can do next in regard to the pandemic by providing up-to-date information, guidelines on health and safety, and information on testing.
Facebook
In response to the great outpouring of distress for small businesses during this crisis, Facebook announced a $100 million grant program providing cash grants and advertising credits to aid up to 30,000 small businesses on Facebook. The social network also launched its COVID-19 Community Center to provide information, tools, fund-raisers, guidelines, connection to local health organizations, and tips for dealing with the crisis. "We are seeing people are coming together to support their neighbors and offer whatever help they have," said Facebook's director of social impact product, Emily Dalton Smith. "We wanted to make a place where they can go and do that quickly and easily." Check out the community center on Facebook here.
Gucci
View this post on Instagram

The luxury brand's home country of Italy had been devastated by COVID-19, and Gucci is going its part to help locally by donating one million euros to the National Protezione Civile Department through Intesa Sanpaolo's ForFunding crowd-funding platform to reinforce Italy's health services and to source new ICU beds. It has also matched that with another one-million-euro gift to the United Nations Foundation's COVID-19 Solidarity Response Fund in support of the World Health Organization. The fund will help monitor and collect data on the spread of the virus to strengthen ICUs across the world, supply protection devices to health personnel, and fast-track the creation of vaccines and therapies. Learn more or join the crowdfunding campaign here.
Spanx

Spanx founder Sara Blakely announced her backing of The Red Backpack Fund alongside Global Giving. The program aims to aid female business founders during the coronavirus pandemic. Blakely has donated $5 million, to be dispersed as $5,000 grants to 1,000 female entrepreneurs across the US. Each recipient will also get a "lucky" red backpack (a callback to Blakely's favorite college accessory) and a free all-access Masterclass annual subscription.
Draper James
View this post on Instagram
As many parents are finding out the hard by having to homeschool their kids during these stay-at-home orders, teachers are superheroes! To honor educators everywhere, Reese Witherspoon's fashion and lifestyle brand, Draper James, is giving dresses to teachers. Teachers who normally work in a school (that is, not home-school teachers or private educators) are welcome to apply for a free Draper James dress by midnight ET on April 5. Selected recipients will receive an email with a promo code for their free dress by April 7.
This Saves Lives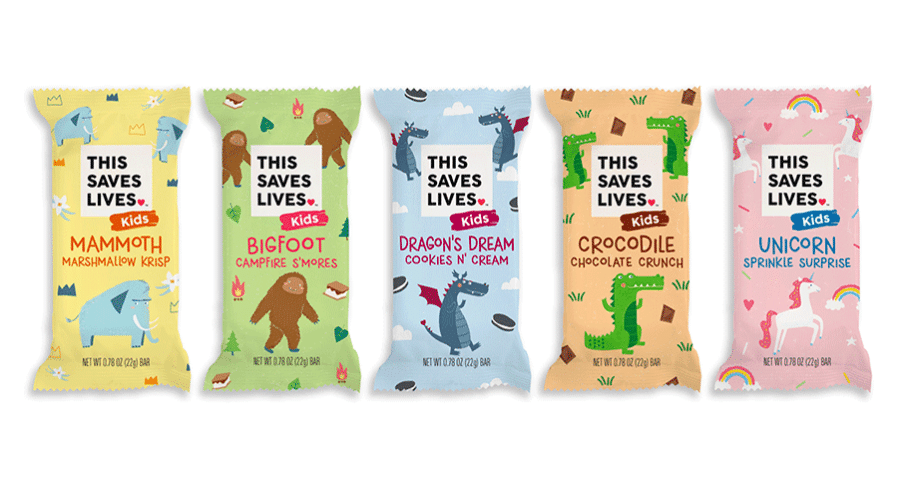 The delicious snack bar brand This Saves Lives was founded by celebrities Kristen Bell, Ryan Devlin, Todd Grinnell, and Ravi Patel in 2013. Their GMO-free and nut-free products aim to combat food allergy exposure and provide a healthy snack option to kids and adults with food allergies. For every purchase, the brand for every purchase, the brand donates life-saving food to help fight child malnutrition around the world. This week, This Saves Lives announced it would also be supporting families facing food insecurity due to the COVID-19 crisis. "Right now, it's more important than ever to think of others and what we can each do to help our communities here and abroad," Bell said. "We may not be able to physically sit at the same table, but I firmly believe we can all still eat together."
Jaguar Land Rover
Jaguar and Land Rover have deployed more than 160 vehicles globally to support emergency response organizations during the coronavirus crisis. A total of 57 vehicles including 27 New Land Rover Defender SUVs have been issued to the British Red Cross to deliver medicine and food vulnerable people across the UK who now need additional support due to social distancing rules. Jaguar and Land Rover teams in Spain, France, South Africa and Australia have loaned vehicles to their Red Cross societies and more markets are offering help to their local teams. This service is being provided with fleets of vehicles now available due to the postponement of launch events. Jaguar Land Rover is working closely with the UK government and has offered its research and engineering expertise, as well as digital engineering and design, printing of 3D models and prototypes, machine learning, artificial intelligence and data science support. Protective equipment is being donated to the NHS including wraparound safety glasses to the Royal Bolton Hospital, St James's Hospital in Leeds and Birmingham Children's Hospital. Learn more here.
Northwest Florida Local Businesses
Costa Enterprises McDonald's
Costa Enterprises McDonald's served 9,056 free combo meals to medical workers as a part of their "Free Meals for Heroes" initiative which launched on Wednesday, March 18, 2020 and ended on Tuesday, March 31, 2020. Costa Enterprises McDonald's created the initiative as a way to say "thank you" to all of the men and women who have been dedicating their time and putting themselves at risk to work in their medical professions during this global pandemic. The offer was originally created with hospital workers in mind. However, after the initial announcement, the Costa family decided to expand the offer to all professionals in the medical field including hospice nurses, pharmacists, nursing home employees, and other various healthcare workers. This effort was created as part of Costa Enterprises' "Costa Cares" program. Click here to learn more.
Fort Walton Beach Medical Center & Twin Cities Hospital
As a part of HCA Healthcare, Fort Walton Beach Medical Center and Twin Cities Hospital announced new policies designed to protect staff financially during the COVID-19 pandemic. In an email to all 270,000 colleagues, HCA Healthcare CEO Sam Hazen announced a new "pandemic pay continuation" policy to help protect their financial security in response to the COVID-19 pandemic. "As our CEO Sam said, the COVID-19 pandemic is unique, and our colleagues' concerns are real. We want them to know that we will care like family, and stand with them," said Dave Whalen, CEO at Twin Cities Hospital. For colleagues with reduced hours, the company will seek to redeploy them to other opportunities so they can continue working. Those who cannot be redeployed will continue to receive 70 percent of base pay for up to seven weeks, until HCA Healthcare better understands the long-term implications of this pandemic on the organization. It also announced plans to cover some services for COVID-19 patient caregivers. Scrub laundering will be provided to prevent carrying the virus home on clothing. Additionally, HCA Healthcare is working to secure hotel rooms for COVID-19 caregivers for those who do not feel comfortable going home and potentially exposing their families. "If we are to emerge stronger, more resilient and more capable to meet our community's healthcare challenges, we recognize that it cannot happen without supporting all of our colleagues in these trying times," stated Mitch Mongell, CEO of Fort Walton Beach Medical Center. Learn more here.
The REP Theatre
View this post on Instagram
In times like these, we need art, entertainment, and laughter in abundance. Although its season of fantastic shows and concerts is currently on hold, the Seaside Repertory Theatre is still here to bring the laughs to its audience! Introducing Home Improv with Kyle, Katie, and Chad—each week, these three actors will perform popular improv games that you can see during the REP's usual improv shows and taught during its Improv Bootcamp. This week debuted InterruptTED Talks! This is a fun improv game that involves an expert giving a talk on a topic and an interrupter who randomly offers words to the expert to incorporate into the talk. Watch and see what silliness unfolds on Instagram @lovetherep!
Café Thirty-A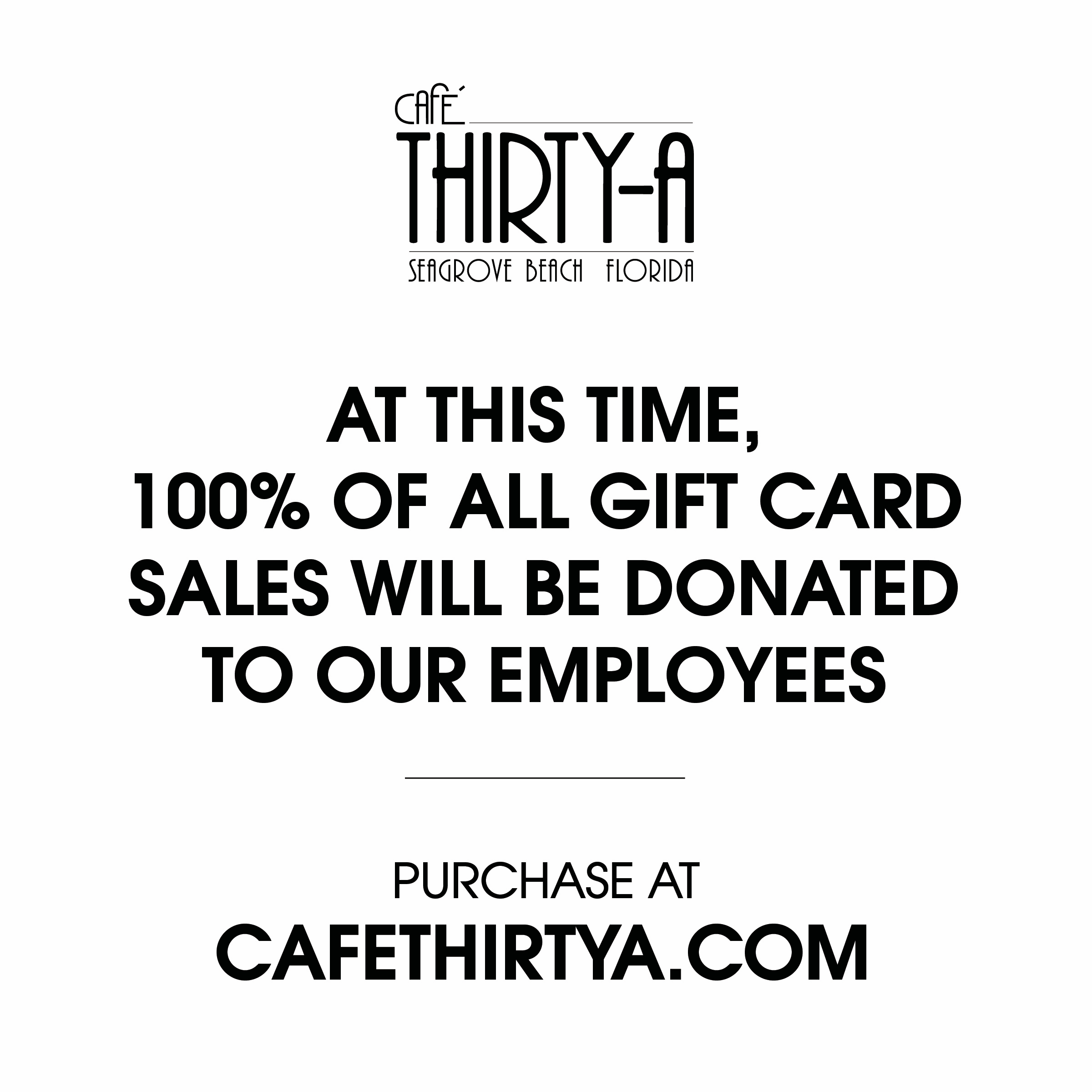 Harriet Crommelin founded Cafe Thirty-A twenty-five years ago, and every year she gives back greatly to the community in many ways. In response to the crisis due to COVID-19 causing restaurants to close or offer takeout-only service, many hourly employees are out of work for the time being. Cafe Thirty-A gift card sales will be donated to employees at this time! We encourage everyone to spread the word, as this will directly benefit people struggling at this time in the 30-A community and surrounding areas. Gift cards may be purchased at CafeThirtyA.com!
If you have a business or brand you'd like to shout out, let us know in the comments or on our social media channels @viemagazine!
---