Bigfork's Local Hot Spot
---
August 12, 2015
By Kelly Beasley
Recently, I was heading back up Highway 35 on my way home from Missoula. The drive teeters along the edge of beautiful Flathead Lake in Northwest Montana. I loved the giant trees, the mountains cradling the lake, and the anticipation of the beauty that would fill my eyes around each blind curve.
Bed and breakfasts dotted the drive along with cherry groves, cherry stands, and private residences. This could very well be one of the most beautiful drives on earth. To me, it's a combination of Big Sur, Alaska's Inside Passage, and the clear turquoise waters of the Emerald Coast of Florida. (Well, it's not that clear throughout, but the edge of the shoreline does have its moments!)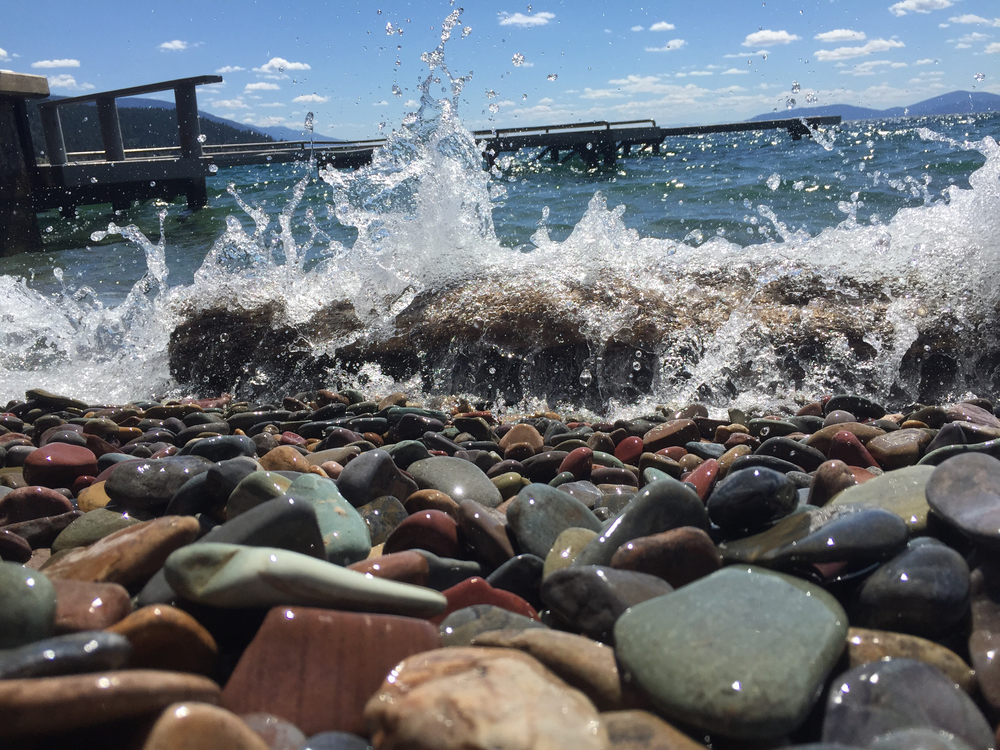 I came into Woods Bay, a quaint little area with two bar/restaurants on the water, a little local souvenir shop, a brewery, and a motel across the street. On both of the days I have driven through the area, I noticed a small dive bar called The Raven, which is right on the water. It had a lot of motorcycles parked out front, which spooked me enough to not stop by. I thought it would be dark, dirty, and full of people I would regret crossing!
So I passed on the "stopping in to see" idea.
I know—how stereotypical of me. But I have seen some bars and dives that appeared a little shady from the outside. I don't yet really know this area. Forgive me for stereotyping, but I was being a sensible single gal.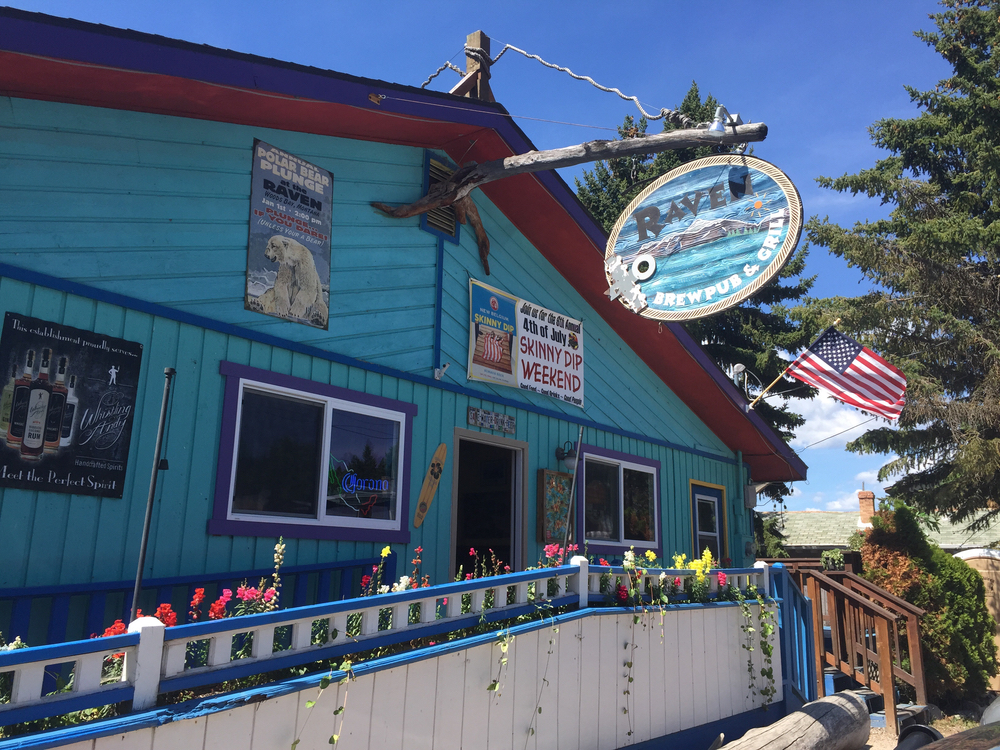 So, the other evening, I had the opportunity to go to The Raven with my friend Joey. (My Kelly brain reasoning was "friend equals safety.") To my surprise, the place was totally "normal" inside. Actually, it was awesome. It was painted in bright, bold tropical colors like a breezy bar in the Bahamas and was full of character. A live band was playing and the view was stunning even though it was a rainy evening. There was a light and fun feeling in the air despite the weather.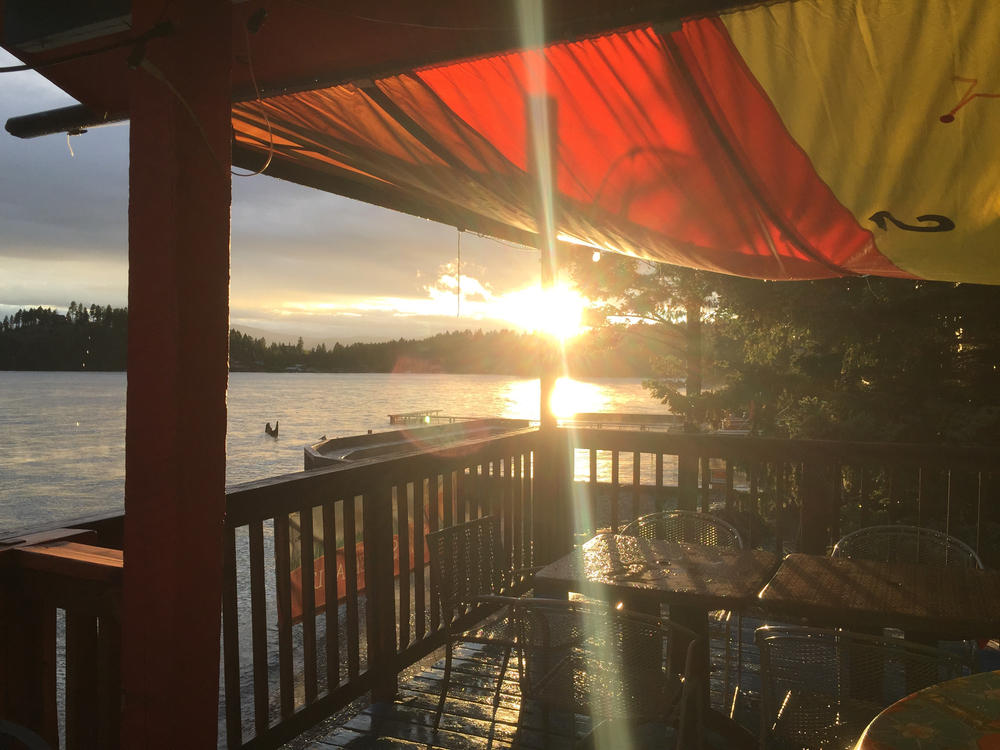 A live band was playing and the view was stunning even though it was a rainy evening. There was a light and fun feeling in the air despite the weather.
We went out to the back deck, which has one of the best views of the lake and mountains of any restaurant around and faces west so you can watch the sunset over the lake. They have a dock made of brick, which I have never seen. You can pull up in your boat or Jet Ski and have lunch. Or, you could dive into the water and test the "stay out of the water one hour after eating" myth. All kinds of options here!
It was cold and crowded, so we (Joey) totally moved in on a table, which was occupied by a young couple, Tom and Danielle, on their honeymoon. They were kind enough to let us share their very small table as it was under one of the only two heat lamps outside! We spent about two and a half hours sharing stories about Montana and other musings. It was a great time and new friends were made. I tried yak for the first time! I ordered the yak burger with candied bacon and blue cheese, as did Danielle. It was very good. The Raven offers burgers, sandwiches, and steaks—plus a fish taco. You can get hamburgers, yak burgers, or emu burgers. They serve liquor from a distillery in Bigfork called Whistling Andy and beer from Flathead Lake Brewing Co across the street.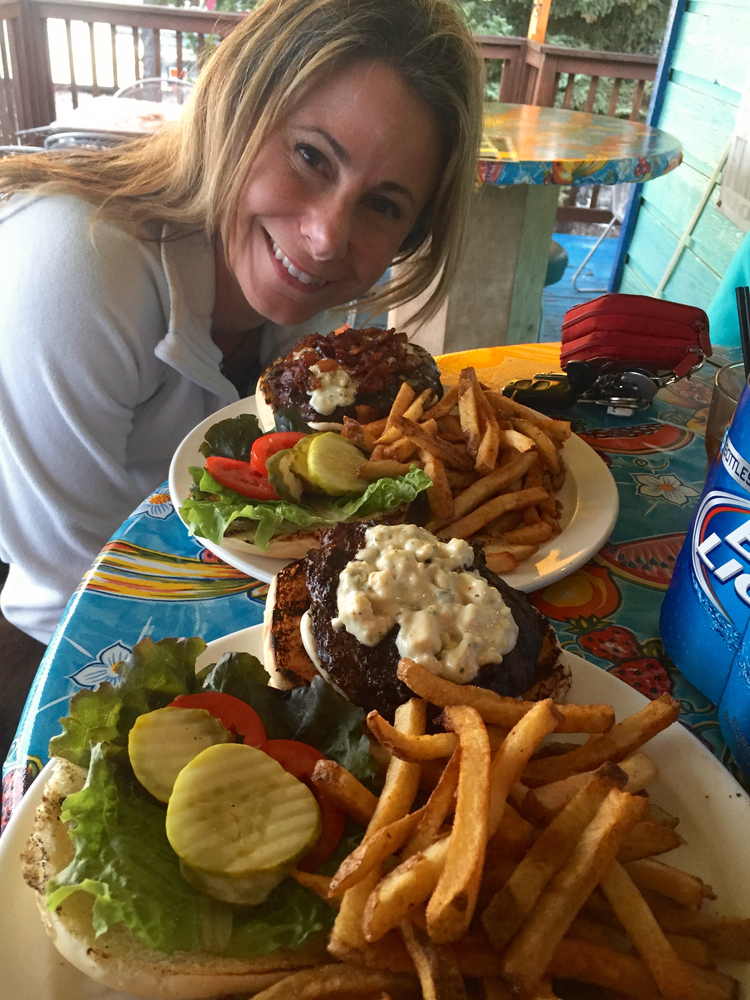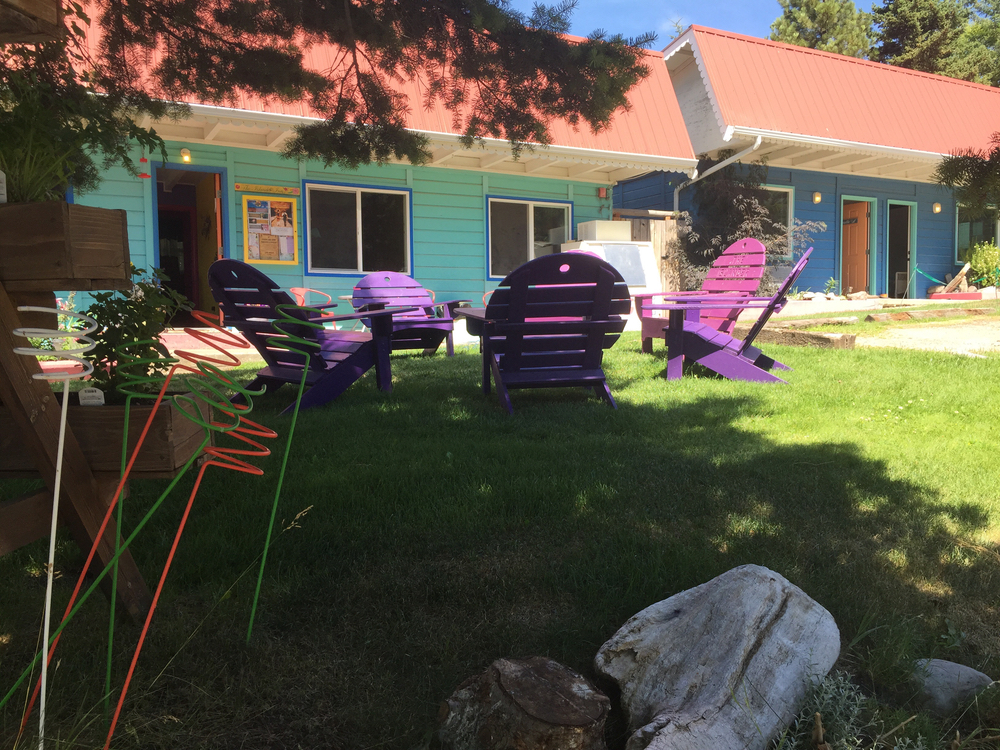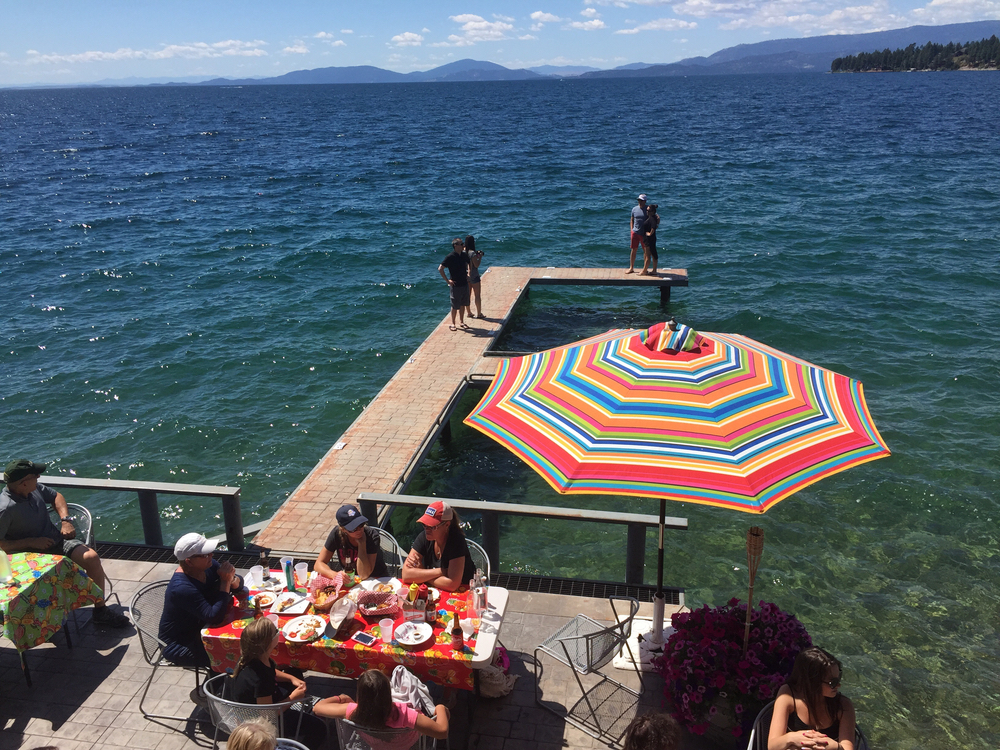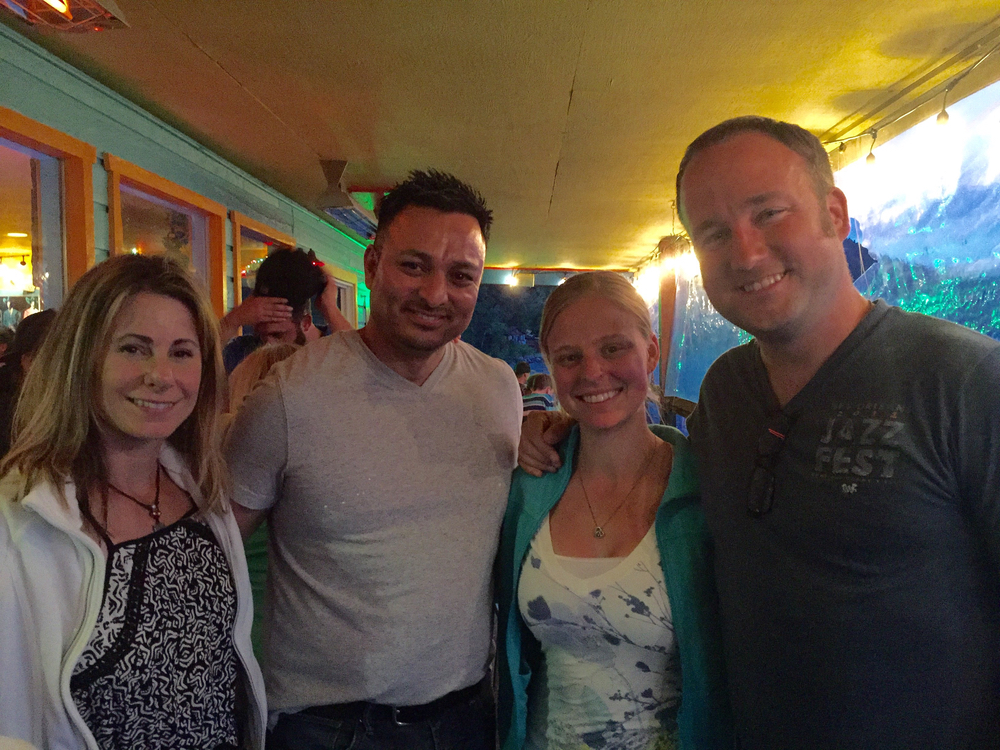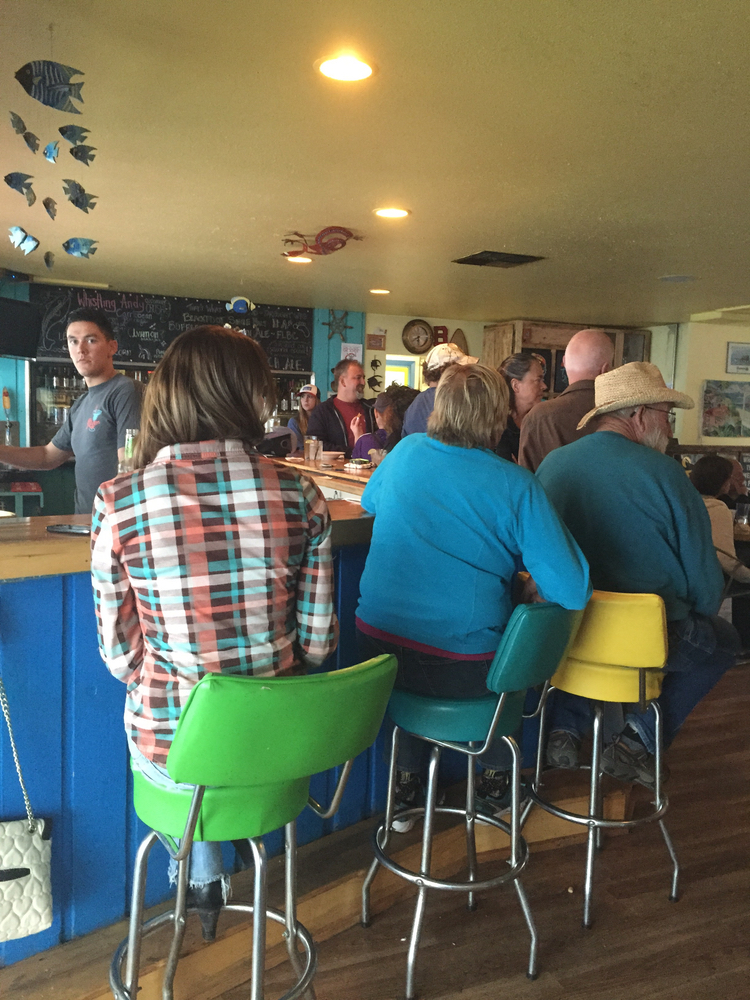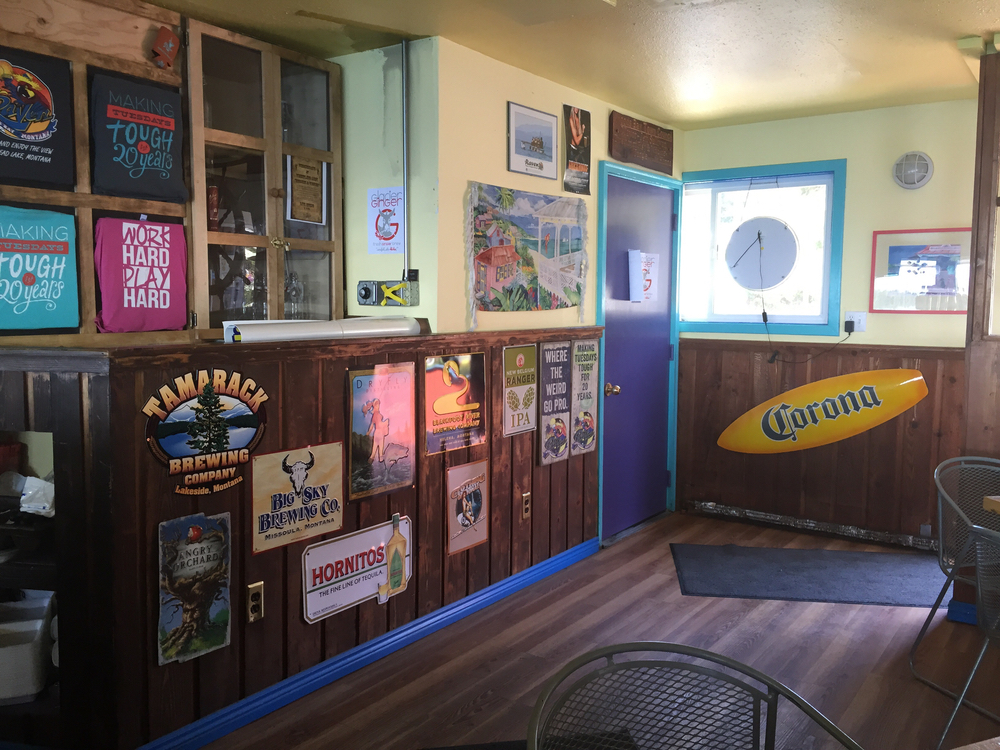 The Islander Inn motel across the street is owned by the same owners of The Raven and has the same tropical look as the restaurant. It's a great option for those worried that they should not try to drive home. Check out their website at www.sleepeatdrink.com.
They offer live music on (Margarita) Mondays, Wednesdays, and Fridays, as well as on other special occasions. I do believe this will become my local hot spot for scenery, the scene, and being seen! (Just kidding about being seen. I was just trying to be cute with words. Nobody cares about seeing and being seen here in Montana—especially me.)
I am here at The Raven as I am typing. I came back today to get more photos and finish this blog. I was taking photos from the dock and, upon walking back in I heard my name called. (Who knows me here?) It was a group who are staying at the Broken Leg Ranch. I couldn't believe it; what a small town. They loved The Raven as much as I did!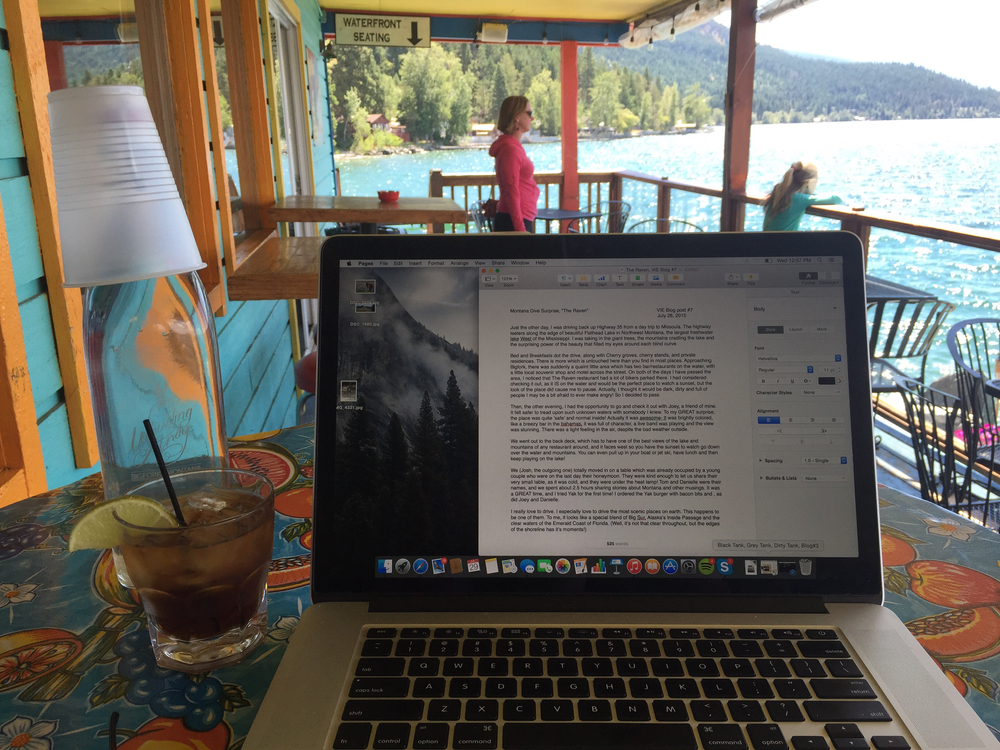 Thank you for reading, and ask me about Bigfork, Montana, if you'd like any info or pointers on visiting the area!
---