10 Best RV Campsites for Life on the Road
---
October 29, 2020
By Samantha Accola
Combining acclaimed oldies and scenic newcomers, these campgrounds and RV parks are a natural cure for any travel bug! In the year 2020, cross-country road-tripping has become essential to preserving Americans' sanity and safety. According to the RV Industry Association, RV sales in some areas have increased by 170 percent over the same period last year, so we will be sharing the best RV campsites. Whether you plan a traditional camping journey with the kids, a glamping weekend with the gal pals, or a couple of months living luxuriously in a motorhome, life on the road is sure to inspire your heart to be grateful for a world of possibility. Adventure is calling—will you answer?
In our September 2020 issue, we showed off some incredible RVs and tiny homes on wheels, but didn't tell you all the incredible places they could go! So, we've curated a list of ten breathtaking camping locations and RV resorts, so you're ready to head wherever this season beckons you.
Motorcoach Country Club, California
View this post on Instagram
This high-end RV resort just might be how "Coach"ella Valley came to be named. Voted best luxury RV resort by USA Today, Indio, California's eighty-acre resort houses four hundred RV lots, a nine-hole golf course, a fitness center, multiple swimming pools, three tennis courts, and a ten-thousand-square-foot clubhouse with a private restaurant and bar. Some of the grounds' most lavish RV lots include outdoor infinity pools, casitas with full kitchens and living areas, and patios outfitted with furniture, fireplaces, and barbecue grills. Specializing in excellence, Motorcoach Country Club is both an RV park and a country club for Class-A RVs. The monthly membership to own a site is $549, or about $6,600 per year.
Grand Teton National Park, Wyoming
View this post on Instagram
Just north of Jackson Hole, this rugged location reveals the Rocky Mountains' untouched beauty, pristine lakes, and extraordinary wildlife up close. During the autumn season, golden foliage lines the trees in harmony with the landscape's brilliance. Set near the National Elk Refuge, visitors can spot hundreds of elk, depending on when you go. You can stay at any of the six campgrounds in Grand Teton National Park, but Signal Mountain has the best reviews.
Newport Dunes Waterfront Resort and Marina, California
View this post on Instagram
In the center of a million-dollar real estate town, the Newport Dunes Waterfront RV Resort conveniently sits on one mile of beach-front property in Newport Beach, California. Welcome to the SoCal sun and the five-star parking spot with a host of activities right at your fingertips. You can check out the adjacent Back Bay View Park or Newport Beach Country Club, rent a boat and go sailing, swim in the lagoon, or pitch a tent and camp on the beach. Outside the RV park, the resort also rents out ocean-front cottages while maintaining access to a variety of amenities for all residents, including hydrotherapy pools, laundry facilities, landscaped grounds, and an onsite marketplace and bistro.
Zion River Resort, Utah
View this post on Instagram
Located in the heart of Utah, this green valley oasis surrounded by painted mountains will leave any traveler desiring to discover! Just minutes from Zion National Park, Zion River Resort is notable for its family friendly atmosphere combined with clean facilities, free Wi-Fi, fire rings, a fully loaded community kitchen, a large pool, and proximity to several of the nation's most beautiful parks. Zion River is the perfect base camp for vacation adventures and makes unforgettable day trips easy—Bryce Canyon National Park, Grand Canyon North Rim, Cedar Breaks National Monument, and many other Southwest destinations are a short distance away.
Dry Tortugas National Park – Florida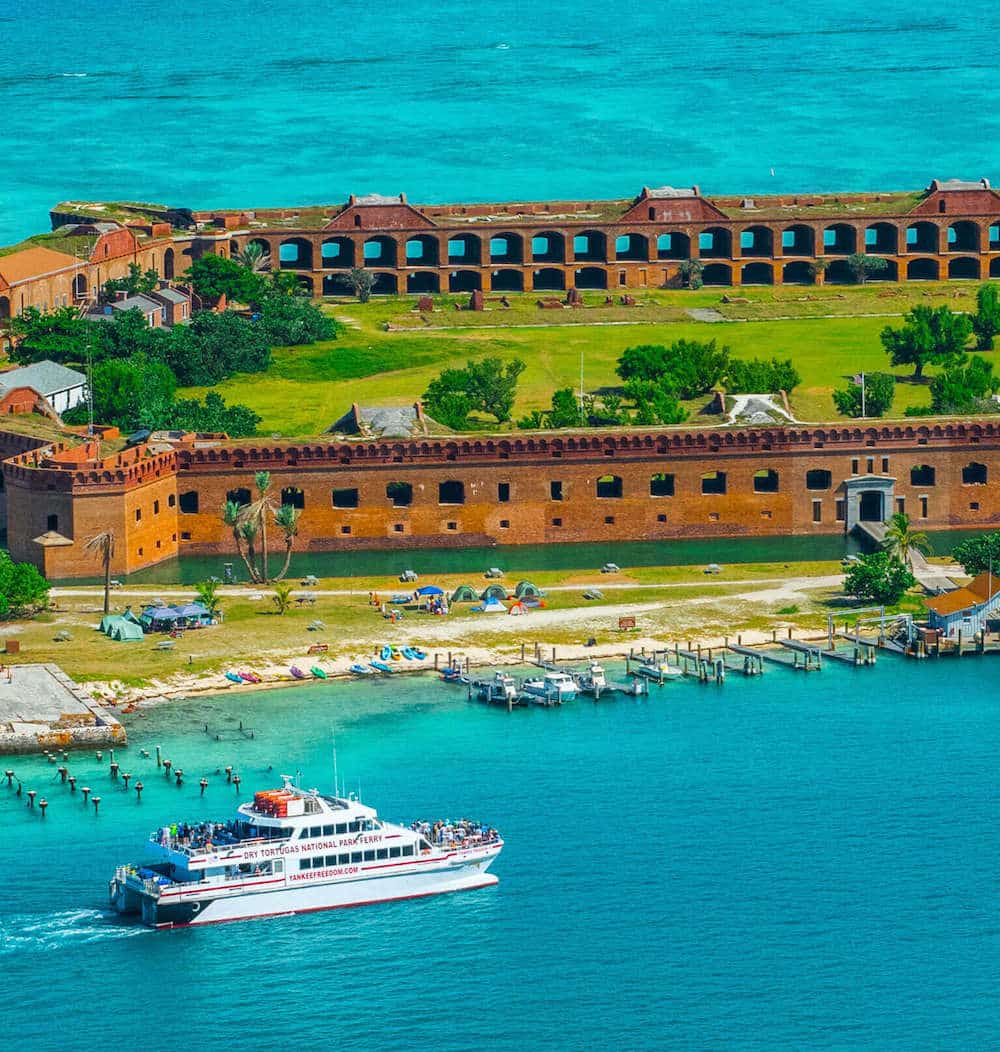 Escape the cold and head to sunny Florida! This site is located on a series of small islands off the coast of Florida, so if you are looking for an island paradise just a seaplane or ferry ride away, this may be your ultimate camping dream. Grab a tent and swimsuit and expect dreamy days while you're living on island time. With one of the world's largest barrier reefs right outside your tent, campers can rent some snorkeling gear and swim in the turquoise waters. Located next to Fort Jefferson, visitors can also explore the rich history of this coastal fortress.
Bay Point Landing, Oregon
View this post on Instagram
Established on 103 acres along Coos Bay, this Oregon retreat hosts a multitude of travel accommodations. With meticulously kept RV sites overlooking the bay, rows of retro Airstreams, and luxurious modern cabins, this camping resort features all you need for ultimate relaxation.
View this post on Instagram
At its center, large communal buildings house a floor-to-ceiling windowed saltwater pool, fitness center, front desk, game room, and a kids' club. Clamming gear, including waders, boots, and nets are also available for use right off the bay. There's also a playground, a large fire pit, and a pavilion with a lounge-worthy deck space to enjoy.
Yosemite National Park, California
View this post on Instagram
Are you eager for adventure? Considered the land of milk and honey for outdoorsmen (and women) across the world, Yosemite's mountainous topography unites the human spirit with the awe-inspiring wonder of Central California. From climbing Half Dome to white water rafting and fly-fishing, the open-air opportunities are endless! Yosemite's granite cliffs and ancient sequoia trees are a sight to behold and are remarkably preserved. As one of the best RV campsites, nearly 95 percent of the park is designated wilderness, and there are thirteen popular campgrounds scattered throughout, as well as backcountry camping for people who really want to rough it.
Hilton Head Island Motorcoach Resort, South Carolina
Connect with nature and the beautiful shores of Hilton Head, South Carolina! What's not to love about this East Coast beach town? From picturesque lighthouses and pristine beaches to world-class golfing and Intracoastal boating, this upscale community boasts a truly unique island lifestyle. Just one mile from Atlantic beaches, the Hilton Head Island Motorcoach Resort features stunning lake views, marble bathrooms, active tennis courts, and a range of year-round activities for guests. Named the Best Luxury Motorcoach Resort by RVshare, the exclusive fifty-acre woodland resort also features paved roads and lots that accommodate Class A, C, and Super B vehicles, perfect for owners who are ready to unwind and relax into luxury.
Joshua Tree National Park, California
View this post on Instagram
Traverse the land where two deserts meet. Two unique desert ecosystems, the Mojave and the Colorado, come together in the famed Joshua Tree National Park. With terrain that looks like it could belong in a Dr. Seuss book, Joshua Tree contains a fascinating variety of native plants and animals.
View this post on Instagram
There are several captivating campsites in the park, including Jumbo Rocks Campground, known for its giant boulders that shelter sites from the wind. But explorers can also choose between the park's 100-plus sites among its 800,000 acres, which are all first-come, first-serve right now. Kick the dust up and camp under the stars for an epic desert getaway!
Polson Motorcoach and RV Resort – Montana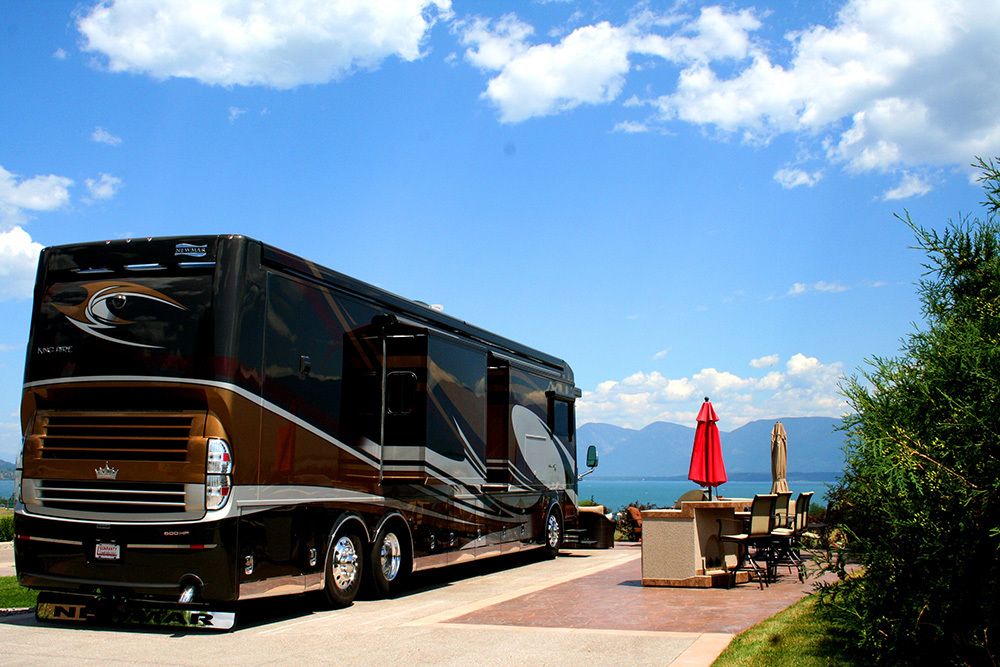 Embrace the open country as the resort looks out on Flathead Lake and the Mission Mountains. Just a drive away from the National Bison Range and Glacier National Park, the impressive sights never end! Glacier National Park's many snow-capped peaks, lakes, and alpine hiking trails are showcased along its famed Going-to-the-Sun Road, stretching fifty miles. If you're looking for an exclusive resort for Class A RVs, Polson is the way to go. As the top-rated RV resort in Montana, it received perfect scores from AAA, Woodall's, and Trailer Life. Its range of impressive amenities includes private barbecue pits, fireplaces, a fully equipped gym, and patio furniture right outside your vehicle. Go West!
Never fear what you do not know. There is an adventure on the horizon, and its invitation is yours for the taking! Let us know where you're planning to go on your next epic road trip when you follow us on social media @viemagazine.
---