Becoming a Pearl
---
November 14, 2017
By Myranda Trusty 
Photography by Elise Angelle Fogg
Local mixed media artist Amy Fogg, invited me to tour her serene studio in Northwest Florida and to share her techniques, history, and story of how her signature artwork came to be.
Amy was responsible for the layout and design of the studio, which she managed to create into a truly open and inspiring environment. The atmosphere seemingly influences her works, through the use of soft tones and the overall calming effect of her paintings. The main wall of the studio features pieces she has started and comes back to work on periodically, as well as those that are finished products ready to be taken to art shows or shipped out to clients. You can sense the pride and passion in her voice as Amy describes the journey that led her to Florida and the discovery of who she is as an artist. "You give a piece of yourself with each piece you create," she says. "You not only create something, but discover something new about yourself, express yourself, and heal this way."
Following in her mother's footsteps as an educator, Amy majored in Secondary Art Education at the University of Louisiana at Lafayette. Although she grew up in Louisiana, she spent many family summer vacations on the Emerald Coast, so it had always felt much like a second home to her.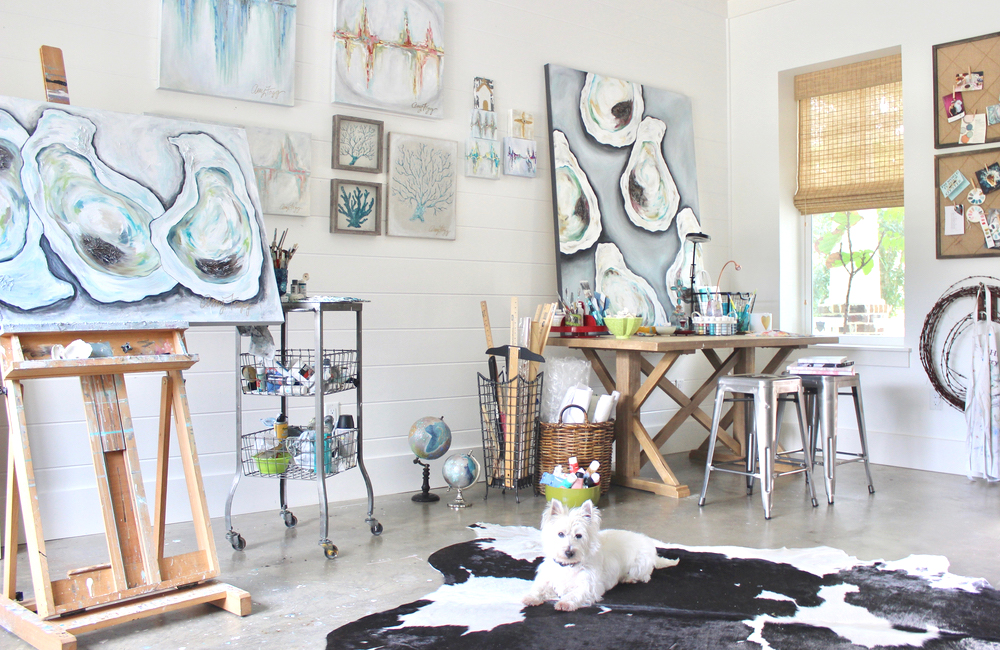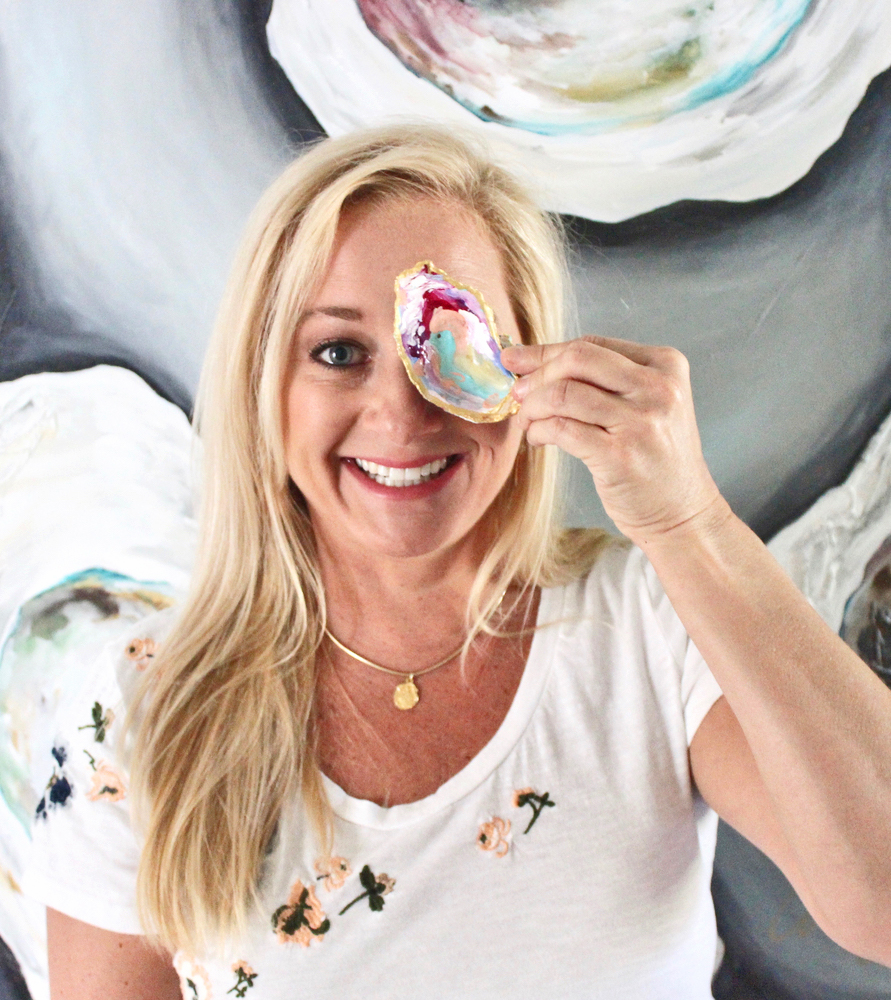 A woman of faith, Amy finds inspiration in each day and is very grateful to be a thriving local artist. "For me, this is a whole God thing," she explains. "Doing my art is what God's plan was for me. He helped me with my art to rise above and start a new life and find strength and peace—it was through Him. God is very present, for me, in moving forward with whatever life is throwing my way."
One can see that Amy's art is not only unique in her underlying personal story, but how the use of texture and swirling brushstrokes against contrasting color schemes softens the rough edges to create a clean and calming image, which is pleasing to the eye and the soul.
Amy reflects on an art project she was assigned in college. "We were assigned to bring in an organic and inorganic object, and I had brought in a crawfish as my organic object," she laughs as she pulls out a charcoal sketch from her portfolio. "We were told that day that these objects would be our subject for the remainder of the semester, so I ended up drawing crawfish every day. I would draw them over and over again and just kept drawing these very squiggly, loose lines, and that carried over into the oyster paintings when I started that, so I guess that's how I sort of developed my style."
When asked what prompted her signature oyster paintings, Amy explains, "I went through a dark time in my life, and to help lift me out of it I turned to my love of art and creating to heal. I was drawn to the subject matter of oysters because of their organic lines and unique shape. I just kept finding myself painting these oysters and further developing my style and technique, and it was very therapeutic. I got to thinking about whether there was some meaning behind them and researched and found that these creatures live deep within dark waters and when invaded by irritants, such as a grain of sand, they 'hurt' and try protect themselves. Eventually they produce these beautiful pearls. So, in a way, I was experiencing much the same thing and becoming a pearl." Inspired by her fond memories of family vacations along the Emerald Coast and her newfound connection to her subject matter, the Coastal Oyster Collection was born.
Artists are constantly looking for new ideas and sources of inspiration, and Amy believes Instagram is a great place for this. She enjoys browsing through works and exchanging ideas with fellow artists. It serves as a tool for encouraging one another and learning new techniques.
It's also exciting and inspiring for Amy to collaborate with clients, such as local interior designers and shops. She has partnered with Lovelace Interiors on multiple projects and continues to collaborate with designers to produce pieces for their clients who are looking for unique pieces for their homes. She coordinates with each client on color scheme, size, and composition to create a custom piece for the room or space they have in mind. "I love to be able to post photos of finished works in the spaces that they were designed for on my Instagram and social media!" Amy says. "It's just fun to build followers and have people really appreciate it." Amy also runs a shop on Etsy.com and speaks of her first sale there, in which a client contacted her about a piece she had found on Amy's shop featuring three oysters, with one oyster being a little offset from the other two. The client reached out to Amy after making her purchase to explain that the piece stood out to her as she had two children and had recently lost a child, so it greatly symbolized her situation. That moment was further validation for Amy that she could—and should—continue to pursue painting as a livelihood. Each oyster and each piece she creates has a different connection to each client, sometimes even without her intent for it to mean anything at all.
Though most of her works are commissioned pieces these days, some are still inspired from Amy's need or desire to simply create. Finished works may remain in the studio for some time, where she may go back and add things here and there, or they may be donated. Amy loves to give back to the community and often donates her artwork to local charitable causes. She is a member of the Cultural Arts Alliance of Walton County and regularly volunteers through Sacred Heart Hospital on the Emerald Coast's Arts in Medicine program.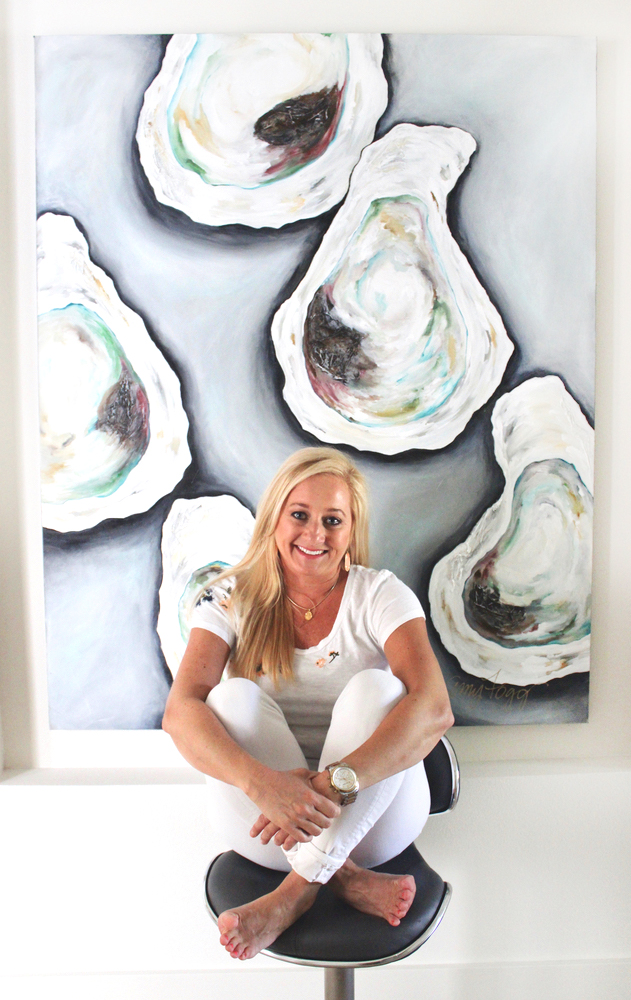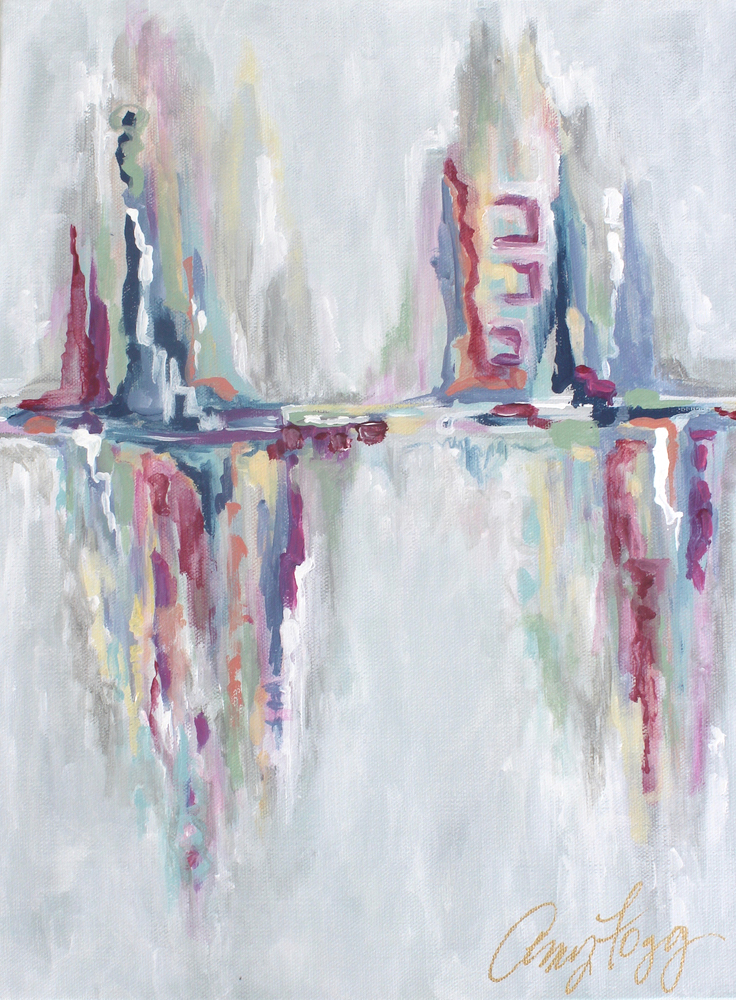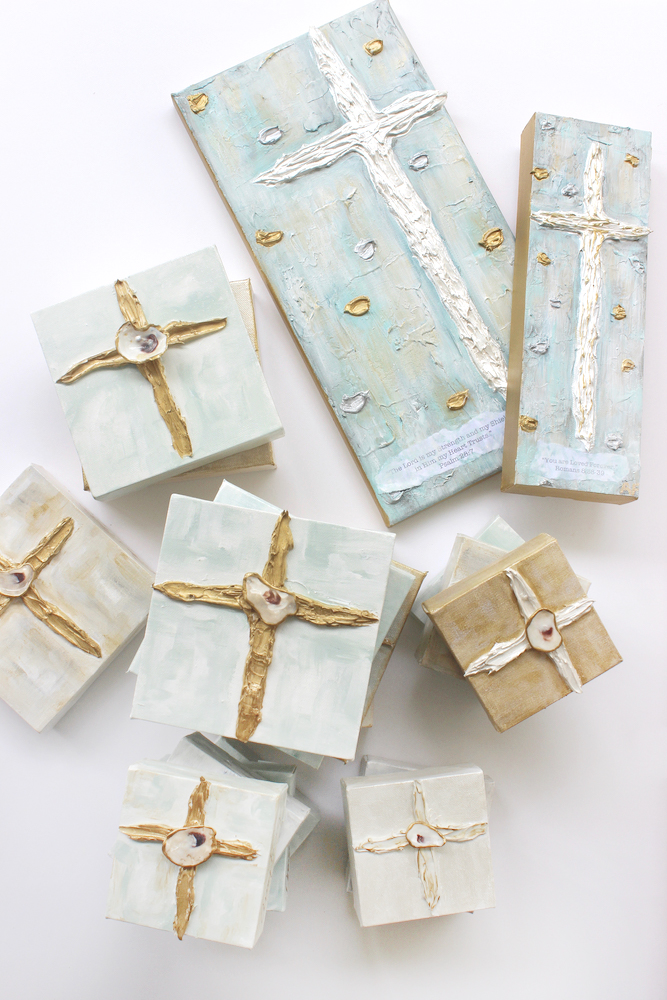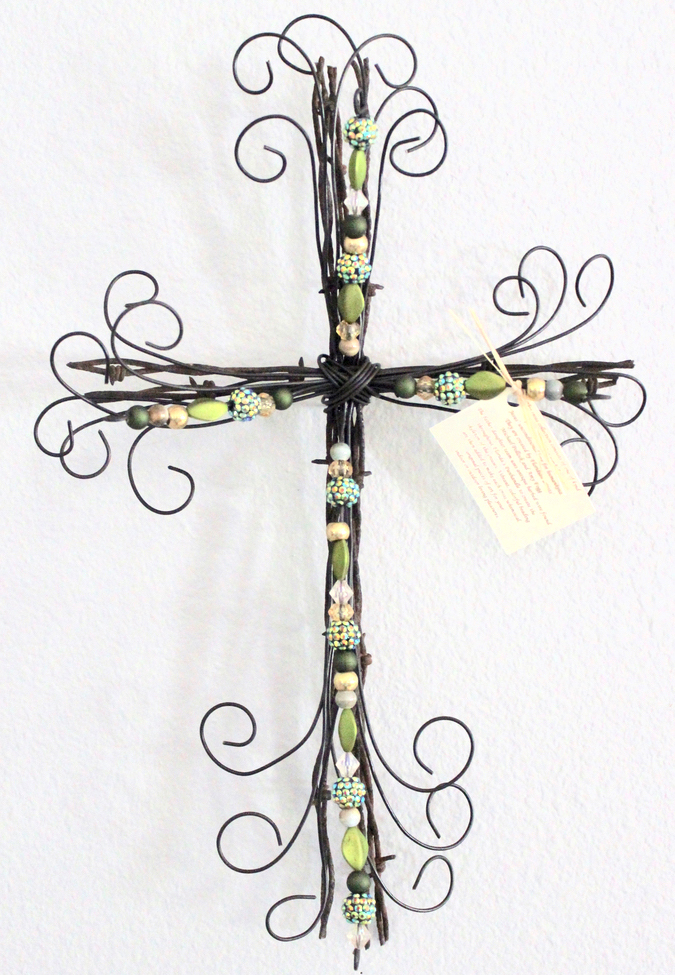 Amy's work is available in The Studio Gallery in Santa Rosa Beach, Clay 30A in Seagrove Beach, Artesano Boutique in Fort Walton Beach, and Drift Home & Gifts 30a in Inlet Beach. Permanent displays of her work can be seen at Fuller Insurance in Santa Rosa Beach, Sandestin Resort's Beachside One Condo Lobby, and The Islander Restaurant in Charleston, SC. Her work has also been on display at Wells Fargo Advisors in Miramar Beach for nearly a year. Most recently, she was selected as one of seven artists to have work put on display for sale at the new Emerald Coast Association of Realtors office located in the O'Donnell Eye Care building.
Amy continues to produce Coastal Collection type pieces, especially those requested to commemorate special events along the Emerald Coast, but she also forms unique gifts and trinkets such as antique barbed-wire crosses adorned with beads and shells—a side project she created with her father. Oysters were therapeutic for her at a transitional phase in her life, but she has since moved on to other phases of life, and so has her art. Amy has recently ventured into abstracts, inspired by artists such as Henri Matisse and Georgia O'Keeffe. Dubbed The Heartbeat Series, these paintings are her interpretation of life's ups and downs, mimicking the human heartbeat. These have become popular baby gifts, as clients send actual photos of fetal heartbeats to Amy for her to recreate on canvas in their chosen nursery colors.
Amy plans to continue producing artwork to sell and hopes to have future displays at the Foster Gallery in Grand Boulevard Town Center, where her Coastal Collection was once displayed. Another professional goal is to collaborate with interior bloggers and designers to become involved in home staging (having her pieces showcased in new homes as part of the furnishing) to gain exposure and to have another outlet to display her work for purchase.
To view more art and read more about Amy Fogg, visit AmyFoggArt.com, where you can also find links to her Etsy shop and social media accounts.
---