Beau Interiors Rings in the Holidays with Their Annual Christmas Open House
---
November 8, 2023
A portion of the proceeds will benefit Caring & Sharing of South Walton
Beau Interiors invites the community to attend their Annual Christmas Open House on Saturday, November 11th from 10am-5pm. Guests will celebrate the season with festive treats and sweets, champagne, storewide sales, giveaways throughout the day, and much more. Attendees are invited to shop for a cause with a portion of the event proceeds benefiting Caring & Sharing of South Walton.
"We always love this event because we get the opportunity to connect with past clients, meet new friends and neighbors, and support our ever-growing community." says Kristen K. Foley, Vice President of Sales and Marketing for Beau Interiors.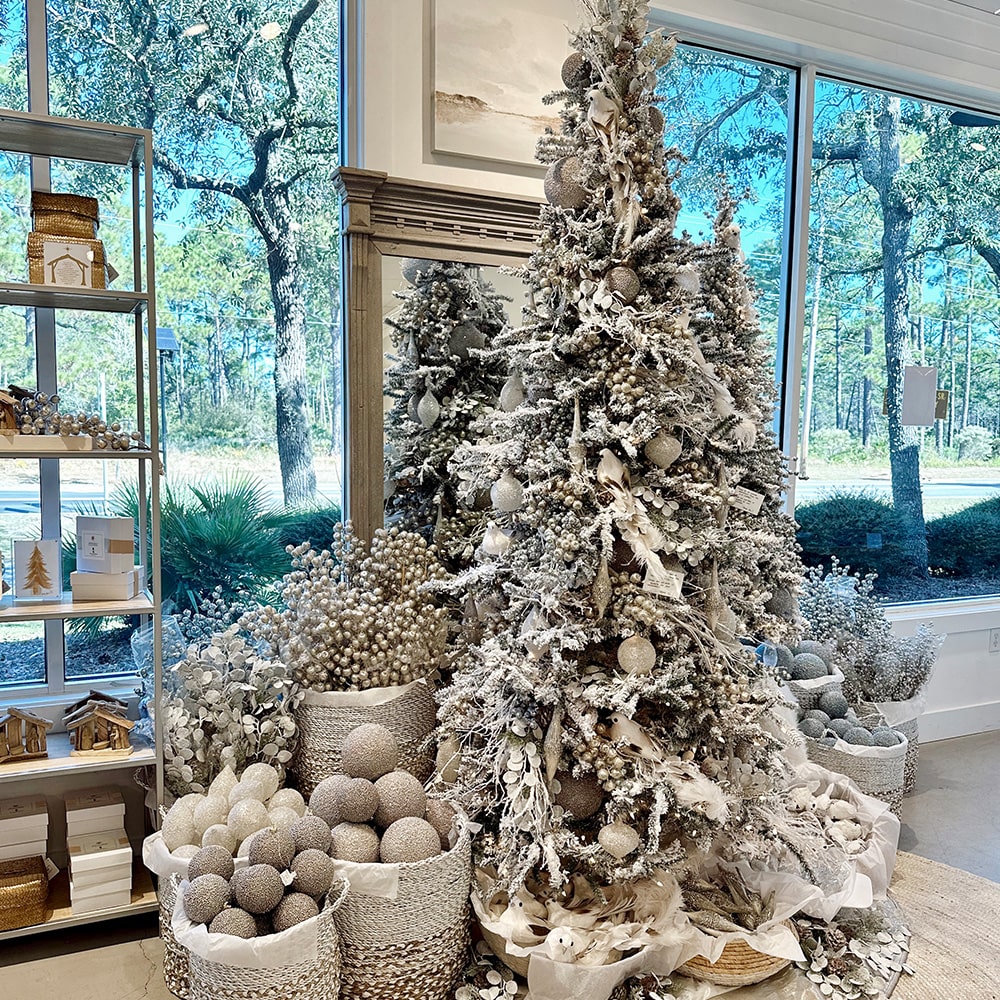 "Caring and Sharing of Walton County has been doing such amazing and important work in our community for nearly 30 years. They embody the holiday spirit all year long – supporting neighbors in need through food assistance, financial support, and more. We are proud to partner with them and share in the spirit of giving Caring & Sharing is so well known for," says Foley.
"Every little bit helps our organization, particularly during the holidays," says Carly Barnes, Caring and Sharing of South Walton's Executive Director.  "We provide food and financial services to over 500 local families each month., so partners like Beau Interiors are truly essential in helping us help others. They are a great  neighbor and a steward for our community."
---
About beau interiors
Founded in 2011 by Margie Perry, Beau Interiors is a lifestyle store and full-service design firm, offering home furnishings, art, gifts and more. Perry was inspired to create an atmosphere of beauty, not only through soft, coastal inspired interiors, but through uniquely inspired gift offerings and spiritually centered music. allowing shoppers to encounter something more. In 2016, Margie's daughter, Kristen Foley, moved back to the area to work in the business full time. After more than a decade in business, Perry and her daughter, along with their exceptional team, continue the store's mission of excellence in service. The Grayton Beach store is open daily. Shop online at www.BeauHomeInteriors.com or call (850) 534-0700 to schedule a design consultation.
About caring and sharing of south walton
Caring and Sharing of South Walton provides food and financial assistance to our neighbors in need through the support of volunteers and contributors. Founded in 1994, the organization serves close to 500 local families each month. Caring & Sharing of South Walton also operates a Thrift Store. Sales in the Thrift Store help cover operating expenses and generate funds to help clients with food, prescriptions and utilities. Items for sale in the Thrift Store include clothing, housewares, bedding, furniture, electronics and books. For more information about Caring & Sharing of South Walton visit www.caringandsharingsowal.org.
---