Artist Brad Walsh Debuts "Creases" Music Video
---
March 24, 2016
Rushing streams, rolling hills, sweeping views…
The rugged landscape of Ireland's western region of Connemara sets the scene for the new music video "Creases" premiered by artist Brad Walsh. Shot throughout a four-day jaunt over the country's mystical landscapes surrounding the remote Ballynahinch Castle Hotel and the grandiose Ashford Castle. A moody darkness cast over the music video, shot and edited by Walsh, evokes the tension and angst of the song.
"I wrote this song a few years back for another artist who didn't end up using it, and only recently got around to recording it myself," says Walsh. "A very good friend and I abruptly drifted apart and I was in a very sticky mood about it, so that's where most of the feeling comes from. At the time, I thought we would get through it. But that wasn't the case."
Walsh, a New York-based electro-indie pop artist whose first solo album, Right Now, debuted in 2011, is also an accomplished photographer whose images have appeared in The New York Times, Vogue, Nylon, and many other publications and national advertising campaigns. His music has appeared in shows and commercials on television networks including Bravo, E!, Showtime, MTV, Logo, and CBS; and he composes original runway music and DJ sets for fashion shows at New York Fashion Week.
VIE was privileged to witness some of the filming of the "Creases" video as Walsh and his partner, fashion designer Christian Siriano, joined our team in Connemara for a high-fashion photo shoot at Ballynahinch Castle with Irish photographer Alex Hutchinson. Although the weather was bright and sunny, a rarity for the Emerald Isle, Walsh's editing brings out the mystery and a darker energy that he says he feels many people can relate to in the music video.
"The landscapes of western Ireland in the video fit the mood really well," Walsh explains. "Not that it's depressing, per se, but there's a sort of deep, almost ancient feeling as you drive through the country. You feel connected to something bigger than yourself, which I think music can facilitate as well."
Scenes in the music video include the running stream by Ashford Castle's entrance gate, Connemara sheep running through the druidic, tangled trees near Ballynahinch, a hawk making its majestic descent, and a beautiful woman (clad in a Christian Siriano feathered ball skirt, of course) running up the castle steps. "If it were up to me, the entire video would be sweeping landscapes," Walsh says. "I could stare at the slowed water scenes all day long."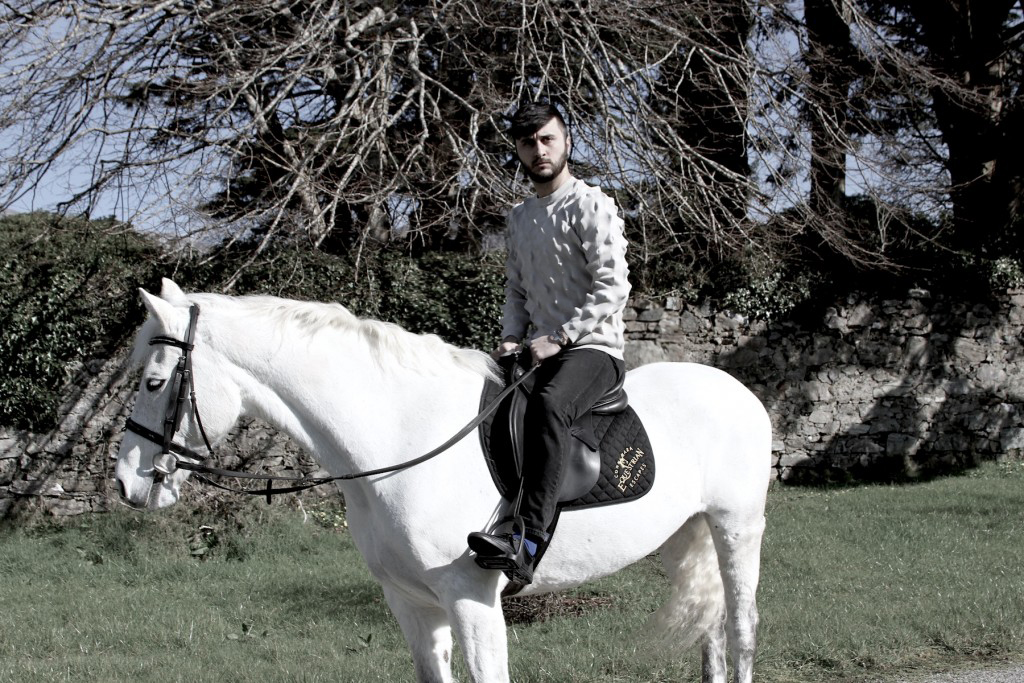 Walsh himself makes appearances throughout the music video, as well. "I always say I wish I could film and photograph myself," he admits. "I set up the shots for most of my own imagery, but obviously I can't be in two places at once. So I often ask my partner Christian to be the trigger man. We fight about it a lot but it's really nice to look back on some of the visual things we've done and know that we made it together."
Walsh's new six-track EP, Secondary, (Primary debuted in 2015.) is now available for preview and download at all digital retailers, including iTunes, Tidal, Spotify, and Amazon! You can also purchase it on CD and deluxe USB format exclusively at BradWalsh.com.
---