By Sarah Freeman
Wearing crowns of coconut palms, five paint-smeared faces peer out from a tangle of vines.
These "jungle warriors" are in fact nothing more than a party of Dutch tourists, adorned with the crushed red seeds of the furry zingifuri "lipstick fruit" that grows wild alongside cacao, guava, and untold spices. The same spices introduced five centuries ago by Portuguese traders from Indian and South American colonies continue to flourish in the tropical climate of this equatorial paradise anchored off Africa's east coast.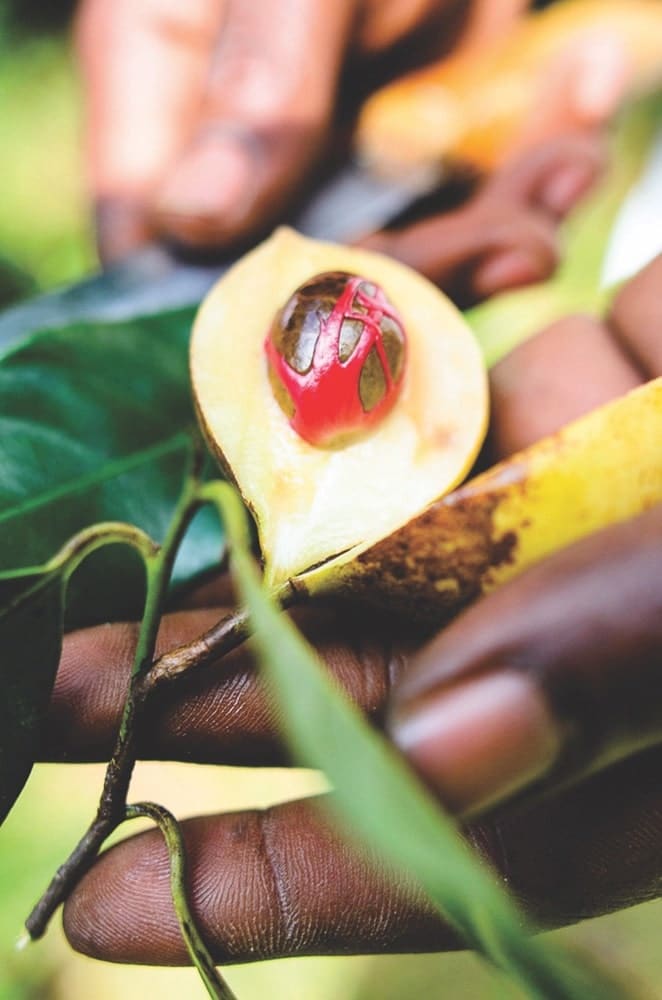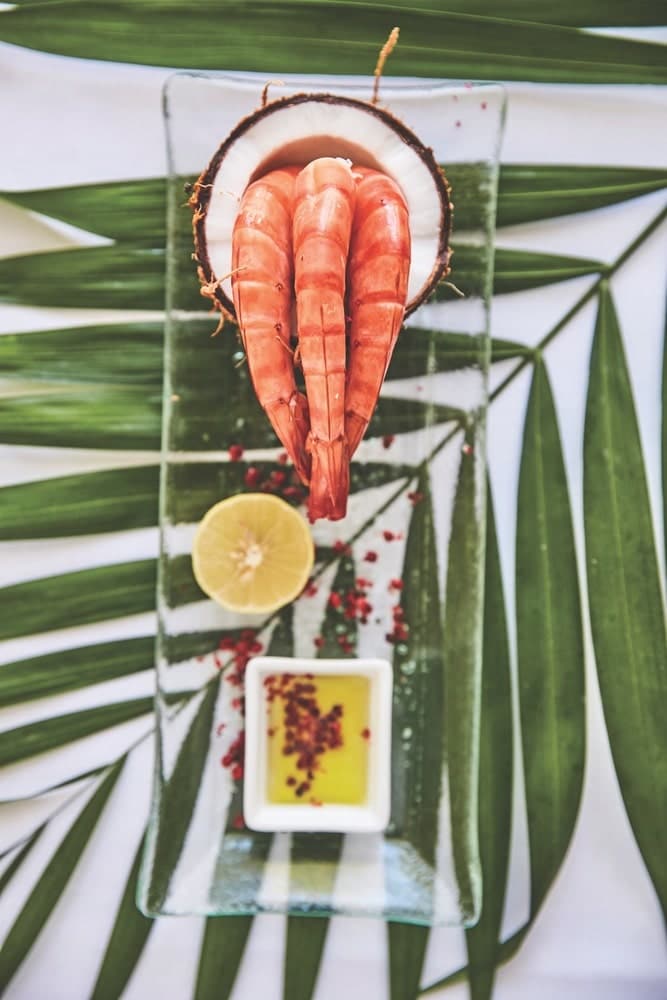 A tour of one of Zanzibar's plantation farms is like stepping into a living, breathing spice cabinet. In a grown-up game of scratch and sniff, I nibble on cinnamon bark and have cardamom leaves crushed into my palm at the community-run Maganga Spice Farm (ColorsofZanzibar.com). Each spice, I discover, has a story to tell, from clove (once the backbone of Zanzibar's economy) to steaming lemongrass tea used by locals to treat typhoid. We try a rare rubber vine fruit called bungo and drink freshly husked "Zanzibar Coca-Cola," which our guide shimmies up the smooth bark of a coconut palm to retrieve.
For plantation-to-plate cuisine with a side of Zanzibar's all-pervasive history, foodies should follow their noses to UNESCO-listed Stone Town on the island's west coast. In the archipelago's walkable capital, aromatic alleys resemble the souks and medinas of Arabia. Tucked down one such alleyway and hidden among lushly landscaped ruins is Secret Garden (EmersonSpice.com), a restaurant with an air of Old Havana. I devour spicy fish cakes with cardamom rice before ambling to another ruin—a Portuguese church in the courtyard of Stone Town's Old Fort. The seventeenth-century landmark was built by Omani Arabs (who ruled the island for 175 years) to ward off attacks by the Portuguese.
Its turreted ramparts are a coconut's throw from Forodhani Gardens, a destination for the culinarily curious come twilight. Straddling Stone Town's animated seafront promenade, this sizzling street food bonanza is the place to taste local staples, such as urojo (an Indian-inspired spicy stew) and newspaper-wrapped veggie samosas.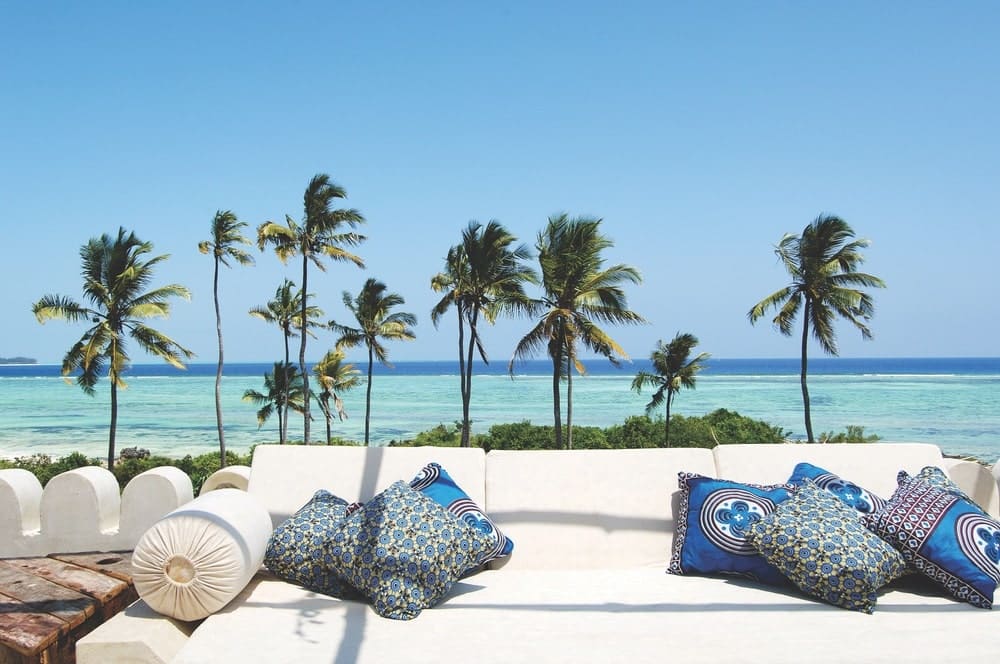 Swapping the glow of paraffin lamps for a moonrise over the Indian Ocean, I chase the sea spray to Baraza Resort and Spa on the island's southeast coast. Its elegant Livingstone Terrace—named after the Scottish explorer whose legendary expeditions took off from Zanzibar—is the perfect spot to drink a dawa. Derived from the Swahili word meaning "medicine," the curative cocktail traditionally blends muddled lime, smoked honey, and an island-brewed sugarcane gin called konyagi.
With no ail to cure, I retreat to my one-bedroom villa, which channels the opulence of a sultan's palace. Think gold tasseled drapery, ornate brass pendant lanterns, and intricately hand-carved furniture, including a dresser that cleverly conceals a plasma TV.
Daylight reveals the resort's softer side of manicured gardens (tended to by no fewer than seventeen gardeners!), graceful keyhole arches, and a sun-warmed twenty-four-meter pool. But the pièce de résistance is Baraza's five-mile strip of unblemished white sand, shared with its sister resorts, Breezes Beach Club and The Palms.
Derived from the Swahili word meaning "medicine," the curative cocktail traditionally blends muddled lime, smoked honey, and an island-brewed sugarcane gin called

konyagi

.
In what has to be one of nature's greatest disappearing acts, come midday, this award-winning beach vanishes as ocean waves roll back almost a mile to the surf break, revealing another world. Picking my way through spiny sea urchins (a local delicacy), I wade out one hundred meters on a guided reef walk, passing local seaweed farmers balancing baskets on their heads.
Life in Zanzibar is governed by the ocean's ebb and flow. The nooks and crannies of its intertidal zone—where clown fish dance in branching corals—are also where women pweza hunters skillfully spear reef octopi. The 130-million-year-old mollusk is the star ingredient of pweza wa nazi, an octopus curry simmered in cinnamon-and-cardamom-spiced coconut milk, which guests can whip up in the resort's Swahili cooking class.
Much like Zanzibar's melting-pot cuisine, Baraza's architecture celebrates the coral archipelago's African, Omani, and Indian heritage. These commingling cultures also converge in the streets of Stone Town, where wooden doors are decorated with twisting vines (a Swahili design), Arabic script, and brass studs originally used in India to unnerve charging war elephants!
One of the most storied addresses in town also happens to serve the island's best coffee; their beans are grown on fair trade estates in Tanzania's southern highlands. Doubling as a hotel, Zanzibar Coffee House (RiftValley-Zanzibar.com) was formerly the lavish residence of a moneyed merchant. Its airy courtyard is just the antidote to the colorful chaos of Darajani Bazaar, Stone Town's century-old, gable-roofed marketplace, famed for its early morning fish auctions.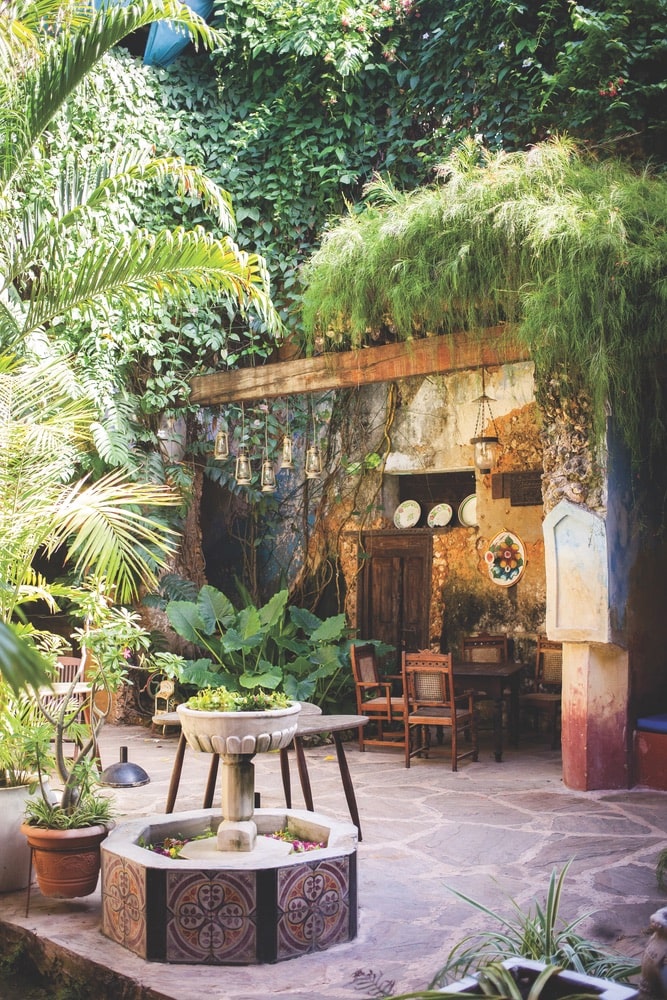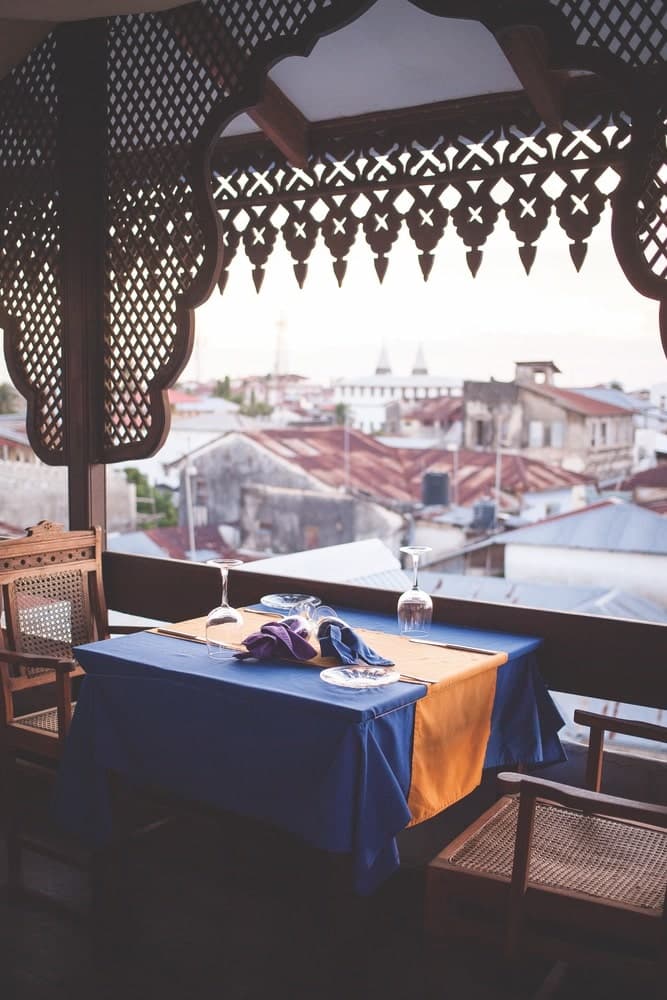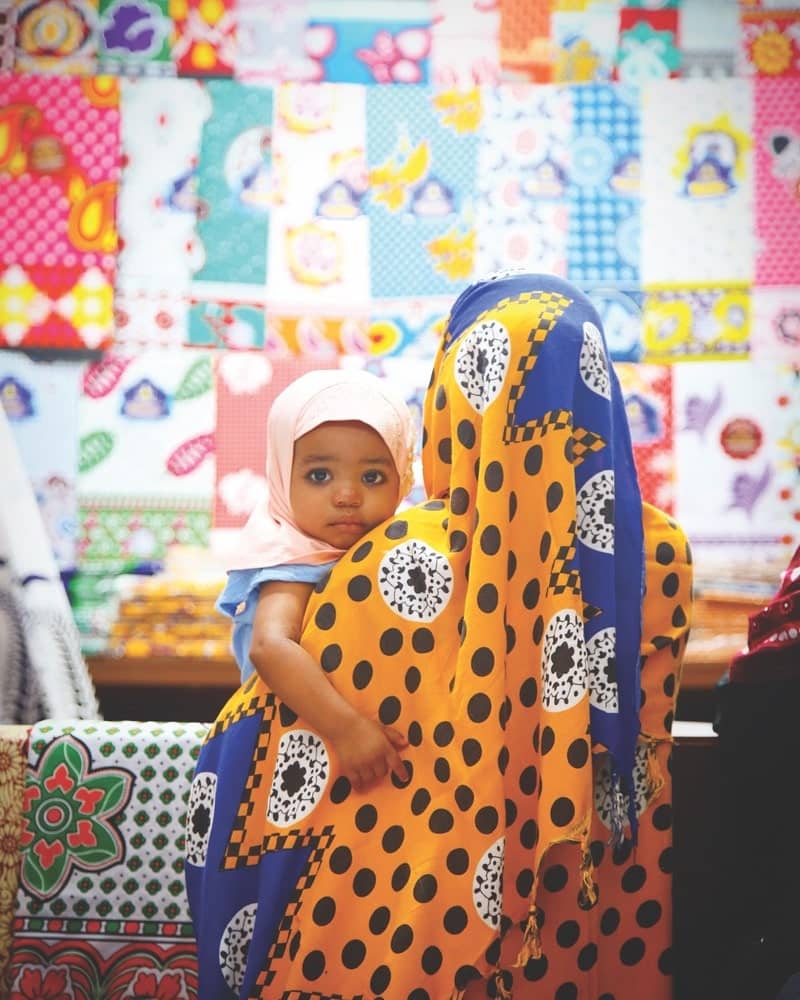 Laden with sticky dates, six different varieties of bananas, and bags of dried hibiscus, I check into The Palms—an intimate property of just seven makuti-thatched bungalows—which marries colonial-era furnishings with tiki chic. Its candlelit thali-style dinners (hosted on the restaurant's colonnaded terrace) are the perfect excuse to get all gussied up!
Days merge into a blissful blur of cooling dips in its bougainvillea-shaded swimming pool and naps in my silk-canopied beach banda beneath the rustle of coconut palms. The Swahili mantra pole pole ("slowly, slowly") comes naturally here.
Satisfyingly, slow living pervades forty-five miles north in Matemwe too, where castor-sugar beaches stretch in both directions as far as the eye can see, and dhows unfurl their triangular sails in the turquoise waters.
Much like Zanzibar's melting-pot cuisine, Baraza's architecture celebrates the coral archipelago's African, Omani, and Indian heritage.
Zanzibar's iconic dhow boats carried merchants to the island on the monsoon winds as far back as the eighth century. Arriving with pearls and dates from Arabia and departing with slaves and spices, they transformed Zanzibar into a trading center for the whole of East Africa. Chinese, Persian, Indonesian, and Indian traders either transited through or migrated here, cultivating one of the most diverse food cultures on the continent.
My taste of this golden age of Arabian sailing is on a local ngalawa (a type of dhow typically used for fishing), exploring the offshore reef that hugs Matemwe's coral rag cliff coastline. Carved from the trunk of a mango tree and rigged with a canvas sail lashed to a bamboo spar, the small, sun-beaten vessel is surprisingly seaworthy!
This is just one of a raft of culturally immersive excursions offered at Matemwe Lodge and Retreat—a tranquil beachside property fringed by a shallow lagoon of infinite blues and run by luxury eco-lodge and safari operator Asilia Africa.
I drink in the view from the rooftop of my split-level whitewashed villa, one of just four nestled in palm trees on a rocky outcrop at the resort's more exclusive "retreat." Listening to honeybees drone from the hotel's hives while dining on slipper lobster (rustled up by my private chef) is precisely why guests don't roam too far, I muse.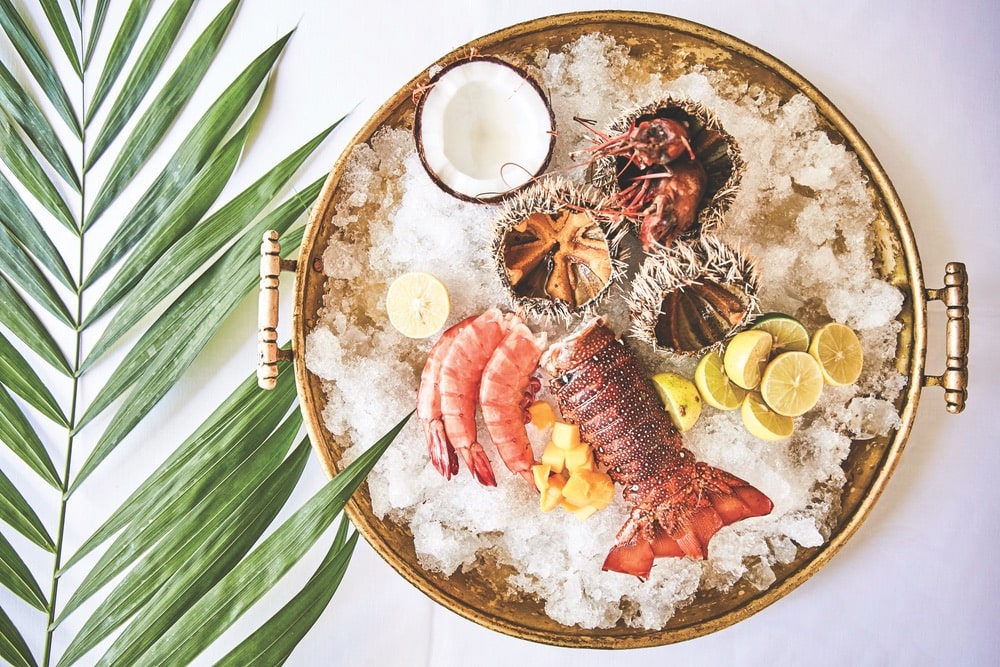 While its exterior could pass for a Greek island villa, the interior is full of Moorish flair, thanks to arched doorways, ocher-painted walls, and a tadelakt bathtub. Meanwhile, soft furnishings crafted by local villagers and matting woven by Stone Town's Blind Association uphold Asilia's community values.
Back in the waterfront city's exotic casbah, I scope out another rooftop—this one belonging to a nineteenth-century mansion where Swahili royalty once lived, before two Americans transformed it into one of Zanzibar's first boutique hotels. Against a skyline of silhouetted minarets and swaying palms, golden-robed waiters serve up a smorgasbord of Swahili seafood delights at its Tea House Restaurant (EmersonSpice.com).
Coming full circle, my last supper of bungo ceviche and coconut-crusted kingfish (caught on Emerson Spice's own dhow) transports me right back to that first piquant plantation. Only this time, I'm not wearing lipstick!
— V —
---
Plan your visit to The Palms and Baraza Resort and Spa at TheZanzibarCollection.com and Matemwe Lodge and Retreat at Matemwe.AsiliaAfrica.com/matemwe-lodge. Turkish Airlines and KLM operate regular flights from North America to Tanzania with only one en route stop.
Brit-born Sarah Freeman's appetite for adventure has taken her to some far-flung corners of the earth, from Indonesia's remote Mentawai Islands to the snowcapped peaks of the Cordillera Blanca in Peru. The internationally published travel writer and photographer regularly racks up air miles on assignments for Bloomberg, Sunday Times Travel, and Harper's Bazaar.
ARTICLE CATEGORIES