By Bob Brown | Photography by Romona Robbins
Being a native of Northwest Florida I grew up surrounded by a rich beauty that I have come to learn is very unique in this world we live in. As I have grown older I have seen many changes in this area; sometimes I can hardly recognize it. Given the changes I have seen over the last 33 years of my life, there is one place that still captures—in my mind—the unique beauty and essence of coastal Northwest Florida: Western Lake.
Even though I have made the drive many of times, each time I pass this rare coastal dune lake on Scenic Highway 30A I am taken aback by the view. The age-old pine forest on the east end juts out of the tall grasses like oversized q-tips fading towards the south into a stretch of sugar-white dunes dotted with scrub oaks and sea oats—simply beautiful.
Between the Gulf of Mexico, rare coastal dune lakes, the bays, bayous, inter-coastal waterways, swamps, and rivers anyone who has spent time in Northwest Florida knows that it is the water which defines how we live here. So considering I have lived here nearly all my life, you can understand my excitement when I heard about a new way to experience the waterways of our area. They call it YOLO boarding.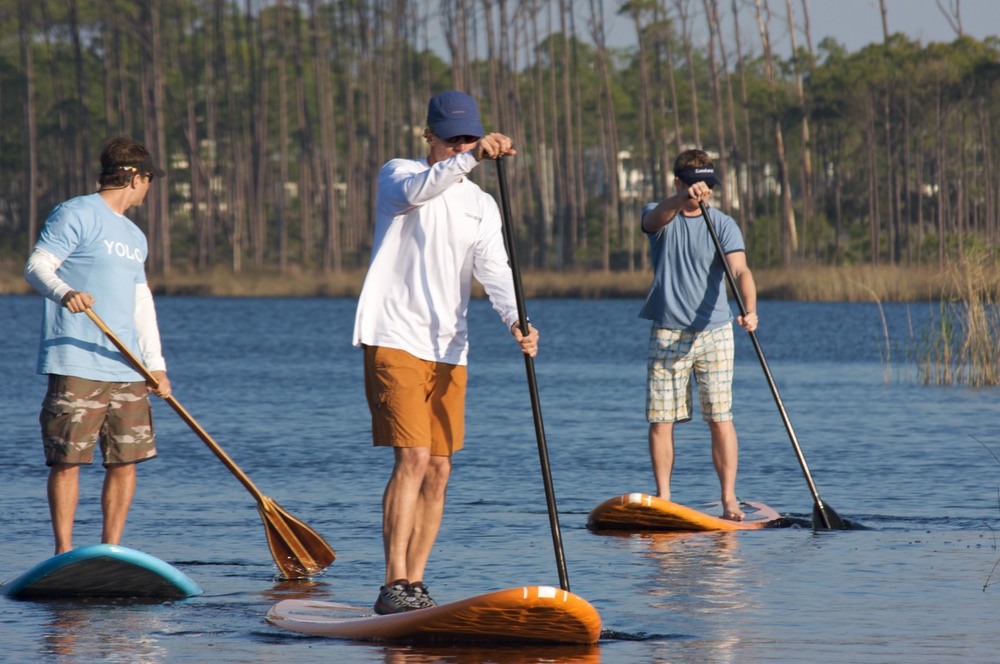 Actually, I have learned that YOLO boarding or stand-up paddle boarding isn't all that new. The sport gets it origins from the Hawaiian people, along with other great paddle and board sports such as surfing and canoeing. After decades of refining the board design and incorporating new technologically advanced materials we get the modern iteration of the paddle board, which Jeff Archer and Tom Losee have branded YOLO.
Basically it is an oversized surfboard with a few distinct differences. The YOLO board is made from lightweight epoxy and is a bit wider and thicker than your traditional long (surf) board. "This provides stability," explains Jeff Archer, one of the founders of YOLO board, "which allows you to stand on the board more easily." The board is also equipped with a single long fin, which helps you maintain a heading as you paddle.
I met Jeff Archer and Tom Losee at the boat launch in the Grayton Beach State Recreation Area on Western Lake to give the YOLO board a try. I have a pretty well-developed sense of balance but my first moments on the YOLO board were a bit shaky. You stand on the board facing forward with your legs side by side, which is odd for someone with a surfing background where you stand facing sideways with one foot in front of another. Your legs do a lot of compensating for one another in those first moments, but after a minute or two the shakiness subsides and you feel as if you are walking on water.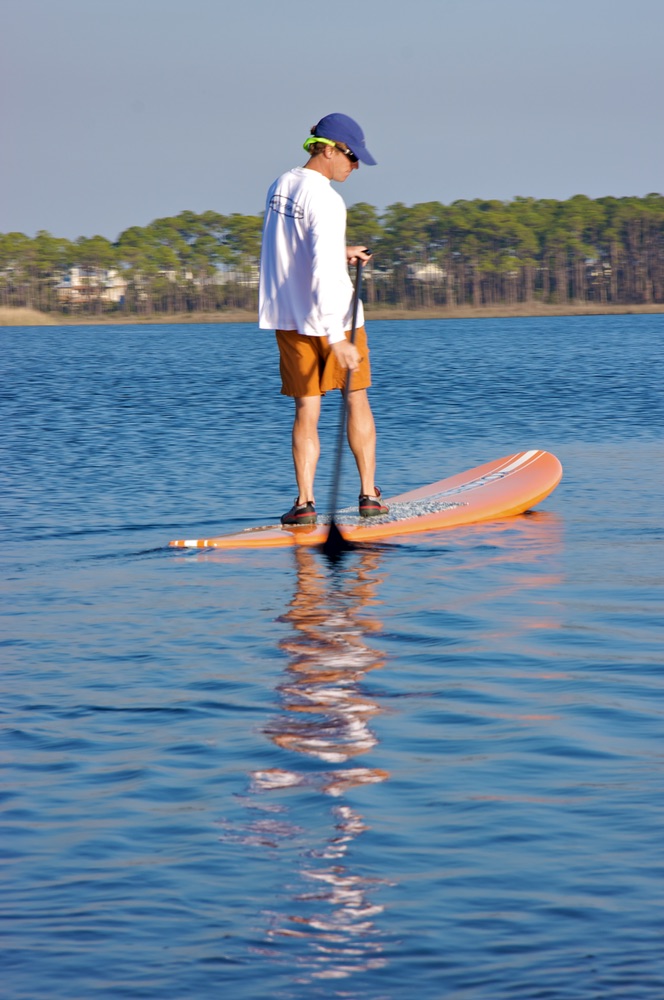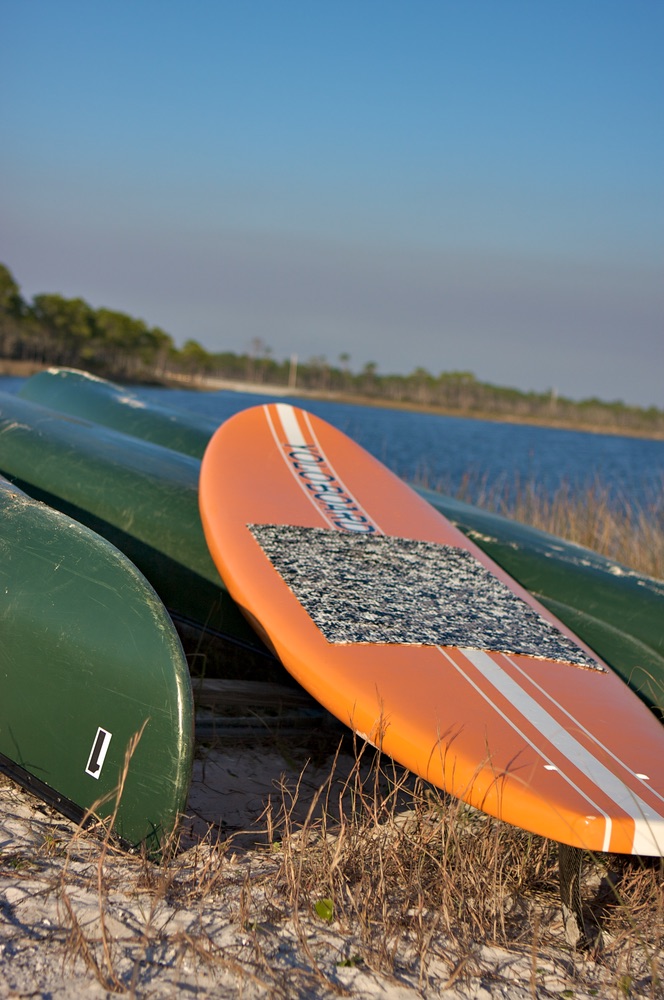 Within a few minutes we were on our way around the lake—exploring the nooks and crannies with ease and grace. The paddle board experience is one of quiet intensity.While you glide over the surface of the water with relative ease, accompanied by the soft sounds of your paddle making tiny whirlpools in the water behind you, you can tell that you are getting a good core workout as you pull yourself with the long paddle. If you were to do this everyday you would have abs of steel before long. The best part is, it doesn't feel like a workout.
As our tour of the lake concluded I helped Jeff put the boards on top of his truck. The light weight of the board (about 27 pounds) allows a person to handle loading and unloading the board with relative ease. The simplicity of the YOLO makes it very appealing—a board and a paddle. For those of you who are into surfing, this would be a great alternative for getting on the Gulf when the surf is small. For those of you who fish, YOLO will be coming out with a fishing model soon, equipped with a place to put your cooler and rod holders.
If you enjoy experiencing natural beauty in its purest forms, I highly recommend you give YOLO boarding a try because, as the name suggests, You Only Live Once.
— V —
---
For more information on YOLO boards visit: yoloboard.com
ARTICLE CATEGORIES