The Beauty of Landscape Design
First impressions are important, and for a home, curb appeal is a key component. From the architectural appearance to the curated landscape layout, The Heritage – A VIE Legacy Show Home was built to impress. Patrick Hodges, the lead landscape architect for the project, is the founder of Patrick Hodges Land Studio and has been practicing landscape architecture in Northwest Florida since 1981. He graduated with his degree in landscape architecture from the College of Architecture at the University of Florida and has worked on premier developments such as Seaside, Alys Beach, St. Joe communities, and many more. With an expansive portfolio and expertise, Hodges's professional fingerprint is undeniably planted in the outdoor living spaces of this show home. VIE sat down with him to gain an insider perspective on the home's outdoor beauty.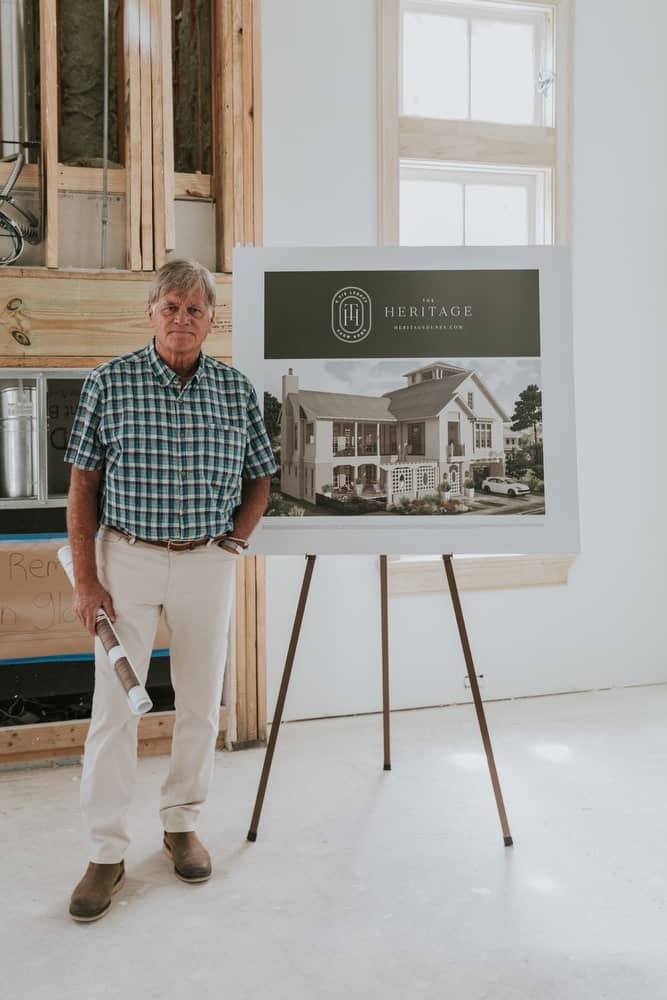 VIE: With your experience and phenomenal pedigree, you've worked on some amazing projects. How does The Heritage compare?
Patrick Hodges: What I love most about The Heritage is that it's "on 30-A but not of 30-A." It's near the beach but has sophisticated DNA in its master plan. Developers Carl and Tamara Tricoli assembled a team of incredibly talented professionals to make this possible. It was a pleasure to be part of it.
VIE: Can you describe your experience working with the team?
PH: We had a great working team, allowing us to expand our horizons. I hadn't had the opportunity before to work with Gerald Burwell, and I've just been blown away by his talent and the alacrity with which he works. He generates these incredible designs in a magically short amount of time. And then to work with Duce May of Duce & Company Interiors—I've never worked with him before, and he's just an incredible talent as well. The fact that we had a weekly call encouraged a sort of esprit de corps and camaraderie that you usually only see within a design studio. It's been great because now we have that among this group of different talents, so it works as a whole, and the whole is greater than its parts.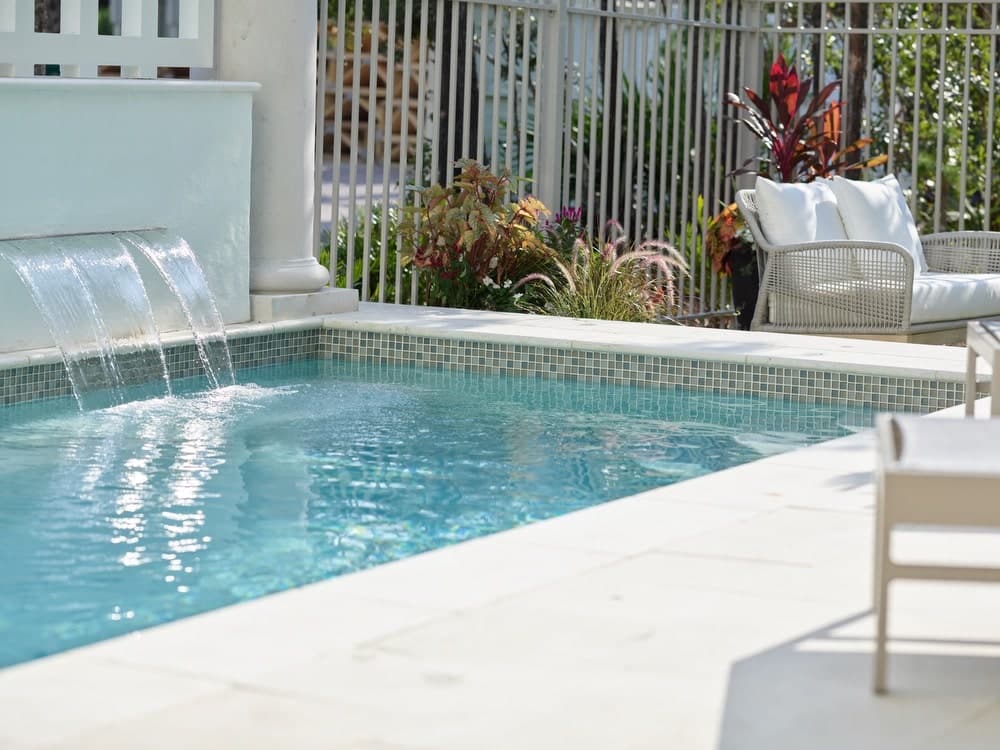 VIE: Can you talk about the pool area and your design thoughts behind it?
PH: The pool happens to be in a very strategic place, based on Gerald Burwell's design, and I give him full credit for that. It is the showpiece of the outdoor living area. The idea there was to make the most of that opportunity but keep it simple, understated, and elegant so that it was in keeping with the classic design that Gerald had come up with for the architecture. It was a small space, and the pool, by virtue of that size, had to be small itself. I tried to activate it by creating a simple fountain on one of the walls that needed to be there for code purposes—to enclose the space and provide a safety barrier. I think the simplicity of that design and that descending flow of water, which creates calm white noise, is very charming.
VIE: How did you, as the landscape architect, marry the home's design with the surrounding nature?
PH: I worked with Gerald and Duce on selecting other components, such as the pavers. We used natural shell stone paving and coping for the waterline tile and even the color of the plaster. So, all of that works with the exterior color scheme of the home and reinforces and supports the overarching design theme. I like the fact that it's a collaborative process. I love being able to add my thumbprint to the detailed design of the pool and the outdoor living areas.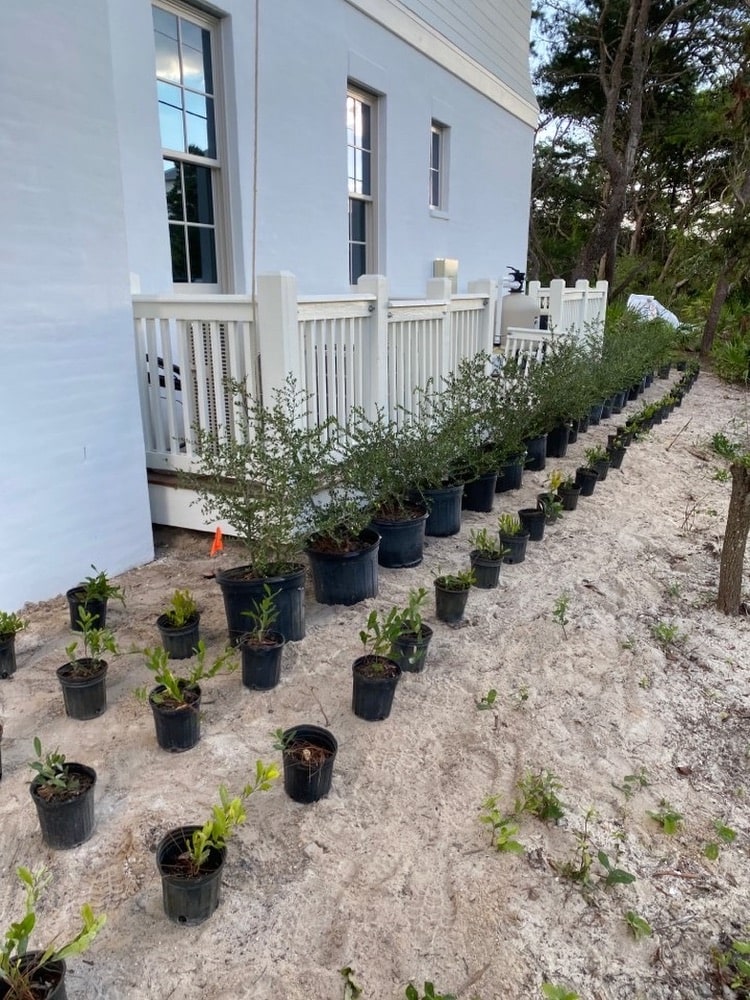 VIE: How did things come together for The Heritage reveal party? Were you excited about Julian Lennon and Emeril Lagasse being special guests in a home you worked on?
PH: Yes, it was wonderful to have people of that notoriety and talent involved. It was great, and I think it has brought a lot of attention to the home that might not have occurred otherwise; kudos to VIE for that. Everyone was nervous because there was a very concentrated effort to get the house done on time for the event without sacrificing quality or details, but we made it.
What I love most about The Heritage is that it's "on 30-A but not of 30-A."
VIE: Talk to us about the landscape design of the other eight houses in Heritage Dunes. Will they be similar?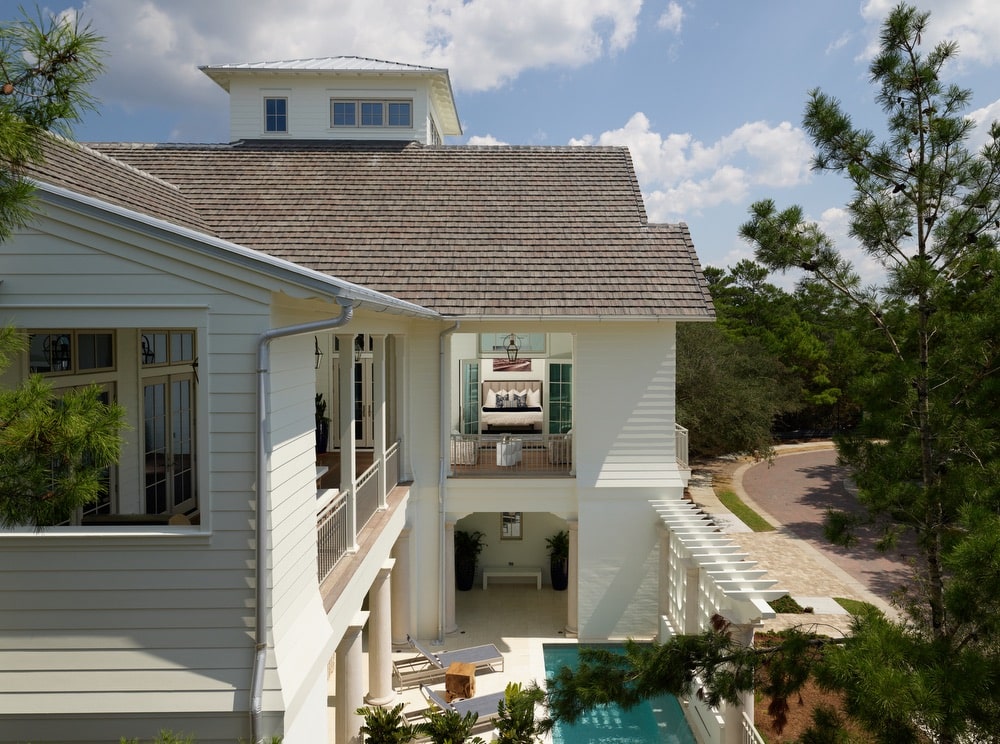 PH: The other eight homes will follow suit, but each will have an individual character and overarching design theme. They're going to look like they're related—like they came from the same family—because, in a sense, they're coming from the same development and design family. I like working at this scale; it's completely different to work at the detail level of a residential design and create these outdoor living spaces than it is to do a larger-scale master plan. I'm trying to make each house better than the last, and so far, I hope I'm accomplishing that. Everyone seems pleased, and we've had good luck getting timely approvals from the design review board. I'm just honing, refining, and trying to make each home a jewel as part of the necklace comprising all nine lots.
— V —
---
ARTICLE CATEGORIES