By Stacey May Brady | Photos by Jessie Shepard
Nigerian-born Chef Innocent Utomi brings an international appeal and a goal of greatness to his culinary approach at Fleming's.
The distance between the beaches of Nigeria in West Africa and the beaches of South Walton in Northwest Florida is about 6,200 miles—give or take a savannah or rainforest—and yet the desire and appreciation for an exceptional dining experience with spectacularly well-prepared food crosses cultural and geographic boundaries, melting away differences while accentuating commonalities.
Chef Innocent Utomi is the new Chef Partner at Fleming's Prime Steakhouse & Wine Bar located in Grand Boulevard at Sandestin in Miramar Beach. Chef Innocent, as he is called, hails from Nigeria and is trained in classical French cooking. He brings his uniquely international experience and passion for culinary greatness to the popular restaurant and gathering place.
"If you don't have passion, then nothing works!" declared Chef Innocent, who has an easy, irresistible manner. He is quick to smile and laugh, and his enthusiasm is palpable.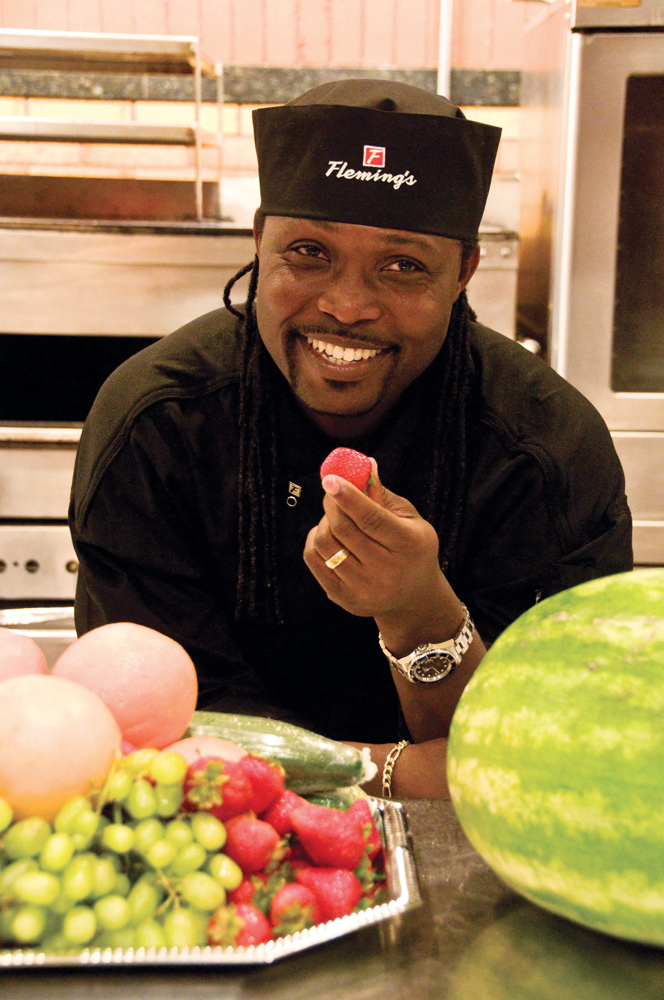 Having joined the Fleming's team in January 2008, Chef Innocent has already become something of a local celebrity. His food creations and charismatic personality are garnering rave reviews and a loyal following by those attending the restaurant's festive weekly food and wine pairings.
Chef Innocent's approach to cooking is grounded in simplicity and balance, using high-quality, authentic ingredients and uncompromising standards. He considers his food preparation an art form and he pours the passion he has for his craft into each of his food creations.
Striving to bring a positive energy to all aspects of his guest's dining experience, the dedicated chef understands that his leadership role sets the tone for the restaurant. He says his primary wish is for every guest to enjoy delicious food and want to come back again.
"I have to be demanding and won't settle for mediocrity," said Chef Innocent, who becomes intense and animated when describing his aspirations for epicurean preeminence. "I am always striving to be the best in class at all times. When one guest is not happy then I don't sleep well that night."
Fleming's dining menu is being complemented by the chef's nightly specials, which include fresh dishes influenced by the cuisine of Southern France, Italy and the Caribbean, and other places known for culinary excellence. Some of his new dishes are being influenced by his local following.
"The people who live here and who visit this area have sophisticated palettes and often they are world traveled. I've started creating dishes for the locals. They are my first source of information and inspiration," stated Chef Innocent.
As with many great chefs, his earliest cooking inspiration and training can be traced back to his mother's kitchen. Growing up in the middle-class neighborhoods of the West African nation, Chef Innocent inherited his mother's passion for cooking. Though he didn't realize it at the time, he was learning a craft that would become his profession. By the time he was a teenager, he realized he had a gift as his family began looking forward to the meals he cooked when they vacationed at his uncle's home.
Chef Innocent ultimately pursued a college business degree at a London institute. While working on his degree, Chef Innocent apprenticed in a London restaurant under the tutelage of a preeminent chef. It was here that he learned the finer techniques of classic French cooking and began to consider cooking as a profession.
After two years in London and with a business degree under his belt, he crossed the Atlantic Ocean to Rhode Island where he worked on a degree in accounting while expanding his food repertoire and cooking expertise in a fine Italian restaurant.
Having now earned two degrees, Chef Innocent finally acquiesced and acknowledged he was destined to become a successful chef in his own right. He spent the next couple of years cooking in Miami, learning the finer points of American, Caribbean, Cuban and fusion cuisines. In 1995, Chef Innocent went to work as a chef for Capital Grille restaurants, where he stayed for 11 years, becoming a chef trainer and expanding the company from four to twenty-six restaurants.
Chef Innocent had been aware of the award-winning Fleming's Prime Steakhouse & Wine Bar for several years. Upon meeting with the restaurant's representatives, he immediately felt they shared common core values.
"I was very impressed with their standards and how they care for family. Those are my priorities. Your family is their family and they really care about your well-being," said Chef Innocent, who has been married for three years to Rio de Janeiro-born Monique and is the proud father of a nearly one-year-old son, Mitchell.
"Everybody knows we are here! My goal is to keep going, to be the best and lead the pack in fine dining."

–Chef Innocent
The Utomi family is now living in South Walton County and Chef Innocent says they love their new community. He recently took his family to a local beach and was surprised by how much it reminded him of his favorite beaches in Brazil.
"It was perfect," he said. "I'm living in one of the best places in the world," he added.
He is particularly impressed with his new "home" in Grand Boulevard at Sandestin.
"It reminds me of a European village and plaza. It is artistic and everything is close by. Everyone takes care of one another. I was blown away," the chef stated about Grand Boulevard.
Chef Innocent is looking forward to the many upcoming events in which Fleming's is involved. They include premiere wine events, exclusive food and wine dinners and charity fund-raisers like the recent Salvatore Ferragamo event, which raised $60,000 for local charities.
He is especially excited about meeting and getting to know his patrons. "The people are very nice and sweet in that warm Southern way," he said.
So far, his ambitions for Fleming's are succeeding. The restaurant celebrated its one-year anniversary in June and continues to raise the bar for fine dining in the region.
"Everybody knows we are here! My goal is to keep going, to be the best and lead the pack in fine dining," Chef Innocent stated.
With his engaging manner, passionate appeal and boundless talent, Chef Innocent is poised to be the brightest new star on the Gulf Coast culinary scene.
— V —
ARTICLE CATEGORIES