Eat, Zip, Bike, Paddle, and Party
By Kim Duke-Layden | Photography by John Layden and Kim Duke-Layden
If you thought Florida's capital city, once infamous for its dimpled chads, is filled with nothing but politics and college football, then think again. Tallahassee is a year-round adventurer's paradise, where you can play hard both day and night. Whether you'd like to cut loose with your best buds or have a romantic romp with that special someone, Wild Tally is awaitin'!
Our three-day weekend kicked off with a stay at Hotel Duval (www.hotelduval.com), which exudes a hip vibe artfully wrapped in a vogue European package. Originally opening in 1951, the historic boutique hotel underwent a major renovation in 2009 and emerged as Midtown's sexy, sophisticated address. As a member of the Marriott's select Autograph Collection (www.autograph-hotels.marriott.com), award-winning Hotel Duval has been recognized for its originality, uniqueness, and character. For instance, overnight guests can choose between six mood-boosting room colors with stimulating aromatic scents ranging from exhilarating red with a hibiscus passion fruit scent to refreshing blue with an ocean scent. Our uplifting yellow room scented with "Nevada Sunset" fit perfectly with our action-packed weekend. Call it a coincidence—or a Red Bull rush—but our energy levels were supercharged all weekend, and we were unaware of the color-coded enhancements until after we checked out.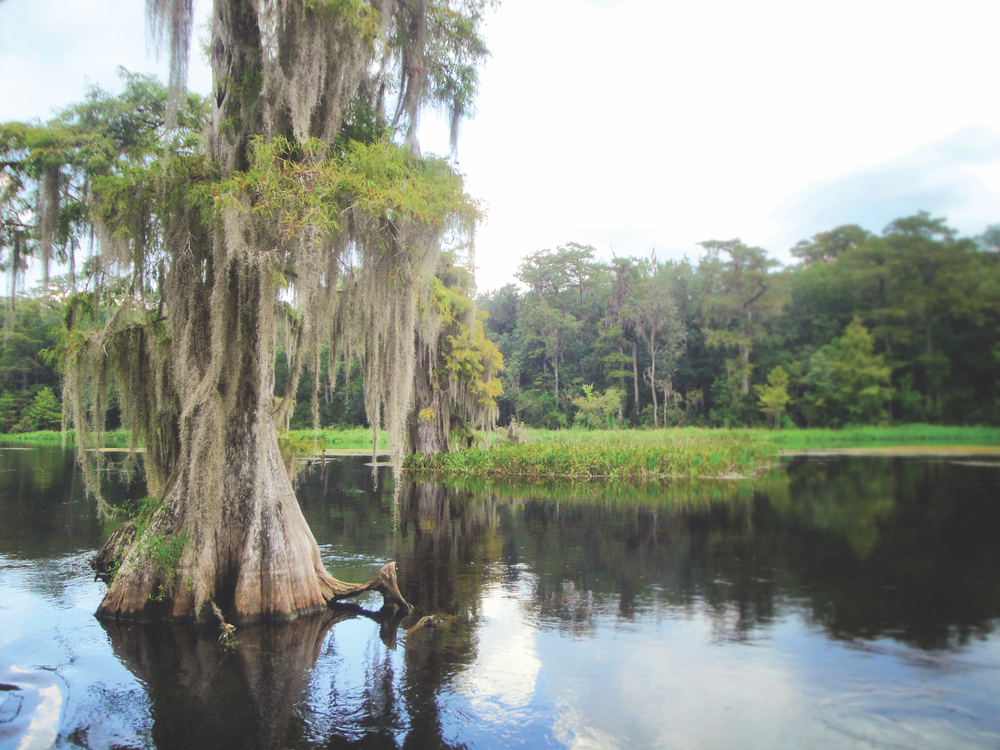 Be sure to arrive in time to catch a spectacular sunset at Level 8, Hotel Duval's edgy rooftop lounge, which is one of the few between South Beach and Hotlanta. Level 8 has a sleek, modern feel with zebra prints and chrome, and the sweeping views of Florida State University's Doak Campbell Stadium and the Florida State Capitol can't be beat. If you're craving a kick-ass steak and don't want to venture far, take the elevator down to Shula's 347 Grill, which has nearly as many awards as Tallahassee has politicians.
If you prefer seafood, head to the Front Porch (www.frontporchtallahassee.com), which is located a few miles away and is relatively new on Midtown's trendy restaurant scene. The historic property features an expansive porch with a relaxed raw bar that has two huge crystal chandeliers hanging above. Fresh seafood and Southern "plow to chow" cuisine expertly prepared are the star attractions. Among the many tasty appetizers, the Apalachicola Oysters Rockefeller and gourmet pimiento cheese served with homemade pickled watermelon rinds were standouts.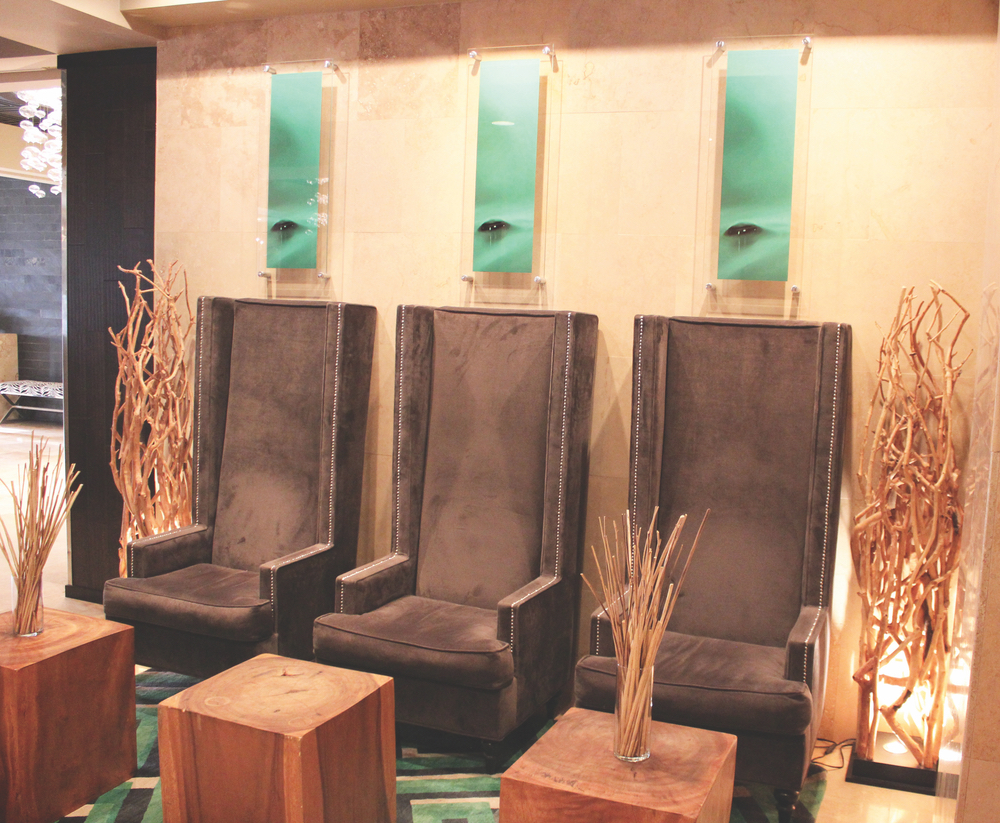 Hotel Duval has been recognized for its originality, uniqueness, and character.
Our sweetheart server, Kris, recommended the herb-crusted grouper with a balsamic glaze, which was spot-on delicious. I washed it down with a Lee's Mangria, a fruity concoction of mango nectar and Riesling topped with "black bubbles," a sparkling Syrah blend. Not manly enough for you? Order a caliente Habañero Margarita on the rocks. Satisfy your sweet tooth with a slice of one of the Front Porch's irresistible homemade desserts. I recommend their key lime pie, coconut cake, or red velvet cheesecake.
If you're not ready to call it a night and you know the password (available via online reservations), drink up some Gatsby-era ambience at Alchemy Spirits and Concoctions, a refined throwback to the 1920s speakeasies with dimly lit alleyways, clandestine codes, and genuine handcrafted cocktails from adroit "alchemists." In keeping with its authentic Prohibition-period menu, forget rum drinks. Instead, order a Corpse Reviver Number 2, a Pimm's Ginger, or a Godfather.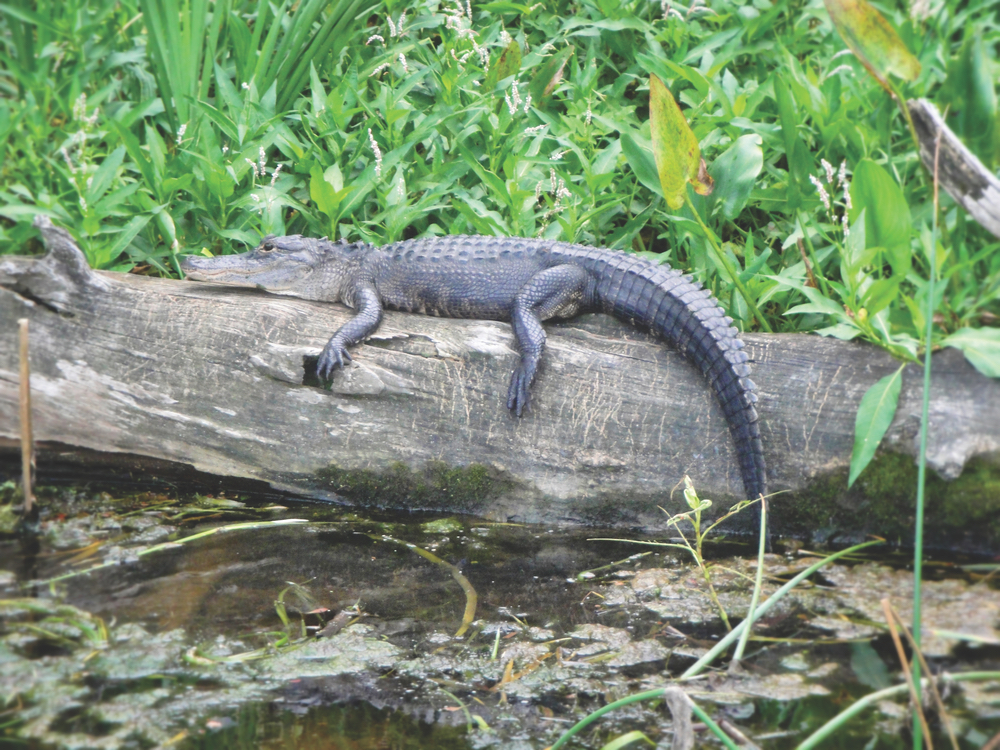 Warning: the beds at Hotel Duval are so comfortable you may not want to get up—ever. But you'll be amply rewarded if you answer the call of the wild. Before venturing out, fuel up on high-octane Starbucks and a hot, made-to-order breakfast or grab-n-go pastries at LeRoc Bistro, located adjacent to the lobby. Then set your GPS to Crawfordville, located twenty miles south of Tallahassee, for a morning paddle down the pristine Wakulla River.
After crossing the Gretchen Evans Memorial Bridge on Highway 98, turn right at T-n-T Hide-a-way (tnthideaway.com), which was running river ecotours long before the phrase was ever coined. In fact, trailblazer and single mother of five Gretchen Evans built the business from the ground up back in 1976 after spotting a "For Sale" sign on the idyllic property that spoons the Wakulla River. According to Evans's daughter, Jacki Youngstrand, who now owns and operates the business with her son, Robert Baker, her late mother named the original canoe rental outpost "T-n-T" as an acronym for the area's abundant "trout and turkeys." Youngstrand laughed when she added that Evans later discovered she was actually knee-deep in mullet and turkey vultures.
The sun shone brightly as we launched our colorful kayaks on the upper end of the Wakulla, which according to Youngstrand is the most scenic part of the river. Baker guided us downstream, where we spotted plenty of wildlife and "alligator breath," local lingo for the morning mist that hovers above the chilly water. Call it a coincidence, but minutes later I spotted the protruding eyes of a gator, whose unsettling movements mimicked an enemy periscope slowly emerging from the water and seamlessly disappearing again.
Ironically, alligators are intimidated by the river's gentle giants—manatees. These docile creatures are closely related to elephants and resurface every few minutes for air. Close encounters with this endangered species were the highlight of our morning's excursion, especially when they swam underneath our kayaks. Thanks to "the Manatee Lady," which Evans was called because of her ardent devotion to protecting and educating others about this endangered species, manatee sightings are frequent in many of the area's spring-fed rivers, like the Wakulla, the St. Marks, and the Wacissa.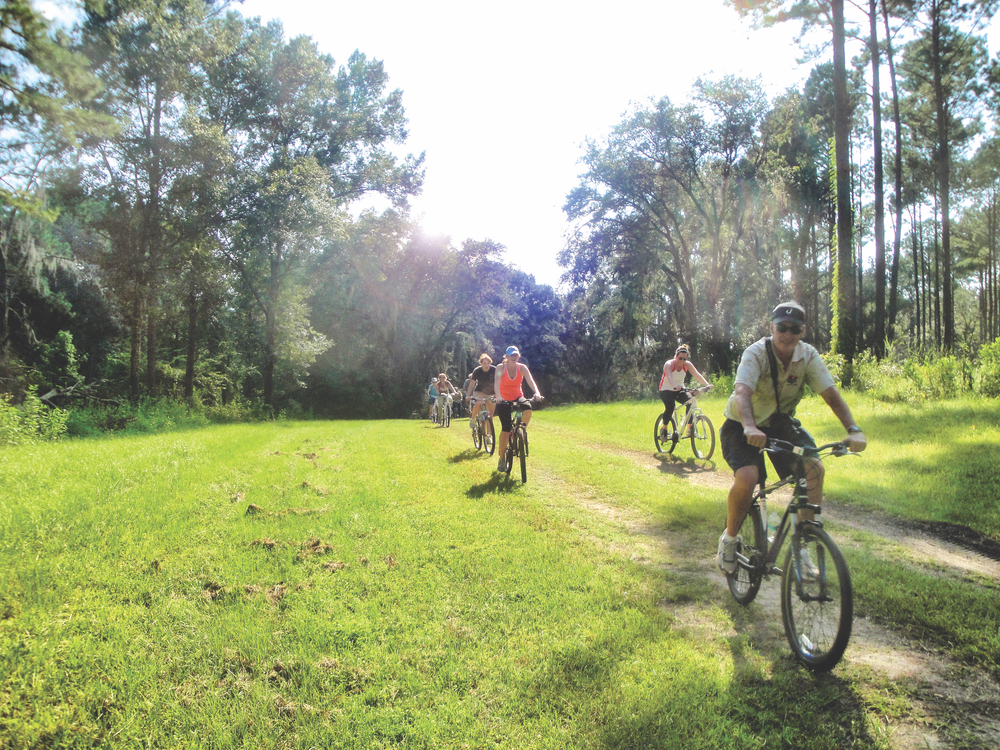 Our exploration of the "real Florida" grew wilder by the minute as we continued on to nearby Wakulla Springs State Park (www.floridastateparks.org), a 6,000-acre wildlife sanctuary tucked within Spanish moss–laden woodlands that have been inhabited by humans for nearly fifteen thousand years. The nostalgic Wakulla Springs Lodge (www.wakullaspringslodge.org) was built in 1937 by financier Edward Ball as a destination for nature-seeking tourists. The lodge is an example of Mediterranean Revival architecture with one-foot-thick walls. Its impressive lobby features a massive marble fireplace, colorful hand-stenciled cypress beams, decorative wrought-iron accents, and period furniture. Upstairs, twenty-seven spacious and allegedly haunted accommodations have a vintage feel with modern upgrades, except for in-room televisions, which Ball's will strictly prohibits.
"Old Joe" beckoned me from across the lobby. He's an eleven-foot, 650-pound stuffed alligator that was estimated to be three hundred years old when an unknown assailant killed him in 1996. Behind Old Joe's display is the former post office, which now houses a gift shop and snack bar with an old-fashioned soda fountain. Belly up to the world's longest known marble bar and order a malt or a retro "ginger yip" made with ginger and vanilla syrups mixed with club soda.
The lodge's relaxed yet refined dining room serves three meals daily and overlooks the springs' swimming area and high dive. According to Jodi Perez, the lodge's first-ever female chef, people come from all over to eat here. Along with time-honored favorites like fried chicken, fried beef liver, and navy bean soup, Perez's seasonal menus highlight seafood and were inspired by her Southern grandmothers. Try the Bee Charmer Salad with Gulf shrimp and tupelo honey dressing, Oysters DuPont with lump crabmeat, feta, and capers, or the grilled fresh catch. Save room for Perez's homemade Hummingbird Cake.
After lunch we embarked on a forty-five-minute jungle cruise guided by humorous Jeff Hugo from the Florida Park Service. The marshy banks of these gator-infested waters were overgrown with cypress trees and dangling vines like the ones Johnny Weissmuller swung from during several Tarzan movies that were shot here in the 1940s. Wakulla's springs are not only reported as the world's deepest, but the Native American name supposedly means "mysterious water." The springs' dark, tannin-tinted water created an ideal setting for the B-movie thriller The Creature from the Black Lagoon, which was also filmed here. Fans won't want to miss next fall's big shindig that will commemorate the film's sixtieth anniversary with a special screening and a guest appearance by Julia Adams, who starred in the movie.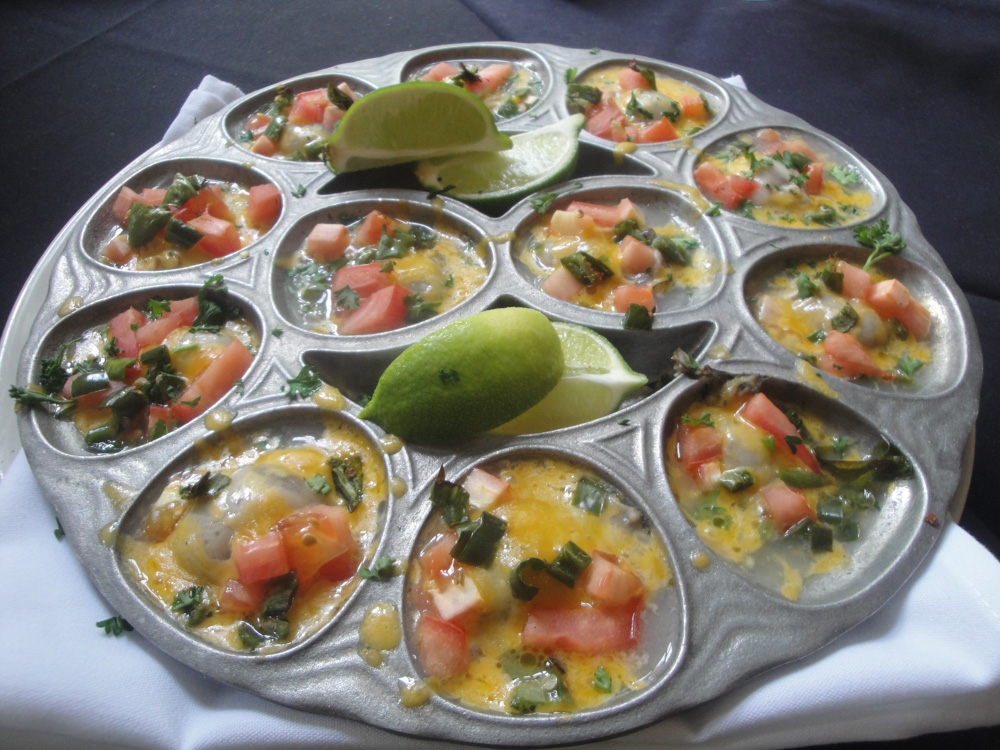 After a day on the water, we returned to the big city for a casual evening on the town. When the weather is nice, snag a table under shady magnolias at Andrew's Capital Grill & Bar (http://www.andrewsdowntown.com/), a downtown Tallahassee institution for over forty years. In between rounds, duck inside to catch the score on one of Andrew's thirteen HDTVs. Afterward, check out the action at College Town at Madison Street, Tally's newest entertainment enclave (www.fsucollegetown.net). According to Madison Social's copartner, Matt Thompson, old school meets new school in this hybrid gastro-pub and sports bar, where pub fare is kicked up a notch but not too high-brow to exclude the student population. Imbibe craft beers and "sociables" (signature drinks) like a Madison Mule or a hot pepper–infused Rusty Belle (www.madisonsocial.com). When spring fever hits, head upstairs to Recess, a rooftop pool retreat by day and an edgy nightclub after dark (www.recesscollegetown.com).
Saturday's whirlwind adventure began high above Tallahassee Museum with Tree to Tree Adventures (www.treetotreeadventures.com). Adrenaline junkies should opt for the advanced Soaring Cypress course, which combines the introductory Canopy Crossing course with additional higher, trickier obstacles and longer, faster zip lines. We grabbed our harnesses, clipped on our carabiners, and away we flew through twelve zip lines and forty obstacles. Although I've done more death-defying canopy tours in Costa Rica and Guatemala, the Soaring Cypress definitely had its challenges. For one, the course is self-guided, so it's up to you to attach and secure your carabiners correctly. And, no rescuers are at the other end in the event you over- or undershoot a platform.
Eagle-eyed employees watched us from below and were handy at retrieving fallen gloves. For nearly two hours we tested our agility and balance while walking tight ropes, crossing dangling logs, surfing through the sky, and crab-crawling above scenic cypress swamps. The course was exhilarating and so were the bird's-eye views.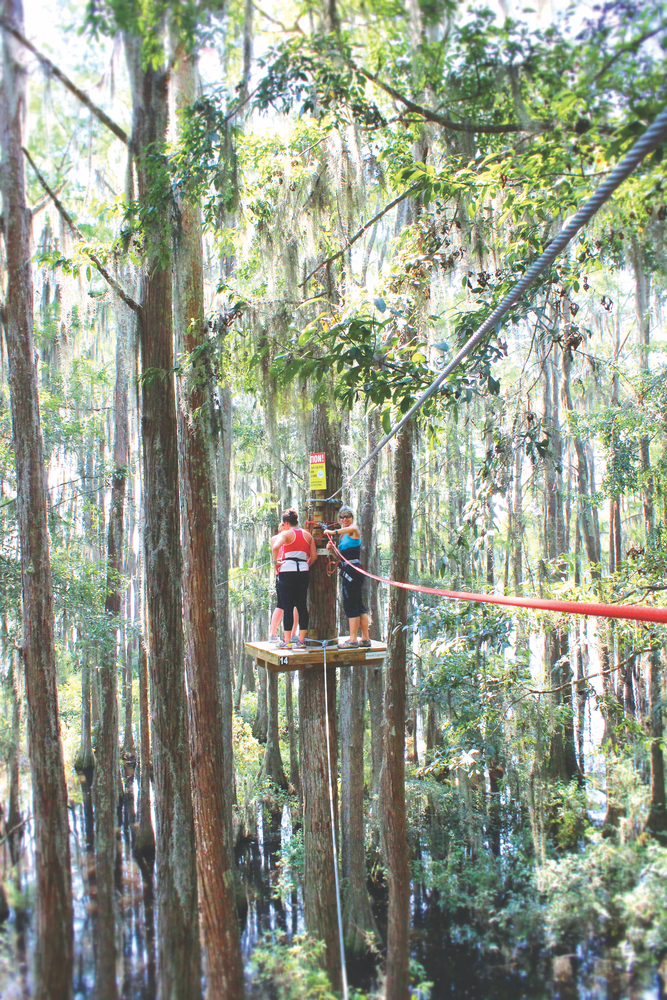 Before lunch, we hit Saturday's Downtown Marketplace at Ponce de Leon Park, which is held March–November from 9:00 a.m. to 2:00 p.m. and features lots of local flavor, music, and crafts (www.downtownmarket.com). When you arrive, follow your nose to Frontier Kettle Korn. It's the best you'll ever taste! If it's the first Saturday of the month, the market festivities continue until 5 p.m. and include craft beer tastings.
Our stomachs were growling when we arrived at Midtown's Paisley Cafe (www.paisleycafe.com) for a little "love on a plate," which is how owner Kiersten Worrell describes her seven-ingredient comfort food. Everything is made from scratch with the highest quality ingredients, so whatever you order, you can't go wrong. If you like shrimp and smoked Gouda grits, this is the place to order them! Chocoholics will have a hard time deciding between the Nutella bread pudding, the German chocolate cheesecake, or the slutty brownies. If you need a caffeine jolt, order a Manhattan Special, which is a mixture of cola and black coffee. Paisley Cafe closes at 3:00 p.m. daily, so plan accordingly.
After lunch, we drove along one of Tallahassee's many scenic canopy roads, where we were shaded under an organic awning of moss-draped oaks. Our guide, Josh, from the Great Bicycle Shop (www.greatbicycle.com) was awaiting us with rental bikes at Phipps Park, a 650-acre wild and sprawling urban playground. We mounted our mountain bikes and followed Josh on an invigorating off-road excursion along the Elinor Klapp-Phipps Trail, whose triple circuitous course skirted Lake Jackson and grew longer and more intense with each undulating loop. February is an ideal time to ride this trail when it's blanketed in brilliant trillium blooms and the weather is crisp.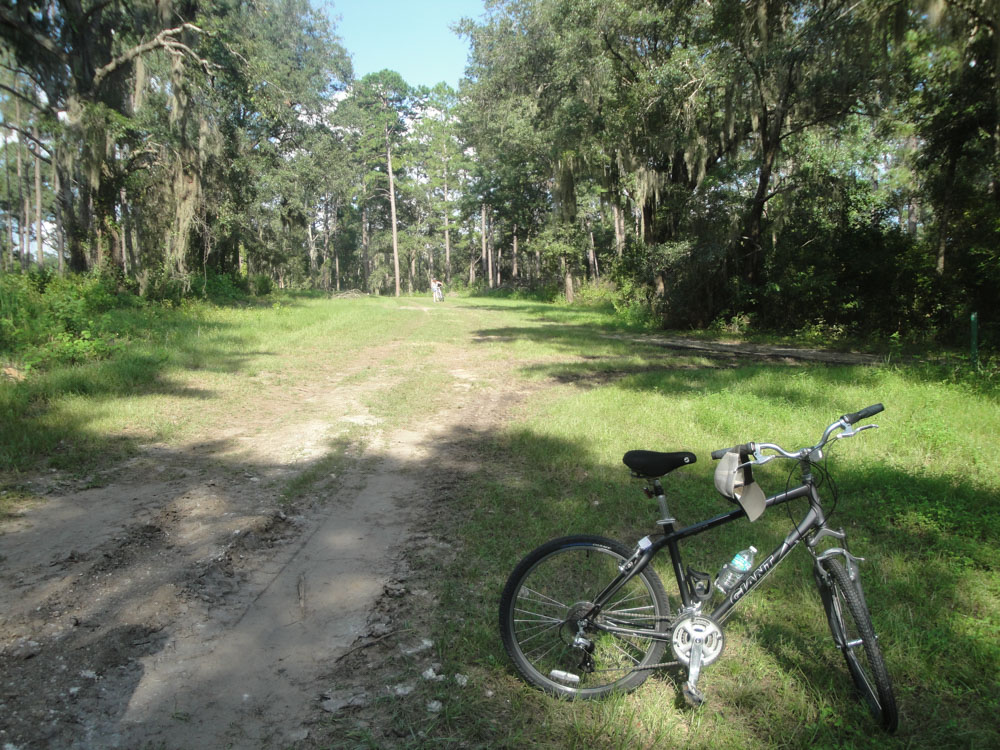 A smoother, less hilly route is the Tallahassee–St. Marks Historic Railroad State Trail, a "rails to trails" path that runs from the Capital City along a former rail line to the Gulf Coast. Out and back, the forty-one-mile, paved course is an easy, flat ride and has several rest stops with facilities. But keep an eye out for huge banana spider webs that are strung like gossamer banners across the path.
Tallahassee's Big Bend region contains countless trails not only for biking, but also for paddling, hiking, running, and horseback riding. If you're passionate about the great outdoors, visit Trailahassee's recently launched all-encompassing website (www.Trailahassee.com), featuring info on six hundred miles of various pathways with interactive trail maps, GPS coordinates, and recommended outfitters and associations. Another great resource chock-full of area information, including upcoming events, is www.visittallahassee.com.
Tallahassee's Big Bend region contains countless trails not only for biking, but also for paddling, hiking, running, and horseback riding.
After our invigorating ride, we dashed back to Hotel Duval to shower and then drove across town to Cypress Restaurant, which is one of Tallahassee's trendier foodie haunts with a sophisticated, artsy vibe (www.cypressrestaurant.com). It had been nearly a decade since we last dined here, and the food was as good as we had remembered. After dinner we went to Tallahassee's legendary Bradfordville Blues Club (www.bradfordvilleblues.com), which is unlike any place I've ever been. This hidden gem is steeped in history and cornfields: it is located in the boondocks thirty-five miles northwest of downtown. Getting there is part of the adventure. If you don't have a DD (designated driver), chip in for a cab (City Taxi: 850-562-4222; www.taxitallahassee.com). I promise you, it's worth it!
We rode nearly an hour, then exited onto a dark, hilly pig trail that unfolded into a field with huge live oaks. After parking, we made our way to the low-slung cinderblock building with funky Christmas tree lights. This is the real deal: a no-frills juke joint that traces its history as far back as the 1930s—or earlier—when African American blues musicians traveled the Chitlin' Circuit, a string of safe performance venues during segregation. A historic marker stands outside the club recognizing the BBC as one of only ten—and Florida's only—existing clubs on the historic Mississippi Blues Trail outside of the state of Mississippi. Except for occasional weeknight appearances, the BBC is open weekends from 10:00 p.m. to 2:00 a.m. and always features different touring acts. Because your ticket guarantees you a seat, tickets are intentionally limited. Be sure to reserve in advance before making the long drive.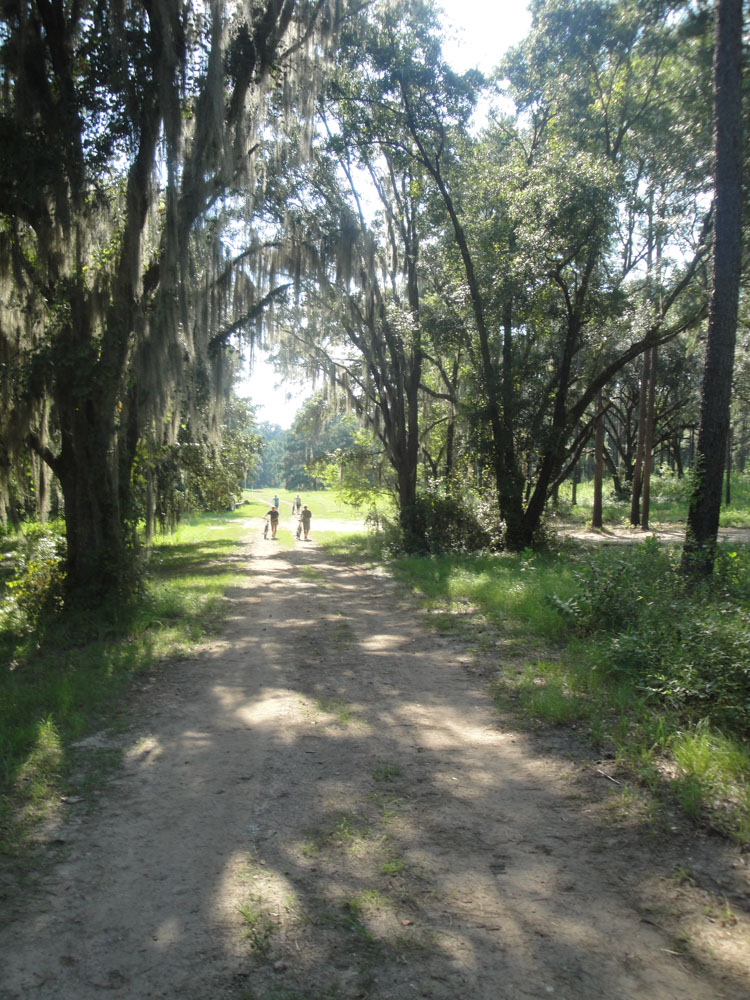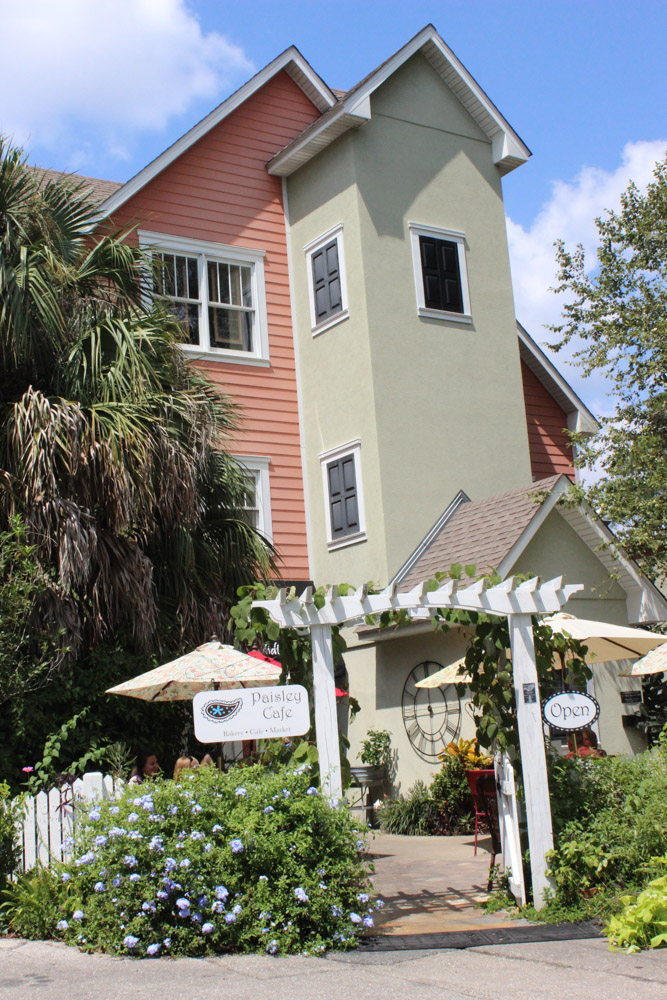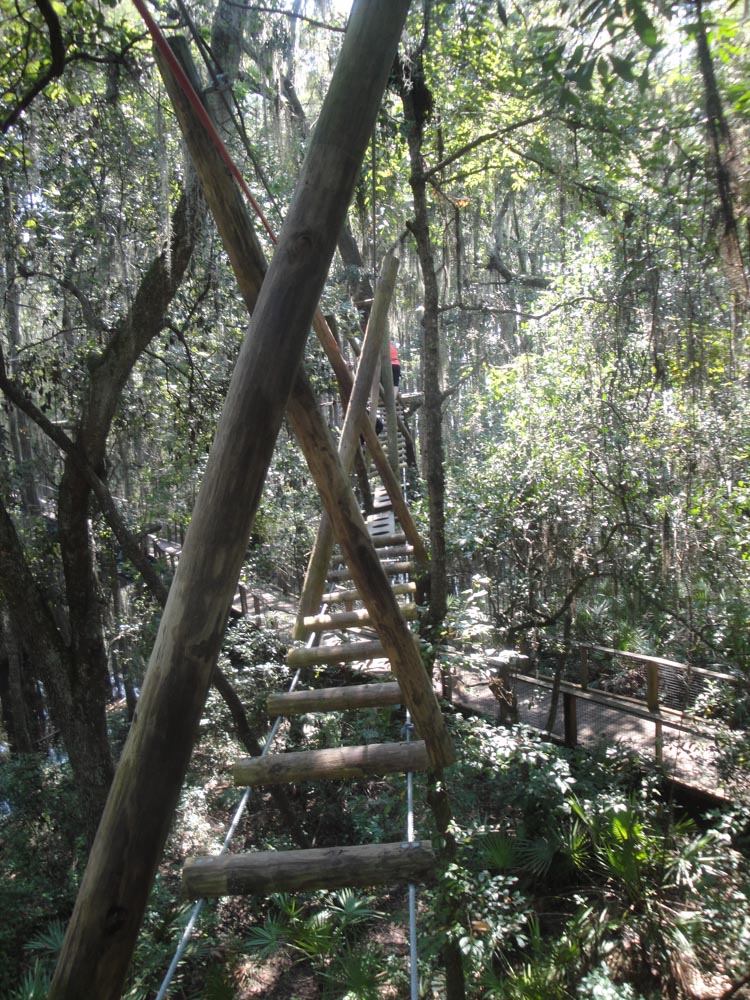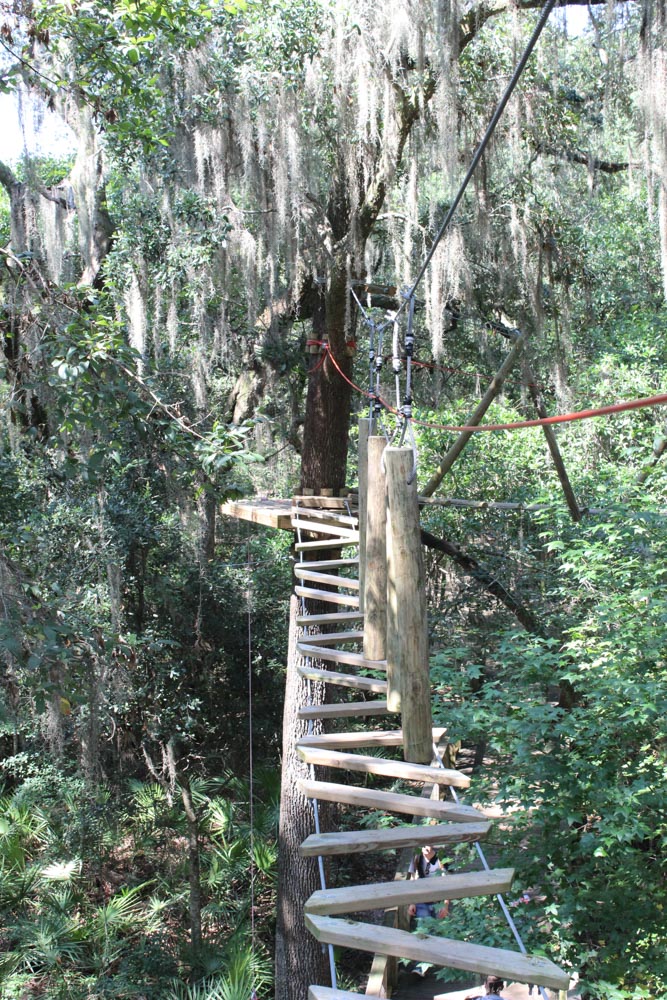 We walked inside the one-room dive and sat in the midst of an eclectic mix ranging from graying hippies to young professionals. Gleaming from the electric-blue painted walls and tabletops are funky, hand-painted portraits of renowned blues royalty who have graced the BBC's stage. When Andy T and Nick Nixon's five-piece ensemble started playing, I knew we were in for a rare treat—and, man, was I right! They rivaled any Chicago blues band that I had ever heard.
During the band's break, we walked next door, where a hungry crowd had gathered around Ms. Gracie's counter for fresh fried catfish. On chilly nights, when huge bonfires are built, bands are known to hold impromptu jam sessions under the stars. We returned inside for the band's sizzling second set, and before we knew it, we had closed the house down.
The next morning before leaving town, we heeded the advice of an in-the-know foodie and ate a scrumptious Sunday brunch at Mockingbird Cafe, which is located between Hotel Duval and Interstate 10. Reluctantly, we bid farewell to the Capital City but vowed to return soon and often for more "Wild Tally" weekends. Then we cranked up our new souvenir CD and sped away "topless," with the wind whipping through our hair and the stereo jamming to the blues.
— V —
---
Kim Duke-Layden is an international adventurer whose motto is "I haven't been everywhere, but it's on my bucket list!" She lives at Sandestin Golf and Beach Resort in Miramar Beach, Florida, with her husband, John, and in between adventures, she writes for VIE. You can drop her a line at Kim@viezine.com.
ARTICLE CATEGORIES