At Mercedes-Benz Fashion Week Spring 2012
By Ainsley Rogers
Mercedes-Benz Fashion Week swept the New York City social scene, bringing out the fashion obsessed and the fashion elite alike from all over the globe. But Fashion Week is, of course, all about the clothes. And the pieces for Spring 2012 did not disappoint.
Quite a few trends stood out in the collections for Spring 2012. Homage was paid to the American woman across the runways at Mercedes-Benz Fashion Week, with pieces that celebrated effortless style, showstopping confidence, and delicate femininity. Many designers incorporated breezy looks, chiffon accents, and soft colors into their collections, while others featured bold color and luxe embellishments.
At the Luca Luca Spring 2012 show, models sported my favorite trend of the past few seasons—bold lips—and showcased a wide variety of pieces. From powerhouse blazers to feminine silk dresses and skirts, the designer included colors from soft pastels to rich jewel tones. I fell particularly in love with a deep sapphire chiffon gown, belted at the waist, with tiny cap sleeves. Delicate yet modern, it was perfectly lovely and fit for any black-tie affair.
Speaking of gowns, Lela Rose's dreamlike gowns stole the show and left all the female attendees with princess ambitions. Rich with texture, metallics, and dotted tulle, the Lela Rose Spring 2012 collection embodied whimsical fantasy.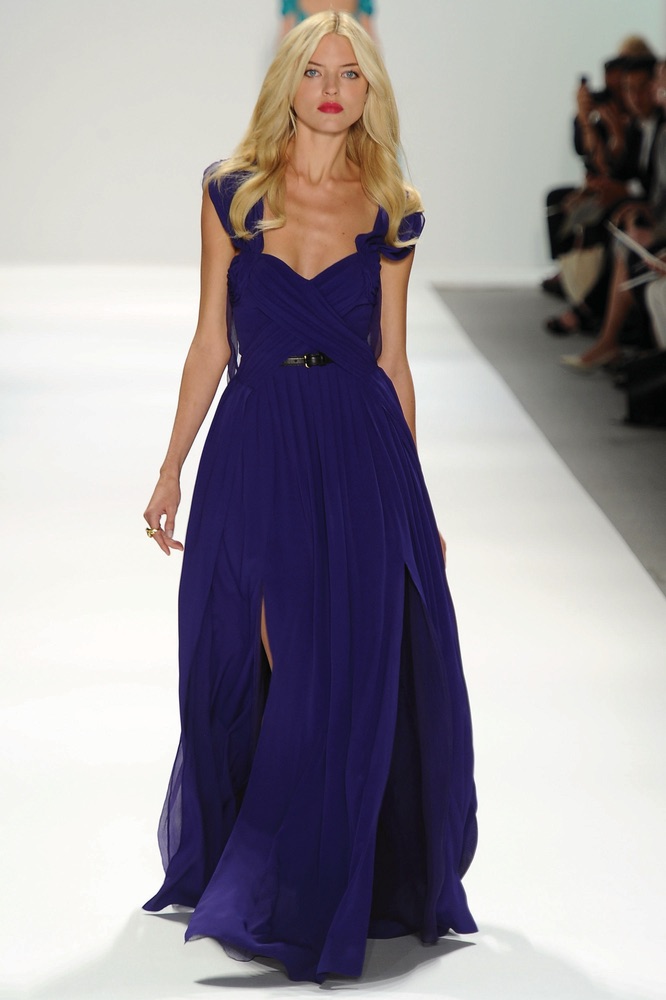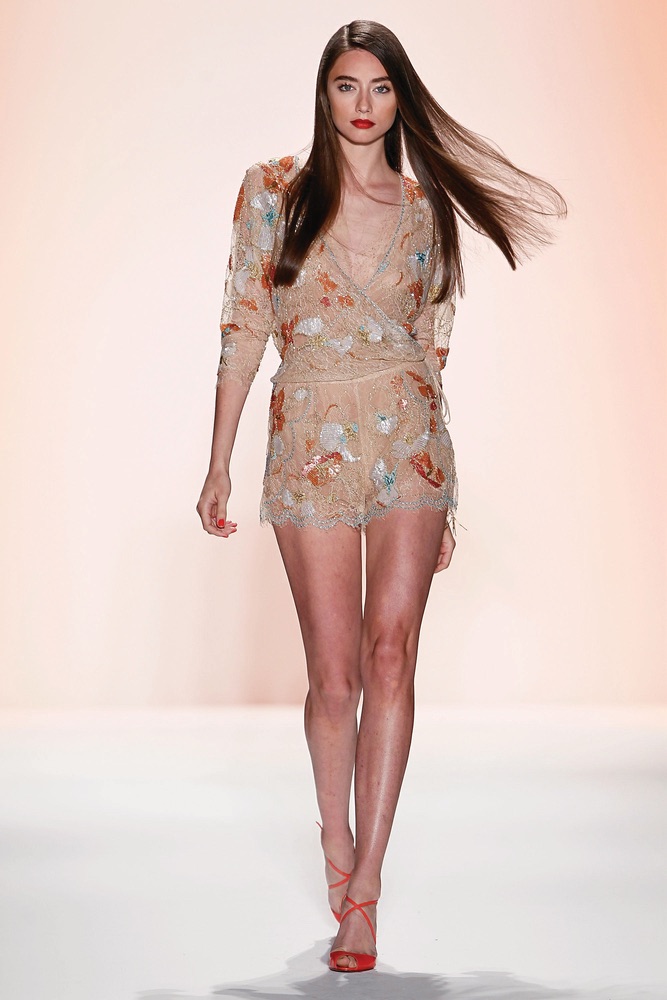 One of my favorite pieces of the week made up for in beauty what it lacked in practicality: a beaded chiffon playsuit by Jenny Packham. This British designer's delicate Spring 2012 line included made-for-the-red-carpet floor-length ball gowns, body-hugging silhouettes, and chiffon sheaths beaded with colorful flowers. Packham's pieces proved they were made with an artist's hand, as the chiffon kept an airy effortlessness though weighed down by the intricate beadwork.
Donna Karan's little sister line, DKNY, sent models clad in an eclectic mix of updated fashion staples down the runway, including a trend that swept Fashion Week and will nestle quite nicely into the mainstream American woman's closet—the "step dress." These dresses feature hemlines that are short in the front while long in the back, adding a punch of sass to an otherwise classic frock. A good many floppy hats were also on the DKNY runway. Fittingly, the models' final walk was to the Guess Who's "American Woman," which had attendees ready to sport the cherry red and blue prints that permeated the line.
At Milly, models were clad in pieces that describe the quintessential Milly audience—girls that like classic silhouettes but still want to be noticed. Vintage '50s and '60s styles were reflected in sheath dresses, cropped pants, swing coats, and cat-eye sunglasses, channeling an updated Kennedy-era style. Staying true to designer Michelle Smith's tradition, prints were the focal point of this show, ensuring that attention was placed on the artistic expression of the line. Milly wasn't the only show where a tribute to an earlier decade would be paid.
Another of my favorite looks of the week came in the form of Anna Sui's eclectic spring collection, which channeled the 1940s. Models sauntered down the runway in '40s-style separates, freshly styled with vintage-inspired headwear. In traditional Sui fashion, purple and black made up most of the palette, while pastels, white, and reds also made an appearance. I wanted to steal one look right of the leggy model as she glided by: a pastel pink and purple rose-printed romper, topped off with a black and gold sequined swing jacket and turban. Romantic with a twist, this collection fused femininity and bold pieces.
Nicole Miller was also reminiscent of yesteryear: this time it was the 1980s with punchy color and relaxed athletic silhouettes fused with modern graphic prints. (Think your favorite '80s high school movie meets the runway.) Aqua, watermelon, and purple were Miller's colors of choice, staying on point of the kicked-up decade. No side ponytails or teased hair needed—models wore long, relaxed locks and natural makeup.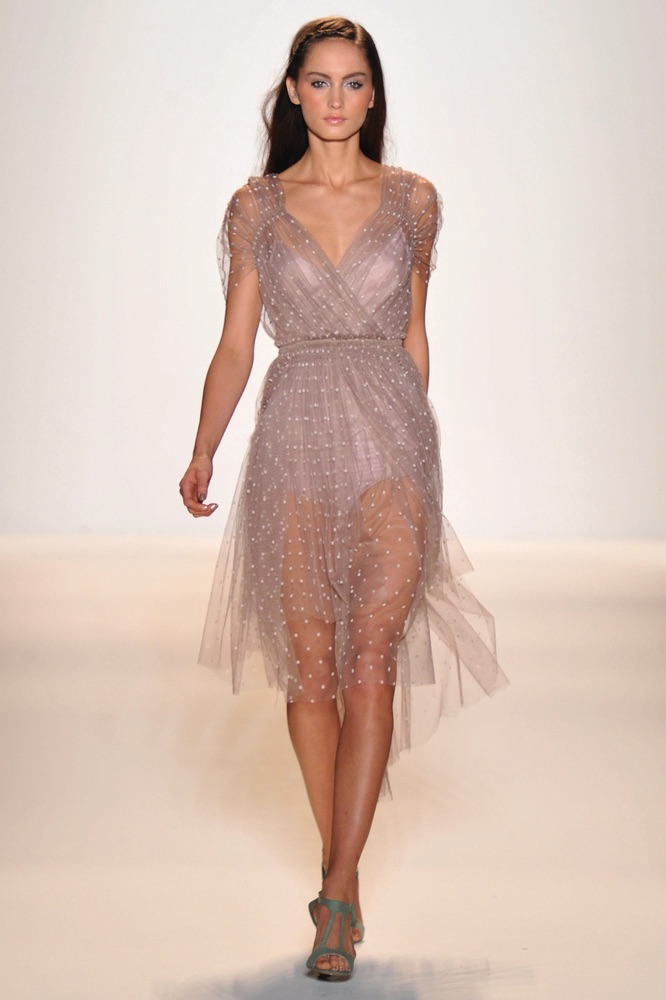 Color was also a main focus at Naeem Khan, as punches of bright yellow, red, orange, and magenta ruled the runway. Khan depicted colorful, racy glamour with his embellished gowns and pieces featuring cutout backs. Metallic fabrics in gold and silver and oversized accent necklaces were also present on the runway, creating high-fashion eye candy for all attendees.
At Jason Wu, models were done up with poppy lips and spiky updos, adding a little spunk to Wu's classic, tailored pieces. In navy, white, black, and grey, it is clear that his pieces are easily incorporated into a woman's everyday wardrobe. However, it was hard to remember the rest of Jason Wu's Spring 2012 collection after seeing his finale gowns in hot shades of chartreuse and pink. A personal favorite was a strapless chartreuse high-low gown, belted subtly at the waist with a thin black belt on top of a voluminous skirt.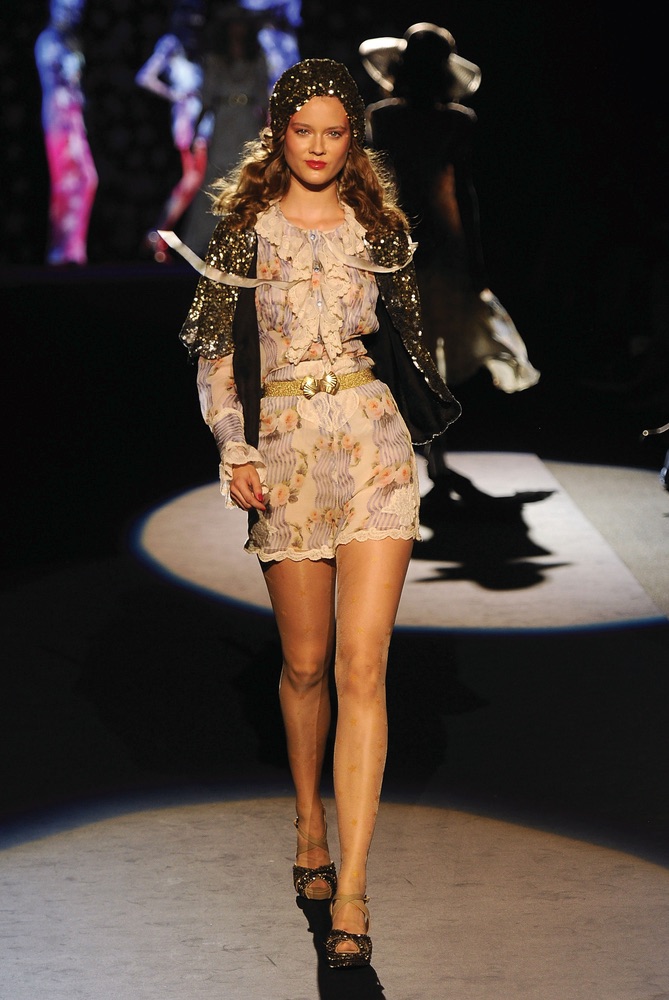 However, the king of color may have just been Badgley Mischka, who brought bright hues and ornate embellishments to the runway for their Spring 2012 show. Models, made up with thick liquid eyeliner and pink lips, paraded a palette of blues, purples, citrons, and oranges down the runway. The flouncy peplum made a comeback on many of this line's pieces, but also present were structured pieces with defined waistlines. The champagne-colored gown was a personal favorite: an ethereal piece composed of a structured silhouette accented with longer, flowing chiffon—gorgeous enough to make VIE's coveted cover.
The Tibi show was perhaps my most anticipated runway of the week, and Tibi designer Amy Smilovic surprised her audience as she ventured away from her normal use of color, playful prints, and preppy dresses in favor of a minimalist style for Spring 2012. Boxy leather tops, pleated halter high-low gowns, and tangerine tunic dresses appeared instead. Although I've always been an enthusiastic fan of her figure-flattering frocks, the new Tibi look was an understated breath of fresh air, but perhaps a tad too relaxed for my taste.
Luxe glamour and dramatic embellishments were all the rage across the runways, with the Norman Ambrose show dripping in gilded glamour. Metallics, animal prints, and textures worked together to form a showstopping line of both practical pieces and exquisite gowns.
Tory Burch took a surprising twist on embellishment, adding fringe detailing to her otherwise preppy line, creating a fresh contrast with creams and sequined pieces. Her nautical-inspired collection embraced the beach life we hail as our own on the Emerald Coast. Stripes, gold polka dots, and color-blocked skirts were all shown mixed with the prints Burch has become famous for in resort wear; these were paired with her collection of shoes that have started a fashion frenzy across the nation.
Elie Tahari did not disappoint within the confines of luxe pieces. The palette for Tahari was clearly inspired by sand, cerulean skies, and orange sunsets, and the pieces were complemented by gold accessories, layered textures, and plenty of embellishments. Featuring relaxed blazers, flowing chiffon skirts, harem pants, and tunics, this line exhibited understated glamour with an exotic edge.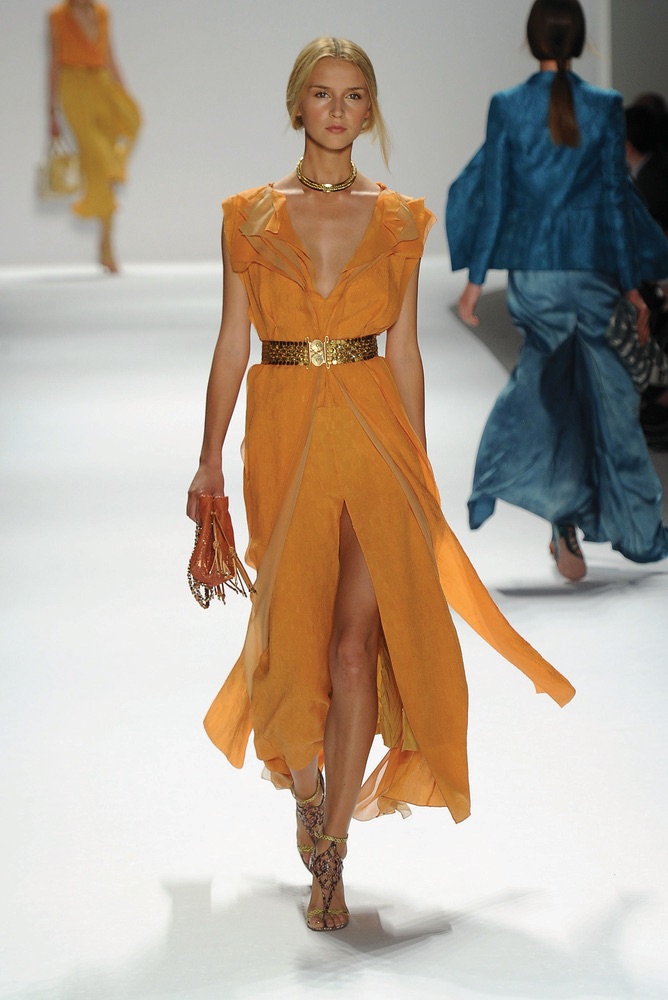 Carloes Miele's inspiration was also drawn from nature as he incorporated ocean blues and mossy greens into sheer, ethereal pieces that moved like liquid as the models paraded down the runway. Fluttery kaftans and evening wear with high slits were his pieces of choice, creating a dramatic mood to his spring collection.
Meanwhile, the rough-edged tunes of the Ramones mixed with the presence of Scott Disick and Kim Kardashian's soon-to-be ex, Kris Humphries, on the front row created a boyish, edgy vibe at the Jill Stuart Spring 2012 runway show. However, once the models took the runway, it was clear there was nothing masculine in the mix. Minty green and salmon were the main colors of choice, creating an ethereal styling on pleats, chiffon drop waists, and loose silhouettes. The shoes, though, were the first thing to catch my attention—Mary Janes with thin straps, set on thick, gold mirrored heels, and done up in various shades of pastels; these could become a serious footwear fetish fit for any dancing queen.
Elene Cassis also paid tribute to subtle femininity and elegance with a line filled with pastels, pencil skirts, cropped jackets, and patterned and textured black and white frocks. Silk dupioni and silk jacquard were a hit here, keeping a soft movement to the line that embodied the elegant and confident woman. Anyone wearing Elene Cassis Spring 2012 will be transformed into a lady almost instantly.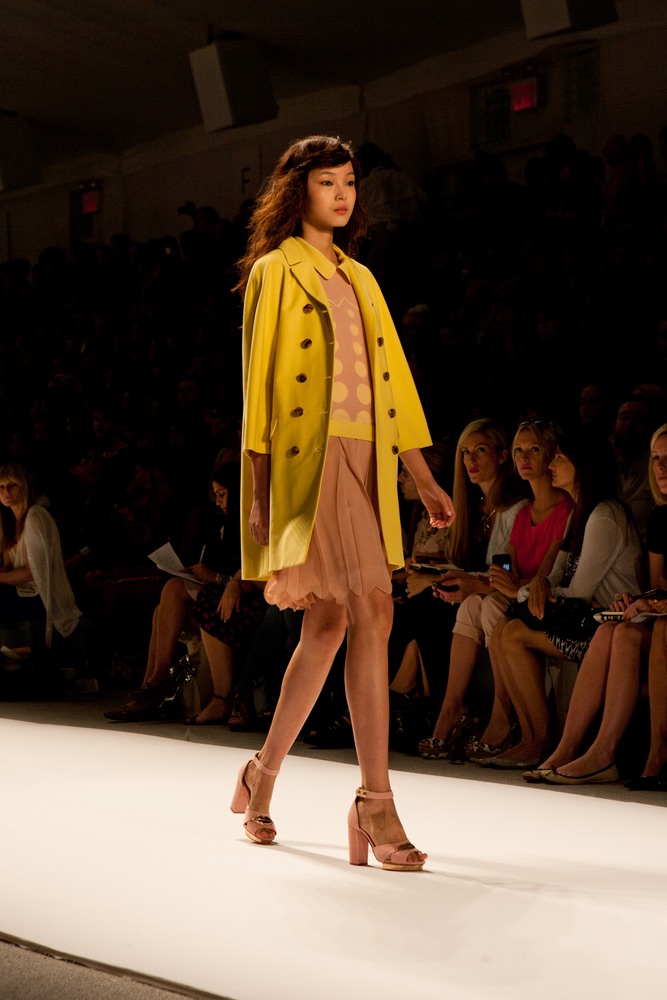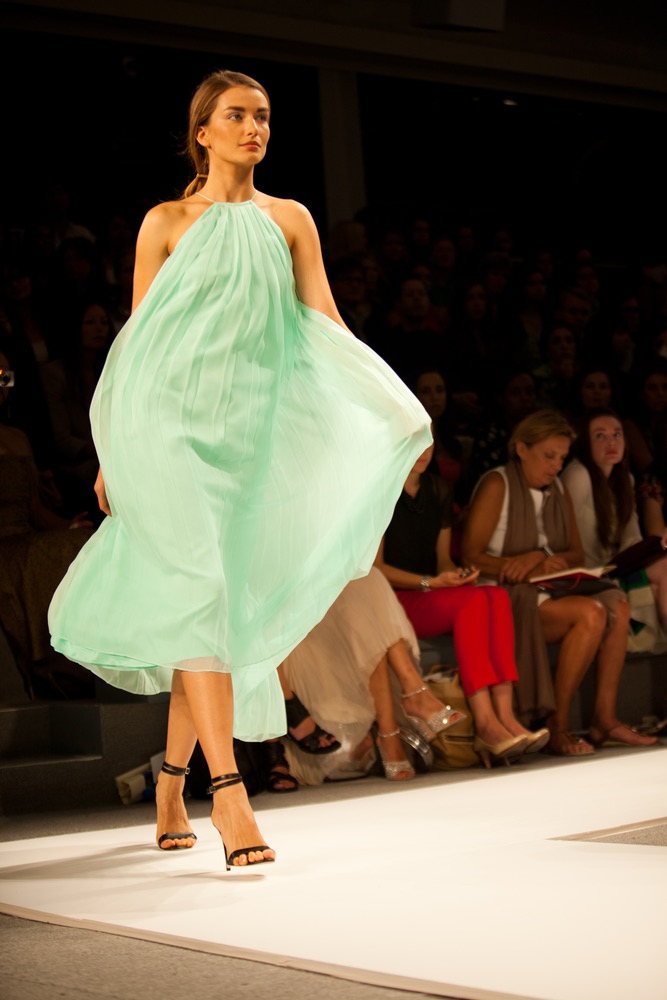 Then there were the theatrical designers, praised as much for their dramatic presentations as for their pieces.
The Betsey Johnson show caused quite a stir at Lincoln Center, as those that weren't fortunate enough to secure an invitation crowded around the lobby televisions to watch the live stream of Johnson's burlesque-inspired show. Sheer trench coats, loads of leopard print, lingerie-inspired details, and bustiers were revealed to attendees on Brigitte Bardot look-alikes to high-energy music. Johnson's signature show-closing cartwheel left attendees on the edge of their seats with applause, reminding all that fashion is, in fact, entertaining.
One of my favorite shows just happened to have nothing to do with women's fashion and everything to do with men's. Perry Ellis explored a more modern approach to the classic pieces that define the brand, incorporating more color and a leaner cut in this spring line. The show was heavy on cream, khaki, and light neutrals ranging from olive to off whites, and incorporated lots of linen that would make most girls weak in the knees. The models, whom we were fortunate enough to chat with for a while backstage, were clean cut and slightly preppy. The resulting look was clean and chic but effortless at the same time—something more men should test out.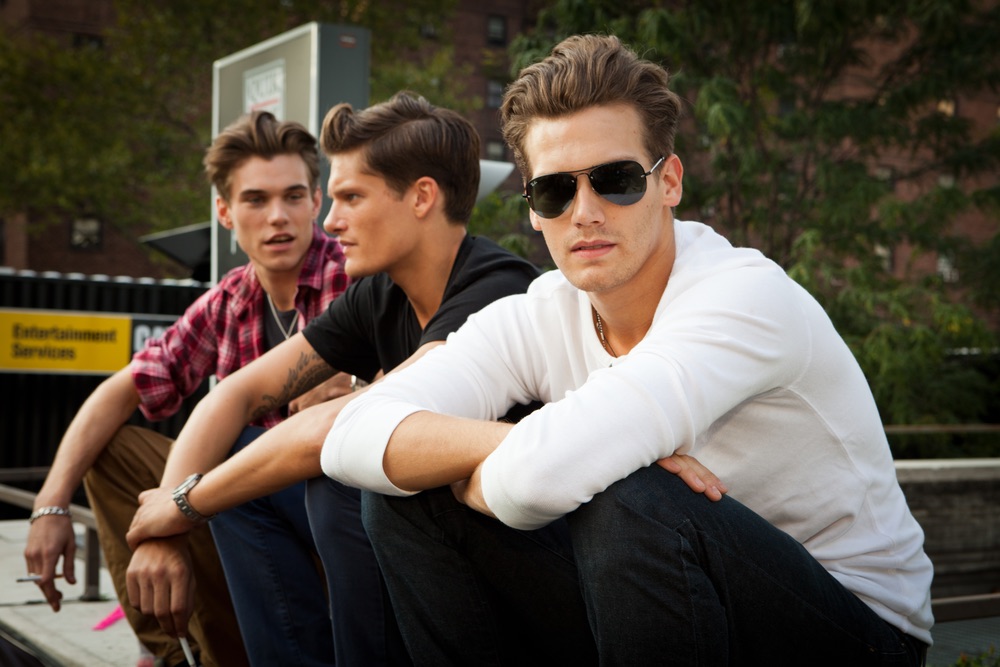 Zang Toi was by far the most dramatic presentation at Spring 2012 Fashion Week with his "Dream of North Africa" collection. Incorporating ready-to-wear pieces in shades of black and brown, Zang Toi relied heavily on women's tunics, separates, and both men's and women's suits in shades of brown, ebony, ivory, and sapphire blue. The designer raised eyebrows in the best way possible with dramatic gowns that were as much works of art as they were ball gowns. Some of his looks featured elaborate backs; some were shown with headpieces. Following suit in the dramatic fashion, actress Kirstie Alley was the finale gown model, sauntering the runway in an imperial coat worn over a matching sapphire couture silk gazar strapless imperial gown.
As Fashion Week came to a close, I couldn't help but feel mixed emotions—a sense of closure was in the air that summoned both sadness and relief. On the last day, too-high heels were traded in for Tory Burch and Chanel flats, show invitations littered Lincoln Center's lobby floor, and we exited those double doors giddy with relief and already nostalgic for the crowds, the shows, and the fashion. From whimsical gowns and light linen shirts to structured suits and retro shifts, Mercedes-Benz Fashion Week Spring 2012 had brought the best of the best to show their very best.
ARTICLE CATEGORIES