By Jordan Staggs | Photography by Christopher Barrett
Worlds are built through great collaborations, and this modern Miami residence is undoubtedly an example of the magnificence that can come from melding great minds.
Overlooking Biscayne Bay, with skyline views abounding from its perch upon the Venetian Islands, this home could be considered part art gallery—in fact, that was a significant part of its inspiration. Architect Darrell Russell of A BOHEME Design in Rosemary Beach, Florida, met Kristi Jernigan following her visit to a Memphis art gallery designed by Russell. They quickly found their creative visions syncing for Jernigan's residence in the Home of the Blues. A few collaborative projects later, they were once again at the drawing board for this gorgeous South Florida getaway that Kristi and her husband, Dean, lived in for several years.
"This home could be considered part art gallery."
Known for a creative aesthetic and a design philosophy that promotes yet another important collaboration—one with the surrounding environment—A BOHEME designed this home with ample outdoor living space, a relaxing pool area, and windows that take full advantage of the bay vistas. Russell worked with landscape architect Adam Jones of Renovo Gardens to create a lush tropical landscape around the home. Before guests plunge into the dreamy infinity-edge pool in the backyard, they should certainly not miss the enchanting custom stairway designed by A BOHEME, which spirals from the second-floor terrace up to the roof level.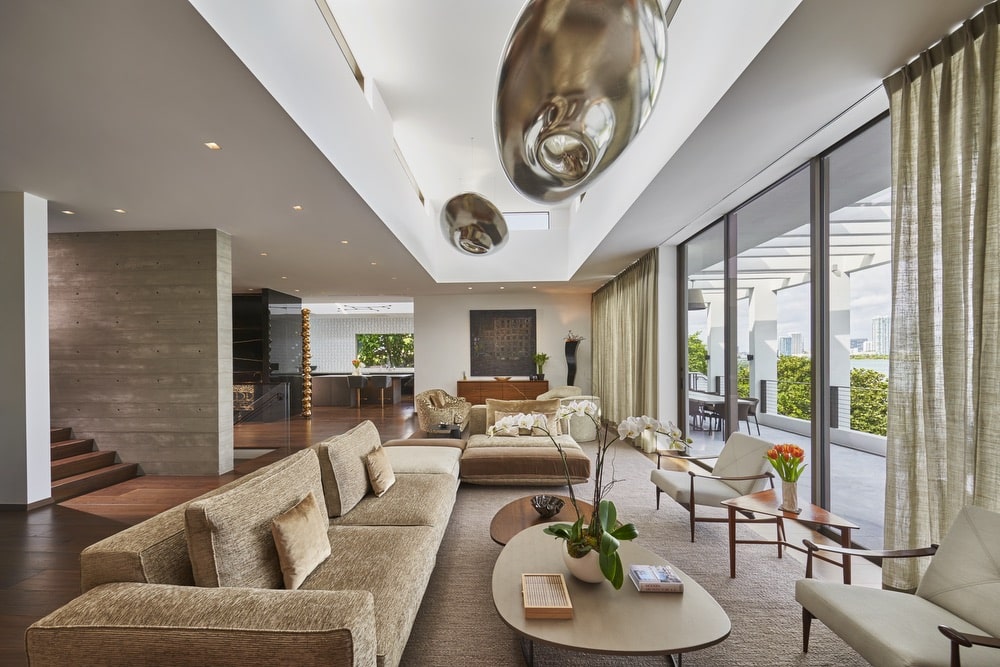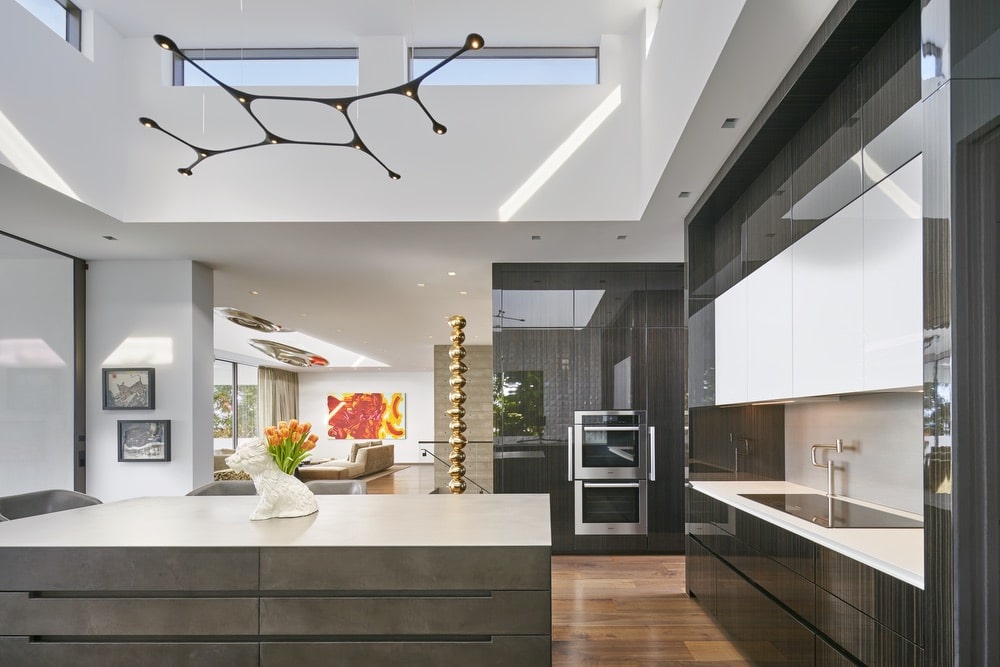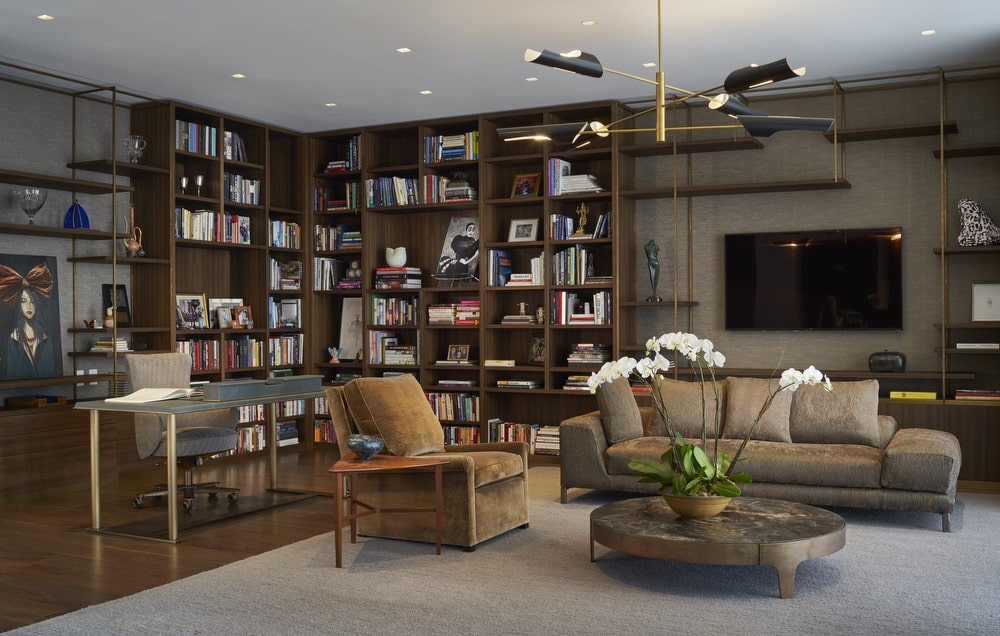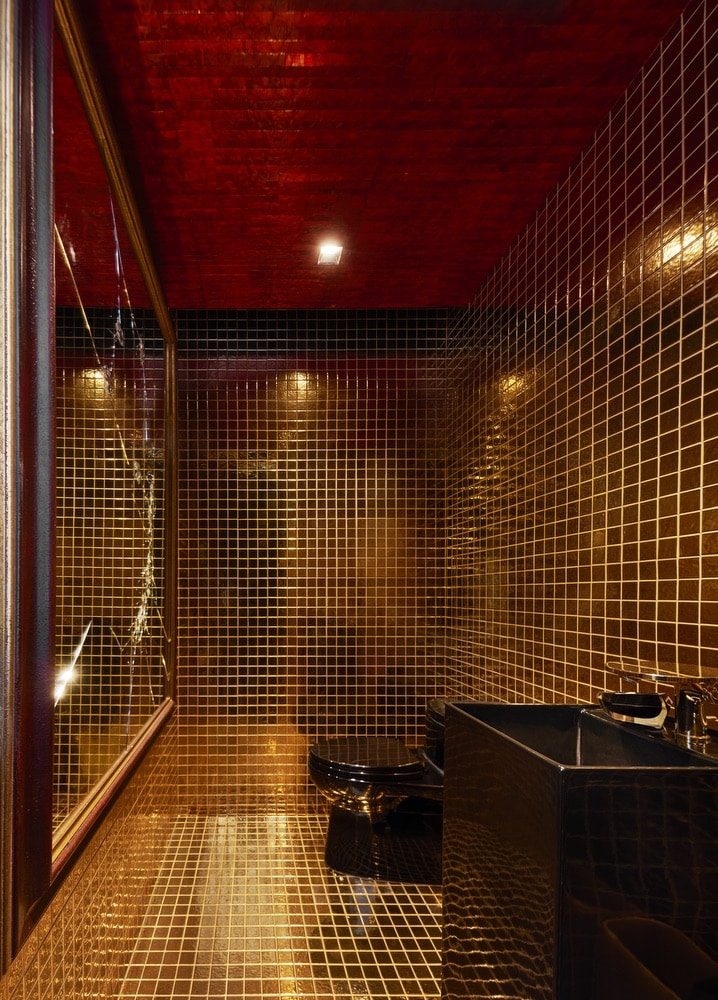 Art abounds throughout the residence, beginning with the contemporary minted vine motif by Zach Harris that appears to wind through the angled columns of the balcony above the main entrance. Russell envisioned an integrated piece of public art in this position as a part of the front facade composition and as a "gift" to the public as they pass the home. Sculptor Gimhongsok's metallic column of gold balloons entitled 15 Breaths brings thought-provoking whimsy to the open space between the kitchen and main living area. A pair of silvery sculptures by Spanish-born artist Iñigo Manglano-Ovalle, Cloud Prototype No. 7, also called "Twin Altocumulus Lenticularis," floats over the contemporary furnishings. The wet bar is another unique piece—an incredible blend of art and furniture that Kristi commissioned from artist David Wiseman. It features shimmering bronze inlaid with terrazzo, with the pattern thoughtfully continuing through the integrated sink. Jernigan and Russell worked closely with Wiseman to formulate the perfect terrazzo mix. Works by photographer Hai Bo, artist David Reed, and many others reinforced the gallery feel of the home while the Jernigans resided there. Gander & White was the art installer, and Russell says it was an absolute pleasure to work with their team.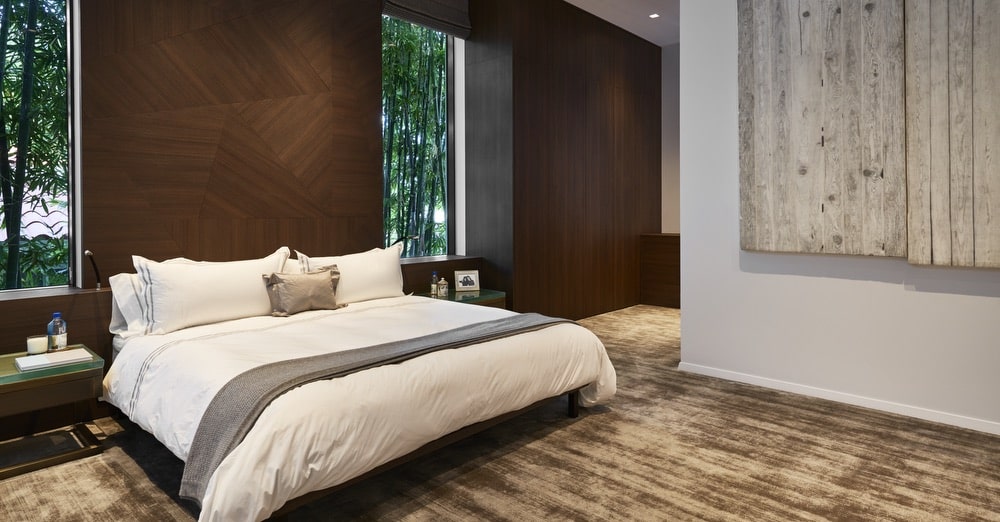 Unlike an art gallery, however, this home is anything but stark and cold. The warmth of the interiors flows from the rich walnut floors manufactured by Burchette and Burchette and the bright Florida sunlight streaming through the beautiful walls of windows and doors. Comfortable earth-toned furnishings, mid-century modern accents, black and white contrasting surfaces in the kitchen and living area, and a board-formed concrete interior stairwell keep a rotation of textures and tones going throughout the home. Where some contemporary interiors come off as minimal and harsh, the Jernigans' personal collections and style were brought to life in every design detail by A BOHEME and the team at Brodson Construction. The result is a modern, inviting dwelling that begs to be explored, discussed, and enjoyed.
---
See more projects and learn more at ABOHEME.com.
— V —
ARTICLE CATEGORIES