The Big Easy's Rite of Passage
By Jordan Staggs
Driving into New Orleans, Louisiana, you might gawk at the bayous and marshes, especially if you haven't seen land like it before. Crossing over Lake Pontchartrain from the north or the east feels like it takes ages, but that's just an entrée into the way time works in the Deep South; everything seems to happen at a slower pace, and you seem to remember it for a longer time after you've left.
Established in 1718 by French colonists and named for Philippe II, the Duke of Orléans, the city sprawls across the mighty Mississippi River and comprises several unique districts. By far its most famous today is the French Quarter, known for its historic architecture, balconies perfect for people-watching, and, of course, parties on Bourbon Street. But taking a trip to the Big Easy—a rather apocryphal nickname often attributed to Times-Picayune gossip columnist Betty Guillaud in the 1970s—can encompass so much more than booze and beignets. Guillaud's moniker for the city is said to represent how easygoing the lifestyle is there, and locals tend to agree. Rules were made to be broken in New Orleans, and spending a lazy afternoon on the porch or balcony sipping sweet tea (or something stronger) is a rite of passage. Art is everywhere, weirdness is celebrated, and once many people arrive, they never want to leave—some don't even leave after they're gone, if the ghost stories are to be believed. This is an exploration of the land of many nicknames, but it barely scratches the surface of its wonders, as you must discover them for yourself.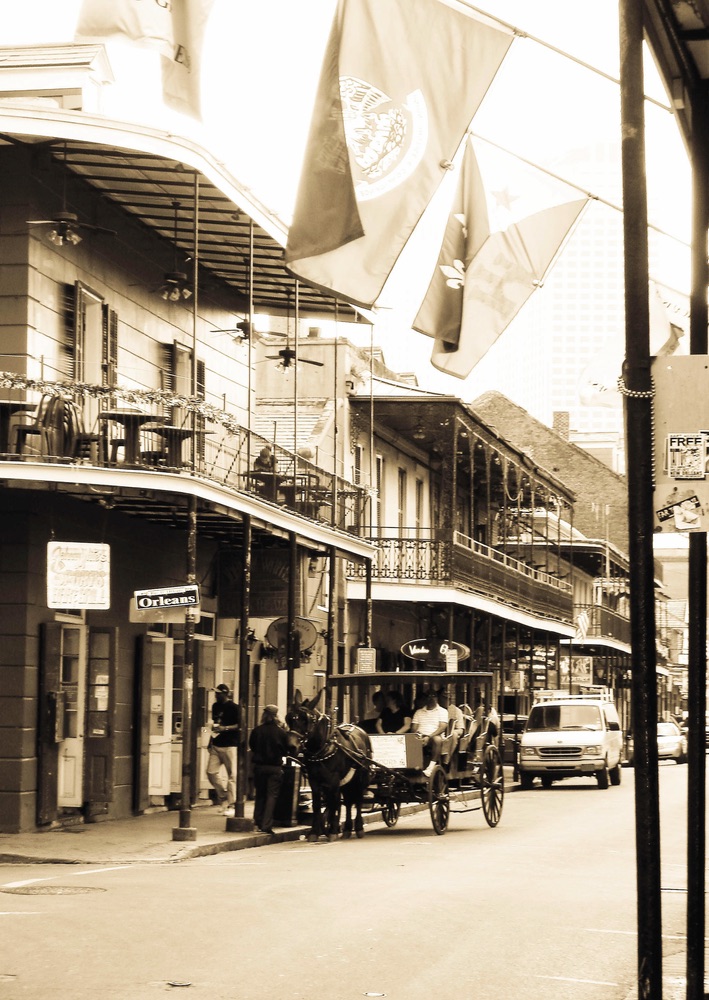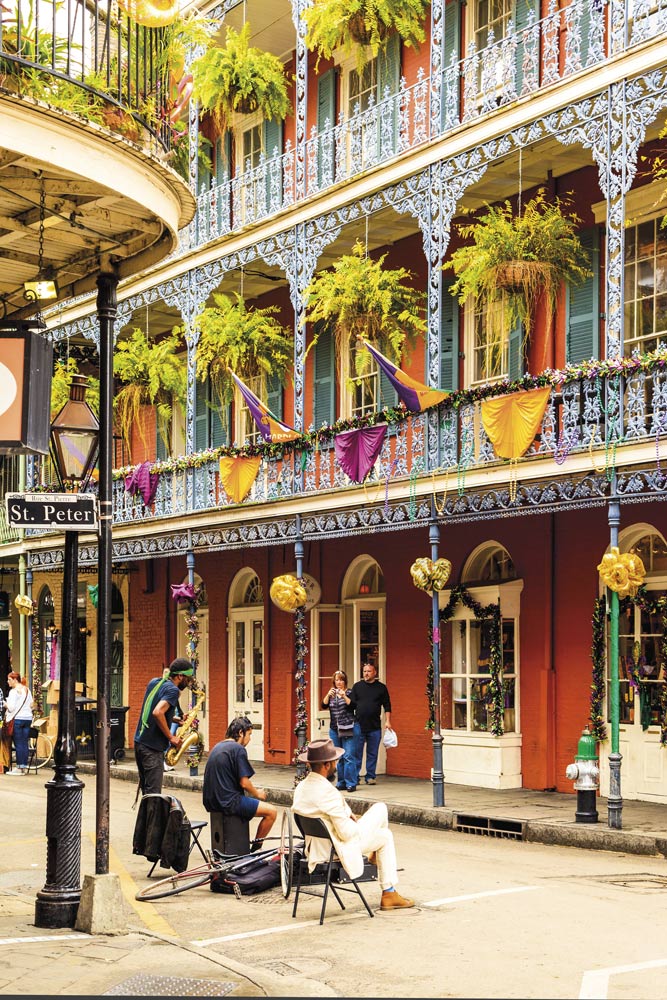 Also known as the Crescent City, thanks to its shape hugging a bend of the Mississippi on one side and Lake Pontchartrain on the other, New Orleans is easily walkable. Public transportation for longer jaunts isn't hard to come by, so it's advisable to take advantage of your hotel's valet services and ditch the car during your stay so you can keep your eyes peeled and enjoy the sights of the city. And if you haven't visited since before the devastation of Hurricane Katrina leveled New Orleans in 2005, things will look a little different. The aftermath still visible on the city's outskirts is a sobering reminder that the Big Easy hasn't always had it easy; but the rebuilding process brought with it improvements, great works of art and literature, and a sense of community among locals who love their home. Most of them are glad to share it with visitors, quirks and all.
Home Away from Home
The Warehouse and Central Business Districts have boomed with luxury accommodations in the past decade or so, but the highest of class is still found at the Roosevelt New Orleans, a Waldorf Astoria Hotel gem that has stood on a full block south of Canal Street since 1893. Its 504 guest rooms—from the deluxe room options all the way up to the presidential suites—boast regal decor with all the modern amenities. In true New Orleans fashion, the Sazerac Bar on the Roosevelt's lobby level offers signature cocktails in a jazzy atmosphere and is a great place to stop by for a drink, even if you're not staying in the hotel. Likewise, Domenica has delicious dishes with "casual Italian" flair, including fresh pizzas and pasta, with a nicely curated wine list. The rooftop bar (for guests only) is the perfect spot to sip drinks poolside in a Mediterranean-style oasis, while Teddy's Cafe is your go-to lobby stop for coffee, a quick breakfast, and sweets.
On the northeastern edge of the Warehouse District, the Old No. 77 Hotel & Chandlery exudes a trendier, more rustic vibe in an 1854 building that originally served as a chandlery (warehouse) for the Port of New Orleans. Its spacious rooms include exposed brick walls and midcentury-modern-style furnishings, and the coffee bar, art gallery, and library make hanging out in the common areas enjoyable. The hotel's Compère Lapin is open to the public and was named 2016 Restaurant of the Year by the Times-Picayune.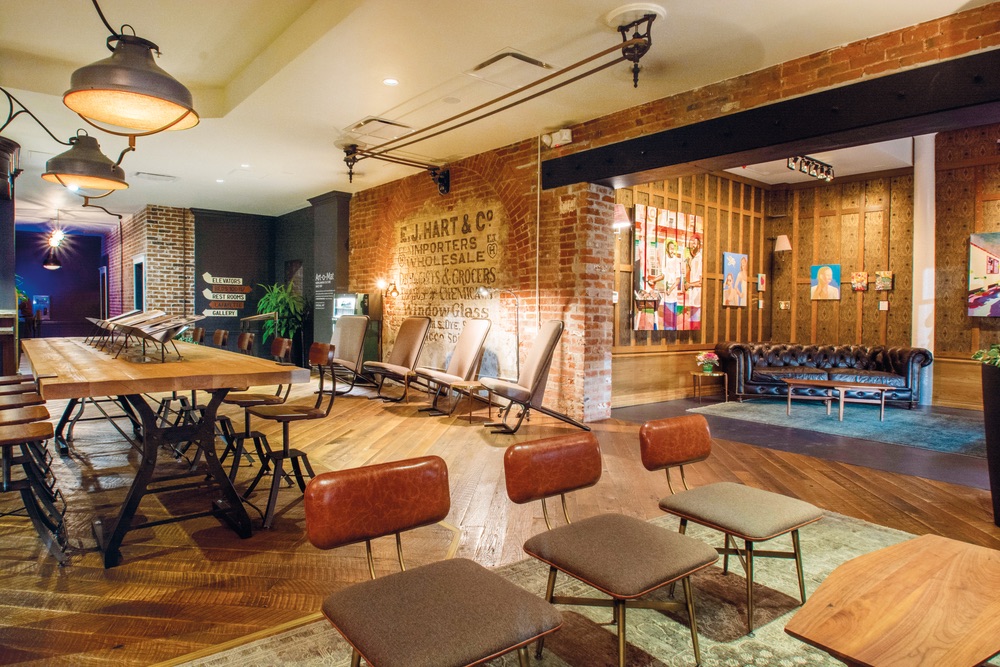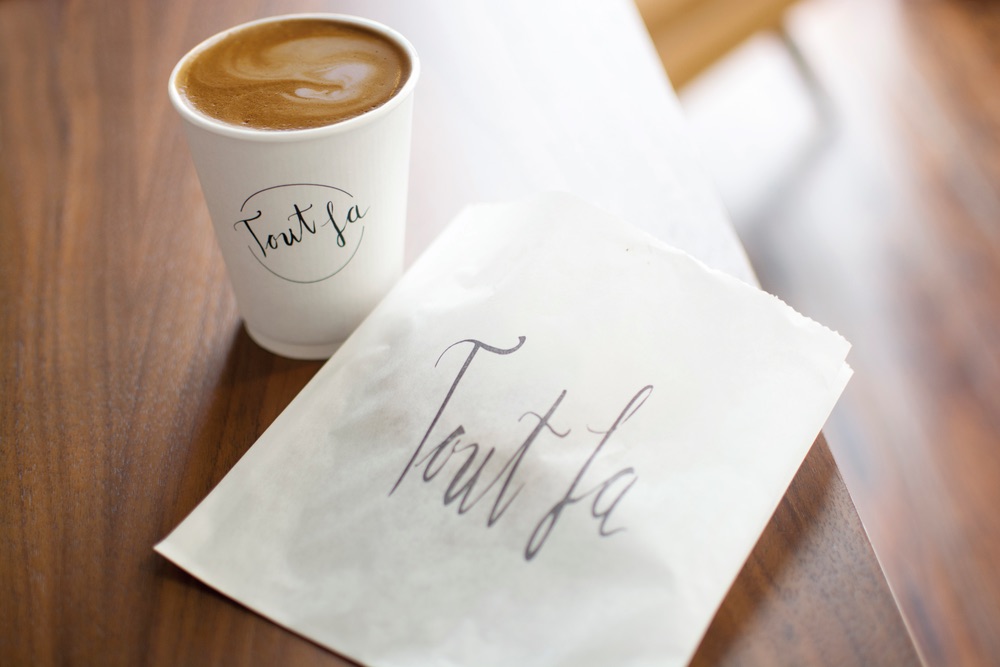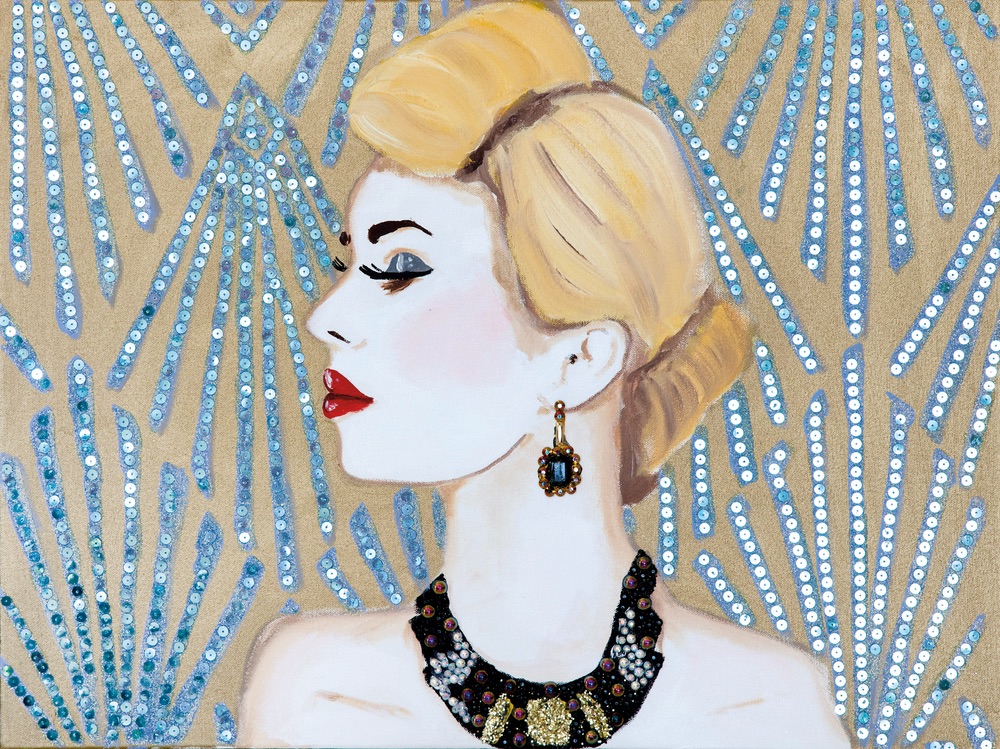 If you're looking for that slow Southern style, try booking a bed-and-breakfast, many of which are found in the most scenic parts of New Orleans, mostly in the Garden District. This sector of the city lends itself perfectly to morning strolls, lunch at sidewalk cafés, and art hunting. Saint Charles Avenue is noted for its walking tour of historic Colonial, Victorian, and Greek Revival homes. The various architectural styles hark back to the 1850s, when the Garden District was being settled by successful entrepreneurs of the day. The famous Saint Charles Streetcar is worth a ride and makes getting to and from the Garden District a breeze.
The Old No. 77 Hotel & Chandlery spacious rooms include exposed brick walls and midcentury-modern-style furnishings.
While the Big Easy has a myriad of hotel accommodations to fit your needs and budget, planning a stay doesn't have to mean going the traditional route. Rental websites such as Airbnb, HomeAway, and VRBO have countless options for houses, condos, townhomes, and rooms available for your stay. Live it up in a French Quarter loft or enjoy nature near the Audubon Park—the choices are endless.
Adventure Is Out There
Now popularly known in the Internet age as Nola or NOLA (derived from New Orleans, LA), the city has more to see and do than could ever be possible in one trip—which is just as well because you'll surely want to come back for more.
For nature lovers, the Audubon Nature Institute encompasses ten parks and museums throughout New Orleans dedicated to all things conservation. Its largest, Audubon Park, is located at the western end of Saint Charles Avenue just south of the prestigious Tulane University campus. The park's nearly 350 acres include nature and jogging trails; recreation areas for golf, tennis, baseball and softball, and soccer; playgrounds; riding stables; and picnic areas. It's also home to the Audubon Zoo, with an array of local and exotic animals. For those who don't mind butterflies and creepy crawlers, travel back over to the French Quarter for the Audubon Butterfly Garden and Insectarium, or to Riverwalk to see the bright colors and natural beauty under the sea at the Audubon Aquarium of the Americas. Audubon Park is also home to the Tree of Life, a gnarled and sprawling live oak that's estimated to be anywhere from a hundred to five hundred years old and seems to represent the old-world spirit and unwavering strength of the city.
Traveling through the Garden District from Audubon Park demands a trip down Magazine Street, NOLA's unofficial artists' haven. Antique shops, galleries, boutiques, and thrift stores line the street, and it's easy to walk the length and find something for everyone. From the studio of zany, pop culture–famous Ashley Longshore to New Orleans–centric mosaics and tile work at Derby Pottery, there's a plethora of galleries and shops to browse, not to mention the Magazine Street Art Market, open Fridays and Saturdays and full of locally made goods. Health and beauty are also big draws on the street, with yoga studios aplenty and a large Lush Cosmetics boutique located on the corner of Magazine and Ninth.
On Magazine's northeastern end, you'll find the National WWII Museum, formerly known as the D-Day Museum. As the home of Higgins Industries, New Orleans played a significant part in America's World War II effort. The company's Eureka boat design was used by the U.S. Navy, and its more popular Higgins boat was the amphibious design used by American troops during the invasion of Normandy, France, on D-day, June 6, 1944. The museum is listed as one of the best in the world by TripAdvisor and includes educational exhibits, memorials, live stage shows, the 4-D Beyond All Boundaries cinematic experience, and more.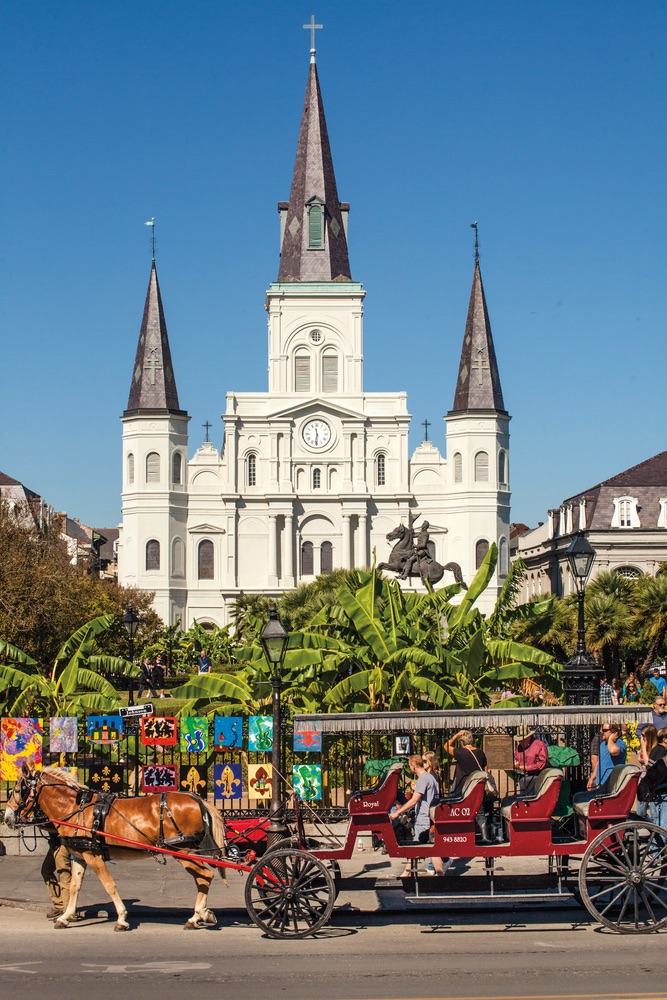 Other renowned museums in the city include the New Orleans Museum of Art (located at City Park), which contains an impressive collection of paintings, sculpture, photography, and other crafts from around the world. Take a stroll through the outdoor sculpture garden and enjoy the park's lakes and live oaks. For a full look at all the museum has to offer—exhibitions rotating throughout the year, as well lectures and workshops—visit NOMA.org.
All Men Are Created Equal
Even richer than its World War II history is the Crescent City's place in the Civil Rights Movement. As a principal port of America and a huge producer of cotton and sugar, New Orleans was also home to the largest slave market in the domestic slave trade. Conversely, it also held the largest population of free people of color, the majority of whom had arrived in the city after the Haitian Revolution and were educated, middle-class citizens. Many free people of color from New Orleans, mostly former slaves, fought in the Civil War and protested the Union's poor treatment of people in the city throughout the war and before Reconstruction. In 1872, P. B. S. Pinchback became the first mixed-race governor of Louisiana and the first person of African descent to hold the title of governor in an American state.
The fight for civil rights continued strongly throughout the passing of Jim Crow laws and segregation, as even free people of color before the Civil War were stripped of their rights to vote and other civil liberties. As the battle for equality continued across the United States throughout the nineteenth and twentieth centuries, New Orleans remained a key player in advancements of people of color. Ruby Bridges, a six-year-old girl from the city's Ninth Ward, became the first child of color to attend a previously all-white school in the South in 1960.
The New Orleans African American Museum of Art, Culture and History is dedicated to preserving and promoting the African American cultural heritage in the city and gives walking tours, events, and exhibits in the city's Tremé neighborhood, the country's oldest and largest pre–Civil War community of free people of color.
Let the Good Times Roll
They say music is the universal language, and New Orleans might be the best example of how different languages and cultures can fuse to create something entirely new. This brings us to yet another nickname for the city, and one most people have probably heard—the Birthplace of Jazz.
Since the melding of African, European, and Caribbean cultures produced the exciting improvisation-heavy jazz genre in the early 1900s, the music scene in the Big Easy hasn't slowed down one bit. From huge concerts from the world's top performers to nightly entertainment in every corner and cranny of town, live music is never hard to find. The biggest event of the year (besides Mardi Gras), the New Orleans Jazz and Heritage Festival, is ten days of music from local and national acts in every genre. The event, held at the Fair Grounds Race Course, draws around 450,000 attendees each year over the course of the festival.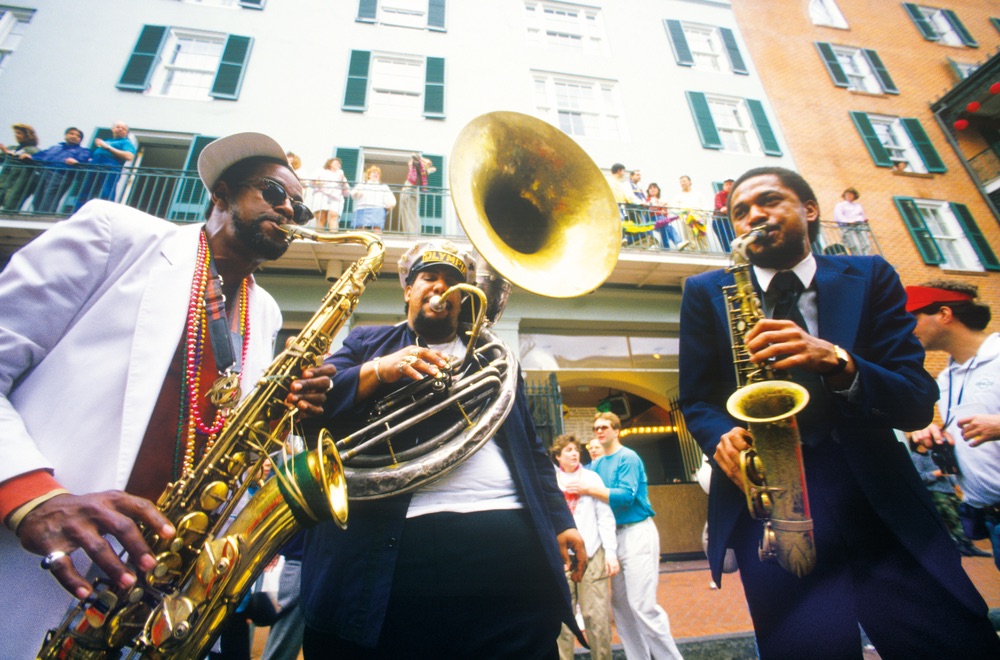 Although Bourbon Street might be more famous—or perhaps infamous—it's Frenchmen Street where music lovers should venture for a quintessential NOLA experience. Located in the artistic Marigny neighborhood, the street is lined on both sides with bars, lounges, and clubs, while a vibrant art and craft market showcases local creators. The Spotted Cat, Snug Harbor Jazz Bistro, and the Maison have traditional and modern jazz acts along with delicious local fare, while d.b.a. has presented such greats as Stevie Wonder, Jimmy Buffett, Clarence "Gatemouth" Brown, and David "Honeyboy" Edwards, among many others.
They say music is the universal language, and New Orleans might be the best example of how different languages and cultures can fuse to create something entirely new.
The Dragon's Den is Frenchmen's go-to spot for the most eclectic music lineup, often drawing a young crowd with dubstep and electronic dance music acts such as Skrillex, but bringing a lot to the table with everything from burlesque to jazz, reggae, and rock. For outdoor entertainment, enjoy the fountains and patio at Rare Form, or catch a street performance—on busy nights, you might see anything from lone musicians all the way up to a marching brass band. After a long night, duck into Dat Dog for pub fares such as hot dogs, Philly cheesesteaks, and fries with just about every topping imaginable, even famous New Orleans étouffée.
Bon appétit
If Dat Dog doesn't make your mouth water, stay tuned, because New Orleans is also known as one of the country's best destinations for dining. With big-name chefs like Emeril Lagasse and a slew of James Beard Award winners, including Donald Link, Alon Shaya, and Susan Spicer, NOLA has become a place where Southern flavors meet fine dining and has kept true to its roots with Cajun and Creole cooking around every corner.
The Garden District is home to coffee shops galore, but for lunch, tuck in at District: Donuts. Sliders. Brew. on Magazine Street. Their claim to fame is oversized homemade donuts in about twenty flavors made daily: cookies 'n' cream, coffee cake, raspberry champagne, peanut butter pistachio, and many more. Delicious sliders, breakfast sandwiches (on donuts), waffle fries, and draft beers round out the menu at this trendy stop.
Just a block from Lush on Magazine Street, find something sweet to eat at Sucré, where you can't go wrong with French macarons in a variety of flavors and bright colors. For dinner, snag a reservation at La Petite Grocery, which fuses French style with Louisiana flavor in a quaint cottage-style setting on the corner of Magazine and General Pershing Streets. Just down the street, Shaya, James Beard–honored chef Alon Shaya's blue-and-white oasis, offers modern Israeli cuisine.
La Petite Grocery, which fuses French style with Louisiana flavor in a quaint cottage-style setting on the corner of Magazine and General Pershing Streets.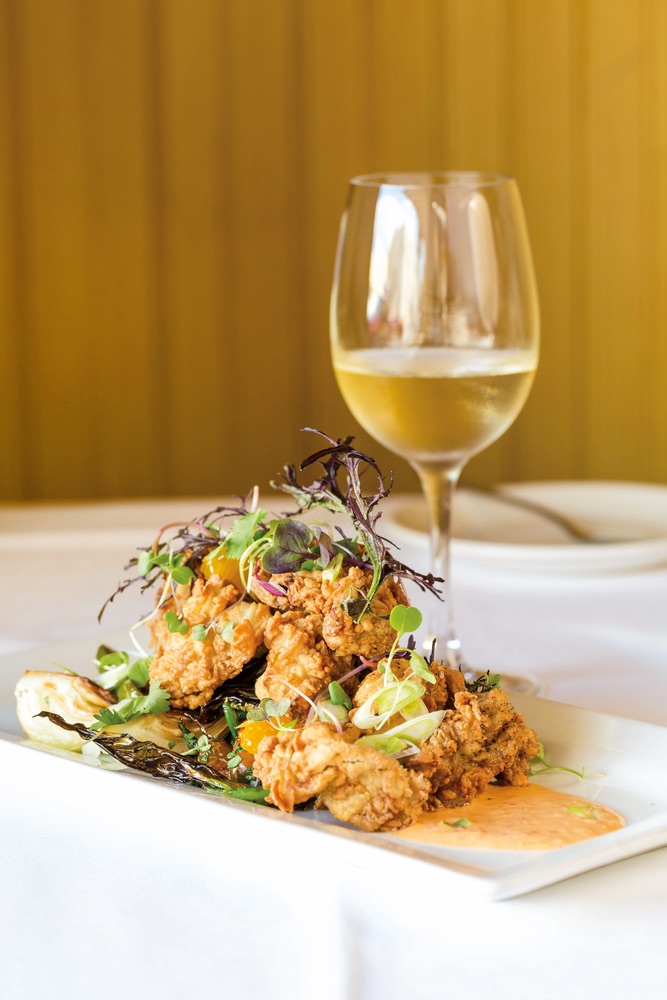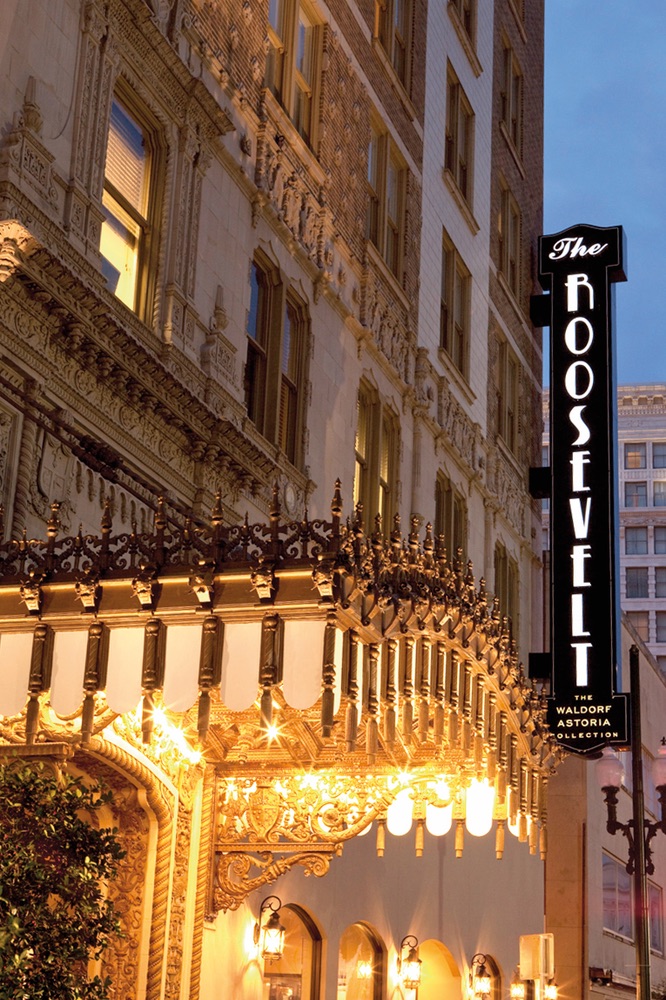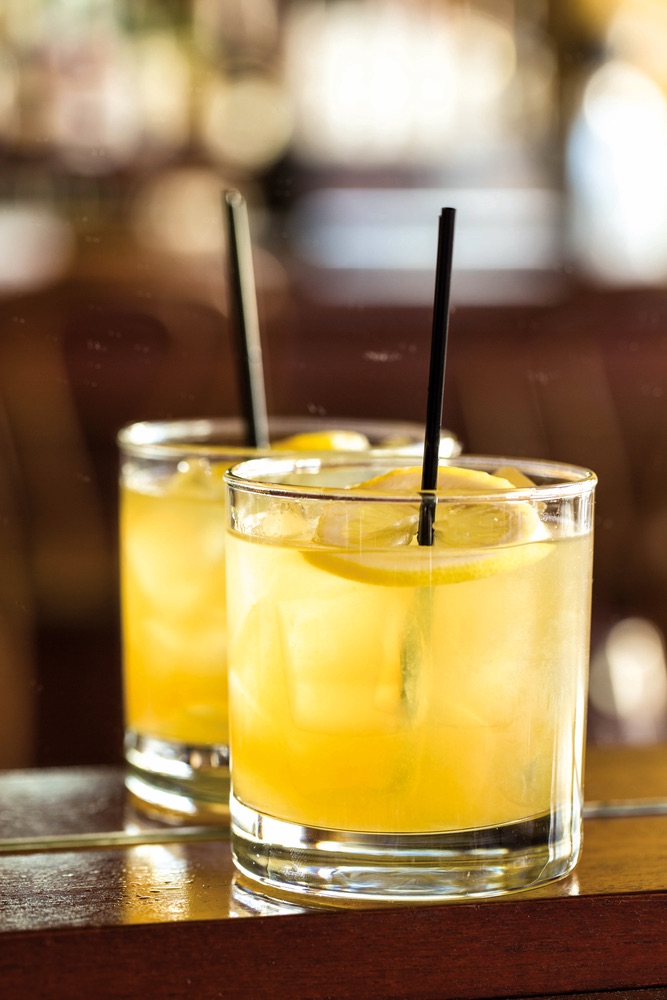 Venturing downtown means stopping in at Mother's for a po'boy, the beloved NOLA sandwich specialty that pairs perfectly with a bowl of jambalaya. On busy weekends, it's not unusual to see a line out the door and stretching down Poydras Street. Meanwhile, the Gumbo Shop in the French Quarter is much more expansive than guests might guess from its hole-in-the-wall facade. It has a courtyard for NOLA-style al fresco dining and all the city favorites: seafood or chicken andouille gumbo, po'boys, shrimp or crawfish remoulade, red beans and rice, and much more.
For a unique dinner stop with an artistic twist, venture farther into the French Quarter to Mona Lisa, an Italian trattoria where customers can gleefully admire various renditions and parodies of the famous Da Vinci painting and even try their hands at creating one. (The best are selected as new decor.)
Food-centric events happen year-round throughout NOLA, making it a foodie's dream. From the Boudin, Bourbon and Beer fund-raiser for the Emeril Lagasse Foundation to the Crescent City Blues and BBQ Festival and Tales of the Cocktail, there's an event honoring just about every type of food and drink. Check out a full calendar at NewOrleansOnline.com.
Tourist Traditions
Of course, some people just want to hit those iconic tourist spots, and it is recommended during your first trip to the Big Easy to visit at least a few. After walking down Canal Street or taking the streetcar, head to Riverwalk for views of the Mississippi and some historic markers along the way.
Shopping and souvenirs are sprinkled throughout the French Quarter, especially near Jackson Square. Artists and performers often line the park there, touting paintings of New Orleans sites and celebrity caricatures. You're sure to hear a trumpet or drums, and if you fancy a palm or tarot reading, have a seat and see what your future may hold (for a small fee, of course). Voodoo shops lie tucked beside T-shirt and souvenir shot glass vendors, antique stores, and more. Stroll along and enjoy the view of the Saint Louis Cathedral.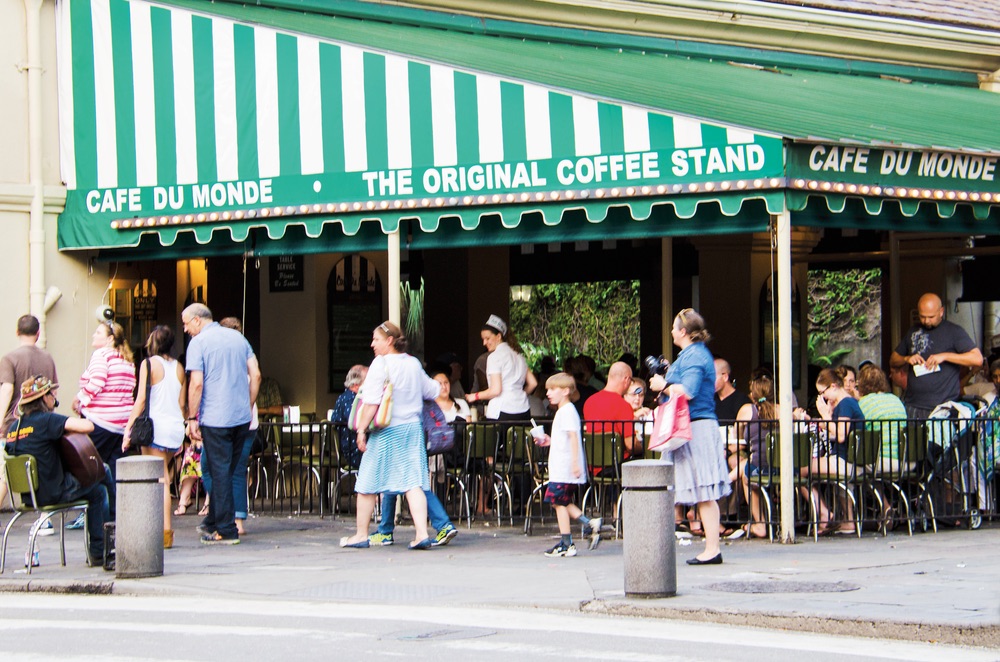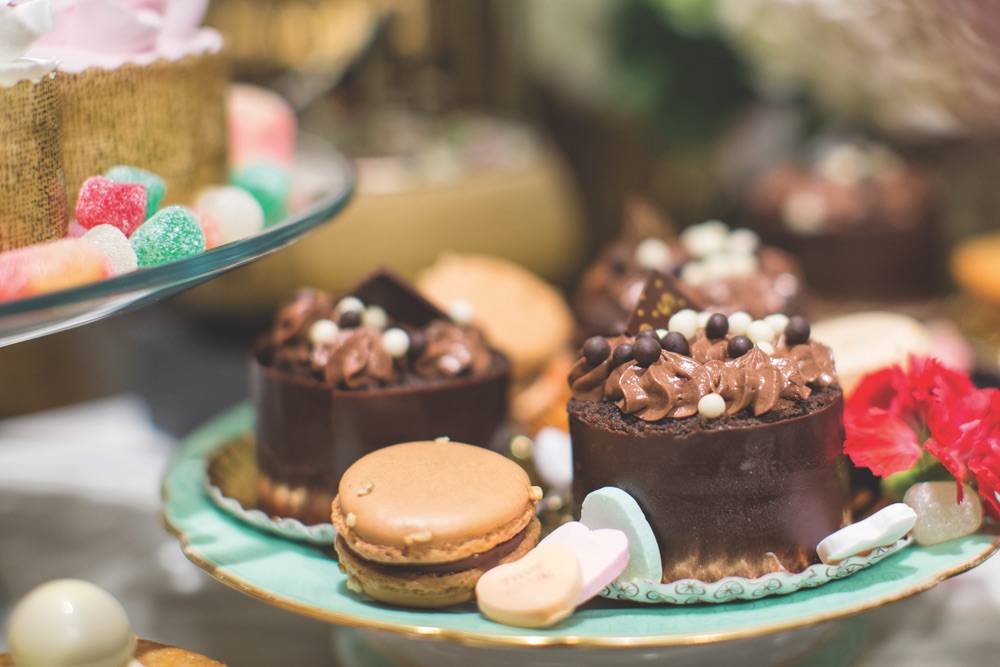 A must-do is visiting Café du Monde just south of Jackson Square, where you can have a seat or wait in the to-go line for café au lait and fluffy, powdered-sugar-soaked beignets.
For a tour of the city by water, hop aboard the steamboat Natchez for a jazz brunch cruise or the dinner cruise at 7:00 p.m. The boat's live music hall, expansive decks, and gift shop make it an excellent spot for relaxing, enjoying some NOLA jazz, and finding the perfect souvenir.
The month of February in the Big Easy is a spectacle all its own. Gearing up for Mardi Gras means parties and parades, galas and balls, and beads. Lots of beads. The annual Fat Tuesday celebration is a bucket-list item not for the faint of heart, as you'd better come prepared to party—and, of course, you never know what you'll see. Although there is some contention about where the annual festival really started (yes, we're looking at you, Mobile, Alabama), there's no doubt that New Orleans is America's most popular Mardi Gras city.
Who Dat Nation
Perhaps a lesser-known NOLA nickname among the general population is the Who Dat Nation, thanks to the city's first NFL team, the New Orleans Saints. Since the team's Super Bowl win in 2010, the phrase "Who dat?" (short for "Who dat say dey gonna beat dem Saints?") has cropped up more and more—T-shirts and other Saints fan merchandise can be found throughout the city emblazoned with the team's golden fleur-de-lis logo. Check out the schedule and see a game in the famous Mercedes-Benz Superdome during the NFL season.
Other major sporting events in the Superdome include the annual Allstate Sugar Bowl each January. This NCAA college football game is a huge draw to fans, especially those of the Southeastern Conference.
"Who dat?" (short for "Who dat say dey gonna beat dem Saints?") has cropped up more and more—T-shirts and other Saints fan merchandise can be found throughout the city emblazoned with the team's golden fleur-de-lis logo.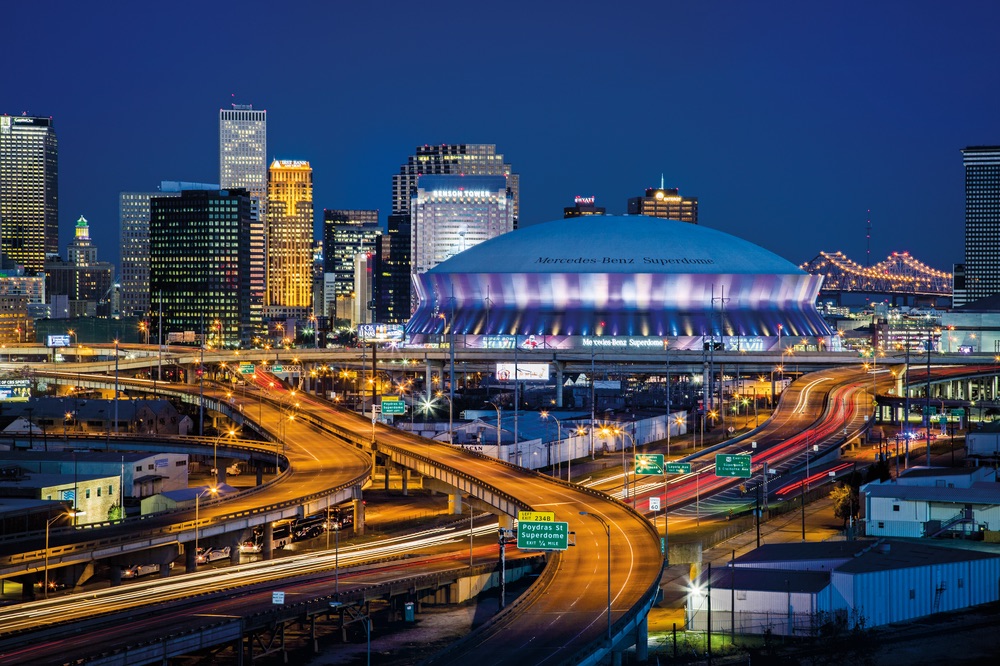 Runners can find an unlikely haven in New Orleans. Big races each year include the Ochsner Ironman 70.3 triathlon, the Rock 'n' Roll Marathon and Half Marathon winding throughout downtown and the French Quarter with live bands set up every mile or two, and the Crescent City Classic, one of the oldest annual ten-kilometer races in the country. The Crescent City race series includes year-round events that can be found online at CCC10k.com.
A City by Any Other Name
One last New Orleans nickname, which harks back to the Big Easy sentiment, is the City that Care Forgot. Though it could be misconstrued, this tagline is a testament to how many people have visited NOLA and forgotten their cares, truly losing their woes in the sounds of a brass band or the taste of a fine bourbon. Though it may be the land of many nicknames, there's only one name that matters to those who love the city most: home.
— V —
ARTICLE CATEGORIES