Interview by Emme Martin | Photography by Ruben Guerreiro, courtesy of Studio Vanessa Barragão
The beauty of humanity is that we all express ourselves in unique ways, yet we usually want the same things: love, compassion, acceptance, and so forth. It's exhilarating to discover an artist whose work demonstrates these messages with such clarity and beauty.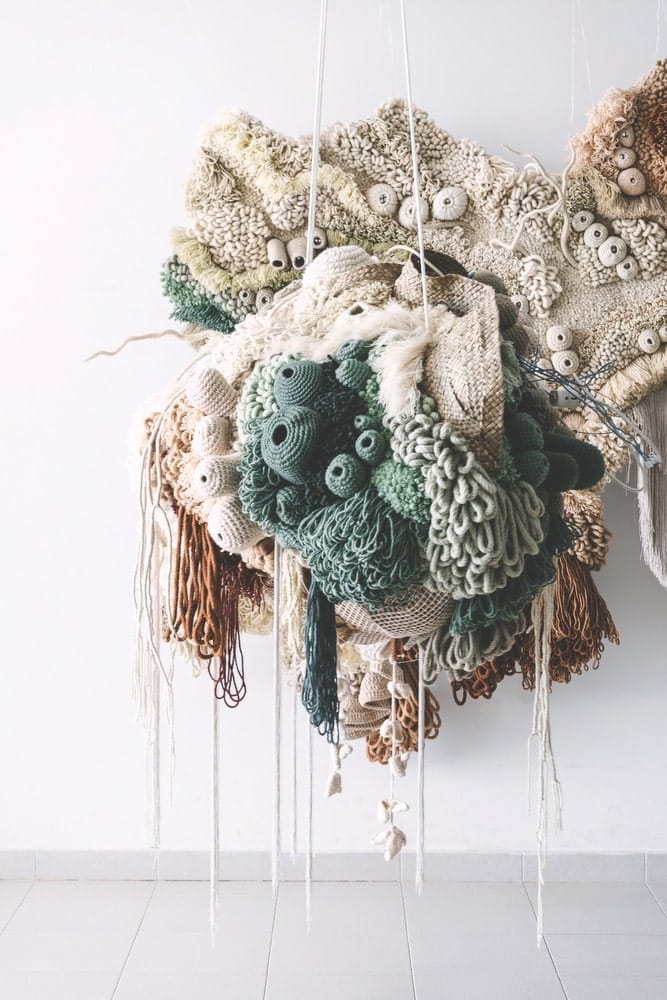 When I came across Portuguese artist Vanessa Barragão's work, I was intrigued by her innovative techniques and profound messages. The work speaks to more than just a stunning presentation as sustainability and life's challenges are at the core of Vanessa's purpose. Her techniques are based on ancestral textile processes, such as crochet and embroidery. She creates based on a feeling and goes from there with no guarantee of the result, allowing for the full expression of her artistry to come to life. Her work is bold, colorful, and unlike any other.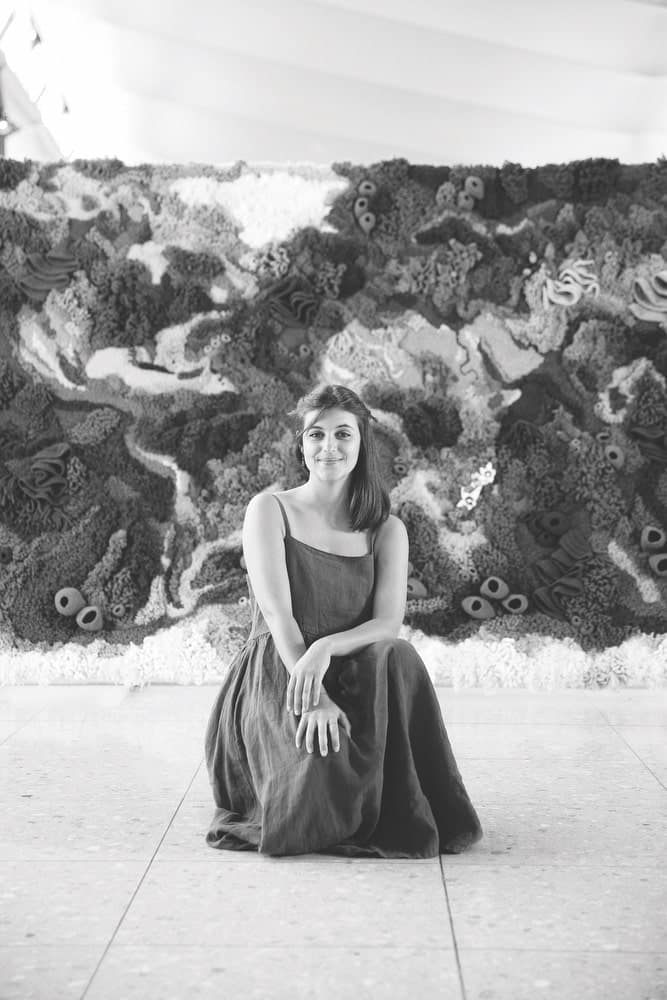 I chatted with Vanessa about sustainable art, her journey to realizing her purpose, and the importance of staying true to your roots. Check out our inspiring conversation below.
VIE: When did you know you wanted to be an artist, and what inspired you to get into fashion and textiles?
Vanessa Barragão: I grew up in Albufeira, my hometown. I spent all my childhood and the beginning of my teenage years in this seaside city. I was a tranquil child, always very inspired by my grandmas. I used to draw, paint, and create clothes for my dolls, and I think this was the beginning of my immense passion for textile work. Since I've known me, I always had this dream to be an artist. But I never realized that it could become true. This journey to be an artist grew in a very organic way and step by step.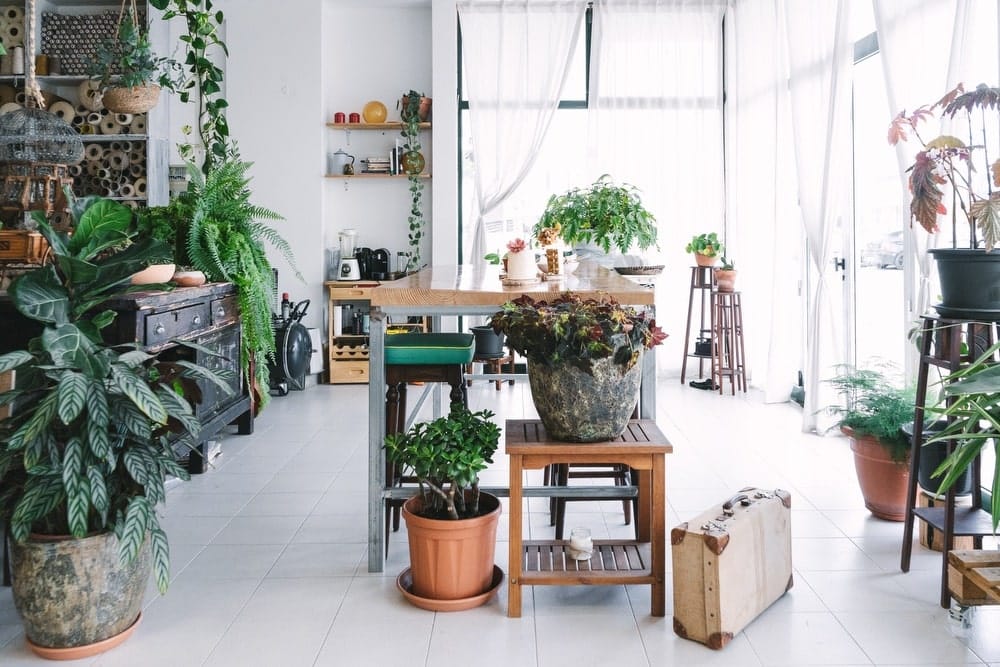 My grandmas have been my inspiration for this decision since my childhood. I used to believe that it was my vocation and what I would like to do. Still, during university, I realized that the fashion environment and production methodologies were so different from my perspectives and way of living. So, during my master's degree in fashion, I decided to focus my studies on fiber and artisanal textile processes.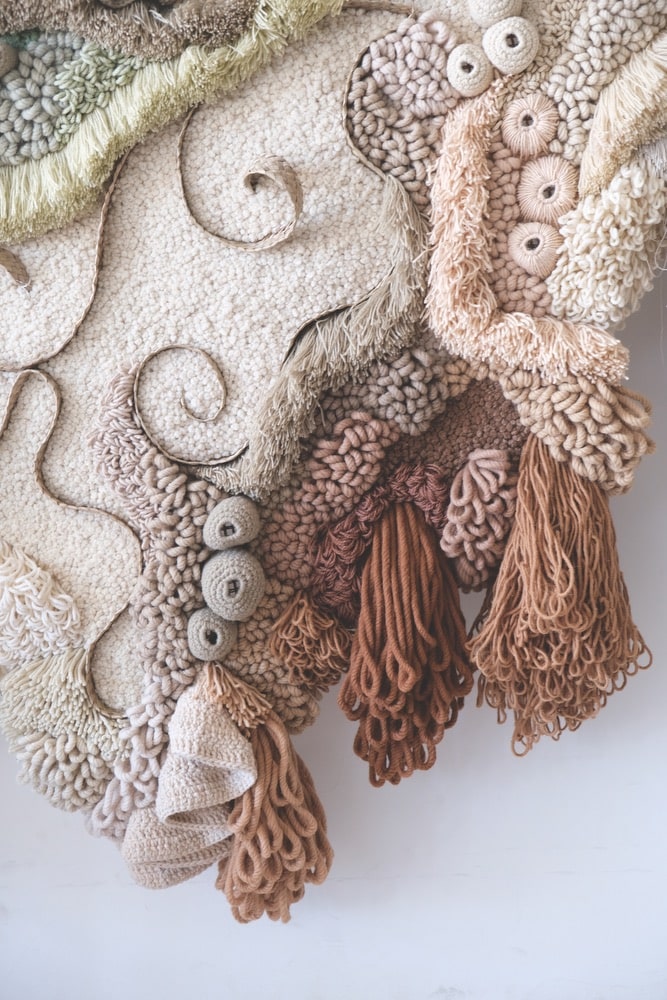 VIE: What does sustainability mean to you, and how do you incorporate this into your work?
VB: Sustainability involves three different areas: economic, social, and environmental. It's challenging and almost impossible to have a 100 percent sustainable business, but it's crucial to find ways to turn our businesses and lives toward more sustainable practices. When we speak about a sustainable product, many aspects have to be involved.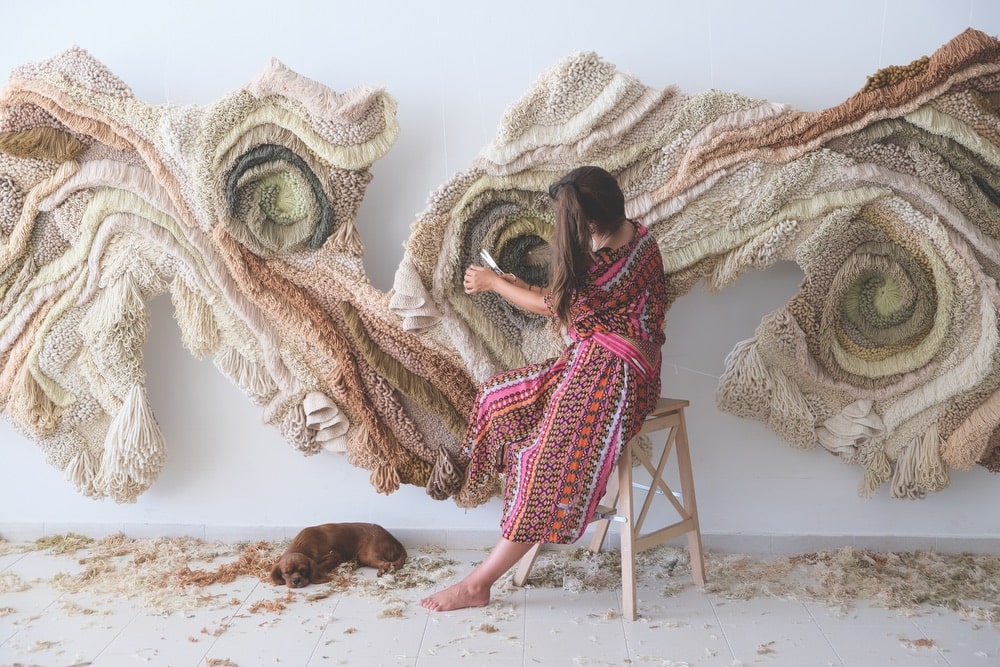 In my studio, I always try to find new solutions to make my process and products more and more efficient in terms of sustainability.
Every material I use to create my artworks comes from deadstock (unused goods) and leftovers from a few factories in the north of Portugal.
My way of creating lies in a slow process, using ancestral and handmade techniques. These are the bases of my studio, and my ideology involves reusing and upcycling materials. At the studio, it is very common to use recycled wood to create shelves to store the wool, tools to help in the process, big windows to light the space, and so on.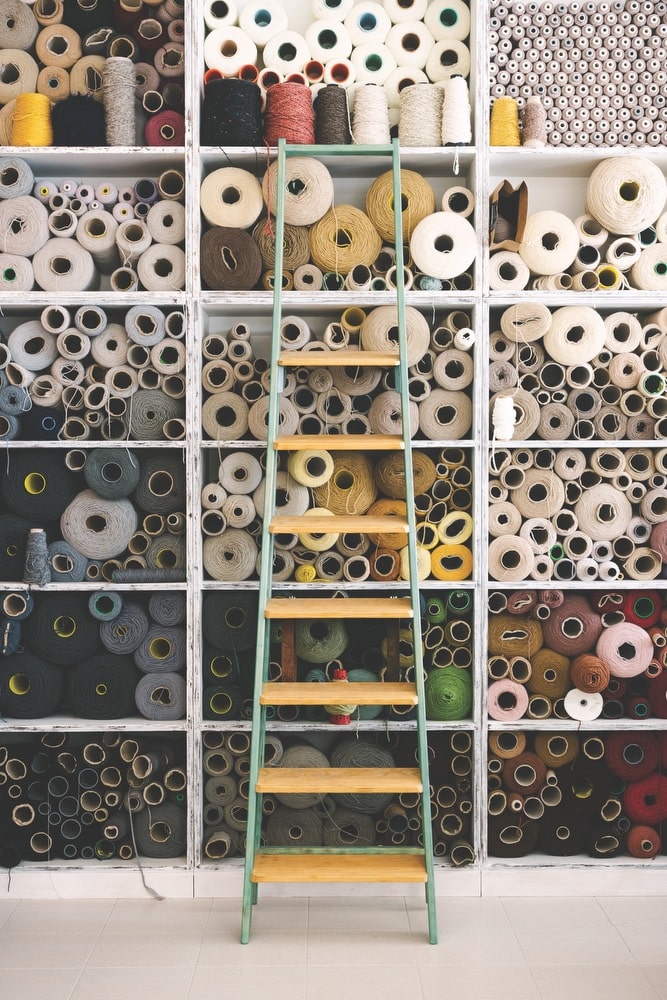 VIE: Where do you find inspiration for your art?
VB: I find inspiration in nature, the places I visit, and the ones I traveled to in the past. Every year, I like to spend two or three weeks traveling to an area surrounded by nature, without phones and technology, so I can turn off and be completely present and connected with nature, trying to understand what it speaks to me. This is how I get inspired for future artworks. The coral reefs and the ocean were my main inspiration until now, maybe because I grew up at the seaside, where the ocean is the main attraction and very important for the community to survive. The coral reefs were the most impressive thing I ever saw, and they inspired me so much. I used to travel a lot with my family during my childhood. Seeing the colors fading away year by year on the bottom of the Caribbean Sea was the main inspiration for my creations once I started university. So, I began focusing my collections on raising awareness for these environmental problems and letting people know that most of their actions affect our habitat.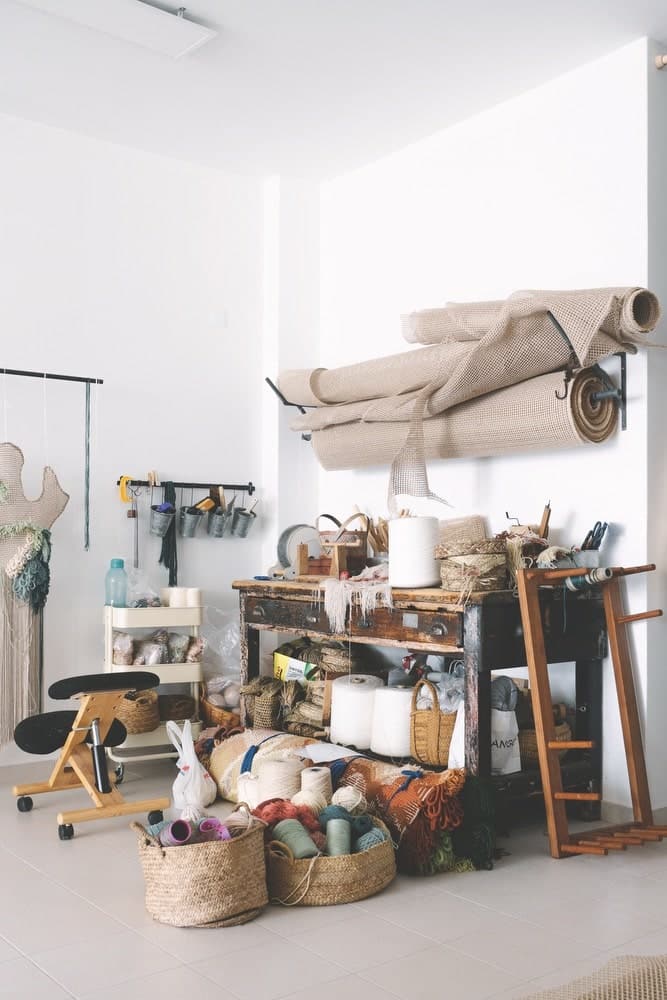 VIE: What has been your most favorite project to date?
VB: I have loved all the pieces I created until now. All have different meanings, and each is a piece of me, of what I was thinking when making it. They reflect the energy I was feeling then and the thoughts I had at the time. Besides this, each artwork has a clear message of what I want to pass on to the people. The most challenging and special project I've been involved in is Botanical Tapestry, created in partnership with London's Heathrow Airport and Kew Gardens. This piece took six months to complete. It is the biggest tapestry I have ever made. It has a big meaning for me, not just because of the messages about threatened species in the piece, but also because of its placement around the main flight connections at Heathrow Airport. During those six months, a lot of things were happening in my life and a lot of changes started, so I consider this tapestry a mark in my private life, and because of that, I can say this is my special project.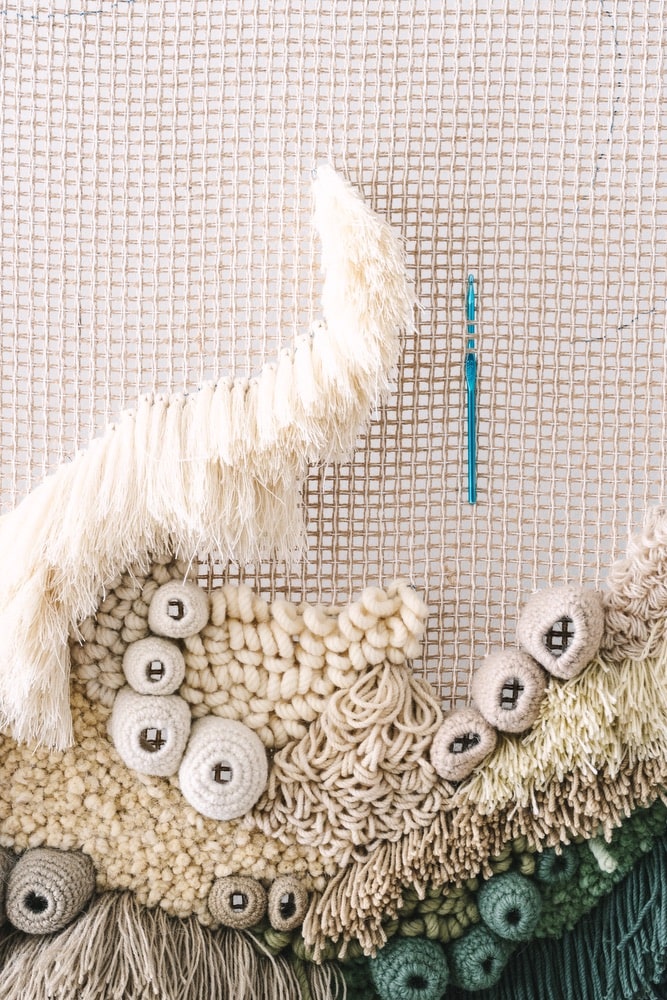 VIE: Tell us about the process of creating one of your displays. How do you decide what colors to use?
VB: The process starts with a message I want to pass to the community to help people conceptualize and improve their actions. Then I start creating. First, the colors are selected with the yarns and fibers available in the studio, and the shape of the tapestry is defined. I don't usually draw since I like freedom during the creation process, so the flow and gradients grow in the tapestry. It varies based on the mood of the day, like a way of expression and meditation.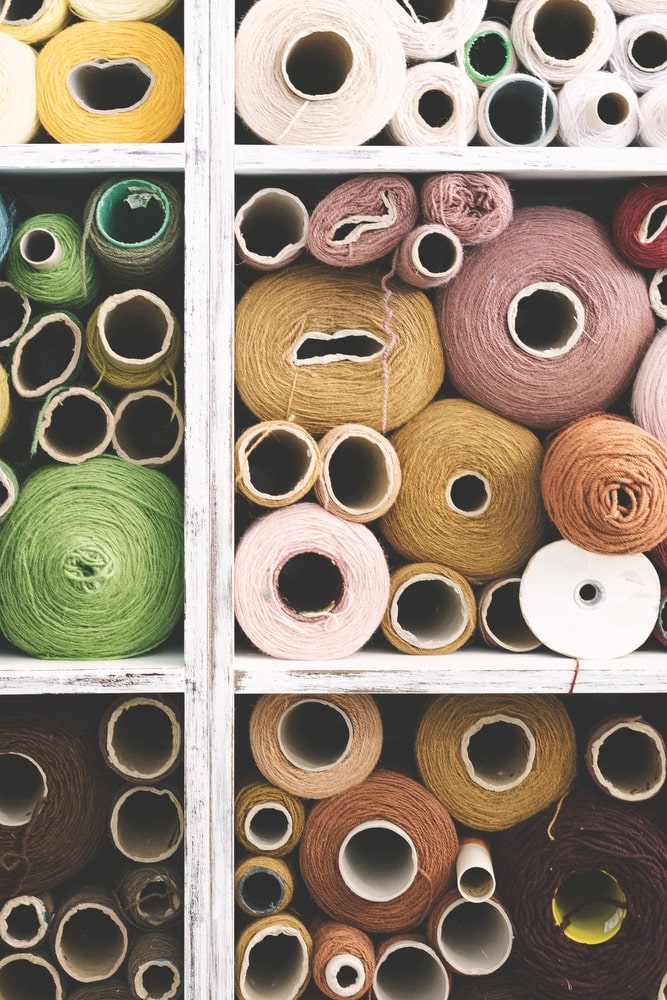 There are always two aspects to consider during the creation: the message I want to pass and the moment of my life. Those two are always together during my creation process and are always reflected in the artwork. When all the canvas squares are done, the carving process starts, and the artwork is born.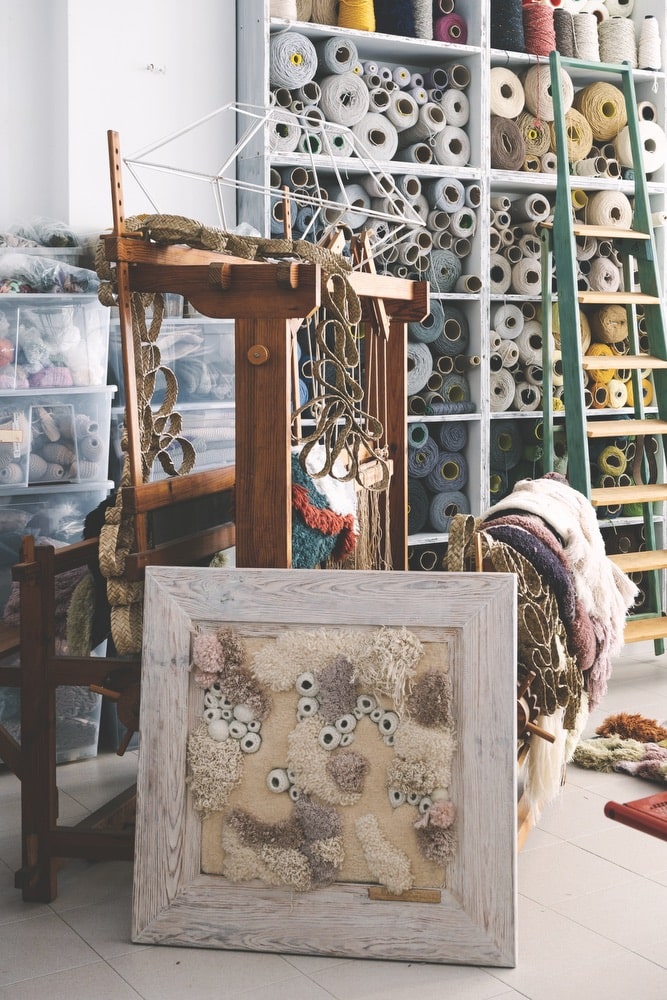 The colors I choose depend on the message I want to convey, sometimes according to the meaning of each color, sometimes because that color talked to me or reminded me about a moment.
VIE: Tell us about the recent display you did on the medieval bridge as part of the GeoPalcos event.
VB: This project was born through an invitation from the Albufeira Municipality to develop a work at Paderne, my grandpa's hometown. I couldn't have been more excited! Albufeira, Silves, and Loulé are participating in a certified Geopark that will unify these three Algarve cities with a walking trail. The aspiring Geopark is called Algarvensis, and this was the main inspiration to start developing the project.
During my childhood, I visited this place, between Paderne's castle and the medieval bridge, to find wild orchids hidden around it in the different months of the year. Barely anyone knows about these species because you really have to connect yourself with the space around you to find these tiny flowers, and that's what I wanted to convey. We created eight Algarvensis orchids in the studio, which can only be seen here and in a few places in the south of Spain. The roots in the artwork represent the power that our own roots, our essence, and our past have in our lives and the celebration of my return to my roots.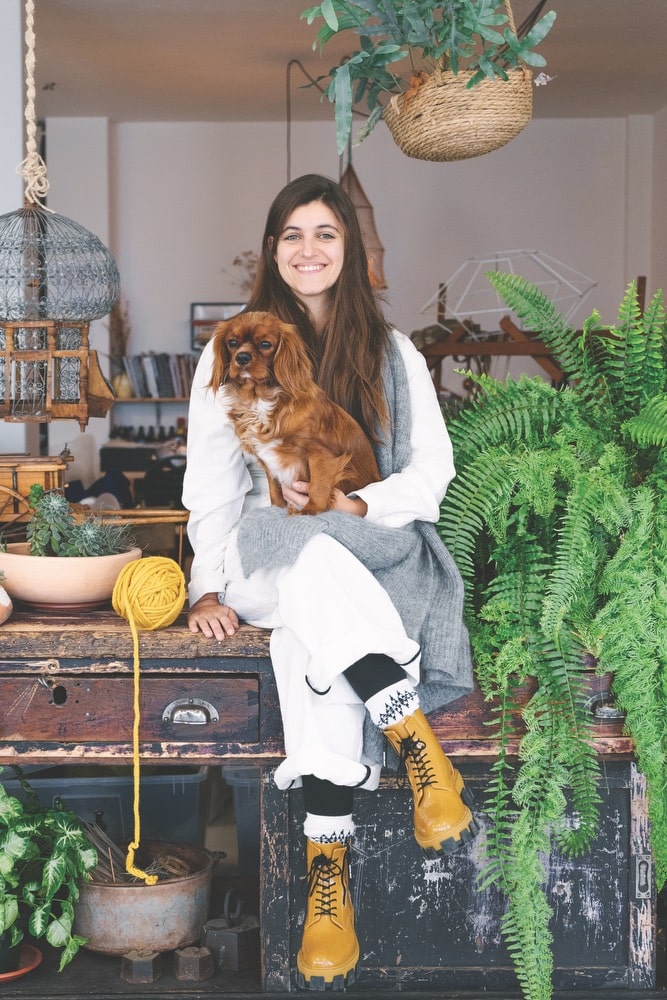 VIE: What made you decide to move back to your hometown of Albufeira?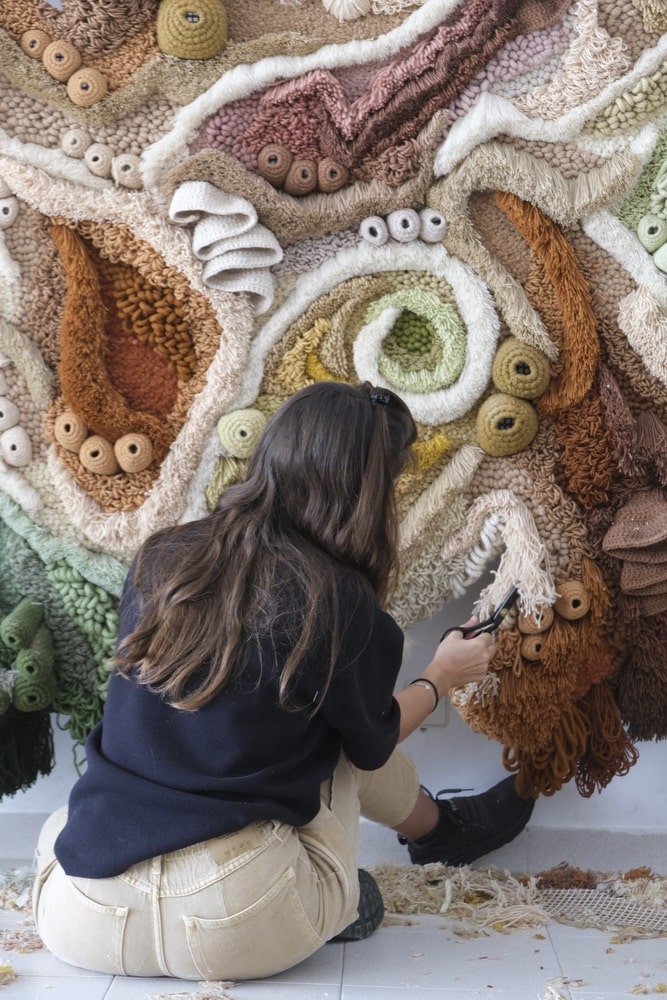 Our roots are our essence, our family, our past. We can't lose our roots. Just like trees, we need them to stay connected and improve our present and our actions.
In those roots live memories, energies, values that we are acquiring at every moment, every second of our lives. If we lose our roots, we lose ourselves. In a moment of my life, I started disconnecting myself from my roots, and at one point, I felt lost, without knowing who I was and how to interact with people. Why it happened, I don't know. But it happens, and many people go through similar moments in their lives.
The solution I found to get out of this problem was to return to my hometown, close to my family and friends, surrounded by people I love, and focus on what I love to do—creating. With my family already working with me, it made my decision a lot easier to make, so at the beginning of 2020, I moved my studio and myself to Albufeira. After a year and a half, I reconstructed the breaks in my roots, and now I recognize myself again. This moment of my life is represented by the use of root elements in my artworks. I realize the number of people who go through this type of problem in their lives, and I hope the way I solved this journey can help and inspire others to find a way to solve theirs.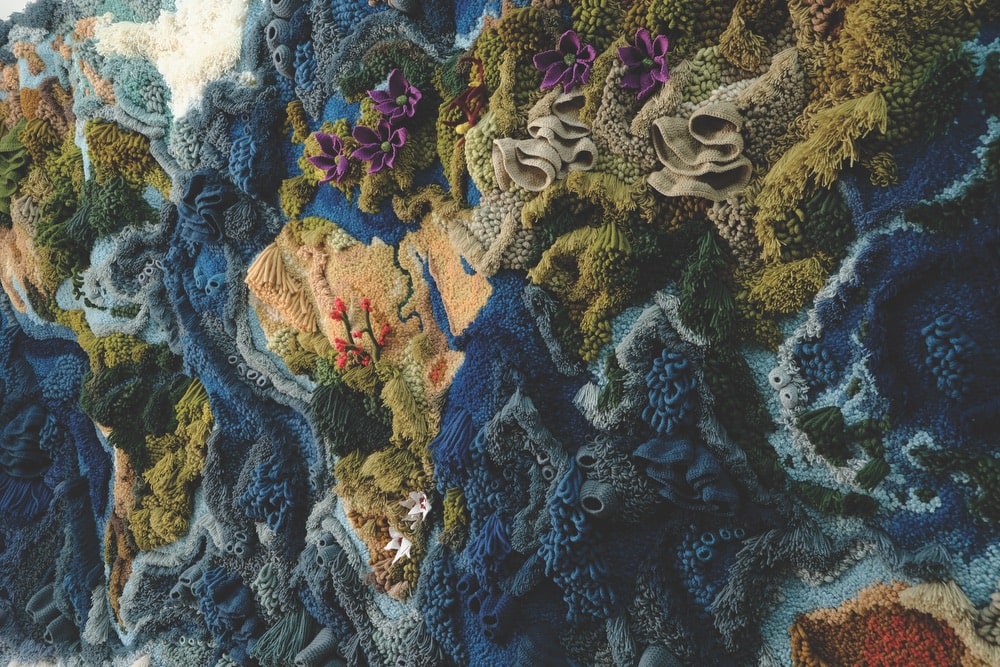 VIE: What other projects do you have coming up in 2021?
White Cube, and the other is the brand-new CoBrA Gallery in downtown Shanghai, China. Both have challenged me to create new artworks and collections together with them. Galería Casa Cuadrada is another gallery that I have been working with since 2019 and with whom my pieces have the pleasure of traveling the world from art fairs to exhibitions. Currently, I am working on different projects commissioned by private clients and interior designers to be displayed in private houses and hotels around the world. I hope you all get a chance to see my works near you in the following year.
VIE: Thank you, Vanessa! We can't wait to see them.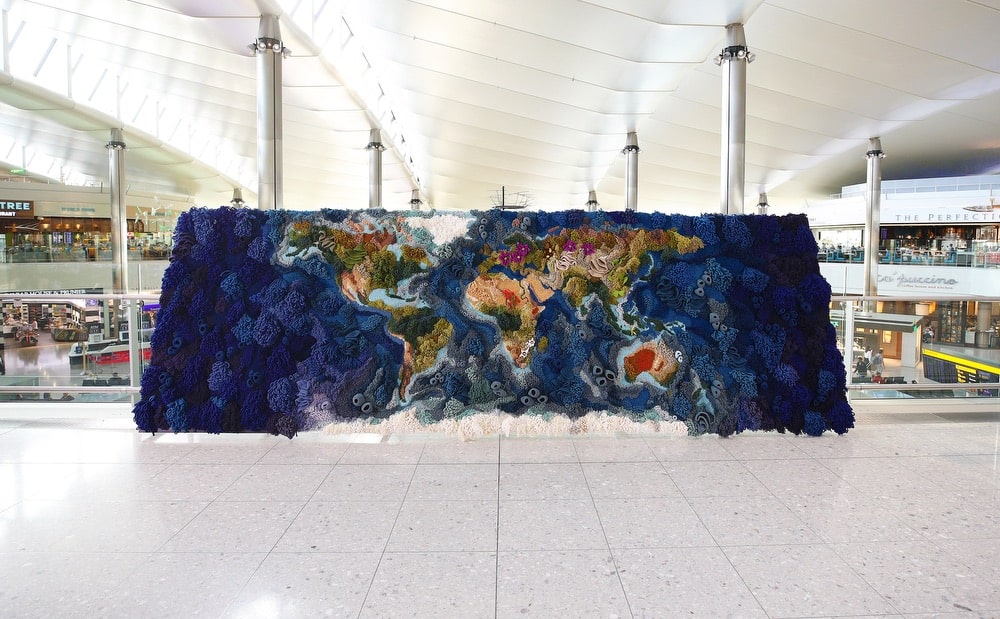 — V —
---
Learn and see more at VanessaBarragao.com or follow the artist on Instagram @vanessabarragao_work.
ARTICLE CATEGORIES