By Jim Pettegrew
"You're not from around here, are you?" they ask me sometimes.
"Well, no, not originally. I didn't grow up here," I reply. "But don't ask me next about my Midwestern 'accent'… because there's no such thing as a Midwestern accent. At least, I've never heard one."
I am here in South Walton because of the annual Telluride MountainFilm on Tour festival at WaterColor. Some people think that I am responsible for bringing the tour here, but I'm not—it brought me here.
MountainFilm is a festival of mostly documentary films, special guests and speakers that is held in the small mountain town of Telluride, Colorado, elevation 8,745 feet. It's been held annually, at the end of May, since 1979. Started mostly by climbers and other outdoor recreationists, it was inspired by the granddaddy of mountain film festivals held annually in Trento, Italy, which dates back to the early '50s. In those early years, our program was devoted almost entirely to climbing, skiing, kayaking, and other mountain sports.
But, over the years, our festival grew and evolved to where we now seek out films that look at our planet's environment, at challenged cultures from around the world, and at the burdens of overpopulation—subjects from any corner of the globe, pertaining to any wrinkle of the human experience.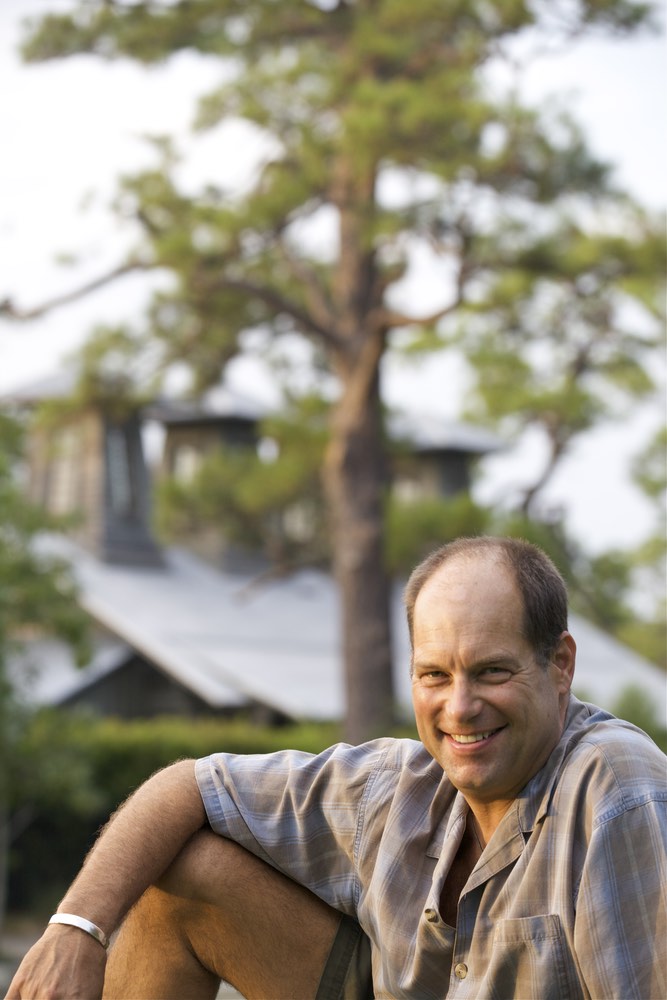 The films aren't just about literal mountains anymore, but we're not going to change the festival's name. Sometimes, we'll attempt to scale a metaphorical mountain, like the paradox of starvation and obesity existing in our country side by side. Even though we still love to present films about exciting sports, our biggest single criterion in terms of choosing a film now is simply to find a good story that is well told.
MountainFilm is attended each year by athletes and explorers, talkers and loners, filmmakers and film lovers, politicians and other policy makers, environmentalists, professors, children and grandparents, by Telluride townsfolk, and by people who arrive in broken-down cars and in private jets. There is a tribe of people who revel in the culture and wisdom of the mountains, and this is one of their premier gatherings.
The films we show usually range from about two to fifty minutes in length. They're mostly documentaries, with the occasional fictional or animated short. The festival receives hundreds of submissions from all over the world—some are from noted filmmakers, many of them are guests of previous MountainFilm gatherings or past award winners; other submissions sometimes arrive in tattered brown packages containing DVDs of rough, unfinished, or awkwardly "not ready for prime time" material. But, each submission is a work of art that someone cared enough to create.
From the mountain of submissions, the staff and a committee select fifty to sixty pieces that will be presented in four different cinemas over the four-day weekend event. That weekend also includes breakfast bagel talks with filmmakers and other special guests, gallery exhibits of works from a dozen still photographers, surprise appearances from the wings by someone whose story has just been told on-screen, a lot of sidewalk coffee-drinking discussions of the films that have just been presented… and maybe even some daytime rock climbing or backcountry skiing to reconnect with terra firma.
That's the story behind the home festival back in Telluride, where I lived for twenty-two years, most of that time involved with MountainFilm. But, about twelve years ago, we realized that most of the films we were presenting were unlikely ever to be seen by a broader audience—they were just not going to make it onto the big screen at the local multiplex, although a few would show up on cable TV somewhere. Of course, not everyone can make it to Telluride for a four-day weekend every May, and MountainFilm thinks it's truly important for more people to see these films.
...Our biggest single criterion in terms of choosing a film now is simply to find a good story that is well told.
So, the idea of taking the show on the road was hatched in order to take a sampling of the festival—both a condensed selection of the films themselves and the spirit of the event—to schools, museums, and community gatherings around the country and around the world. Since then, we've put on shows from San Diego to New Hampshire, from WaterColor to Anchorage, and from Chile to Norway to New Zealand.
We feel it's important to get these ideas out there and into circulation. But, also, in this day of DVDs coming in the mail and of videos available even on your phone, we take pride in exhibiting films on the big screen. We are, after all, in show business. There truly is magic in that darkened outdoor room, and there is definitely power in film—power not just to entertain, but to educate, to inspire, and to challenge.
MountainFilm takes the mission of doing more than just entertaining seriously—but not too seriously we hope. We hope to show you things you've never seen, take you to new places, maybe get you to think about something that's completely novel to you. To a degree, we want to poke you and to stretch you. Did you ever take a yoga class where the stretching was maybe a little challenging, a little uncomfortable while you were doing it, but, later that evening, you felt invigorated and better for it? That's what we hope to achieve with the MountainFilm Tour.
In the summer of 2001 in Telluride, our friend Joan Childs stopped by the MountainFilm office. Joan, who then split her time between Telluride and Seaside, and who was also one of the earliest WaterColor homeowners, told us about a new community arising next door to Seaside. WaterColor was just starting out, and its creators, the St. Joe Company, were looking to develop something of a local arts and culture scene. She and her partner, Jerry Zaret, believed that the MountainFilm Tour would be the perfect thing for a couple of evenings in the fall.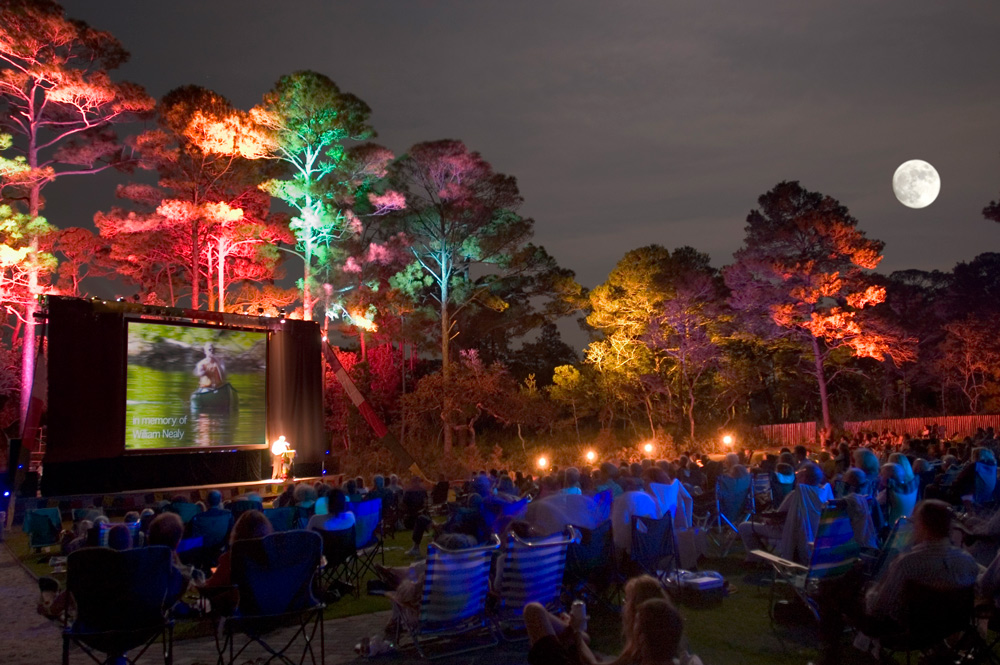 Trusting Joan's judgment—and trusting our own keen sense that some time at the beach right before ski season started couldn't be a very bad thing—we signed on, and presented the first shows at the Marina Park Amphitheater in early November of 2001. The stage was freshly screwed together and the sod lawn was still a little loose, but the support from WaterColor and the 30A community was fantastic. We had a pretty good turnout for a brand-new event, and it's been a hit on 30A ever since.
The 2009 shows, coming up on November 6th and 7th, will represent our ninth year. Regular attendees—and we have lots of them—know that tickets should be bought in advance; that we present a different selection of films each night, so they know to come both nights if they can; that the list of films isn't known until just before the weekend; that we encourage them to bring blankets, low lawn chairs, and warm clothing; that we don't allow coolers or food and drinks to be brought into the venue but full food and beverage service is available; and that there's a separate kids program available during the evening.
As with most arts events, a lot of people work unseen for many hours for nearly no pay to stage the event. For the MountainFilm Tour at WaterColor, that starts with our producer, John Rosenberg. John moved here from Telluride in '02, just after the second annual WaterColor shows, and, besides being a MountainFilm trail boss, he's behind the scenes of nearly every arts event along 30A. We also receive a great deal of irreplaceable volunteer help from the St. Joe staff and from a number of beach locals. Lots of folks find it fun to be involved.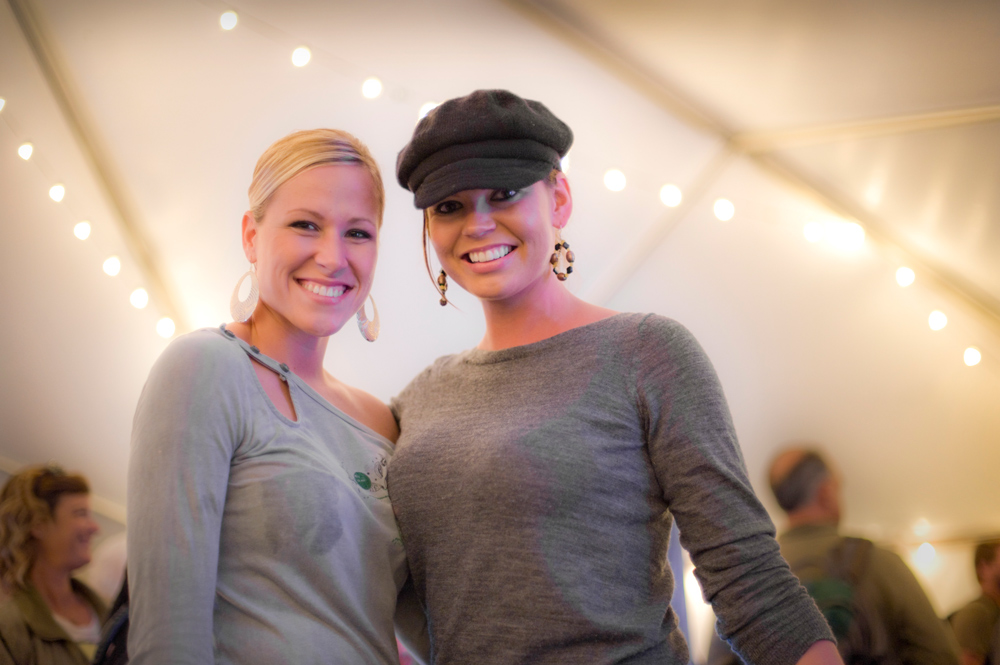 Like many of the paid staff, I had started, in 1982, as a volunteer with MountainFilm. The whole Telluride community shows a wonderful level of involvement and a tremendous ethic of volunteerism—it really is a fundamental piece of what makes that town a true community. And it's the same here—we can't enjoy top-level events in what are some pretty small towns without people willing to donate a little time. But I also needed a real job, a "day job" that would allow me to keep living there long-term. So I started to work in land and residential real estate sales in 1986, when Telluride was pretty much unknown and even smaller than it still is.
After the first tour show here at WaterColor, my wife, Gina, and I visited a couple more times. We were meeting nice people, we loved the feel of South Walton, and we saw plenty of opportunity here for both my real estate practice and her own interior design business. So we moved here to Seagrove Beach, in the fall of 2002.
I was glad to be with the on-site St. Joe WaterColor sales team for nearly five years, during some of the very busiest times there. Working mostly on homesites at first, and then transitioning more into homes as they were built, I came to know WaterColor as well as anyone working in the community today. It's still the core of my real estate business, and I'm pleased that's the case. WaterColor was my introduction to the Emerald Coast. I'm fortunate to have many friends who live there and it's still a very special place for me—the MountainFilm Tour is just one of the reasons why.
So, are we here at the beach now for good? Well, I enjoy film and music, architecture and design, creative cookery, and kayaking—but also skiing, in snow.
The mountains are certainly not out of my blood, and skiing is the sport that I know and love best. Even though Walton County includes the highest point in Florida, our vacations generally take us to even higher elevations. And, since we already live at the beach, we hope our retirement will one day include a cabin in the mountain woods.
But, just like a beachside event curiously called MountainFilm, one doesn't always need to actually be in the mountains. If you believe that the images in your mind have the power to create the world you desire, then film has the unequalled power to help create that world.
— V —
---
For information on this year's event, please visit www.mountainfilmfl.com.
For samples of films from this year's tour, please visit www.mountainfilm.org/tour/films/index.asp.
Still a South Walton newcomer, Jim is a Wisconsin native who's lived nearly half of his life in Colorado. With a college degree in wildlife ecology and a passion for outdoor recreation, Jim headed west and called Telluride home for twenty-two years of skiing, music, film, and resort real estate brokerage. It was hosting the first MountainFilm festival tour, held at WaterColor in 2001, that brought him to discover the 30A area.
ARTICLE CATEGORIES