By Tori Phelps
The first sounds on the other end of the phone can only be described as grunts and screeches. "Forgive the background noise," requests Jeff Archer, co-owner of YOLO Board. "I'm in San Diego on business, and my family and I are at the zoo."
His West Coast trip involves the expansion of Santa Rosa Beach–based YOLO Board into California, a perfect fit for the stand-up paddleboard company whose five-year rise from concept to cultural phenomenon has been nothing short of a Cinderella story. YOLO, which stands for "You Only Live Once," is more than a company; it's a lifestyle that encourages people of all ages to cultivate more fun, more balance, and more wellness.
But does its head honcho practice what he preaches? When asked if the owner of a business that's experiencing a meteoric rise could really adhere to the work–life balance the company promotes, Archer doesn't miss a beat: "I'm talking to you from the San Diego Zoo, aren't I?" Good point.
YOLO's legions of fans, including some famous faces, may be picking up on the fact that everything about the company is just so real. There's no slick, prefab marketing spiel—only an earnest invitation to put "joy" on your to-do list.
"We had to do this"
Before becoming business partners, Archer and cofounder Tom Losee owned neighboring businesses—Archer was in furniture manufacturing and Losee in landscaping—and enjoyed a rapport built around a mutual love of fun. One day Losee brought his neighbor an article about paddleboarding in Hawaii, and they agreed the sport would translate well in the Panhandle, where the flat waters would make for even better paddling than in Hawaii.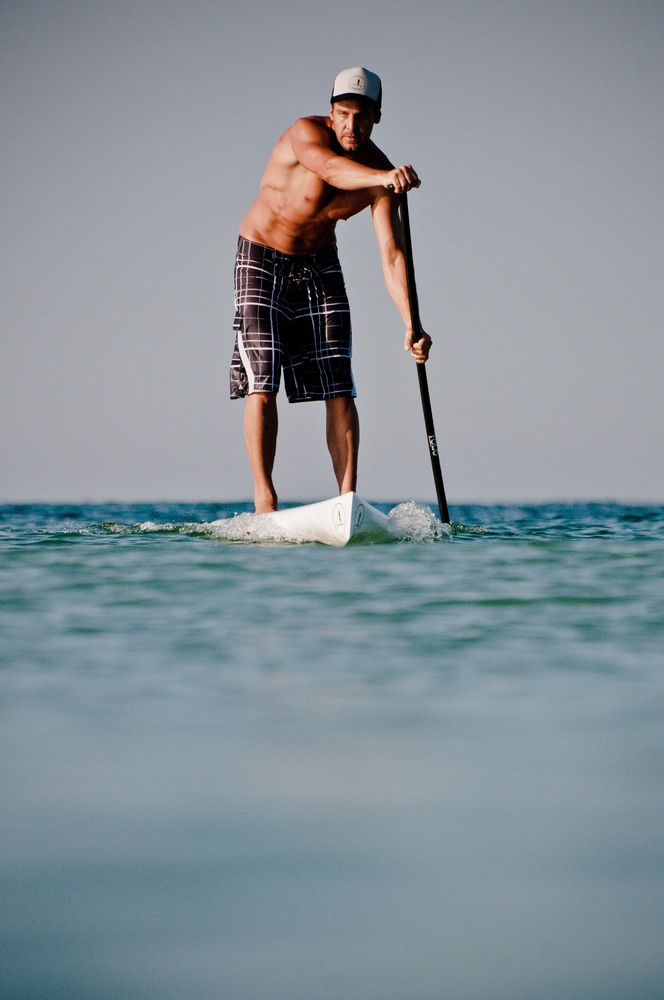 Stand-up paddleboarding (SUP) involves using a long paddle to propel through the water while standing on a board, a sensation that many liken to walking on water. The sport appealed to them both, but they couldn't locate a single board. With his background in manufacturing, Archer had one made and then took it out for a trial run. What happened next was life changing. "I paddled out and immediately saw some dolphins jumping," he recalls. "As I headed toward them, one dolphin got out of the pod and started toward me at full speed. He went under my board, and then his eyes locked with mine. It was almost spiritual. I went closer and realized they were teaching a baby dolphin how to feed on bluefish. That's when I knew we had to do this."
Archer paddled back to shore, and he and Losee started building their company the very next week. Everything except the name fell into place quickly. Then came an "aha" moment over sandwiches, when Losee suggested "You Only Live Once." It was love at first sound for Archer, who agreed the name perfectly captured the pure, childlike wonder he'd felt on the board.
With the name in place, they concentrated on the board's design. The partners had one goal: to make the sport accessible to people of all ages. And that meant designing an easy-to-use board with great stability. "We weren't trying to build the fastest surf model—just one that wasn't intimidating," Archer says. "The original YOLO board is one of the most user friendly ever created. People have immediate success with it, and that makes them want to do more of it."
More than a dozen different models have been added to the original, each with slight modifications that allow users to race, surf, fish—do practically anything on the water. Archer has even slept in the Everglades on his board. The expansion didn't come right away, however. Though the founders were hooked, others were a little slower to come around. "For two years people thought we were crazy, including our relatives," he admits. "It took a while for stand-up paddleboarding to cross over and be accepted, but now it's creeping into the mainstream."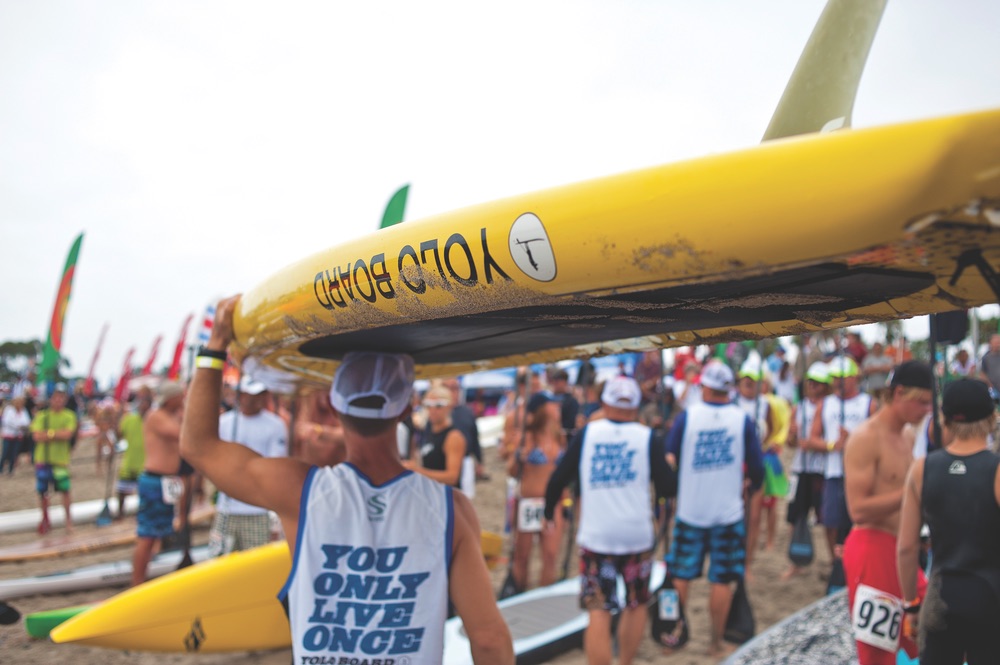 It's so mainstream that Archer expects YOLO Boards to eventually become like bicycles, with one in every garage.
It's so mainstream that Archer expects YOLO Boards to eventually become like bicycles, with one in every garage. YOLO is even planning to launch an inflatable model so enthusiasts can stash it in a backpack and go YOLO-ing anywhere in the world.
Part of the reason YOLO Board is growing so quickly is that interest isn't coming solely from traditional water-sports devotees, like surfers and kayakers. Though SUP has elements of both, it's uniquely inclusive, so anyone—from kids to seniors—can do it. "I had dinner recently with a sixty-five-year-old woman who paddles every day, and we have a paddling teacher who's sixty-seven years old," Archer says. "It's for everybody, whether you're ten or eighty. People are always surprised at how easy it is and how much it gives back immediately."
The YOLO Lifestyle
Archer and Losee learned quickly that YOLO-ing seeps into every aspect of life, which is why they talk about it being a lifestyle as much as a sport. Archer explains that one of the first benefits is self-discovery, which is propelled by the realization that you can do something you didn't know you could: stand-up paddling. That success opens the door to trying other things you never imagined you could conquer.
And then there's a newfound sense of well-being. "After you start paddling, you find that you think differently about things like the food you eat and how you treat your body," he says.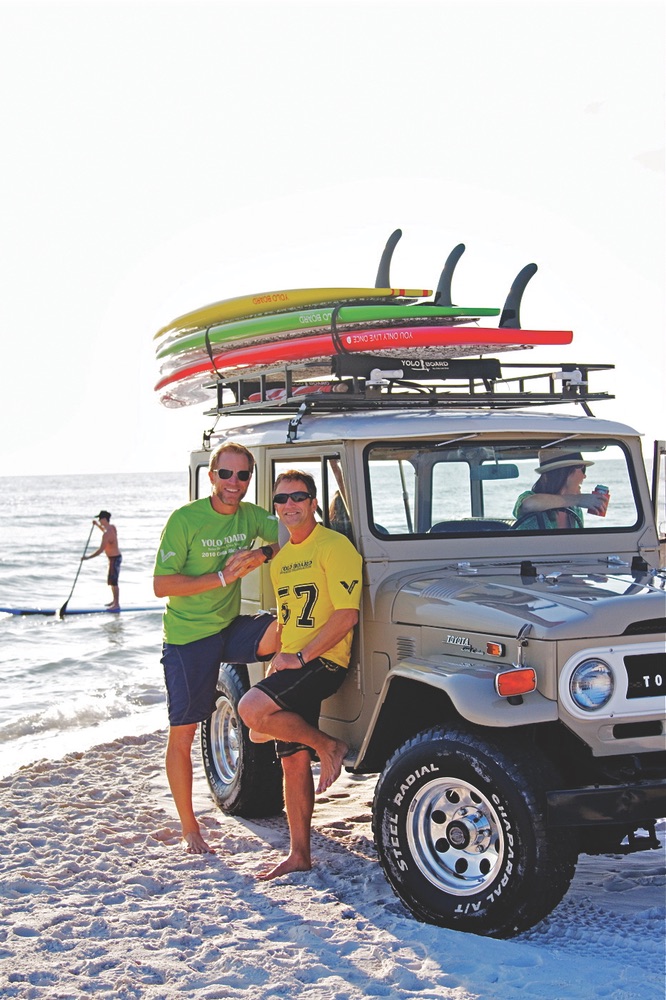 The YOLO lifestyle also involves connecting to a community, whether that means joining friends at a local race or meeting up with YOLO-ers on the West Coast, in Costa Rica, or in one of several other countries where YOLO Boards can be found.
For locals, diving into the lifestyle is as easy as heading to YOLO Board Adventures at WaterColor Inn and Resort, where Losee heads up programming that includes everything from basic paddling lessons to YOLO yoga. It's so popular that a second location is coming to Sandestin.
People ready to kick it up a notch can participate in the many racing events YOLO coordinates, including the original YOLO relay series for beginners, where four team members each paddle a five-minute leg. Warning: Leave your self-consciousness at home, as the relays encourage costumes and other inhibition-squashing behavior in the name of fun.
YOLO-ers interested in becoming serious racers can take part in mileage clinics that help build endurance. You might just spot YOLO Board's own racing team, anchored by EJ Johnson, helping others excel in the sport. After all, team members are chosen not only for their ability, but also for their commitment to being a positive influence in the SUP community and beyond.
That mission extends into YOLO's partnership with organizations like Special Olympics Florida and Florida Wildlife Corridor Expedition. Like most businesses, YOLO is bombarded by requests for help, but the company wants its outreach to be meaningful. "Florida was the first state to adopt stand-up paddleboarding for the Special Olympics games, and as a Florida company, we wanted to be part of that," Archer explains. "We want to help Special Olympics athletes discover that stand-up paddleboarding is empowering, no matter who you are."
Next, YOLO is heading into Cajun country for a fund-raiser with New Orleans Saints quarterback Drew Brees and tight end Jimmy Graham. Brees, who has tweeted about his love of SUP, and Graham are coordinating a paddling event across Lake Pontchartrain to benefit a former teammate diagnosed with amyotrophic lateral sclerosis (ALS), also known as Lou Gehrig's disease. Summing up YOLO's stance on charitable involvement, Archer says, "We just do what we can when we can. It's fun to be part of those things, and it's good karma for the company."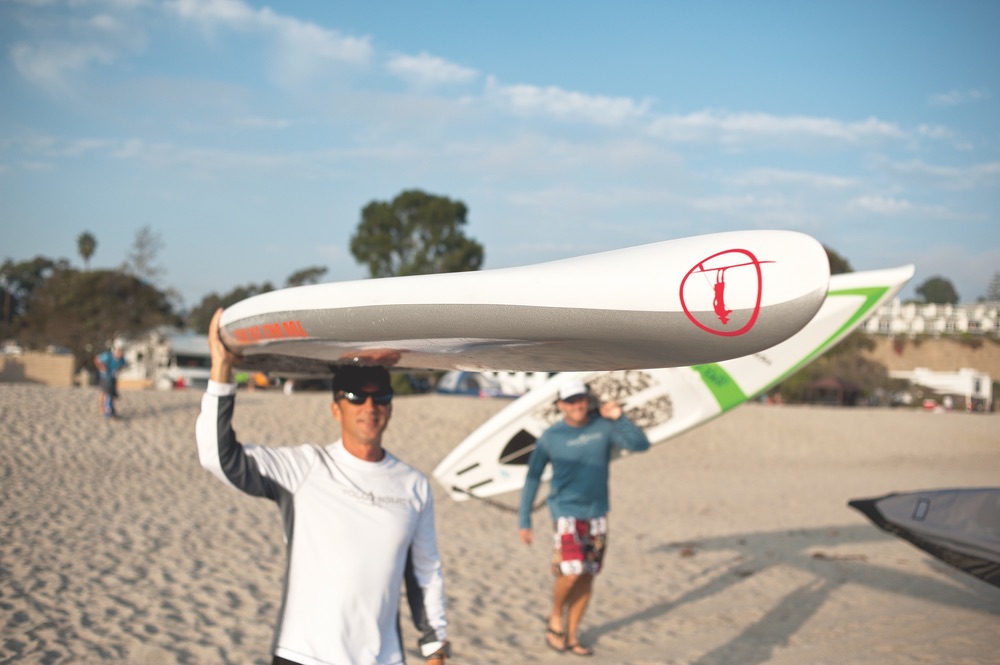 Whether it's good karma, good products, or both, something's working. With the brand expanding rapidly both nationally and internationally, the founders have their hands full managing that growth. Yet fun is always part of the picture. The sheer pleasure of YOLO-ing is why Archer makes time in his busy schedule to paddle nearly every day. "Paddleboarding brings you back to a time when you did something simply because you loved it—like when you hopped on your bike as a kid and just rode around," he says. "Seniors tell me all the time that they feel like teenagers again when they're paddling. That's pretty special."
There aren't many things in life that grab hold of your spirit from the first moment and never let go. And, Archer points out, getting started is easy. "The greatest thing about stand-up paddleboarding is its simplicity. A board and a paddle, that's all you ever need."
And maybe a dolphin friend or two.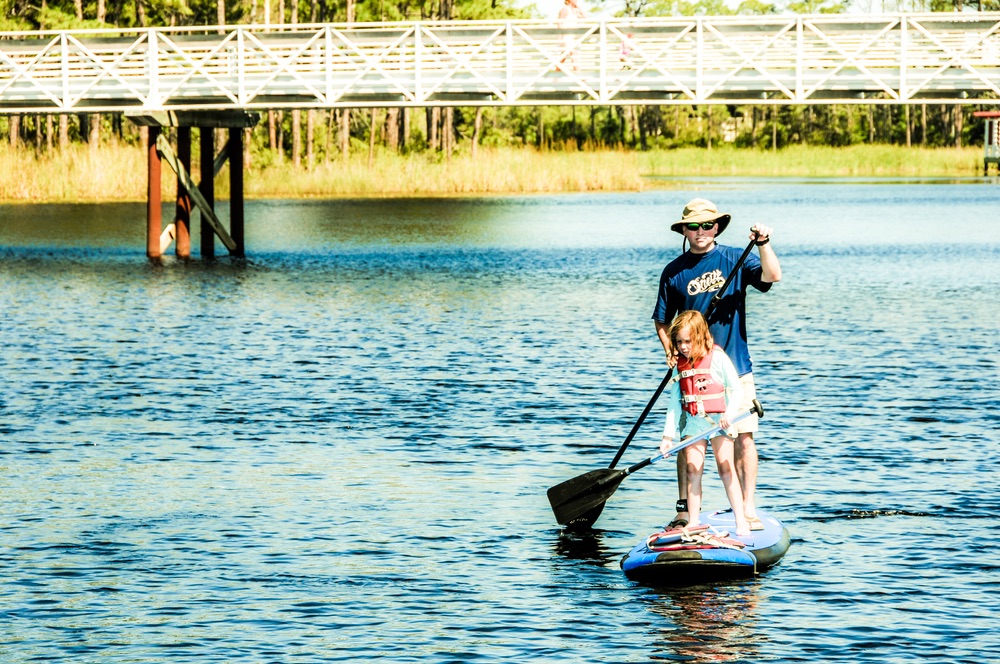 — V —
ARTICLE CATEGORIES