Swimsuit Designer Inspires a Retro Summer
By Suva Ang-Mendoza
Photography by Tommy Crow
Hair and makeup by Morgan King
Art direction and set design by Tracey Thomas
On a hot, sunny day, the charming Village of Baytowne Wharf at Sandestin Golf and Beach Resort in Miramar Beach, Florida, brings to mind summer memories, washing them up like a message in a bottle in a quaint, sandy cove. Whimsical boutiques, eateries, and galleries flow perfectly along the scenic shores of the Choctawatchee Bay. It's no wonder the outdoor space is home to festivals and events throughout the year. In the summertime, it's especially electric.
Upon entering Baytowne, as it's known to the locals, you leave the colors of everyday life behind and take a step into soft shades of sherbet orange, cotton-candy pink, and seafoam green, among others. The atmosphere brings back familiar sights and sounds of fun fairs and carnivals: laughter you shared with friends, whimsical chimes from the carousel, late night burgers and shakes, waffle ice cream cones with rainbow colored sprinkles, and arcade games—these are the tastes and colors of summer. This year the season is all about good old-fashioned fun, and we're excited to bring that back to life!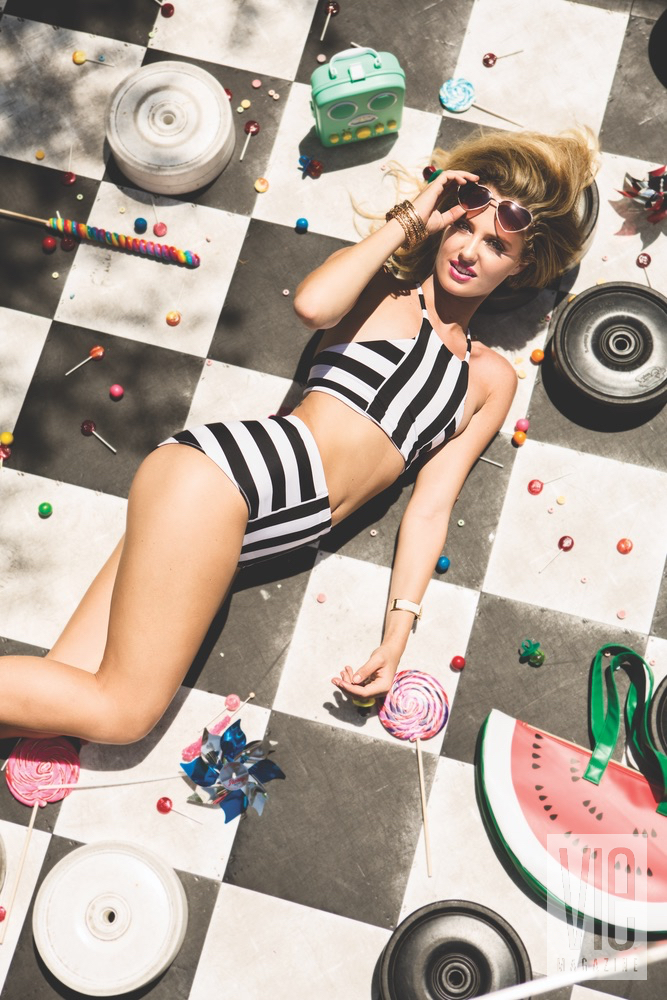 COOL FOR THE SUMMER
As the fashion industry takes a step away from minimalism in light of summer, it brings eye-catching trends such as daring stripes, flirty peek-a-boos, romantic ruffles, and bold pops of color to capture the essence of the season. Destin, Florida-based designer Cayce Collins caught VIE's eye with her fun womenswear line on the catwalk of South Walton Fashion Week back in 2014. Her styles returned to the runway of SWFW 2015 with a superfun, retro-inspired swimwear collection that brings all these must-have summer trends together.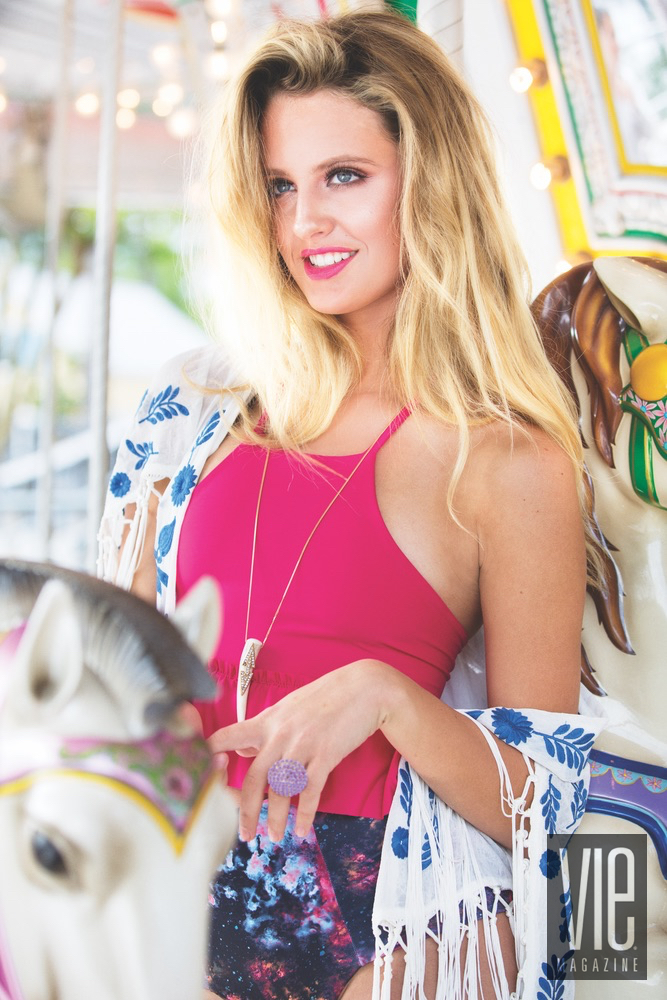 "We've always loved Cayce Collins's designs, especially her swimsuit collection," says VIE's art director, Tracey Thomas. "Introducing the vintage-inspired collection in a photo shoot with a mix of retro props and accessories such as giant rainbow lollipops, candy necklaces, cotton candy, and more was so much fun. We were also lucky and thrilled to have clothing and accessories from the WaterColor Store, Fuss Boutique, Mercantile, Duckies Shop of Fun, and the Eye Gallery as great accent pieces, which really made Cayce's collection stand out at Baytowne Wharf."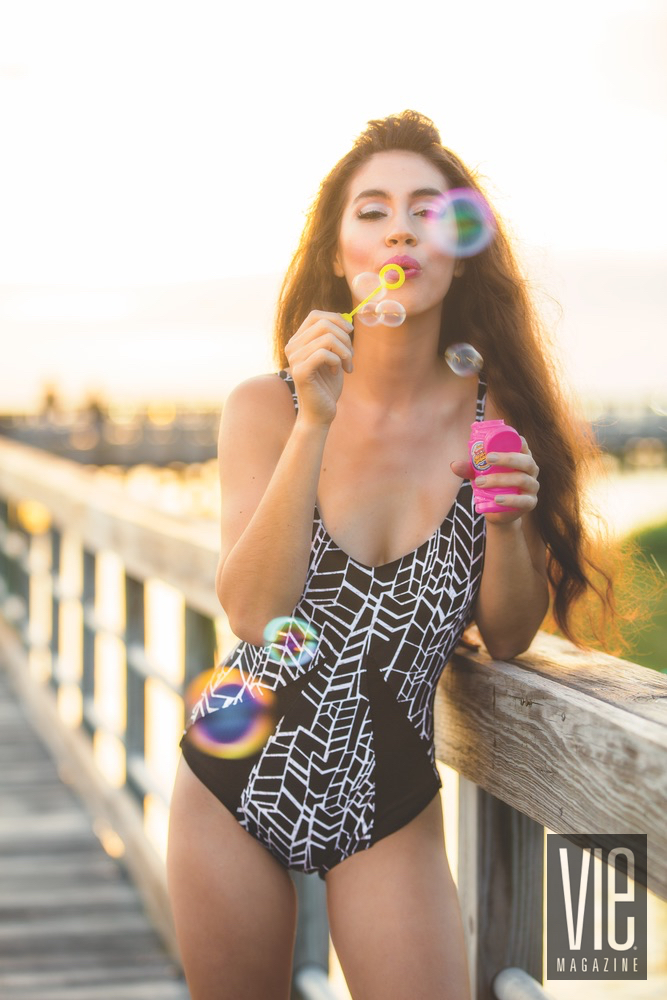 They empowered me to take risks with sewing and taught me basic sewing and patternmaking.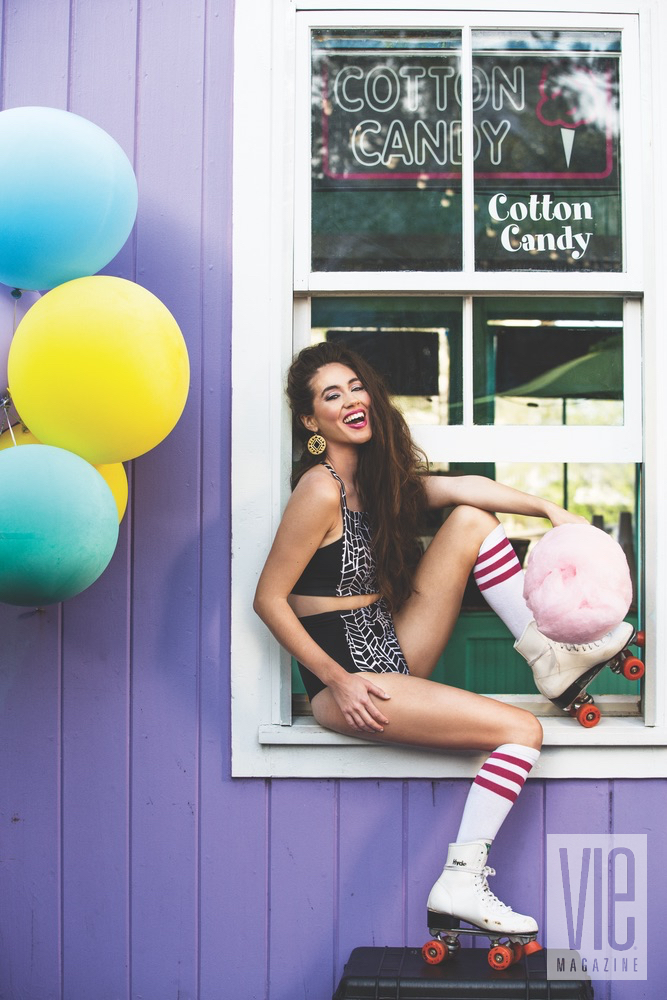 SWIMMING WITH MERMAIDS
It all started with a precocious eight-year-old Cayce Collins, a sewing machine, and the loving encouragement of her two grandmothers, who allowed her to develop the skill set upon which she's built her patternmaking for swimwear today. "My grandma Pat Baird was the one who taught me to make patterns, and my other grandma, Helen Ann Murphy, taught me how to sew stretch fabrics—which is obviously huge," Cayce says. "They empowered me to take risks with sewing and taught me basic sewing and patternmaking. I really didn't understand what a gift it was to be taught so confidently to believe in myself and to make mistakes and learn from them."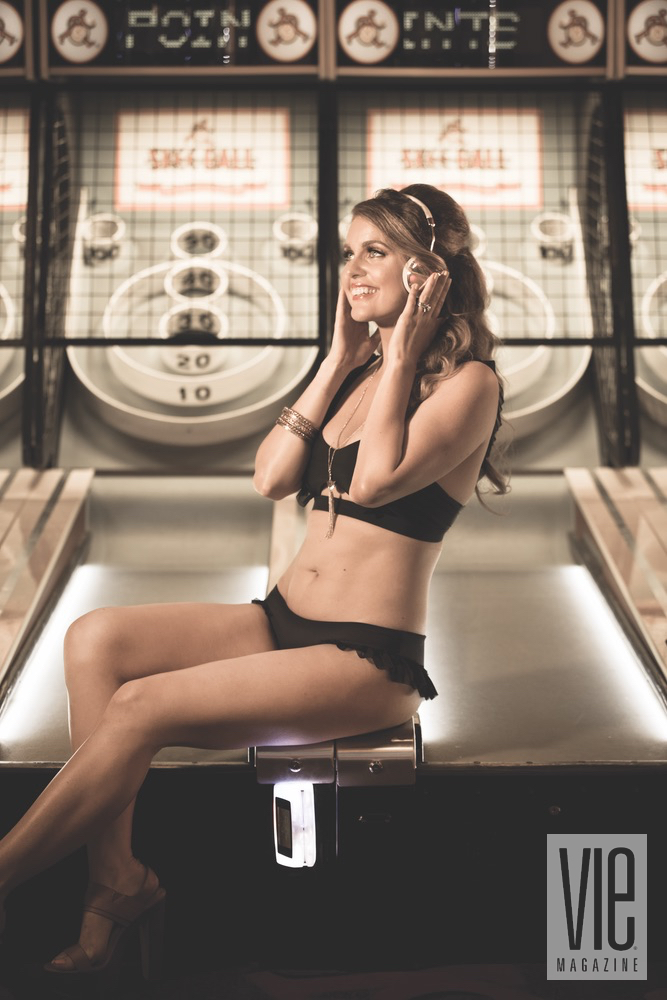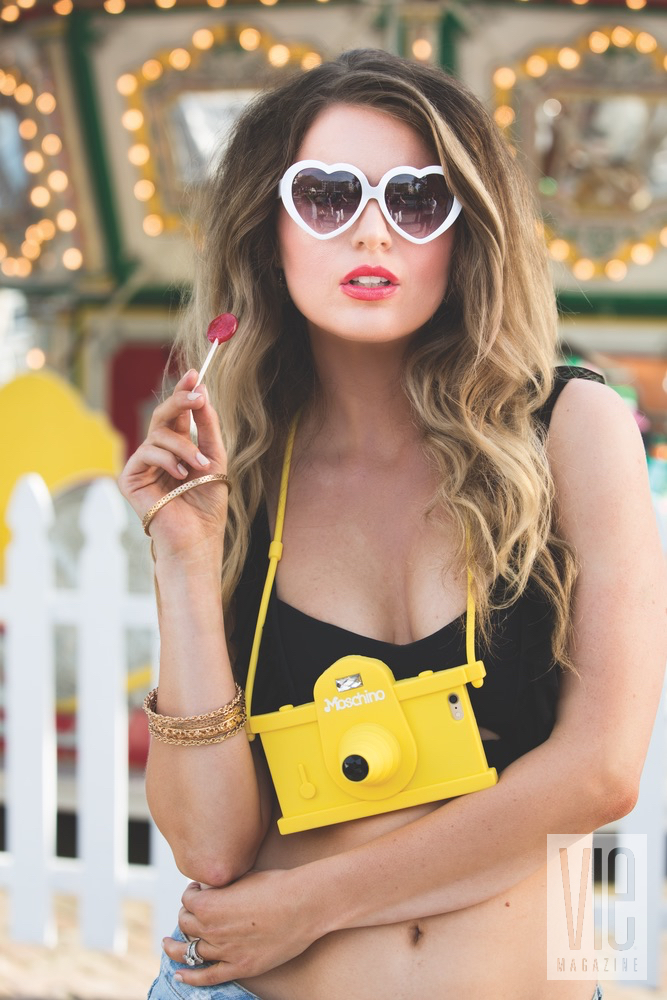 I've always adored swimwear that was unique and reasonably conservative.
A busy and talented personal trainer and mother of three, Cayce began her design ventures with a children's clothing line. As her children were speedily growing up, so were her designs, leading Cayce to create women's clothing and then to "get her feet wet" designing swimwear in 2008. Swimsuits have provided the perfect balance of playfulness and maturity, keeping her constantly inspired and excited. "I'm a mermaid at heart, so swimwear was a natural progression for me," she laughs.
Although her journey into swimwear is relatively new, Cayce's passion for it started long ago as an athlete growing up along the beaches of Northwest Florida. "I have spent as much time as possible on the beach every summer since I can remember," says Cayce, gleaming with passion. As for the inspiration behind her high-spirited, vintage-inspired swimsuit designs, she adds, "I've always adored swimwear that was unique and reasonably conservative."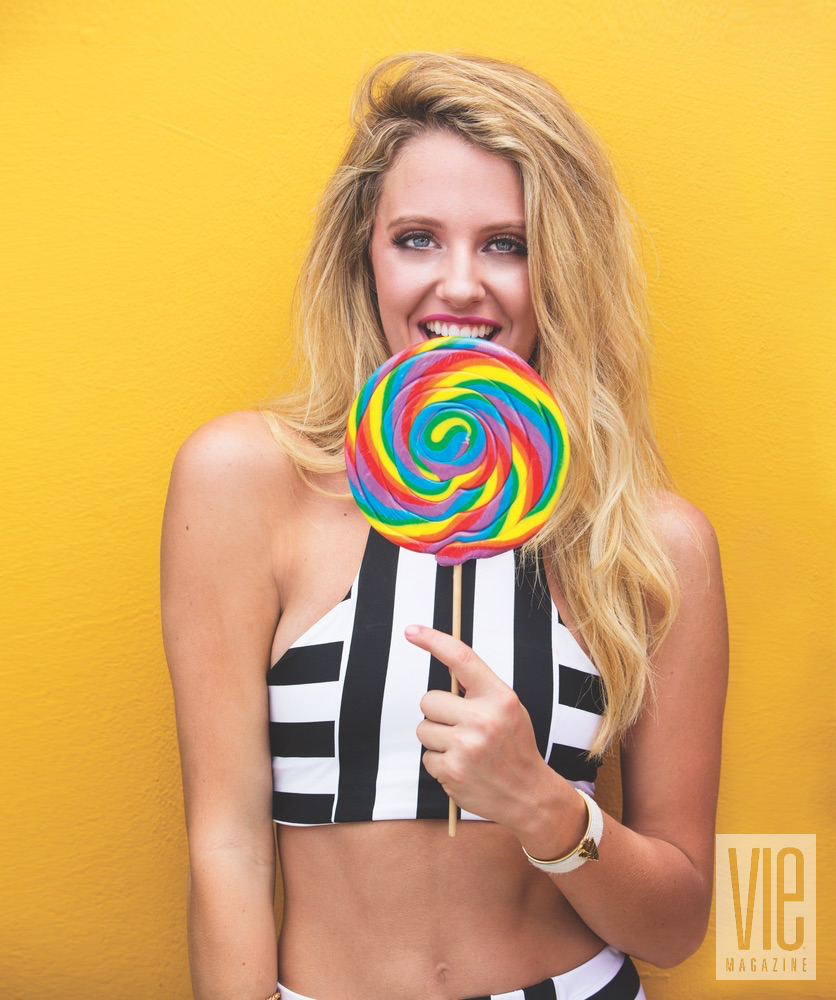 That same passion can be felt through her bubbly personality as she walks through the process of designing her collection. "My design process is always different," she admits. "However, something I did do when designing this current collection was make physical inspiration boards—scraps of fabrics, pictures, drawings, a shell that I found, a piece of driftwood. From there, I came up with basic silhouettes and patterns, and then I added details." There's an endearing humility in her voice as she speaks of her creations. "Sometimes the fabrics speak to me. I can hear them say, 'I would look amazing as cheeky little bottoms!'"
As is the case with many artists, tunes also lend to Cayce's creative process. "I almost always listen to music while I'm working." She adds, "This collection was heavily influenced by St. Vincent and Aretha Franklin."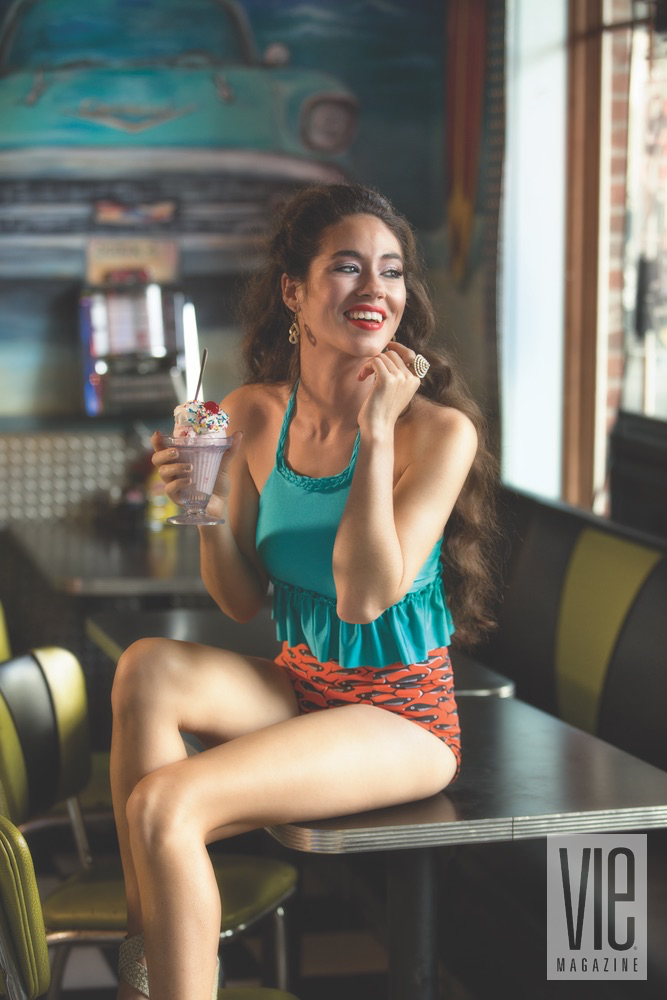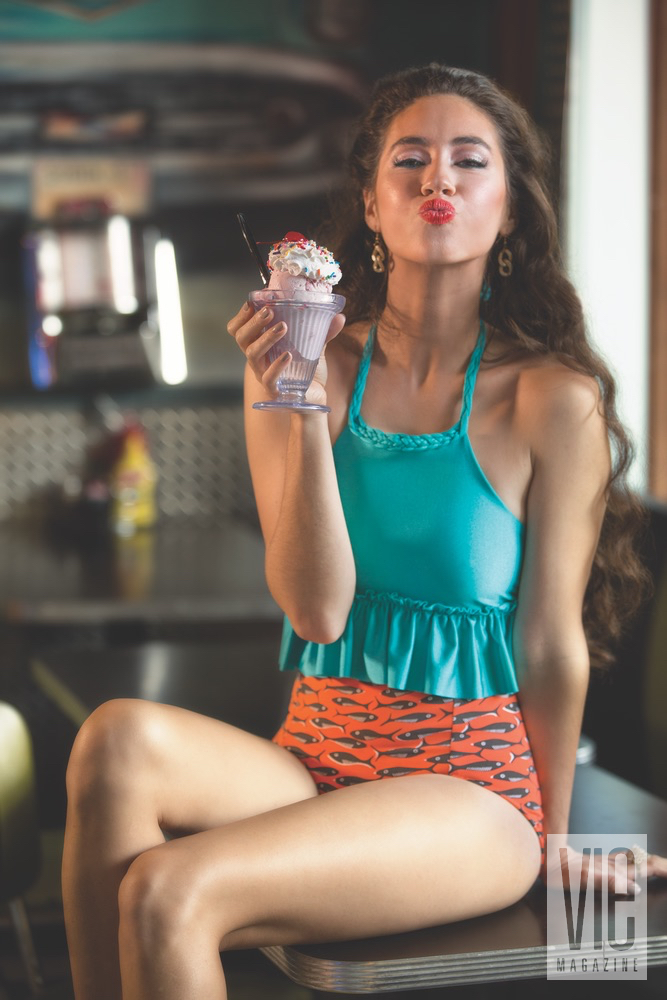 VINTAGE DOLLS
The early April morning at Baytowne Wharf started out overcast and cloudy, but that quickly morphed into soft blue skies as the sun greeted high-fashion photographer Tommy Crow and his crew, models Emme Martin, Brooke Miller, and Piper Williams, and the cheery classic carousel at Baytowne.
A humble and proud Cayce Collins stood in the background, beaming. "This is so exciting! I'm so excited and proud," she squeaked. "As a creative, I really put myself out there. When I designed this collection, it was a pure visual representation of my style, my taste, my personality. Being recognized for my designs feels like validation of all my hard work and editing. There is an illustrious satisfaction when your work is not only recognized, but also honored in such a profound way."
Sometimes the fabrics speak to me. I can hear them say, 'I would look amazing as cheeky little bottoms!'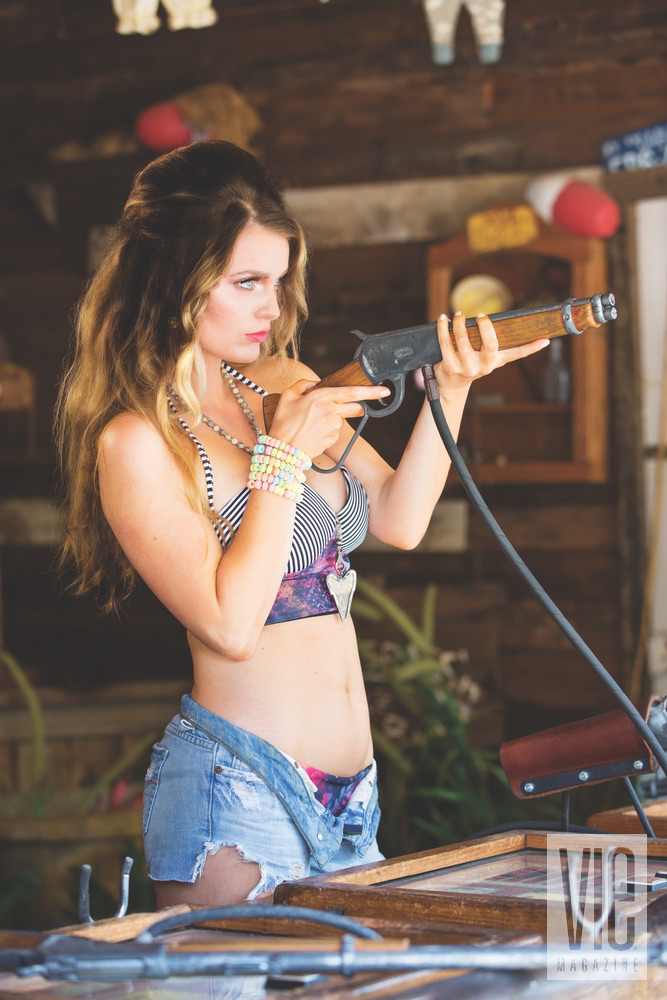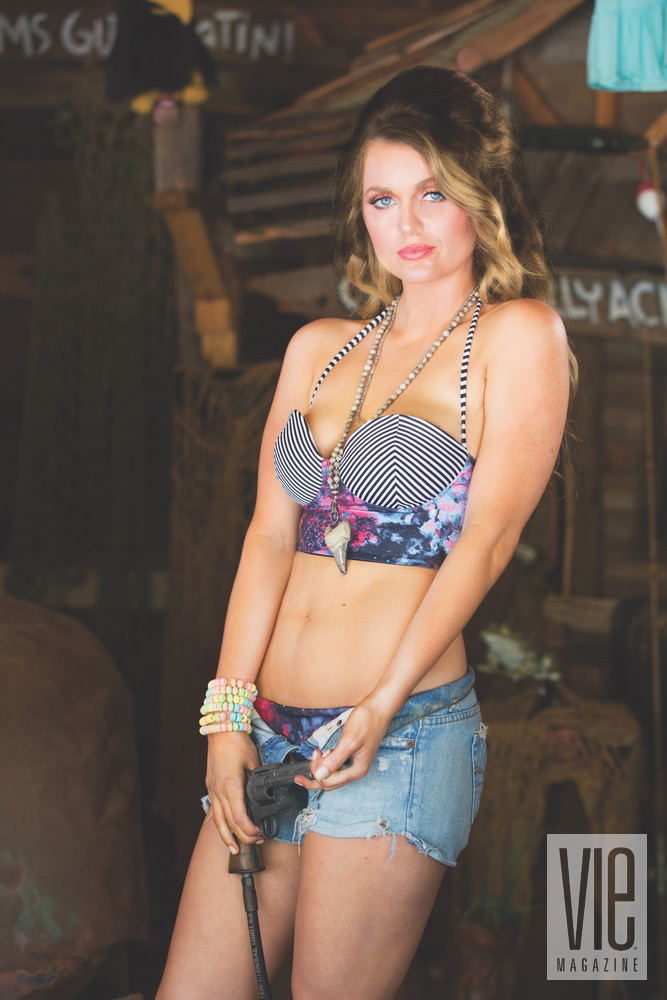 CHASING THE SUN
Hartell's Village Diner, the Blast'em Shootin Gallery, Blast Arcade, the Candymaker, and Tony Larue's in Baytowne provided backdrops for a fun-filled day of showcasing Cayce's swimsuits in action. Near the end of the day, the team was racing the setting sun and the Florida humidity as it melted Tony Larue's cotton candy at a speedy rate, but it made for a very sweet—pun intended—celebration as the shot was captured. Hues of oranges and pinks filled the sky and bubbles floated through the air with a quintessential summer appeal.
"Bubbles! What a warm way to end such a wonderful day," Cayce says, her positivity radiating like the sun. With a bright outlook on life and swimsuit designs that really stand out, this designer, mother, and wife is proof that you can do anything if you put your mind—and some hard work—to it.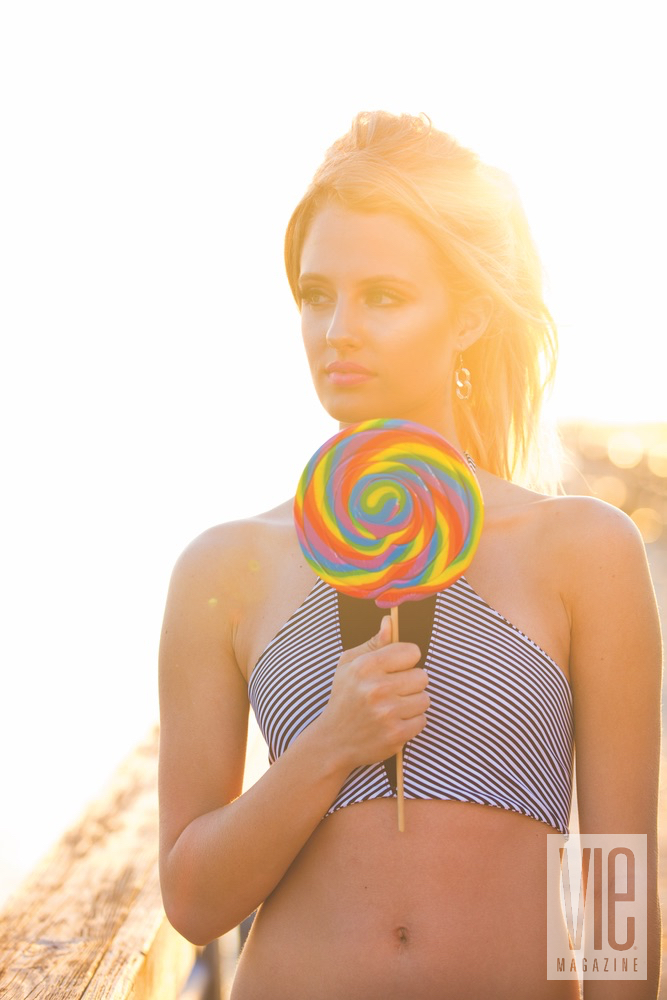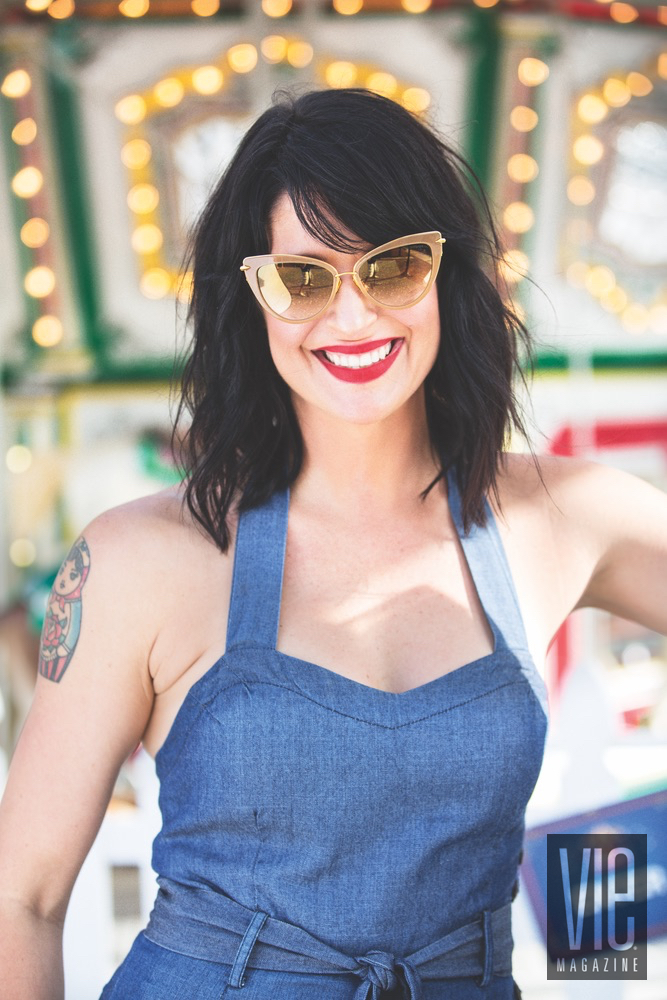 ARTICLE CATEGORIES