By Lisa Marie Burwell | 
Photography courtesy of American Leather
It was an honor to meet Veronica Schnitzius, president of American Leather, and her team at their campus-style manufacturing facility in Dallas, Texas, this past June. She is a vivacious and beautiful person who graciously arranged a tour of the facility and a catered lunch for our team. The 350,000-square-foot, state-of-the-art factory and corporate office are well organized and impressive, with innovative engineering methods used to handcraft each piece of furniture.
The VIE team toured the facility thanks to one of our advertising brand partners—Todd Reeves, owner of Isidro Dunbar Modern Interiors (idMI) in Miramar Beach, Florida. He shared that Veronica and American Leather would make a great addition to our Women's Issue, and we agreed wholeheartedly. Since idMI is the exclusive Northwest Florida retailer for American Leather furniture, it was the perfect marriage for our readers both locally and across the US. "It makes me proud to know that American Leather is the leader of innovation and craftsmanship in the furniture industry," says Todd, beaming. "Veronica has certainly earned the position of president, and she is an amazing leader for the company."
VIE hosted a meet-and-greet event in Dallas during our trip as part of our ongoing Stories with Heart & Soul Tour around the country, which began in 2017. It has been a great way to cultivate lasting relationships with both our readers and our advertisers, as well as a way to find new stories to tell.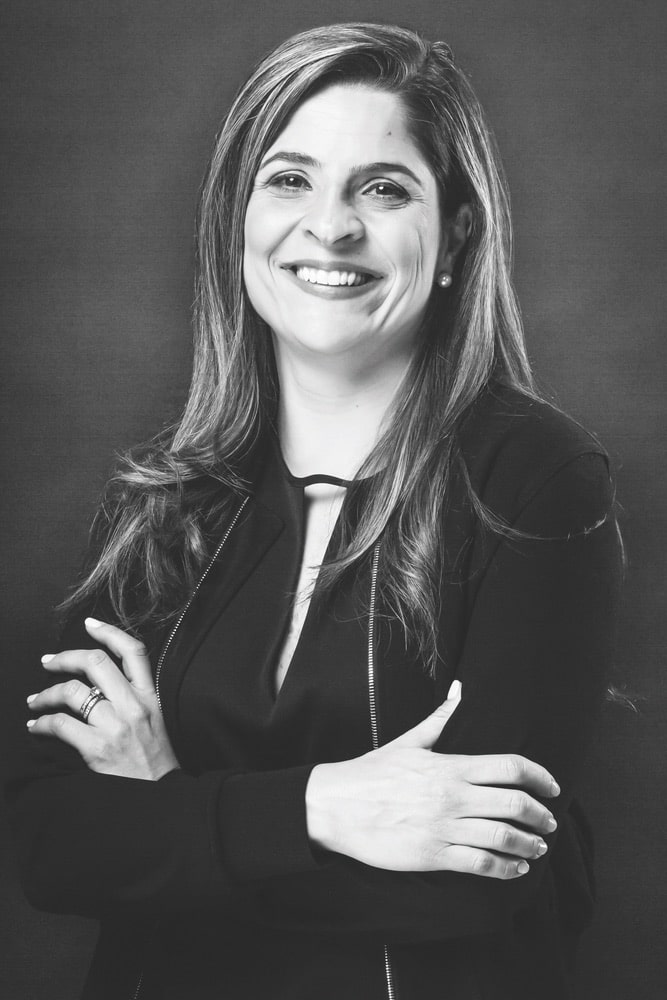 Veronica's rich story highlights both the achievement of the American Dream and the fact that she is strong woman who was born to lead. As president of American Leather, she oversees all aspects of the operations for a $300 million manufacturer of custom-ordered furniture. Todd says, "The work-family culture and team esprit de corps at American Leather is evident, and if more companies would take cues from their craftsmanship and leadership acumen, the world would be a better place." He adds that he is proud to be involved with such a dynamic, innovative, and creative company with a leader who has the grace and wisdom to lead but also listens and gives respect to her employees and partners.
It's been two years since American Leather CEO Bruce Birnbach announced Veronica Schnitzius as president of the company. "As we grow, we want to keep our small-company culture, and Veronica is the person to do that," he said. When asked how she felt about the new position, Veronica said, "I'm excited to be president after working at American Leather for fifteen years."
Founded by engineers in 1990, American Leather was built on the belief that three months is too long to ever wait for a piece of customized furniture; instead, they determined that thirty days was a reasonable goal. They were successful in being able to take an order from concept through completion in thirty days, and that has become one of the central differentiators as they were able to automate a system capable of achieving this. From humble beginnings, American Leather has grown to a team of six hundred today—thanks in no small part to Veronica.
"It makes me proud to know that American Leather is the leader of innovation and craftsmanship in the furniture industry. Veronica has certainly earned the position of president, and she is an amazing leader for the company."
Veronica Schnitzius was born in Medellín, Colombia, and earned her degree in production engineering from EAFIT University in Medellín in 2001. She graduated as an industrial engineer and then accepted an internship in Dallas that turned into a full-time position, but unfortunately, the company she was working for declared bankruptcy shortly after she arrived. Misfortune turned around, though, as she was hired as an engineer at American Leather. She says the rest is history. The determined young woman climbed the ranks, serving in many roles throughout her tenure, including maintenance manager, cutting manager, assistant plant manager, director of product development, vice president of operations, chief operating officer, and now, of course, president. While advancing in her career, she also earned a master's in business administration from the University of Texas at Arlington.
A champion of her fellow Latina women and other women of color, Veronica has been heavily involved with community organizations working to aid and applaud them. She served as secretary of the Hispanic 100, an organization of professional Latina leaders in the Dallas-Fort Worth area. She was vice president and committee chair of financial development for Women in the Home Industries Today (WithIt) and also served as a board member of the Young Professionals of the Dallas Regional Chamber. One of her most recent appointments was as a board member for YPO (formerly Young Presidents' Organization) Lone Star–Dallas chapter.
We caught up with this brilliant and inspirational business leader to hear more of her story, insights, and advice: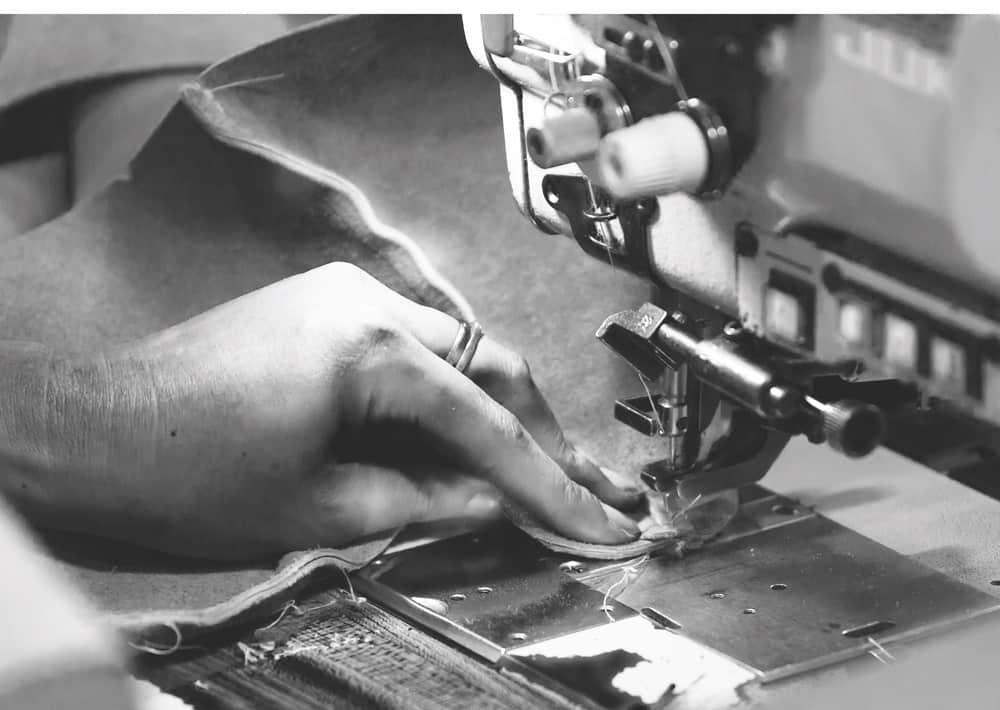 Was it always your plan or dream to lead American Leather as president while you were working there in numerous capacities for fifteen years?
Veronica Schnitzius: Yes, I love the company and the people who work at American Leather, and I was given every opportunity to succeed there. It was always important to me, in every role I moved into, that I could enhance the work experience for our employees and bring the same opportunities for advancement and success to anyone who wanted to grow. 
What is your leadership style? Do you believe that being a woman equips you to oversee and grow the company in a way that could be different from how a man might lead?
VS: I would say I am a "hands on, walk the talk" kind of leader. I wouldn't ask anyone to do something I am not willing to do as well. I also believe in "servant leadership," where we can create a culture in which everyone can win. As a female leader, I have natural empathy for our employees and truly believe in a relationship-based approach to solving problems and finding solutions. In addition, since women make 90 percent of the buying decisions in home decor and furnishings, how we relate to women as a company is important, and it makes a female leader even more relevant in our industry.
Always be a student: learn something new every day, both inside and outside of your industry, by listening to podcasts, attending seminars, or taking courses.
Do you have advice for both men and women on what companies are looking for in their employees?
VS: Companies today want an employee who is willing to work hard, is open to new ideas, and is always striving to better themselves. I would also take an employee who honors and helps cultivate the company culture over pure skill every time. You can always find people who are qualified to do the job, but finding someone who is passionate is rare. You can teach skills or a job role—you can't teach them to care.
Can you share words of wisdom regarding your leadership acumen and who or what can make a great leader?
VS: Doing the job, digging in, and working hard are the most important aspects of leadership. It's also critical to not be afraid to take risks and try something new. Learn from your own mistakes and experiences, but also from those of others.
Every leader should also have a business coach—someone you can bounce ideas off of, but who will also push you beyond your comfort zone. Beyond that, always be a student: learn something new every day, both inside and outside of your industry, by listening to podcasts, attending seminars, or taking courses. The more you expand your experiences within the world, the more you can share knowledge with others.
I have read that Bob Duncan, the founder of American Leather, is a mentor for you and has been an influential figure in your life and career path. Can you share this story with us?
VS: It has always been important to me to work hard in each role I served, but I was also very fortunate to be given new opportunities to succeed. Bob saw potential in me as a leader and he supported my education, put me through the Stagen business program, hired a communications coach, and was very supportive of my family as well. He was also open to my ideas for creating a healthier workplace and supported the initiatives we put in place to bring opportunities and programs to the employees that could enhance their work and personal lives. Bob has been a mentor and inspiration for me, and he has helped me see our employees as our biggest asset and see how we must always look to the next milestone as a measure of success.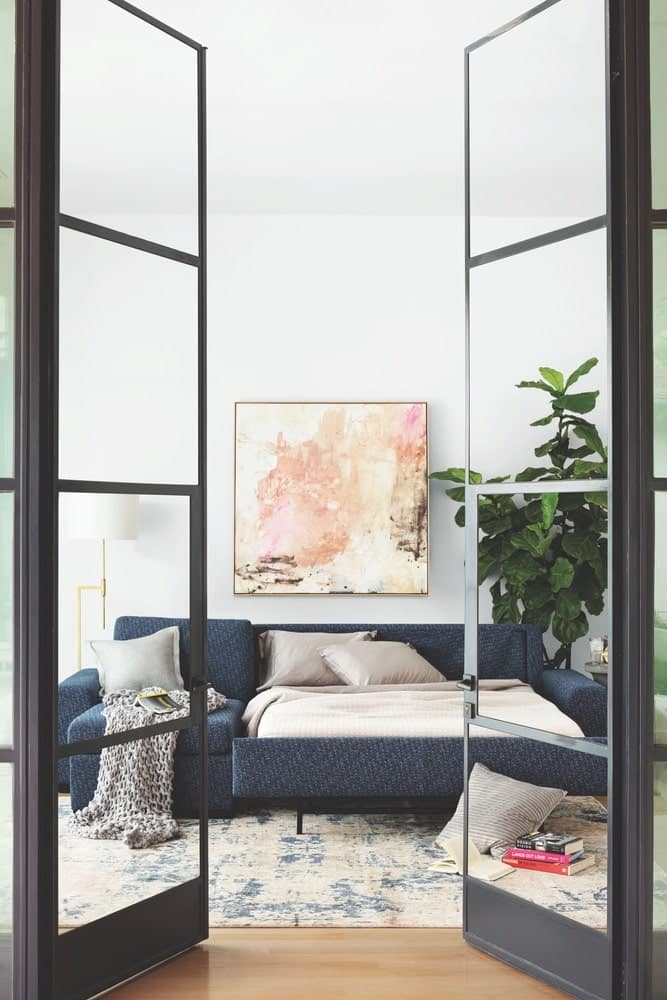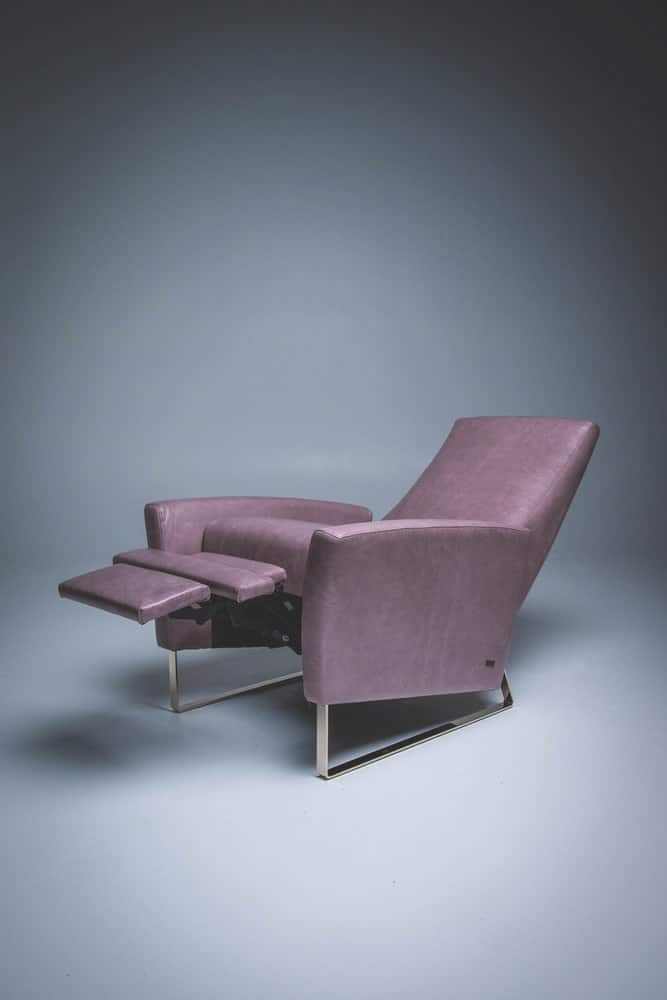 American Leather is a disrupter in the furniture industry—implementing Japanese "lean manufacturing" innovations that allow you to deliver custom-made furniture 75 percent faster. Can you tell us how you knew this was the right move for the company?
VS: Bob and the management team founded American Leather with the vision to offer highly customized, quality leather furniture produced to be shipped in twenty-one days—a delivery standard that was three times faster than the industry average. By applying modern, "just-in-time" manufacturing methods to the "old line" furniture industry, this vision became a reality.
To this end, the factory is engineered to manage mass customization of product through the latest technology and manufacturing systems, making American Leather the most automated leather furniture manufacturer in North America. Employing lean manufacturing methods means we have successfully and consistently delivered custom-designed products to consumers in thirty days, all made in the USA.
Every piece of furniture is made to order, with choices from hundreds of leathers or performance fabrics and various materials or wood finishes. The company's culture of innovation also makes American Leather one of the most patented furniture manufacturers in terms of the mechanisms we use. Our award-winning innovation products include the Comfort Sleeper, Comfort Air chair, Re-Invented Recliner, Style in Motion seating, and Comfort Theatre collections, which have redefined how people sit and relax on their furniture.
As a female leader, I have natural empathy for our employees and truly believe in a relationship-based approach to solving problems and finding solutions.
You manage a diverse group of employees from over thirty-five countries, with many being first-generation immigrants. Can you share how you have created such a vibrant work culture?
VS: I'm an immigrant myself, so naturally it's something I understand and am passionate about. American Leather as a company exemplifies that notion of being given the opportunity to work hard and make a good life for yourself and your family here. Being centrally located in the country means we have a large immigrant workforce in the factory; in fact, many are family members who come to work together. It was important to me to create a work environment that offers not only the opportunity to succeed but also access to good health care and financial support through college scholarships for employees' children.
Because your product is made in America, will this save you from any adverse reactions to the ongoing tariff wars we are currently experiencing? If not, how will you maneuver through an unforeseen paradigm shift?
VS: Yes, the current tariff situation makes "Made in America" even more attractive to potential consumers; but our home-turf advantage really affords the opportunity for consumers to get the exact piece of furniture they want, customized for their spaces, within thirty days.
Tell us a little about American Leather University. When was it established, and how often do you offer it so that retailers can attend and experience your brand firsthand?
VS: American Leather University was established more than twenty years ago as an annual opportunity for retailers to get hands-on training about American Leather and its products. Each year, retail sales associates come to the factory for a tour, to learn about what sets American Leather products apart in the market, and to receive sales motivation training. This experience is so valuable and helps sales associates become more familiar with American Leather and its products, allowing them to be more effective when selling American Leather from their stores.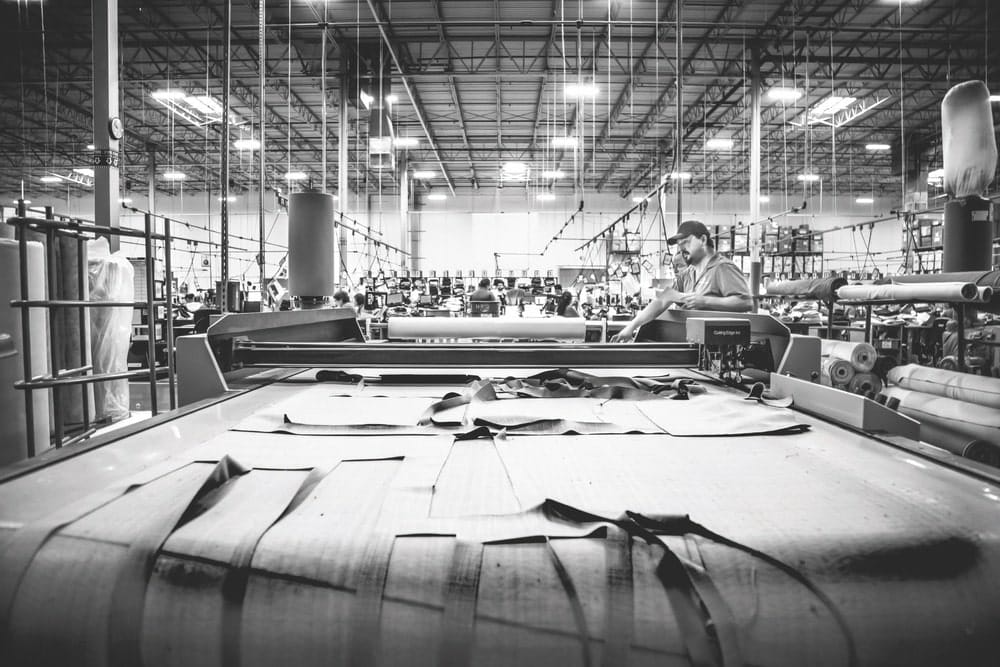 How has the acquisition of Lee Industries impacted American Leather?
VS: The acquisition has allowed us to learn from an "old competitor," offering a different approach to manufacturing and a view of different processes and team structures. This combined family under American Leather Holdings helps us all be stronger together.
Innovation, European craftsmanship, technological advances, and performance are intrinsic to your product as well as the design. How much do you rely on fashion and style trends to make sure you're staying ahead of the curve and giving your customers what they want—maybe before they even know they want it?
VS: Our team consistently visits shows in Europe, travels to different markets, and follows various influencers to see what new trends are emerging. But, in many ways, American Leather sets the trend for innovation with comfort and style, bringing products to market that really "solve problems" and provide a better seating, relaxing, and lounging experience for consumers.
As a company that both designs and manufactures high-end, customized upholstered furniture that is sold through private labels and retail and hospitality channels, are there specific channels you're growing in to stay competitive?
VS: Growing our own brand is very important, and all our channels grow at different times, as markets tend to be cyclical. Our hospitality division continues to grow strong, and we continue our efforts to build brand awareness among consumer audiences so they can go into retail stores and ask for the American Leather brand. Private label is also a solid part of our business, and we want to continue to grow that while also supporting the overall retail channel. We want to serve every end consumer in whatever way they prefer to buy.
— V —
---
The VIE team was incredibly impressed with the entire company and culture of American Leather. We would like to extend a warm thank-you to Veronica and her team, as well as to Todd Reeves of Isidro Dunbar Modern Interiors and Todd Crandall, owner and founder of Crandall & Associates in Atlanta, for organizing our visit.
American Leather's full line of stationary and motion furniture is all designed and manufactured in the Dallas headquarters and is sold through more than 650 retail stores nationwide. Visit AmericanLeather.com to learn more. Northwest Florida locals can also find American Leather at Isidro Dunbar Modern Interiors—idMIdesign.com.
ARTICLE CATEGORIES