Frank Stitt Blends French Cuisine and Southern Comfort
By Colleen Sachs  |  Photography courtesy of Frank Stitt Restaurants
Start talking to someone about food in Alabama, particularly in Birmingham, and Frank Stitt's name will come up. He has been called a genius and the Godfather of Southern Cuisine, and he's been credited with bringing life to a Birmingham neighborhood (if not the city itself) with the opening of the Highlands Bar and Grill in 1982. Highlands was followed by Bottega (and Bottega Café) in 1988 and Chez Fonfon in 2000.
Stitt's journey started in Cullman, Alabama, where he grew up on a farm with his surgeon father and his mother, Marie Stitt, whom he describes as "the greatest." Stitt says she lived to cook and to make people happy through her food: "She baked, made incredible desserts, was wonderful at braises, and made preserves and her own sour pickles and sauerkraut. She was quite the inspiration." He grew up with Southern staples such as corn bread and preserves and his grandmother's fresh churned butter (courtesy of her Jersey cow).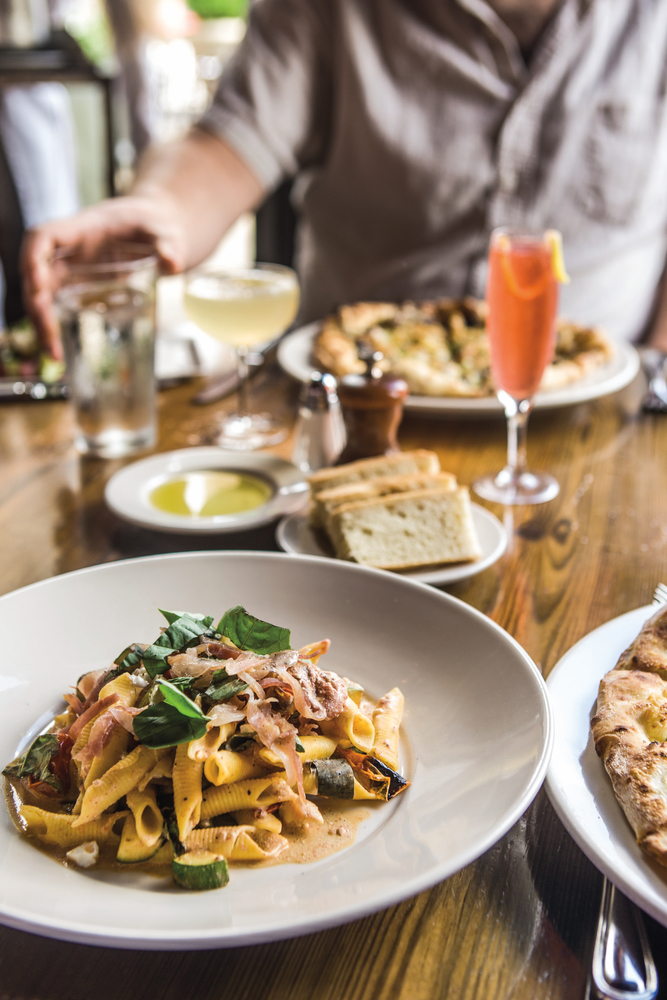 His father's professional position on a national board of surgeons provided trips to cities with plenty of fine dining. There was Brennan's and Antoine's in New Orleans, the Saint Regis in New York, and the Pump Room in Chicago. Stitt's love of food grew with each new experience.
In 1972, Stitt did what so many from the South do: he left. He spent a summer in Europe, attended Tufts University near Boston, and then headed west. While studying philosophy at the University of California at Berkeley, he became more interested in the food writing of Richard Olney and Elizabeth David than the philosophers he was studying.
After being rejected by the kitchens of several French restaurants (René Verdon of Le Trianon in San Francisco instantly dismissed him after he didn't know how to trim an artichoke properly), Stitt found Fritz Luenberger at Casablanca. Luenberger taught him the basics, and Stitt's joy for food continued to blossom. He found the mother ship of the American Slow Food movement, Alice Waters's Chez Panisse in Berkeley. Stitt admired the standard of integrity and the commitment to quality, flavor, and provincial French traditions using locally grown ingredients. It became a life-changing experience.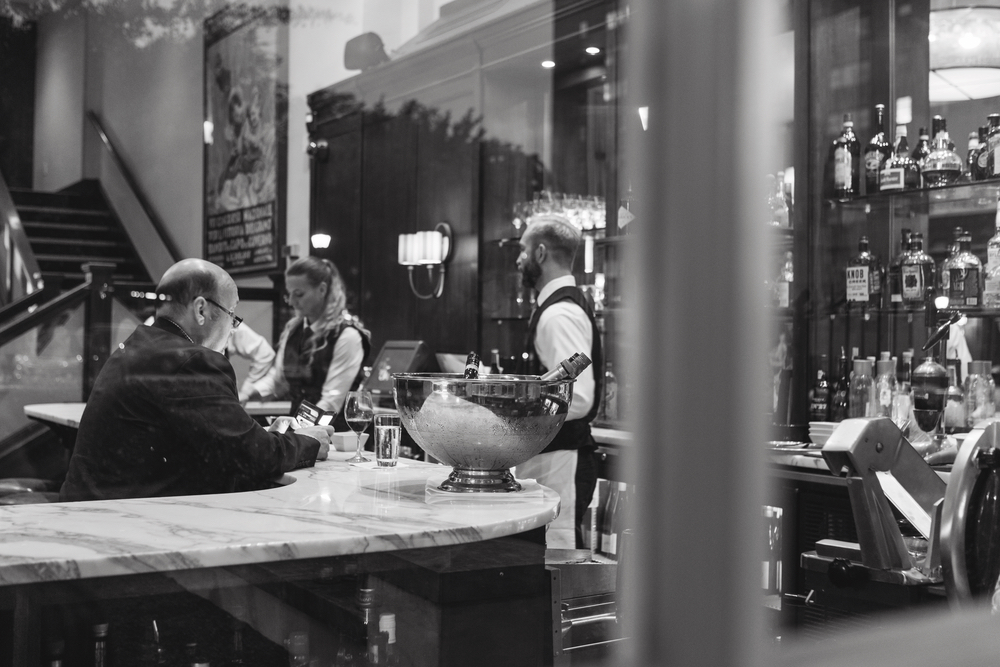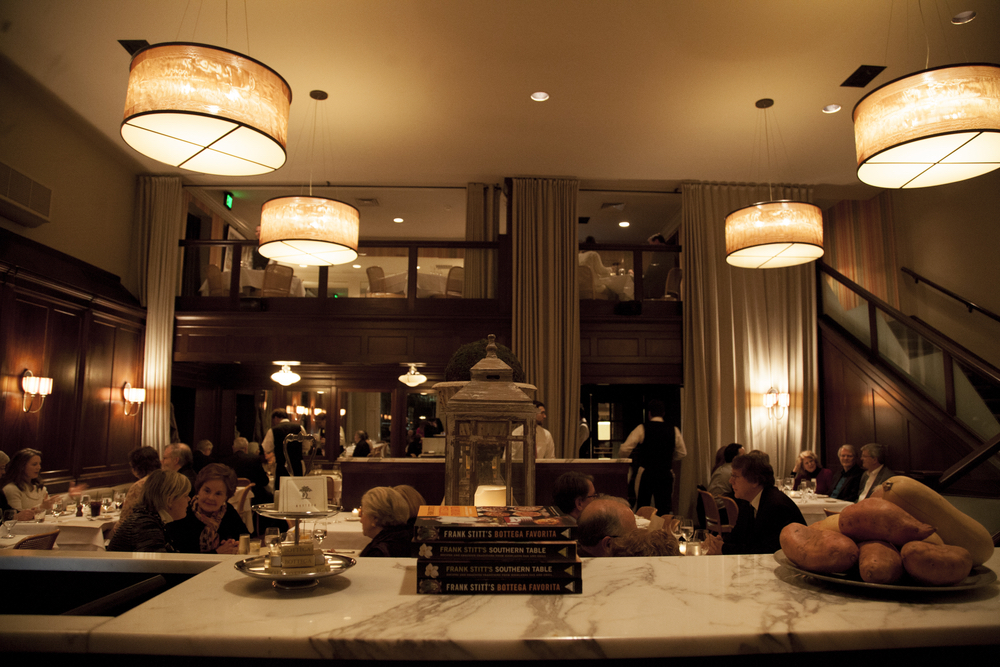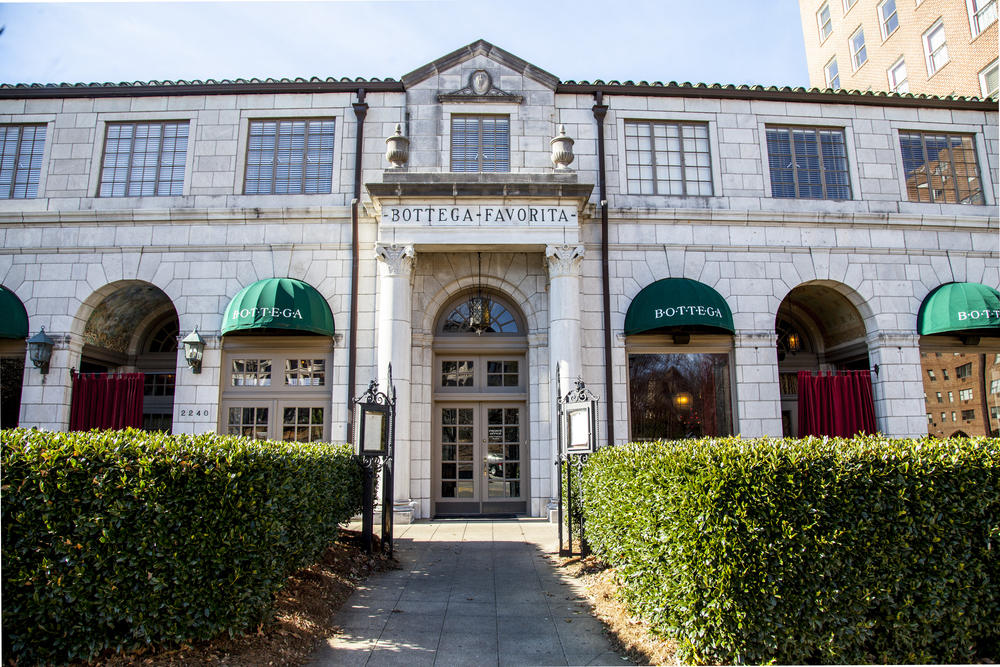 A spring internship at Chez Panisse led Waters to write a letter of introduction to her mentor, famed American connoisseur of French cuisine Richard Olney. With letter in hand, Stitt approached Olney and eventually worked as his assistant in England and France. At the time Olney was working on his twenty-volume Time-Life series, The Good Cook. Stitt spent time as Olney's personal assistant at his home in southern France in Solliès-Toucas. He learned about wine pairings from Olney as well as from Steven Spurrier at l'Académie du Vin de Paris. One recent Highlands menu paid tribute to his mentor by featuring Richard Olney's stuffed onions with ricotta, spinach, and Provençal tomato sauce.
Another of Stitt's early influences, Jeremiah Tower, was the chef at Chez Panisse and worked with Olney in London on the Time-Life series. Stitt describes Olney and Tower as "the two best cooks that I have known, and their taste and knowledge of the history of classic French cooking was amazing." He says, "They cooked because they loved the pleasure of food and being at table with friends. They also appreciated the joys of wine—from simple country wines to the finest crus. They both built menus with a sense of aesthetics that rivaled great art."
Stitt returned to Alabama at a time when Birmingham had its share of troubles, which included the closing of the steel mill. But he could see promise in the city from the burgeoning university and medical center. With devoted cooking class attendees and a loan from his mother, Stitt was determined to create a place for his style of food in Birmingham. "Highlands opened on a shoestring," he says. It was an immediate hit (and still is) with locals, who flood the bar upon opening each day. The food and atmosphere coax some patrons to dine there more than once a week. These loyal followers include politicians, doctors, lawyers, businesspeople, and football fans. Highlands is also a destination restaurant, bringing people from Atlanta and other areas of the South for a special meal.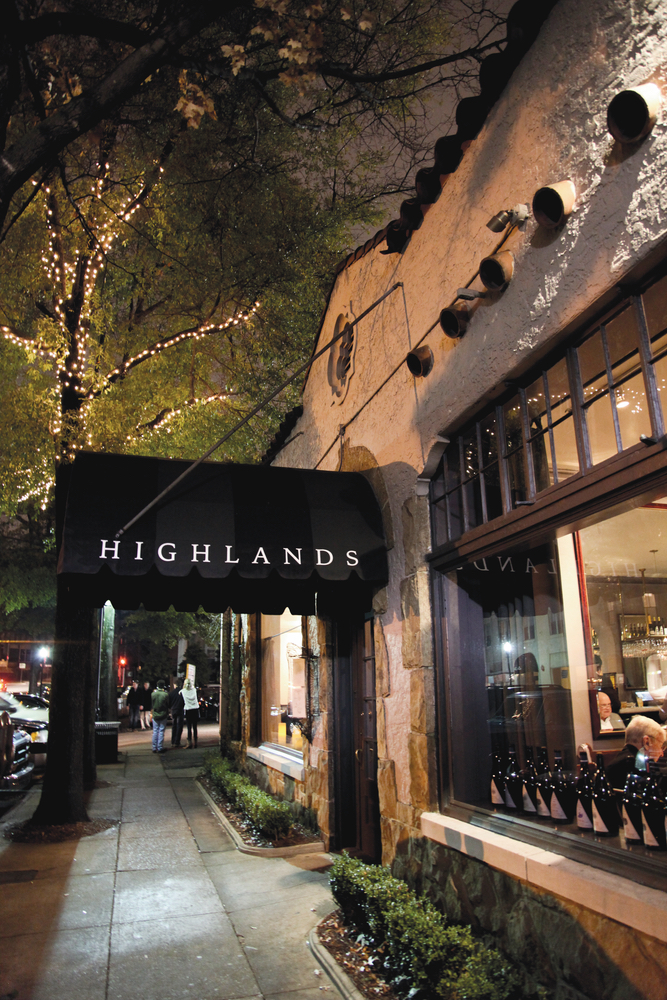 Each of Stitt's restaurants, which he owns with his wife, Pardis, has its own special quality that begins with the mid-1920s birth of the buildings they occupy. Highlands has an oyster bar and what Stitt describes as a "semiclassic vibe." He describes Bottega as having "Palladian-like Italian style," and Chez Fonfon as "a quirky French bistro." Stitt likens them to his children, saying "One is not better than the other—only different."
Highlands opened at a time when country club fare and the restaurant at the Hyatt were the norms among those looking for fine dining in Birmingham. Instead of steak and potatoes and everything served en flambé, he found wonderful local ingredients and prepared them with a nod to classic French techniques, which may seem contrary to some. The important part of the equation was that the ingredients were fresh and of the highest quality. A case in point is the popular Highlands baked grits dish: incredibly light grits are baked in ramekins and served with a Parmesan sauce, strips of country ham, and wild mushrooms. Simple Southern ingredients substitute for French ones, and the result is spectacular.
Many of Stitt's ingredients show up at the restaurants still wet with dew from the farm. You will find everything from fresh eggs to briny oysters and beautiful Gulf of Mexico seafood, all of the highest quality. Stitt is a chef who knows how to bring out the best in food instead of covering it up with sauce or seasoning. One Highlands dinner menu included grilled venison, lamb shoulder, crispy flounder, and duck three ways (roast ballotine, grilled breast, and seared foie gras). Desserts were classic crème brûlée, coconut cream pie, and strawberry cobbler. Each comes with a wine pairing suggestion, including Blandy's Rainwater Madeira and Bodegas Toro Albalá Don PX Gran Reserva Sherry.
Stitt's second restaurant, Bottega, is housed in the historic Bottega Favorita building. Chef Mario Batali has called Bottega "one of the best Italian restaurants outside of Italy." One side of the restaurant is open for dinner only, while the casual café is open from 11:00 a.m. to 10:00 p.m. and features snacks, salads, and mains, all reasonably priced. Recent selections included bruschetta with farm egg salad and poached shrimp, roasted cauliflower za'atar, and arancini. The Bottega Bowl salad combines quinoa, pumpkin seeds, shaved raw beets, a farm egg, kale, feta, and olives. Mains were perfect for the midwinter menu: garganelli Bolognese; café mac and cheese; and cavatelli with sausage, butternut squash, and Tuscan kale, to name a few. In the dessert section, choices such as tiramisu, affogato, chocolate budino, and coconut pecan cake left diners unable to resist.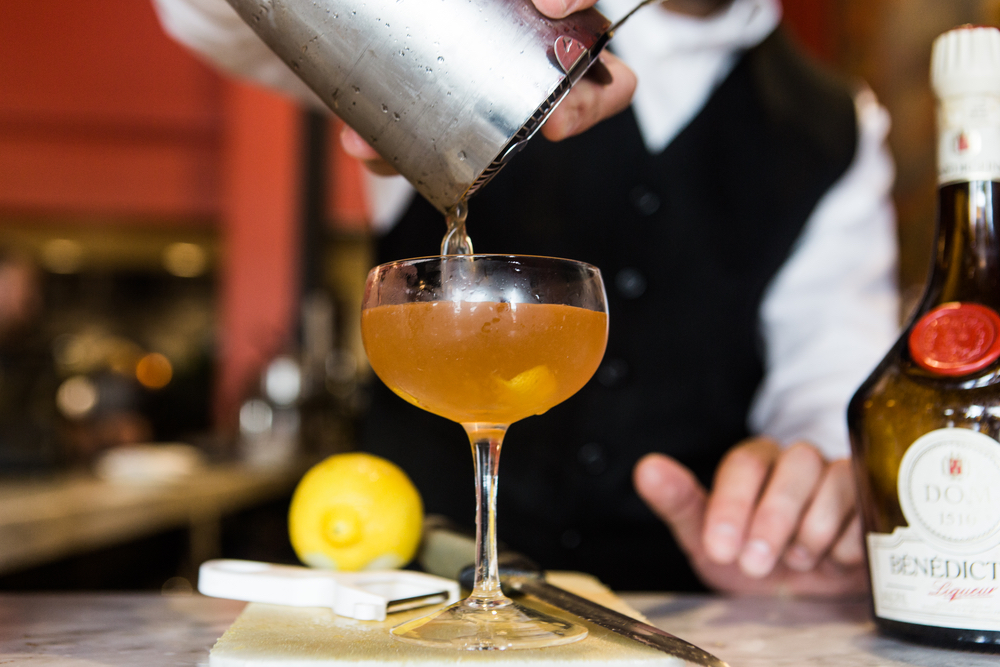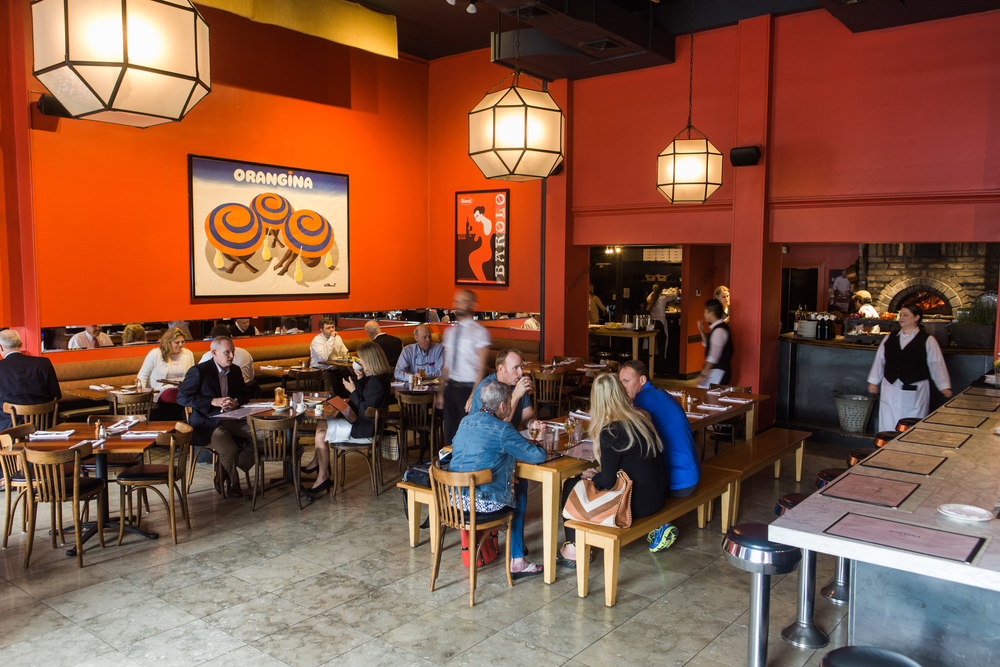 One of the most popular items on the Bottega dining room menu is a Parmesan soufflé starter served with mushrooms and prosciutto di Parma (Bottega's version of the Highlands baked grits), and the beef carpaccio is also a favorite. The scallop crudo featured blood orange, jalapeño, sea salt, and cilantro. Mains on a recent menu included pappardelle with braised pollo rosso, porcini mushrooms, and thyme, and black grouper with gigante beans, chickpeas, spinach, and lemon agrumato. A hanger steak came with steak tots, fonduta, and rapini. Among the desserts were persimmon semifreddo, dark chocolate raspberry cake with chocolate caramel buttercream, and satsuma sorbet pavlova. There are plenty of wines to choose from on Bottega's wine-by-the-glass program, and the cocktail list is nothing short of enticing.
Chez Fonfon is a bustling French bistro with a menu to match. Plats du jour feature lamb daube on Tuesdays. Locals know to arrive early on Thursdays for the crab cakes. Small plates include roast bone marrow with parsley and shallots, a country pâté of pork, ham, foie gras and pistachios, and fish paillard with apples, walnuts, mint, and lemon. Large plates feature classic moules et frites, trout with capers and brown butter, and shrimp and avocado with rémoulade. Several sandwiches are also offered—croque monsieur, croque madame, and turkey with blue cheese aioli—while mouthwatering desserts include the classic Opera cake, a strawberry tart, and pot de crème.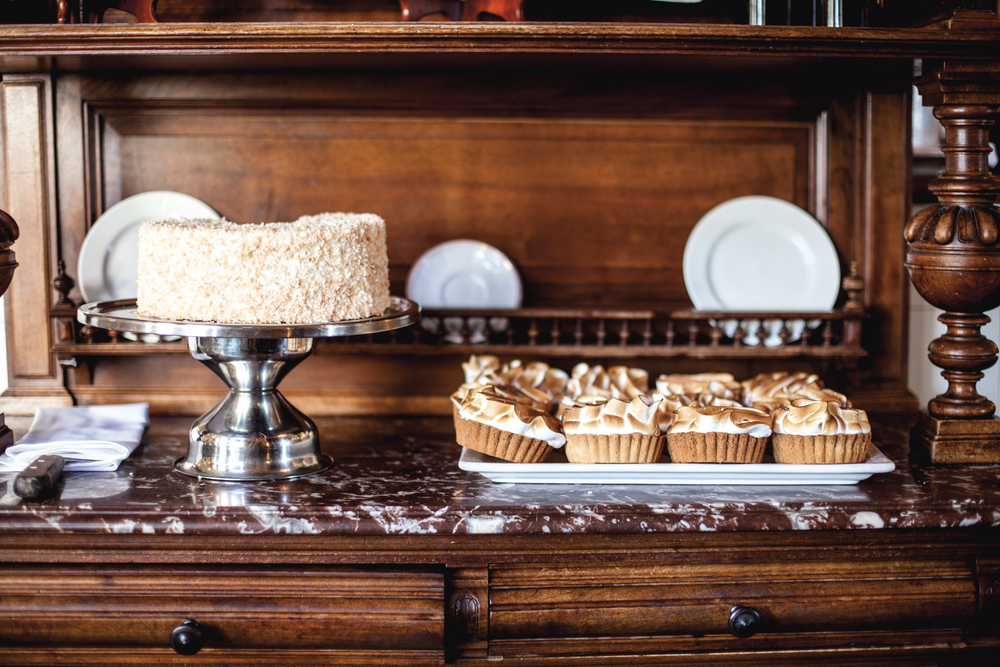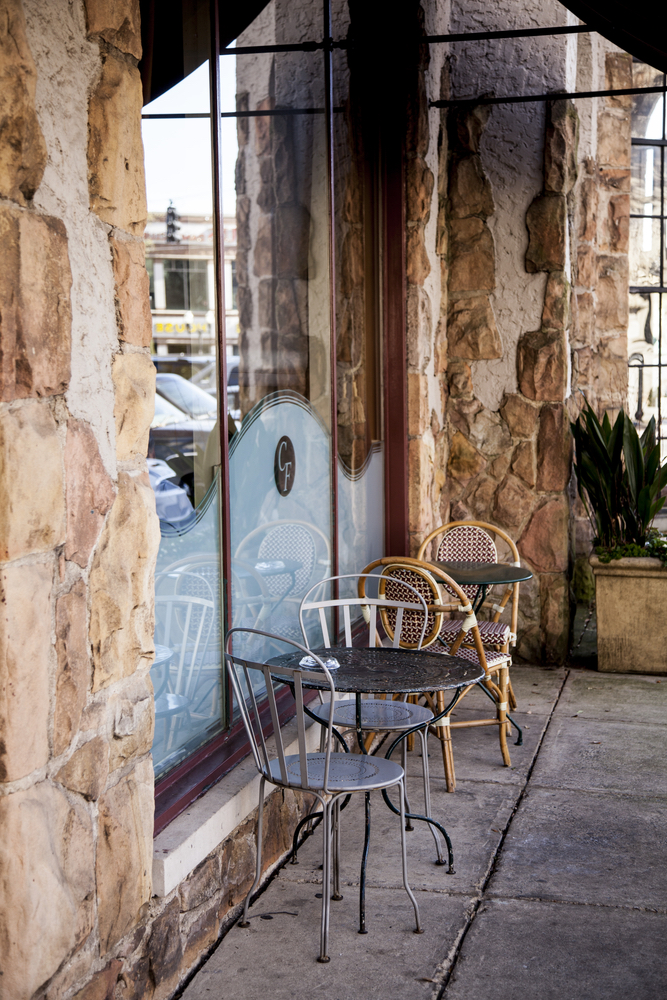 With so many restaurants to run, Stitt continues to derive his inspiration from carefully sourced ingredients. "I cannot resist working with incredible ingredients and putting them together in ways that taste heavenly," he says. "I love putting food together that is sensitive to the day, the season, and the weather. Food that makes you smile. Cooking and building menus is personal, and it takes love and thought."
While Stitt is the force behind the food, Pardis keeps control over the front of the house. Stitt describes his wife as "the hardest-working, all-seeing, all-caring force behind the infinite details that make dining with us the most wonderful experience of your day."
Many dishes on the Highlands menu are longtime favorites, including those sumptuous baked grits, but there has been an evolution in the restaurant since its early 1980s beginning. "I would like to think our food has become healthier and more complex without being fussy," Stitt explains. "Some great restaurants like Galatoire's don't change too much because they understand their strengths and they are confident. I think that is true of us, but we try to remain fresh—it has a lot to do with sourcing the best and freshest ingredients, even if it means growing them ourselves." Changes at Highlands are made carefully so that the restaurant maintains its integrity while meeting the needs of its adoring community.
As the man who put Birmingham on the culinary map, Stitt remains excited about the city as a foodie destination. "Birmingham has so much going for it," he says, calling it "easy to get around and with incredible energy in the dining scene, from Woodlawn to Avondale to Southside to downtown. It's a great place to be cooking right now."
—V—
ARTICLE CATEGORIES