By Anthea Gerrie | Photography by Sara Essex Bradley
In their twenties, they made headlines in France as the hot, young twin chefs whose multi-Michelin-starred culinary acumen transformed the charming but unsung town of Montpellier into a dining destination. Now, thirty years later, they have conquered the world. After colonizing Paris, Tokyo, and many other Asian cities with outposts that showcase their fabulous take on French cuisine, they are once again wowing diners in their hometown with a gastronomic apotheosis that looks set to win them a whole new trio of stars before they hit sixty.
Meet Jacques and Laurent Pourcel, who make magic five nights a week at Le Jardin des Sens in the town that has grown rapidly since their debut to become France's seventh most populated city. Montpellier is the center of the burgeoning Languedoc wine trade and a vibrant student town. Le Jardin des Sens, born in a much more humble neighborhood, now sits on the city's oldest and most beautiful square, the Place de la Canourgue. The twins have converted the old seventeenth-century town hall into Montpellier's first and only five-star hotel, the incredibly beautiful Hôtel Richer de Belleval.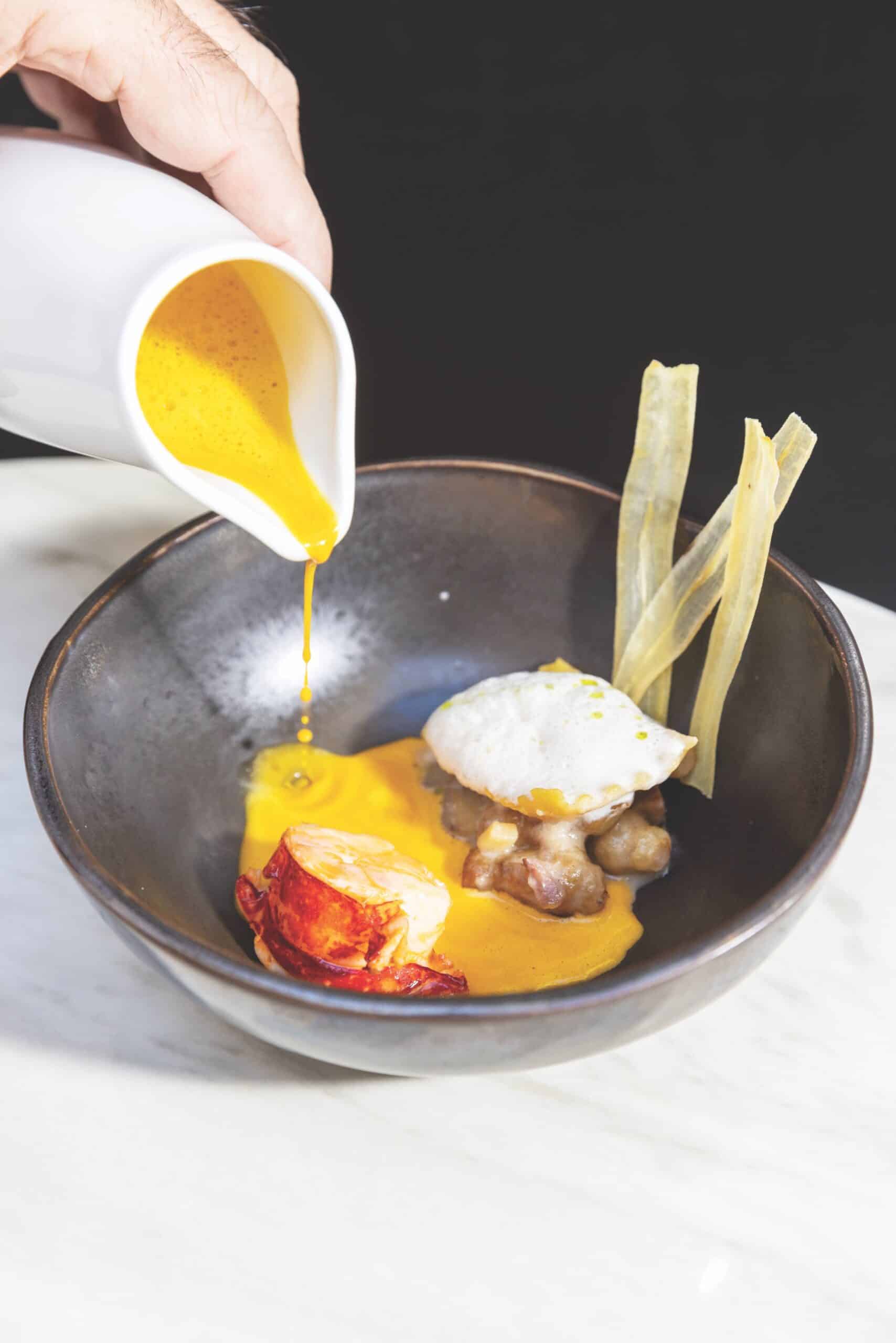 "We travel the world, but this will always be our home," Jacques relates as we sip coffee in one of three gorgeously renovated Renaissance rooms that make up the restaurant—in this case, the one boasting lavishly painted and gilded vaulted ceilings. Laurent, who commands a brigade of fourteen chefs under his sole control in the kitchen, is already at work—before 10:00 a.m.—on the twenty to thirty individual dishes each guest will enjoy for dinner that night. The menu may suggest only ten plates make up its tasting offering, but that doesn't include the multicourse amuse-bouches and many extra treats and surprises that inevitably come forth to delight diners.
Usually, they're brought out by Jacques, who dons his whites not only to meet and greet guests but to serve them personally with whichever whimsies have been dreamed up on the spot by his brother. "We don't really specialize; I used to lean more toward patisserie, but now the entire kitchen is the province of Laurent, and I'm the one who presents our face directly to the guests," explains the youthful-looking fifty-eight-year-old, whose handsome bald head and almond eyes bring a beautifully painted brown egg to mind.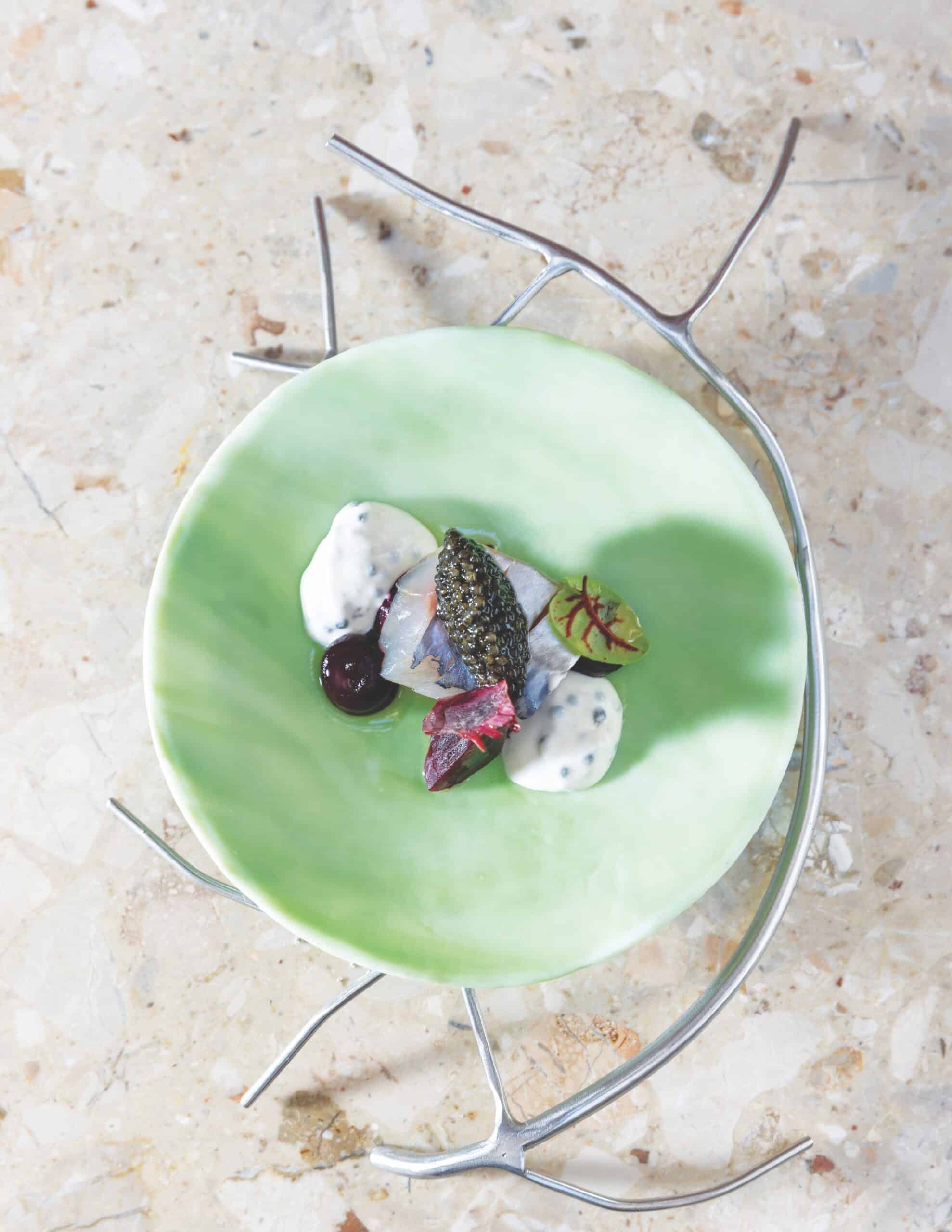 A shock of dark hair distinguished the twins at age fifteen, when they were already giving up their weekends and holidays to serve as commis chefs in the tiny town of Florensac, near Montpellier, where they were raised. "It had a one-Michelin-star restaurant, and as the only two of us four children who were interested in cooking—we got our love of it from our mother and grandmother—we were in there chopping vegetables and peeling shrimp as soon as we were allowed," says the chef born into a wine family that continues its vinicultural pursuits today.
After studying at catering college and executing "stages" with great French chefs like Pierre Gagnaire and Michel Bras, the twins leaped headfirst into their audacious first adventure, launching the original Jardin des Sens when they were only twenty-four. "Within eighteen months of opening, we had our first Michelin star," says Jacques, recalling that the second and third followed hard on its heels over the next eight years, making theirs only the second three-star restaurant in the region.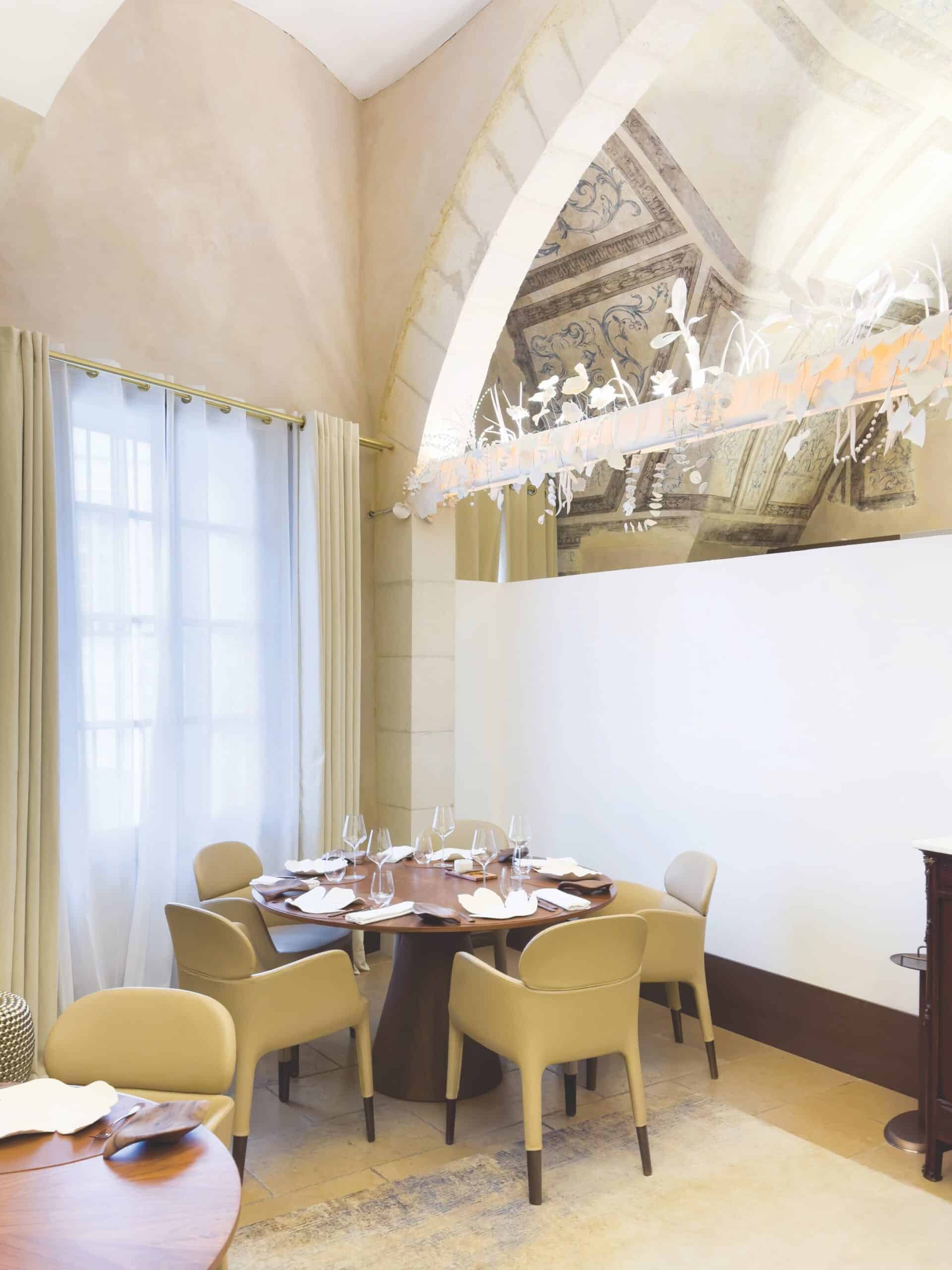 Naturally, le tout-Paris clamored for the Pourcels to bring their magic to the French capital, as did bons viveurs in the nearby Provençal town of Avignon and, more surprisingly, the tastemakers of Tokyo. Here Sens & Saveurs has remained a fixture for the past twenty years, followed by outposts in Shanghai, Singapore, and Bangkok. The Pourcels' latest undertakings in Asia are a French bistro in Colombo, the former capital of Sri Lanka, and a clone of the Jardin des Sens due to reopen in Saigon post-COVID-19. While they have exported Mediterranean cuisine with a twist to these locations, they have imported Asian flavors and techniques to France, which now "pepper" their French menus with eastern spices and more than a modicum of fruit in savory dishes—not to mention a visual aesthetic picked up in Japan, whose eye for detail the twins endlessly admire.
What is served today at the new Jardin des Sens is pure poetry, and we're not just talking "official" dishes like the tiny tranche of roast blue lobster served with tarragon ravioli, which follows an exquisite first course of cured mackerel and candied beetroot dressed with caviar and honeyed lemon. On my second visit, the pigeon with cherries—the climax of my first dining experience chez Pourcel (pigeons eat cherries in the wild, which is why the combination is so inspired and sublime)—is out of season. Still, I am loving a runny yolk of quail egg mingling with the earthy notes of creamed truffle, potato puree, and Comté cheese, which arrives in an unannounced eggcup toward the start of the meal. The most lavish dish of all comes in the simplest of vessels—a gorgeous mélange of liquidized foie gras, truffle, and cream swirled up in a glass yogurt pot; this is a Pourcel classic from the earliest days of Jardin des Sens and is equally unannounced.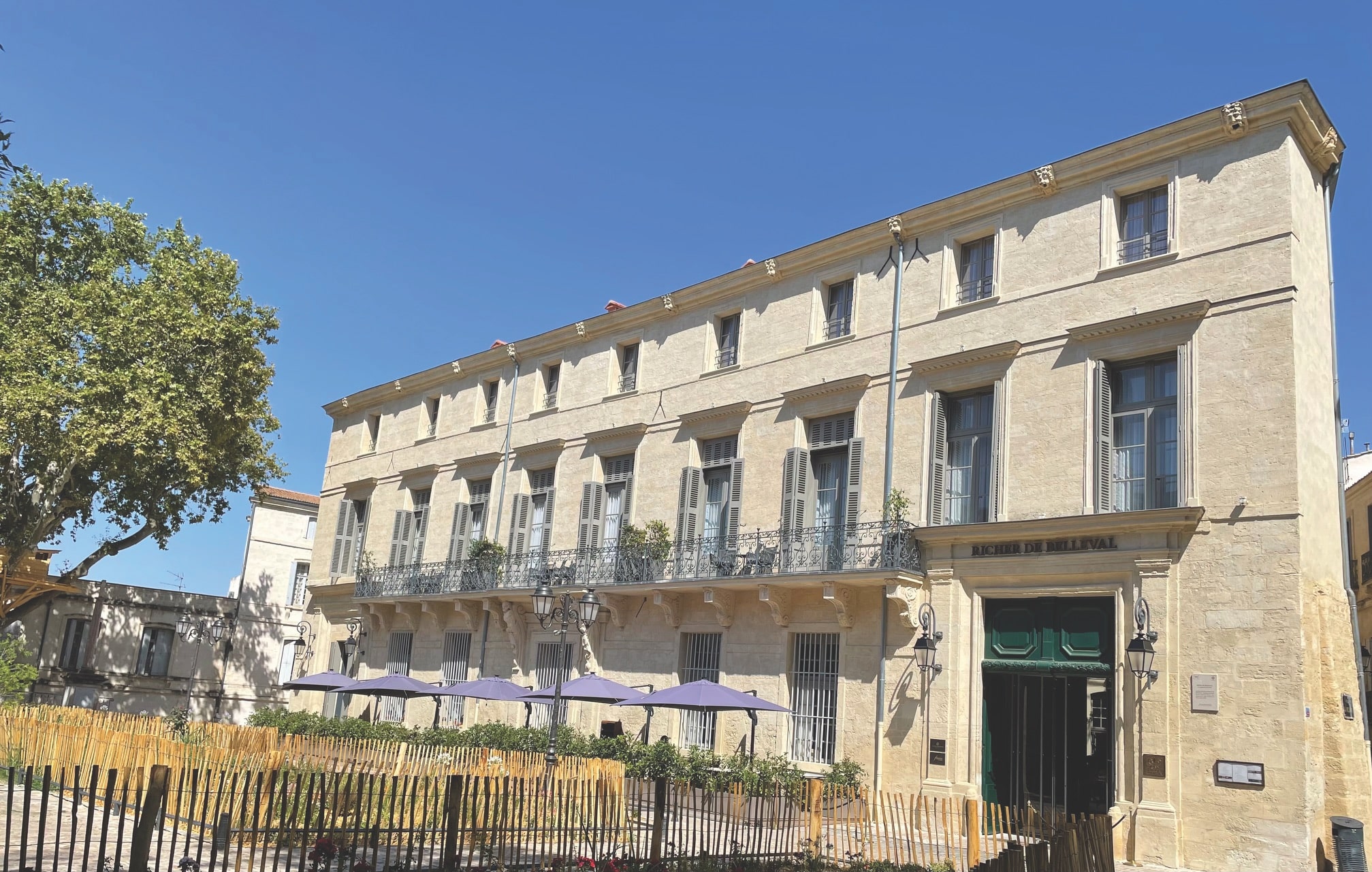 What is served today at the new Jardin des Sens is pure poetry, and we're not just talking "official" dishes like the tiny tranche of roast blue lobster served with tarragon ravioli, which follows an exquisite first course of cured mackerel and candied beetroot dressed with caviar and honeyed lemon.
The old, beloved Jardin may be gone, its home victim to urban development, but there has never been a time when the twins were not active in Montpellier. As the first Jardin closed its doors, they opened Terminal#1, a riverside restaurant offering weekend cabaret that has remained wildly popular with locals, while the elegant bistro within the hotel attracts a well-heeled business crowd. There is a beach restaurant, too—Montpellier sits close to France's glorious Mediterranean coast—and a newer restaurant in Paris inside the Galeries Lafayette department store. But the reimagined Jardin des Sens, which landed its first star last year within eight months of opening, is clearly their baby—the place in their hometown of thirty-five years where they can indulge their gastronomic imagination and whimsy to the limit while feeding their neighbors with imaginative but affordable food based on the superb local ingredients of field and shore as well as Spain just across the border. "Fine dining is not finished—there is more interest than ever, and more restaurants—but it's changing and becoming democratized," observes Laurent.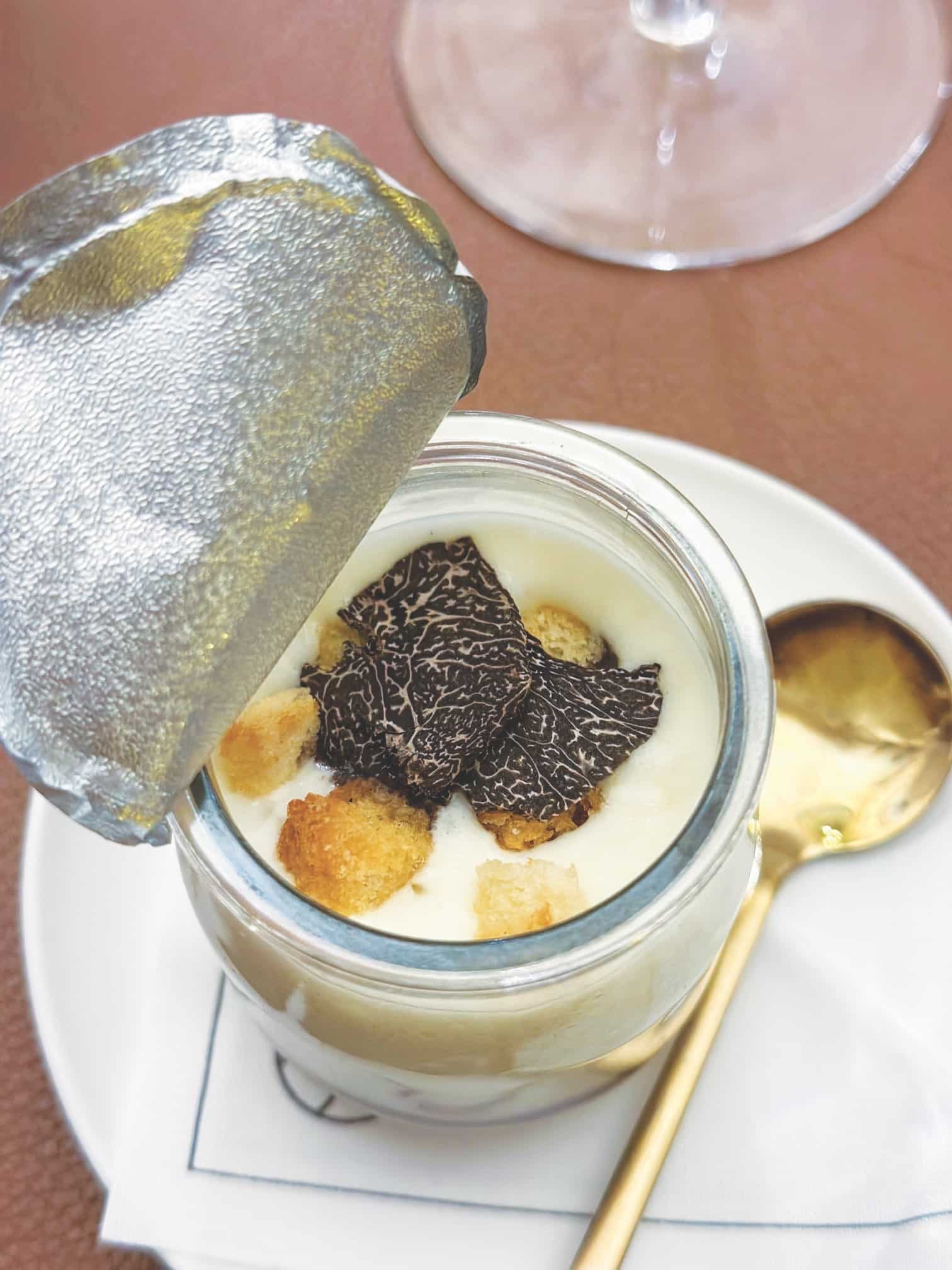 Do they have a secret weapon to account for their longevity in difficult times? I ask them, and Jacques modestly replies, "We're identical twins—that has always grabbed the attention." But that's just an accident of birth, and there's so much more to this pair than a visual gimmick. After thinking carefully, Jacques decides it's the loyalty of followers who stream in from all over the world to enjoy the food they may have first tasted in London, Paris, Bangkok, or Tokyo—and Americans are among the most regular visitors. Laurent is convinced it's something simpler: "We are constantly reinventing our dishes, but our desire is first and foremost to share our passion and give pleasure."
— V —
---
Visit Hotel-RicherDeBelleval.com/en to learn more, book a stay, or make a reservation to dine at Jardin de Sens.
Anthea Gerrie is based in the UK but travels the world in search of stories. Her special interests are architecture and design, culture, food, and drink, as well as the best places to visit in the world's great playgrounds. She is a regular contributor to the Daily Mail, the Independent, and Blueprint.
ARTICLE CATEGORIES