Sharing Music in London Since 1954
Photography courtesy of the Troubadour London
Your head is throbbing. You're clearly more than just a little hungover—maybe it's a coma coming on. The aroma of black coffee emanates from somewhere, faint at first, but then the cup hits your table. Your bloodshot eyes crack open to see tiny green leaves dancing in the soft breeze. A new smell joins the coffee; saffron-dusted scrambled eggs and fresh fruit follow quickly as a server places them before you. A yellow finch alights on a palm frond. It's 1970, and you are sitting in the garden of the world-famous Troubadour.
The Troubadour started out, humbly enough, as a quaint coffeehouse in 1954. London at that time was awash in a movement known as the second great coffee revolution.
Fifty years ago, a musical revolution was starting in the historic city, and the Troubadour adjusted accordingly. While Soho and the West End were still swinging to the sounds of the sixties, out in Earl's Court—the neighborhood known as Kensington and Chelsea's wild western frontier—a band of touring American musicians were about to launch their assault on Britain and the world's music scene.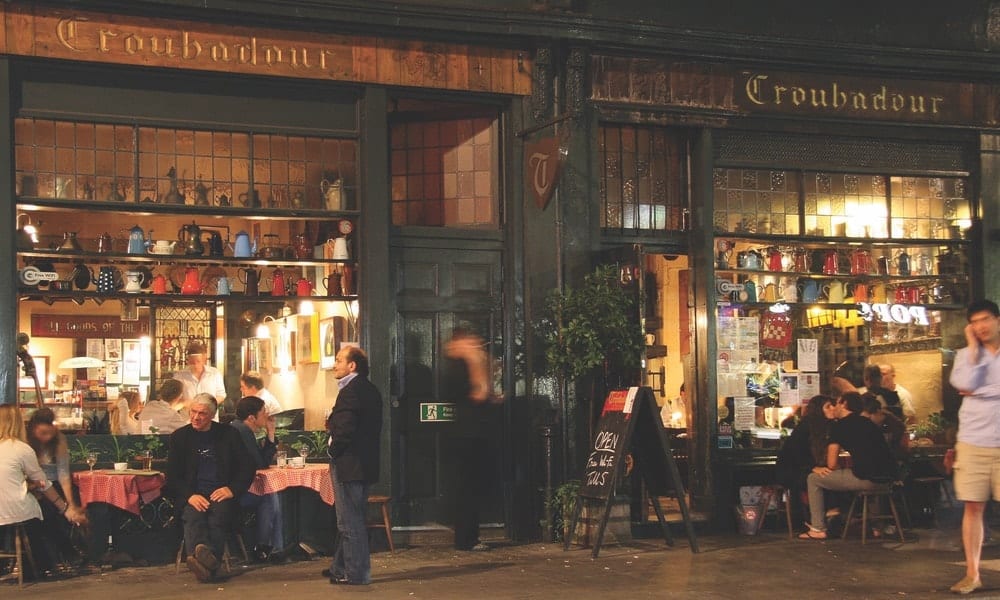 Old Brompton Road and its coffee shops were quickly becoming the stage for new American folk artists. There, performers like Bob Dylan, Paul Simon, Jimi Hendrix, and Joni Mitchell played their early UK live shows, and at the center of all the action was the suitably named Troubadour club.
Today, the Troubadour is promoted to local and international audiences by Frank Berté, a graphic designer and publicist in South Walton, Florida, who visited the bohemian club on a recent trip to London and says the venue still has an unmistakable aura of the era. "While many other London venues have closed or been converted to million-dollar apartments, the Troubadour is still thriving as a home for live music, avant-garde writers, and contemporary culture. The café has maintained its flamboyant decor, making a visit today feel like a step back into the seventies. Contemporary acts like Ed Sheeran and Adele have also launched their careers from its famous stage."
The café has maintained its flamboyant decor, making a visit today feel like a step back into the seventies.
Berté points out that the venue is a treasure for music fans who might enjoy a stop off the beaten path in London. "Whether you are coming to sit in its enclosed garden and feast on its sumptuous food or to catch a live show one evening—or even just to grab a drink and browse the photographs of your musical heroes and heroines that adorn its walls—you can still sense the spirit of authenticity and openness the café has always been famous for," he says.
The Troubadour club on Old Brompton Road is open from 9:00 a.m. to 12:30 a.m. on weekdays, and until 2:00 a.m. on the weekend. They offer breakfast, lunch, dinner, drinks, and yes, live music nightly. The Troubadour also has nearby guestrooms available, including the Dylan Suite where, allegedly, the iconic singer-songwriter stayed while in London. A microtel is planned to open above the club in the summer of 2020.
— V —
---
Visit TroubadourLondon.com to learn more, see the show schedule, and plan your trip.
ARTICLE CATEGORIES