By Sallie W. Boyles
Photography courtesy of Aurora Martin
Along with other art forms, opera emerged during the Italian Renaissance. The distinctive type of musical theater likely made its debut in the late 1590s, as the Florentine Camerata—the poets, musicians, composers, and intellectuals—endeavored to revive ancient Greek music. In the beginning, such performances were exclusive to royalty and nobility, but they soon reached the masses. Vienna's first public opera house opened in 1637, but even so, many people still believe opera is an amusement for the upper classes.
Aurora Martin, an up-and-coming soprano based in Boston, dispels the notion. "Opera is not just for a specific subset of people," she states. "It really is for everybody. You can find meaningful expression and stories in it, no matter who you are."
Whether or not the opera is in English or any other language an individual understands, Martin advises, "There's so much repertoire, so just doing a little research beforehand, familiarizing yourself with the story, will make it more enjoyable." She adds, "The storylines are just as dramatic as anything you'd watch on Netflix. Every basic human emotion can be found in these stories, and the pure genius found in the compositions, expressed in music, is mind-blowing." She contends that the music itself allows the passion to "transcend further," as "our bodies are poised to be affected by these sounds."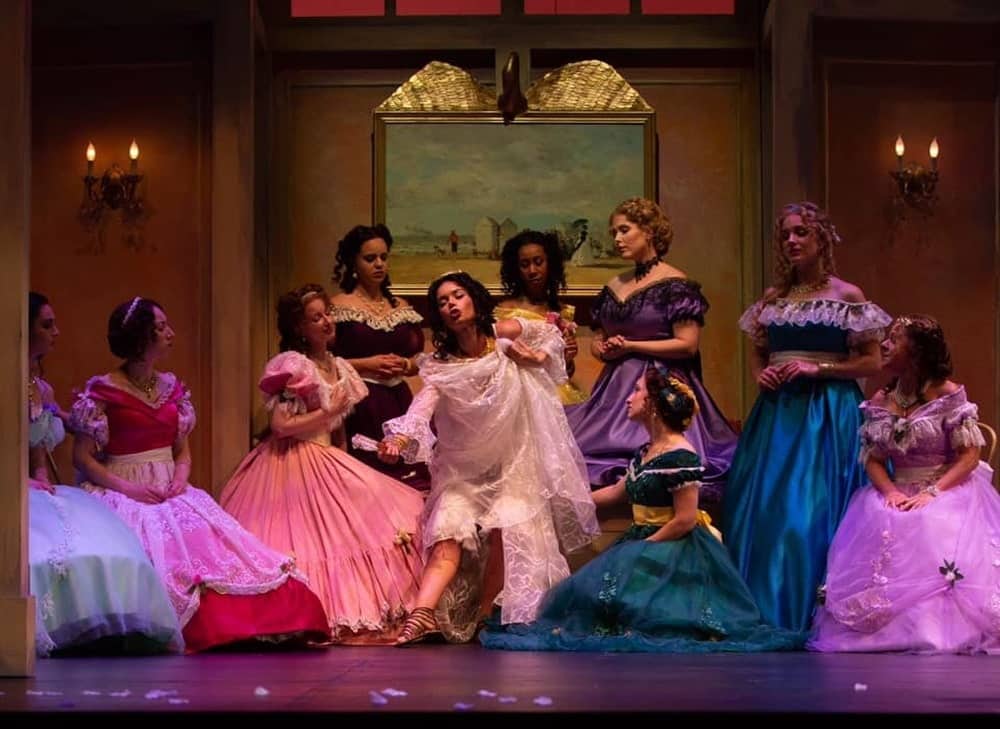 She can thank nature and nurture for her talent and affinity for classical music and opera. Her maternal grandmother, whom she never had the opportunity to meet, performed classically on stage in Baltimore until World War II broke out. "My mother has her old scores with notes in them," Martin says. "It would have been so wonderful to have learned from her."
Likewise, Martin shares that she and her mother "have a similar timbre. She was a singer, too, but not professionally." Her mother and father sang in musicals and chorus growing up. "My mother," she relays, "would frequently sing songs from the Golden Age musicals."
If not show tunes, Martin says, "We always had classical music on in the house and in the car. It was natural to me. When I was young, I was also in choirs in church and in school." She grew more serious about singing when "a wonderful choir teacher pushed me in the right direction. I was a complete choir nerd."
Martin pursued a music degree in college but kept her career options open. "I didn't want to go to a conservatory at that young age, so I went to Virginia Tech. They had a small music department. I also added chemistry halfway through my freshman year." Her double-major combination is not unusual. "A lot of the time, people associate the arts with history and literature, but I met so many musical people who were in engineering, chemistry, or physics," says Martin. "Patterns and frequencies are at the core of music. I also liked chemistry because you need a lot of imagination to understand it, but it's also very structured. So is music. The great composers knew what they were doing to a T!"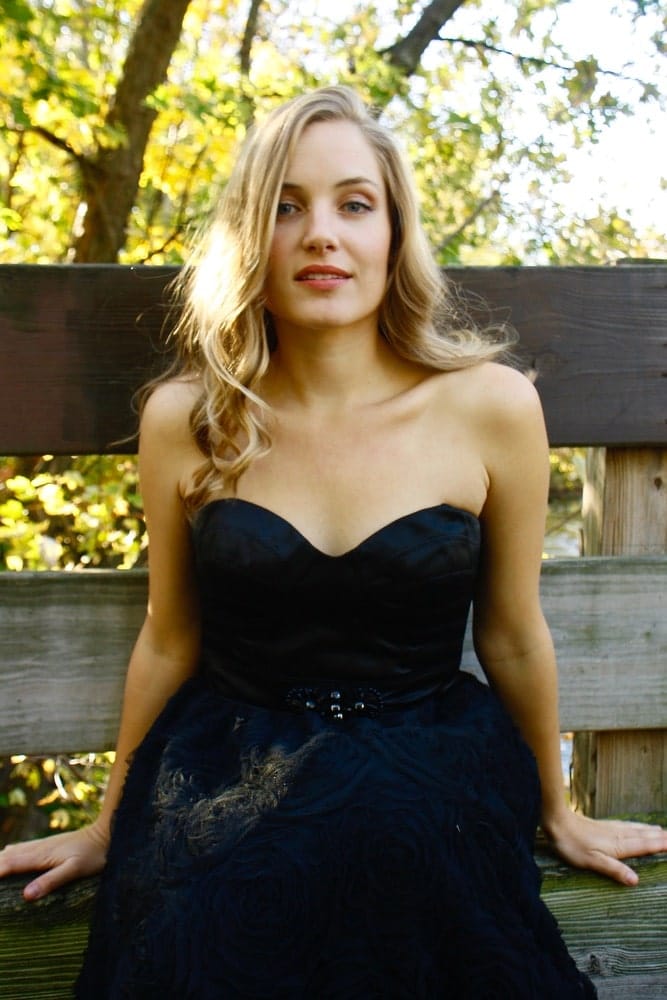 Attending her first performance at the Metropolitan Opera in New York City while on a trip with her music department as an undergraduate sparked a revelation for Martin. Mentally revisiting the event, Richard Strauss's Der Rosenkavalier with soprano Renée Fleming in the title role, Martin says, "It was such an exquisite experience. The hall is huge, and productions at The Met are so lavish. I remember sitting there, having studied music for years at such depth, and thinking, This is what I am meant to do. It clicked for me then. I had a feeling of belonging."
Choosing opera took Martin's training to a different level. "It requires an immense amount of preparation," she says. "Akin to any professional sport, it involves muscle memory for the throat, the body, and the brain." Since many works are written in Italian, German, or French, she notes, "We had to take language classes—to look at the words and be able to pronounce them." Martin understands all three languages, particularly German, which she studied from middle school through high school.
Martin continued her formal training in graduate school at the New England Conservatory in Boston. "Virginia Tech was a wonderful experience," she says, "but walking into the conservatory, where everyone was as obsessive as I am, was amazing." Martin loved being around people who could relate to her when she'd fixate on a minute of an arrangement and ask, "Don't you just melt at that point?"
For Martin, every aspect of music, including the many hours of work behind the scenes, is a labor of love.
Along with auditions and rehearsals, preparation demands ongoing voice lessons and acting classes. "There was a time when opera singers were just expected to go out on stage and 'park and bark,' but performers now consider themselves singing actors," she says. "The dramatic part is just as important as the music. Oftentimes, you have to get very specific to accomplish the role of the character, and if you are not connected, it shows."
Ultimately, she says, "Once you've prepared to the utmost degree, you let go. You let the music and interpretation flow through you."
One of her many magical moments on stage occurred while in graduate school. Playing Ines in Verdi's Il trovatore, Martin says, "It was my first named role on stage, and it was amazing." Although a small part, it was a supporting role, meaning she was "thrown in with the leads." Consequently, her professionalism and ability to take direction were tested. Despite the pressure, Martin was in her element. "I walk out there in a big, heavy costume, the music slows, and I'm supposed to sing out of nothing. I can see nothing, the audience is black, and I hear my voice filling the hall with the lead."
In this early phase of her professional career, Martin is grateful to be singing around Boston with different companies, she says. Without question, her roster of engagements halted because of COVID, along with other artistic programs, yet opera especially suffered. "You have big productions with a lot of people," she says. "It's an expensive medium, as well, because of all the moving parts."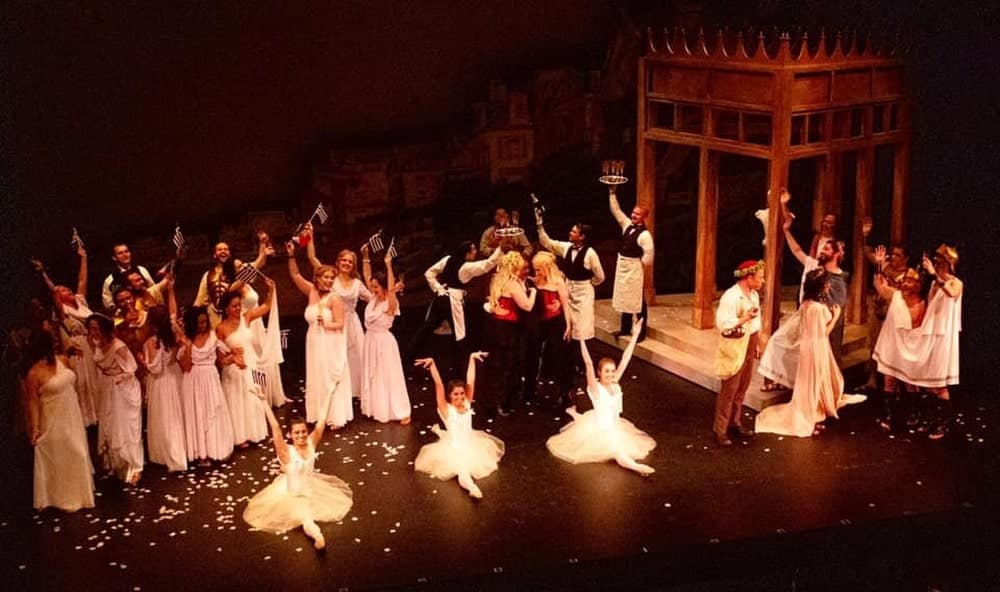 Arguably, the challenges, necessitating pared-down opera performances at casual, public venues, have sparked a revival. In Boston, well-received pop-up productions, such as in alleyways and parks, have demonstrated that the genre captivates audiences of all demographics, including children.
Looking back to her 2012 Virginia Tech graduation—when she performed the national anthem for thousands with Michelle Obama giving her the thumbs up—and looking ahead to a promising future of touring venues in Europe, Martin says, "I've never second-guessed my career. Success looks different to everyone, but as long as I'm making music on as many stages as possible, I'll be happy."
— V —
---
To hear Aurora Martin perform, gather more information about her history and upcoming performances, or to contact her, visit AuroraMartinSoprano.com.
ARTICLE CATEGORIES