Creativity Knows No Bounds
Interview by Addie Strickland | Photography by Sean Murphy
Born and raised in Birmingham, Alabama, artist Bradley Copeland does not remember a time when she was not prone to creative exploration. She describes art as a way to make sense of the world. As a woman with a seemingly endless curiosity for subjects ranging from science to sociology, her work is a means of contemplation. Through painting in her studio in Santa Rosa Beach, Florida, she feels she can settle on a fresh and more beautiful perspective. It's a practice she claims is her native language, and she believes that sharing it with others is more beautiful than anything she creates. Although her work is stunning, the messages she translates remarkably surpass the physical appeal, and that's the magic of art. Copeland describes her native language to us in the interview below.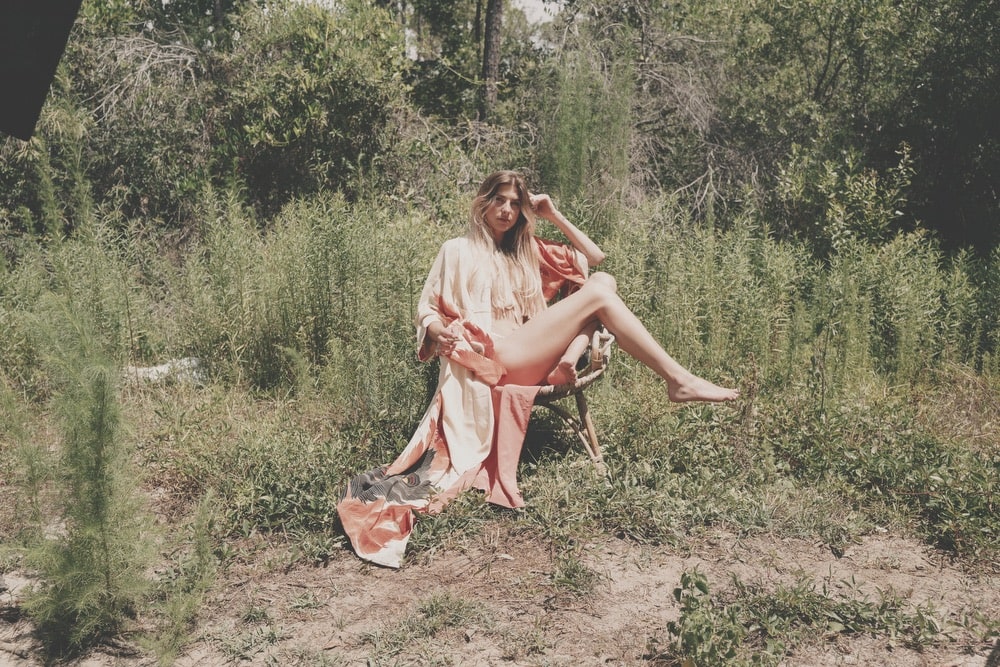 VIE: Where do you find inspiration?
BC: Everything can be translated into infinite artistic representations. I carry journals everywhere I go and jot down ideas and sketches of things I see or think. I am constantly researching history, science, psychology, and other subjects, attempting to make sense of our nonsensical world. Art is how I process and understand myself and my place in the world. My art practice allows me to alchemize everything I consume into something else. I also have built such a strong foundation of trust with my painting practice that I don't necessarily need to be inspired or have an idea to get started. Most of my paintings begin with no plan or direction and reveal themselves to me throughout the process.
VIE: What is your favorite medium?
BC: I love combining and experimenting with all mediums more than any single one, but if I had to pick, I would crown oil paint as the winner. I love all types of paint because of the vibrancy, fluidity, and trust I have built with it over the years. I get lost in painting more easily than in drawing or using any other material because I trust the paint and myself with it enough to be completely free and loose in the process. As much as I love exploring all types of mediums, paint has always seemed to be the most natural to me—acrylic, oil, and watercolor—but there is something extra magical about oil paints. The richness, fullness, and buttery texture of oil paints are impossible to achieve with any other material.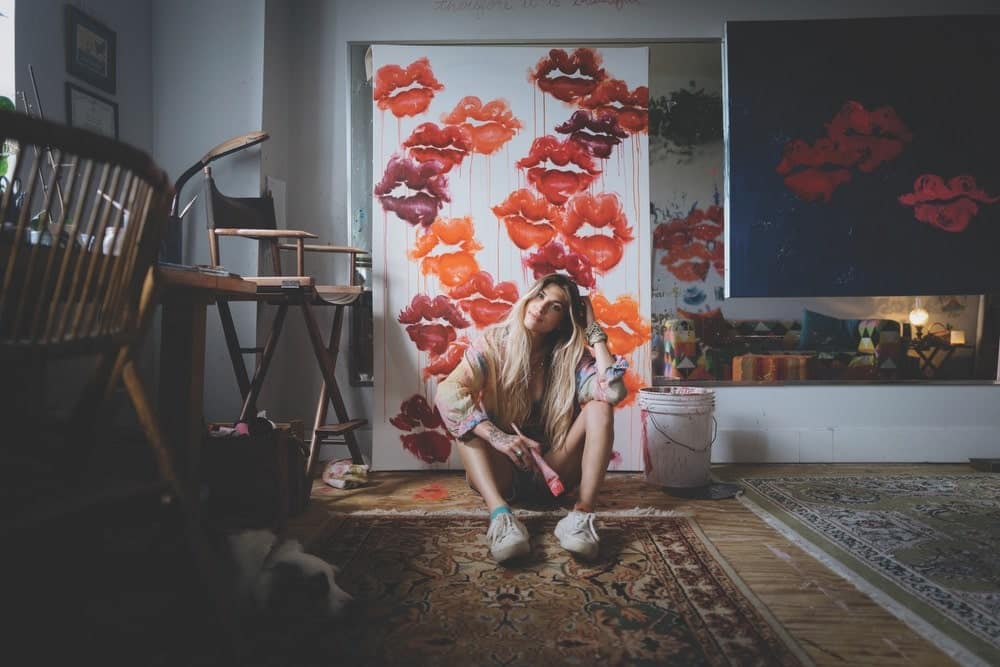 VIE: What elements of your personal life influence your art?
BC: I laughed when I read this question because no element of my personal life does not influence my art. As I described before, painting is how I process everything. Even when actively avoiding healing or dealing with something about my personal life, it inevitably leaks out of me onto the canvas. But truthfully, nothing heals me as much as painting does. When I feel stuck, anxious, or uninspired, I can throw paint on the canvas and find pictures, symbols, and stories in the splashes, scribbles, and strokes. Then I work with it, repeating this process of surrendering control, observing, and refining over and over again. I eventually end up with a finished painting and more clarity and peace than I had within me before starting.
VIE: Who are your favorite artists, and how has their work inspired you?
BC: Hilma af Klint is by far my favorite artist. She was a Swedish painter in the late 1800s and early 1900s who created thousands of beautiful, whimsical abstract works, only for them to be hidden away until twenty years after her passing. Her paintings explored the physical and nonphysical worlds, spirituality, and science, and she illustrated these vast concepts in abstract ways that had never been seen in art before. She painted abstracts before her male counterparts like Kandinsky and Mondrian, who are crowned the Fathers of Abstraction. Leonardo da Vinci is another one of my all-time favorite artists because, like Hilma af Klint, he was much more than an artist. His fascination with philosophy, science, mechanics, and human nature fueled his artistic practice. Both of these artists had a deep desire to understand the world around them. Their stories make me feel less alone in my curiosity.
VIE: Your work often features lips. What's the meaning behind this? Are there other themes you enjoy pursuing in your art?
BC: The lips were a big creative feat for me, and they will always be special for that reason, but they are only the tip of the iceberg regarding what I want to say with my art. Before the lips, my work was very detailed, realistic, and meticulously planned. This drained all the fun and fulfillment from my passion. I then realized how hard a time I had loosening up, so I started to paint, draw, and collage as many different subjects in as many different ways as possible with only the goal of trying something new in mind instead of making something "good."
One of the assignments I gave myself to draw was drag queens, and that resulted in scribbly femme faces with big juicy lips, and the lips took off on their own after that. The lips signify my understanding of femininity and the rejection of societal connotations of the feminine. Our world associates femininity with adjectives like pretty, soft, gentle, docile, sweet, quiet, small—blah, blah, blah. My lips are a blatant symbol of femininity presented in a bold, rough, loud, and raw way—an attempt to illustrate femininity with all the grit and power that comes at no cost of beauty. But, on the contrary, I believe this grit serves as the real source of that power. This theme around femininity and our perceptions of it also flows into a lot of my other work. All my other pieces are about my personal life and my interpretation of the world as I am experiencing it. So really, nothing is off limits, and it is all connected.
VIE: When did you move to Santa Rosa Beach, and how has the community impacted your business?
BC: I moved here at the beginning of 2020, and this community has been supportive and encouraging. We have a great network of artists and a massive community of art lovers. Both have helped me immensely in a myriad of ways. I just showed up, and people showed up for me. I am an extreme introvert, so a lot of the outreach I have accomplished is a combination of luck and opportunity. I feel fortunate to be surrounded by the people I have in my life.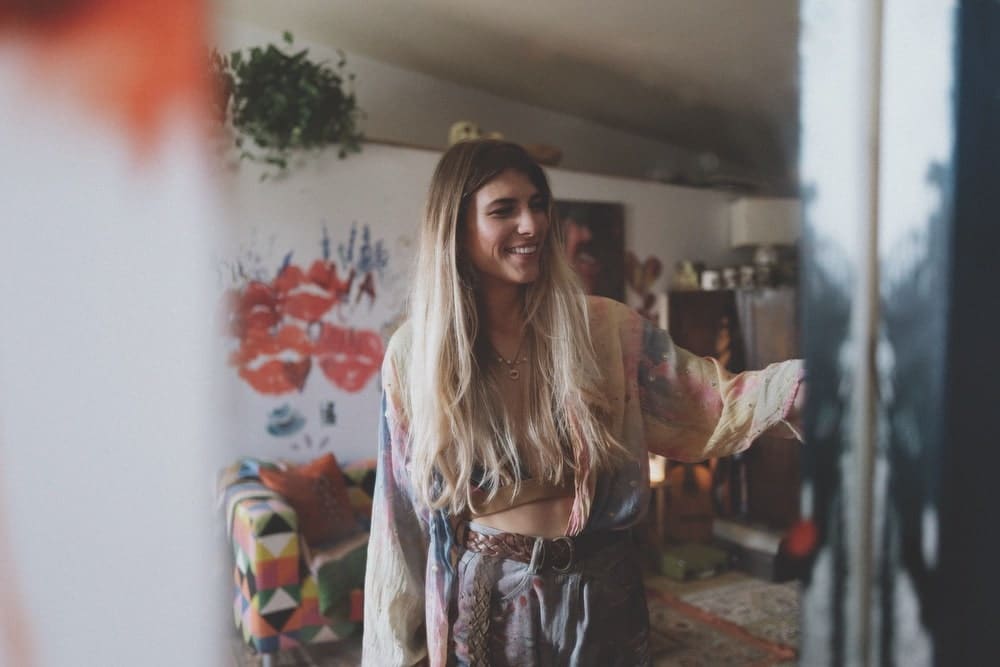 VIE: What has been your favorite project to work on so far?
BC: I helped start a brand-new art program under the Cultural Arts Alliance at the Walton Correctional Institution, which quickly became the most important and rewarding part of anything I do. Sharing my passion, methods, and theories on life and creativity with these men has fulfilled me like nothing else. Art has ultimately saved my life, and passing on the torch to others who need a new perspective means more than I can say in words. It all comes full circle that way. I have found so much grace and healing in art, and helping others find the same is more beautiful than anything I've ever made.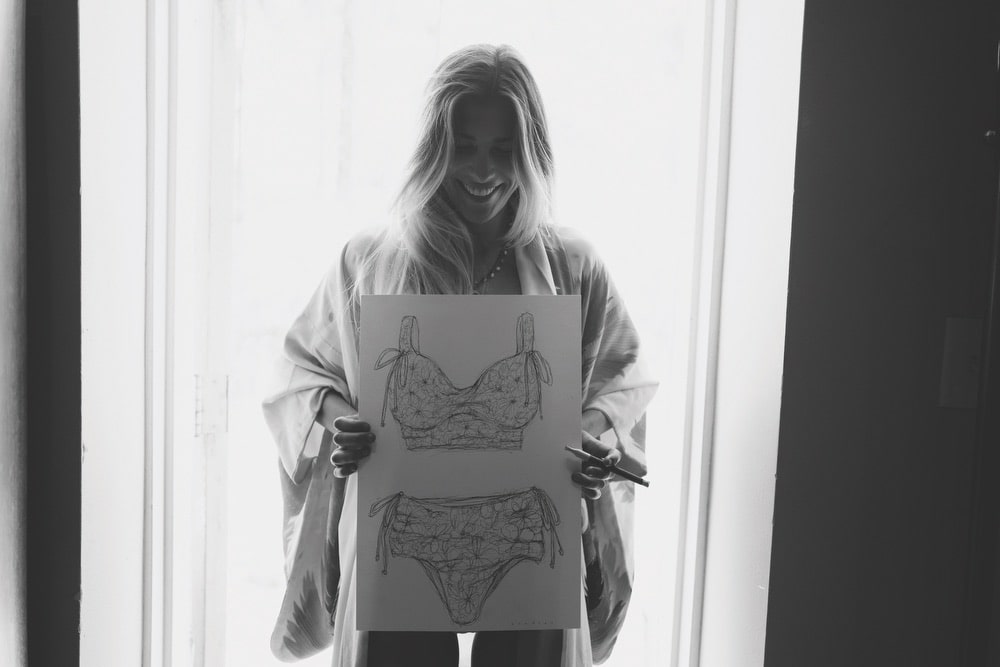 VIE: Do you have any upcoming exhibitions?
BC: Yes! I am having a solo show at Easy Going Gallery in Pensacola now through November 15. The reception for the show is on Thursday, October 6, from 6:00 to 8:00 p.m.
VIE: Is there anything else you would like to share?
BC: I believe love, life, and art are synonymous. Suppose you hold on too tightly or try to control any of the three. You're often met with disappointment, dissatisfaction, and frustration in that case. You become blind to all the beautiful, magical miracles happening on the sidelines, out of view of your tunnel vision. To allow love, life, and art to flourish, you must do precisely that: allow. Allow, observe, adjust, repeat.
— V —
---
Visit BradleyCopelandStudio.com to learn more or shop artwork, or head to Instagram @bradleycopelandstudio to follow her journey!
ARTICLE CATEGORIES